THE MASTERS APPRENTICES
Adelaide / Melbourne / London 1965-1972






Original lineup, 1965-67:
Jim Keays (lead vocals, harmonica)
Mick Bower (guitar, vocals)
Brian Vaughton (drums) 1965-66
Gavin Webb (bs) 1965-68
Rick Morrison (gtr) 1965-67



Second lineup, 1967-68:


Jim Keays (lead vocals, harmonica)
Rick Harrison (guitar) 1967
Steve Hopgood (drums) 1967-68
Tony Sommers (guitar) 1967-68
Peter Tilbrook (guitar) 1968

Third lineup, 1968-72
Jim Keays (lead vocals, harmonica) 1968-1971
Doug Ford (guitar, vocals)
Glen Wheatley (bass, vcls) 1968-1971
Colin Burgess (drums) 1968-72
Dennis Burgess (bass) 1972
History
The Masters Apprentices are bona-fide Australian rock legends. If The Easybeats were "Australia's Beatles", then there is no doubt that, as Stan Rofe said, The Masters Apprentices were Australia's Rolling Stones. They left an indelible mark on Australian music, and along with the Easybeats and the Twilights, they were one of the"could-have-been" bands, who tried valiantly to break into the British and international charts. Like both those bands they were ultimately unsuccessful in their attempts, but one of the later members of the band, Glenn Wheatley, learned valuable lessons from their mistakes and has played a major role in the music industry and the media over the last 30 years.
The Masters were hugely popular throughout Australia, releasing hit after hit in their seven-year career, and they were consistently hailed as one of Australia's best live and recording acts. Their career encompassed all the changes in Australian music from 1965 to 1972; they started out as an instrumental band, rose to prominence during the beat boom, moved through psychedelia and "bubblegum' pop, finally became one the first and best progressive hard rock groups of the early Seventies. They survived numerous lineup changes, with vocalist Jim Keays being the only constant, and their membership also illustrates the intricate interconnections between so many Australian bands of that era.
Their career can be divided into three main phases: the original '65-'67 lineup, headed by Mick Bower, the transitional period of '67-'68 and the classic '69-'72 lineup of Ford/Keays/Wheatley/Burgess.
1965
The Masters' story began in the South Australian capital of Adelaide in early '65, with The Mustangs, a dance band formed by four Adelaide teenagers: Mick Bower, Brian Vaughton, Gavin Webb and Rick Morrison. The Mustangs were a typical example of an early-60s instrumental band, playing the obligatory Shadows and Ventures covers. The cataclysmic visit by the Beatles in 1964 rendered all that passe overnight. The Mustangs were canny enough to realise that the surf/instrumental craze was past its 'use-by' date, and they decided to change their style to incorporate the new "beat' music, so they placed a "singer wanted" ad on the noticeboard at a local music centre. On his third (and last) visit there, the ad was spotted by a young would-be bass player called Jim Keays, whowas taking lessons from musician and guitar teacher John Bywaters (who was a member of one of Adelaide's most popular and accomplished beat groups, The Mustangs began to established themselves on the dance circuit around Adelaide, in suburban halls and migrant hostels.
They built up a strong following with the local teenagers, many of whom were, like Jim, migrants from the UK (Adelaide was a major destination for UK migrants in the 50s and 60s. Their audiences were also an important influence for the band - some of these kids were very recent arrivals, who had seen the top UK bands in action only weeks before, and they had a strong effect on the band's "look", since they were directly in touch with current 'mod' fashions, a trend which was still not very well known in Australia. The next step was a name change, and because they regarded themselves, at least for a while, as apprentices to those musical "masters" like Muddy Waters, Chuck Berry and Bo Diddley, their new name (suggested by Bowers) paid homage to these heroes. They decided early on to dispense with the apostrophe.
Towards the end of 1965 they found their home-base at an Adelaide club called The Beat Basement. Before long they were they regularly packing out the club, and they graduated from the less prestigious spots to the prized Saturday afternoon residency. They also became a prime attraction at theOctagon Ballroom in the Adelaide suburb of Elizabeth (The Twilights' home turf) which was located near another large migrant hostel. Keays recalls that the regulars included two young Scots migrant boys, John "Swanee" Swan and his brother Jimmy Barnes. The band also played at a dance in Salisbury, promoted by a young Doc Neeson, later the lead singer of The Angels.
1966
By early in the new year the Masters were one of the most popular bands in town and regularly packed out gigs across the city, as well as making mini-tours to outlying towns and cities like Murray Bridge, Mt Gambier and Whyalla. The Masters' first big break was their appearance on the Channel 7 Good Friday telethon hosted by Adelaide TV celebrityErnie Sigley. The Masters played four songs, to a rousing reception, and by the next day they were the talk of the town.
As their popularity grew they set their sights on Melbourne, then the hub of the Australian pop scene. The Masters even got a mention in the Adelaide column of the newly-established national music weekly, Go-Set, as Adelaide's hottest band. The next break came unexpectedly from a gig at Murray Bridge, where they supported Bobby & Laurie, Unknown to the Masters, singer Bobby Bright (an Adelaide boy himself) was greatly impressed with them, and when he returned to Melbourne he recommended that his record company, Astor, should check them out. A few weeks later they were contacted by Astor, who requested a four-track demo.
The band piled into Max Pepper's two-track studio in Moger Lane, Adelaide, and were immediately faced with the problem that they had only three songs that they felt confident of recording. To solve this, Bower and Morrison wrote a new song on the spot, in about 15 minutes, and the backing track was cut in about the same time. As Keays tells it, the title came from the fact that they were simply "undecided" about the name when quizzed by Pepper, so that ended up on the tape label. (Well maybe ...) .The biting fuzz tone of Bower's guitar was another happy accident -- it came not from an effects box but from a malfunctioning valve in his amplifier. They liked the sound and kept the faulty valve in until after the session.
In August the Masters felt sufficiently confident to try a week-long trip to Melbourne. Despite the hassles -- they stayed in a dismal, boggy caravan park in an outer Melbourne suburb, where manager Graham Longley lost their takings in the mud -- they made a strong impression with showcase gigs at leading discos The Thumpin' Tum and The Biting Eye.
The first single "Undecided" / "Wars or Hands Of Time" was released in October and gradually climbed the Adelaide charts, thanks to strong support from local DJs. Both songs are undisputed classics, and the b-side is notable as the first Australian pop song to directly address the Vietnam conflict, which was touching the lives of many Australians because of the controversial introduction of compulsory military service in 1965. The Masters were not immune, and 20-year old Keays was one of hundreds of potential conscripts whose birthday (9 September) was picked in one of the 1966 ballots. Fortunately, he was able to legally avoid the draft by signing on for a term with the Citizens' Military Force, and he even managed to avoid the compulsory short-back-and-sides hair cut by craftily pinning his long hair up under his slouch hat!
The second Melbourne trip late in the year was timely. By then, leading Melbourne DJ Stan "The Man" Rofe had picked up the single and was playing it regularly. The Masters was one of many new Australian groups Rofe championed during the 60s; he became a strong supporter of the band all through their career and Keays is unstinting in his praise of him. Another crucial connection wasIan "Molly" Meldrum. Keays met the young Go-Set writer and rabid pop fan on the set of the pop show Kommotion, where they appeared miming to "Undecided"; Meldrum was one of the regular mimer/dancers on the show. Molly and Keays became lifelong friends and Molly was instrumental in promoting the band through Go-Set. The Masters gained more exposure with appearances on Kommotion, the Go!! Show, another article in Go-Set and packed-out gigs at the top Melbourne discos, appearing alongside leading groups like The Purple Hearts, The Loved Ones and The Groop (where they first met Brian Cadd, who was to play an important part in their career the next year).
Returning to Adelaide, they fulfilled Astor's request for more songs, cutting the hard-driving, proto-punk classic "Buried & Dead", which became their second single, plus other tracks which eventually wound up on their debut LP. By now, the success of the second trip hand made it obvious that they should turn professional and relocate to Melbourne. Sadly this meant bidding farewell not only to family and friends, but to their original drummer Brian Vaughton, who decided to remain in Adelaide to work in the family pub. The aforementioned tracks were to be his last recordings with the Masters, but his outstanding playing on Buried & Dead was a fitting swan song. He was replaced by Steve Hopgood from Adelaide pals The Others and Fahrenheit 451. (For more information about Brian Vaughton please see our Related Articles section.)
(Trivia note: another Angels/Masters connection came via the drummer who replaced Hopgood's in Fahrenheit 451 -- Graham "Buzz" Bidstrup, later of The Angels and GangGajang. Interestingly, a later version of The Others, which reformed in 1979, had a lineup which included two former Masters, Mick Bower and Brian Vaughton.)
1967
In February '67 the Masters relocated to Melbourne permanently, as "Undecided" raced up the charts. The group quickly established themselves as one of Melbourne's top attractions, performing regularly at discos like Catcher, Sebastians, Thumpin' Tum and The Biting Eye, and the multitude of suburban dances. Ironically, their growing popularity didn't rescue them from their hand-to-mouth existence. For the first year or so they were virtually vagrants, dependent on the hospitality of fans and friends. It was months before they could even afford to rent permanent lodgings. The disparity between their apparent success and the lack of any material reward became a familiar scenario, and one which had important implications in later years.
In May "Buried and Dead" was released, and to promote it they they made a promotional film clip, one of the first such films ever made in Australia. They also undertook their first trip to Sydney and took the town by storm, packing out leading venues likeCaesar's Palace, The Bowl, Beethoven's and Ward Austin's Jungle and the suburban dance circuit. While in Sydney they made a chaotic live appearance, amidst total fan hysteria, on the ABC's Saturday Date pop show; Keays' book hilariously recounts how the group was caught and chased by fans on their way into the studio and had their clothes almost ripped to shreds before they could get in!
In June, Astor released the group's self-titled debut LP. It's a landmark in Australian pop music, released at a time when LPs were still a luxury item and it was rare for local groups to be able to record an entire album, let alone one that consisted almost enitrely of original material. It featured the singles, several more fine originals by Bower, a cover of Bo Diddley's "Dancing Girl" and a great version of The Beatles' "I Feel Fine". (Subsequent versions, including the 1996 CD release, dropped the Beatles cover and added their late '67 / early '68 singles, "Elevator Driver" and "Brigette"). The photos, shot at historic Como House in Melbourne, depicted the group resplendent in newly-acquired velvet, satin and floral-print psychedelic gear, designed by Jim Keays, who chose the group's stage outfits. Always on the lookout for eye-catching gear, Jim neatly side-stepped the problem of the conservative nature of men's fashions by shopping at 'Miss Myer', the young ladies' section of the famous Melbourne department store! Still, it was a thankless task, since Jim's carefully-chosen outfits rarely lasted more than few days, routinely shredded by the grasping talons of fans always on the lookout for a piece of their idols.
By now they were assimilating musical influences from the burgeoning psychedelic scene. Whether the band had actually tried acid by then is unclear, and Keays maintains that it wasn't until some time afterwards that they began to experiment with LSD. There was already a strong pointer to this new direction in the striking, raga-like middle section of "Buried & Dead", but it really bore fruit on Mick Bower's masterwork, "Living in A Child's Dream" -- one of their best songs, and one of the all-time great Australian pop songs. This classic tab of psychedelia is distinguished by great performances all round from the group - notably Rick Morrison's indelible guitar solo. It has all the requisite flower-power lyrical flourishes (candy, clowns and children) without being cutesy or contrived, because it's undercut with a real sense of sadness and nostalgia for lost youth - a theme charged with irony in the light of events over the following months.
"Living in A Child's Dream" was recorded at Bill Armstrong's famous South Melbourne studio at 100 Albert Park Rd, and as with all their Astor cuts, it was (nominally) produced by staff producer Dick Heming although his input, says Keays, was mainly limited to watching the clock to ensure sessions started and finished on time! Most of the real production was done by Armstrong's renowned house engineer Roger Savage, who before leaving England had recorded Dusty Springfield, the Rolling Stones' debut single "Come On", and produced the backing track for The Easybeats' breakthrough hit "She's So Fine". Another important factor was the presence of Molly Meldrum -- Keays' book reveals that Molly attended the session and had quite an influence on the eventual outcome; in fact this single might be considered his first production. Released in August, at the peak of the 'Summer Of Love' psychedelic explosion, it became one of their biggest successes, reaching No.9 in the national charts. Both "Living In A Child's Dream" and "Undecided" ranked in the Top 5 Australian Singles of 1967, and "Living In A Child's Dream" was voted Australian Song of the Year.
It was the height of the so-called "scream era" in Australia, and the success of the new single -- aided by consistent support from Go-Set (where Molly lauded them as "the second Easybeats"), DJs like Stan Rofe, and regular appearances on TV and radio -- made the Masters national teen idols in short order. It was, as Keays recounts, the start of a wild ride, with all the attendant thrills, pills and spills - and groupies galore (or "band molls" as they were called in those days). But with such rapid and huge success, pressures began to mount, soon threatening to end the band altogether. The first victim was lead guitaristRick Morrison , who was forced to quit due to illness. He had only one lung, and his fragile health finally gave out when he passed out on stage during a gig at Catcher in June 1967, suffering a collapsed lung. Rick was ordered to give up performing, and he was replaced by Tony Summers (ex- Johnny Young's Kompany).
Meanwhile the endless round of gigs and tours (up to fifteen gigs per week) continued. There was another tour of NSW in July 1967, including some of the last pop shows staged at the the famed Sydney Stadium, at Rushcutter's Bay (July 30th) and The Trocadero. Heading to Queensland they toured extensively for Ivan Dayman's Sunshine organisation, and while in Brisbane Jim had a memorable meeting withJohnny O'Keefe, who praised the Masters as the most "Australian" new band in the country. Also in July, the Masters made it into the finals of the Hoadleys National Battle of The Sounds, coming in as runners-up to The Groop.
Then in September the major bombshell fell during their first tour of Tasmania. Although there were no apparent warning signs, pressure was building on the group's leader, Mick Bower. Always a shy, sensitive and meticulous character, he was finding it increasingly hard to cope with the pressure and the chaotic lifestyle in which the band had been caught up. The crunch came just before a gig in Hobart: as show time approached, and Mick didn't appear, Keays and Hopgood investigated, and found him cowering in his room in a state of extreme distress. Oblivious to his predicament, the heartless promoter insisted that the group had to perform; faced with the prospect of going unpaid and being stranded in Hobart, the Masters had no choice but to comply. Bower was dressed, taken to the gig and pushed on stage with his guitar slung around his neck. It must have been an awful experience, with the stricken Bower standing motionless all through the gig, arms hanging limp, in a near-catatonic state. He was hospitalised immediately after the gig suffering 'nervous exhaustion' and was ordered to give up performing. He was sent home to Adelaide to recuperate, and only returned to live performance years later, in the late '70s.
The loss of Bower was a comparable blow to Pink Floyd's loss of their leader Syd Barrett -- it could easily have meant the end for the Masters, just as their career was really taking off. Like Barrett in the Floyd, Bower was crucial to the Masters' success, having composed all their Singles, and all the original tracks on their debut album. It left the band floundering for some time, as they tried to decide how to proceed. When they met back in Melbourne, it was decided to continue, and de-facto leadegsubip passed to Keays, who was by now the "face" of the band anyway. At the end of the September Keays and Gavin Webb chose Bower's on-stage substitute, guitaristRick Harrsion (a Brian Jones look-alike and also a member of Adelaide band The Others), but it was to be another year before a real replacement was found. It's a sad irony that while the Masters scrambled to cope with Bower's loss, their popularity exploded, and "Living In A Child's Dream" shot to the top of the charts. As Jim Keays succinctly puts it "nothing was together, and everything was working."
Just how huge they had become in the wake of the new single was made plain when they were invited to play a free concert in Hyde Park in October, as part of the Sydney Waratah Spring Festival on 14 October 1967. After parading down George St in a limousine, they were greeted by an estimated 50,000 frantic fans who had packed into the park, but after only a few songs the concert degenerated into a riot. Dozens were injured as thousands of kids crushed forward, with the force of the surging mob lifting some people bodily off their feet. When the makeshift stage threatened to topple over, police were forced to pull the plug. In the ensuing chaos, the band was hustled through one car and into another, just as the first of the two limos hired to carry them was overturned and wrecked. With fans pummeling their car and faces blocking every inch of window, the band barely escaped, their panic-stricken driver crashing through garden beds until they lurched out onto William St, where hundreds of fans pursued them up the hill towards Kings Cross.
That same evening, still dazed by the afternoon's events, they headlined a university dance named in their honour. Jim's account of the "Living In A Child's Dream" Ball, held at the University of NSW in Kensington, gives a vivid picture of what an surreal climax to the day it must have been:
"The ball itself was a psychedelic experience of the highest order. Because of its theme, everyone was dressed as a schoolgirl or boy, some licking lollipops and others playing with yo-yos. There were people frolicking in huge cages filled with Minties and Jaffas(popular Australian sweets) and everyone seemed suitably spaced. The band was taken backstage, whereupon we climbed into a giant dice which had been specially constructed. The dice was then wheeled out on a cue from the stage manager and pushed through the audience up to the stage. At this point the lid of the dice flew open and up we popped. Someone from the university then presented me with the key, to thunderous applause by the vast crowd, and we jumped out, slung on our guitars and blasted into the most acid-inspired sounds we could muster. The audience went out of their minds - probably because most of them already were - and pandemonium broke out when we ended the set with Living In A Child's Dream. The psychedelic light show was as magnificent as as had been seen anywhere in the country, with 'trippy' oil lights, the first mirror balls I'd ever seen, smoke machines and the full range of state-of-the-art psychedelia." In a subsequent newspaper article about the concert and the ball, new guitarist Rick Harrison was quoted as saying: "I have never never had to work so hard in my life , and after Sydney I have never been so scared, but overall it's a great life". Evidently it wasn't great enough - Harrison quit immediately afterwards. When the band returned to Melbourne they recruited a new lead player, Peter Tilbrook, another Adelaide connection from The Bentbeaks, whose single "Caught Red Handed" had been banned by Melbourne radio in March that year for alleged obscenity.
Around this time, Jim Keays also tried LSD for the first time, and his hilarious account of his first trip is alone worth the cost of his book!
With Astor pressing for a new single, the band turned to their friend Brian Cadd, of The Groop, who had already written a number of successful songs for his own band and for other artists, including Johnny Farnham. He presented them with the song, "Silver People". After a makeover by the Masters it was recorded and released in February '68 as their fourth single "Elevator Driver".
As the year ended the Masters' career reached a critical juncture. On the 'down' side, they still had no songwriter, and both drummer Steve Hopgood and lead guitarist Tony Sommers were becoming disenchanted with the band's fortunes -- or the lack thereof. According to Keays they were making few creative contributions, leading him towards the decision to replace them. The band also sacked their second manager Tony Dickstein. On the 'up' side, they found their first permanent roadie, Neil McCabe, in Brisbane and he soon became an indispensable part of the band. Returning to Melbourne via Sydney, Jim met brothers Denny and Colin Burgess who played with support band The Haze at a gig in suburban Ashfield, NSW. Both musically and personally, Jim was impressed and immediately earmarked Colin as a possible new drummer.
Back in Melbourne and now set on rebuilding the band, Keays approached Ross East, lead guitarist with Jeff St John's band Copperwine. Although East declined his invitation, another piece of the puzzle was about to fall into place. Keays moved to a new flat in St Kilda. Many groups lived in the area, and two of Jim's neighbours were about to play vital parts in the Masters' continuing story
1968
1968 was a year of major changes for the group, but it also provided some of the lowest points of their career. The exact chronology is rather unclear, and while Glenn Wheatley and Jim Keays' books are generally in accord, there are some specific points where their accounts of this year differ markedly.
In January 1968 Jim Keays began to reorganise the band in earnest, and Summers and Hopgood were given their marching orders. Impressed by his energy and his ability to hustle up gigs, Keays approachedGlenn Wheatley, who played guitar with blues band Bay City Union, as well as their drummer Tony Buettel; their band even lived in the same St Kilda street as Keays. At that time, Bay City Union also featured lead guitarist Phil Manning and singer/harp player Matt Taylor, who of course went on to form the legendary Chain.
According to Wheatley, Keays' initial approach was just bad timing. After months of discouraging hard slog, Bay City Union were about to call it quits when they were offered a single deal with Festival, only two days before Keays contacted them - so at that stage Wheatley and Buettel opted to stay with their band. Jim immediately arranged for Colin "Doggie" Burgess to be flown to Melbourne and he was installed as the Masters' new drummer.
Next into the band was Doug Ford, who as it turned out, also lived only about 100 metres down the road from Keays' St Kilda flat. Doug was already recognised as one of the strongest and most innovative electric guitarists on the scene. He had made his name in the second lineup of pioneering Sydney garage-punk-R&B legends The Missing Links, and its offspring, Melbourne's feedback kings Running Jumping Standing Still. His recruitment helped to revitalise the Masters in many ways: he was a proficient songwriter, a good singer, his mastery of the guitar brought a new breadth to the band's sound and -- most importantly for Keays -- he was "keen as mustard". He agreed to join as soon as he had fulfilled his obligations to RJSS, and once in the band, Doug and Jim worked on developing as a writing team. Ford's presence was crucial to filling the gap left by Mick Bowers' departure and making the transition to from pop band to rock group. As the partnership developed, Keays and Ford created a repertoire of memorable songs which balanced heavy guitar rock with lyrical acoustic touches.
"Elevator Driver" was released in February, accompanied by a another film clip and a full-colour promotional poster, both featuring the Doggie and Doug. Incredibly, the band had to pay for both items themselves -- Astor were too stingy to fork out money to promote their own product! Although not as original an effort as "Living In A Child's Dream" (a hard act to follow, to be sure) and rather similar in subject to The Stones' "Get Off My Cloud", "Elevator Driver" was perfect for the moment, delivering another Top 10 hit, and most importantly keeping the momentum going as they rebuilt the band.
In March Gavin Webb's wedding was covered widely in the local press, but sadly it was to be one of his last media events as a member of the Masters, and the final break with the origins of the group came soon after. Webb, the last remaining member of the original The Mustangs, was forced to quit (in April?), suffering from agonising stomach ulcers. Ironically, this can now often be cured by a simple course of antibiotics, but the true nature of the disease (a bacterial infection, discovered by an Australian scientist) was unknown until quite recently. Back then, extreme cases were often treated by the surgical removal of the affected portion of the stomach!.
Jim set about finding a new bassist; despite the supposed rivalry between the two bands, his first choice was Beeb Birtles of Zoot. Keays flew to Adelaide to talk to him, but Beeb opted to stay with Zoot. The trip was not a total waste however -- on the flight home, Keays found himself seated next to manager Daryl Sambell, who was then enjoying huge success with his young protegé Johnny Farnham. Keays and the "flamboyant" Sambell hit it off, and it was agreed that Sambell should investigate taking over the Masters' management (although in the light of subsequent events one has to question just how coincidental the meeting actually was).
Sambell -- now known as "Sadie", thanks to the success of Farnham's breakthrough hit -- took over the Masters' management, but it turned out to be a mixed blessing. He was a master networker and great at getting publicity, he freed them from Astor and got them signed to EMI. He was also a partner in the newly-formed AMBO booking agency, a cartel put together by a group of leading managers including Gary Spry, Bill Joseph, Jeff Joseph and Don La Roche, and this proved very helpful for concert bookings. But in the long run Sambell was more interested in promoting Farnham's career; he kept the Masters at arm's length, so the day-to-day management duties often fell to Glenn Wheatley. Sambell's pop tastes were also were at odds with the developing progressive direction of the Masters' music.
Glenn Wheatley joined the band sometime during the first months of 1968, probably March or April, just after Gavin Webb had to leave. Exactly when is unclear, but he was definitely in the band by May, when they entered the Adelaide heats of the Hoadley's Battle Of The Sounds. According to Keays, Peter Tilbrook had switched to bass after Gavin Webb's departure, so Jim approached Wheatley and brought him in as the second guitarist. According to Wheatley however, he was approached by Doug Ford, and brought in as their new bass player. The evidence of the Battle photographs, however, shows that both Wheatley and Tilbrook were in the group right through to the finals and probably for some time after.
Their next single, "Brigette", released in June, was their last single for Astor and it also marked the debut of the Ford/Keays writing partnership. Keays reckons the song was partly inspired by Keays love of Donovan's "Mellow Yellow", although it bears a suspicious resemblance to some of The Move's earlier singles, particularly "Night Of Fear". The chintzy, go-for-baroque arrangement included a string section scored by The Strangers' John Farrar, and while it's hardly their best single it made the Top 40, proving at least that the band was still in business.
Mid-year, they topped the annual Go-Set Pop Poll -- they were voted Most Original Group, and came second after The Twilights as Most Popular Australian Group. Buoyed by that result, the band entered the South Australian heats of the 1968 Hoadleys Battle Of The Sounds, beating local rivals Zoot in a tense contest, but ultimately they were again runners-up in the national final. It was held in Melbourne in July, and they were beaten this time by The Groove, with Doug Parkinson In Focus coming third.
Interestingly, Glenn Wheatley recounts that the disappointment of their loss in the finals was alleviated after the show, when the Masters were approached by the manager of the Sitmar cruise line (who were the other major sponsor of the contest). He told the band that he had voted for them in the final, thought they should have won, and offered them a working trip to England, with free passage in exchange for their performing for the passengers during the voyage.
At a meeting the week after the Hoadleys finals, the Masters took Sambell's advice, and decided not to renew their contract with Astor. Sambell indicated that he would be able to negotiate a new contract with EMI, which he duly did. At the same meeting, Sambell announced that he was "poaching" their faithful roadie Neil McCabe to work in his office and take care of his No.1 act, Johnny Farnahm. Although disappointed to lose him, the band soon found an able replacement in the equally loyal and capable Adrian "Ada" Barker.
The gigs continued throughout the year and in the second half of 1968 they went back into Armstrong's Studios to cut their first single for EMI, although it was not released until early 1969. Having lost the Masters to EMI, Astor attempted to milk the last drops from the cash-cow by releasing "But One Day" (an old track from their debut LP) as a single in August, but the band urged fans not to buy it and it failed to chart. Right through '68 the band played a welter of gigs, touring around country Australia in their battered van, trundling up the Hume Highway to Sydney, on to Brisbane, and dashing from dance to dance around greater Melbourne. Typically they were playing three gigs a night on Fridays and Saturdays. and then dragging themselves into the Channel 0 TV studios on Saturday morning for the obligatory Uptight appearance. Money was undoubtedly pouring in, but the fact was that the Masters saw almost none of it - by year's end they were stony broke.
In the first two weeks of December there were more setbacks. Peter Tilbrook received an offer from the new Sweet Peach label, and he left the band to form the duo Paradise with his friend Richard Hay. Glenn Wheatley moved to bass, the classic lineup of The Masters Apprentices fell into place and the stage was set for some of their greatest successes -- but there were still tough times ahead.
The next big disappointment came after they got back to Melbourne from gigs in Brisbane in the second week of December. Wheatley returned to find a message from Sitmar and when he called back he found himself on the receiving end of a blast from Sitmar's furious entertainment manager. It turned out that Sitmar had arranged for the group to leave on a London-bound cruise liner the previous week, but of course the Masters were in Brisbane. Unable to locate them, the liner had been delayed for an entire day while Sitmar found a group to replace them. After this tirade, the Sitmar executive declared that they would have nothing further to do with the Masters and hung up on Glenn. Dumbfounded, they confronted Darryl Sambell, who denied the whole affair, but a further check with Sitmar confirmed that the whole deal had been arranged with Sambell. Caught up in Johnny Farnham's affairs, he had apparently forgotten to tell them about it.
By Xmas, finances and morale had both hit rock bottom. Despite the constant gigging, the group were hundreds of dollars in debt. Tension within the band had increased, notably because of Glenn's situation. The Masters had originally rented two flats in the same St Kilda block, downstairs from Darryl Sambell, who had the penthouse apartment. When Tilbrook and McCabe left, the second flat was let go. Short of cash, Wheatley was obliged to move into the spare room in Sambell's flat, and soon found himself in the uncomfortable position of becoming the "middle man" between Sambell and the rest of the band. By the end of the year, friction between Sambell and the group was at an all-time high, exacerbated by the Sitmar affair and his recent management takeover of their rivals Zoot. They also blamed Sambell for the long delays in the release of the Masters new single, which was made more irritating by the success of Zoot's Xmas single "1x2x3x4".
Both Keays and Wheatley recount a bleak Christmas Day, 1968. Broke, without even enough money for food, Ford, Keays and Burgess went upstairs to Sambell's flat, where he was entertaining Wheatley, Frank Thring and Molly Meldrum at a Xmas lunch. Sambell dismissively handed them a two dollar note, and the band slunk off to the local shop to buy their Xmas dinner -- cold pies. A mortified Wheatley spent the rest of the day in his room.
Their final gig of the year was on New Year's Eve, but between sets the band members talked through their problems, patched up their differences, and decided that Sambell had to go. Wheatley offered to take on the day-to-day tasks of bookings and promotions, leaving Jim and Doug free to concentrate on writing.
1969
With their differences settled, the new lineup jelling and the Ford/Keays writing team hitting its stride, the band now moved into its best-remembered and most successful phase. The long-awaited first EMI single was moderately successful, even if it was something of a false start artistically. The schizophrenic "Linda Linda" / "Merry-Go-Round" (March) marked the beginning of their collaboration with noted producer Howard Gable. The corny A-side catered to Sambell's vision of the band as a bubblegum pop group, and falls into the same faux-musical-hall category as songs like "Winchester Cathedral". But the rocky B-side was the track to watch, with strong hints of how they were really developing. (Although not included on any of the original albums or the CD reissues, "Merry-Go-Round" can be found on several of the later "Best Of" compilations.) The single missed out on the Top 40 by one place (although one imagines the band were not too disappointed) but it got them back on the radio and the charts, and their popularity continued to soar.
The Masters continued to tour across the country, and it helped to weld them them into a close-knit unit. Meanwhile articles, profiles, pinups and TV appearances kept them plastered all over the media; indeed they were so overexposed, Jim Keays claims, that they began to turn down appearances on Uptight for fear of being over-exposed to audiences. They needn't have worried -- when they played at that year's Moomba pop concert in March at the Myer Music Bowl, they pulled a huge crowd of nearly 200,000, second only to the Seekers' record-breaking draw back in 1967.
Musically they got back to business with their next single, the rollicking "5:10 Man" (July 1969). It was a major step forward and kicked off a string of Top 20 hits. Although Keays claims that the producer "didn't understand" the group properly, this too was produced by Howard Gable. It was a deliberate move towards a heavier sound by the band, who were keen to distance themselves from the current bubblegum craze -- a direction in which they felt that both Sambell and/or Gable were pushing them -- and it put the Masters back on the map in no uncertain terms. The '50s pastiche opening of the song sounds like it's about to head off into the a rendition of "The Great Pretender" but then dives head first into gritty fuzz-toned blues rock, with a theme (perhaps influenced by The Kinks' "Plastic Man"?) of youth culture vs. the boring straights -- a sure-fire winner with young audiences.
Also in July, with "5.10 Man" climbing the charts, they had their third and last stab at the Hoadley's Battle of the Sounds, but once again they were runners-up -- although this time they ran such a close second to Doug Parkinson's In Focus that they were reportedly also offered the coveted winner's prize, a trip to England with the Sitmar line. According to Keays, the Masters won 'on points', but he claims that the judges may have felt that their 'bad boy' image did not make them suitable candidates to take first place.
While substantially true, this image was deliberately played up by the band, fuelled by press reports like the infamous Go-Set 'expose' headlined "Sex is thrust upon us". Written by Go-Set's Lily Brett (with Jim's full cooperation) the article and its follow-up lifted the lid on some of the milder aspects of the bacchanalian groupie scene that had surrounded the band for the last three years. (The outside wall of their first group flat in Melbourne had famously been daubed with the slogan "Band Moll's Paradise" in three-foot high letters, and a continuous string of groupies passed through the flat day and night). But as another means of frustrating Sambell's plans to market them as a wholesome teenybop combo, the 'bad-boy' publicity was undoubtedly a success.
About this time the band also switched to wearing leather stage outfits. This nicely enhanced the 'bad-boy' image, of course, but as they discovered, it had a much more practical side-effect. The cost of buying expensive stage clothes which were being shredded on a nightly basis was sending them broke, and of course leather - which didn't tear - provided then with their longest-wearing outfits in years. Jim Keays reckons it saved them thousands of dollars.
In August the Masters headed off around Australia on the remarkable Operation Starlift, an historic all-Australian package tour, the largest of its kind ever attempted, featuring some of the top groups and solo artists of the day - The Masters, Johnny Farnham, Ronnie Burns, Russell Morris, Johnny Young, Zoot, and The Valentines. Although the tour was a apparently a financial disaster, it was a promotional success for the Masters. The Brisbane Festival Hall concert was a highpoint of the tour. That night, they drew a record crowd of over 7000 people, breaking The Beatles' 1964 attendance record. Glenn was dragged offstage by the audience and had his pants and coat literally torn to shreds, with the result that one of the police on hand threatened to stop the show and arrest Glenn for indecent exposure if the did not finish playing immediately!
But back in his hotel room after the hectic gig, Wheatley had time to reflect on the event, and it became the turning point in his life and career, because it finally drove home just how badly they were being ripped off. He figured that the crowd had paid $5 per ticket, so the gross must have been at least $30-35,000 -- yet the Masters, like all the other acts, were on a fixed fee, and received a miserable $200 for the gig; according to Wheatley, top-paid act Johnny Farnham probably only got about $1000. Something was seriously wrong, and Wheatley was determined to fix it.
The next step was obvious - they had to take over their own management from Sambell, who by then was totally preoccupied with Farnham and Zoot, so the plans were put in place. Over the closing months of 1969 Wheatley became more and more involved in choosing venues, booking gigs and promoting the group, placing them with far more care to avoid over-exposing them, cutting down on appearances and increasing their fee. They closed the year in promising style with December's aptly-named single, the bluesy "Think About Tomorrow Today", which provided another Top 20 hit nationally and went to #1 in Melbourne.
1970
Early in the year the Masters officially parted with Daryl Sambell and set to work on their new venture. Wheatley was playing an integral part in bookings and management, and they managed themselves for the rest of their career. (It's interesting to speculate on what might have happened if this had happened earlier). They were certainly enjoying the taste of handling their own affairs - especially being able to actually keep some of the money they were generating.
They set up their own booking agency, Drum, established in January by Glenn Wheatley and "Ada" Barker. Despite initial resistance from Sambell, they successfully took over their own bookings from the AMBO agency and they were on their way. Based in a terrace house office in Drummond St Carlton, Drum handled the Masters' own management and within a few months (as documented by a June ad in Go-Set) they were also booking and promoting gigs for The Sect, Ash, Lovers Dream, Big Daddies, Thursday's Children, Looking Glass, Daisy Clover, Nova Express, Co. Caine, Plastic Tears, Little Stevie, Tamam Shud, Jeff St John, Flying Circus and 14 others, as well as promoting tours by overseas acts The Four Tops and Paul Jones (ex-Manfred Mann). Wheatley was rapidly finding his niche, as his later career would conclusively prove.
The Masters had been stockpiling tracks since they signed with EMI back in 1968, and in February '70 their long delayed second LP Masterpiece was finally issued. It's an interesting album, despite being something of a hodgepodge (as Keays freely admits) but it clearly shows the band developing a much broader range. It includes the single tracks "Linda Linda", "5:10 Man" and "A Dog, A Siren & Memories", and "How I Love You", although it regrettably omits the excellent "Merry-Go-Round". Side One also showed them beginning to come to grips with the album format, and they emulated the current fad for concept albums by linking the songs with a short guitar-and-string arrangement, crossfaded between tracks.
The title track is a live recording of what of a 12-bar instrumental; the presence of two guitarists indicates that it dates from the period that Peter Tilbrook was still in the band, and possibly from even before Doug Ford joined. It's certainly provides a vivid aural snapshot of a Masters live show ca. 1968, and the wall of screaming never lets up."Who Do You Think You Are" sounds like a velied swipe at Daryl Sambell ("it means so much to you to be a socialite queen"); the rocky "Barefoot When I Saw Her" is musically very strong -- including a ripper solo from Doug -- but it's hampered by rather inconsequential lyrics and some incongruous double-speed vocals (a la The Small Faces). "Isabella" is also a bit clumsy lyrically, although its Latin edge shows Ford's early interest in the style, which reappeared later in "Rio De Camero", and it features is some nimble acoustic guitar work. The album also includes the Masters' own version of "St John's Wood", a track Jim and Doug gave to Brisbane band The Sect, who released it as a single on Columbia during the year.
April saw the release of their new single, and one of their best tracks, a raucous, anthemic celebration of rock'n'roll that would see off the 1960s in fine style. "Turn Up Your Radio" was recorded it was recorded in a boozy late-night session at Armstrong's, again produced by Howard Gable, and engineered by Ern Rose. (Not a bad effort for someone who "didn't understand" the group's sound!) Keays barely remembers the session, and was so drunk by the time had had to do the vocal that he had to be held up to the mike! The song was deliberately designed to be as loud and offensive as they could make it, thus providing the final nail in the coffin to their ill-conceived teenybopper image. The title also makes a link to Doug Ford's years in The Missing Links -- specifically the spoken line in the Links' "Driving You Insane", when singer Andy James shouts "Your radio's too low - turn it up!" just before Doug rips into his incendiary solo. "Turn Up Your Radio" has become one of the icons of Australian rock. In spite of being released just before the start of the infamous Radio Ban in early 1970, and receiving little airplay on commercial radio, the song burned up the charts and peaked at #7 nationally.
The Masters now had their sights set firmly on the UK, and over the previous months they had been stashing money to pay for their stay in England (including the small fortune they reputedly saved thanks to the leather gear!), and in April-May they set off on the national Farewell tour. It was a timely move for the band, since it also farewelled an entire era of Australian pop. The pub-rock boom in Melbourne (which would launch the careers of new bands like the "new" Billy Thorpe & The Aztecs) was about to get into full swing, and the golden days of the "scream era", the Battle of the Sounds, suburban dances and the inner city disco circuit that established the Masters career was drawing to a close.
Exactly how the Masters got their ticket to England is unclear. The accepted version is that they were awarded the trip to England because they came so close to beating Doug Parkinson In Focus in the Hoadleys Battle of the Sounds. However Glenn Wheatley says that he contacted Sitmar himself in April. Their new entertainment manager apparently knew nothing about the debacle of the previous arrangement and offered to give them free passage to England on the Fairsky, leaving in late May, in return for providing entertainment.
According to Jim Keays, The Masters played their final show at Camberwell Civic Centre, supported by Zoot, Russell Morris and Music Express and the show was compered by Stan Rofe (although according to Glenn it was at Berties disco). On 25 May 1970, following in the footsteps of The Easybeats and the Twilights, they boarded ship for England with high hopes of breaking into the British music scene. They left Drum in the hands of "Ada" Barker, and were given a rousing send-off by a crowd of fans and friends including Stan Rofe, Daryl Sambell, Molly Meldrum, Ross D. Wylie, Johnny Young and Ronnie Burns.
The 6-week ocean voyage aboard the line Fairsky was a more-than-welcome break for them after years of constant gigging, and free at last from hassles and distractions of life on the road, they used the time to good advantage, writing and rehearsing new material and trying out the new songs each night. Here again, the recollections of Keays and Wheatley differ. According to Keays, it was arranged for them to play three spots per night in one of the liner's entertainment lounges, but these performances rapidly dwindled to zero as the mostly middle-aged passengers were driven off by the band's free-form jams, on-stage rehearsals and 20-minute guitar solos. However, Wheatley recalls that the band played on average "every second night".
They did not mix much with other passengers, but they did make friends with two young young Australian travellers, Daryl Peters and Joey Powers. ("Song For Joey", on the Choice Cuts LP was written for Powers). They arrived in London in early July, unscathed, in spite of the disgusting food (incredibly, the Fairsky had no refrigeration) and some hair-raising misadventures during a stopover in Panama, where they were ripped off while trying to score some of the legendary local dope. (Curiously, Jim's vivid recollection of their Panama escapade is somewhat at odds with Glenn Wheatley, who described the voyage as "largely uneventful".
Arriving in beautiful weather, at the height of a glorious English summer, the band began what was perhaps their happiest and most productive period. They were met at Southampton by their old mate Brian Peacock (ex-Procession), now living in London. They initially moved into a hotel in Bayswater, but it quickly ate into their savings, so together with Daryl and Joey, who were now part of the 'family', they moved into a house in North Harrow in London, where they continued to write and rehearse, and also made contact with other Aussie expats like the Cook sisters from Marcie Jones & The Cookies, Dennis Wilson and Dannie Davidson of Kahvas Jute, and Ronnie Charles (ex-The Groop).
Freed from the grind of constant gigging, they gleefully immersed themselves in the cultural life of the capital, going on shopping sprees for clothes on the famous Kings Rd, Cheslea, ploughing through scores of new records and doing the rounds of clubs and concerts, seeing the best music on offer. Glenn Wheatley continued work on a manuscript which he had begun during the ocean voyage. Called Who the Hell is Judy In Sydney?, it was an unexpurgated account of his experiences with the group, but the memoir was apparently too hot for any publisher at the time and was never printed, although it eventually became the basis for Glenn's autobiography, Paper Paradise. The one thing they did not do was play live, lacking adequate equipment and a solid set of road-worthy material.
Having only been advanced $500 by EMI Australia, Wheatley started knocking on doors in hopes of getting the band established in London, and (hopefully) to secure a recording deal. His first contact was with expatriate Australian impresario Robert Stigwood, who was by then managing Eric Clapton and The Bee Gees. Stigwood had been an 'associate' of Darryl Sambell but Wheatley's plea for assistance fell on deaf ears, and he hints that Stigwood was more interested in Wheatley himself than in the band., Wheatley next made contact with EMI in London, and was fortunate to find an ally in 18 year-old Trudy Green, secretary to EMI staff producer Jeff Jarratt. (Trudy went on to become a leading artist manager with clients including Heart, Janet Jackson and Mick Jagger). Trudy took a liking to the band and was instrumental in getting Jarratt interested in the Masters and in the end he agreed to produce them.
From there, the pieces rapidly fell into place -- the band was thrilled to get the news that EMI Australia had agreed to pay for the recording of an album, that EMI England would provide artwork and, best of all, that the recording would be at the legendary Abbey Road studios. It was a dream come true for the group -- Jeff Jarratt had worked on some of the later Beatles recordings and engineered Pink Floyd's The Piper At The Gates of Dawn, while engineer Peter Bown was renowned for his work on the later Pink Floyd's LPs A Saucerful Of Secrets, Ummagumma and Atom Heart Mother. Just before the scheduled start of recording, Jim Keays made a quick trip to the continent, and he was in Copenhagen when he heard news of the death of Jimi Hendrix, one of the Masters' biggest idols. On his return to London, Jim and Doug penned "Song For A Lost Gypsy", which they immediately added to the list of songs to record.
In September they entered the studio, to record the tracks that would form their next LP, the legendary Choice Cuts. They revelled in the Abbey Rd ambience, and the relaxed and quietly disciplined approach of the EMI staff. The facilities were superior to anything available at the time back home and allowed them a far greater range of expression on record. The songs they brought to the sessions - many written during the voyage over -- were the most original and distinctive they had yet written, distilling all their recent musical influences. There were the heavier sounds of acts such as Hendrix, King Crimson and Free, as well as the folk/acoustic touches of Donovan, the Small Faces and Van Morrison (whose Astral Weeks LP was on constant rotation at their North Harrow house). They brought in outside musos to augment some tracks, and even made use of Paul McCartney's famous white grand piano on a few cuts, including "Because I Love You". During the sessions they bumped into a 'who's who' of British music including The Moody Blues, Floyd, Barclay James Harvest, Ringo Starr and Roy Harper. Towards the end of the sessions, they found themselves one song short of the optimum LP length, so at Jarratt's suggestion they quickly knocked together a new song, built up from from a Latin-flavoured instrumental shuffle that Doug Ford had been playing around with. Jim wrote lyrics for the piece overnight, they cut it the next day and it became the album' s powerful opening track "Rio De Camero" (later released as a single in 1974).
The entire LP was recorded, mixed and mastered within a month, and the band were justifiably thrilled with the results. The choice of the first single was obvious -- "Because I Love You", a beautiful song of love, separation and independence, which has long since become their most popular and enduring recording. To promote it back home they called on another Aussie ex-pat, Timothy Fisher to make a promotional clip for them. Filmed on a chilly autumn morning on Hampstead Heath, it was simple but effective and is now the most often-seen clip of the band. Although most Australians will know the clip from the b/w print shown many times on GTK and elsewhere, it was in fact shot in colour, and the original colour print can be seen on the Masters' Turn Up Your Video!, along with several other previously unseen clips for tracks from Choice Cuts.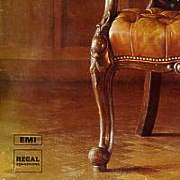 The album's iconic cover photo has since become as much of a classic as the record itself. It depicts an elegant, overstuffed chair in a panelled room, with a mysterious disembodied hand holding a cigarette floating above it. The cover was created for them by the famous English design house Hipgnosis, who were responsible for world-famous covers for Pink Floyd, 10CC, Led Zeppelin and many others. The Australian LP had the full photo, but the UK release on EMI's Regal Zonophone imprint inexpliclably used a heavily cropped version, showing only the bottom left-hand corner of the picture.
As 1970 drew to a close, they had a fine new LP in the can, and everything looked rosy, so the band were caught by surprise when Glenn Wheatley revealed that they were almost broke. They were determined to stay in London and keep trying for the big break, but they desperately needed more cash. A phone call to EMI Australia to plead for assistance proved futile (of course), so they put together an emergency plan - a return home and an Australian tour which would raise the needed funds. Wheatley was keen to do at least one performance in London before they headed home, so he arranged a gig at the ultra-trendy Blaises in West Kensington. Unfortunately, on the night they were the victims of a double-booking; although the other band didn't show, the marquee out front billed the no-show, instead of the Masters. So, for that night only they played two sets to about 50 people, while the marquee outside read "The Dog That Bit People"!
Wheatley headed home first to organise the tour so that they could recharge their coffers and return to the UK as soon as possible. In spite of the many difficulties he faced, he arranged the tour, and even secured a sponsor, the Marchants soft drinks company. He was learning fast. They returned to Australia at the end of December 1970, just as "Because I Love You" was released. It provided them with their fourth consecutive Top 20 hit, reaching #12 nationally, and it became one of the touchstone songs of the new era of Australian rock.
1971
Once home the Masters immediately began the wide-ranging Australian tour, beginning immediately on their arrival in Perth. The day they returned, Howard Gable joined them with portable four-track equipment and recorded their first show at the Nickelodeon Theatre, a former cinema in Perth, which had been converted to a live music venue. Although they had only just stepped off the boat from England, and were tired and under-rehearsed, the band dutifully went through their hastily-prepared set, and although they were never really satisfied with the outcome, these recordings became the live album Nickelodeon. It is reputed to have been only the second live rock album ever recorded in Australia, and was released in June that year. Two tracks -- the powerful, brooding "Future of Our Nation", backed by the non-album cut "New Day" -- were combined for a single also in June, which was released on HMV subsidiary (probably because EMI was soon to phase out the Columbia label).
Keays and others have been somewhat dismissive of the LP, writing most of it off as an under-rehearsed jam. There are some slow moments to be sure, and Keays' vocals are perhaps not the best he ever recorded. In fact, it's really Doug Ford's album, and worth the price for his fiery playing throughout. "Future Of Our Nation" and "Evil Woman" are both superb pieces of '70s heavy rock, as good as anything overseas bands were putting out. It may not be the greatest live recording ever made, but it's an important document of the band, and it certainly leaves you wishing more performances from that tour had been taped. It's also a great pity that they never got to record full studio versions of these songs. (Incidentally, it was in Perth that Glenn Wheatley met his first wife, Alison Sunde.)
In their absence they had been voted top group in the 1970 Go-Set Pop Poll, and both their 1970 singles had been major hits. Nevertheless, they had been away for some time, both they and the music scene had changed dramatically - not least because of the radical changes brought about by the 1970 radio ban, the end of the old suburban dance circuit, and the rise of the pub-rock scene. It was slow going at first winning over audiences to the 'new' Masters, beards and all. Gradually though, things picked up, and after a breakthrough gig at Chequers in Sydney the tour began to pick up steam. They were greatly helped by a lengthy profile in the magazine POL, written by freelance journalist Howard Lindley. He became one of the group's most ardent supporters, and later on he also started work on a film about the band. He shot several performances in the weeks before they returned to England, but sadly the project foundered when Lindley committed suicide, just before the Masters were due to return to England. Like so many of the Masters' screen appearances, only fragments of his film survive.
While they were still touring Australia, the group received word that EMI England liked the new album, and in February EMI released "I'm Your Satisfier" as the first UK single. In April Choice Cuts was released in Australia to widespread acclaim, and it went to #11 on the LP chart. They made numerous TV appearances, including a three-song live set for the ABC's GTK program which included "Future of Our Nation". In Melbourne they played a major gig at the Town Hall, supported by Billy Thorpe & The Aztecs (one of the series of Town Hall concerts at which the Aztecs' famous Live at The Town Hall LP was recorded).
When Choice Cuts was released in the UK it was well-received -- but the band were stuck back in Australia, still short of money, and they could have done little to exploit the opportunities even if they had known about them. As the tour dragged on into months, they made little headway; in fact it seemed like a return to the bad old days, and they endured several ripoffs at the hands of unscrupulous promoters. By early 1971 they had reached their lowest ebb. Frustrated, with hopes of returning to England all but gone and seeing no other way out, the Masters reluctantly decided to call it a day.
Then, on the verge of the split, a phone call came out of the blue from London. EMI's John Halsall informed them that Choice Cuts was getting great notices in the English music press, including a rave review in Melody Maker. He told them it was selling well in England and starting to make an impression in Europe too -- "I'm Your Satisfier" had been released in France and had gone into the Top 10 there. Halsall urged them to return as soon as possible. This renewed their hopes, and from near disaster, everything suddenly picked up as they began to organise their return to the UK. They decided to take the boat rather than fly (to save money) so Glenn Wheatley again approached the Sitmar Line. To their delight, Sitmar offered them another complimentary trip. Even more importantly, EMI agreed to finance another LP when they got back to London.
They left for England on 15 May 1971, this time aboard the Fairstar, this time accompanied by Glenn's girlfriend Alison, and Jim's wife Vicky and baby son James. They again stopped off in Panama, and on this trip they were successful in scoring some the legendary local smoko -- which made for a far more enjoyable voyage than their first. Unfortunately, by the time they arrived back almost three months had passed since Halsall's phone call, and interest was already waning. Resigning themselves to the inevitable, they contacted EMI and set up the recorded, slated for about three months ahead. They employed an outside PR agent, Jim Haswell, who managed to get some small reviews for them, but Wheatley was unable to find an agency that would book them, and although Doug Ford insisted on keeping up the regime of regular rehearsals, they had no live work at all.
Then the new UK label Bronze -- who had just signed Slade and Uriah Heep - made an approach to the Masters to become their third act. Although they were hesitant, being still signed to EMI, they decided use the offer to as leverage in hopes of getting a better deal out of their record company. Wheatley delivered an ultimatum to EMI Australia, demanding that they either release the Masters from their contract or match Bronze's offer of £90,000. Predictably, EMI did neither, responding with a laughable advance of $1000. Fearing the repercussions, they declined Bronze's offer, but in retrospect, one can't help but agree with Jim Keays' rueful assessment that the best course of action would have been to "sign with Bronze and let the lawyers work it all out later."
Meanwhile, back in Australia, their Drum agency, which had been managed by roadie Adrian "Ada" Barker, finally closed its doors. Following an approach by a young entrepreneur, Michael Gudinski, Drum merged with two other Melbourne agencies to create Consolidated Rock, which would become a foundation stone for Gudinksi's famous Mushroom label.
Returning to Abbey Rd at last in the autumn of 1971, the Masters were reunited with Jarratt and Bown, plus engineer (and Sgt Pepper's veteran) Richard Lush, and they set about recording the new album. It was made at the same time that John Lennon was making his epochal John Lennon/Plastic Ono Band LP. The album title, A Toast to Panama Red, was the band's unsubtle homage to the potent variety of Central American marijuana. Panama has been lauded as one of the best progressive releases of the period, but it was largely ignored at the time. According to Wheatley, one of the tracks ("Games We Play") was recorded at George Martin's Air Studios, with Martin himself conducting the children's choir which features on the second part of the track. Sales were perhaps not helped by the cover, which even Jim admitted was not an ideal choice, being as garish as Choice Cuts was tasteful. Designed and painted by Keays, it was evidently a dig at the British, and featured a grotesque psychedelic caricature of a bulldog's head, wearing a Union Jack eye patch. Its ears are skewered by an arrow from which dangles a tag, emblazoned with the album's title.
The Masters played sporadic gigs to support the album, which was well-reviewed in England, but EMI Australia did nothing to assist them. Without the necessary backing, it was clear by the end of 1971 that they were not going to achieve the success they had dreamed of, fought for and so richly deserved. Although Keays is more positive about it, Wheatley's own account of the album sessions is that they were an unhappy experience for him. He had a bad LSD trip the night before they went into the studio, so he began the recording in a pretty negative frame of mind, and the tensions mounted steadily during the recording. In fact Wheatley did not play on some of the tracks, and his parts were played by Doug Ford. According to Keays, Glenn had been working part-time at a management agency over the previous few months and apparently had insufficient time to rehearse because of his day job.

1972
Early in 1972 EMI issued the Panama album, and lifted a single from it in February - the soaring, anthemic "Love Is" one of their best songs, and one which had been recorded using a twelve-string acoustic specially loaned to Doug Ford for the occasion by one of his heroes, The Shadows' Hank Marvin. In spite of their excellence, both LP and single sank without trace back home. Now firmly locked into the new high-rotation pop formats, Australian radio wouldn't touch it with a bargepole. The era of DJs like Stan Rofe and Ward Austin, who had championed the band in the 60s, was over, and the new moguls of commercial pop programming (led by 2SM'sRod Muir) had no interest in such progressive explorations. They went out in style though -- A Toast to Panama Red was as big an advance as Choice Cuts had been over its predecessor. Ian McFarlane has eloquently described it as:
"... a ground-breaking album of rarefied skill and tremendous scope ... too musically advanced for the local industry of the day to comprehend. A Toast to Panama Red is one of the great lost treasures of the Australian progressive rock era."
Their valedictory was album's closing track, the beautiful "Thyme To Rhyme". Fittingly, it was also the very last track they recorded together, and it provided a delicate and poignant farewell to this legendary group. Without adequate support, the album predictably failed to take off, so Glenn tried to convince the rest of the band that they should break up while they were still on top. They disagreed, so Glenn announced he was leaving to work full-time for the management agency. Jim Keays saw the writing on the wall and not long afterwards he announced his own departure and his intention to return to Australia immediately. Although a seemingly impossible task, Ford and Burgess decided to keep going. Doug sent for Colin's brother Denny, who took over on bass. This final trio lineup of the Masters soldiered on valiantly for a few months, and made one recording (unerleased at the time) before finally calling it a day in mid-1972.
Now That It's Over ...
Back in Australia, Keays did some final promotional duties for the "Love Is" single (including a TV clip in which he appeared alone, playing 12-string guitar. He then set about establishing himself as a solo artist, began writing songs, and also wrote for Go-Set. In 1974 he compiled the tracks and designed the cover for EMI's "Best Of ..." collection Now That's It's Over, to which he added liner notes written by his friend, the late Howard Lindley. To promote it EMI released "Rio De Camero" / "Thyme To Rhyme" as a single in August 1974, and the A-side garnered quite a bit of airplay.
In 1975 Keays struck out at last as a solo artist, recording an excellent solo LP Boy From The Stars in 1975 (now released on CD). He premiered the album at Sunbury '75, where his all-star backing group was joined by Glenn Wheatley, recently returned from the UK. It was to be the last time they played together in public for over ten years. (Ironically, after all the ripoffs of the Masters years, Jim and his band were also the only group who got paid, having wisely arranged an outside sponsor. Because of that year's low attendance and the whopping $60,000 fee paid to headliner Deep Purple, none of the other Australian acts who appeared at Sunbury '75 were every paid, and the organisers, Odessa Promotions, went into liquidation immediately after the festival.)
Most successful of all was Glenn Wheatley. As he moved into a long and successful career in management, he applied the lessons learned and contacts made with the Masters to manage other bands. He spent several years in England and America learning the trade, as he recounts in his book. On the eve of his return home he was invited to manage the reformedMississippi. After the name change to Little River Band they set about cracking the American market, and Wheatley was instrumental in their historic breakthrough there in 1976-77. In the 80's he was at the helm for the career revival of the Masters' old mateJohn Farnham. For more information, seek out Glenn's memoir, Paper Paradise, which documents the highs and lows of his life in the Masters and his extraordinary career as Australia's most successful rock manager.
As the years passed, the the Masters' legend grew. In the early 80s there was a revival of interest thanks to Glenn A. Baker, who put together a major feature on the band for his Rock & Roll Trivia Show on Sydney radio Triple-J, which gave rise to the definitive Raven compilation album. The Masters finally reformed in August 1987 for a "Back to the 60s" special on Hey Hey It's Saturday with the classic Keays/Ford/Burgess/Wheatley lineup -- the first time all four had played together since Glenn left the group in late 1971. Buoyed by the reaction, they undertook a reunion tour during 1988 and released an album featuring new material and new versions of their classic songs, from which they lifted the single "Birth of the Beat". The perennial "Because I Love You" also gained new prominence around that time via its use in a series of advertisements for a well-known brand of jeans.
The group (minus Wheatley, who only participated in the TV reunion and a few early gigs) have have since undertaken occasional concerts, and in September 1995 they released a new version of "Turn Up Your Radio", recorded with the Hoodoo Gurus. Glenn, Doug and Jim got together again -- for perhaps the last time -- in Melbourne to perform 'unplugged' at the launch of Jim's book. With this, it seems, the Masters' live career finally ran its course, and Keays has signalled in his book his intention not to participate in any further reunions.
In October 1998, the Masters Apprentices finally received long-overdue formal recognition for their achievements from the Australian record industry, when they were inducted (along with the Angels) into the ARIA Hall Of Fame. The same year they were also honoured in Australia Post's "Rock & Roll" series, with a stamp commemorating Turn Up Your Radio.
Only a month after their ARIA induction, Colin and Denny Burgess narrowly escaped death when the car in which they were passengers was struck by a semi-trailer in inner-city Sydney. Both men -- who were being driven to a party after the launch of the debut CD by their new band Good Time Charlie -- were severely injured. Colin suffered multiple fractures and internal injuries, was trapped in the wreck for some time and was by all acounts lucky to survive. Denny also received serious injuries and had to undergo several hours of plastic surgery. Fortunately both brothers made a full recovery. A documentary about the Burgess brothers by filmmaker Joel Petersen, entitled The Comeback Kings, was released in 2005. Denny is involved in many ventures -- he is a director of Wests Leagues Club, Ashfield a National and NSW Board Member of the Music Managers Forum and as current Chairman of the Australian Songwriters Association, as well as the event business A Red Letter Day, which he operates with his wife Clare.
Interest in the Masters continues unabated. 1999/2000 has seen the long-awaited release of all the Masters' original albums on CD, the publication of both Jim and Glenn's memoirs, and the establishment of official web sites for Jim Keays' and The Masters Apprentices' (see Links), and in June 2000 (after months of delays) ABC-TV finally screened an edited version of the documentary, Turn Up Your Video, which was accompanied by the release of the full-length home video. In 2001 several of the original members including Mick Bower gathered at the State Library of NSW to celebrate the donation of a treasure-trove of Masters memorabilia by the group's first manager Graham Longley.
More recently, it was revealed that Jim Keays had been diagnosed with cancer, but the latest report is that Jim's treatment has been successful, and he made a surprise appearance (appropriately dressed as The Grim Reaper) on the Halloween 2007 edition of the popular ABC show Spicks and Specks.
Related Articles
"Masters Apprentices have made the grade"
Ian Meldrum, Go-Set, Wed. 8 March, 1967
"Star Cheats Death"
Murray Johnson, Sunday Herald Sun, December 6, 1998
The Life Of Brian"
Brian Vaughton talks to Jeff Crawford about his rock'n'roll apprenticeship
Adelaide Matters, June 2000
Thea Williams
"The final compilation for rock's old Masters"
Adelaide Advertiser, Sat 7 July 2001
Discography
Happily, after years of being scarcer than hen's teeth, all the Masters' original LPs are now available on CD from Ascension Records. This includes the expanded version of the first album, including the various tracks like their cover of "I Feel Fine" (which were removed from earlier LP and CD releases) plus rare live tracks and alternate takes.

The Raven compilation Hands of Time is a excellent overview of the band's career and of course includes Glenn Baker's usual fine liner notes (thanks, Glenn!). Now That It's Over is a great lower-priced compilation put together by Jim Keays, includes the best of the '69-'72 recordings, and can be found in the discount bins in most Australian record stores. Both albums were originally released on LP and were subsequently reissued on CD. Since the reformations of the band there have been several new compilations, some featuring or re-recorded versions of the classic hits like "Because I Love You".

The original LPs (especially Nickelodeon) and most of the singles are exceedingly hard to find and now worth a small fortune. If you see them, grab them!

In June 2000 the Masters documentary, Turn Up Your Video was released as a long-form home VHS video through ABC Enterprises, and an expanded version has since been issued on DVD. It includes interviews with band members, rare and never-before-seen archival footage of the group, including the full-length film clips for songs like "Buried & Dead" and "Because I Love You". The VHS version runs for about 98 minutes, but the documentary was trimmed down to about 50 mins for screening on ABC TV in June 2000.
Singles
Oct. 1966
"Undecided" / "Wars, or Hands of Time" (Astor A-7071)
No 13 16 wks
May 1967
"Buried And Dead" / "She's My Girl" (Astor A-7075)
No 26, 8 weeks
Aug. 1967
"Living In A Child's Dream" / "Tired Of Just Wandering" (Astor A-7081)
No 9 16 weeks
Feb. 1968
"Elevator Driver" / "Theme for a Social Climber" (Astor A-7087)
No30, 8 weeks
June 1968
"Brigette" / "Four Years Of Five" (Astor A-7102)
No 32, 6 weeks
Aug. 1968
"But One Day" / "My Girl" (Astor A-7126)
March 1969
"Linda Linda" / "Merry-Go-Round" (Columbia DO-8677)
July 1969
"5:10 Man" / "How I Love You" (Columbia DO-8826)
No 16, 11 wks
Dec. 1969
"Think About Tomorrow Today" / "A Dog, A Siren And Memories" (Columbia DO-8995)
No 14 11 wks
April 1970
"Turn Up Your Radio" / "Jam It Up" (Columbia DO-9104)
No 7, 15 weeks
Feb. 1971
"Because I Love You" / "I'm Your Satisfier" (Columbia DO-934)
No. 12, 11 wks
June 1971
"Future Of Our Nation" / "New Day" (HMV EA-9525)
Feb. 1972
"Love Is" / "Southern Cross" (Columbia DO-9821)
Aug. 1974
"Rio De Camero" / "Thyme To Rhyme" (EMI 10560)
Oct. 1988
"Because I Love You" / "I'm Your Satisfier" (new version) (Virgin VOZ 039)
Nov. 1988
"Birth Of The Beat" / "Birth Of The Beat" (Virgin VOZ 043)
shared with The Groop
1989
"Cortina Jungle" / "Mandrake Wine" (From The Vault VOL 2 #1)
Sep 1995
"Turn Up your Radio" / "Turn Up Your Radio" (with Hoodoo Gurus) (EMI 8740782)
EP's
1967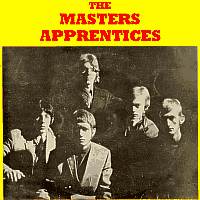 Undecided (Astor AEP4012)
"Undecided / Hot Gully Wind // Buried & Dead / She's My Girl"
---
1968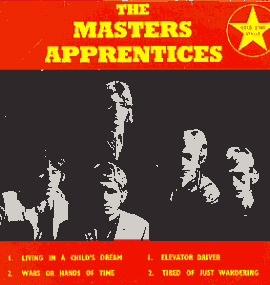 Volume 2 (Astor AEP4059)
"Living In A Child's Dream / War Or Hands Of Time // Elevator Driver / Tired Of Just Wandering"
---
1970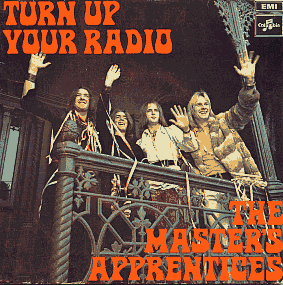 Turn Up Your Radio (Columbia Sego 70190)
"Turn Up Your Radio / 5:10 Man // Merry Go Round / Think About Tomorrow Today"

Albums

June 1967


The Masters Apprentices (Astor ALP 1025). Later reissued as Summit SRA 250-524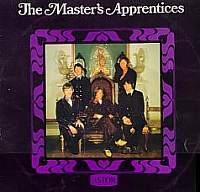 "Undecided" (Bower-Morrison)
"Wars or Hands Of Time" (Bower)
"Buried and Dead" (Bower)
"Poor Boy" (Bower-Keays)
"Living In A Child's Dream" (Bower)
"Elevator Driver" (Cadd-Ross)
"Brigette" (Ford-Keays)
"But One Day" (Bower)
"Hot Gully Wind" (Bower)
"She's My Girl" (Bower)
"Dancing Girl" (Elias McDaniels)
"Theme For A Social Climber" (Bower)
"Tired Of Just Wandering" (Bower)
"4 Years Of 5" (Keays-Tilbrook)
---
Feb. 1970
Masterpiece (Columbia SCXO1915) LP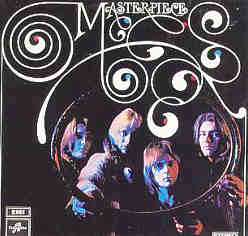 "Masterpiece"*
"Who Do You Think You Are"
"Barefoot When I Saw Her"
"St John's Wood"
"5:10 Man"
"A Dog, a Siren & Memories"
"Linda Linda"
"Isabella"
"Captivating Voice"
"Piece of Me"
"Titanic"
"How I Love You"
(all songs by Ford-Keays)
Produced by Howard Gable
Engineered by Roger Savage & John Sayers
Recorded at Armstrong's Studio, Melbourne except *live recording
---
April 1971
Choice Cuts LP (Columbia SCX 7983) No11 2 wks Rio de Camero (Ford-Keays)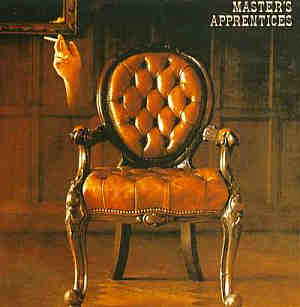 "Michael" (Ford)
"Easy to Lie" (Ford-Keays)
"Because I Love You" (Ford-Keays)
"Catty" (Ford)
"Our Friend Owsley Stanley III" (Ford-Keays)
"Death of a King" (Ford)
"Song for a Lost Gypsy" (Ford-Keays)
"I'm Your Satisfier" (Ford-Keays)
"Song for Joey - Part II" (Master's Apprentices)
Produced by Jeff Jarratt
Engineered by Peter Bown
Recorded at Abbey Rd Studios, London, September 1970
Sleeve design by Hipgnosis
Released as Masters Apprentices (Regal Zonophone SLRZ 10106) in UK, (Pathe Marconi 2C06204714Y) with a cropped version of the cover photo
Also released 9/88 as Raven RVLP 036 (with New Day added)
---
1971
Nickelodeon (Columbia SCXO-7992) LP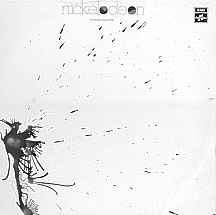 "Future Of Our Nation"
"Evil Woman"
"Because I Love You"
"Light A Fire Within Yourself"
"When I've Got Your Soul"
"Fresh Air By The Ton"
(all songs by Ford/Keays)
Recorded live in concert by Howard Gable
Nickelodeon Theatre, Perth, December 1970
Cover painting by Marc Piel
---
Jan. 1972
A Toast to Panama Red (Columbia SCXO-7998 / Regal Zonophone SLRZ 1022, UK)
?/99 (Ascension ANCD 088) CD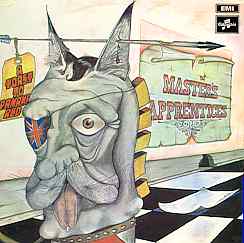 "Answer Lies Beyond"
"Beneath the Sun"
"Games We Play I"
"Games We Play II"
"The Lesson, So Listen"
"Love Is"
"Melodies of St Kilda"
"Southern Cross"
"Thyme to Rhyme"
(Ford-Keays)
Recorded at Abbey Rd Studios, London, 1971 Producer: Jeff Jarratt
Engineers: Peter Bown, Richard Lush, Nicky Webb
Brass on "Love Is" and choir on "Games We Play II" arranged by Andrew Jackman
Childrens' choir conducted by George Martin
Cover art by Jim Keays
Insert lettering by Vicki Keays
Cover photography by Peter Vernon
---
Oct. 1974
Now That It's Over (EMI EMC 2517) LP; (EMI 8320032) CD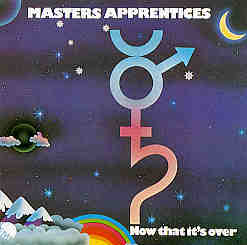 "Answer Lies Beyond"
"Beneath the Sun"
"Games We Play (1 & 2)"
"The Lesson, So Listen"
"Love Is"
"Melodies of St Kilda"
"Southern Cross"
"Thyme to Rhyme"
(all songs by Ford-Keays)
Producer: Jeff Jarratt
Recorded at Abbey Rd Studios, London, 1971
---
Jan 1981
Hands of Time* (Raven RVLP01 1981) LP, (Raven RVCD13) CD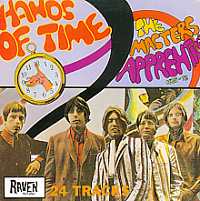 5:10 Man (Ford-Keays)
Because I Love You (Ford-Keays)
Bourke & Wills & Me (Ford-Keays)
Brigette (Ford-Keays)
Buried & Dead (Mick Bower)
But One Day (Mick Bower)
A Dog, A Siren & Memories (Ford-Keays)
Elevator Driver (Brian Cadd-Max Ross)
Future of Our Nation (Ford)
Hot Gully Wind (Bower)
Living in a Child's Dream (Bower)
Love Is (Ford-Keays)
Merry Go Round (Ford-Keays)
Rio de Camero (Ford-Keays)
Think About Tomorrow Today (Ford-Keays)
Turn Up Your Radio (Ford-Keays)
Undecided (Morrison-Bower)
Wars or Hands of Time (Bower)
Bonus tracks on CD
Dancing Girl (Bower)
Freedom Seekers (Ford/Burgess)
I'm Your Satisfier (Ford/Keays)
Linda Linda (Ford/Keays)
New Day (Doug Ford)
Poor Boy (Bower)
Tired Of Just Wandering (Bower)
The CD omits the track "Burke & Wills & Me" that appears on the LP version.
Cover design by Paul Fullbrook
---
1987
Jam it Up (A Collection Of Rarities) (Raven RVLP 27)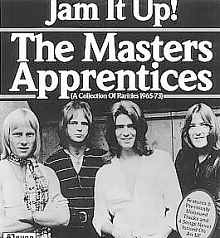 Black Girl (in the Pines) (Huddie Ledbetter)
Bye Bye Johnny (Chuck Berry)
Dancing Girl (Bo Diddley)
Four Years of Five (Tilbrook-Keays)
Freedom Seekers (Burgess-Ford)
Jam it Up (Ford-Keays)
Johnny B Goode (Chuck Berry)
New Day (Ford-Keays)
Piece of Me (Ford-Keays)
Poor Boy (Bower)
She's My Girl (Bower)
St John's Wood (Ford-Keays)
Tears of Sorrow (Ford-Keays)
Tired of Just Wandering (Bower)
Willie & the Hand Jive (Johnny Otis)
---
Mar. 1988
The Very Best (Virgin VOZ 2008 (LP)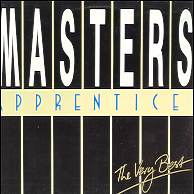 5:10 Man (Ford-Keays)
Because I Love You (Ford-Keays)
Brigette (Ford-Keays)
Buried & Dead (Bower)
Elevator Driver (Cadd-Ross)
I'm Your Satisfier (Ford-Keays)
Linda, Linda (Ford-Keays)
Living in a Child's Dream (Bower)
Love Is (Ford-Keays)
Merry-go-Round Ford, D-Keays, J
Rio de Camero (Ford-Keays)
Think About Tomorrow Today (Ford-Keays)
Turn Up Your Radio (Ford-Keays)
Undecided (Morrison-Bower)
Wars or Hands of Time (Bower)
---
Nov. 1988
Do What You Wanna Do (Virgin VOZ 2022) LP; (Virgin 432069-2) CD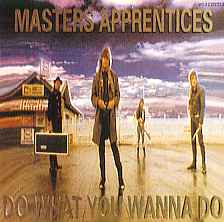 Because I Love You (Keays-Ford)
Bedtime Girl (Keays-Ford)
Birth of the Beat (Keays-Ford)
Crossroads (Robert Johnson)
Future of Our Nation (Ford)
HIghway 61 Revisited (Dylan)
Howlin' at the Moon (Keays-Ford)
I'm a Man (Elias McDaniels)
Spoonful (Willie Dixon)
Tobacco Road (Loudermilk)
Turn Up Your Radio (Keays-Ford)
---
?/95 30th Anniversary Greatest Hits EMI 814836-2 (CD)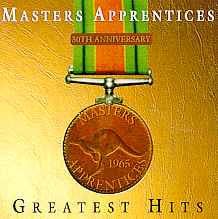 Poor Boy
Undecided
Wars or Hands of Time
Buried and Dead
Living in a Child's Dream
Elevator Driver
Brigette
Linda, Linda
Merry Go Round
5:10 Man
Think About Tomorrow Today
Turn up Your Radio
Future of Our Nation
Because I Love You
I'm Your Satisfier
Rio De Camero
Love Is
Southern Cross
Because I Love You '88
Turn Up Your Radio '95
---
May 1996
Masters Apprentices/Choice Cuts (2CD) EMI 7243-814806-2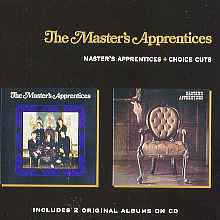 2CD re-release of Choice Cuts plus a version of the debut album.
The first CD includes most of the the original Astor album, but omits "I Feel Fine and "Johnny B. Goode", and adds a selection of the '65-68 Singles.
CD1
New Day
Undecided
War or Hands of Time
Buried and Dead
Poor Boy
Living in a Child's Dream
Elevator Driver
Brigette
But One Day
Hot Gully Wind
She's My Girl
Dancing Girl
Theme For A Social Climber
Tired of Just Wandering
4 Years of 5
CD2
Choice Cuts
References / Links
Glenn A. Baker
liner notes to the Raven compilation Wars, Or Hands Of Time (1980)
Jim Keays
His Master's Voice (Allen & Unwin, 1999)
Ian McFarlane
Freedom Train (1996)
Encyclopedia of Australian Rock & Pop (Allen & Unwin, 1999)
Noel McGrath
Australian Encyclopedia of Rock (Outback Press, 1978)
Glenn Wheatley
Paper Paradise (Bantam Books, 1999)
Chris Spencer, Zbig Nowara & Paul McHenry
Who's Who of Australian Rock (Five Mile Press, 2002)
State Library of South Australia
Article on The Masters Apprentices
http://www.slsa.sa.gov.au/exhibitions/treasures/prg1280_40c.htm
Masters Apprentices/Jim Keays - the official website.
Pics, bio, online sales, press and more
Simon Wilson's Masters Apprentices Page
Bryan Forbes' Tabs, Lyrics, Samples site - incl. the Masters and Jim Keays