CHAIN
Perth-Melbourne-Brisbane 1968-1974 and beyond
1969
Warren Morgan (keyboards, vocals)
Phil Manning (guitar, vocals)
Ace Follington (drums) (Jan-Oct)
Murray Wilkins (bass) (Jan-Aug)
Wendy Saddington (vocals) (Jan-May)
Tim Piper (bass) (Aug-Oct)
Claude Papesch (organ) (Aug-Oct)
Barry Sullivan (bass) (Oct '69 -)
Barry Harvey (drums) (Oct '69 - )

1972
Phil Manning (guitar, vocals) (to Jan '72)
Barry Sullivan (bass)
Barry Harvey (drums)
(to Jan '72; then from late Feb–Aug '72)
Warren Morgan (piano, vocals) (Jan-Aug '72)
Graham Morgan (drums) (to Aug '72)
Glyn Mason (guitar, vocals) (to late Jan '72)

1971
Phil Manning (guitar, vocals) Jan-Jul. / Nov. '71 - Jan '72
Barry Sullivan (bass) Jan-Jun '71, Nov '71-Jan. '71)
Barry Harvey (drums) Jan.-Jun. / Nov. '71-Jan. '72
Kevin Murphy (drums) Jun.-Sep.
Charlie Tumahai (bass) Jul.-Nov.
Lindsay Wells (guitar) Aug.-Oct.
Matt Taylor (vocals, harmonica) Jan.-Nov.
Laurie Pryor (drums) Oct.-Nov.
Glyn Mason (guitar, vocals) Nov. '71-Aug.'72
Warren Morgan (piano, vocals) Nov. '71-Jan.'72

1970
Warren Morgan (pno, vcls) (to July '70)
Phil Manning (guitar, vocals)
Barry Sullivan (bass)
Barry Harvey (drums)
Glyn Mason (guitar, vocals) (Jan-July)
Matt Taylor (vocals, harmonica) from Sept '70)

1973
Phil Manning (guitar, vocals)
Barry Sullivan (bass)
Barry Harvey (drums)
Ian Clyne (keyboards)
Mal Capewell (sax, flute)

1974
Phil Manning (guitar, vocals)
Barry Sullivan (bass)
Barry Harvey (drums) to Feb '74
Ian Clyne (keyboards) to March '74
Tony Lunt (drums)
Mal Logan (keyboards) (from Apr '74)
History
Introduction
Any student of Australian rock music would be hard-pressed to argue against the pure fact that, since its inception in the late sixties, Chain has remained our foremost blues-rock band. In keeping with its hallowed name, there are many links to the Chain story…throughout its six year heyday over the early seventies the band, in its many permutations, commanded an undisputed dominance in the blues idiom. Chain has seen many varied line-ups, no less than 40+ different musicians passing through its ranks. To unravel the convoluted history of Chain is a big (t)ask, and in attempting to present a well-rounded summary of the band's story here, acknowledgements must be extended to Ian McFarlane and Steve Fraser, upon whose exhaustively-researched and detailed article in the excellent fanzine Freedom Train (Vol 1, # 2, 1995) this profile is largely based.
1968-69
Over the years, Perth has provided the setting for a thriving blues-rock scene, spawning many future stalwarts of the idiom who have gone onto greater national success. The original Chain grew out of this hotbed, forming from the ashes of The Beaten Tracks, who won the Perth heat of the 1967 Hoadley's Battle Of The Sounds. The band at that time comprised Warren Morgan (keys), Dave Hole (guitar), Ace Follington (dr), Murray Wilkins (bs) and Ross Partington (vcls); moved to Melbourne in early 1968 to avail themselves of their prize, ostensibly recording and touring opportunities in the eastern states.
While in Melbourne, Dave Hole (long recognised as one of Australia's top blues perfprmers) quit The Beaten Tracks, to be replaced by Tasmanian guitarist Phil Manning (formerly of Tony Worsley & the Blue Jays, The Laurie Allen Revue and Bay City Union, among others) and the band returned to Perth, where they lost the services of Partington.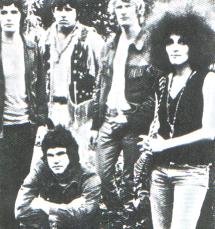 Left: a rare shot of the original Chain with Wendy Saddington.
A return to Melbourne in December 1968 saw the group recruit ex-James Taylor Move singer Wendy Saddington, and the first incarnation of (The) Chain was established. Saddington was a blues/soul 'belter' in the vein of Janis Joplin and Aretha Franklin, and it was she who came up with the band's name, derived from Aretha's classic hit, "Chain Of Fools". Sadly, this line-up of Chain never recorded, Saddington having departed by May 1969 to join Copperwine, and later to forge an erratic but compelling solo career.
Chain relocated to Sydney in August and recruited bass player Tim Piper (ex-Chants R&B, Electric Heap, Wild Cherries) and legendary blind keyboardist Claude Papesch (who was also from Electric Heap, and who had been a member of Johnny Devlin & The Devils in New Zealand in the early '60s). This line-up stayed together long enough to record Chain's first single for Festival with house producer Pat Aulton -- "Show Me Home" b/w Morgan's "Mr Time", which was released in September. The single, while not a strong charter, convincingly displayed the group's abilities, and showed the strong and unmistakable influence of The Band -- who profoundly affected so many Aussie acts at the time -- as well as particularly showcasing Manning's fluid guitar style. The single is regarded by many as the earliest example of the "progressive" stance developing rapidly on the OzRock scene around this period.
Follington, Piper and Papesch left Chain late in '69, to form Savage Rose, and each went on to reputable careers in a number of other prominent bands. Chain moved back yet again to Melbourne, where its core hooked up with the ex-Wild Cherries rhythm section of Barry Sullivan (bass) and Barry Harvey (drums). Nick-named, respectively, "Big Goose" and "Little Goose", the two Barrys injected a 'fish-arse-tight' cohesion into the band's sound, and helped unveil what was to become the classic, and best-remembered Chain configuration, gaining considerable notice in the southern capital's burgeoning blues-rock performing circuit in the process.
1970
The new decade saw Chain consolidating its reputation and popularity on Melbourne's "head" scene, with the powerful voice and guitar skills of ex-Kiwi Glyn Mason (ex-Larry's Rebels, later of Copperwine, Greg Quill's Southern Cross and Ariel) being added to the band early in the new year. The blues sensibilities in the band intensified, and many memorable gigs with this line-up followed; notably, their appearance at the pioneering Ourimbah Pilgrimage For Pop festival held north of Sydney in January. The band triumphed alongside such other notables as the ubiquitous Aztecs, Tully, Leo De Castro & Friends and the festival's organisers, The Nutwood Rug Band.
This version of Chain commenced recorded at Armstrong's in Melbourne for an album on EMI, but the fact that the group was still contracted to Festival scuppered the sessions and nothing was released. But certain tantalising acetates from this time exist, and perhaps one day the full tapes from these sessions might see the light of day.
Nevertheless, Chain continued to ply its brand of heavy, bluesy rock around the Melbourne circuit (venues like Sebastian's, Bertie's and Traffik), as well as proving itself as a reliable staple on the festival scene. In March, the Launching Place festival just outside of Melbourne was staged. Chain held its own among other strong performing entities like Spectrum, Doug Parkinson In Focus, Wendy Saddington & Copperwine, Tully, Nutwood Rug, Carson, Bulldog, Friends, Genesis, Cam-Pact and (of course) Billy Thorpe & the Aztecs.
One of those groups, Genesis, was a breeding ground for many future OzRock luminaries and at this time included in its ranks one of the foremost blues performers in the country, one Matt Taylor. The Brisbane-born singer and harp player originally hailed Brisbane blues pioneers Bay City Union, which was also home to both Phil Manning (in his formative years) and future Masters Apprentices bassist Glen Wheatley. Matt (who also had a brief stint in the last lineup of The Wild Cherries) joined Chain in December, and the four-piece comprising him, Manning and the two "geese" developed into what is acknowledged as the enduring "classic" Chain line-up.
But before that, in June 1970, Chain (Morgan, Manning, Harvey, Sullivan and Mason) made its first album for Festival. In order to capture the live chops of the group, the album, Chain Live, was recorded, rather primitively, at Sydney's Caesar's Palace Disco and resulted in a raw, basic slab of hard blues. The LP established the band's credentials and met with critical, if not chart, acclaim, but, with the fluidity that characterised the group throughout its career, two key members departed soon after its release. Warren Morgan joined the Aztecs, while Glyn Mason left for the UK. That left Phil and the two Barrys to carry on as a trio, and this grouping appeared on ABC-TV's GTK, performing a blistering version of Robert Johnson's "Crossroad Blues". It was when Matt and Phil corresponded later in the year, each inviting the other to join either's band, that the classic four-piece line-up of Chain was settled upon.
1971
The new Chain (already by now, "Mk 7"!) attracted the attention of the aggressive young entrepreneur Michael Gudinski, who was by then in the throes of putting together the enduring Mushroom indie record label. Gudinski, who also became the group's manager soon afterwards, has subsequently acknowledged that Mushroom was conceived and built upon Chain's reputation, and he in turn enthusiastically helped foster their career during those heady times.
During 1971, the band continued to grow in stature as a must-see drawcard around the Melbourne blues haunts, as well as being a popular staple at the various outdoor festivals common to the era. An appearance at the Odyssey Festival at Ourimbah in January was captured on the double-LP set History Of Chain, cementing the group's greatness for posterity. Other festival appearances, such as at Myponga outside Adelaide and Wallacia near Sydney (each featuring a roster of the cream of OzRock's best) had a similar effect, and Chain by now were regarded as among the premier of Australia's progressive blues units.
The "classic" line-up of Chain enjoyed a national top ten hit in May with its debut Infinity single, "Black And Blue" (working title: "We're Groaning"), backed with Taylor's ambitious but solidly-delivered and decidedly progressive "Lightning Ground". The A-side recalled the traditional Afro-American "work-song" motif, and heralded the solid, blueswailing body of songs featured on Toward The Blues, Chain's first album for Festival's "progressive" Infinity imprint, which was released to great (and enduring) critical acclaim in September. But Phil Manning himself was quick to dispel the "blues" pigeonhole into which Chain had become firmly placed, by pointing out his band's musical diversity in a fascinating interview he gave for Freedom Train fanzine in 1994:
"Look, we had so many diverse influences. I mean, from Traffic, Cream, The Rolling Stones, back to The Beatles. You can't separate one particular influence and say 'this is my influence'. They were all so important. (But) we put our own mark on it. That's what Chain was about. Injecting some originality into it, some personality. The thing that was nice about it was that it was a nice selection of good players and people who got on well together."
At a climactic concert on 13 June 1971 at the Melbourne Town Hall, where a number of the scene's pre-eminent bands assembled (headliners Billy Thorpe & the Aztecs released an LP of their stunning performance there), a self-deprecating Chain were awarded a silver disc plaque (at that time a coveted accolade) for selling 25,000 copies of the "Black & Blue" single, a record that went on to become one of mainstream rock radio's most-played and most oft-requested staples.
The pressures attendant to this newfound attention manifested in different ways for different members of the group. Typically with Chain, its participants splintered off to other projects. Little Goose left to pursue his interest in jazz-rock, and soon linked with King Harvest; while Big Goose went on to fulfill the demand for his services as a session muso. Manning also quit in July of '71, teaming with old cohort Warren "Pig" Morgan in Pilgrimage, a more delicate and acoustically-based outfit that had its debut as national support to Pink Floyd. At these shows, Pilgrimage was dwarfed by the gargantuan Floyd PA rig (and they were forbidden to plug into it) but they managed nonetheless to seduce Floydian partisans with their soft, pastoral suite of songs, resulting in a quiet success for the duo's endeavours. Further successful forays for Pilgrimage were their concert supports for the wildly-popular Daddy Cool at Festival Hall in Melbourne, as well as a well-received back-up spot for Elton John and band at his 1971 Kooyong Tennis Centre concerts.
Of course, the Chain personnel roster at this time was somethign of a revolving door, or a game of musical chairs if you will, and it's here that it's hard to keep track of just who was who within the band. So many different configurations of Chain came and went but, bolstered by the considerable success of Towards The Blues after its release in September, at least the Chain "brand" enjoyed some worthwhile notoriety and considerable, ongoing success.
While the album was still charting, the band's membegsubip had already changed yet again; this time reverting to the Morgan, Manning, Harvey, Sullivan and Mason line-up; in time to perform at the Operation Earth Concert held on 2 November 1971 at the Myer Music Bowl. Among other featured acts that day were Blackfeather, Captain Matchbox, Bakery, Carson, Indelible Murtceps, Matt Taylor & Friends and the inescapable Aztecs. This line-up of Chain also found finding time to record a live-in-the-studio sequel to Chain Live, a collection of seamless heavy blues jamstitled Chain Live Again. While neither the critical nor sales success of its predecessor, and while perhaps not as cohesive as the first live album, Live Again showed the band stretching out and trading off each other, building the momentum of the jams with a more organic and progressive feel. Yet, typically for Chain, they disbanded soon after the sessions; and due to various setbacks the album didn't appear until later in the year.
1972
It's worth dwelling on Toward The Blues alone for a moment or two, for the milestone that the album undoubtedly is. Recorded at Melbourne's TCS Studios with engineer/producer John Sayers, the album announced, upon its release in late '71, the matured essence of Chain in its acknowledged classic configuration of Phil, Matt and the two Goose-Barrys (aarrgh! – Ed.). The album made the number 6 position on the national album charts and remained a strong Top 40 seller for four months (it still sells in respectable quantities to this day!). It was supported by significant and valuable airplay, mainly on "alternative" radio programs like future Double-J presenter Chris Winter's seminal national ABC radio show, Room To Move. It was the sort of record that seemed to already be on the turntable whenever you stepped into a Saturday night party in those days. In short, it was one of those albums, along with Spectrum's Milesago or Tamam Shud's first, or maybe Co. Caine's debut opus, that any self-respecting aficionado of quality OzRock; (like your reporter, at the time, about 18 or 19, and avid!) would consider essential for a well-rounded record collection!
Led by the single "Judgement", an aggressive, multi-faceted bluesy showcase for each band member, and notable for Phil's singular wah-wah guitar filigrees, Towards The Blues proved an early pinnacle that Chain struggled to surpass later in their career, if, indeed, they themselves ever wanted or needed to -- Chain's credo, like that of most of their contemporaries, generally eschewed such crass or quaint notions of career longevity or quick riches). Instead, Aussie punters were presented with one of the finest and most well-rounded LPs of the era. Other gems include an inspired version of Robert Johnson's "32/20", followed by the supreme swing and swagger of their version of Junior Wells' "Snatch It Back And Hold It", delightfully re-appropriated here in true Aussie ratbag fashion as "Grab A Snatch And Hold It!" Many other highlights abound, such as "Albert Goose's Gonna Turn The Blueses Looses", a vehicle for Harvey to unleash a fierce drum solo. Side Two ends with Taylor's wailing blues harmonica featuring on the signature tune, the full version of "Black & Blue".
Chain began its performance rounds in 1972 reduced to a three-piece: Morgan and Sullivan, joined by drummer Laurie Pryor, ex-Twilights and fresh from Healing Force. The piano-led trio debuted with a two-night residency at Melbourne's Regent Theatre in late January, supported by Friends (with Phil Manning guesting on guitar), The Wild Cherries and Spectrum. This was followed by their televised performance before 35,000 at the now-legendary 1972 Sunbury Pop Festival, which was of course a triumph for Billy Thorpe & the Aztecs as well as for Spectrum, Madder Lake, Pirana, The La De Das, The Wild Cherries and many others. Chain can be seen performing "Sunny Day" in the film of the event. Manning's acoustic duo slot with Steve Cooney is also featured.
Soon after Sunbury, Pryor left Chain to be replaced yet again by the erstwhile Barry Harvey. This version of the band featured at a number of important gigs, including the Mulwala Festival in April (with the usual formidable list of top outfits of the day). They featured prominently at various venues in Melbourne's vibrant club scene, sharing stages with the likes of Daddy Cool, Madder Lake, Dutch Tilders and Manning's new outfit, The Philtones. Tilders himself enlisted the support of past and present Chain members, Manning, Harvey, Sullivan and Pryor, along with Brian Cadd and Broderick Smith for his debut album on the Bootleg label.
On the recording front, Chain recorded a single at TCS in April, "Sunny Day". The a-side pumped along brightly, with Pig's piano to the fore. Its six-minute flip, "I Was Born", was a jazz-tinged blues piece that was edited down from a 20-minute studio jam. Unfortunately, by the time this single was released in October, there was no band to promote it, thus rendering this one of Chain's least successful records. The three-piece Chain split in July after a falling out between Morgan and Harvey. Its final appearance was as support to John Mayall, with Graham Morgan deputising on drums. Soon afterwards, Warren Morgan began a solo career, before reuniting with The Aztecs. Chain did not resume as a performing entity until early '73.
There were, however, other outfits that emerged in late-'72 that were basically Chain in all but name. Phil Manning kept busy with a new, more rock-orientated band, Willy & the Philtones which evolved into the Band of Talabene. Consisting of guitarists Manning and Tony Naylor, drummer Tony Buettel and bassist Phil Gaunt, this outfit lasted until December when Manning moved over to Mighty Mouse, which formed in November, with Harvey, Sullivan, Manning, Ian Clyne, Mal Capewell, Kevin Murphy, Russell Smith and Barry McAskill all passing through its ranks. This group never recorded, but proved a popular draw around Melbourne's live traps until splitting in January 1973 after an appearance at the second Sunbury Festival.
1973
As mentioned, the '73 Sunbury Festival featured Mighty Mouse, as well as a Matt Taylor "solo" slot. Phil and the two Barrys, augmented by second drummer Kevin Murphy backed Matt for this gig. On Mushroom's triple-album document of the event, The Great Australian Rock Festival Sunbury 1973, Mighty Mouse weigh in with the lengthy "Sunset Song", while Matt's set is represented by his own composition, "Brisbane To Beechworth". He had already recorded with his Sunbury line-up (minus Murphy, but with "Sleepy" Greg Lawrie on board) for his debut solo album Straight As A Die. Also a Chain record in all but name, and showcasing Taylor's own rollicking, witty compositions, this album was a Top-20 seller and in September yielded Mushroom Records' first placing in the national Top 10 singles list, "I Remember When I Was Young" a song that, like "I'll Be Gone", "Eagle Rock" and "Most People I Know", has becomea perennial 70s OzRock anthem.
With so much activity involving so many Chain alumni, it was inevitable that Mighty Mouse would evolve into yet another Chain -- by now the 15th permutation of the band!. Signing to Mushroom, this line-up issued two singles, the medium-tempo "I Thought You Weren't My Friend" (August) and the gruff shuffle-blues "I'm Gonna Miss You Babe" (November). Neither was particularly successful, but the reconstituted group did impress on the touring circuit, appearing in March at yet another large outdoor gathering, the Down Under Rock Festival in Melbourne (again, all the usual suspects were on a bill that featured – surprise – headliners The Aztecs). During May, Chain toured the country as support to the Muddy Waters Band and soon after teamed with that band's James "Peewee" Madison (guitar, vocals) and George "Mojo" Beauford (vocals, harmonica) for recordings that would form part of Chain's next LP, Two Of A Kind.
One of Melbourne's premier "head" venues around this time, along with the T.F. Much Ballroom, was the Garrison Disco in Prahran, the venue which had served as the unofficial HQ for Madder Lake. Local council pressure forced Garrison's closure in June 1973, and as one of its most popular and regularly-performing acts, Chain was fittingly invited to be among a handful of select bands that paid tribute to the place in its final days. Two Chain songs ("Grab A Snatch And Hold It" and "Do What You Wanna Do"), recorded live there on 7 June, appeared on the various artists' album Garrison: The Final Blow Vol. 2, along with "Roberta" by Taylor and Lawrie as a duo. Other songs recorded that evening were released in other formats: the single "I Thought You Weren't My Friend", b/w "Elephant", an edit of the extended soloing jam "How To Set Fire To An Elephant", which appeared in its full 18-minute form on Two Of A Kind.
Two Of A Kind was a comparatively low-key affair by Chain's standards. Of the four cuts featuring Madison and Beauford from Muddy's band, only the title track (written by Madison) and Little Walter's "Blues With A Feeling" provide any real excitement, despite the typically robust backing that Chain supplies. And some observers at the time found "Elephant" tediously self-indulgent. The album sold in only moderate numbers and by the time of its release in December, Chain had undergone further personnel shifts, Little Goose being the first to leave. He went on to considerable success with the Kevin Borich Express and later formed his own eponymous outfit. His replacement, Tony Lunt, was formerly drummer for Carson and Alta Mira, and he brought his bandmate, the in-demand keyboardist Mal Logan with him. However, this arrangement was short-lived and in July the mighty Chain was laid to rest. Chain's recorded legacy was fittingly commemorated with the fine double-LP compilation, History Of Chain, issued in December '74.
1974 and beyond
After the demise of Chain, its principal members continued with a variety of projects. Phil Manning launched his solo career with the softer, more introspective album I Wish There Was A Way (with support from various Chain cronies). He went on to do quite a lot of session work and joined the John Paul Young All-Stars for a time in 1977 and from time to time has resurrected his own Phil Manning Band. Phil still performs and records for his own Tamborine label these days and has participated in various Chain reunions over the years. Big Goose secured gigs with a number of top-notch outfits, among them Sanctuary, Renee Geyer Band, Mondo Rock, LRB and John Farnham Band. Matt Taylor also forged a solo career with a number of fine country-blues style Albums to his credit. He also founded the Perth-based country-rock group, Western Flyer, which for a time featured old mate Dave Hole on guitar and former Procession guitarist Brian Peacock.
But Matt was restless to return to his beloved blues and discovered that Phil had a similar mindset. By the early eighties, the pair were in cahoots again, touring the country to enthusiastic support from blues purists disillusioned by the new wave pop and raucous pub-rock styles then prevalent. It was perhaps inevitable that some form of Chain reunion would result and on the Australia Day long weekend in January 1982, it happened with the "classic" line-up of Taylor, Manning, Sullivan and Harvey reforming for the mammoth Mushroom Evolution Concert that celebrated the label's tenth anniversary. A medley comprising "Black And Blue", "Dust My Blues", "Blow in 'D' " and "My Arse Is Black From Bourke Street" displayed the band in fine form – as though they'd never really been away. "Black And Blue" and "I Remember When I Was Young" formed part of the triple album set The Mushroom Evolution Concert and Chain also appeared with these songs on the video of the event (see Discography).
Blues aficionados have been rewarded with further reunions of the Black & Blue Chain line-up in the intervening years. A 1983-84 foray saw the band playing to full houses across the land, and supporting visiting blues journeymen like Albert Collins who observed of Chain: "I hear what you're playing and I know it's the blues. But it sure don't sound like any blues I've ever heard before!"
Ironically, the eighties reformation of the "B&B" Chain lasted far longer (three years) than the original incarnation did in the 70s. Further outings during '85 saw the band actually preparing new material to record and perform alongside Chain classics and blues standards. Entering the studio together for the first time in 14 years, they cut a return-to-form album, Child Of The Street, and toured extensively along the east coast. Other formations under the Chain banner had considerable success, too, while even in the 90s, Chain was again in action with more touring and festival appearances. Culminating in 1998 with a rousing appearance at Mushroom's 25th anniversary extravaganza at the Myer Music Bowl, captured on CD and video.
Why does a band like Chain continue to exert such a strong pull for ex-members and such passion among loyal blues followers? Is it the chemistry? Or is it simply their mastery of the blues itself? Matt Taylor's 1981 appraisal, as told to Juke magazine's Doug Kesselring seems as apropos as any:
"What I play is an Australian blues – it's Matt Taylor born in Brisbane in 1948, who grew up listening to Robert Johnson records, and now applying that blueprint to living in Australia. That's what my blues is. It'd be totally irrelevant to sing note-for-note the blues of a black Mississippi bluesman from the thirties because I'm not that, no matter how much I loved that man's music… The blues is alive – that scene has always been there."
Taylor, for one, also believes that as more people come to recognise the rich musical heritage that is Chain, then there will continue to be opportunities for the band to play. While each member tenaciously pursues his own projects (with no specific plans for Chain to record), the knowledge that there might always be some form of the band waiting in the wings reassuringly proves Chain's resilience over the last quarter century as Australia's premier blues band.
Original article by Paul Culnane, 1999 (revised 2007).
Discography
Singles
Oct. 1969
"Show Me Home" / "Mister Time" (Festival FK-3331)
Mar. 1971
"Black and Blue" / "Lightning Ground" (Infinity INK-4075)
Jul. 1971
"Judgement" / "Blow In D"(Infinity INK-4288)
Oct. 1972
"Sunny Day / I Was Born"(Infinity INK-4831)
Aug. 1973
"I Thought You Weren't My Friend" / "Elephant" (Mushroom K-5147)
Nov. 1973
"I'm Gonna Miss You Babe" / "Hey Baby" (Mushroom K 5320)
Albums
Oct. 1970
Live Chain (Festival SFL933926)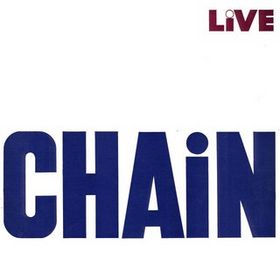 "Black & White" (Warren Morgan)
"Chaser" (Chain)
"Gertrude Street Blues" (Phil Manning)
"Pilgrimage" (Chain)
"The World Is Waiting" (Chain)
---
Sep. 1971
Toward The Blues (Festival L34295; later Infinity SINL934295; CD: Infinity D34295)


"32/20" (Robert Johnson)
"Albert Goose's Gonna Turn the Blueses Looses" (Chain)
"Black & Blue" (Chain)
"Boogie"(Chain)
"Booze Is Bad News Blues" (Chain)
"Judgement" (Chain)
"Snatch It Back & Hold It" (aka "Grab A Snatch & Hold It") (Junior Wells)
---
Oct. 1972
Live Again (Festival L34568; later Infinity SINL934568)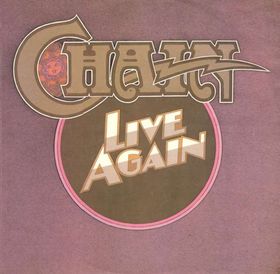 "Leaving" (Phil Manning-Barry Sullivan)
"Mr President" (Glyn Mason)
"Pig's Blues" (Warren Morgan)
"Seventeen" (Warren Morgan)
"Take Your Time""(Chain)
"World Is A Rocky Impression (Chain)
---
Dec. 1973
Two Of A Kind (Mushroom L35017)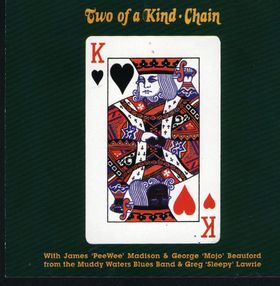 "Blues With A Feeling" (Little Walter Jacobs)
"Everybody Has To Lose Sometime" (Traditional)
"How To Set Fire To An Elephant" (Ian Clyne)
"Reconsider Baby" (Lowell Fulsom)
"Two Of A Kind" (James Madison)
---
Oct. 1974
History Of Chain (Mushroom L45531/2, 2LP / D45531/2 CD)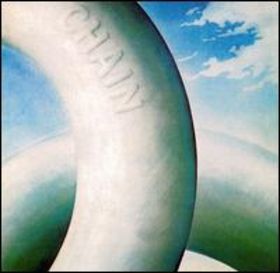 "32/20"(Robert Johnson)
"Black & Blue"(Chain)
"Blow In D"(Chain)
"Dust My Shoes"(Chain)
"Feelings"(Phil Manning)
"Forever"(Phil Manning)
"Gertrude Street Blues " (Phil Manning)
"I Was Born"(Warren Morgan)
"I'm Gonna Miss You Babe"(Chain)
"Judgement"(Chain)
"Leaving"(Phil Manning – Barry Sullivan)
"Lightning Ground"(Matt Taylor)
"Mr President"(Glyn Mason)
"On The Road Again (Glyn Mason)
"Show Me Home (Phil Manning)
"Two Of A Kind"(James Madison)
---
1978
Best Of Chain (Infinity L37108; CD: D24518)

Compilations

Many Chain tracks (both studio and live) have appeared on a wide array of compilations over the years, far too many to list here. But for the avid completist prepared to scour record fairs and specialty shops, here are some suggestions to get you started (some now quite rare, others fairly easy to find):

1972
The Stars Of Sunbury (Festival/Calendar SR66-9970)

1973
15 Australian Superstars aka Star Tracks (Festival L25055; Calendar R66 9987)

Apr. 1973
The Great Australian Rock Festival Sunbury 1973 (Mushroom)

1973
Garrison: The Final Blow, Unit 2 (Mushroom) LP

1974
Highlights Of Sunbury '74 Part 1 (Mushroom Anti-Ripoff L-25122)

1974
Highlights Of Sunbury '74 Part 2 (Mushroom Anti-Ripoff L-25123)

1975
Great Aussie Rock (Mushroom L-25173)

1982
The Mushroom Evolution Concert (Mushroom L-80101/2/3)

1998
Mushroom 25 Live (Mushroom)

There is also a range of releases featuring various permutations of Chain members, either supporting other artists, or essentially Chain under other names; as well as Chain recordings issued during the eighties and nineties. Again, these are too numerous to list here. Collectors are urged to check out the comprehensive discography in Freedom Train (Volume 1, #2, 1995), which should be easily obtainable in specialty shops like Time Warp or Au Go Go. Also watch out for future re-releases under Festival's reissue program; now that Festival owns the Mushroom label, this will hopefully include many albums from Chain.

Videos

Sunbury (Siren Entertainment SIRVID 100)
The famous film documentary of the 1972 rock festival, directed by John Dixon. Features various artists including Chain ("Sunny Day") plus a duo performance by Phil Manning and Steve Cooney.

Mushroom Evolution Concert (Mushroom Films)
Film documentary of Mushroom's 10th anniversary extravaganza at the Sidney Myer Music Bowl, Melbourne, over the January holiday weekend in 1982. Among many other Mushroom acts, Chain appear with "Black & Blue", Matt Taylor with "I Remember When I Was Young".

Mushroom 25 Live (Mushroom Films)
Documentary of Mushroom's huge 25th anniversary party at the Melbourne Cricket Ground in 1998. Among many other Mushroom acts, the re-convened classic Chain line-up appears, again performing "Black & Blue".

References / Links

Fraser & McFarlane
Freedom Train, Vol. 1 #2, 1995

Phil Manning
Interview for Freedom Train 28/8/94

Ian McFarlane
Encyclopedia of Australia Rock & Pop (Allen & Unwin, 1999)

Chris Spencer & Zbig Nowara
Who's Who of Australian Rock (Five Mile Press, 2002)

Chain official website
www.chain.com.au