THE LOVED ONES
Melbourne 1965-67


Gavin Anderson (drums)
Ian Clyne (piano) 1965-66
Danny Delacy (guitar)
Gerry Humphreys (vocals)
Terry Knott (drums) 1965
Rob Lovett (guitar)
Kim Lynch (bass)
Treva (aka Reg) Richards (piano) 1966-67
History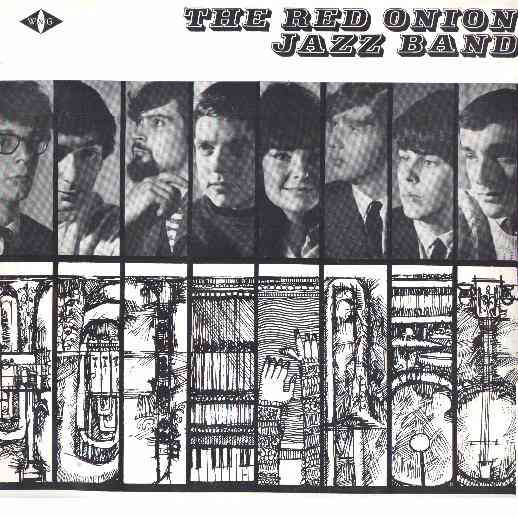 In the late '50s and early '60s, rock & roll music was introduced in Australia by pioneer rockers like Johnny O'Keefe and Col Joye, and the arrival of The Beatles ushered in a wave of new wave of bands and a new beat-pop style that soon came to cdominate the popular music scene. But there were several other genres competing for audience attention during the early-mid 1960s -- the thriving folk scenes in Melbourne, Sydney, Adelaide and other cities (which gave birth to acts like The Seekers and Gary Shearston -- competed with a long-established
The other major muscial action, particularly in Melbourne, was in the bohemian jazz haunts where stolid trad jazz testifiers like The Wild Cherries and The Red Onions Jazz Band plied their wares to blues and jazz purists. That is, of course, until the "British Invasion" so devastatingly wiped the slate clean across the world in 1964. One of many bands that promptly changed musical direction from jazz/blues into rock/pop was The Red Onions. They recorded one self-titled album on W&G in early '64, and continued into 1965 with a loyal following, before several members headed off to try their luck on the booming pop scene.
In 1965 three members of the Red Onions -- Ian Clyne (keyboards), Kim Lynch (bass) and Gerry Humphries (vocals, clarinet) -- joined forces with guitarist Rob Lovett and drummer Gavin Anderson from fellow jazz/blues stalwarts, The Wild Cherries, a band that itself would likewise transmute into a rock band not long after. These were seasoned, highly-skilled musos for whom the move from jazz to pop was considered something of a retrograde step. Led by the charismatic, dynamic Gerry Humphreys -- unquestionably one of the best rock singers this country has ever produced -- the new band immediately blew the pundits away with their unique sound, a repertoire that mixed tough rhythm & blues with appealing, quirky original pop tunes.
The Loved Ones announced their arrival in in early 1966 with their inimitable debut single "Everlovin' Man". A bluesy swing waltz that showed off Gerry's astonishing vocal range and Ian's inspired Hohner electric piano foundations, this single remarkably failed to chart until it was re-released in July on W&G's pop imprint, In Records. But it certainly attracted attention, paving the way for the follow-up, "The Loved One", a raggedly driving, jiving rocker -- again inn 3/4 time -- that sorched up the charts to #2 in Sydney and #15 in Melbourne soon after its May 1966 release. In its wake, "Everlovin' Man" hit #9 in Sydney and #2 in Melbourne when it was re-issued, dominating the upper reaches of the charts for 19 weeks.
Both of these records are rightly regarded as OzRock classics -- INXS famously covered "The Loved One" twice -- initially for their second single in 19881, and again in 1987 as a track on their multi-platinum selling Kick album. As The Loved Ones' original keyboardist Ian Clyne pointed out to rock journalist Clinton Walker in 1989:
"It was Gerry more than the songs though. 'Everlovin' Man' was a sound, it was the sound that sold that. On 'The Loved One' it was the handclaps and the chorus. But Gerry sold it more than anything else".
The band sported a hip, stylish Mod image and they soon built up a solid following in Melbourne and further afield. In early 1967 they consolidated their reputation with its third single, the baroque, brooding "Sad Dark Eyes". Another song that has been lovingly covered in recent times by another respected Aussie rock performer, Ed Kuepper, formerly of seminal Brisbane punk outfit The Saints. This song was a moderate hit for The Loved Ones (respectable top forty placings in the capital city charts), but it was the first without the contributions of Clyne, who quit the band in late '66, to be replaced on keyboard duties by Treva Richards. Clyne remembers:
"We started to go through what I call 'the factory stage', which was half-hour spots, rushing from gig to gig. You could pick up a lot of money that way. We were playing good music up until we got successful, but suddenly we were stars, and we couldn't handle it. It was a screaming thing in those days and it soon got to the stage where not only did we not hear what we were playing, we didn't care. Everybody was saying how good we were, but I knew we weren't. We were getting worse and worse".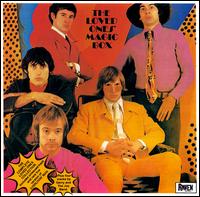 Notwithstanding Clyne's perhaps hagsub assessment of his former colleagues' abilities (he went on to stints in The Ram Jam Big Band, Levi Smith's Clefs and Chain), The Loved Ones weathered these personnel changes and continued to astound punters with their vital brand of R&B-tinged rock. They secured the support slot on the 1967 national tour by The Animals and The Hollies, which coincided with their last charting single, a complex and the final brace of tracks that completed the marvellous, seminal, solitary Loved Ones studio album, Magic Box, and a couple intriguing pop ditties called "A Love Like Ours". Kim Lynch departed soon after, and Rob Lovett switched to bass to make way for American guitarist Danny Delacy. This line-up lasted until the group's break-up in November 1967, but was able to record and add more fine Singles.
A bit of useless 'triv': Each and every Loved Ones single (and, indeed, most of their self-penned repertoire), featured, somewhere, the use of the word 'love' in their titles. But it should be noted: this was no 'moon, spoon, june' band. They were one of a kind — wildly original, innovative, quite unlike any other outfit on the scene at the time, and deservedly revered with affection for the music they made during their short heyday.
Fortunately a few precious video and film clips of the band also remain. A specially made film-clip for The Loved One, filmed in inner-city Melbourne, was included in Peter L. Lamb's 1967 classic popumemtary Approximately Panther, and at least two studio appearances from The Go!! Show have survived on videotape: "The Loved One" and "Everlovin' Man". Both are mimed, but the clip of The Loved One is very well shot and still looks great.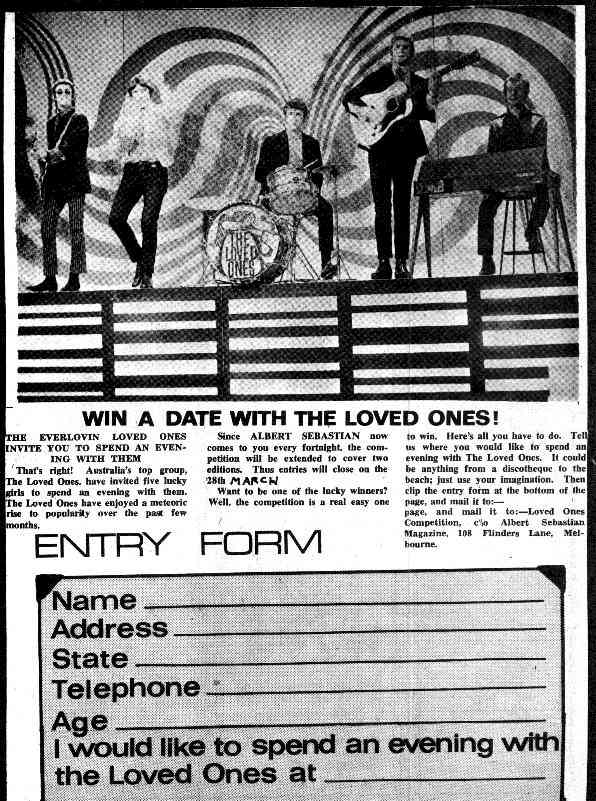 When The Loved Ones upped stumps, Lovett joined Peter Doyle and Mal McGee in the heavily-hyped Walker Brothers clone trio, The Virgil Brothers, who scored a moderate hit with "Temptation's 'Bout To Get Me". Other Loved Ones members seemed to have faded into obscurity, but there was no holding back for Gerry Humphreys, who soon unleashed his new 'supergroup', Gerry & The Joy Band, with a series of rollicking singles, like "Ongo Bongo Man" and Buddy Holly's "Rave On" (for which he was backed by an all-star studio supergroup including members of Daddy Cool and backing vocalist Margret RoadKnight).
A film clip of the recording of "Rave On" was also made, and has survived. All of The Joy Band singles are gathered on the Raven CD edition of Magic Box). The all-star roll-call of names who passed through the ranks of The Joy Band during its short tenure includes Tony Cahill, Billy Green, Lobby Loyde, Ian Mawson, Graeme Morgan, Warren Morgan, Jerry Noone, Brian Peacock and Ian Woodcock. Phew!
Humphreys later ventured into management (The Valentines, which included future AC/DC rock-god, Bon Scott) and appeared in battered cowboy hat to compere the legendary first Sunbury rock festival. He can be seen on the fascinating video documentary of this event (Siren Video SIRVID 100). He also made a few studio session appearances, notably on a single by American folkie Phil Ochs in 1972. Gavin Anderson also moved into management, looking after for The Party Machine until they split in 1969.
A resurgence of interest in the wonderful music of The Loved Ones, prompted in part by the INXS covers of the band's ground-breaking The Loved One, resulted in a reformation and tour of Australia in September 1987. The original line-up (with respected Melbourne drummer Peter Luscombe deputising for the unavailable Gavin Anderson) stormed the stages with their full original repertoire which was bolstered by well-chosen R&B favourites from the likes of Willie Dixon and Muddy Waters. A rather fine record of this tour came out in 1988. Live On Blueberry Hill (Mushroom CD L 38882) comes highly recommended.
Gavin Anderson now resides in America where he apparently works as photographer and graphic designer. Gerry Humphreys lived in the UK for many years, and it's regrettable that this brilliant performer dropped out of the music scene entirely and spent most of his later life working as a hospital orderly in London. Although he was invited to take part in the Long Way to the Top concert tour in 2002, unfortunately Gerry was unable to take part because he had to undergo a hip-joint replacement operation. Sadly, he died from a heart attack in London in December 2005, aged 62.
The fact that the Magic Box album has remained in print, and in demand, ever since its initial 1967 release is convincing testament to the lasting impact that The Loved Ones made on Aussie music sensibilities during the band's '65-'67 heyday. They stand as one of the more interesting, exciting and original groups to come out of that heady era. Let's let Ian Clyne make the final assessment:
"We used to laugh, because we'd win awards for originality, and we were trying to sound like everyone else! The only reason we didn't was because we came from a different direction. We came from jazz. We knew music, we could play!"
Discography
Singles
1966
"Everlovin' Man" / "Blueberry Hill (Astor A 7297)
May 1966
"The Loved One" / "" / "This Is Love" (In Records INS 2610)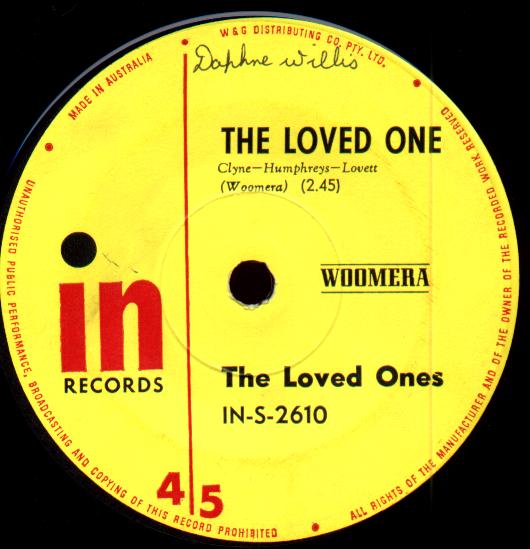 Jul. 1966
"Everlovin' Man" / "More Than Love" (In Records INS 8007)
Jan. 1967
"Sad Dark Eyes" / "The Woman I Love" (In Records INS 8041)
Mar. 1967
"A Love Like Ours" / "The Loverly Car" (In Records INS 8066)

"Magic Box" / "Love Song" (In Records INS 8093)
EP
1966
Blueberry Hill (W&G GE 2712)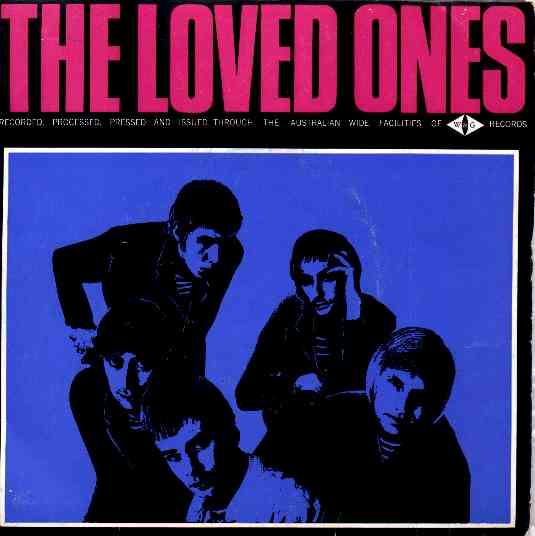 "The Loved One" / "Blueberry Hill // Everlovin' Man" / "This Is Love"
Albums
1967
Magic Box (W&G 25/5127)
CD reissue: Raven RVCD-02; also on issued on Karussel CD)
"The Loved One "(Ian Clyne-Gerry Humphries)
"Everlovin' Man "(Lynch-Lovett-Anderson-Humphreys-Clyne)
"Sad Dark Eyes "(Humphreys-Lovett-Lynch-Richards-Anderson)
"A Love Like Ours "(Humphreys-Lovett-Lynch-Richards-Anderson)
"Love Song "(Humphreys-Lovett-Delacy-Richards-Anderson)
"Blueberry Hill" (Lewis-Stock-Rose)
"Shake, Rattle & Roll "(Charles Calhoun)
"This Is Love "(Ian Clyne)
"Magic Box "(Humphreys-Lovett-Delacy-Richards-Anderson)
"More Than Love "(Lynch-Lovett-Anderson-Humphreys-Clyne)
"The Woman I Love "(Humphreys-Lovett-Lynch-Richards-Anderson)
"The Loverly Car "(Humphreys-Lovett-Lynch-Richards-Anderson)
"I Want You To Love Me "(McKinley Morganfield)
"(I'm No Good) Without You"* (Paul Jones)
"Everlovin' Man "(live) ** (Lynch-Lovett-Anderson-Humphreys-Clyne)
"Ongo Bongo Man *** "(Gerry Humpries-Billy Green-Brian Peacock)
"Rave On" *** (West-Tighman-Petty)
"Oh Lonesome Me" *** (Don Gibson)
"My Name Is Earl" *** (Billy Green)
* Previously unreleased rehearsal tape, exclusive to Raven CD
** Live at Festival Hall Melbourne 23/4/67, exclusive to Raven CD""
*** Gerry & the Joy Band, exclusive to Raven CD
Notes: One of the earliest OzRock albums issued in stereo (the later-recorded tracks at least), the vinyl version of Magic Box has been in print for many years and is still fairly easy to come by. The Raven CD version, while including six welcome bonus tracks is something of a disappointment. Prepared for reissue by Glenn A Baker, Kevin Mueller and Pete Shillito, much of the disc is mastered in mono from the original stereo master tapes. Only one stereo channel has made the cut, meaning that the songs originally recorded in stereo lose important detail-sometimes no drums, keyboards or lead guitar! One Loved Ones track and all The Joy Band bonus tracks survive in true stereo, but what should have been the definitive Loved Ones collection has turned out to be a travesty. What a shame. It is not known whether the Karussel version (half the price of the Raven issue) has the full stereo sound.
References / Links
Ian McFarlane
Encyclopedia of Australian Rock & Pop (Allen & Unwin, 1999)
Noel McGrath
Australian Encyclopedia of Rock (Outback Press, 1978)
Clinton Walker
liner notes for Raven CD, including interview with Ian Clyne
Chris Spencer, Zbig Nowara & Paul McHenry
Who's Who of Australian Rock (Five Mile Press, 2002)