KAHVAS JUTE
Sydney 1970-71, 1973-74
Bob Daisley (bass) 1970-71
Dannie Davidson (drums) 1970-71, 1973-74
Tim Gaze (guitar/vocals) 1970-71
Scott Maxey (bass) 1971, 1973-74
David O'List (guitar) 1971 *UK only
Peter Roberts (bass) 1974
Dennis Wilson (guitar/vocals) 1970-71, 1973-74
History
This superb progressive rock band is one of the hidden treasures of early '70s Australian rock. They were one of the first bands signed to Festival's new progressive imprint Infinity and they produced just one single and one brilliant gem of an album, Wide Open. It earned rave reviews at the time, and it's been justly praised by rock historian Ian McFarlane as "a progressive rock milestone".
Alongside their comtemporaries Spectrum, Tamam Shud, Blackfeather and The Aztecs, Kahvas Jute spearheaded a new direction and indentity for Australian music. Their album, and the single from it ("Free") are still regarded as among the best Australian 'prog' releases of the period. The LP has long been a prized collectors item both here and overseas, and happily it has been reissued twice on CD, once by Festival in the late 1990s, and more recently in expanded and remastered form by Aztec Music. It's a must-have for any serious fan of Australian music.
Kahvas Jute formed in June 1970, bringing together members of two leading Sydney bands. Singer-guitarist Dennis Wilson was a seasoned player; he worked as a session guitarist for Festival in the mid-60s, and had been a member of beat-pop groups The Riddles, Kevin Bible & The Book (1966), The 9th Circle (1968) and Barrington Davis & Powerpact (1966-68), where he teamed up with bassist Bob Daisley, drummer Brain Boness and singer Barrington Davis. The Powerpact track "Raining Teardrops" is included on Raven's seminal Aussie garage/punk collection Ugly Things. Powerpact gradually developed a harder style, and with the departure of Davis in late 1968, it evolved into the well-regarded hard-rock group Mecca (1968-70), which initially comprised Wilson, Daisley and drummer Robin Lewis. In early 1970 they added vocalist Clive Coulson, who had previously worked as road manager for The Yardbirds, The Pretty Things and Led Zeppelin.
Mecca released a single, "Black Sally" / "Side Street Man" on the Festival label in March 1970; the A-side was included on Festival's So You Wanna Be a Rock'n'roll Star? 3CD compilation, and was one of many classic cuts recorded at Festival's legendary Studio A in Pyrmont. Mecca toured New Zealand during the year, but Coulson left soon after the tour ended, having been invited back to work for Led Zeppelin on a European tour.
After Mecca dissolved in June, Wilson and Daisley formed a new band. By this time Wilson was one of Australia's rising new guitar heroes and it's a measure of his stature that he was able to poach both guitarist Tim Gaze and drummer Dannie Davidson from top Sydney band Tamam Shud. Tim, who had started off with the Sydney band Stonehenge, was something of a child prodigy, having joined Shud at the end of 1969 (aged only 16!), where he replaced original guitarist Alex 'Zac' Zytnic. Tim had been with Shud for about six months, and was fresh from the recording of Shud's classic second LP Goolutionites and the Real People when he quit to join Kahvas Jute. Dannie Davidson had been with Shud from the beginning, having also been a member of Shud's predecessors The Sunsets and The Four Strangers.
The lineup was chock-a-block with talent -- the deft psychedelic/blues guitar interplay and soaring vocals of Wilson and Gaze, Daisley and Davidson's singularly powerful and skilful rhythm section (Daisley's bass playing is superb and has been frequently and favourably compared to that of Jack Bruce). To top it off they were armed with a full quiver of strong original songs, written or co-written by the band members. Not suprisingly, this embarrassment of musical riches immediately established Kahvas Jute as one of the top live acts of the day, and they were snapped up for Festival's new progressive rock subsidiary Infinity.
They recorded the Wide Open LP at Festival Studios in Sydney with renowned house producer Pat Aulton. According to Dennis Wilson, the entire album was recorded and mixed in just three days, which is rather ironic, because Dennis also revealed that one of the 'sweeteners' offered to the band when they signed was unlimited studio time! The album was one of Infinity's inaugural releases when the label was launched in January 1971.
Influences from bands like Cream are evident (and there is a similarity between the voices of Jack Bruce and Dennis Wilson), but Wide Open is a powerful set, and there's a genuine Australian identity to the work, whatever the influences might have been. It's a real pity that they didn't last longer, since the album displays a truly impressive breadth and depth in material and performance — especially from the 17-year-old Tim — and certainly leaves you wondering what might have been had the band been able to develop further. Unfortunately it seems Tim Gaze was in a restless mood at the time (ye olde "musical differences" no doubt), and by the time the LP was released he had left Khavas Jute band to return to Tamam Shud.

Kahvas Jute continued as a three-piece and after after a successful farewell performance in June 1971 at the Arts Factory in Sydney, Wilson and Davidson left to try their luck in the UK, hoping to capitalise on the very positive UK reviews of the album. Bob Daisley didn't follow until July, so his place was temporarily filled by Scott Maxey (ex-Nutwood Rug Band). They played dates in London, but (typically) were unable to make any impression and broke up within a short time. According to Who's Who of Australian Rock, David O'List, former guitarist in The Nice, was a member, presumably at this time, although no details are given.
Bob Daisley stayed on in the UK and went on to work with many notable British acts including Chicken Shack (1972-73), Mungo Jerry (1973), Rainbow (1977-78), Uriah Heep (1982), Black Sabbath (1987-88) and Gary Moore (1985, 1989-90).
In 1973 Dennis Wilson was invited to front the classic Blow By Blow era rhythm section from the Jeff Beck Group (Max Middleton, Bobby Tench and Clive Chapman) but the project never eventuated, so he came back to Australia and reformed Kahvas Jute in May that year with with Davidson and Maxey. The group continued about a year, during which time they supported Bo Diddley on his second Australian tour. Peter Roberts (ex-La De Das, Band Of Light, Band Of Tabalene) replaced Maxey in March 1974, but in May '74 Kahvas Jute split for good, and Wilson and Roberts (who switched to guitar) formed a new outfit called Chariot.
Dannie Davidson joined Band Of Light (1974) and featured on their second LP The Archer, followed by stints in Sky Pilot (1975), Huntress (1976), Steve Russell Blues Band and Peter Walls Showband (1990).
Dennis Wilson spent three years with Chariot, and worked and/or recorded with many prominent Australian acts including Swanee, The Deltoids, Electric Pandas, Jump Back Jack, Screaming Tribesmen and Olivia Newton-John.
Tim Gaze rejoined Tamam Shud, where he stayed until they broke up in 1972. Tim and Nigel Macara (his former bandmate from Stonehenge and the later lineups of Tamam Shud) formed the shortlived Miss Universe, and then shifted to Melbourne, where they worked briefly with Ross Wilson and Ross Hannaford on their post-Daddy Cool project (which eventually became Mighty Kong. Next came another short-term project, a power trio with bassist Steve Hogg, from Bakery) before Gaze and Macara joined the first lineup of Ariel. Tim remains one of Australia's most respected and sought-after guitarists, and has worked in a succession of fine bands, including the Tim Gaze Band and Rose Tattoo. Tim continues to write, record and produce from his Sydney studio. He took part in the warmly-recieved Tamam Shud reunion in 1993-4 and contributed two excellent originals to their reunion album Permanent Culture. He contributed to the solo album by singer Greg Page (The Wiggles). in the late 1990s watchful Sydney-siders could catch Tim playing the occasional gig live with his great band Tim Gaze and The Blues Doctors, which included bassist Chris Bailey (The Angels, GangGajang) and Australia's patron saint of harmonica Jim Conway (Captain Matchbox, Backsliders).

On 17 July 2005, Kahvas Jute -- with drummer Mark Marriott, an experienced session player -- reformed for a special performance gig at Sydney's The Basement. The concert was recorded and filmed for a DVD release. The set list that night featured six tracks from Wide Open, seven new songs, a cover of Cream's "Politician" plus an impromptu jam on the old Yardbirds number "The Nazz are Blue" featuring guest vocalist Jimmy Barnes. In 2006 Aztec Music reissued Wide Open in a special 6 panel digi-pak, with rare photos and liner notes by Ian McFarlane, and five of the songs from the 2005 Basement concert included as bonus tracks.
Discography
Singles
1971
"Free" / "Ascend" (Infinity INK-4289)
Produced by Pat Aulton
Albums
Jan. 1971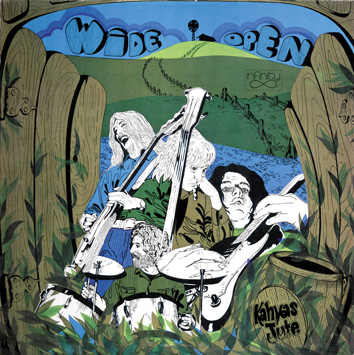 Wide Open (Infinity SINL-934030)
reissued 2006 by Aztec Music (AVSCD-015)
1. "Free" (Wilson)
2. "Odyssey"
3. "Up There" (Gaze-Davidson)
4. "She's So Hard to Shake" (Wilson)
5. "Vikings" (Wilson)
6. "Steps of Time" (Davidson)
7. "Twenty Three" (Gaze)
8. "Ascend" (Daisley)
9. "Parade of Fools" (Wilson)

Original LP produced by Pat Aulton
Recorded at Festival Studios, Sydney
Reissue digitally remastered by Dennis Wilson

Bonus 2005 live tracks on Aztec reissue:
10. "Politician" (Bruce-Brown)
11. "She's So Hard To Shake"
12. "Ascend"
13. "Ascension"
14. "Parade Of Fools"
References/Links
Thanks to Fran Stone for the scan of the Kahavs Jute poster and special thanks to Dennis Wilson, Bob Daisley and Tim Gaze.
Ian McFarlane
Australian Encyclopedia of Rock & Roll (Allen & Unwin, 1999)
Paul Conn
2000 Weeks: The First Thirty Years of Australian Rock (Moonlight Publications, 1996)
Noel McGrath
Encyclopaedia of Australian Rock (Outback Press, 1978)
Chris Spencer, Zbig Nowara & Paul McHenry
Who's Who of Australian Rock (Five Mile Press, 2002)
Magnus Holmgren
Australian Music Homepage
http://hem2.passagen.se/honga/aussie.html
Aztec Music
http://www.aztecmusic.net/