RUNNING JUMPING STANDING STILL
Melbourne, 1966-68
Article by Andrew Ainsworth
Rick Dalton (bass (A) 1966
Doug Ford (lead guitar (A,B,C,D,E))
Andy James (Andy Anderson) (vocals, percussion, guitar (A) Aug. '66 - Jan. '67
Ian Robinson (drums (B,C)1966-67
Jamie Byrne (bass (B,C) late '66 - Mar. '67
John Phillips (bass (D,E) 1967
Doug Lavery (drums (D,E) 1967
Mick Elliot (drums (D,E) 1967
Peter Newing (vocals, (B,C,D,E) 1967
Denny Burgess (bass, vocals) 1966
Ian Ferguson (bass) 1967

The original RJSS lineup in 1966
History
Almost as soon as Sydney's fabled Missing Links were finished, around August 1966, guitarist Doug Ford and singer Andy James decided to try their luck in Melbourne, where they formed the Running Jumping Standing Still. The original lineup, which evidently lasted only a couple of months, was completed by bassist Rick Dalton (ex-Pink Finks) and drummer Ian Robinson.
Initially described as 'the New Missing Links,' Running Jumping Standing Still was indeed an extension of what Doug and Andy had been doing in their previous band, with Andy proclaiming that "We are all sincere in our addiction to feedback".
RJSS went through several lineups in its short History, although the exact order of events is still uncertain. But RJSS was never destined to be a long-lasting band -- the famously fractious relationship between Doug and Andy, which dated back to their Missing Links days, made it almost certain that the group would split eventually -- although the actual cause of Andy's departure was quite unexpected.
As the photo (above) of the second RJSS lineup indicates, Rick Dalton had left by October '66. He was replaced by Jamie Byrne (ex-Black Pearls); they also added Dennis (Denny) Burgess (ex The Throb) (presumably on rhythm guitar) at this time. This second lineup lasted until around the time of Andy's enforced departure sometime in 1967.
A 'live' version of 'Diddy Wah Diddy' included on the LP Diggin' Through The Bins by the Missing Links was recorded and performed on ATV-0's The Go!! Show, perusmably for their October 24 appearance. The song was introduced by host, Johnny Young, who quaintly described them as "a most unusual group".
Another rare glimpse of RJSS from this time can be found in Peter L. Lamb's 30-minute film documentary Approximately Panther, made in late 1966. It features a few brief shots of RJSS doing their thing at the Thumpin' Tum disco, although sadly there is no original sound; the soundtrack is a studio-recorded instrumental, played by the 18th Century Quartet.
Andy's departure from the group was sudden and dramatic. In late 1966 -- probably December -- Andy suffered an agonising brain haemorrhage during an RJSS performance at the Thumpin' Tum disco. Doug Ford recalls: "Nothing would stop that guy, he was like a locomotive burning down the tracks. But this night something stopped him."
Andy: "We were playing the Thumpin' Tum and we were pushing it. I was getting these headaches and was singing River Deep, Mountain High and ended up getting a haemorrhage and collapsing on stage with this blinding headache. I was in hospital for a month and that was the end of that."
Andy was treated in hospital, and received many letters and cards from fans while he was recuperating; he later published a small ad in Go-Set to thank all his well-wishers. He was advised by his doctor to slow down and give up rock and roll, but Andy would have none of this and soon formed a new band called the Andy James Asylum.
With Andy gone, RJSS recruited a new frontman, Peter Newing of The Pleazers. Newing sang on the two RJSS singles released on the Sunshine label. The first was "Diddy Wah Diddy" / "My Girl" in March 1967 but this version was markedly inferior to the recording made for The Go!! Show. A follow up and sadly final single "She's Good To Me" / "Little Girl" was released in August. By this time Byrne and Robinson had both left; they were replaced by John Philips and Doug Lavery, respectively. Sources also list Ian Ferguson (bass) and Mick Elliott (drums) as RJSS members during 1967, but no other details of their tenure are known at present. One rare video recording from this period has recently surfaced on the YouTube website, featuring Billy Thorpe performing on an unnamed TV show (possibly on the ABC) backed by several members of RJSS.
Speaking of the final days of the band, Doug commented: "We tried to keep up the same wild stage act, but it was completely insipid compared to when Andy was there." At the start of 1968 Doug (who wasn't making much money) was approached by Jim Keays and offered a job with the Masters Apprentices; he agreed to join as soon as his commitments with RJSS were ended, and he officially joined the Masters in February 1968, thus bringing RJSS to an end.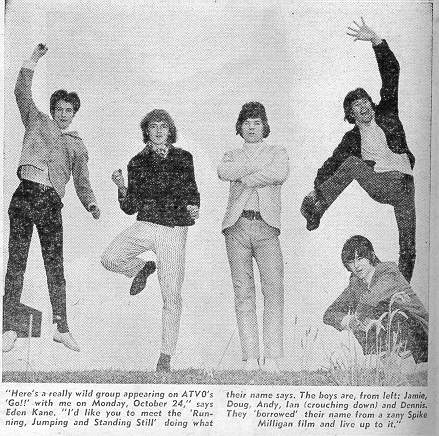 A contemporary newpaper clipping featuring a rare shot of the second lineup of the group, published in "Listener In" on 22 October 1966.
(L-R) Jamie Byrne, Doug Ford, Andy James, Ian Robinson, Denny Burgess(?),
After Running Jumping Standing Still ...
- Jamie Byrne went on to play for other groups such as The Groove and its shortlived successor, Eureka Stockade.
- Doug Lavery went to Doug Parkinson in Focus, The Valentines and Axiom.
- Andy James formed two shortlived bands in Melbourne, Andy James Asylum, followed by Mother Superior, before moving back to Sydney where he joined . In 1970 he joined the cast of the Australian production of Hair for a short time. This was followed by an 18-month stint with Sydney club band Southern Comfort with Bobbi Marchini. His experience in Hair led him out of music and into acting full-time. He has since became a prominent and popular stage and TV actor, starring in such shows as 'The Sullivans', 'The Bob Morrison Show', 'Phoenix' and 'Fire'. Since the '70s Andy has worked under his original surname, Anderson. Andy recently released his first solo album, the witty titled If I'd Known I'd Live This Long (I'd Have Taken Better Care Of Myself) and also has his own website at www.andyanderson.com.au
Doug Ford and Ian Ferguson have recently renewed their friendship after more than thirty years. This led to the decision to perform together as an acoustic duo under the name Ford & Ferg. Doug Ford recently contacted Andy Anderson by phone and they spoke for the first time in over 30 years.
Many thanks to Peter Markmann for whom most of the research material for this article that could not have been done. More research was obtained from the website bordelinebooks.com and the Who's Who of Australian Rock.
Discography
1966 (A)
"Diddy Wah Diddy" (live) (Corduroy Records CORD100) vinyl only
studio track, pre-recorded for an appearance on The Go!!Show in October 1966
Released ca. 2002 on the LP Diggin' Thru The Bins - The Missing Links
March 1967 (B,C)
"Diddy Wah Diddy" / "My Girl" (Sunshine QK-1717)
August 1967 (D,E)
"She's Good To Me" / "Little Girl" (Sunshine QK-1819)
References / Links
Peter Markmann & Ben Whitten
liner notes to Diggin' Thru The Bins - The Missing Links (Corduroy Records)
Andrew Schmidt
Andy James - The Missing Link
Ugly Things website
http://www.ugly-things.com/missing.html
Chris Spencer, Zbig Nowara & Paul McHenry
Who's Who of Australian Rock (Five Mile Press, 2002)
Vernon Joyson
Dreams, Fantasies & Nightmares: Australia (Borderline Books, 1999)
Corduroy Records
http://www.corduroy.com.au/mailorder.htm
Andy Anderson website
http://www.andyanderson.com.au
Many thanks to Andrew Ainsworth