THE PURPLE HEARTS
Brisbane / Sydney / Melbourne 1964-67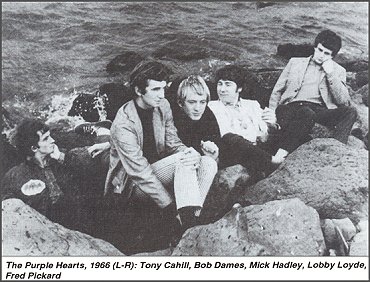 Tony Cahill (drums) 1966-67
Bob Dames (bass)
Mick Hadley (lead vocals)
Lobby Loyde (lead guitar)
Fred Pickard (rhythm guitar) 1965-66
Adrian 'Red' Redmond (drums) 1965-66
Paul Steffen (rhythm guitar) 1964-65

History

Trailblazing Brisbane outfit The Purple Hearts were one of the most original and individual Australasian bands of the mid-60s. It's currently fashionable to pigeonhole bands like the Hearts as "garage" or "punk", but this is a misnomer. The Purple Hearts were dyed-in-the-wool blues/R&B fanatics who took the original influences and gave them their own unique spin. In this they followed the example of the emerging wave of British bands like The Animals, The Pretty Things, The Kinks, The Yardbirds, The Rolling Stones and John Mayall's Bluesbreakers.

The Purple Hearts were one of the very first bands in Australia to perform this style of music. Like those famous UK bands, they idolized and drew their inspiration from the legendary American soul, blues and R&B masters like John Lee Hooker, Muddy Waters, Willie Dixon, Ray Charles, James Brown and Wilson Pickett. The Hearts are also noteworthy as the first major outing for one of Australia's original guitar heroes, Lobby Loyde. Acknowledged as the godfather of heavy rock in Australia, Lobby has influenced countless performers both here and overseas through his playing and songwriting as well as his production work.

The Purple Hearts were one of the top live acts of their day, and fortunately they are immortalized by five incomparable singles that are now acknowledged around the world as Sixties rock classics. The band's uncompromising style led to them being branded as archetypal "bad boys" by the media, and this image was no doubt fuelled by their name, which of course derived from the amphetamine 'pep' pills that were a staple recreational drug in the early-mid 60s, and the drug of choice for the Mod crowd. Mick Hadley says he never really indulged in drugs although he says some of the other guys did; certainly Lobby freely admitted that he had tried just about every drug there is at one time or another ... and sometimes several at once!

Whether real or manufactured, all the controversy and their 'take-no-prisoners' approach helped to set them apart from most other bands of the day. "We were like the Public Enemy of 1962 ... we were pretty radical" singer Mick Hadley recalled. One famous incident saw them supposedly banned by a Melbourne girls' school, although Mick later dismissed this as "…a press beat up ... Some girls sneaked out from school or something and came to see us rehearse. It's a good story."

The Purple Hearts evolved from Brisbane R&B band, The Impacts, which was formed by young English migrant Bob Dames with local musicians Adrian "Red" Redmond and guitarists Michael Riddington and Les Binns in late 1963. Not long after, another expat Brit, R&B/blues fanatic and aspiring singer Mick Hadley, met the group through a work social club and joined the band. Mick was an early fan of John Mayall and Graham Bond who had experienced the burgeoning London R&B and blues scene at first hand, seeing the likes of of Cyril Davies Allstars and Blues By Six there before emigrating to Australia in late 1962.

Mick's arrival helped to steer the band decisively towards R&B and blues, and this direction was reninforced by subsequent changes in the band. In late 1964 Les Binns left the group and was replaced by guitarist Barry Lyde (from The Stillettos), who at 20 was already something of a veteran on the Brisbane pop scene. Barry — or Lobby Loyde, as he was known from the mid-60s — started out like so many guitar heroes under the all-pervasive influence of The Shadows' Hank Marvin, as Mick Hadley recalled in this 1992 interview with James Pierce and Robert Smith:

"Lobby Loyde — well he came from a Shadows-type background, so he would have been influenced by Hank Marvin. People like Les Paul, Chet Atkins, but then as soon as he heard Clapton, he sort of picked up a lot off Clapton. Blues Breakers, yeah and of course The Yardbirds. That was sort of like a bible — the John Mayall album where they're all reading 'Beano' on the cover … because everyone learnt every lick on that particularly album and Five Live Yardbirds too, so there was a lot of their influences there."

Shortly after Lobby joined, rhythm guitarist Michael Riddington departed, so Mick Hadley recruited a friend, Paul Steffen (from local covers band BJ & The Senators) whom he had met when he landed a job at ABC's Brisbane TV station, ABQ-2. Steffen's first gig with the group, at Broadbeach Surf Club, was in fact their last as The Impacts, and at that point they renamed themselves The Purple Hearts, a name devised by Bob Dames. Paul's Steffen's role in the early days of the group was not properly known until late 2006, when he contacted the Half A Cow label following the release of their Purple Hearts compilation CD. He recalled:

"Mick, Bob Dames and I eventually got a flat together on Sylvan Road in Toowong where Clive would doss down when in town from his job as an Arts teacher at Scots College in Warwick. It was a pretty frantic time, what with rehearsals in Red's (Adrian) father's warehouse in South Brisbane, regular gigs and all of us trying to also hold down day jobs. Still I would not have missed it for the world and consider it a great privilege to have had the chance to play and be friends with Mick, Bob, Adrian and of course everyone's guitar hero, Lobby, who finally received some long overdue recognition at the Hall of Fame inductions. I still remember how he and I used to swap guitars for different numbers, having to adjust to the different weight and balance of his Jaguar and how we always had access to the latest gear largely courtesy of Lobby's job at the Moorvale Music Centre at Moorooka."

At about the same time that Steffen joined, the band also met another young music-obsessed English expat, Clive Murray White, who soon became a close friend and 'style adviser' to the group -- indeed, Mick Hadley's website reveals that the cover photo of the

Sound of The Purple Hearts

EP cover shows everyone in the group wearing at least one article of Clive's clothing!


Clive Murray White: "I was an art student in Guildford, and like every English art student of the time could play Cyril Davies' "Country Line Special". We used to go to the local Ricky Tick Club; the regular bands on that circuit other than the old black guys that were going around were The Rolling Stones, original Yardbirds, Cyril Davies, Animals, Graham Bond Organisation. Zoot Money, Pretty Things, Manfred Mann, Georgie Fame and so on. We also used to go to Eel Pie Island to see Long John Baldry and up to town to see the Downliners Sect. I arrived in Australia from England on 25 January 1965 and shortly after I turned up at the Broadbeach Surf Club where a band was playing. Needless to say I was wearing clothes that I had brought out and was dancing like they did in UK. I was given a handful of free beer tickets for my dancing efforts and was soon in deep conversation with the band. The band played 50/50 surf and British. I learned later [that] anybody who was obviously from UK was approached and grilled about what was going on over there -- vital info such as bands don't wear uniform clothes anymore. I brought many records to Australia with me including "Long Legged Baby", my favourite Graham Bond memory "Early in the Morning", Yardbirds, Stones first album, Downliners Sect, Georgie Fame, Pretty Things, compilations etc.

The Hearts immediately added some of the more obscure numbers from Clive's collection to their repertoire and took to wearing their (often outlandish) street clothes on stage. The Hearts played frequently around Brisbane and the Gold Coast and had a residency at The Primitif Club in Brisbane's Picadilly Arcade — a gig they regularly shared with The Five —- cutting their teeth on covers of UK R&B groups like The Rolling Stones, The Pretty Things, The Kinks, Graham Bond Organisation, Spencer Davis Group and The Animals. The John Mayall's Bluesbreakers' "Beano" album (with Eric Clapton) exerted an especially strong influence on Lobby, while Mick intently absorbed every influence he could from black American blues and R&B performers.

The Purple Hearts quickly established themselves as one of the most radical bands on the staid Brisbane scene. Along with Lobby's incendiary guitar work, the intense stage presence and down'n'dirty soul delivery of Mick Hadley was a focal point of the band's performance.

Mick Hadley: "Well James Brown was probably my greatest influence, I suppose I picked up my style from a lot of different people you know ... the Wilson Picketts and Otis Reddings ... if I could only be as good as they were! It's hard to say where your major influence is. It's sort of like a blend of all different people really."

RS: "Phil May?" (Pretty Things)

MH: "Phil May. Well, Phil was ... well we did his material and you might copy a few reflections, but he wasn't black enough for me. I tried to copy the black people."

At this time they were managed by one of "countless budding Brian Epsteins", Dal Myles (who went on to become a promoter and MC in Sydney and later joined Sydney TV station TEN-10 as a newsreader). However the band soon fell out with Myles over financial issues and they parted company.

The group first ventured into the studio in early 1965 to cut four tracks at the newly opened Soundtrack Studios, Brisbane's first independent commercial studio, which operated from a disused bakery in the suburb of Cannon Hill. Two of these recordings a cover of Graham Bond's "Long Legged Baby", backed by a version of Them's "Gloria" were issued as the group's first single. Around this time young guitarist Glenn Wheatley (later of The Masters Apprentices) would sit in occasionally on rhythm guitar, but did not record with the group.

Paul Steffen's tenure in the group was abruptly terminated by his call-up for National Service in August 1965, and he was subsequently replaced by Scottish-born guitarist Fred Pickard. Just after Fred joined, the group joined The Easybeats, Vince Maloney, Tony Worsley & The Fabulous Blue Jays, Ian Saxon and others on marathon north Queensland tour from Brisbane to Cairns and back, which was the first ever 'beat band' tour of those areas. Entrepreneur Ivan Dayman, who organised the shows, immediately saw The Purple Hearts potential and soon signed them to his Sunshine label. Their first Sunshine single (recorded at Festival studios in Sydney) was a re-recording of "Long Legged Baby" backed by a new B-side, "Here 'Tis", which was released in October 1965; thanks to their dedicated following in their hometown, it made the Top 10 in Brisbane.

For the remainder of 1965, Dayman kept the band busy promoting the single and holding down a residency at the Brisbane Bowl, one of the chain of venues he owned. By early 1966 the Hearts were looking south to the major markets of Sydney and Melbourne and their first big break came when they scored the opening spot on the Sydney leg of the Herman's Hermits/Tom Jones Caravan of Stars tour promoted by Harry M. Miller, plus more gigs at Dayman's Sydney Bowl. However, just before the tour Red Redmond was badly injured in a car accident that smashed both his legs, so he had to be replaced -- permanently as it turned out -- by Tony Cahill. Although the original intention was for Red to return to the band when he had recuperated, by the time he was back on his feet Cahill had become so entrnched in teh band that they didn' want to lose him, but they remained on good terms with Red, who went on to establish the Red Orb venue in Brisbane, (where the band would play their final gig in early 1967).

After several hectic weeks in Sydney which saw them play at the Bowl in Castlereagh St, the Pavilion, and the Caravan of Stars show at the Hordern Pavilion on Jan 21 & 22, 1966, the group decided to relocate to Melbourne. Before they left Sydney, the Hearts went back into Festival studios and recorded the tracks for their second single, "Of Hopes Dreams Tombstones" b/w "I'm Gonna Try" (released in February 1966), which were produced by Pat Aulton, who had overseen big hits for other Sunshine artists including Normie Rowe and Tony Worsley. It was Pat who directed the band to an obscure American soul 45 which, when rearranged by the Hearts, became one of the wildest Aussie singles of all time.

In Melbourne, they soon established themselves as one of the top acts on the city's booming dance and discotheque circuit, with their popularity boosted by frequent TV appearances on It's All Happening, The Go!! Show and Kommotion and regular coverage in Everybody's and Go-Set magazine. The group also made the arduous trek back to Brisbane to open for The Rolling Stones on their second tour in February 1966. Alongside innumerable suburban dance gigs, the Hearts were regular headliners at famed Melbourne discos The Thumpin' Tum, Sebastians and The Red Door. They often shared a stage and became mates with Max Merritt & The Meteors, The Twilights, Running Jumping Standing Still and the (Mark I) Wild Cherries. According to Mick they had a friendly rivalry with The Twilights over who was the best band on the circuit.

Their third Sunshine single was the extraordinary "Early in the Morning" (August 1966), a unique, bizarre amalgam of sea shanty and heavy psychedelia recorded at the new Armstrong's Studios in Melbourne with Roger Savage at the controls. Despite being one of the most radical Australian pop singles ever released, the Hearts' following was sufficient to propel "Early in the Morning" to #10 in Melbourne, a fact which also speaks volumes for the support that Melbourne radio was offering to local acts at that time. Both tracks have been anthologized on many '60s compilations and are regularly hailed as key examples of the 60s "garage-punk" genre — although "Early in the Morning" arguably exists in a category all its own. Fortunately, one of their Go!! Show appearances from this period still exists, in which the group mime to both sides of their latest 45, "Just a Little Bit" and "Early in the Morning".

Their next single, '"You can't sit down" b/w "Tiger in your tank" was again recorded at Armstrong Studios with Roger Savage, and released in January 1967. Late in the year Sunshine issued the EP, The Sounds of the Purple Hearts, which combined the tracks from the first two Sunshine singles. But on 23 January 1967 Go-Set published a press release by the band, stating that they had ceased to progress musically, felt they were stagnating and had decided to split.

Mick: "We felt we'd gone as far as we could go, we just ran out of gas. It was good fun while it lasted. Although the Hearts put up a united front it seems Lobby had seen the writing on the wall and instigated the split on the eve of an Adelaide tour! Lobby went straight into the reformed Wild Cherries and was gigging with them immediately, while the others carried on as a four-piece for a month or so, filling the outstanding engagements. Fred, now the sole guitarist, really starred in these shows and with David Bentley from Python Lee Jackson added on keyboards for the last ever gigs back in Brisbane, their sound would have been quite different to the Lobby fuelled Hearts. The final gig was at Red's Red Orb club in late February 1967."

A final single "'Chicago"' b/w "Bring it on home" was released in April, three months after the split, but still managed respectable sales. Since their demise, The Purple Hearts have come to occupy an honoured place in Australian rock history, and their recordings have been anthologised on many compilations including Raven's Sixties Downunder series. In 2007 Half A Cow Records released the definitive Purple compilation CD, which includes their first four Soundtrack Studios recordings and all the tracks from their Sunshine singles, plus a bonus ofseven unreleased tracks from 1969-70 recorded by the original Coloured Balls, featuring Mick Hadley and Bob Dames, plus a 36-page booklet that includes rare photos by Go-Set staff photographer Colin Beard.


After The Purple Hearts …

- Tony Cahill travelled to the UK where in early 1968 he was selected from dozens of hopefuls to replace Snowy Fleet in The Easybeats. He remained with the band until they split at the end of 1969.

- Mick Hadley travelled to the UK on the overland trail through Asia for a year, erporting for Go-Set on his journey. On his return to Australia in early 1968 he was recruited to join Rob Lovett (ex-Wild Cherries, Loved Ones) and Malcolm McGee (ex-Wild Cherries, Python Lee Jackson) in The Virgil Brothers but he quit after only a couple of weeks' rehearsal, to be replaced by his old Sunshine label-mate Peter Doyle. Mick then reunited with Bob Dames in Brisbane to form a new R&B band called Coloured Balls with Sam Shannon (vocals), Robbie Van Delft (guitar; ex-Mike Furber & The Bowery Boys) and Peter Miles (drums; ex-Bay City Union). Coloured Balls were part of the from the same scene as Bay City Union, Black Cat Circle, The Chelsea Set and Thursday's Children. They gigged around Brisbane until the end of 1969, but did not record. In 1970, Dames and Miles moved to Melbourne where they joined Mick Rogers (ex-Procession) in the short-lived power trio Bulldog. Through the 1970s and '80s, Mick formed a succession of R&B bands. He recorded the album Let's Dance (comprising all R&B covers) with Mick Hadley's Last Shout in 1988, and Butt Out in 1995 with Mick Hadley and the Shakers. He is still performing regularly and in late 2007 backed Wendy Saddington in a rare concert appearance.

- Lobby Loyde (who was a distant descendant of Oscar Wilde) is now hailed as the "godfather of heavy rock" in Australia. Among those who have cited Lobby as an influence are his old mate Billy Thorpe, Nirvana's Kurt Cobain, Pavement's Stephen Malkmus (who covered The Coloured Balls "That's What Mama Said"), Henry Rollins (who owns all Lobby's recordings), Bored! and Cosmic Psychos. After leaving The Purple Hearts Lobby spent about two years carving out a similarly iconoclastic niche in the Mark II Wild Cherries until their split in late 1968. This was followed by a brief but crucial tenure as a member of Billy Thorpe's new Aztecs in 1969-70, included the recording of their landmark LP The Hoax Is Over. Lobby then put together a shortlived "new" Wild Cherries in 1970, releasing one single, "I Am The Sea". In 1971 he recorded the acclaimed Plays with George Guitar solo LP and worked with former Loved Ones lead singer Gerry Humphries in Gerry & The Joy Band.

In 1972 Lobby took over the The Coloured Balls name for his own band, although it had no other connection to Mick Hadley's group. Tagged, for better or worse, as a "sharpie" band and criticized by the media for supposedly inciting violence, The Coloured Balls were a favourite on the pub and festival circuit and an undoubted influence on later bands like Rose Tattoo. From 1972 until their demise in 1974 they released six singles and three LPs, Ball Power, Heavy Metal Kid and First Supper Last (originally recorded in 1972) as well as performing with Billy Thorpe and others on the Sunbury '73 live album Summer Jam.

Lobby then went solo again releasing the single "Do You Believe in Magic" (1975) and the acclaimed Obsecrationalbum (1976). Lobby then left Australia, in part because he was angered with the media's connection his music and sharpie violence. He spent about two years in the UK (1976-79) where he embraced punk and New Wave and sat in on recording sessions with Siouxsie & The Banshees, The Police and Roxy Music.

In June 1976, just before moving to the UK, Lobby and Southern Electric recorded the music for a proposed concept album, Beyond Morgia: The Labyrinths of Klimster, which was taped and mixed over the course of a single weekend at Armstrong's Studios, with tape operator Tony Cohen engineering and mixing. Lobby intended the music as the soundtrack for a proposed sci-fi film, which was to be based on an unpublished novel he had written. Lobby burned the manuscript the day before he left for the UK and no film was ever made of the story, but fortunately the long-lost master tapes of the album were recently found and remastered, and the album was released on CD by Aztec Music in Feb. 2007.

On his return to Australia he joined Rose Tattoo as bass player and that line-up of the Tatts recorded an album in Los Angeles which has never been issued. He then formed Southern Electric, with whom he recorded the rare Live With Dubs LP. In the '80s Lobby moved into production and live sound mixing and produced acclaimed recordings for Sunnyboys, Kevin Borich, Machinations, Flaming Hands, X and Painters And Dockers. He returned to the stage in the early '90s with the supergroup Dirt, then concentrated on recording and performing with his "pleasure band" Fish Tree Mother. In late 2002 Lobby reunited The Coloured Balls to take part in the Long Way To The Top concert tour. In October 2002 he celebrated his 40th year in music by being inducted into the Australian Blues Foundation Hall of Fame at a special gig at the Mercury Lounge in Melbourne, with Chain.

The chain-smoking Lobby was diagnosed with lung cancer in 2005. A benefit concert in Melbourne (at which he played) raised $90,000 for his medical costs. He was inducted into the ARIA Hall of Fame in 2006, and fellow inductee Angry Anderson said of him:

"More than anyone else, Lobby helped create the Australian guitar sound. Long before Angus (Young) or Billy Thorpe or the Angels or Rose Tattoo. Lobby inspired Australian bands to step forward and play as loud and aggressively as they could. People are still trying to copy it today."

In August 2006, Loyde rejoined Rose Tattoo, replacing the late Peter Wells, who had himself died from cancer a few months earlier. Although he was by then gravely ill, Lobby recorded an as-yet-unreleased album with the band. He died at Box Hill in Melbourne on 21 April 2007, aged 65.

Discography

Singles

1965
"Long Legged Baby" / "Gloria" (Soundtrack)

Oct. 1965
Long Legged Baby / Here 'Tis (Sunshine QK-1138)

Feb. 1966
"Of Hopes and Dreams and Tombstones" / "I'm Gonna Try" (Sunshine QK-1213)

Aug. 1966
"Early in the Morning" / "Just a Little Bit" (Sunshine QK 1448)

Jan. 1967
"You Can't Sit Down" / "Tiger in Your Tank" (Sunshine QK 1589)

April 1967
"Chicago" / "Bring It on Home" (Sunshine QK 1736)

EP's

1966
The Sound of the Purple Hearts (Sunshine QX-11175)
"Long Legged Baby" / "Here 'Tis" // "Of Hopes and Dreams and Tombstones" / "I'm Gonna Try"
(Click on the thumbnail to see a larger version)

Albums

April 2006
Benzedrine Beat R&B Raveup (Half A Cow HAC-112)


The Purple Hearts:
1. "Talkin' Bout You" (Chuck Berry)
2. "Louie Louie" (Richard Berry)
3. "Long Legged Baby" (Bond)
4. "Gloria" (Morrison)
5. "Here 'tis" (MacDaniel)
6. "Long Legged Baby" (Bond)
7. "Of Hopes and Dreams and Tombstones" (J. Byers)
8. "I'm Gonna Try" (J. Williams)
9. "Early in the Morning" (Trad. arr The Purple Hearts)
10. "Just a Little Bit" (Gordon)
11. "You Can't Sit Down" (Upchurch/Clark/Muldrow/Sheldon)
12. "Tiger in Your Tank" (Dixon)
13. "Chicago" (Butterfield)
14. "Bring it on home" (Williamson)

Tracks 1-14. Mick Hadley vocals/harp, Fred Pickard guitar, Lobby Loyde
guitar, Rob Dames bass. Tracks 1-6 with Adrian Redmond drums.
Tracks 7-14 -- Tony Cahill (drums).

The Coloured Balls
15. A Song for Jeffrey (Anderson)
16. Killing Floor (Howlin Wolf)
17. Living in the USA (Miller)
18. Bring it on Home (Willie Dixon)
19. Long Grey Mare (P.A. Green)
20. Living in the Past (Jethro Tull)
21. Living in the USA (Miller) live

Tracks 15-21. Michael Shannon lead vocals, Mick Hadley harp/vocals/guitar,
Peter Miles drums, Bob Dames bass, Robbie Van Delft guitar and flute.
References / Links
Mick Hadley official website
http://www.mickhadley.com/

Wikipedia - Lobby Loyde

http://en.wikipedia.org/wiki/Lobby_Loyde
Ian McFarlane
Encyclopedia of Australian Rock & Pop (Allen & Unwin, 1999)
Vernon Joyson
Dreams, Fantasies & Nightmares: Australia (Borderline Books, 1999)

James Pierce & Robert Smith
The Purple Hearts -- interview with Mick Hadley, 1992
http://www.labyrinth.net.au/~fredj/sixties/tomthum/purplehearts.html
Jo Roberts
"Rock With Balls"
The Age, August 23, 2002
http://www.theage.com.au/articles/2002/08/23/1030052962554.html
Chris Spencer & Zbig Nowara
Who's Who of Australian Rock (Moonlight Publishing, 2002)
Col Gray
Vicious Kitten Fun House-Lobby Loyde article
http://www.viciouskitten.com.au/VKFunHouse/articles/lobby_loyde.htm
Many thanks to Andrew Ainsworth for the EP cover images