MPD Ltd
Melbourne 1965-67
Mike Brady (guitar, vocals)
Pete Watson (bass, vocals)
Danny Finley (drums)
Phil Blackmore (piano) 1967
Wayne Duncan (bass) 1967
Gary (Dick) Howard (drums) 1967
History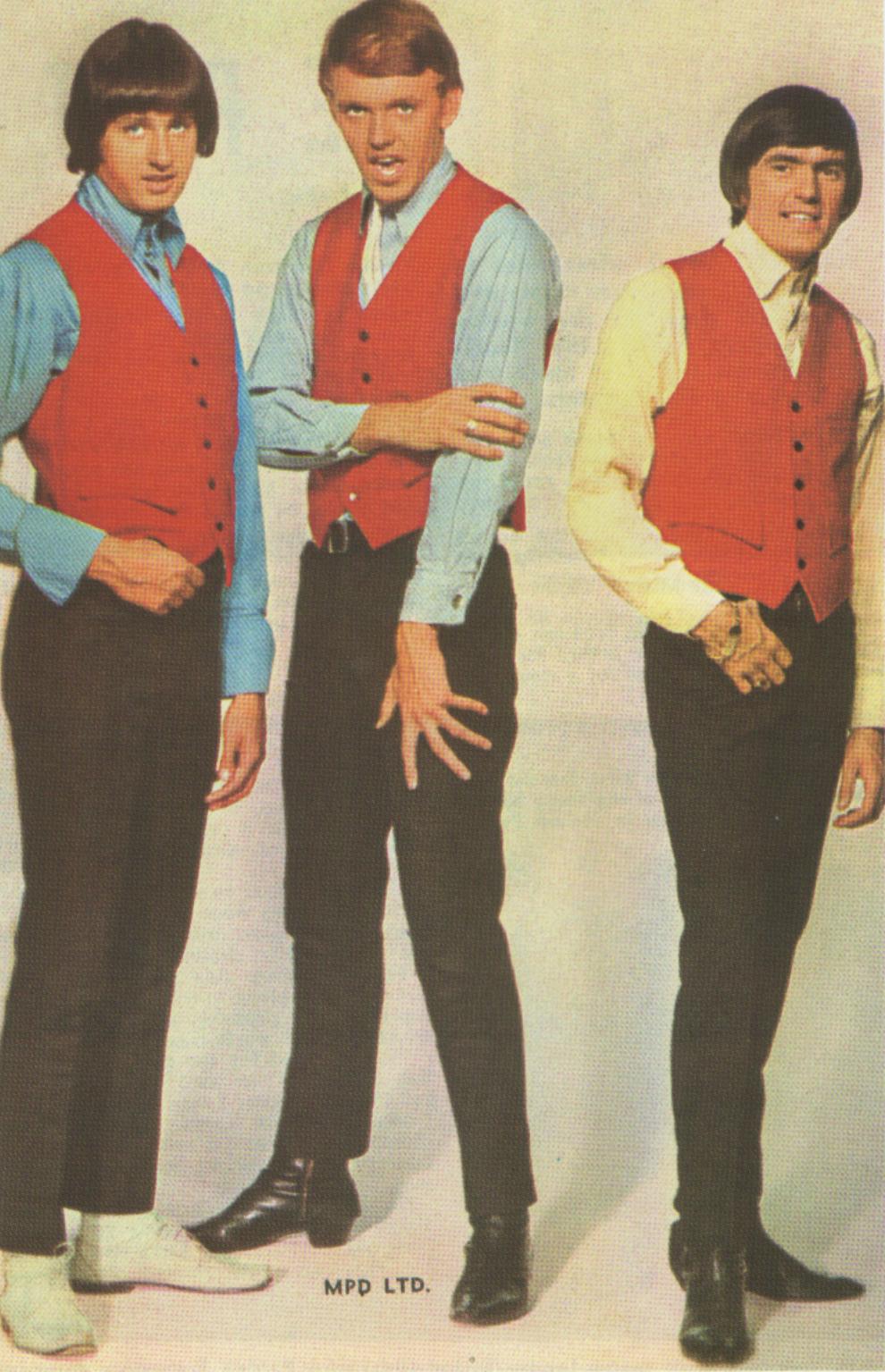 A short but sensational time in the spotlight ... a dynamic, gymnastic stage routine ... a spearhead act for the legendary Go!! label ... some incendiary singles ... such are the hallmarks by which we fondly remember the great beat trio that was MPD Ltd.
Formed in 1965, MPD Ltd arrived at their handle by combining the first name initials of core members Mike Brady, Pete Watson and Danny Finley. The "Ltd" appendage is also appropriate, since this band enjoyed only a short spell, albeit a very exciting and successful one while it lasted.
The band's meteoric rise to popularity is a classic example of serendipitous timing. With really only their friends The Easybeats to be considered as serious rivals, MPD Ltd emerged in a scene which saw The Aztecs embrace a decidedly MOR sound, The Whispers beginning to founder and stagnate, and exciting and innovative new bands like The Twilights and The Masters Apprentices yet to appear on the national musical horizon.
English-born bassist Pete Watson had for some time been a member of the venerable Melbourne instrumental outfit The Phantoms when, by one of those strange quirks of fate, the precocious fifteen year old amateur Mike Brady (also a British immigrant). Mike was playing with a high-school combo called The Hearsemen when he answered an ad for the position of guitarist. The Phantoms were looking for a temporary replacement for guitarist Dave Lincoln, who was on the sick-list, and Mike secured the gig.
Pete and Mike hit it off immediately and two months later, disenchanted by the somewhat dated approach of their parent band, they both agreed, in early '65, to pursue a more contemporary 'beat' style. In May 1965 they found their perfect foil in drummer Danny Finley, who grew up in the Melbourne suburb of Spingvale. Danny was playing in a similar Melbourne-based instrumental band, The Saxons, and from then on the trio never looked back. As Mike remembered later:
"We were into The Beatles and The Stones but (The Phantoms) were all into all gold lame suits. It was based on The Shadows. We didnt think that that sort of music would last much longer and so we rang Danny Finley from The Saxons, who was a sensational drummer. He accepted right away. I could sing reasonably well and Pete wasnt too bad but we needed something with a bit of a show, which is why we approached Danny."
And what a show they put on! For the short time that MPD Ltd existed, they were literally all over the place -- but in the tightest, most professional way seen for some time. Let's qualify that: they were all over the place in the national consciousnesss! The group was boosted and fostered in the early stages by the influential 3UZ Melbourne DJ, Stan "The Man" Rofe. As a result, for a fleeting but exhilarating period, you couldnt escape MPD Ltd. Their clever 'corporate' moniker, unique image, and most importantly, their bombastic concert performances captured not just initially Melbourne's, but very soon the nation's imagination.
Within three weeks of forming, MPD scored invaluable national exposure and wide acclaim when they joined Tony Worsley & The Fabulous Blue Jays on the 1965 Dave Clark Five package tour. Here they made great friends with Brian Epstein protege Tommy Quickly who was also part of the package; they later covered one of his tunes as a b-side, "You Might As Well Forget Him".
MPD Ltd are remembered indelibly in this writer's mind for all those things mentioned above, plus these three salient points:
their blistering performances as part of a package tour, the first pop show I'd ever been to (The Easybeats, Bobby & Laurie, MPD Ltd, The Rondells and others at the first-ever pop show in the newly-opened Canberra Theatre, circa mid-'65). MPD's short set consisted of a non-stop barrage of their well-known hits, presented with a host of carefully planned stage movements and gymnastics from all three. Damn near upstaged the headliners, they did!

their ubiquitous presence, inevitably dressed in the finest "stylist" outfits, on the Go!! Show and in the only "pop" mag we had at that time, Everybody's, and

that astonishing series of 45s on the famous Go!! label that seemed to be all over the radio airwaves around mid-'65.
Apart from showing off the dynamic interplay between the three musicians (including Danny's famous drumstick twirling), the handful of MPD records we have are almost uniformly memorable for their full-bodied sound, arguably among the best-sounding productions from that era. The drum sound is uncommonly huge and propulsive, the bass thick and penetrating, the presence of the guitars (both acoustic and electric) slices through convincingly. And the vocals, with liberal and complex harmony parts, are detailed and precise, often bathed in an enormous but sympathetic reverb. The arrangements are consistently imaginative and original and the bands undoubted pop sensibilities are abundantly evident. In fact, the records that MPD Ltd made still sound startlingly powerful and remarkably fresh today. Yes, I am gushing, but why not track down their recordi ngs and have a listen yourself? Youll hear what I mean!
Many of these early MPD recordings were made at Telefil Studios in St Kilda, Melbourne, and engineered by studio legends Roger Savage and Bill Armstrong; while later songs were put down at Bill's own newly-opened Armstrong's Studios in South Melbourne, plus a couple of tracks cut in Sydney at Ossie Byrne's shortlived St Clair Studio in Hurstville (the scene of the Bee Gees final recordings before they left for England) .
Starting with their first single in July '65, a beat-heavy cover of Johnny Burnette's Little Boy Sad, the group showed their penchant for playful beat arrangements of staid American MOR pop. The driving debut proved simply a "gas" -- it was a huge hit, going to #1 in Melbourne and #5 in Sydney. This hugely successful debut was cemented by the flamboyant, Keith Moon-style drum-driven follow-up, a rambunctious cover of Paul Anka's "Lonely Boy" -- another huge national hit which peaked at #7 in Melbourne.
In just two months, bolstered by regular appearances on TV pop showcases across the country, the boys had rocketed up to the same level as the top stars of the day -- Normie Rowe and Bobby & Laurie, not to mention the invincible Easybeats. Much later, recalling those mad times, Mike Brady tellingly reflected:
"Whatever we aimed to achieve, we achieved 400% ahead of schedule and it really spun our heads around. We were babes in the woods then. We were young kids in a new industry. Nobody really knew what they were doing c not the bands, not the managers. I guess we got paid at most gigs, quite often cash on the night. It usually wasnt much but we felt it was a privilege, a big deal to be involved with a pop band. There was no way that any of us wanted to be something really important, like a Prime Minister!"
A clutch of characteristically great singles followed in 1966. These were only moderate chart sucesses, but included their third and last chart hit (#19 in Melboure). It was a gripping rendition of the legendary madcap George "Shadow" Morton's epic teen ballad, originally recorded by The Shangri-Las, "(Remember) Walking In The Sand", smothered in rich and eerie echo. Next came the first appearance on 45 as a 3-way original songwriting combo, the band's lovely departure into pure beat-fed power-pop called "No Regrets".
I seem to remember that MPD's fifth single, released in August '66, was regarded by quite a few pundits at the time as the groups pinnacle achievement, and was treated as a "double A-side". Coinciding with their departure for England, they released the aptly titled Absence Makes The Heart Grow Fonder b/w I Am What I Am. It was a splendid Finley-Watson-composition, a refined return to the band's earlier beat sound, and it was an enormous radio hit, and a return to top five chart placings in most Aussie capitals for them too. This stunning slab of power-pop also saw release in Germany on Ariola, to enthusiastic press and fan response, while it also gained fair attention when it was released on Mercury in the US.
These two sides are among a classic batch of recordings made during 1966-67 at the small Hurstville studio of producer-engineer Ossie Byrne. One of the unsung heroes of Australian Sixties pop, Ossie and his colleague Nat Kipner, boss of the Spin label, were instrumental in transforming The Bee Gees into an accomplished studio outfit, and among many other now-legendary slices of Oz Rcok, Ossie co-produced The Bee Gees' breakhrough hit, "Spicks and Specks". Interviewed by Glenn Baker, Mike revealed an interesting fact about the recording of "Absence":
"Maurice Gibb played the solo by plucking the strings of an open piano, like a guitar. All the Bee Gees were in the studio during that one; they all helped out, which was terrific".
What people seemed to notice most now though, apart from the taken-for-granted solid MPD sound, was the emerging songwriting prowess of Danny and Peter. And soon after, Mike Brady presented the supreme and sparkling pop of the bands swansong single, Paper Doll. This song, The Monkees would have given their balls for! But this time, while the delivery of the song is spirited and sleek, the customary MPD bollocks are replaced by thinly recorded acoustic guitars and a generally tinny sound; a pity. Yet beneath the seemingly simple and effortless pop crafstmanship of songs like this lurked a growing disenchantment with Aussie radio's waning of support and airplay for the band. Most of the groups B-sides were self-penned, but this proved to be one of the points where the rot began to set in, as Brady elaborates:
"The writing started from day one. We decided that if any one of us wrote a song then wed credit all three but that sort of broke down and the songs just got credited to the wrong people. Like, I did the lyrics to "I Am What I Am" but Pete and Danny got the credit on the label. The idea was to balance it out. If my name got on one song, their named go on the next one. And "Paper Doll" is not about a girl, it was my shot at DJs of the time".
But let's get back to the matter in hand. These records were still selling and being supported at the time by regular and fantastically vibrant appearances on TV shows as Sydney's Saturday Date and Melbourne ATV-0s weekly showcase complement to MPD's record label, The Go!! Show, some tapes of which have miraculously survived.
Let's not forget though, that it was really in live mode where MPD Ltd made their biggest impact. It should be noted that a hallmark of any act managed at the time by Ron Blackmore (he also handled, among others, the frantic, pants-splitting Bobby & Laurie), was the notion of a wild and fast, "hit 'em between the eyes" twenty-minute set, often as part of a package of four or five nationally-charting acts. Noted rock historian Glenn A. Baker observes that while MPD were only three in number, their stage impact could often equal that of The Easybeats, with whom they toured extensively in 1965. Mike Brady also remembers those times with awe:
"It was very exciting. But there was no emphasis on music at all -- we didnt even care if it was in tune. It was totally visual, there was no staging at all. We didnt have our own lights, we didnt have our own PA, we didn't have our own road crew. All we had was one roadie and a station wagon. For 110,000 people at the Myer Music Bowl we had one 4-speaker Fender concert amplifier with no mic on it!"
This writer couldnt begin to describe the live MPD experience better than Baker does (it evokes a vivid visual memory from the solitary time I saw them in concert -- for younger readers: think of a prototype You Am I being loud and abandoned and, y'know, throwing shapes). Baker wryly opines that it hardly mattered that the sound was often a fuzzy blur. The focus of attention was firmly on the stage poses of Pete and Mike and the brazen drum majorette-style stick-twirling of Danny, and it looked fantastic! And here Brady reflects about the changes afoot at the time:
"We were the first band, certainly in Melbourne, possibly in Australia, to do just a twenty minute set. Before then, if you were a band you played all night and backed the singers. Bands didn't sing, bands played and singers sang. Our idea was to always leave them screaming for more."
And that, the band consistently did! Not to mention the attendant camaraderie and shenanigans that the boys enjoyed with their mates while on those wild cross-national tours in 1965-66. Here's a direct snippet from the comprehensive (and at times controversial) sleeve notes of Raven Records splendid, and thoroughly recommended, MPD Ltd anthology, The Wild Side Of Life (see Discography):
"The road tours were one giant debauched rort, rudely punctuated by outrageous practical jokes. When the bands hit a country town it was definitely a case of 'lock up your daughters!'. "Rock bands in that era were just seen as shit", insists (manager) Ron Blackmore. "There were motels you couldn't stay at and those you could. Not necessarily because anyone had been there before you and done anything wrong, but just because we were a rock & roll band". It was a ludicrous contrast in lifestyle -- from the clutches of howling hordes to shivering by the roadside with a clapped-out bus that had been replaced twice already. Only the looning kept nerves and tempers from fraying."
At a riotous December '65 concert, the now-legendary 4BC Sound Spectacular at Brisbane Festival Hall, MPD shared the bill with The Easybeats and hometown favourites Tony Worsley & The Fabulous Blue Jays. The Easys' climactic set was famously terminated after only a few minutes whe fans stormed the stage and started to tear up the hall. MPDs set lasted all of seven minutes too, and Mike had to run out on stage in a pair of boots that had been freshly pissed in by Danny -- apparently in retaliation for being locked in a cupboard!
Like many bands of the time with a modicum of talent and ambition, and a will to prove themselves beyond the perceived career constrictions in Australia, MPD Ltd decided to tackle the UK in early 1966. Regrettably, like most of the other bands who made the trip, their British foray was a disaster from the outset, as manager Ron Blackmore ruefully lamented:
"Before we went overseas we worked out this saving plan where every second week every penny we earned went into the bank, and on the off week they took the money. I was doing the same thing as well and the bank account was growing and growing. Then two weeks before we were due to go, Pete rang me and said: 'I want to take a new specially-designed bass with me -- Ive picked it up -- you pay for it, its $400' Then Danny rang: 'If Pete's having a new bass I want a new drum kit!' and off he went to pick it up. Then Mike wanted a new Rickenbacker guitar and so on and so forth ..." If all that wasn't a worrisome enough auspice for the UK trip, the next day Pete rang Ron to tell him he'd been busted for "carnal knowledge"! Ron: "ggggg-rrrrr-eat!!"
Like The Easybeats, The Twilights, Normie Rowe & The Playboys and The Bee Gees, MPD Ltd set sail for Britain (on the Achille Lauro) in August 1966 after a frantic send-off by 5,000 screaming fans at Perth's Fremantle docks, while lurid front page headlines about Pete's indiscretions, in scandal sheets like Truth, ensured the band's notoreity while they were away.
They were met and welcomed in London by their old mate, Snowy Fleet from the Easys but were immediately demoralised to find absolutely no work or even promotional activities lined up. Mike Brady again takes up the story:
"We thought we'd walk down the street in London and people would come up to us and say 'You look like a rock & roll band; I'll sign you up'. But there was nothing organised at all. Ron went back home to manage the Crispian St Peters tour and we just sat around doing nothing, getting depressed. We played exactly two shows; one of them was 'Tiles' in Oxford Street which was okay. But The Easybeats were killing England with Friday On My Mind and I guess we were jealous, sad and disillusioned. After four months it was coming on winter and we just wanted to come home. We were also supposed to do dates in Germany but we just couldn't face it."
While in London, the group began recording backing tracks with Pye Records in-house producer John Schroeder, but these recordings languished uncompleted in the wake of MPD's hasty return home after just four months. Blackmore strove to find a way to retrieve the tapes, but by this time he had seen the writing on the wall:
"By this point the tension in the band was pretty fierce. They had succumbed to the old problem of believing their own publicity and assuming that if each of them wasn't there, the other two would be in trouble -- which was basically true but not really a point to argue about. As soon as I left England they began having massive personality clashes. They weren't getting along with me or each other so it was fireworks all the way, fed by some super-egos."
Brady admits that the group was in turmoil at this stage, but enthusiastically points out that the now-augmented band was, ironically, now at its performing zenith:
"It was only psychologically horrific. We still had our act, in fact it was the best we'd ever had. We put so much rehearsal into it in England. We had costumes and props, the whole thing was absolutely amazing. We got better money than before we left c for one 20-minute spot in Wagga one night we picked up about $3800, which was big bread for a band in 1966, particularly a band that had virtually no overheads. But we'd only been home in Melbourne for about two days when we had to leave our families again and go on the road. It would have been better if we'd kept out of each others sight for a few weeks."
As evidenced by Mike's comments, it was obvious that the end was nigh. They undertook an ill-advised national homecoming tour, during which ferocious backstage arguments and even fisticuffs had become the order of the day, and by the time "Paper Doll" came out, the band had already eventually called it quits, leaving behind a remarkable body of recorded work and a lasting reputation as one of the beat boom's most spectacular and acclaimed performing acts ... not to mention a most chucklesome, Spinal Tap-esque history!
After MPD Ltd ...
The exact chronology of the bands that succeeded the original MPD Ltd is unclear, but there seems to be some persistent misinformation about them which (hopefully) we can clarify. Here (with many thanks to Tiffany Sanders) is what we've found out so far:
Pete Watson formed Pete Watson's Rockhouse in early 1967. This was the band that introduced Australia to a handsome young singer-guitarist from Merrylands, NSW, Rick Springfield, whom Pete picked up straight out of high school. After a stint with Johnny Young & Kompany, Danny Finley joined Rockhouse in late '68, at which point the band became "The New" MPD Ltd. This "Mark II" version of MPD lasted long enough to do a hair-raising tour of South Vietnam, entertaining Aussie troops, where they were "surrounded by artillery fire and forced to deal in black market goods to survive. Perhaps due to the trauma of that tour, the band split not long after returning to Australia." (Tiffany Sanders).
Around this time (evidently just after the Vietnam tour) Pete Watson fell ill and MPD Mark II split. Contrary to previous accounts, we understand that it was in fact Danny and Rick who in early 1969 put together the highly-regarded (if terribly named) Wickedy Wak, with former Playboys keyboardist Phil Blackmore and drummer Dick Howard. They scored a moderate national hit in with the Johnny Young-penned and Ian Meldrum-produced "Billie's Bikie Boys", released on Sunshine in August '69. But by the time the single hit the airwaves Rick had already taken his next step up the ladder of stardom, replacing Roger Hicks as the guitarist in Zoot. Sadly, Pete's failing health prevented him from performing any further and he died in Perth on 30 April, 1972.
Danny Finley joined Johnny Young & Kompany for a short spell in 1967, followed by his stints in the "Mark II" MPD Ltd and Wickedy Wak. Heading into the '70s he became the manager and musical director for his then wife, Colleen Hewett, who enjoyed a string of hits in the early seventies, beginnng with the Ian Meldrum-produced smash "Day By Day" among them. These days Danny is a senior executive in Young's entertainment company, which packages family variety TV programming for Foxtels TV1 channel.
Mike Brady also had a stint in Kompany and then he too went over to perform for the Aussie troops in Vietnam with The Down Under Trio. That outfit also featured Wayne Duncan (ex-Rondells, later of Daddy Cool) and Gary Howard, formerly of The Mixtures and an MPD Mark II member. Mike then formed the short-lived Mike Brady Group in 1969. A highly lucrative and successful career in songwriting, session and production work, and advertising jingle composition followed. In the 70s, with partner Peter Sullivan, as The Two Man Band, he notched up the biggest-selling Australian single ever released to date, the football anthem "Up There Cazaly" (a milestone later eclipsed by "Shaddup-A You Face", Joe Dolce's satirical single, which Mike produced and was instrumental in getting onto record. And as he or she hums or whistles along, your average John or Joan Citizen probably doesn't realise just how many advertising jingles Mike Brady has been responsible for. In the early 200s Mike Brady was one of the on-air staff at Melbourne radio station 3UZ and his biography, Up There Mike Brady by Noel Delbridge was published by Coulomb Communications in 2004.
Original article by Paul Culnane (revised 2007)
Discography
Singles
Jul. 1965
"Little Boy Sad" / "Wendy Don't Go" (Go!! 5010)
Oct. 1965
"Lonely Boy" / "Wild Side Of Life" (Go!! 5014)
February 1966
"(Remember) Walkin' In The Sand" / "If You Were Mine" (Go!! 5020)
Jun. 1966
"No Regrets" / I Won't Be Back" (Go!! 5027)
Aug. 1966
"Absence Makes The Heart Grow Fonder" / "I Am What I Am" (Go!! 5031)
March 1967
"Paper Doll / You Might As Well Forget Him (Go!! 5049)
EPs
1965
Little Boy Sad (Go!! GEP 1004)
"Little Boy Sad" / "You Might As Well Forget Him" // "Lonely Boy" / "Lonesome Traveller"
1967
MPD Ltd (Go!! GEP 1007)
"Paper Doll" / "Absence Makes The Heart Grow Fonder" // "Her Favourite Song" / It's Been A Long Time Coming"
LPs
1966
The Best of MPD Ltd (Go!! GLP 3006)
---
1982
Wild Side Of Life - the musical adventures of Mike, Pete and Danny! (Raven RVLP 07)
"Absence Makes The Heart Grow Fonder" (Danny Finley - Pete Watson)
"Her Favourite Song" (Mike Brady)
"I Am What I Am " (Danny Finley - Pete Watson)
"I Won't Be Back " (Mike Brady - Danny Finley - Pete Watson)
"If You Were Mine" (Bernie O'Brien)
"It's Been A Long Time Coming" (Pete Watson - Danny Finley)
"Little Boy Sad" (Wayne Walker)
"Lonely Boy " (Paul Anka)
"No Regrets " (Mike Brady - Danny Finley - Pete Watson)
"Paper Doll " (Mike Brady)
"(Remember) Walking In The Sand"(George 'Shadow' Morton)
"Wendy Don't Go "(Mike Brady - Danny Finley - Pete Watson)
"Wild Side Of Life "(Warren - Carter)
"You Might As Well Forget Him" (Tommy Roe)
Album compiled by Glenn A. Baker, Kevin Mueller and Pete Shillito, remastered from original tapes, and issued by arrangement with Astor Records. The collection was dedicated to the memory of the late Pete Watson.
---
1996
M.P.D. Ltd: The Legendary Go!! Recordings (Canetoad) CD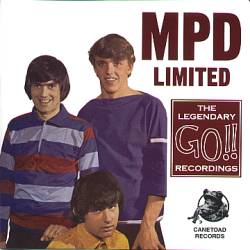 "Little Boy Sad" (Wayne Walker)
"Wendy Don't Go" (Mike Brady - Danny Finley - Pete Watson)
"Lonely Boy" (Paul Anka)
"The Wild Side Of Life" (Warren-Carter)
"(Remember) Walking In The Sand" (George "Shadow" Morton)
"If You Were Mine" (Bernie O'Brien)
"You Might As Well Forget Him" (Tommy Roe)
"Lonesome Traveller"
"Absence Makes The Heart Grow Fonder" (Danny Finley - Pete Watson)
"I Am What I Am" (Danny Finley-Pete Watson)
"Paper Doll" (Mike Brady)
"No Regrets" (Mike Brady-Danny Finley-Pete Watson)
"I Won't Be Back" (Mike Brady - Danny Finley - Pete Watson)
"Her Favourite Song" (Mike Brady)
"It's Been A Long Time Coming" (Pete Watson - Danny Finley)
"I Have No Place To Go"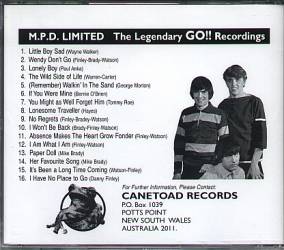 References / Links
Glenn A. Baker
sleeve notes for The Wild Side Of Life LP (Raven Records), including quotes from Mike Brady and Ron Blackmore
Ian McFarlane
Encyclopedia of Australian Rock & Pop (Allen & Unwin, 1999)
Noel McGrath
Australian Encyclopedia of Rock (Outback Press, 1978)
Chris Spencer, Zbig Nowara & Paul McHenry
Who's Who of Australian Rock (Five Mile Press, 2002)
Canetoad Records
http://www.timewarp.com.au/html/body_canetoad_records.html