MILESAGO - Profiles

---
STAN "THE MAN" ROFE
Radio broadcaster
Born 30 May 1935, Richmond, Victoria
Died 16 May 2003, Richmond, Victoria
---

Stan with the "Big Three" of 1950s rock'n'roll downunder:
(L-R) Lonnie Lee, Johnny Devlin, Stan and Johnny O'Keefe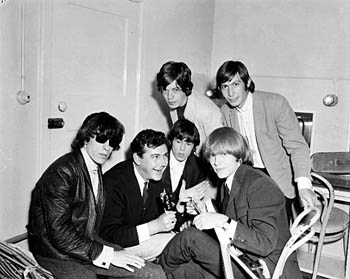 Stan The Man (second from left) interviews The Rolling Stones in 1965.
[Photos by Laurie Richards]

---

Stan "The Man" Rofe was a radio legend and an icon of Australian popular music. He was Melbourne's first rock'n'roll disc jockey and arguably Australia's most influential DJ for more than twenty years. Stan dominated the Melbourne airwaves from the late 1950s, right through the 1960s and into the early 1970s and his influence extended nationally through the music and the performers that he championed, and through his weekly columns in Go-Set.

Stan was a household name in his hometown of Melbourne, where he lived his entire life. In more than two decades on air, Stan was beaten in the ratings only twice. His legendary 3KZ show Platter Parade was one of the highest-rating shows in the history of Australian radio. It was compulsory listening for a generation of Victorians and the launch pad for many music careers.

Scores of musicians owe a debt to Stan as an adviser, mentor and guru. He helped start the careers of Johnny O'Keefe, Johnny Chester, Normie Rowe and Johnny Farnham. Ronnie Burns and Russell Morris also credit Rofe for advice and direction.

Stanley Rofe was born in the Melbourne suburb of Richmond on 30 May 1935. His mother was a "Tivoli tapper" and his father played football for Essendon. Throughout her life Stan's mother was his greatest supporter and his strongest critic. He was educated at Faraday Street State School in Carlton and later at Collingwood Technical School.

Even as a young child Stan was an ardent fan of radio and of 3KZ in particular. His favourite announcer was Norman Banks, who epitomised the style of radio announcers in the Forties. According to his friend Ian B. Allen (a former member of top Melbourne band The Thunderbirds) Stan would impersonate Banks, using kitchen pots to simulate reverberation effects. This went on for years until Stanís mother eventually encouraged him to pursue a radio career.

Stan started work at sixteen; a year later he was teaching ballroom dancing and was a member of the Victorian Square Dance Championship Team (who came third in their national competition). Military service was still compulsory at this time, and when he turned eighteen Stan was called up for three months' national service training, followed by four years in the Citizenís Military Forces.

In 1953, after just three days' tuition at the Bill Roberts Radio School, Stan was hired by 7AD in Devonport. It's a testament to his ability that after just a few weeks on air he was made Chief Announcer, an event he recalled as "a frightening experience that was too quick to worry about". Another announcer at 7AD, Harry Jones, recommended Stan to the Lee Murray Radio School in Melbourne. This started a long friendship between Stan and Lee and his wife Lyn.

Lee told Stan about a vacancy at 3AK and after auditioning he was invited to join the station hosting the midnight-to-dawn shift. This was less than six months after leaving Melbourne for his first radio job in Devonport. Three months later Stan was recruited by 3XY for their primetime afternoon shift. His rapid rise is a testament to his ability -- for many broadcasters, the graduation from regional radio to big-city stations could take years, but Stan did it in less than twelve months.

The young Bert Newton, who was then still at school, approached Stan and asked if he could read some commercials on the show. Burt was eventually hired by the station, beginning his long and hugely successful career in the media. Stanís nurturing of this new talent resulted in the then manager of 3XY, Ray Woods, congratulating Stan on his discovery of Bert Newton. According to Ian B. Allen, each night after 3XY ended transmission, Stan and Bert would walk home together swapping stories.

In 1955, again on Lee Murrayís recommendation, Stan was hired as a panel operator and announcer at his beloved 3KZ, in the Trades Hall building in Carlton. Stan commenced in an afternoon trial slot combining popular music with listenerís requests. Stan also presented ìCall up KZî, which required listeners to identify recordings. Phil Gibbs, the program manager of 3KZ, gave Stan the opportunity to call night football games at South Melbourne football ground. On occasions he would broadcast with Phil Gibbs and Harry Mueller at Saturday games.

In 1956 his experience calling AFL games led to Stan being chosen as one of only seventeen Australian Federation of Commercial Broadcasting accredited commentators for the Melbourne Olympic Games. After the Olympics Stan began presenting a new show called ìSpin for the Starsî. Stan was intrigued by how top Sydney DJ John Laws was able to get access to all the latest American record releases. Stan met with Laws, who told him his secret -- he had an arrangement with Qantas pilots to bring the latest releases from overseas. Stan enthusiastically adopted the idea. Many of the records he obtained were seminal releases on the Sun label by Elvis Presley, Roy Orbison, Jerry Lee Lewis and Carl Perkins. Stan incorporated these recordings in to ìSpin for the Starsî, where they were played alongside more 'middle of the road' material by Perry Como, Peggy Lee, Rosemary Clooney, Bing Crosby and Frank Sinatra. Stan thus became the first DJ to play rock'n'roll on Melbourne radio.

By 1957 Stan had become the most popular announcer on 3KZ. The turning point in his career came with the pivotal show Holiday Hit Time, broadcast over the summer of 1956-57. It included about 80% imported rock-n-roll records and proved enormously popular -- a mail competition in which listeners could win some of the imported records he played elicited some 23,000 entries.

Boosted by the success of Holiday Hit Time Stan began a new daily show called Platter Parade on 28 February 1957. It quickly became Melbourneís most successful radio show and by the end of 1957 Platter Parade was regularly capturing an incredible 62 percent of the Melbourne radio audience.

It was Stan's 3KZ colleague, announcer Ron Cadee, who suggested that Stan should adopt a nickname that would be easily recognized by the public. He proposed ìStan the Manî and it became Stanís enduring title, as much a part of his public persona as his deep, resonant voice and his familiar opening line "Hi-De Hi, Victoria!"

In the late Fifties Alan Heffernan, a Melbourne promoter with merucrial Sydney impresario Lee Gordon, regularly spoke with Stan on air to promote forthcoming shows at Melbourne Festival Hall. Heffernan gave Stan access to the many international artists visiting Australia, enabling him to record many personalised introductions and promo messages. Stan was soon compereing the Lee Gordon shows in Melbourne and introducing acts such as Eddie Cochran, Gene Vincent, Little Richard, Buddy Holly and Paul Anka.

When Johnny OíKeefe was struggling to establish his career, he found it almost impossible to get airplay in Sydney. On his first visit to Melbourne, he sought out Stan in hopes of getting coverage in Melbourne. Stan was the first DJ to play O'Keefe's first record, You Hit the Wrong Note Billy Goat, and it was Stan who recommended that Johnny should cover the Isley Brothers' Shout which became his signature hit. Stan played OíKeefe's records when no other radio station would play his material. As a result OíKeefeís popularity soared in Melbourne, soon followed by Sydney and other parts of Australia, and it made Stan and Johnny lifelong friends.

According to Ed Nimmmervol, Stan steadfastly resisted the inducements of payola and in fact at one point, he put a personal embargo on records coming from Sydney:
"At the height of his influence he chose NOT to play certain records. For two years he put a deliberate ban on locally produced records from Sydney, all except Johnny O'Keefe, who he didn't have the heart to ban. He put a ban on Sydney music so Melbourne's could grow. He played their records and swelled their audiences by personally compereing their performances at suburban dances. And then, when Sydney was doing its best to try to ignore the Melbourne incursion, Stan opened the doors to the great new music Sydney was making -- Billy Thorpe & The Aztecs, and The EEasybeats. At the same time Stan the Man was still playing the best of the new music from around the world. He turned us onto many acts, including the Rolling Stones. He introduced them on stage when they first came to play, and the Stones never forgot Stan Rofe."
In late 1960 an aspiring Melbourne rock'n'roll singer called Johnny Chester approached Stan to advertise his dances at Preston Town Hall on Platter Parade. Before long Stan was compereing the dances and this led to him suggesting to Ron Tudor of W&G Records that he should record Chester with Melbourne dance band The Thunderbirds. Stan featured the tapes on Platter Parade and the strong listener reaction encouraged W&G to release the recordings; as a result, Chesterís single Hokey Pokey became a chart-topping hit.
After the first wave of Australian rock'n'roll had faded, Stan continued to promote local music and when the Beat Boom took off in 1963-64 he became a steadfast champion of new music and launched or assisted the careers of many rising Sixties stars. Stan's biggest discovery was Normie Rowe, Australia's top male singing star of the mid-1960s. Normie was just 14 when Stan spotted him singing at a school dance. He introduced him to promoters and arranged for him to appear with established bands of the era. Stan also suggested Normie's first single, It Ain't Necessarily So, which became a smash hit and launched Normie's career.
Stan is also credited with launching John Farnham's recording career in 1967, a feat he pulled off thanks to a clever piece of reverse psychology. Radio stations initially rejected John's first single, Sadie The Cleaning Lady, labelling it "too corny", but Stan devised a plan with Farnham's manager, the late Darryl Sambell, to deliberately denigrate the song every time he played it. The plan worked like a charm -- each time Stan canned the record, scores of listeners would call in to support it, thus generating the buzz that helped pushed it up to the top of the charts.
Music industry figures remembered Stan as a champion of Australian music, a pioneer who played songs other DJs were too scared to play. His tireless support of Australian music and local performers was directly responsible for boosting the careers of scores of Australasian performers and making their songs into hits. Sixties acts including The Masters Apprentices and MPD Ltd owe much of their success to the airplay Stan gave to their records, and many performers benefited from his advice and his encyclopaedic knowledge of music.
Dave Miller, leader of Sydney's Dave Miller Set, says that Stan was the only Melbourne DJ who played their singles at a time when the Sydney-Melbourne rivalry was still a force to be reckoned with in Aussie music.
Margret RoadKnight recently told MILESAGO that Stan's support was instrumental in her having a hit with her classic single Girls In Our Town in 1975. According to Margret, Stan head the song, liked it and decided to put it onto low rotation on his show for three weeks. In that time it raced up the charts and into the Top 20, which in turn led to further national exposure with an appearance on Countdown.
Ian "Molly" Meldrum, who became a passionate pop fan after listening to Stan's shows as a teenager, said: "You would listen to him not only to be up with the Top 40, as it was known back then, but also you knew this man would play music you'd never heard before."
Friend and promoter Brian de Courcy said simply: "If it wasn't for Stan I wouldn't be in the business."
The Australasian artists who have been direct beneficiaries of Stanís nurturing and influence are too numerous to list individually. Stan also had legions of fans, many of whom became lifetime personal friends.
Stan moved to 3UZ in 1965 where he broadcast successfully for six years. In 1970 he became the music director at 3XY. Later he hosted ìSix Oíclock Rockî on Gold FM. His last job before retiring was with 3DB. Over the years he also made numerous TV appearances on shows such as Uptight and Happening '70 and he made occasionally appearances in the '80s on Hey Hey It's Saturday. As well as his radio work, Stan wrote a long-running column for Go-Set, Australia's pop music 'bible' of the '60s and early '70s. His popularity was recognised when he was crowned King of Moomba in 1968.
"He would encourage young groups to pursue their careers, and he would try and find a gig for them through the influential promoters he knew," said Ian Meldrum, to whom Rofe gave the now-famous nickname "Molly" when they worked together at Go-Set. "At times he would actually pay money out of his own pocket, which today is unheard of ... For a man who was held in such high esteem to be so humble and helpful was very rare."
"He was an exceptional, warm man," said singer Russell Morris, who credits Rofe for suggesting he do a cover of Joe South's Hush, the first hit for his band, Somebody's Image's. "He was such a huge star, but his door would always be open for any 16-year-old kid who came into his studio with a record."
In 1994, Stan's services to the music industry were honoured when the Australian Record Industry Association presented him with a special achievement award.
Broadcaster Bill Page paid this tribute to Stan:
Stan [the man] Rofe was an absolute legend of a radio broadcaster. He is best remembered for his music shows on 3KZ and 3UZ in Melbourne during the 50's and 60's.

I was lucky enough to work with Stan at my very first job in radio at 3UZ and he had a profound influence on my radio career.

This was the man who played Aretha Franklin, Wilson Pickett, The Temptations, Four Tops, Arthur Conley, Joe Tex etc etc long before it was fashionable to do so.

Prior to that of course, he had a major influence on the careers of Merv Benton, Lynne Randell, Peter Doyle, Normie Rowe and many, many other Australian acts of the time.

Stan Rofe taught me more about music than any other person I ever came in contact with in the radio business ... and I remain deeply grateful to him for that. Stan supported Australian music staunchly, and was generous in giving advice and of his time.

He gave me an understanding about just how important the music was in radio, something I always tried to remember during my radio life.

Stan Rofe was a true legend and a great person."
Stan's funeral was held at Trinity Chapel at Melbourne University. The chapel was packed by over 200 hundred friends, colleagues and fans including Ian "Molly" Meldrum, Bert Newton, Greg Evans, Barry Bissell, Red Symons, Johnny Young, Normie Rowe, Pete Smith, Bobby Bright, Paul O'Gorman, Jim Keays and Johnny Chester. The service opened to the strains of Keith Glass's song When Stan Was The Man. Family friend Bobby Johnson paid tribute to Rofe and mourners applauded. He said Stan's brother, Roy and family had been overwhelmed by the response to the legendary broadcaster's death. He said Stan, despite his failing health, was always an enthusiast -- not just for his own work and belief that Melbourne should be ahead of the rest of the world when it came to hearing new rock music, but for the efforts of his peers.
Bert Newton, Bruce Mansfield, Philip Brady and many more Melbourne media notables were often acclaimed by Rofe privately, Johnson said. He also said Stan's family thought that, on his arrival in the afterlife, the old DJ would have caught up with his mother, then excused himself in order to find Elvis, Buddy Holly and Richie Valens "and go crook at them for leaving too soon".
Ian Meldrum, who had been secretly preparing a party to celebrate Stan's 70th birthday, recalled the good-natured rivalry he and Rofe enjoyed on the music paper Go-Set and told a wonderful story about a mischievous Rofe's part in a television advertisement featuring a Chiko Roll.
"Stan was a dear friend of mine. You could say Stan gave me my real name. But believe me, he gave me much more than that." He said Rofe had a great love for music and the people in it and that he supported the careers of many Australian musicians, including John Farnham and the Masters Apprentices. Meldrum also read a tribute from Essendon coach Kevin Sheedy (Stan was a lifelong Bombers fan).
Another old friend, promoter Brian de Courcy, said Rofe had never left Melbourne, let alone ventured overseas. Brian had finally persuaded Stan to visit the US and all the musical heritage sites connected to Stan's long career behind a microphone, including Graceland, Chess records and Sun Studios. They were to have made the trip next month, de Courcy said, before breaking down and returning to his seat, his face in his hands.
Russell Morris sang his hit Wings of an Eagle; Jim Keays of The Masters Apprentices described Rofe as "one of the greatest influences on Australian music there has ever been" and Normie Rowe .
Johnny Young said Rofe dedicated his life to music. "Australia has lost somebody who has put his heart and soul into building Australian rock 'n' roll. It is very rare you get a man like Stan who lived for supporting Australian music."
Normie Rowe gave him credit for 'just about everything': "People don't realise that the entire pop music industry in Melbourne is due to one man -- Stan the Man." Wiping away tears, his old friend and colleague Bert Newton said described Stan as "a terrific person. He was successful without having to lay any low blows."
As Stan's coffin was carried from the church, accompanied by a recording of Johnny O'Keefe's singing Just A Closer Walk With Thee, mourners stood and applauded.
To close this profile of Stan The Man, we end with this moving tribute by music writer and rock historian Ed Nimmervol:
"Nothing you hear about the importance of Stan Rofe ... can say enough about what that man meant to rock and roll music, and in particular rock and roll in this town. It goes deeper than the music he played at the height of his influence, deeper than the artists he supported and even discovered. That man, lovingly known as Stan The Man, lit a flame in the hearts of a generation of Australians, a flame for the love of music of a generation."
---
REFERENCES / LINKS
AAP
"Rockers farewell radio legend"
http://www.theage.com.au/articles/2003/05/21/1053196627441.html
Ian B. Allen
"Stan Rofe - Pioneer Broadcaster Of Rock-N-Roll"
http://www.wintersun.org.au/stan_rofe.htm
Patrick Donovan
"Final chord sounds for Stan The Man
http://www.theage.com.au/articles/2003/05/16/1052885400356.html
Milanda Rout
"Pop Legend's Final Ovation"
Melbourne Herald Sun, 22 May 2003
http://www.theage.com.au/articles/2003/05/21/1053196645645.html
Steve Waldon
"Looking For Elvis In The Afterlife"
The Age, 22 May 2003
http://www.theage.com.au/articles/2003/05/21/1053196645645.html
Brian Wise
"Stan Rofe R.I.P."
http://entertainment.telstra.com/music_col_bwise.html
"Australian Radio legend Stan Rofe dies"
http://www.radioinfo.com.au/newsitem.php?id=1116
(site access requires free registration)
Photos by Laurie Richards from the Laurie Richards Photographic Collection, Victorian Performing Arts Museum.
Sourced from the 'Rock Snaps' website:
http://www.abc.net.au/arts/rocksnaps/photos/s34413.htm
---

Please email MILESAGO if you have any extra information to add to this page
Copyright ©MILESAGO 2002
Please report any broken links to webmaster@milesago.com