NORMIE ROWE



Normie Rowe (vocals)
backed by The Playboys (1964-67):

The Playboys Mk I (1964 - Sep. 1966)
Bill Billings (lead guitar)
Phil Blackmore (organ, piano)
John Cartwright (rhythm guitar)
Neil McArthur (bass)
Graham Trottman (drums)

The Playboys Mk II (Sep. 1966 - Apr. 1967)
Phil Blackmore (organ, piano)
Rod Stone (guitar, vocals) Sep. 1966 - Apr. 1967
Brian Peacock (bass, vocals)
Graham Trottman (drums)

The Playboys Mk III (Apr. - Oct. 1967)
Trevor Griffin (organ, vocals)
Brian Peacock (bass, vocals)
Mick Rogers (guitar, vocals)
Graham Trottman (drums)
History

Normie Rowe AM was the first and biggest male solo star of Australian pop in the 1960s. A strong singer and a natural performer, his bright, edgy tenor voice was showcased in well-chosen material, much of which was produced by the legendary Pat Aulton, house producer for the Sunshine, Spin and Festival labels. Supported by the assured performances of his backing band The Playboys, Normie cut a string of classic beat singles on the Sunshine label that kept him at the top of charts for two years and made him the most popular Australian solo singer of the "beat" era. Normie's double-sided hit "Que Sera Ser" / "Shakin' All Over" is cited as the top-selling Australian single of the 1960s and is sitll one of the biggest-selling Australia recordings of all time.

Between 1965 and 1967 Normie was unquestionably the biggest male pop star in Australia, and his only serious rivals in the teen-idol stakes were Stevie Wright, Billy Thorpe and Ray Brown. Normie's presence was guaranteed to generate mass-hysteria of Beatle-esque proportions wherever he appeared. For two years he reigned supreme as Australia's first "King of Pop" but his call-up for compulsory military service in late 1967 and his subsequent tour of duty in Vietnam dramatically curtailed his pop career, and he was never able to recapture the massive success he enjoyed at his peak, although he remains a popular and much-loved entertainer to this day.

Normie (b.1 Feb, 1947) was drawn to music early in life. He began singing with his local church choir in Melbourne while at primary school. Normie was hooked on rock & roll even before his teens, and Col Joye became one of his early idols and inspirations. Normie took up guitar and formed his first amateur band, The Valiants, while he was in high school. They performed once a month at Alphington Methodist Hall. He concentrated on singing, and made his first stage appearance as a lead vocalist in a music school concert, aged 14.

"When I was just aspiring to be a singer, only nine years of age, Col was my idol. He was the boy next door that I could identify with, not the wild JOK. In fact it was as my first concert, at the Lou Toppano Music School end of the year concert in 1959 or '60, that I sang Col's 'Rock 'n' Rollin' Clementine'. I still have the trophy I received for that show. It reads: 'The Best Performance Of The Night -- Norman Rowe.'

By luck, the show was compered by top Melbourne DJ Stan "The Man" Rofe. Stan was impressed by Normie's talent and arranged for him to work with local dance promoter Kevin McClellan. He began performing regularly at Melbourne dances and discos, backed by instrumental groups like The Thunderdbirds, The Impostors and finally The Playboys, who became his permanent band until 1967.

After leaving high school in 1963, Normie had joined the PMG, the government telecommunications department that was later split into Telstra and Australia Post. Normie worked as a trainee technician, but in late 1964 his long hair became an issue with his employers, and in the face of a "cut it or quit" ultimatum, he left the PMG to become a professional entertainer.

Working on the Melbourne dance circuit, he was soon a popular draw and it wasn't long before he was picked to become a regular on Melbourne pop TV shows like Teen Scene and The Go!! Show. According to historian Ed Nimmervol, EMI apparently had the chance to sign him but turned him down, claiming that he couldnt sing! Brisbane-based independent label Sunshine had no such qualms and signed him to a recording and management deal with the Ivan Dayman organisation.

Sunshine's new house producer, Pat Aulton, was the former lead singer of Adelaide band The Clefs (which was, coincidentally, led by Tweed Harris, who went on to found The Groove, whose guitarist was former Playboy Rod Stone). In the liner notes for The Early Anthology, Pat recalled his introduction to Normie:

"Ivan said to me one day 'We've found this kid, comae and have a listen and tell me what you think'. So I saw Normie sing at Preston Town Hall and thought 'Well, he's pretty good'. The girls loved him, and he had great presence. He really worked hard. He'd get out there in front of the crowds and he really punched the sky, and I liked that. So I took Normie down to Armstrong Studios to record his debut single."

That first single, released in April 1965, was a brooding 'beat' arrangement of Gegsubwin's "It Ain't Necessarily So" (from Porgy & Bess) a choice suggested by Stan Rofe. Normie & the Playboys' version had been inspired by a version of the song they had heard as an album track by The Merseybeats. Backed by his crackling version of "I Just Don't Understand", the single was huge debut success for the ambitious young singer, making the Top Ten in most cities and peaking at #6 in Sydney, #1 in Melbourne, #3 in Brisbane and #5 in Adelaide. Its lower chart position in Sydney was probably because Sydney pop station 2SM (then owned by the Catholic Church) banned it because of its supposedly 'sacrilegious' lyrics.

Normie's first LP was released in July, and his second single, released in August, was a cover of Ben E. King's "I Who Have Nothing)"-- a song also apparently discovered while trawling through Rofe's vast record collection. It became his second successive Top Ten hit, reaching #10 in Sydney, #4 in Melbourne, #23 in Brisbane and #6 in Adelaide. Like Dusty Springfield's hit "You Don't Have To Say You Love Me", this melodramatic 'power ballad' was actually an English-language version of a earlier Italian pop hit, originally cut in 1963 by Joe Senteri. Ben E. King's landmark version, the first in English, featured lyrics by Lieber & Stoller, but it was not a wholly original production -- King simply overdubbed his vocal onto the same backing track used by Senteri. The song has been much recorded and was comically covered in the 1970s by Norman Gunston, who used it as the theme song for his hugely successful ABC-TV show.

Normie's third single, "I Confess" / "Everything's Alright" is something of a mystery. It didn't show up in any charts and according to Ian McFarlane it's likely that it was either never issued or was withdrawn soon after its release. This seems odd, considering that Normie's version of "Everything's Alright" His next single was solid gold. The A-side was a cover of "Que Sera Sera", the old Doris Day chestnut, which was given a radical 'merseybeat' update (a la the Beatles' "Twist & Shout"). According to an interview excerpt included on the Early Anthology compilation, the Playboys were initially reluctant to record it, but Normie eventually convinced them to cut the track and the rest is history.

It was backed by his snarling, prowling, downright lascivious version of the Johnny Kidd & The Pirates' classic "Shakin' All Over", which many consider to be one of the best versions on record. As well as showcasing the awesome power of The Playboys, it's also one of Normie's strongest rock vocal performances. "Que Sera Sera" / "Shakin' All Over" was a massive double-sided hit -- reaching #1 in most capitals in September, including both Sydney and Melbourne -- a rare feat in those days -- , charting for 28 weeks and selling in unprecedented numbers -- 80,000 copies according to Ian McFarlane; Noel McGrath reckons 100,000 -- either way, it became the biggest-selling Australian record of its day. Normie scored another first in October by having three hit singles in the Melbourne Top 40 simultaneously.

One of the trademarks of "Que Sera Sera" is the whistle that sounds at the start of the verse. It has been claimed that the the whistle was used as a means of cueing Normie's vocal, but former Playboy Rod Stone suggests that the story is apocryphal, pointing out that the whistle device was used on earlier recordings, notably that by The High Keys (which has a virtually identical arrangement to Normie's version).

The dream run continued through the end of 1965 and into the first half of 1966. The impassioned "Tell Him I'm Not Home" (Nov. 1965) was a cover of a song originally recorded by Chuck Jackson in 1963; Normie's version was a Top 5 hit in most mainland capitals, reaching #4 in Sydney, #2 in Melbourne, #1 in Brisbane and #2 in Adelaide. It was followed by his frantic version of Bacharach & David's "The Breaking Point" (b/w "Ya Ya", Feb. '66) which became his second double-sided hit, making the Top Ten in all mainland capitals, peaking at #8 in Sydney, #2 in Melbourne, #1 in Brisbane, #9 in Adelaide and #2 in Perth. "Pride & Joy" (June '66) was also Top Ten in most state capitals.

Mid-year Normie and The Playboys joined forces with The Easybeats, Bobby & Laurie and MPD Ltd in one of the biggest Australian tour packages yet, "The Big Four" national tour, which that played to huge crowds and created pandemonium wherever they appeared.



Normie was by this time the most popular solo performer in Australia, so in August 1966 he left to try his luck in the UK. In preparation he revamped the Playboys lineup. Cartwright, Billings and McArthur wanted to stay in Australia for family reasons, so Normie replaced them with Brian Peacock (bass) and Rod Stone (guitar), both from the recently defunct New Zealand band The Librettos. Arriving in London ahead of his band, Normie took on Ritchie York as his London agent, and began to record with producers Trevor Kennedy and John Carter, using the cream of London's session musos, including Big Jim Sullivan, Jimmy Page, John Paul Jones, famed drummer Clem Cattini and vocal group The Breakaways.

The London sessions produced a clutch of new songs -- "Ooh La La", "It's Not Easy", "Mary Mary", "Turn On The Love Light" and "Can't Do Without Your Love". The new songs clearly benefitted from the superior recording technology available in the UK and "It's Not Easy" showcased Normie's best vocal performance to date, revealing a power and depth in his voice that his earlier Sunshine sides had only hinted at.

Despite Normie's absence in London,his run of success continued unabated. His next single, "Ooh La La" / "Ain't Nobody Home" (Nov. 1966) became yet another double-sided hit Top 5 hit in most capitals -- #2 in Sydney, #1in Melbourne and Brisbane and #4 n Adelaide. The B-side, originally recorded by influential American soul singer Howard Tate, was written by Jerry Ragovoy, whose other credits include "Time Is On My Side" and "Piece of My Heart".

Up to this point there had been no generally recognised national pop chart in Australia, and most pop stations in the state capitals and major cities published their own competing charts. However, on 5 October 1966 Go-Set magazine, which had been launched in February, began publishing its own weekly national Top 40, compiled by Ed Nimmervol. "Ooh La La" / "Mary, Mary" debuted at #6 on the new chart on 7 December 1966, and it hit the top spot in the 21 December chart, giving Normie his first official national #1 hit. It stayed at #1 for two weeks before being briefly supplanted by The Easybeats' "Friday On My Mind" on 4 January, but returned to the top for the next two weeks. "Ooh La La" reportedly even made it into the lower end of the British Top 40.

While "Ooh La La" was riding at the top in Australia, Normie's next single, the powerful ballad "It's Not Easy" was also streaking up the chart that It debuted at #17 in the Go-Set chart in the last week of December 1966, and reached in the Top Ten by the second week of January; through the end of January and into February, Normie enjoyed his greatest chart success to date and achieved an Australian 'first' by having two singles simultaneously in the national Top 3 for three consecutive weeks.

Normie worked in England for ten months and toured with the likes of Julie Driscoll, Brian Auger & The Trinity, The Spencer Davis Group, Kiki Dee, Gene Pitney and The Troggs. There were high hopes of a British breakthrough, and there's no doubt that Normie had the talent, ambition and work ethic to see it through. In the early months of 1967 the pages of Go-Set were filled with breathless predictions of imminent UK stardom, but it never materialised. Interestingly, it appears that Normie's UK recordings have developed a strong cult following in Britain; one collector's website we located recently lists several of Normie's UK Singles for sale at very impressive prices -- e.g. "It's Not Easy" / "Mary, Mary" is valued at UK£55 -- currently (Jan. 2004) about AU$130!

Much has been written about the reasons why Aussie talents like Normie, The Easybeats, The Twilights and the Masters Apprentices weren't able to break through in the UK. Some have pointed the finger at the so-called "Gay Mafia" who allegedly controlled by British pop industry, but this explanation seems far too simplistic. In retrospect, the biggest obstacles was the sheer difficultly of making any impression against the overwhelming volume of talent on offer in the UK without top-line management, full support from record labels and a virtually bottomless bucket of money.

However, something else was happening in the British broadacsting scene at that time which may have had a significant impact on the amount of exposure Australian artists received on British radio. In the brief period between 1964 and 1967, British broadcasting was was shaken to the core by the emergence of pirate radio. Transmitting from ships and sea-towers just outside the UK territorial limit, pirate stations like Radio Caroline and Radio London shook up the hidebound British music scene with its first taste of the weird and wonderful world of commerical pop radio. Although it's not well known today, it's important to realise that there many Australians were prominently involved in these pirate stations -- Radio Caroline was in fact founded by an Aussie, and many Aussie DJs worked on the 'pirates' in this period, including former 2SM 'Good Guy' Tony Withers (now renamed Tony Windsor) future 2SM breakfast star Ian McRae, and future Sounds producer Graeme "Spider" Webb.

Several Australian acts including The Easybeats had been given strong airplay by patriotic 'expat' Aussie DJs and this seems to have had a major effect on the eventual success of "Friday On My Mind" in particular. However, by early 1967 the British government was becoming deeply concerned about the massive popularity of the pirate stations and on 1 June 1967 their delivered a double blow that effectively put the pirates out of business overnight.

The new Playboys lineup arrived in London in December and Normie flew home for Christmas, which no doubt assisted the chart ascent of "It's Not Easy". Capping a year of extraordinary success,1966 Normie was voted Australia's top male singer in the first annual Go-Set Pop Poll.

Normie returned to England in January and in March 1967 he and The Playboys embarked on a tour of the UK supporting The Troggs, Gene Pitney and Sounds Incorporated. Around this time Phil Blackmore left the group for family reasons and returned to Australia; he was replaced by English musician Trevor Griffin. Rod Stone left in soon after, in April 1967 (returning to Australia, where he joined The Groove) and he was replaced by former Adam Faith sideman Mick Rogers.

In June, Normie and The Playboys travelled to North America, supporting Roy Orbison on a US tour, and along with The Seekers they represented their country in a special "Australia Day" performance at Expo '67 in Montreal. Normie returned to Australia in July, where he appeared as a special guest at the Hoadleys Battle Of The Sounds final in Melbourne. Graeme Trottman also returned to Australia but the rest of the 'new' Playboys remained in the UK, drafting in former Librettos drummer Craig Collinge to replace Graeme.

he Playboys secured a one-off single deal with Andrew Loog Oldham's Immediate label, and they recorded and released one single "Sad" / "Black Sheep RIP" in August. Written by Brian Peacock, "Sad" is now considered a 'freakbeat' classic and has been widely anthologised, appearing on the British collection Chocolate Soup For Diabetics Vol III, Raven's Kicks and Rhino's recently released Nuggets II.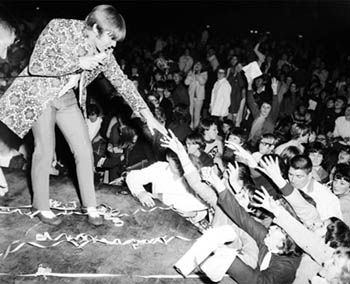 Just back from the UK, special guest Normie wows the crowd in his new Carnaby St gear at the Hoadley's Battle Of The Sounds national final in July 1967 (Photo: Laurie Richards Collection, Performing Arts Museum, Victorian Arts Centre)
Normie scored another Top Ten hit in late 1967 with "Going Home" / "I Don't Care". Both sides of this remarkable single are outstanding -- the A-side was penned by renowned hit-maker Graham Gouldman -- writer of hits for The Yardbirds, Herman's Hermits and The Hollies, and later a co-founder of 10CC -- and the B-side is a superb piece of rocking psych-pop. It debuted at #22 in the Go-Set chart in late April and stayed in the national Top Ten until the end of May, peaking at #7.
His next two singles featured four more fabulous slices of intricately arranged psych-pop, recorded on his return to the UK, and produced by Giogio Gomelsky. were perfectly in tune with the times. "Sunshine Secret" / "But I Know" was released in June 1967 and it was and another single, "Turn Down Day" charted in Melbourne.
But in September it all came crashing down when he received his call-up notice for national service. In October Normie and The Playboys parted ways. The group remained in the UK, changed direction and re-emerged in December as one of Australia's first progressive rock bands, Procession.
Normie was inducted into the army in February 1968, although he continued to perform part-time, albeit with a regulation short-back-and-sides army haircut. At least one TV appearance has survived of Normie with the army 'do', performing "It's Not Easy" on Uptight. He also began working with a new backing band, Nature's Own, who also reguarly backed Johnny Farnham and other members of the Sunshine roster. His only charting record during this period was the lush ballad "Penelope", written by Procession's Brian Peacock.
Every move of Normie's basic training at Puckapunyal took place in the full glare of the media spotlight. He was shipped off to Vietnam in January 1969, and he served his tour of duty there with distinction, rising to the rank of Corporal and was Crew Commander of his own armoured personnel carrier. He was discharged from the army in February 1970. During Normie's military service, Sunshine (which had been taken over by Festival) continued to release singles and EPs
Normie had one last minor hit in May 1970 with the song "Hello", written by Johnny Young, and he released an album of the same name. It was revealed many years later that young's song Smiley, a major hit for Ronnie Burns, was actually written about Normie. The Hello album marked the end of his Sunshine contract. He signed to Festival in 1971, for whom he cut three singles. "Que Sera Sera" was re-released in January 1971 and on March 6 he married his long-time girlfriend Sue Powlesland.
Sadly, his national service stint effectively killed his pop career, and Normie was never able to recover the momentum and mass popularity he lost because of the call-up. In his absence, Ronnie Burns and then Johnny Farnham had stepped into the breach and Farnham was now the new King Of Pop. Ironically, Farnham's birthdate was also pulled out in the national service lottery, but in his recent book 50 Years Of Rock In Australia (Wilkinson Publishing), author Jeff Jenkins' revealed that Farnham's manager Daryl Sambell used his political connections to prevent Johnny from being drafted.
The strong anti-war sentiment of the period also affected Normie -- like so many Vietnam vets, he suffered considerably because of his service, and regrettably, many people took out their anger about the unpopular and unjust war on the hapless veterans, who had simply done their duty. In fact Normie himself has said that he was treated like a pariah by the very people who had been buying his records and screaming at his concerts only a couple of years before. One of the people Normie rememebers fondly from this period, who stuck by him and gave him encouragement in tough times, was Meteors drummer Stewie Speer. Normie remembers tha Stewie would often wear "King Normie" and "We Love Normie" badges on his jacket.
The Vietnam War is a complex and difficult issue, and its especially sensitive for those who served there. After the fact, Normie copped a lot of flak for going to Vietnam, but it's easy to forget how much Australia had changed between 1965 and 1970, and how conservative our society still was at the time that Normie was called up. In 1968 Australia's involvement in Vietnam still enjoyed the support of most Australians; the late Harold Holt had won a sweeping victory and gained a record parliamentary majority in the 1966 federal election, by focussing his campaign on the Vietnam issue. There's no doubt that Normie, like so many others, did what he thought was right and genuinely felt that it was his duty to go. Another fact that's often overlooked is that there would have been a great social stigma and very serious legal consequences -- including the likelihood of being jailed -- if he had refused to serve. He was of course in an almost impossible position, since he was one of the most popular and recognisable Australians of his day.
Perhaps the greatest irony of all is that, years later, Normie discovered that his birthday was not among those drawn in the national service birthday lottery. Like Elvis, he believes was drafted because of who he was, presumably with the hope that his call-up would boost the public support for Australia's war effort. His experiences left a deep impression on him, and since that time he has worked tirelessly on behalf of other Vietnam veterans.
Normie went through some tough times in the early 70s, but he is a tough character. Luckily, he was able to fall back on the training from his dance hall days and he began to concentrate on the club and hotel circuit, and on TV performances, where he became a popular attraction on variety programs like The Don Lane Show and The Mike Walsh Show.
Normie's continued to record through the '70s, '80s and 90s. He swtiched to the Astor label in 1975 and had considerable success with the single "Elisabeth", which won the Best Song category at that year's Tokyo Song Festival. The B-side was Normie's version of the Axiom classic "A Little Ray of Sunshine".
In the 80s he began to expand his talents into acting and musical theatre. He studied at the Sydney's famous Ensemble Theatre and took roles on stage and TV, including an extended role in the TV soapie Sons & Daughters. In 1987 he won great acclaim in his central role of Jean Valjean in Cameron Macintosh's Sydney production of the musical Les Miserables.
Among other musical roles in the '80s and '90s, he played the lead role on the recording, and in the world premiere concerts of a new Australian musical, Cyrano de Bergerac, which he helped develop; he also played Daddy Warbucks in Annie, Freddy Trumper (the American) in Chess, and Juan Peron in Evita. One of the highlights of his career was his appointment as a Member of The Order of Australia (AM) for his services to Vietnam veterans, the entertainment industry and the community. Normie has had a long association with many charity and community groups, with his major concern being the welfare of children. He is a long-serving member of Variety Clubs Of Australia, for which he is now a National Ambassador, and he has won several awards for his work with Variety, including 1996's Heart and Soul of Variety award.
Normie remained a popular attraction at clubs, corporate functions and on the "rock-&-roll revival" circuit. He also kept up regular appearances on TV variety shows. This led to one infamous incident in 1991 (which Normie would probalby rather forget!) that briefly took him back into the headlines. During a forum on republicanism on the Midday Show with Ray Martin he was involved in a wild on-air stoush with Sydney talkback-radio windbag Ron Casey. Notorious for his highly controversial comments on immgration and other issues, Casey enraged Normie with his remarks and punches flew on both sides. Normie has also had to endure other public hardships, including a very unfortunate family situation involving his teenage daughter, which resulted in a great deal of intrusive and unwelcome publicity, and the end of his marriage to his first wife, Sue.
But in 2002, Normie truly came home to his fans at last. He was selected as part of the cast of the hugely succesful "Long Way To The Top" all-star concert tour, and he wowed the crowd every night with his fantastic voice as he rocked his way through his greatest hits, looking and sounding better than ever. Most importantly of all, he felt that he had finally been fully accepted by his peers.
Normie's most recent release was a new album Missing In Action, which includes his own version of "Smiley", and at last report he was planning a new theatrical production. He is still one of the most exciting performers around and one of our best-loved stars from the Sixties, and the great recordings he made in his heyday are lasting testaments to his talent.
In 2008 Normie made another distinguished addition to his acting porfolio, portraying Harold Holt in the dramatised segments of the ABC-TV docu-drama The Prime Minister Is Missing, which examines the enduring mystery surrounding Holt, who vanished while swimming at Portsea in December 1967.
Discography
Normie's original records can still be obtained although, as noted above, some of them are now very valuable collectors items. There have been numerous "Best Of" compilations over the years, but by far the best of these was Festival's 2CD set The Early Anthology (now out of print) which contains just about everything from his '60s catalogue that you could ever want. Normie's most recent CD Missing In Action is available from his website at www.normierowe.com
Singles
Apr. 1965
"It Ain't Necessarily So" / "Gonna Leave This Town" (Sunshine QK 951)
national #1

Jun. 1965
"I (Who Have Nothing)" / "I Just Don't Understand" (Sunshine QK 1069)
national #2

Sep. 1965
"I Confess" / "Everything's Alright" (Sunshine QK 1075)
(withdrawn?)

Sep. 1965
"Que Sera Sera" / "Shakin' All Over" (Sunshine QK 1103)
National #1, 2x gold record award

Nov. 1965
"Tell Him I'm Not Home" / "Call On Me" (Sunshine QK 1158) #4

Mar. 1966
"The Breaking Point" / "Ya Ya" (Sunshine QK-1238)

Jun. 1966
"Pride & Joy" / "The Stones That I Throw" (Sunshine QK-1344)
#11 Sydney #10 Melbourne #6 Brisbane #12 Adelaide

Nov. 1966
"Ooh La La" / "Ain't Nobody Home" (Sunshine)
#1, gold record

Dec. 1966
"It's Not Easy" / "Mary Mary" (Sunshine QK-1605)

Apr. 1967
"Going Home" / "I Don't Care" (Sunshine QK-1731)

1967
"I Live In The Sunshine" / "Far Beyond The Call Of Duty" (Sunshine QK-1817)

Jun. 1967
"Sunshine Secret" / "But I Know" (Sunshine QK-1820)
#1

Oct. 1967
"Turn Down Day" / "Stop To Think It Over" (Sunshine QK-2008)

May 1968
"Penelope" / "Lucinda" (Sunshine QK-2238)

Aug. 1968
"Break Out" / "Born To Be By Your Side" (Sunshine QK-2493)

Oct. 1968
"Walking On New Grass" / "Open Up The Skies" (Sunshine QK-2596)

Mar. 1969
"Just To Satisfy You" / "Drinkin Wine Spo-Dee-O-Dee" (Sunshine QK-2819)

Jun. 1969
"You Got Style" / "Don't Say Nothing Bad (About My Baby)" (Sunshine QK-2890)

May 1970
"Hello" / "Home To Stay" (Festival FK-3614) #48

1970 (with The Jugband)
"Rockhampton Happening" / "Rockhampton Happening" (RCA Custom ZHLM-0371)

1971
"Border Song" / "Come Hear My Song" (Festival FK-4363)

1972
"Glory Road" / "Over To You Now" (Festival FK-4633)

1973
"Rings" / "Come Hear My Song" (Festival FK-5146)
#52

1974
"Higher And Higher" / "Willie And Laura Mal Jones" (Festival K-5575) #93

1975
"Harbour For My Song" / "That's The Way I Am" (Astor A-7253)

1975
"Good Morning Good Morning" / "If You See Her" (Astor A-7257)

1975
"Elizabeth" / "Little Ray Of Sunshine" (Astor A-7265)
EPs
Oct. 1965
It Ain't Necessarily Rowe (Sunshine QX-11056)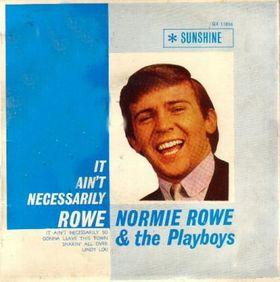 A: "It Ain't Necessarily So" / "Gonna Leave This Town"
B: "Lindy Lou" / "Shakin' All Over"

---
1965
Normie Rowe Sings "i" (Sunshine QX-11068)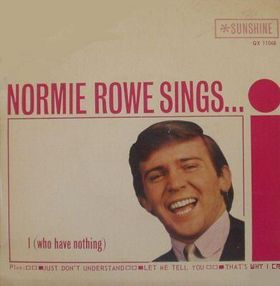 A: "I (Who Have Nothing)" / "I Just Don't Understand"
B: "Let Me Tell You" / "That's Why I Cry"


---
1965
Que Sera Sera (Sunshine QX-11110)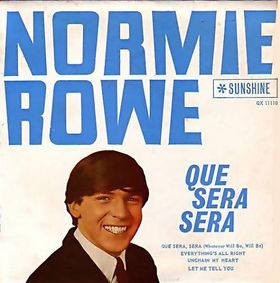 A: "Que Sera Sera" / "Everything's All Right"
B: "Unchain My Heart" / "Let Me Tell You"
---
Nov. 1965
Shakin' All Over (Sunshine QX-11131)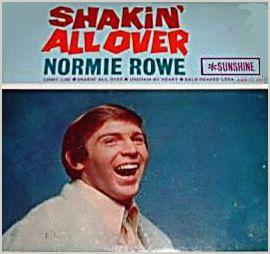 A: "Lindy Lou" / "Shakin' All Over"
B: "Unchain My Heart" / "Bald Headed Lena"
---
1966
Tell Him I'm Not Home (Sunshine QX-11138)
---
1966
Call On Me (Sunshine QX-11139)
---
1966
Pride & Joy (Sunshine QX-11182)
---
?/1966
The Stones That I Throw (Sunshine QX-11187)
---
Feb. 1967
Ooh La La! It's Not Easy (Sunshine QX-11250)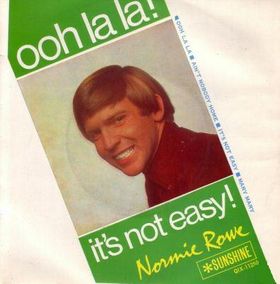 A: "Ooh La La" / "Ain't Nobody Home"
B: "It's Not Easy / "Mary Mary"

---
July 1967
Going Home (Sunshine QX-11277)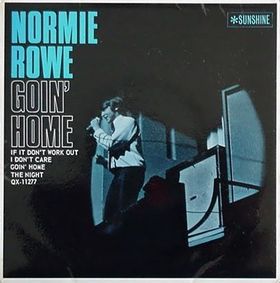 A: "Going Home" / "I Don't Care"
B: "If it Don't Work Out" / "The Night"


---
Aug. 1967
Normie's New Four (Sunshine QX-11295)
A: "Could it Be" / "Funny Bone"
B: "I Live in the Sunshine" / "Far Beyond the Call of Duty"
---
Nov. 1967
Turn Down Day (Sunshine QX-11406)
A: "Turn Down Day" / "Stop to Think it Over"
B: "So Much Love" / "Stubborn Kind of Fellow"
---
1968
Penelope (Sunshine QX-11488)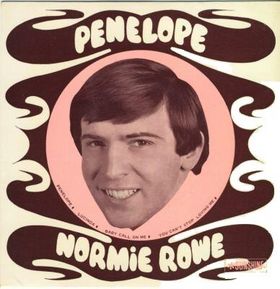 A: "Penelope" / "Lucinda"
B: "Baby Call on Me" / "You Can't Stop Loving Me"
Albums
July 1965
It Ain't Necessarily So, But It Is Normie Rowe (Sunshine QL-31734)
*gold record award
reissued on Calendar (R66-73)


(no track listing available)


---
Nov. 1965
Normie Rowe A Go Go (Sunshine QL-31802)
(gold record)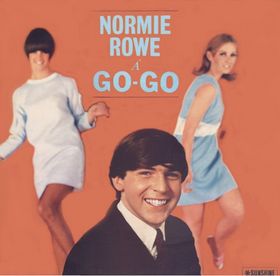 Side 1:
"Unchain My Heart"
"Ya Ya"
"Que Sera Sera"
"Call On Me"
"Bald Headed Lena"
"Too Bad You Don't Want Me"
Side 2:
"Poor Fool"
"I Want You Back Again"
"Jump Back"
"I Keep Forgettin' "
"You Thrill Me"
"Tell Him I'm Not Home"

Produced by Pat Aulton
---
1965
A Wonderful Feeling (Sunshine QL-31871)
re issued on Calendar (R66-335)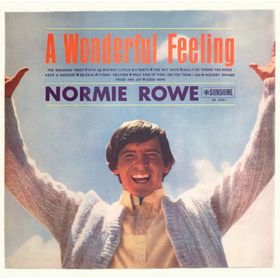 "The Breaking Point"
"With Me"
"Every Little Bit Hurts"
"The Rat Race"
"Sally go Round The Roses"
"Keep A Knockin'"
"Do-re-Mi"
"What Kind of Fool (do You Think I Am)"
"Nursery Rhymes"
"Pride and Joy"
"Good News"
---
1966
Normie's Hit Happenings (Sunshine QL-32198)
reissued on Calendar (R66-553)
---
1966
So Much Love From Normie Rowe (Sunshine QL 32144)
---
1968
Everything's Alright
(Universal UP 768)
(compilation of first two LPs)
---
1969
Normie's Top Tunes (Universal SRA-250045)
---
1970
Hello (Sunshine L25093)
---
197?
Normie Rowe's Greatest Hits (Harlequin L 25138)
---
1974
Come Hear My Song (Summit SRA 250152)
---
1975
That's The Way I Am (Summit)
---
1975
Normie's Hit Tunes
(Summit SRA 249 9020)
---
2000
The Early Anthology (Festival D46111) 2CD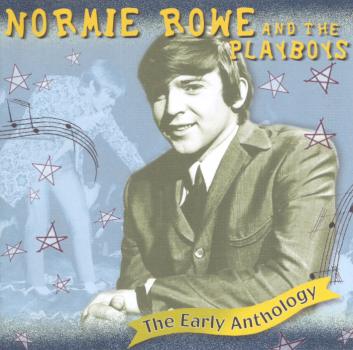 Que Sera, Sera (Whatever Will Be Will Be)
Shakin' All Over
It Ain't Necessarily So
Tell Him I'm Not Home
I (Who Have Nothing)
Call On Me
Pride And Joy
The Breaking Point
The Stones That I Throw
Ooh La La Ya Ya
Gonna Leave This Town
I Just Don't Understand
It's Not Easy
Ain't Nobody Home
Mary Mary
Going Home
I Don't Care
Sunshine Secret
But I Know
Turn Down Day
Stop To Think It Over
Penelope
Born To Be By Your Side
Breakout
Walking On The New Grass
Open Up The Skies
Just To Satisfy You
Drinkin' Wine
Spo-Dee-O-Dee
Everything's Alright
Lucinda
You Got Style
Too Bad You Don't Want Me
Let Me Tell You
That's Why I Cry
Lindy Lou
Unchain My Heart
Bald Headed Woman
I Keep Forgetting
Poor Fool
I Want You Back Again
Jump Back
What Kind Of Fool (Do You Think I Am)
Ain't That Good News
Every Litle Bit Hurts
With Me
Stormy Weather
Sally Go Round The Roses
Do Re Mi
Keep A Knockin'
Nursery Rhymes
Could It Be
Far Beyond The Call Of Duty
You Can't Stop Loving Me
Stubborn Kind Of Fellow
Baby Call On Me
I Confess
If I Don't Work It Out
"Can I Get A Witness"
"Tell Him I'm Not Home" (alternate EP/album version)
"Things Go Better With Normie Rowe"
References / Links

Sincere thanks to Normie Rowe
NormieRowe.com
http://www.normierowe.com/
Ian McFarlane
Encyclopedia of Australian Rock & Pop
http://www.anysite.com.au
Ed Nimmervol
Howlspace
http://www.howlspace.com.au
Vernon Joyson et al
Dreams, Fantasies & Nightmares: Australia (Borderline Books, 1995)

Noel McGrath
Australian Encyclopedia of Rock (Outback Press, 1978)
poparchives.com.au
http://www.poparchives.com.au
Rate Your Music
http://rateyourmusic.com/artist/normie_rowe