COLLEEN HEWETT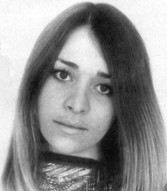 Australia has been blessed with its fair share of superb female rock singers, and Colleen Hewett unquestionably ranks among the best of them. Her powerful, soulful voice and down-to-earth personality helped her become Australia's most popular and successful female vocalist in the early 1970s, and during her multi-faceted career, now in its fifth decade, she has enjoyed major success as a recording artist -- including the national #1 hit single "Day By Day" and three Gold Record awards -- two Queen of Pop crowns, extensive work on the musical stage, TV and radio, plus her many credits as a backing singer for artists like Brian Cadd, Johnny Young and Normie Rowe.
Colleen was born in Bendigo, Victoria on 16 April 1950. She started singing at the age of 12, when her uncle took her to a local dance, where she got up and sang a number with the group who were playing that night, The Esquires. She so impressed the audience and the band that they offered to take her on as a singer and she performed with them regularly between 1964 and 1966. According to Who's Who)The Esquires won the Geelong final of the inaugural 1966 Hoadley's National Battle of the Sounds (although Colleen is not listed as a member).
In 1967 she turned professional, joining vocal trio The Creations (1967), who toured Australia as backing vocalists for artists like Billy Adams and Buddy England although they didn't record in their own right.
With her sister Glenys, who was also a fine singer, Colleen then joined Laurie Allen & The Revue (1967-68). Originally called Dice, Laurie formed this soul-oriented group after the split of Bobby & Laurie, modelling the band on the American soul revues of the mid-Sixties. They recorded three Singles for Festival during 1967-68, and an EP that combined their second and third Singles was also issued.
After the split of the Revue, Colleen joined Ian Saxon and The Sound (1968-69). This interesting group originally formed on the Gold Coast before moving to Melbourne, and it featured several notable players -- male vocalist Ian Saxon later joined SCRA), saxophonist Geoff Oakes played with Heart'n'Soul and The Renee Geyer Band. Their drummer, multi-instrumentalist Graeme Trottman, is one of the legends of the Aussie music scene, --his long career began with pioneering Melbourne rock'n'roll band The Roulettes in 1958 and he is probably best known for his five-year stint in the original version of Normie Rowe's renowned backing band The Playboys. The group relocated to Sydney ca. 1970, after Colleen's departure, and there they became one of the first Australian bands to perform with a two-drummer lineup.
In 1970 Colleen set out to establish herself as a solo performer, under the management of former MPD Ltd drummer Danny Finley, whom she subsequently married. With regular club, concert and TV appearances, she soon gained national prominence, culminating with the award for "Best Female Newcomer of the Year" from the Nine Network's long-running variety show Bandstand.
This TV success soon led to a contract with Festival Records and in early 1971 Colleen recorded her debut single, a superb cover of the Leon Russell-Delaney Bramlett song "Superstar". This song has a facinating History -- it was originally recorded under the title "Groupie" by Delaney & Bonnie, but it was released as the B-side of their single "Comin' Home" in 1969 and did not become a hit. It became well-known thanks to Joe Cocker's landmark "Mad Dogs and Englishmen" tour in 1970 because backing singer Rita Coolidge sang it as her featured segment of the show. In August 1970, Bette Midler performed it on the Johnny Carson Tonight Show and Cher recorded a version released in late 1970, but it was Colleen's Australian recording that first became a hit. It had been suggested to her by Johnny Young and her superb version, released in May 1971, performed well on the charts, reaching #30 nationally and it peaked at #13 in Melbourne. Footage of Colleen performing the song on TV (probably on Bandstand) has survived and a portion of this performance is included in the Powerhouse Museum's Real Wild Child CD-ROM.
Colleen's soaring performance captures the heartbreaking quality of the piece and it is arguably far superior to Karen Carpenter's rather muted take on the song -- not to mention the fact that Richard Carpenter bowdlerised the lyrics. It should also be noted that The Carpenters' version was originally recorded for their LP The Carpenters, which was not released in the USA until May 1971 and their single version, which went to #1 in the USA, did not come out until August of that year -- well after Colleen's version had become a Top 40 hit all over Australia. Regrettably though, as is so often the case these days, The Carpenters' version is the one most often played on Australian 'golden oldies' radio stations.
Soon after, Colleen decided to expand her skills with a move into musical theatre, joining the cast of the "Jesus rock" musical Godspell. The first Australian productin premiered at Melbourne's Playbox Theatre in November 1971, with a cast that included Colleen, Christopher Pate (the son of famed actor Michael Pate), Collette Mann and Play School veteran George Spartels. Although Godspell is essentially a rather pale imitation of the earlier (and far superior) Jesus Christ Superstar, it was a hit with audiences and it proved to be a major breakthrough for Colleen, who was soon earning rave reviews for her powerhouse performances, especially on the show's key song, "Day by Day".
Festival produced the Godspell Australian cast album so it was not surprising that they capitalised on the success of the show by selecting its best number, "Day by Day", as Colleen's next single. The cast recording (produced by Johnny Young) featured a typically excellent vocal performance by Colleen, but the production sound was rather dry and the gospel-flavoured arrangements were relatively sparse. It has to be said that the song itself is also pretty slim material, even by pop standards, and it bears a suspicious resemblance to George Harrison's earlier mega-hit "My Sweet Lord".
With producer Ian "Molly" Meldrum, Colleen recorded a new new arrangement that combined "Day by Day" with another anthemic number from the show, "Prepare Ye The Way of the Lord". In typical Molly style, it was a lavish production with a huge sound, featuring full orchestration and backing from the Australian Boys Choir, capped by a truly dynamic vocal performance from Colleen. The full-length edit also made it one of the longest Australian Singles released to date, clocking in at just under six minutes.
Released in November 1971,"Day by Day" quickly became a national smash, It gave Colleen her first (and only) national #1 hit and earned her a Gold Record award for sales of more than 50,000 copies, making it the biggest-selling Australian single of the year. Interestingly, it competed with a rival version by Judy Stone, and Judy's version charted in Sydney (#1) and Perth (#6). Capping an amazingly successful year, Colleen won Bandstand's "Best Female Vocalist" award for 1971.
Although Colleen's hit version of "Day by Day" was later included on her 1974 Greatest Hits compilation LP, it is interesting to note that this version has never been offiicially re-issued on CD. In 2002, when Festival put together its commemorative re-issue series Spinning Around, the company curiously chose to include Colleen's first version of "Day by Day" (from the Godspell Australian cast LP) rather than her single version -- presumably because of time constraints.
Colleen worked solidly through 1972, and after signing with entrepreneur Paul Dainty to handle her affairs in London, she made her first overseas trip towards the end of the year, visiting the USA and the UK and returning on Boxing Day 1972. Because of her stage and overseas commitments, there was a gap of almost a year between "Day By day" and her next single, a cover of The Beatles "Carry That Weight" (b/w "Danny Boy"), which was taken from her self-titled debut LP.
Although it did't replicate the huge success of her debut, it fared quite well on the national chart, peaking at #29 in November 1972, but it performed very strongly in Sydney and Brisbane, where it made the Top 10 in the local charts. Colleen's popularity was better reflected by the two major accolades she received at during 1972 -- she was voted "Best Female Singer" in the annual Go-Set Pop Poll, and she won what was then the Aussie music scene's top award, the coveted TV Week "Queen of Pop".
In March 1973 Colleen scored another 'first' when she played the leading role of "The Mother" (Mrs Walker) in the landmark Australian arena production of The Who's Tommy, performing with an all-star cast that included Daryl Braithwaite, Billy Thorpe, Broderick Smith, Doug Parkinson, Wendy Saddington, Jim Keays, Linda George and The Who's Keith Moon.
Colleen added another string to her bow during 1973 when she played her first dramatic role on TV in the hit Crawford cop show Matlock Police and in future years she was to make many more TV appearances as an actress, often for Crawford Productions.
In May 1973 Colleen recorded what was meant to be her third single, "Sit Yourself Down", a lavish production which, according to Noel McGrath, cost Festival $6000 to record -- a huge sum for one single at that time. However, the following month, Colleen appeared on a Seven Network TV special, where she performed a 'pop' version of "Waltzing Matilda", and public reaction was so strong that "Sit Yourself Down" was shelved and a studio version of ""Waltzing Matilda" was hastily recorded and issued the same month, to cash in on the interest. It was followed by "A Wish To Wish" / "It's Gonna Be A Long Time" (September) and "Sit Yourself Down" eventually came out in November but, ironically, none of the three songs made the charts. However, Colleen's high stature and popularity was undiminished, and she was recognised at the end of the year with her second consecutive "Queen of Pop" award.
In the new year Colleen teamed up with John Farnham to co-star in the successful stage musical comedy Pippin, presented by Kenn Brodziak's Aztec Services in association with J.C. Williamson. The show which opened in February and to promote it Festival released Colleen's seventh single, "Pippn" (Finale) / "I Can't Fly" in March. Colleen and John both performed on the original cast LP, which has now become something of a collector's item -- in June 2007 a copy was advertised for sale on EBay for US$50.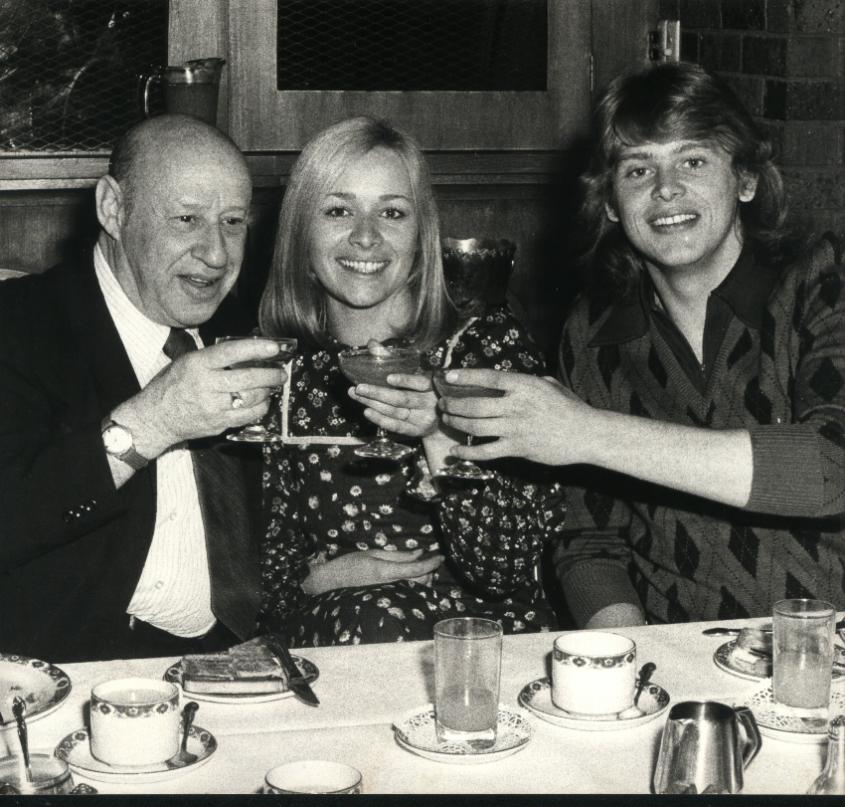 Kenn Brodziak, Colleen and John Farnham toast the success of Pippin; Melbourne, 1974
But by this time Colleen had already decided to switch labels -- in January, just before she started work on Pippin, it was announced that she had been signed to the famous Atlantic Records label by the company's then U.S. director, Phil Rose. Colleen's first (and only) album for Atlantic was the excellent M'Lady (June 1974), which included a version of the Spectrum classic "I'LL Be Gone"; the single taken from it was a fine cover of Stevie Wonder's "I Believe When I Fall In Love", which was released in July The single unfortunately failed to chart, although the LP managed to make it into the lower end of the Top 50 album chart, peaking at #44.
As well as her theatre work, during 1974 Colleen and John co-starred in the children's TV series It's Magic, which was made by Johnny Young's Lewis-Young Productions, who also produced Young Talent Time and she also made a one-off appearance (as herself) in the hit Crawford soapie The Box. Between 1974 and 1976 she made three appearances in dramatic roles in the long-running Crawford cop series Homicide.
Colleen performed in Pippin until her contract expired in Ferbruary 1975, and she then she headed to the USA, where she lived and worked for the next two years, although she evidently found it hard going and she returned to Australia in May 1977. She threw herself back into club appearances and also continued her TV work with a part in an episode of Crawford's Young Ramsay. In September 1977 she landed a featured role in the ABC-TV series The Truckies, which ran for two seasons.
In 1980 Colleen made a welcome return to the charts with her first single in five years, "Dreamin My Dreams With You" (b/w "One Eyed Man"), her sole release on Robie Porter's Wizard label. It was the second biggest hit of her career, reaching #2 nationally in March 1980 and hitting #1 in Brisbane and Melbourne and #2 in Adelaide and Sydney.
Colleen then briefly returned to Festival, who issued her next single "Gigolo" / "You Keep Walking Back" (October 1981), which reached #25 nationally in January 1982 and was a Top 20 hit in Melbourne . She then switched to the Avenue label, for whom she recorded four Singles -- "Hearts" / "Take Me In Your Arms" (Sep. 1982), "Wind Beneath My Wings" / "Constantly" (Feb. 1983), the Split Enz classic "I Hope I Never" / "Sleepless Nights" (July 1983) and If You Ever Feel The Need" / "Love Is Not Easy" (1984), plus the album Colleen, released in 1983.
"Wind Beneath My Wings" probably should have been a much bigger hit for Colleen. It just msised the national Top 50, although it fared well in Melbourne, where it reached #19. Ironically, Bette Midler's later version (which was included on the soundtrack of the Hollywood sob-fest Beaches) became a huge national hit.
In the mid-1980s Colleen returned to TV with a regular part as Sheila Brady in Crawford's cult prison drama Prisoner, appearing in 11 episodes during 1985. There were more acting roles in the 1990s including a featured part the romantic drama Shadows of the Heart (1990), an appearance in The Flying Dcotors (1991), and roles in the children's TV series Halfway Across The Galaxy And Turn Left (1994) and Ocean Girl (1996).
Colleen continued singing in the 1990s and in 1996 she released her first single in over ten years, "Street Angel"; this was followed in 1997 by a new album, Tenterfield Dreams, which featured the songs of Peter Allen. She also branched out into radio as a presenter on Melbourne station Gold-FM. In 1997 she performed at the AFL Grand Final, and more recently she was asked to become one of the judges on the second series of Australian Idol, but she turned down the offer as it would have meant too much time away from her family.
In 2006 Colleen returned to the musical stage as Peter Allen's mother in the touring production of the hit musical The Boy from Oz, performing with Australia's international superstar Hugh Jackman, and she also guested on the top-rating ABC quiz show Spicks & Specks.
Discography
Singles

with Laurie Allen & The Revue:

Jun. 1968
"As Long As I got You" / "Not Born To Follow"
(Festival FK 2421)
Colleen: lead vocal, A-side
national #88

Solo:

Jun. 1971
"Superstar" / "More Today Than Yesterday"
(Festival FK 4252)
National #30

Nov. 1971
"Day By Day" / "By My Side"
(Festival FK 4491)
National #1, Syd. #6, Melb. #1, Bris. #1, Adel. #3

1972
"Carry That Weight" / "Danny Boy"
(Festival FK 4785)
#29 (national) Nov. 1972; #9 Sydney; #28 Melbourne; #6 Brisbane

Jun. 1973
"Waltzing Matilda" / "Mother"
(Festival FK 5188)
#80 national

Sep. 1973
"A Wish To Wish" / "It's Gonna Be A Long Time"
(Festival FK 5258)

Nov. 1973
"Sit Yourself Down" / "Can't Sit Down"
(Festival K 5349)
#94 national

1974
"Carry That Weight" / "Danny Boy"
(Festival)

1980
"Dreamin My Dreams With You" / "One Eyed Man"
(Wizard)
Aust #2, Syd. #2, Melb. #1, Brisb. #1, Adel. #2

1981
"Gigolo" / "You Keep Walking Back"
(Festival K 8541)
National #28, Melb. #14

1982
"Hearts" / "Take Me In Your Arms"
(Avenue)

1983
"The Wind Beneath My Wings" / "Constantly"
(Avenue)
national #52; Melbourne #19

1983
"I Hope I Never" / "Sleepless Nights"
(Avenue)

1984 "If You Ever Feel The Need" / "Love Is Not Easy"
(Avenue)

1996
"Street Angel" (CD single)

2000
"Reconciliation" (CD single)

Albums

March 1972
Godspell: original Australian cast recording (Festival) #18
Produced by Johnny Young; engineered by John French
Re-released as EMI 8295952 (CD)

---

1972
Colleen Hewett (Festival SFL 934633)
#28


---

Jun. 1974
M'Lady (Atlantic / WEA SD 600000)
#44



1974
Pippin Original Australian Cast Recording (EMI EMC 2510)

1974
Hits (Summit S 9002)

1974
Greatest Hits (Festival)

1983
Colleen

1985
Power of Love (J&B Records)

1997
Tenterfield Dreams: The Musical Journey of Peter Allen (MRA Records) CD
national #67; Melbourne #52; Sydney #89; Brisbane #45; Adelaide #55; Perth #47)

Dec. 2001
Bulamama (Colossal Records) CD
References / Links
Ian McFarlane
Encyclopedia of Australian Rock & Pop (Allen & Unwin, 1999)
Noel McGrath
Australian Encyclopedia of Rock (Outback Press, 1978)
poparchives website
http://www.poparchives.com.au/feature.php?id=37
Vernon Joyson
Dreams, Fantasies & Nightmares: Australia (Borderline Books, 1999)
Colleen Hewett web page
http://www.hewett.50megs.com/Page_Hewett_Colleen.html
Colleen Hewett IMDb entry
http://www.imdb.com/M/person-exact?Hewett%2C%20Colleen
Wikipedia - Godspell: Australian production
http://en.wikipedia.org/wiki/Godspell-Original_Australian_Cast
Wikipedia - Colleen Hewett
http://en.wikipedia.org/wiki/Colleen_Hewett