TAMAM SHUD
Sydney 1967-1972, 1994 and late reunions
1967-70
Lindsay Bjerre (guitar, vocals)
Alex 'Zac' Zytnic (lead guitar)
Peter Barron (bass)
Dannie Davidson (drums)

1970-72
Lindsay Bjerre (guitar, vocals)
Tim Gaze (lead guitar, vocals) 1970-71, 1972
Peter Barron (bass)
Nigel Macara (drums) 1970-72
Larry Duryea (aka Larry Taylor) (congas) 1970-72
Bobby Gebert (keyboards) 1971
Kevin Sinott (drums) 1970
Kevin Stevenson (reeds) 1970
Richard Lockwood (sax, flute, clarinet) 1972

Right: a rare shot of the original lineup of Tamam Shud onstage at a Ray-O-Vac Batteries Pop Spectacular in Sydney in late 1969 (Note the Sydney-made Lenard amps). (L-R) Lindsay Bjerre, Dannie Davidson, Zak Zytnic, Peter Baron. (Photo courtesy of Terry Stacey)
History
Tamam Shud was one of the most original and innovative Australian groups of the late '60s and early '70s, and they played a very important part in our musical development as pioneers of acid-rock and progressive music. Long after they split they remained a 'cult' item, and a definite mystique still surrounds them. Their original recordings were (and still are) highly prized by collectors and aficionados, but they are now very hard to obtain. Happily there was a brief but gratifying comeback and some commercial success with their superb 1994 album Permanent Culture and the hard-driving, bluesy single "Stay", which delighted longtime fans of this outstanding group, and kindled interest with younger listeners as well.
The evolution of Shud was typical of many groups of the era, beginning as an instrumental band, moving through 'beat' pop and psychedelia, to progressive rock. Shud's origins lay in Newcastle instrumental band The Four Strangers -- Dannie Davidson (drums), Zac Zytnic (guitar), Eric Connell (bass) and Gary Johns (guitar). They cut one well-regarded surf instrumental single "The Rip" / "Pearl Diver", for the Astor label in 1964. Johns left the band at the end of the year and was replaced by singer-guitarist Lindsay Bjerre .
A natural musician and performer, Lindsay began singing at an early age. According to rock historian Noel McGrath, his first public appearance was an impromptu but well-received performance in a Tamworth pub at the age of 15. Unusually for a pop musician, he was also able to read and write music and his keen musical instincts proved extremely important for the band's future development.
Under Bjerre's guidance The Four Strangers -- now renamed The Sunsets -- were steered into a more up-to-date beat/R&B style and they snared a five-year deal with the Festival label. The Sunsets' recordings are highly prized by '60's beat fans, and no less than four Sunsets tracks -- "Sad & Lonely", "When I Found You", "I Want Love" and "Hot Generation" have been anthologised on various compilations.
Their first Festival release was a gritty R&B single "Sad & Lonely" / "You'll Be Mine", which sold in respectable numbers in their hometown of Newcastle. At the end of the year they changed their name to The Sunsets and during 1966, as they became one of the top bands in Newcastle, they began making forays into Sydney. During this period they also recorded the music for the soundtracks for Paul Witzig's surf-films A Life In The Sun and Hot Generation. While very successful, this link contributed to them being pigeonholed, quite inaccurately, as a surf band, as Lindsay Bjerre recalled in a 1996 interview with Ian McFarlane:
"Paul Witzig had us as The Sunsets doing the soundtrack to A Life In The Sun. We were just like any other band. I was writing all the singles we did through Festival, and they did well and we weren't doing any surf music at all. Paul actually said 'I want you to play surf music, instrumental, for this movie'. But that did us a lot of damage because we actually went backwards momentarily. Doing that whole instrumental thing for the movie. So Festival released some of it and it went up the charts. So here was The Sunsets with an instrumental song sounding all surfie and it was making the tag even more so than it was. I remember Molly Meldrum bagging us in Go-Set and it wasn't representative of the band at all."
"Hot Generation" has attracted a particular following over the years, and the title track has been covered by both the American all-girl group The Pandoras (1985), and Australia's Psychotic Turnbuckles (1989).
When The Sunsets shifted to Sydney's eastern suburbs in 1966 they hooked up with the Harrigan Agency, playing at their venues Surf City, The Star Club and Sunset Disco, and touring with other Harrigan acts -- Billy Thorpe & The Aztecs, Max Merritt & The Meteors, Ray Brown & The Whispers and Chris Hall & The Torquays. The big turning point came at the end of 1966 when The Sunsets were invited to play a three-month residency at a Surfer's Paradise nightclub owned by TV celebrity Digby Wolfe.
Lindsay: "We played at this nightclub, Digby's, just as 1967 came around and the whole LSD thing took off. The start of acid rock, the hippies, LSD, all those things first hit. The big revolution took place. We were doing covers, "Happy Together" by The Turtles, Eric Burdon & The Animals stuff, and few of our own things and we were playing six nights a week and it made the band incredibly tight. The whole band took LSD and no longer were we innocent surfie guys. All the people we ran into around the drug scene were putting us onto Albums like like Jefferson Airplane's Surrealistic Pillow, Arthur Lee and Love's Da Capo. We were all getting into jazz."
All these changes proved too much for bassist Eric Connell who, according to Bjerre "... couldn't really handle what was going on. He was basically a straighter guy". Connell left the band when they returned to Sydney at the start of 1967, and apparently quit the music scene entirely. Davidson and Zytnic wanted a seasoned professional to replace him, but Lindsay felt that the players on offer were too straight and he was determined to find someone with "the right attitude". His eventual choice was Peter Barron. Bjerre had by then moved to the Sydney harbourside suburb of Manly, and he had seen Barron around the area. When someone mentioned that Peter played bass, Lindsay decided to give him a try. He felt that Barron was the right person for the group despite his youth and inexperience, and within a couple of months he was "playing great".
As the year progressed The Sunsets, now immersed in the blossoming psychedelic scene, reinvented themselves as Tamam Shud. Their new name was a Persian phrase meaning "the very end", which was taken by Bjerre from the closing words of the Rubaiyat of Omar Khayyam. (The naming of the group is recounted in the delightful hidden track at the end of Permanent Culture, narrated by Tim Gaze's father.) They were certainly one of the first Australian groups to take up the new acid-rock style led by artists like Cream, Hendrix and Pink Floyd. As the above quote indicates, they were also strongly influenced by free jazz, and by the American West Coast groups like Love, Big Brother & The Holding Company, The Grateful Dead and Jefferson Airplane -- although they were (in my opinion anyway) far more coherent musically than the Dead, and their songs were less strident lyrically than some of the Airplane's more politicised material.
On stage, their live sound had a distinctive edge thanks to Bjerre's use of an acoustic guitar, amplified by a pickup, and right from the start they were respected by audiences and players alike for their musicianship. Their first appearance as Tamam Shud was at the "Intermedia Circus" in Sydney in 1967 and they were soon recognised as one of Australia's most innovative bands, with their sets including long, improvised instrumental sections. According to Noel McGrath,"...audiences never danced - they sat and listened".
Over the next five years Shud became one of the most popular live acts of the east coast scene, playing at all the major disco and 'head' venues in Sydney and Melbourne. The lingering "surf band" tag linked them with Sydney's northern beaches surf culture, and it's a misnomer that has been repeated in several refernece books, but according to Lindsay, Tamam Shud hardly ever played the northern beaches. In reality, the major fan base fopr them, and for contemporaries like The Dave Miller Set was on Sydney's university and college dance circuit, and with the 'hippy' audiences at inner city underground venues like the Mandala Theatre in Darlinghurst and the Beacon Theatre in Newtown.
The Shud also had a close association with the renowned Sydney film-lightshow collective UBU who promoted many pioneering multimedia events in Sydney, and Shud were regularly teamed with other leading progressive acts including Tully. They often played at UBU-organised events, including the legendary "Underground Dances" of 1968-69. In the press release for the first Underground Dance in December 1968, they were described as "the wildest new group on the local scene". They became firm favourites with Go-Set magazine (especially Sydney staff writer David Elfick) and featured regularly in its pages.
Not everyone was so appreciative however. At one early UBU concert, a benefit for the Coogee Boardriders Club at the Heffron Hall in East Sydney on 10 August 1968, the Shud's performance and the UBU lightshow were brought to an early and unexpected end by the hall manager, who turned off the power, condemning the event as "the ultimate in depravity"!
Their first LP, recorded at the end of 1968, has been justly hailed by Ian McFarlane as "one of the first wholly original rock albums issued in Australia". It was made independently, the session financed by filmmaker Paul Witzig to provide music for his surf film Evolution (the first Australian surf film to abandon narration and accompany the images with music alone). Four tracks -- "Evolution", "I'm No-One", "Mr Strange" and "Lady Sunshine" -- were used in the film. These four tracks were later re-recorded, along with eight other originals, for what became Tamam Shud's debut album Evolution.
Most of Witzig's budget was committed to the considerable expense of transporting and filming surfers in exotic overseas locations (air travel was relatively very expensive then, compared to today) so the budget for the music was minuscule. Consequently, the twelve songs that make up Evolution were recorded live, with very basic equipment, in a single 2-1/2 hour session, and mixed in a mere 1-1/2 hours. Evidently most if not all of the tracks are first takes. The spontaneity is delightfully revealed by the intro to the bluesy "Feel Free" -- the take breaks down just after the count-in and Bjerre is heard to laughingly say "Wait until the bass turns his amp on" -- Barron had indeed forgotten to switch on!
Although the recording quality is fairly rough, both the material and the performances are very strong, and it stands up extremely well today. Arrangements are excellent, performances are very energetic; Bjerre's strong, soulful vocals carry the songs with ease, Zytnic contributes some tasty acid-tinged lead breaks, and Barron and Davidson provide a solid and supple backing throughout. The standout track is without doubt the beautiful, jazzy "Lady Sunshine", which was included on Raven's Golden Miles anthology in 1994. In the Freedom Train interview Lindsay named "Falling Up" as his personal favourite.
The album was leased to CBS, and both the film and its soundtrack were very successful, thanks in part to Go-Set, who supported the film with a poster competition, a 'win-a surfboard' competition, and regular features on the Shud throughout 1969. Original copies of Evolution are now quite rare -- a good copy, if you can find one, will set you back many hundred dollars on the collector's market.
Zac Zytnik left the band at the end of 1969, sometime after Evolution had been released; he moved on to Graham Lowndes' band Bootleg and and later jopined one of the numerous incarnations of Blackfeather in late 1971. Lindsay was on the lookout for a real power player to replace Zac, but found most of the applicants too restrained:
"...we had seasoned players come up and they all wanted to play really laid back, they were all too gentle, and there was nobody really rip-roaring it up."
The gong eventually went to a prodigiously talented young Sydney guitarist, Tim Gaze -- another inspired choice by Lindsay. Just 15 at the time, Tim had already been fronting his own band, Stonehenge, for some time when he answered the Shud's ad. In spite of his youth, Bjerre acted on a hunch to try the young player out. When the shy young man arrived at the band's Whale Beach house and set up in the rehearsal room, he proceeded to blow them away.
"I looked over at the other guys and they looked at me and you could that see they were over the moon. I walked out of the room and was listening in the main part of the house and we just said 'Well, mate, you got the gig' (laughs). We were amazed. It was a delight to play with him and see what he did to audiences."
Tim's assured playing was precisely what Lindsay was looking for to power up the new music he was writing, and it's a tribute to Tim's abilities that within weeks of joining they were ensconced in Sydney's United Sound Studios cutting tracks for their next album. In January 1970 Tamam Shud were one of the headliners at Australia's first rock festival, the Pilgrimage For Pop at Ourimbah. Shortly after that appearance, the band hooked up with Drum, the newly formed booking agency set up by The Masters Apprentices in Melbourne to handle their own booking and those of about two dozen other acts. Meanwhile, the success of the Evolution film and album led to Tamam Shud being offered a deal by Warner Brothers, and they set about recording their second LP, the highly praised concept album Goolutionites & The Real People, released in October 1970.
It is generally reckoned to be their best work -- Ian McFarlane calls it "one of the truly great Aussie progressive rock albums" and it also distinguished them as one of the first local bands to tackle environmental issues in their songs. It is now extremely rare and one of the most collectible Albums of the period. The recording quality is of course far superior to Evolution, and Tim's filigree guitar work and incisive lead lines add tremendous power and colour to the album. The album's mood is much darker and more sombre, the material perhaps less immediately accessible than Evolution , but it rewards repeated listening.
There followed a period of upheaval for Shud. Just after Goolutionites was finished in May, both Gaze and Davidson abruptly left the band to join guitarist Dennis Wilson's newly-formed Kahvas Jute and they featured on their only album, the superb Wide Open. Kahvas Jute quickly built up an enviable reputation as a live unit, and their album garnered rave reviews both in Australia and overseas, but it was to be short-lived. Internal tensions resulted in Tim leaving Kahvas Jute after a few months, and by the end of the year he was back in Tamam Shud.
To replace Tim and Dannie, Lindsay brought in Kevin Sinott (drums) and Kevin Stephenson (reeds) and began to explore a jazzier direction. In June they made their first tour of Melbourne, and performed at the Dallas Brooks Hall, where Evolution was screened for the audience before the band played. In August, Go-Set reported that the band were preparing to enter the studio, and that Bjerre had written enough material for a new LP, but nothing more came of this, and their inability to complete a follow-up to Goolutionitesbecame an increasing source of discontent, especially for Lindsay. How many tracks were actually recorded, if any, is unknown.
When Tim Gaze returned (just as Goolutionites was released) Sinott and Stephenson were let go, and Shud returned to a heavier sound. Dannie Davidson stayed on with Kahvas Jute, so Lindsay recruited a new drummer, Tim Gaze's former Stonehenge colleague, the 18 year-old Nigel Macara, who had also played with Bootleg. The sound expanded further when percussionist Larry Duryea (aka Larry Taylor), from Sydney band Heart'N'Soul joined near the end of the year, and on occasion they further augmented the band with famed Sydney jazz pianist and session stalwart Bobby Gebert, as well as Tully's multi-instrumentalist reeds player Richard Lockwood.
Shud toured solidly during late 1971. They play around the Melbourne disco/dance circuit in July and toured Adelaide, Melbourne, Sydney and Brisbane over the last four months of the year. They recorded several live performances for ABC TV's GTK, and one of these tracks, "America", was released on CD in 1994 on The GTK Tapes Vol. 1. Although most of GTK -- including Shud's appearances -- was long thought to have been lost or destroyed, it is pleasing to report the discovery of a treasure trove of 'missing' episodes which were uncovered when the AB vacated its old studio at Gore Hill in Sydney in the early 2000s. Since then, the ABC has been able to confirm that at least 85-90% of GTK has survived.
Towards the end of the year, Tully split up, and Richard Lockwood asked to join the Shud. His skills (he played sax, flute and clarinet) added yet more layers to Shud's sound. The single "Got A Feeling" / "My Father Told Me" was issued in January 1972 and featured a more commercial and 'up-tempo' sound (with harmony vocals and melodies quite suggestive of later work by Dragon).
The final Shud recordings were for the soundtrack of Alby Falzon's legendary surf film Morning of the Earth in 1972. Initially Alby wanted Tamam Shud to provide the entire soundtrack and later on, according to Lindsay, " ... there was talk of Spectrum doing something." But that all changed when producer-singer-songwriter G. Wayne Thomas took control of the album -- a fateful decision for Tamam Shud, as it turned out.
Thomas decided to include some of his own songs, plus tracks from Brian Cadd, John J. Francis, Terry Hannagan and Peter Howe, whose single track on the album, cut in just two takes, is his only known recording. Tamam Shud's credited input was reduced to three (albeit excellent) tracks -- "First Things First", "Bali Waters" and "Sea The Swells", although Tim Gaze has since revealed that he and Nigel Macara provided backing for most of the other tracks on the album. Tim Gaze recently spoke about the band's involvement in the soundtrack for the Morning of the Earth website:
"It was a big deal for us to be asked to put some music up for MOTE -- I was pretty excited anyway -- Lindsay had written two tracks - 'Bali Waters' and 'Sea The Swells' -- and for some reason, one of mine, 'First Things First' was also chosen. Don't know exactly who chose the music, but I think we got involved through David Elfick.

We recorded the tracks at Channel 9 in Melbourne - TCS it was called and it was all done 'live' - except for vocals. The Shud was 6 piece at that stage with Lindsay Bjerre (guitar and vocals) Peter Barron (Bass), Nigel Macara (Drums and vocals) Larry Duryea (percussion) Richard Lockwood (Saxes, clarinet, flute and vocals) and Tim Gaze (guitars and vocals).
The recording of these songs pretty well went down 2nd or 3rd take because we were playing so much all the time, that we were pretty comfortable with them. This music relied on feel -- that was it's magic, and playing 'live' as a band was how it was done. There was seperate tracking done in those days as well, here and there, but mostly just the band at once. I think 'Evolution', the Shuds first album was recorded all in -- just set up in the studio and hit the red button ..."

"Nigel Macara and I were also asked to do session work on that soundtrack. On the MOTE theme, he plays drums, and I play bass and acoustic guitars. I think we also did a similar thing on ' Day Comes' and 'Open Up Your Heart'. It was as I say a really good thing to be involved in, and the acclaim the film and soundtrack has received over the years makes me feel proud to have been able to contribute with our original music and with my favourite band, Tamam Shud."

"Oh yeah ... it was the first soundtrack in Australian music History to pick up a gold record for sales. Some body must have made a motza out of the sales, but as artists, the people who contributed their talent and skills will just have to be satisfied with having been involved, because as far as I know, no artist royalties were ever paid."
The next blow came when "First Things First" was recorded, as Tim philosophically recalls:
"...when it came time to come back and do the vocal sessions for these songs -- (Bali Waters was an instrumental except for backing chorus harmony 'oohs' and 'aahs' - nice effect) -- Lindsay had throat trouble that day, and we decided that I would sing 'Sea The Swells' instead, but Lindsay always sang it when we played live. Also, with 'First Thing First', some kind of executive decision must have been made, because when we finished those sessions, it was my vocal that was on that song, and a couple of months later when we went to the opening of the film in Sydney, 'First Things First' starts playing, and there's Broderick Smith singing my song! Nice job too! First we'd heard of it ... but, hey that's showbiz!"
Lindsay had lost his voice on tour in Melbourne, so Tim (an excellent singer in his own right) cut the vocal, and although Lindsay recalled that Tim was apparently having voice problems too, his vocal "sounded great" according to Bjerre. But unknown to the group, Thomas later erased Gaze's vocal and replaced it with a new one by Broderick Smith, lead singer of Melbourne band Carson. The resulting track is fine in its own right, but the new vocal was added without the group's approval. They in fact didn't find out about the substitution until they heard the result at the film's premiere, and they were understandably upset about it at the time.
Recently Brod Smith offered his own recollections about the events of the recording for the MOTE website :
"Don't ask me what year it was that I worked on the film. I can vaguely remember John French the engineer at TCS recording studios recommending me (I think) to sing on the track. TCS was a studio at the back of Channel 9 in Melbourne right next to the props department where Great Train robber Ronald Biggs worked as a carpenter."

"I had never surfed and came from a bush/factory suburb background. The closest I had ever got to the surf was the industrial foam coming down the local creek!"

"Back to the song ... Taman Shud had already cut the track with Lindsay Bjerre or Tim Gaze singing it but the vocal apparently didn't quite capture what they had in mind. This can happen sometimes when you've cut a track and maybe the vocalist's voice isn't suited to that key. I was called in to sing the track which I hadn't heard. I can remember instantly hitting it off with the members of Taman Shud, especially Lindsay and the bass player. Thinking back on it, it was probably hard for Lindsay ( or Tim) to accept another singer on the track but believe me there was no animosity, and I still see Lindsay and Tim occasionally over the years. I liked the track and did it, and seem to recall that it wasn't quite my key either, but somehow they accepted it.

"I saw the film and the village scene, I believe, where the song is placed, some years later. At the time I was doing a lot of sessions and I didn't think a great deal about it. It didn't hit me until many years later when new generations of surfers would treat me with some awe when they found out that I'd sung on it. The film to me now has a great historical importance, not only to surf culture but to Australian youth culture as a whole. It will always be a fine example of a surfing historical document.

"Last year I played at the National Folk festival in Canberra and the organisers had booked " The Atlantics" as a musical example of sixties surf culture. I felt it was a bold but correct recognition of the beginnings of a local folkdance music.

"In closing I will say that it still mystifies me why there is no strong, continuous surf music scene out there. Surfing is such a strong, positive, (and to a lot of surfers), spiritual activity.

Fuck Divas, Fuck techno. Let's Surf! Thank you Alby and thank you Taman Shud"

- Broderick Smith
On the plus side, all three Shud tracks are outstanding. "Bali Waters" (my own favourite) is a classic surf instrumental, featuring some beautiful flute playing from Lockwood, with strings and wordless choral backing; it was also included (with "Got A Feeling" and "My Father Told Me") on the Bali Waters EP, released later that year, which has become another major collector's item.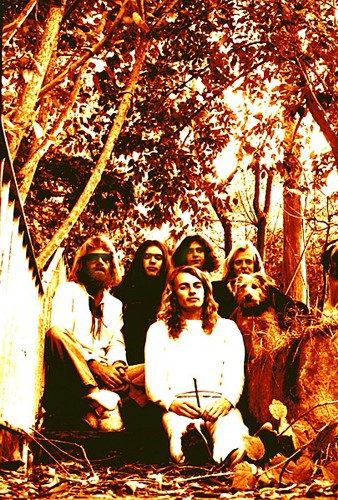 The last lineup of Tamam Shud, photographed by Alby Falzon during the rehearsals for Morning Of The Earth.
(L-R) Larry Duryea, Nigel Macara, Peter Baron (front), Tim Gaze, Lindsay Bjerre.
(Image courtesy of Alby Falzon, © 2002, used by permission)
As Tim Gaze noted, the Morning of the Earth film and soundtrack album were both very successful in Australia. Despite the record receiving no radio airplay whatsoever, the LP charted in May 1972, and eventually went gold, becoming the first locally-made soundtrack to sell in such quantities. The enduring interest in this classic film recently led director Alby Falzon to establish an official Morning Of The Earth website, which is located at http://www.morningoftheearth.net. The Gallery section is well worth a look and contains more of Alby's exclusive photographs of the Shud taken during rehearsals for the album, one of which he has graciously allowed us to reproduce above.
Unfortunately the 'sting' for Tamam Shud did not end with Thomas' production interference. As Tim has noted, the band has apparently never been paid for their songs on the album, nor were Tim and Nigel paid for their contributions to other tracks. None of the other artists, it seems, were ever compensated either. The recording was apparently produced as a direct deal between the record label (Warner Brothers) and G. Wayne Thomas' production company, which was supposed to pass on royalty payments to the various artists involved. These profits, it appears, never made it past first base. Adding insult to injury, we understand that Warners have repeatedly fobbed off enquiries by the group, even going as far as to claim that they couldn't locate the original contract! The producer has consistently refused to talk with the band, and after nearly 30 years, Tamam Shud are yet to see a single cent from the sale of the album. This is a shameful state of affairs, and while we at Milesago would be delighted to hear an explanation from the parties concerned, we would be even more delighted if they finally did the right thing and paid Tamam Shud what they are owed. (We wish to stress however that this deplorable situation seems to be entirely the fault of the record producer and record company, and that it in no way reflects on Alby Falzon.)
Shud plugged away on the live circuit through the first half of 1972, playing the Mulwala Festival in April, and making more trips to Melbourne in May and July. Lindsay announced the imminent breakup of the group in August 1972, brought on by management problems, "fear of musical stagnation" and especially the frustration of not being able to record another LP. They played their final shows in Melbourne on September 1 at Sebastians, with MacKenzie Theory and Toads, September 2 at Garrison, with Madder Lake, and September 3 at Sebastians, with Blackfeather and Carson.
After Tamam Shud ...
- Lindsay Bjerre pursued a somewhat different musical direction after leaving Tamam Shud, forming a new group called Albatross with Peter Barron, Richard Lockwood, and ex- Country Radio drummer Kim Bryant. They recorded one superb LP for Warners, A Breath Of Fresh Air, now long out of print and itself a sought-after collector's item. After Albatross, Lindsay travelled overseas, where he studied mime and explored spiritual interests. On his return to Australia he embarked on a solo career as Bjerre. He had a one-off national hit with the quirky single "She Taught Me How To Love Again" in the mid-70s, assisted by a film-clip which was given heavy exposure on Australia's national pop TV program Countdown
- Peter Baron moved on to the Bilgola Bop Band, which gigged around Sydney for many years and later became the nucleus of the successful '80s band Moving Pictures.
- Tim Gaze and Nigel Macara worlked together for several years after Shud. They hooked up with George Limbidis (bass) and Philip Pritchard (guitar) and formed a new band, Sailing, which was subsequently renamed Miss Universe. After that band split, Tim and Nigel were briefly involved with Ross Wilson and Ross Hannaford on their post-Daddy Cool project which eventually became Mighty Kong. Next, they formed a shortlived power trio with bassist Steve Hogg (ex-Bakery) before both moving on to the first version of Ariel. Tim remains one of Australia's most respected and sought-after guitarists, although it has to be said that his tremendous talents as a singer, composer and guitarist are still grossly under-recognised. Tim has worked in a succession of fine bands, including work with Stevie Wright, his own Tim Gaze Band and a stint in Rose Tattoo. He also produces and has up his own studio. Tim still plays live on a semi-regular basis, and if you have the chance to see him it's a treat not to be missed. He is a permanent member of The Bushwackers, and he also led his own superb blues band Tim Gaze & The Blues Doctors, which featured a floating lineup of old friends including harmonica legend Jim Conway, bassist Chris Bailey (The Angels, GangGajang and more recently, his old mate from Kahvas Jute, Bob Daisley, a truly distinguished player who has worked with many of the world's top heavy rock groups including Black Sabbath and Uriah Heep.
- Nigel Macara was a member of the original lineup of Ariel and has also worked with Daryl Braithwaite, Ross Wilson, Mike Rudd, Stevie Wright, Vanda & Young, Jon English, Ross Ryan and Air Supply. In 1980 he joined prestige Sydney hi-fi firm Len Wallis Audio, and became a partner in the business in 2000.
- Zac Zytnic joined a later lineup of Blackfeather in the early 70s before apparently leaving the music business in the mid-70s and settling on the north coast of NSW
- Larry Duryea joined the supergroup Duck in 1973, but later left the music scene and moved to Los Angeles, where he worked as a natural therapist. He died from melanoma in 2003.
The Return
To the delight of fans old and new, Tamam Shud reformed in 1994 with the classic '70s lineup of Bjerre, Gaze, Barron and Macara. Typically the band was not content to rest on its laurels and churn out warmed-over versions of old material. They were always forward-looking and it's no surprise that they came back with renewed vigour. They scored a deal with Polydor, for whom they recorded a strong, energetic album of all-new material, Permanent Culture, with songs by Lindsay and Tim and undertook a national reunion tour.
The brilliant first first single "Stay" (which features some scorching slide guitar by Tim) was well-received and was given extensive national radio airplay on Triple-J. They did several superb live TV performances to promote it, including spots on Hey Hey It's Saturday, The Doug Mulray Show and a blistering performance on the ABC's Recovery. In spite of the interest in "Stay" the record company evidently didn't offer them much support, the album sadly didn't chart as well as was hoped, the second single, Tim's magnificent "Shaking Out The Stones" was totally ignored, and Shud were dropped by Polydor not long after. Regrettably, once their tour commitments ended in April 1995, they broke up again.
Happily there was a "last hurrah" for Shud. Thanks to the enduring success of Morning Of The Earth, fans were delighted to learn that they had been chosen as part of the lineup for the "Long Way To The Top" mega-tour in 2002. Tamam Shud performed a superb set which opened the second half of the show, playing a 'medley' arrangement that included "Sea The Swells" and "Morning Of The Earth", complete with psychedelic lighting, projections and dancers. To coincide with the tour, Shud delighted fans with the long-awaited reissue of both Evolution and Goolutionites on a single CD.
In 2006 Tamam Shud took part in the making of Delightful Rain, a DVD/CD project celebrating Australian surf music and beach culture over the last five decades. Filmed and recorded between May 13th and 27th 2006 at the Freshwater Surf Life Saving Club, the Delighful Rain album was produced by Kerryn Tolhurst and recorded by Mick Wordley. The sessions included also The Atlantics, Les Green (The Denvermen), Richard Clapton, Rob Hirst and Martin Rotsey of Midnight Oil, The Backsliders' Dom Turner, Peter Howe, Tim Gaze, Celibate Rifles, GANGgajang, Cruel Sea founder Dan Rumour and his band, The Pigram Brothers, Beau Young and Andrew Kidman.
Discography
The Sunsets' "When I Found You" is available on CD on the essential Festival 3-disc compilation So You Wanna Be A Rock'n'Roll Star?. "Lady Sunshine" (from Evolution, was anthologised on the Raven progressive compilation Golden Miles in 1994.

Tamam Shud's two original LPs are long out of print and exceedingly hard to find, with good copies now fetching hundreds of dollars on the collector's market, but happily, since the Long Way To The Top tour, both Evolution and Goolutionites have been remastered and re-released on a single CD by the band themselves. Morning Of The Earth has long been available on CD and it can also still be found on LP second-hand. It was remastered and re-released in late 2002 with additional tracks, and the new version now contains all the music used in the film.
Singles
1969
"Evolution" / "Lady Sunshine" (CBS BA-221706)
1970
"Stand in the Sunlight" / "I Love You All" (Warner Bros (Warner Bros WBA-4000)
Jan. 1972
"Got A Feeling" / "My Father Told Me" (Warner Bros WBA-4007)
July 1994
"Stay / "Election Day" / "The Fire" (Polydor 853221-2)
1994
"Shakin' Out the Stones" / "What's Your Problem" (Polydor 853902-2)
EP's
1970
Bali Waters (Warners EPW 207)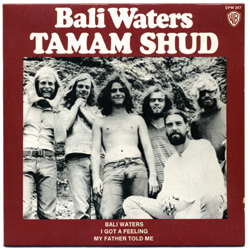 "Bali Waters" / "Got A Feeling" / "My Father Told Me"

Lindsay Bjerre - songs, guitar, vocals
Peter Barron - bass
Larry Duryea - congas
Tim Gaze: guitar
Kevin Stevenson: reeds
Richard Lockwood: sax, flutes
Nigel Macara: drums
Albums
1969
Evolution (CBS SBP 233761) LP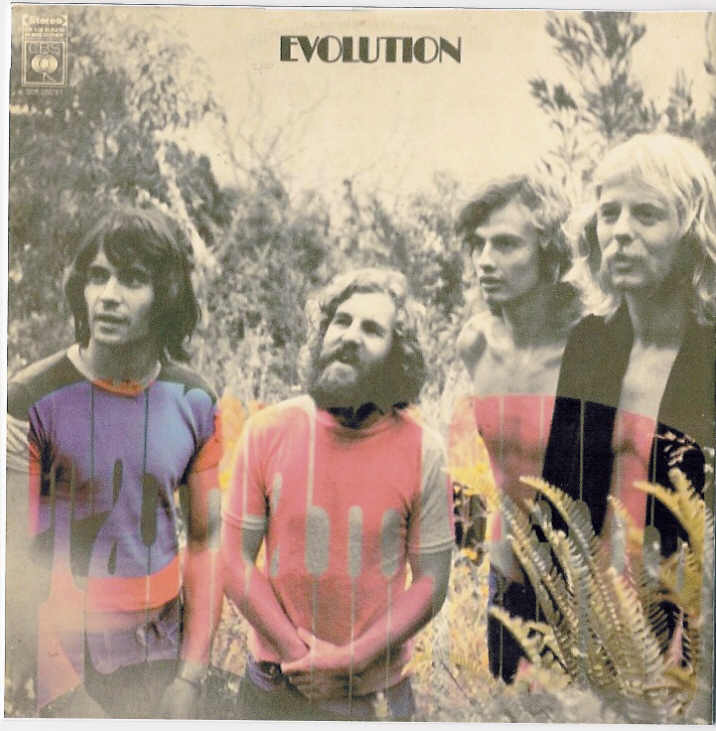 "Music Train"
"Evolution"
"I'm No One"
"Mr Strange"
"Lady Sunshine"
"Falling Up"
"Feel Free"
"It's a Beautiful Day"
"Jesus Guide Me"
"Rock on Top"
"Slow One And The Fast One"
"Too Many Life"
(All tracks by Lindsay Bjerre)

"The sound of the Shud is heavy. The vocal of the Shud is incidental. Lindsay wrote all the tracks on Evolution. Zac plays lead. Peter plays bass. Dannie drums."
October 1970
Goolutionites and the Real People (WEA WS200001) LP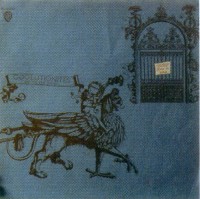 "Goolutionites and the Real People
"They'll Take You Down on the Lot "
"I Love You All"
"Heaven is Closed"
"A Plague"
*"Stand in the Sunlight"
"Take a Walk on a Foggy Morn"
"Goolutionites Theme Part I"
"Goolutionites Theme Part II"
(All songs by Lindsay Bjerre except *words by Kevin Platt, music by Lindsay Bjerre)

Lindsay Bjerre: all songs, vocals, rhythm guitar
Peter Barron: bass, fuzz bass
Tim Gaze: lead guitar, piano
Dannie Davidson: drums

Producer - John Bromell
Engineer - Maurice Wilmore
Studio - United Sound, Sydney
---
May 1972
Morning Of The Earth - soundtrack (WEA) CD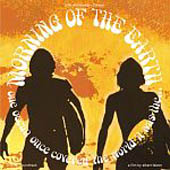 Remastered and reissued on CD with additional tracks in 2002.
Tamam Shud contributed 3 tracks:
Sea The Swells
Bali Waters
First Things First
Other tracks by G. Wayne Thomas, Brian Cadd, Hannagan and John J. Francis. Tim Gaze played bass and guitar and Nigel Macara played drums on the backing tracks on several other non-Shud tracks on the album. The 2002 reissue includes a 26 page booklet featuring liner notes from Tom Carroll, G. Wayne Thomas, and Andrew Kidman and rare shots by Alby Falzon. The soundtrack has been re-mastered and now includes all of the music originally featured in the film (the original soundtrack album omitted several tracks featured in the movie).
Produced by G. Wayne Thomas
---
Aug. 1994
Permanent Culture (Polydor 523442) CD
[no image available]
"Why Do I Love You?" (Bjerre)
"Stay"" (Bjerre)
"Shakin' Out the Stones"" (T. Blackburn-T.Gaze)
"I Wanna Be Your Life" (Bjerre)
"It's My Time" (Bjerre)
"Ain't No City" (Bjerre)
"The Dispossessed" (Bjerre)"
"Kids in Cars" (Bjerre)
"Temptation" (Bjerre)
"Upside Down" (Gaze)
---
2002
Tamam Shud 1968-1972 (TSCD04)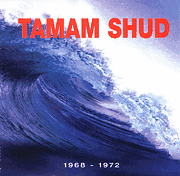 Remastered from the original master tapes. Contains all the tracks from the Evolution and Goolutionites LPs, plus the bonus track Bali Waters from the 1970 Bali Waters EP.
References / Links
Special thanks to Tim Gaze, Alby Falzon, Neil Christopher and Terry Stacey, with thanks and acknowledgements to Ian McFarlane for the quotes from his excellent 1996 Freedom Train article on Tamam Shud and his interview with Lindsay Bjerre.
Tamam Shud official website
http://www.tamamshud.com
Morning Of The Earth official website
http://www.morningoftheearth.net
Tim Gaze official website
http://www.timgaze.com/

Paul Conn
2000 Weeks: The First Thirty Years of Australian Rock (Moonlight Publishing, 1996)
Tim Gaze
Conversations and correspondence with the author, and with Neil Christopher, webmaster of the MOTE site.
Ian McFarlane
- Tamam Shud article and Lindsay Bjerre interview in Freedom Train Vol. 1, Issue 2, 1996
- Encyclopedia of Australian Rock & Pop (Allen & Unwin, 1999)
Noel McGrath
Encyclopedia of Australian Rock (Outback Press, 1978)
Noel McGrath
Encyclopedia of Australian Rock 1979 Yearbook (Outback Press, 1979)
Peter Mudie
UBU Films: Sydney Underground Movies (UNSW Press, 1997)
Chris Spencer, Zbig Nowara & Paul McHenry
Who's Who of Australian Rock (Five Mile Press, 2002)