RAY BROWN & THE WHISPERS Sydney 1964-66
RAY BROWN & MOONSTONE Sydney 1970-71
ONE TON GYPSY Sydney 1971-73


Ray Brown & The Whispers
Lawrie Barclay (rhythm guitar)
Ray Brown (vocals)
Al Jackson (lead guitar)
Pat Jeffrey (drums)
John Manners (bass)
Bobby Richardson (lead guitar) 1964

Ray Brown & The New Whispers (early 1967)
Ray Brown (vocals)
Dave Russell (guitar)
Ronnie Peel (bass)
Steve Hardy (drums)

Ray Brown Three (mid-'67)
Ray Brown (vocals, guitar)
Ronnie Peel (bass)
Steve Hardy (drums)

Ray Brown & Moonstone (1970-71)
Ray Brown (vocals)
John Carr (guitar, bass)
Allan Carroll (drums)
Mal Clarke (guitar, bass, sitar)
Pat Clifford (bass)
Jimmy Doyle (guitar)
Pat Jeffery (drums)
Russ Hinton (guitar)
Nick Lyon (violin) 1970
Eligio "Ali" Sincic (sitar) 1970

One Ton Gypsy
Chrissie Amphlett (vocals)
Wayne Bennett (drums) 1973
Ray Brown (vocals, guitar) 1971-73
Dave Fookes (keyboards, drums) 1971-72
Deni Gordon (backing vocals)
Graham Lowndes (vocals, guitar)
Peter Martin (guitar)
Alison MacCallum (vocals)
Dallas McDermott (bass) 1973
Ray Oliver (guitar)
Ronnie Peel (bass)
Margret Piper (backing vocals)
Tim Piper (guitar) 1972
Laurie Pryor (drums) 1971
Ray Rivamonte (piano, guitar, vocals) 1972
Lindsay Wells (guitar) 1971-73
Paul Wyld(e) (keyboards) 1973
"Pickin' Potter Booze" (drums) 1972



History
Ray Brown & The Whispers
Ray Brown & the Whispers were in the vanguard of the first wave of Australian beat pop, from 1964-67, and during their brief career they were one of the most successful and celebrated bands in the country. Aided by his boyish good looks and considerable charm, singer Ray Brown ranked alongside Stevie Wright, Billy Thorpe and Normie Rowe as one of the most popular stars of the period, and The Whispers are now widely recognised as being one of its most accomplished bands. Although they enjoyed unprecedented success at the time, the group was short-lived, and their contribution to Australian music, both during and after the beat boom, is still sadly under-appreciated.
The Whispers originated with Sydney band The Impacts (1961-62) comprising John Leslie (gtr), John Manners (bs), Bob Pierse (gtr), Alan Roberts (dr) and Bobby Thomas (vcls). Around 1962 The Impacts evolved into Shadows-style instrumental outfit called The Nocturnes, which brought together the core members of the future Whispers -- John Manners, guitarist Lawrie Barclay and drummer Pat Jeffrey. John's interest in music started when his brother bought a guitar, which John constantly borrowed and eventually mastered . Lawrie Barclay, who came from a musical family, began by studying piano and eventually branched out to organ and guitar. Pat Jeffrey originally hailed from Kempsey in NSW, and made his debut when he filled in for his brother on drums at a local dance. He moved to Sydney in his mid-teens and played with various groups before joining the Nocturnes. Several guitarists passed through the band during this period, including Terry Vincenzi; the guitarist at the time Ray Brown joined was Bob Richardson.
The Nocturnes played around the southern suburbs of Sydney, in the Kogarah Bay area, and at Sans Souci Surf Club; they recorded two instrumental Singles (Riptide and Sitting Pretty) on the Leedon label before following a similar course to bands like the Blue Jays and The Aztecs. In the wake of the Beatles visit, they recruited local vocalist Ray Brown. Ray grew up in Hurstville and left school at the age of fifteen to become a clerk in the Customs Department, but he had a passion for singing and in early 1964 the Nocturnes, who were keen to move into the booming 'beat' style, replaced Bobby with local vocalist Ray Brown. They changed their name to The Whispers although, in time-honoured Australian style, the addition of the "Ray Brown & ..." part of the name was supposedly the result of a record company printing error.
Technically, Ray was perhaps not quite as strong a singer as some of his contemporaries (but measured against voices like Billy Thorpe, Max Merritt, Normie Rowe and Tony Worsley, that's no criticism) but he had a smooth, pleasing and instantly recognisable tenor voice with a particularly emotive upper register, which he used to great effect on hits like "Pride" and "Fool Fool Fool". (As a comparison -- Ray's voice, especially on the early singles, is quite reimiscent of former Doug Anthony All Stars member, and Good News Week / Sideshow host Paul McDermott)
From the outset, Ray and The Whispers distinguished themselves as a top-notch performing unit, both live and on record, and they thoroughly road-tested all their material. In retrospect their only real weakness, as far as a long-term career was concerned, was that there were no writers in the group (unlike The Easybeats, The Blue Jays and their labelmates The Bee Gees). But like The Blue Jays, their choice of material showed off both their versatility and their wide-ranging tastes.
Many songs, were of course standards of the rock repertoire at that time -- the ubiquitous "Louie, Louie", "Shakin' All Over", Ma Rainey's "CC Rider", Eddie Cochrane's "Summertime Blues", Gene Vincent's "Rockin' Pneumonia" and John Lee Hooker's "Dimples". But there were also some less predictable inclusions -- their rocking version of Gershwin's Summertime, a great rendition of Dylan's Maggie's Farm, and even straight pop numbers like The Righteous Brothers' My Babe and Goffin & King's The Locomotion. They also covered Rosco Gordon's Just A Little Bit and Chuck Berry's Talkin' About You, both of which were released as Singles -- with great success -- by Tony Worsley & The Blue Jays.
Probably the Whispers' greatest love, though, was American soul and R&B, and they were tireless champions of the style, covering many numbers by the top performers of that period -- Atlantic artists like Joe Tex, Solomon Burke, Jimmy Hughes, Otis Redding and Wilson Pickett, and Motown acts like The Four Tops and The Miracles. Although widely appreciated by fans and musicians, authentic soul and R&B was largely ignored by Australian radio at the time and The Whispers helped to raise the profile of this music substantially. It was a passion they shared with recent New Zealand imports Max Merritt & The Meteors, and not surprisingly the two bands became good mates during their stints at Sydney's Hawaiian Eye discotheque.
Their first major break in came late in the 1964 when they secured the gig as resident band at Sydney's Surf City and The Beach House, taking over from Billy Thorpe & The Aztecs who were then engaged on interstate tour commitments to support their own hit records. Within a short time the Whispers were regularly pulling in 2000 punters per night on Fridays and Saturdays, and by the new year they were rivalling The Easybeats for popularity in Sydney.
They signed with entrepreneur John Harrigan for manangement, who in turn signed them to a recording contract with Lee Gordon's Leedon label (distributed by Festival) in early 1965, and they enjoyed phenomenal success during 1965/66. The members of the Whispers were -- if you'll pardon the pun -- instrumental in creating the unique sounds which helped to propel these records into the charts, and the high quality on their early recordings is all the more remarkable, given that the band were working with very basic two-track equipment.
Their rise to national fame was meteoric -- in just six months they scored four Top 5 hits in a row in Sydney, including their record achievement -- still unbroken -- of three consecutive #1 hits from their first three releases! They were also among the most prolific recording outfits of the day, with a nine singles, ten EPs and five albums to their credit in in little more than two years.
John: "Nobody ever sat down and planned it, it just happened. I think we were in the right pace at the right time. We really couldn't believe how fast it all happened. One day we were in the garage plunking away and the next day we were being torn apart by girls. We gave up our day jobs and as we became accustomed to it, lived it to the fullest. It was just incredible."
Ray Brown & The Whispers burst onto the charts in January 1965 with their debut single, a revival of Chubby Checker's "20 Miles" (b/w "Devoted To You") produced by Robert Iredale. It went to #1 in Sydney, and also fared well in Melbourne, reaching #26 (there was no national chart at that time). After the first single, Bob Richardson was replaced by Al Jackson.
John: "As soon as we saw him, we knew we wanted him."
Al was born in Queensland and moved to Sydney in 1958. He got his start as a guitarist came when a neighbour, who was a musician, taught him a few chords and loaned him a guitar to practice on. When the Whispers saw him, the hot young lead guitarist was playing in another Harrigan-managed band, The Escorts, backing singer Paul Wayne.
Ray and The Whispers' second single -- and one of their very best recordings-- was a galloping cover of an obscure Billy J. Kramer album track called Pride. It was released in April, backed by an equally fine version of P.F. Sloan's Say It Again. "Pride" contains one of Ray's best vocal performances, and some fine guitar work by new member Al Jackson. It's also an excellent illustration of how Aussie bands were taking lesser-known tracks by overseas artists and turning out versions which often far surpassed the originals (e.g. The Aztec's "Poison Ivy", The Throb's "Fortune Telle" and Normie Rowe's superb cover of "Shakin' All Over").
The third single, released in July, and another fine effort, was a cover of Roosevelt Grier's "Fool, Fool, Fool". Lyrically, the song is pretty slight, being a rather melodramatic variant on the "Mockingbird" theme, with a dash of "I Fought The Law" thrown in. But both sides of the single feature fantastic sounds and performances. Ray's delivery is suitably impassioned, and he makes the most of the high-pitched chorus. According to Glenn A. Baker, much of the credit for the sound is due to the group, especially Al Jackson, as well as to their new producer Bill Shepherd. One of the notable features on "Fool Fool Fool" is the thumping ostinato bass, which Shepherd achieved by having John Manners duplicate the electric bass line on a piano, which was then double-tracked. This resounding double-tracked piano bass-line was a sound Shepherd had already experimented with on Tony Barber's "Someday" and which he returned to and used to great effect the following year on the Bee Gee's last Aussie-made hit, "Spicks & Specks". Both "Pride and "Fool Fool Fool" were deservedly major hits -- both were #1 in Sydney and reached #7 in Melbourne.
The flipside of "Fool Fool Fool" deserves special mention. "Go To Him" is 2'15" of pure sonic adventure, one of those rare and extraordinary B-sides that almost eclipses the main event. It's an incredible chunk of driving proto-garage-psych that stands out like the proverbial shag on a rock. Credited to 'Wayne & Coleman' it's apparently a cover of an obscure song by LA garage band The London Knights, the B-side of their only single (although this is not certain, since the London Knights 45 "Dum Diddle Dee" / "Go To Him" (Mike MK 4200) is generally credited as having been released in 1966).
Whatever the provenance, it's a fantastic, hard-driving piece of doomed-love pop, alternating between minor and major major key from verse to chorus. Lyrically it depicts the narrator realising that his girl loves another, that he can't compete, conceding defeat and telling her to go to her new lover. But the real feature is the outstanding production, and much credit is due to lead guitarist Al Jackson. Playing 12-string lead, fed through a vibrato circuit, Al harnessed the clanging reverberation of Festival's tiled studio walls to get a brilliant, chiming guitar sound which gives the song its remarkable character. His lead lines and rhythm work throughout are superb and the solo is an absolute corker. By combining the guitar with an electric organ (presumably played by Lawrie) which was also put through a vibrato unit, the band created a shimmering bed of sound, spiced by the judicious use of the tubular bells (which also feature on "Fool Fool Fool") in the chorus. Propelled by the Whispers' booming rhythm section, Ray's urgent vocal caps off one of the great hidden classics of '60s Aussie pop.
They narrowly missed out on their fourth consecutive chart-topper when their excellent cover of Wilson Pickett's "In The Midnight Hour" peaked at #2 in Sydney in October and reached #4 in Melbourne. It also featured brass, and some scorching distorted lead from Al Jackson. It was backed by another excellent B-side, "Now Is The Time". It was also included on their last album of the year, Hits & Brass, which featured one side of contemporary soul numbers augmented by brass from Sydney jazzers and session stalwarts Bob Bertles and Tony Buchanan. It was very successful, although the Whispers had reservations about it:
John Manners: "It was an interesting idea but we weren't that keen on it at the time because it it was music that we couldn't easily produce live. It just wasn't the 'raw Balmain sound', as we liked to put it."
By the end of 1965 Ray Brown & The Whispers ranked with Normie Rowe, The Aztecs and the Easybeats as one of the hottest acts in the country. They made regular appearances on all the major pop TV shows and were reputedly so popular that during a Queensland tour, some country towns were given a special holiday to mark their arrival. By the end of 1965, they had already released two LPs, four singles and several EPs, and starting with their second album, Headin' For The Top, they were able to make use of Festival's newly opened four-track studio in Ultimo, enabling them to make great strides in production.
John Manners: "We pioneered electric 12-string guitar, 6-string bass, direct boxes, compression units, and the recording of drum and bass directly to tape. We took it very seriously and tried to create an original band sound of our own."
1966 started promisingly with their first single for the year, a version of "The Tennessee Waltz" which again featured The Cookies. Admittedly, it wasn't quite up to the stellar standards of their '65 singles (and it was backed by a truly deadful little ditty called "I Am What I Am", penned by MPD Ltd's Pete Watson and Danny Finley), but it struck a chord with the public and earned them another Top 10 placing (#6 in February).
According to Ian McFarlane, this was followed by their last Leedon single, "I Can't Get Enough" b/w "ABC Song" (May), although the same song apparently popped up on the B-side of their next single as well. "I Can't Get Enough" is a grooving little soul number and while it's a little rough-and-ready compared to their earlier, more polished efforts, it has a great feel and a blistering fuzz-guitar solo from Al (who had clearly been listening intently to Mike Bloomfield's work on Dylan's Highway 61 Revisited ).
Their seventh single was their first for the Festival label. "Ain't It Strange" / "I Can't Get Enough" (September) was their lowest-charting 45 to date, barely making the Top 20 -- which is a pity, since this powerhouse number certainly ranks as one of their best efforts. The beefy arrangement in the verses bears a strong resemblance to "Go To Him" -- presumably the band thought the feel was too good to waste on a B-side!
Their next single (October) was sadly their final release as Ray Brown & The Whispers, but it was another interesting development, a beat waltz called "Too Late To Come Home". It's also notable for the presence of the unmistakeable backing vocals of The Bee Gees. The two groups had often met in the studio, as John Manners recalled:
"The Gibbs were always around, we used the same studio. They were very enthusiastic and we liked their vocal sound, so we asked them to sing on a session"
The flipside was another fine soul cover, this time Otis Redding's recent hit, "Respect", which was so successfully remade by Aretha Franklin the following year.
Ray Brown & The Whispers were still enormously popular but, behind the scenes, business problems were making things increasingly difficult for the band, and unfortunately it did not last out the year. The team came unstuck mainly due to management hassles -- Ray had been under 21 (then the age of majority in NSW) at the time he signed his first contract, and had virtually no control over his career. It took more than a year for him to extricate himself from this predicament, and as a result Ray and the original Whispers split at the end of 1966, after a final tour in late '66 with their old mates Max Merritt & The Meteors and Billy Thorpe & The Aztecs (who also split after this tour).
The Whispers carried on for a while with original singer Bobby Thomas back on board. Ray put together a 'New Whispers' in early 1967 with Dave Russell (ex-Ray Columbus & The Invaders) on guitar, Ronnie Peel (aka "Rockwell T. James", ex-Missing Links) on bass and Steve Hardy on drums. With the departure of Russell, Brown took over on guitar and the band was renamed The Ray Brown Three, but both groups lasted only a short time. Russell went on to become road manager for Split Enz when they arrived in Australia in 1975, and he also produced their classic debut LP Mental Notes.
As he extricated himself from his contractual problems, Ray set about establishing himself as a solo act and scored another hit -- his last ever, as it turned out - in March 1967 with a cover of the Motown classic "The Same Old Song", (#6), and an album Same Old Song ... Brand New Beat, which featured sterling backup by his old mates Max Merritt & The Meteors on four tracks, including the single. The flip-side, "New Kind Of Love", showed Ray taking on a distinct country style. His final single before leaving Australia was a cover of Pete Townshend's "Ivor The Engine Driver" -- a rather odd choice on the face of it, but an excellent version nonetheless.
Seeking to extend his career, Brown headed overseas late in 1967 and he spent two years working in the US, which included the recording of a solo album Just Ray Brown for Capitol, produced by legendary American composer-arranger-producer David Axelrod. Despite the 'name' producer and large budget it flopped, largely due to poor choices of material by the company. According to a contemporary interview from Go-Set, Ray declared that "... Capitol spent $30,000 on it, put in a 30-piece orchestra and then wouldn't let me pick my own material."
Ray Brown & Moonstone / One Ton Gypsy
Ray returned to Australia in late 1969 and became one of the pioneers of the burgeoning "country rock" sound with his band Moonstone which included Mal Clarke (Tony Worsley & The Fabulous Blue Jays) and Jimmy Doyle (ex Aesop's Fables and later of Ayers Rock) on guitar. They released one highly-regarded album Mad House (October 1969) recorded with a session band including bassist Ed Gaston and drummer Jimmy Thompson (ex-Aztecs). The record is now very collectible, and is described by Ian McFarlane as "... an esoteric blending of country, folk, psychedelia and Eastern influences..." (McFarlane, 1999).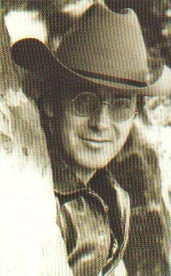 Ray in 1973, around the time of the relase of "Steel Guitar"
Ray spent most of 1971 back in the USA, returning to Australia in November to unveil his new progressively-oriented outfit, One Ton Gypsy which featured three lead vocalists -- Ray, Alison MacCallum and Graham Lowndes -- plus a lineup of industry heavyweights backing them up. OTG went through numerous lineup changes, and known members included Chrissie Amphlett (Divinyls), Ronnie Peel, guitarists Tim Piper and Ray Oliver (Healing Force, Friends) drummer Laurie Pryor (Twilights, Aztecs), Ray Rivamonte, guitarist Lindsay Wells (Healing Force) and pianist Paul Wylde (Blackfeather). One Ton Gypsy regrettably made no studio recordings, and lasted only until 1973, eventually folding due to the cost of keeping such a large outfit on the road. The only extant tracks by this remarkable all-star band are the two songs they performed at the closing of the Garrison venue in Melbourne in mid-1973, which were recorded by Mushroom and later released as the LPs Garrison: The Final Blow. Whether any other songs from One Ton Gypsy were recorded at this event, and if such recordings have survived, is unknown
Ray recorded a superb solo single "Steel Guitar" / "Covered Wagon" for the newly-launched Mushroom label in November 1973. He continued to perform solo, and also revived the Whispers (with new lineups, including Wilbur Wilde) for concert appearances into the 80s.
A former footballer, Ray was always known for his fit and non-indulging lifetyle, so it came as a great shock to friends and fans when he died suddenly on August 16, 1996 from a heart attack, suffered while he was out walking in Annandale with his sister Rose Butler . Ironically, after years of relative obscurity, his funeral was well covered by the news media and it was a fitting tribute that a veritable Who's Who of Australian music attended to farewell this pioneer performer.
Discography
Happily, a few years before Festival went out of business in 2005, all the Ray Brown / Whispers recordings for Leedon and Festival were restored, remastered and released on the comprehensive 2CD anthology The Ultimate Ray Brown & The Whispers on the revived Spin imprint, as part of their exemplary reissue series of 60s Aussie artists compiled by Warren Fahey and chief archivist Warren Barnett. The 59-track set included many rare and previously unreleased tracks, including the recently rediscovered "Look At Me Now" which was cut at the same session as "20 Miles", but scrapped before release. Luckily, the only surviving copy of the recording -- an acetate cut at the session -- had been kept by one of the Whispers, who brought it to Festival's attention during the preparation of the album.
Ray's solo single "Steel Guitar" was included on Raven's 2CD progressive rock compilation Golden Miles and on the Mushroom's Hits of the Seventies compilation
Singles
as Ray Brown & The Whispers:
Jan. 1965
"20 Miles" / "Devoted To You" (Leedon LK-832)
Also released in the US as Cameo-Parkway P-951
Apr. 1965
"Pride" / "Say It Again" (Leedon LK-939)
July 1965
"Fool Fool Fool" / "Go To Him" (Leedon LK-1028)
1965
"Now Is The Time"/ "I Need Your Lovin' " (Leedon LK-1111) (unreleased?)
Oct. 1965
"In The Midnight Hour" / "Now Is The Time" (Leedon LK-1131)
Feb. 1966
"Tennessee Waltz" / "I Am What I Am" (Leedon LK-1216)
May 1966
"I Can't Get Enough" / "ABC Song" (Leedon LK-1360)
Sep. 1966
"Ain't It Strange" / "I Can't" (Festival FK-1380)
Oct. 1966
"Too Late To Come Home" / "Respect" (Festival FK-1522)
Ray Brown solo:

Mar. 1967
"Same Old Song" / "New Kind Of Love" (Festival FK-1664)

1967
"Ivor The Engine Driver"/ "Thats It I Quit" (Festival FK-1880)

July 1969
"Don't Fall In Love" / "I'm Gonna Be A Country Boy Again" (Festival FK-3003)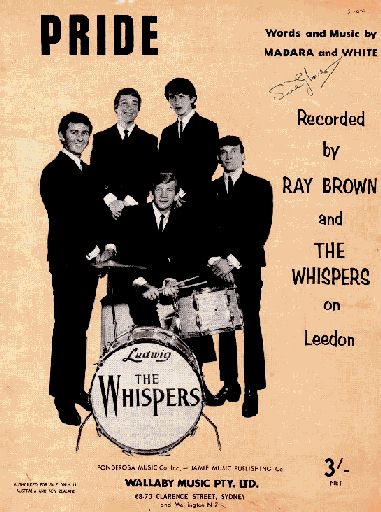 Token Records
EP's
as Ray Brown & The Whispers:
Twenty Miles (Leedon LX-11014)
Devoted To You (Leedon LX-11036)
Pride Leedon (LX-11055)
Fool Fool Fool Leedon (LX-11080)
In The Midnight HourLeedon (LX-11109)
Now Is The TimeLeedon (LX-11111)
Tennessee Waltz Song (Leedon LX-11152)
Ain't It Strange (Festival FX-11194)
as Ray Brown:

The Same Old Song Festival FX-11262

Ivor The Engine DriverFestival FX-11394
Albums
1964
Ray Brown & The Whispers (Leedon LL-31646)
"20 Miles" (Mann-Lowe)
"500 Miles"
"Devoted to You" (Bryant)
"Gonna Send You Back to Walker"
"If You Need Me"
"Old Man Mose"
"Pride" (Madara-White)
"Say it Again" (Barri-Sloane)
"Shakin' all Over" (Heath)
"Skinny Minnie"
"Talking About You"
"You Got That Way"
---
1965
Headin' For The Top (Leedon LL-31721)
(no track details available)
---
1965
Hits & Brass (Leedon LL-31798)


(no track listing available)
---
1967
Dance! Dance! Dance! (Leedon LL-31924)


"Bama Lama Lama Loo"
"Bread & Butter"
"CC Rider"
"The Duck"
"Help Me"
"Little Latin Lupe Lu"
"Loco-Motion"
"Lonely Weekends"
"Louie Louie" (Berry)
"Mickey's Monkey" (Robinson)
"My Babe" (Dixon-Stone)
---
as Ray Brown:
1967
Same Old Song.. Brand New Beat (Festival FL-32258)
(no details available)
---
1969
Just Ray Brown (Festival FL-33358)
(no details available)
---
Miles Of Hits (Festival)
(no details available)
as Ray Brown / Moonstone:
Mad House (Festival SFL-933958)

---
2000
Ray Brown & The Whispers - The Ultimate (Festival D46073) CD



The definitive anthology, compiling every Ray Brown & The Whispers track
References/Links
Glenn A. Baker
liner notes to Ray Brown & The Whispers: The Ultimate CD (Festival, 2000)
Ian McFarlane
Australian Encyclopedia of Rock & Pop (Allen & Unwin, 1999)
Chris Spencer, Zbig Nowara & Paul McHenry
Who's Who of Australian Rock (Five Mile Press, 2002)
Noel McGrath
Encyclopedia of Australian Rock (Outback Press, 1978)
poparchives.com.au
http://www.poparchives.com.au/feature.php?id=63
Real Wild Child CD-ROM (Powerhouse Museum)
Token Records website
(no longer active)
YouTube
"In The Midnight Hour"
http://www.youtube.com/watch?v=wYdYBZY0qr0
Ray Brown and Little Pattie: "Save Your Heart For Me" (from Be Our Guest, ABC-TV)
http://www.youtube.com/watch?v=IIeC8SY_2zk