RCA RECORDS (AUSTRALIA)
Category: wholly-owned subsidary of RCA Records USA



Date:

1963 - 1985; renamed BMG in 1985; now Sony-BMG



Location:

Sydney, NSW


Distributor for: Du Monde (1969-April 1970); Mushroom Productions (ca. 1977), Colgems (USA)






History

RCA group history

RCA Records of Australia Pty Ltd was until 1985 (when it became BMG) a wholly-owned subsidiary of The Radio Corporation of America (RCA), the giant US-based broadcasting, recording and electronics company. The post-WWII structure of the RCA recording group was the outcome of a long and complicated series of mergers, takeovers and divestitures that stretched from the late 1800s to the late 1930s. RCA Records' two principal antecedents were the Radio Corporation of America, founded in 1919, and the Victor Talking Machine Comany, founded in 1901.

RCA was incorporated in 1919 to control US patents held by General Electric, AT&T, Westinghouse and United Fruit. Later that year it acquired British Marconi's controlling interest in American Marconi and the legendary David Sarnoff became the company's General Manager. In 1926 RCA, GE and Westinghouse jointly established the National Broadcasting Company (NBC), which quickly rose to become the largest and most powerful radio broadcaster in America and, later expanded into television, becoming America's largest TV network.

In 1920 the British-based Gramaphone Company (founded in 1898) was taken over by the US-based Victor Talking Machine Company. In 1922 the long-established Columbia Phonograph (USA) sold its UK subsidiary Columbia Graphophone, but then in 1925 Columbia Graphophone (UK) bought its former parent for US$2.5 million and in 1927 Columbia UK acquired a controlling interest in the German Parlophone label. In 1929 RCA moved into the record industry, purchasing the Victor Talking Machine Company and establishing the RCA and RCA Victor recording labels. In 1931 RCA merged The Gramophone Company and the Parlophone Company with the American Columbia Gramophone Company. The new Anglo-American group was incorporated as Electric & Music Industries Ltd (EMI). In 1931, RCA merged its British affiliate The Gramophone Company with American Columbia and the Parlophone label to form Electrical and Musical Industries (EMI), and Victor's majority shareholding in The Gramophone Company gave RCA boss David Sarnoff a seat on the EMI board. RCA was the American distributor for EMI for the next twenty-five years.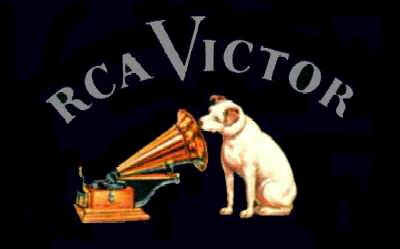 Soon after its formation, EMI was forced to divest itself of the Columbia label because anti-trust concerns raised by its American competitors, and in 1934, both Columbia and the OKeh label were acquired by ARC-BRC (American Record Company-Brunswick Record Company). Then, in 1938 ARC-BRC was taken over by RCA's major rival CBS and the Columbia label thus became part of the CBS Records group. However, CBS only had the rights to use the Columbia name in the USA, Canada and Japan, and EMI retained the right to use the Columbia name in most other countries (including the British Empire/Commonwealth).

RCA established a range of labels to market different categories of recordings -- RCA Records released pop, rock and country music; RCA Victor covered blues, 'folk (world) music, jazz, musicals and other genres; RCA Red Seal and its reissue sub-label RCA Gold Seal dealt with classical music. Prior to its acquisition by RCA, the Victor company had purchased the American rights to the famous "Nipper" logo, created by British artist Francis Barraud and used in Commonwealth countries by the HMV label. Interestingly, contemporary photographs show that Nipper originally depicted listening to an Edison-Bell cylinder phonograph, but after the painting was purchased by The Gramophone Company they commissioned Barraud to paint over the Edison-Bell machine and replace it with one of their own disc gramophones.

RCA sold its stake in EMI in 1935 but retained the rights to the Nipper logo in America, where it became indelibly associated with RCA Victor. However RCA was unable to use the Nipper logo in Commonwealth countries (including Australia and New Zealand), where it was owned by EMI and used on their HMV label.

Other subsidaries included RCA Camden (which specialised in reissuing historic classical and popular recordings from the RCA catalog), RCA Victrola (a budget label introduced in the 1960s to reissue classical recordings from Red Seal catalogue) and RCA Custom. In the 1950s, RCA also had three subsidiary specialty labels, Groove, Vik and X. In 1954 RCA introduced the 'Gruve-Gard' system for its vinyl recordings, in which the center and edge of the disc was made thicker than the playing area, thus reducing scuff marks during handling and when used on a turntable with a record changer, and most of RCA's competitors quickly copied this innovation.

As well as its successful popular, country and classical repertoire, RCA released many notable albums of musicals, including the original Broadway cast recordings of Brigadoon, Paint Your Wagon, the Mary Martin Peter Pan, Damn Yankees, Hello, Dolly!, Oliver!, Fiddler on the Roof and the original American Broadway cast album of Hair, as well as the film soundtrack albums of South Pacific, Exodus and The Sound of Music, which became one of the best-selling soundtracks of all time.

In 1955, RCA moved decisively into rock'n'roll by purchasing the recording contract of Elvis Presley from Sun Records for the then astronomical sum of $35,000. It proved a sound investment however -- Presley became RCA's biggest selling recording artist and one of the biggest-selling performers of all time. In 1957, RCA ended its long association with EMI and signed a UK distribution deal with Decca Records, prompting EMI to purchase Capitol Records and Capitol then became the main distributor for EMI recordings in North and South America. RCA distributed its recordings in the UK (through Decca) on the RCA and RCA Victor labels, but they were obliged to use the RCA "lightning bolt" logo in Britain instead of the well-known 'Nipper' logo (which it had long used in America) since that trademark was owned by EMI's HMV subsidary in most other countries.

In one of the most controversial chapters in its history, RCA Victor decided to demolish its Camden NJ warehouse in the early 1960s. This four-level archive held catalog and vault masters (mostly wax and metal discs) and matrix ledgers, among which were thousands of unique test pressings and lacquer discs of containing alternate takes and rehearsal recordings of its artists, dating back to the 1920s. A few days before the demolition took place, staff from the French Vogue label were allowed to rescue some jazz material, and a group of collectors from the USA and Europe were allowed to go through the doomed warehouse and salvage whatever they could carry out with them for their personal collections. The building was then demolished by explosives with most of the archive still inside and the rubble was then bulldozed into the Delaware River and a pier was built on top of it. The destruction of masters and discs came back to haunt RCA, notably in 1973 when the company decided to release all of Rachmaninoff's recordings on LP to celebrate the centennial of the composer's birth, and was forced to seek the help of record collectors to obtain materials.

In 1965, RCA & Lear Jet Corp. teamed up to release the first stereo 8-track tape cartridges (Stereo-8) which were popular in the late 1960's and 1970's. In late 1968, RCA modernised its image with a futuristic new logo, using the letters RCA in modernised block outline form. The new logo replaced the old lightning bolt logo, and both the "Victor" and Nipper trademarks were gradually retired.

In 1970 RCA issued the first Quadraphonic 4-Channel 8-track tape cartridges (Quad-8, later called just Q8). followed by quadraphonic vinyl recordings (primarily of classical music) recorded in the CD-4 "Quadradisc" format, which required a special cartridge, a 4-channel amplifier and four separate speakers. It competed with the CBS "SQ" system (which was not compatible) but both systems flopped in the marketplace and were shelved within a few years. Although Quadraphonic sound failed at the time, it led to the eventual development of the hugely successful Surround Sound technology, which has boomed with the introduction of the DVD.

In the 1960s RCA began to expand and diversify its international operations, purchasing several major US businesses including Random House publishing (1965), Hertz Rent-a-Car (1967) and Ballantine Books (1973). RCA set up its Australian subsidiary in 1963 (see below) and established its own British distribution arm in 1971, ending its arrangement with Decca. Between 1968 and 1976 the RCA Victor label and its trademark "Nipper" logo were gradually retired.


In 1983, Arista Records (owned by the German Bertelsmann group) sold 50% of its shares to RCA. In 1985, Bertelsmann and RCA formed a joint venture called RCA-Ariola International. In 1985 General Electric purchased RCA for US$6.3 billion, primarily to acquire NBC. GE then sold its 50% stake in RCA-Ariola to its partner Bertelsmann and the company was renamed the Bertelsmann Music Group (BMG). BMG brought back the lightning bolt logo to make clear that RCA Records was no longer co-owned with the other RCA entities which GE sold or closed. BMG also revived the "RCA Victor" label for musical genres other than country, pop and rock. In 2004, Bertelsmann (currently one of the three largest media conglomerates in the world) and the Japanese Sony Coporation merged their music holdings into a joint venture called Sony BMG -- a move which, ironically, united the former RCA labels with those of their long-time competitor CBS, which had been acquired by Sony in the late 1980s.



RCA in Australia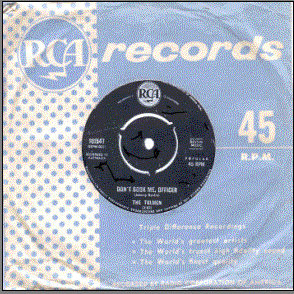 Left: "Don't Book Me Officer" by Sydney folk group The Tolmen (1965)
The earliest known local pop releases by the Australian division of RCA appeared in 1963; it is probably no coincidence that this was the same year that its rival CBS established its own Australian subsidiary. There is very little information about RCA's recording activities in Australia, which is unfortunate, given the many significant Australian performers who recorded for the label over the years. It appears that the company had already been established for some years in Australia -- Mark Casson's book Hegemony of International Business 1945-1970 (Routledge, 1970) notes the growing influence of American-owned companies on the Australian music industry and specifically mentions the "long-established RCA Australia Pty Ltd".
The only major "in-house" reisssue of local recordings from RCA was the Glenn A. Baker-compiled 25 Recycled RCA Rock Relics LP (released in the 1980s). Little of RCA's Australian back-catalogue has been re-released on CD to date; the main exception is the popular surf-instrumental material by bands such as The Denvermen, which has been re-released under licence by local label Canetoad.
RCA released many titles sourced from its extensive American catalogue, so the catalogue numbers for its Australian recordings are not consecutive. However all RCA singles (whether Australian or overseas recordings) used a common six-digit catalogue number prefixed "101" (which turned over to "102" around 1972) and this system remained in use until at least 1975.
EPs were identified with a five-digit catalogue number; the earliest known Australian RCA EP (Namatjira by folk trio The Tolmen) was RCA 20312, released in 1963. Australian LPs were numbered as part of the same '101' series as the singles, but were distinguished with the addition of a "L" prefix. An exception to this sequence was the 1965 self-titled LP by Max Merritt & The Meteors, which (for unknown reasons) was catalogued RPL-3400.
Pioneering Kiwi rocker Johnny Devlin -- who had previously been behind John Collins' Teen label in the late 1950s -- was appointed as the RCA's house producer and A&R manager in late 1963, even though he was signed to Festival as a recording artist at the time. Devlin produced some of RCA's early recordings and penned numerous songs for RCA artists including The Denvermen (whom he also managed). In this period Devlin often used The Denvermen as the session band for RCA's roster of artists, which included Lee Sellers, Del Juliana and Tony Brady.
RCA recorded a wide range of Australian performers in the Sixties and early 1970s, beginning with a string of surf-intrumental sides by groups like The Denvermen -- whose classic HMV single"Surfside" was a #1 hit in Sydney in early 1963 -- The Renegades and The Midnighters (which included guitarist-composer Michael Wade, later a member of the house bands for Hair and Jesus Christ Superstar.
It's often forgotten that 'surf' music was hugely popular with young Australan and New Zealand musicians; -- an entire generation of budding guitarists in the late 50s and early '60s cite The Shadows' Hank Marvin as their primary formative inlfuence. Surf culture in general was a major movement in and around Sydney at the time, a fact demonstrated by the National Stomping Championship held at Narrabeen in late 1963, which drew an astounding 45,000 fans.
RCA Australia's original label design (pictured above) was a black label with silver lettering, featuring the famous RCA "lightning bolt' logo. The earliest single by an Australian pop artist listed in Ross Laird's "First Wave" discography of Australian pop recordings is "Over The Rainbow" (RCA 101530), recorded by Digger Revell & The Denvermen and released in 1963. RCA's first local hit was "Kahuna" by Cronulla surf group The Renegades, produced by Devlin and recorded at AWA's 3-track studio in central Sydney. It reached #8 in Sydney in January 1964.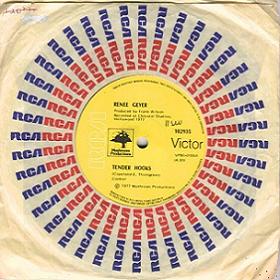 Other 'pop' acts who recorded for RCA in this period included Johnny Devlin, The Changing Times, The Flies (with Ronnie Burns), Max Merritt & The Meteors, The Charades, The Cicadas, Colin Buckley, The Cardinals (a vocal trio that included AWA panel operator and future EMI house producer David Mackay), The Feelgoods, The Grape Escape, Jon Blanchfield, John Francis (who became better known in the '70s as John J. Francis), The Chosen Few, Bobby & Laurie, Freshwater, Alison MacCallum, Headband, Fraternity, Bev Harrell, Glenys Hewett (sister of Colleen), The Beachcombers, Digby Richards, Brenda Kristian.
RCA released a number of singles that are of interest to Bee Gees aficionados. Although the Bee Gees themslves were contracted to the Leedon label, Barry Gibb was emerging as a talented and very productive writer during 1963-64, and among the many songs he composed were several that were recorded by RCA performers. Tony Brady's 1964 single "Let's Stomp, Australia Way" was a collaboration between Barry and Johnny Devlin, and it marked Gibb's first ever co-writing credit; the B-side ("Lucky Me") was a Gibb solo composition. Barry also wrote Del Juliana's "Never Like This" (1964) and wrote both sides of Lori Balmer's 1966 single "Who's been writing on the wall again" / "InÊyour world" on which the young singer -- then only ten years old -- was backed by The Bee Gees.
Some of the Australian acts who recorded for RCA in the Sixties and early Seventies are yet to be identified, since most of the available discographical information on Australian labels of this period only covers recordings classified as "pop" or "rock". One of these acts was Sydney folk group The Tolmen, whose recordings featured uncredited session guitar and banjo by noted American-born musician Dave Guard, a former member of the renowned folk group The Kingston Trio.
RCA introduced its new logo in 1968 in the USA, but the black label and lightning-bolt logo evidently remained in use in Australia for some time afterwards, e.g. the 1969 'comeback' single by Bobby & Laurie, "The Carroll County Accident" was released on the older-style black label.
Notable Australian acts signed by RCA in the early 1970s including Perth-based progressive rock band Bakery and all-star Melbourne band King Harvest, which was fronted by the renowned Leo De Castro. RCA's most successful Australian artist of the 1970s was Renee Geyer. Her first recordings were released and distributed by RCA, but after her debut LP she signed an independent production deal with Mushroom -- her manager at the time was Ray Evans, one of the directors of Mushroom). The single pictured at left shows Renee's 1977 single "Tender Hooks", which carries the Mushroom Productions logo.
RCA had released the album by her first band, the jazz-rock group Sun, and RCA then signed Renee to a solo contract in 1973 and released her debut album, on which she was backed (at her insistence) by her then band Mother Earth. Her follow up album It's A Man's Man's World (produced by Tweed Harris) was released in 1974 and became her first charting record. The title track, her classic rendition of the James Brown hit from 1965, was her first hit single. She then formed her own band, Sanctuary, to promote the album. By this time Renee had become disenchanted with RCA's refusal to let her record more original material. She was prepared to sit out her contract if necessary, but Mushroom Records was able to strike a deal with RCA, whereby they would produce her recordings, which were then leased to RCA, who would release and distribute the albums and singles with the Mushroom Productions logo stamped on the label.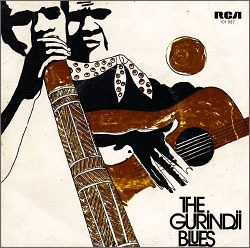 One of the most interesting and culturally significant singles on RCA was the 1971 single "The Gurindji Blues" b/w "The Tribal Land" (pictured at right), recorded by Gurindji elder Vincent Lingiari and Yolngnu man Galarrwuy Yunupingu. Lingiari had been one of the leaders of the legendary Gurindji strike at Wave Hill station in 1966. The A-side, "The Gurindji Blues" was co-written by folk singer Ted Egan with Vincent Lingiari and was reportedly penned in reaction to disparaging comments about Wave Hill dispute made by then Interior Minister, Peter Nixon. It is also notable as one of the first known Australian RCA singles to be released in a picture sleeve.
Among its extensive international catalogue, RCA's greatest and most enduring success in Australia was with its flagship artist, Elvis Presely, whose sales and popularity have continued to grow in the decades since his death. RCA also enjoyed great pop chart and sales success in the mid-60s with The Monkees, who scored several major hits here, and they also released one of the leading psychedelic rock groups of the period, Jefferson Airplane. Other notable American pop/rock acts in the RCA catalogue from this period included Duane Eddy, Sam Cooke, The Mamas & The Papas, The Archies, The Guess Who, The Youngbloods, Zager & Evans, Jose Feliciano, Joan Baez, Nilsson, John Denver and, from 1971 onwards, The Kinks.
RCA also released popular "mainstream" artists such as Paul Anka, Harry Belafonte, Jack Jones, Peter Nero, Henry Mancini, Hugo Montenegro and exotica king Esquivel, country artists including Chet Atkins, Charlie Pride, Floyd Cramer, Jim Reeves and Willie Nelson, and jazz artists such as Paul Desmond, Sonny Rollins and Duke Ellington. RCA's classical roster included its flagship artist, renowned pianist Arthur Rubenstein (who toured Australia at the same time as The Beatles), Arthur Fiedler & The Boston Pops Orchestra, The Toronto Symphony Orchestra, Astor Piazolla, and The National Philharmonic Orchestra
New international signings continued RCA's critical and commercial success in the 1970s, spearheaded by David Bowie, who recorded for RCA during his most creatively successful period, from the Hunky Dory album in 1971 to Scary Monsters in 1979, although the company subsequently lost the rights to Bowie's back catalogue ca. 1990, when it was acquired by EMI. Bowie's friend and musical hero Lou Reed also enjoyed his greatest commercial success in that period, recording a string of classic albums for RCA in the early 70s. His biggest commercial successes was the Bowie/Ronson-produced Transformer (1972) and its hit single "Walk on the Wild Side"; RCA also did well with Reed's groundbreaking live album Rock'n'Roll Animal (1973), as well as the critically acclaimed LPs Berlin and Sally Can't Dance. Reed's stint with RCA ended in spectacular fashion with his infamous double album of industrial noise, Metal Machine Music (1974), which outraged and/or bemused most Reed fans, and was returned to the company in unprecedented quantities, forcing RCA to terminate Reed's contract.
RCA also had considerable success with British glam-rock band The Sweet, but by far its biggest success in Australasia was Swedish mega-group ABBA. Thanks largely to Countdown, Australia was one of the first countries in which ABBA scored hits, and Australasia became one of ABBA's biggest territories. The group toured here in 1976 to scenes of fan frenzy reminiscent of the heyday of Beatlemania.
Propelled by the rising importance of music video, RCA had another major run of success in the Eighties with UK acts Eurythmics (Annie Lennox and Dave Stewart) and solo singer-songwriter Joan Armatrading. The ABC's Double Jay/Triple J was probably the first station in Australia to play Armatrading, who became one of the most popular solo artists of the late 70s and early 80s. Countdown was very important in breaking these performers in Australia -- it had already given exposure to Eurythmics' predecessor The Tourists (whose version of "I Only Want To Be With You" became a minor hit here, due almost entirely to the support of Countdown) and like many other acts, the Australian success of acts like Eurythmics (supported by the nationwide promotional power of Countdown) helped to the group to break into the all-important US market, where the concurrent advent of MTV proved crucial to their success.
Discography
Australian recordings 1963-1975
NOTE: like its major competitors CBS, EMI and Festival, the Australian RCA label signed and recorded a wide range of local artists whose work falls outside the "pop-rock" category. This includes folk, country, jazz and "middle of the road" popular vocal and instrumental recordings, as well as titles sourced from RCA's extensive classical catalogue. Because the 45rpm discographies used as sources for this listing concentrate on the pop-rock genre, this discography list is not complete, and we expect that many more locally-recorded titles will be identified in the future.

This listing only covers Australian RCA recordings. The RCA listing on the Rockzirkus forum, from which many of these releases were identified, also includes a listing of New Zealand RCA releases.

Singles
CAT. #
DATE
ARTIST
TITLE
101530
1963
Digger Revell & The Denvermen
"Over The Rainbow"
"I'm Gonna Make You"
101533
1963
The Denvermen
"Sun Seeker" (Devlin)
"Stomp Fever" (Devlin)
101535
1963
The Midnighters
"Maroubra" (Michael Wade)
"Goofy Foot" (Michael Wade)
101536
1963
Rod Dunbar
"Big Brother" (Dunbar)
"You Got What I LIke" (E. Greenwich)
101539
1963
The Renegades
"Kahuna"
"Hot Sands"
101540
1963
The Denvermen
"Mystery Wave"
"Spanish Sands"
101541
1963
Kathie MacCormack
A: "Vaya Con Dios" (Larry Russell)
B: "Wishing Star" (Kersten-Melrose)
101542
1964
Tony Brady & The Coronets
A: "Let's Stomp Australia Way (R. Gibb-J.Devlin)"
B: "Lucky Me" (B. Gibb)
101543
1964
Tony Weston with The Denvermen
"Hootenany Stomp"
"Forever Mine"
101544
1964
Digger Revell & The Denvermen
A: "My Little Rocker's Turned Surfie" (Johnny Devlin)
B: "Tip of my tongue" (Lennon-McCartney)
101546
1964
Tony Brady & The Coronets
A: "Dining And Dancing" (Bobby Sharp)
B: "Surf Ridin'" (Kaufman-Anthony)
101547
Feb. 1964
The Tolmen
A: "Don't book me, officer" (Johnny Devlin)
B: "Moonie"
101548
1964
Pam Oakley & The Viscounts
A: "I want to be a surfer girl"
B: "Teenage Prayer"
101550
1964
The Midnighters
"Shark chase" (Midnighters)
"Ridin' High" (Michael Wade)
101552
1964
The Cicadas
"That's What I Want"
"Hey Wha D'ya Say"
101554
1964
The Denvermen
"The Rebel"
"Vaquero"
101555
1964
The Charades
"The Lonely Beach" (Johnny Devlin)
"The Big Dipper" (Paul Baker)

101557
1964
Digger Revell & The Denvermen
"Just call on me" (Williams-Conde)
"Mr Moon, Mr Cupid and I" (Gene Pitney)

101558
1964
Del Juliana
"You're Driving Me Crazy" (H.B.Barnum)
"I Was A Fool For Leaving" (Deleston-Otis)
101559
1964
Kathie McCormack
"Afraid"
"Memories are made of this"
101560
1964
The Midnighters
"Moon Shot"
"First love"
101561
1964
The Cicadas
"I Need You"
"I'll Prove It"
101562
1964
Lorrae Desmond
"Everybody's got a home but me"
"Cannibal Mardi Gras"
101563
1964
Del Juliana
"Never Like This" (B.Gibb)
"What'd I Say" (R.Charles)
101565
1964
Barry Stanton
"A tribute to the King" (Johnny Devlin)
"That's right, all right" (Rod Stanton)

101566
1964
Digger Revell & The Denvermen
"Don't you know" (Digger Revell)
"C'mon let's go" (Wiseman-Deane)

101568
1964
The Cicadas
"Always On My Mind"
"Let's Try Again"
101569
1964
Lee Sellers
"If you try to steal my baby" (Joy Byers)
"Tell him I'm not home" (Jeff Barry)
101570
1964
The Denvermen
"Surfers Blues"
"Proud Ones"
101571
1964
The Charades
"Whisper By Whisper"
"New Orleans"
101574
1964
The Viscounts
A: "Do the dog" (Rufus Thomas)
B: "All for you" (Fed Lawrence)
101576
1964
Digger Revell & The Denvermen
"Jenny. Jenny" (Johnson-Penniman)
"I love the way you love me" (Digger Revell)

101577
1964
The Denvermen
"She's Gone" (Marvin-Harris)
"Route No. 1"

101578
1965
The Fugitives
"I'm Gonna Give My Love To You"
"Really Gonna Shake"
101579
1965
Lorrae Desmond
"Never before"
"Between goodbye and hello"
101582
1965
Brian Withers
"All time loser" (June Sparks)
"What was that" (Peter Hitchcock)
101583
1965
The Cicadas
"Is It Love?"
"I Am"
101584
1964
The Chantinos
"Since I Fell In Love With You"
"Don't say nothin' (if you can't say anything nice)"
101586
1964
The Flies
"I'll Be In Love With You"
"Tell Her That"
101588
1964
Digger Revell & The Denvermen
"A shot of rhythm and blues" (Thompson)
"Take your time" (Petty-Holly)

101589
1965
The Charades
"Northwest Of Broken Hill"
"When Someone Cares"
101590
1965
Brian Withers
"The cling's the thing" (Williams-Conde)
"Do the cling" (Williams-Conde)
101591
1965
Johnny Devlin & The Devils
"You Won't Be My Baby" (Devlin)
"Walk Your Cat" (Devlin)
101592
1965
Ray Hoff & The Offbeats
"Little Queenie"
"What Do You Want Me To Do"
101596
1965
Marlene Atcheson
A: "That's not for me"
B: "You are the one boy for me"
101598
1965
The Changing Times
A: "I'm Going Away"
B: "Mary Lou"
101599
1965
The Denvermen
"Bird Dog"
"Without You"
101600
1964
Digger Revell & The Denvermen
"High School Confidential" (Hargrave-Lewis)
"My prayer" (Kennedy-Boulanger)

101601
Apr. 1965
Max Merritt & The Meteors
"So Long Babe"
"You're Treating Me Bad"
101602
1965
Pam Oakley with orchestra dir. by Milton Saunders
"Keep your hands off my baby" (Goffin-King)
"If it wasn't for you" (Pam Oakley)
101603
1965
The Midnighters
"Betty Lou"
"Hootchy kootchy man"
101611
1965
Athol McCoy and the Rhythm Ramblers
"Scobie's hangover" (Doug Young)
"Things are really changing" (Nicholls-McCoy)
101618
1965
The Flies
"Doin' The Mod"
"Ain't That Just Like Me"
101621
1965
Marlene Atcheson
"The colour of love"
"Happy"
101624
1965
The Charades
"I Only Dream Of You" (Paul Baker)
"Don't Try"
101626
1965
Barry Stanton
"My little Emmy"
"Dancing partner"
101628
1965
Jamie Mahar
"Look at you"
"Walk into the dawn"
101629
1965
Johnny Devlin & The Devils
"When I Have To Go Away" (Devlin)
"Stagger Lee"

101631
1965
The Changing Times
"Wonderful Wonderful"
"It Ain't So"
101633
1965
The Flies
"Can't You Feel"
"I'll Pass On By"
101634
1965
Wendy Sullivan
"Will you want me tomorrow" (Williams-Conde)
"The right road to heartache" (Williams-Conde)

101635
1965
Digger Revell with orchestra dir. by Tommy Tyhco
"I'm gonna send you back to Georgia" (Matthews-Hammond)
"Twilight time" (Ram -Lewis-Nevins-Dunn)

101637
1965
The Chantinos
"Dominique" / "Breaking Point"
101639
1965
Colin Buckley
"When I Fall In Love" (Heyman-Young)
"Hand Jive" (Johnny Otis)
101642
1965
Johnny Devlin & The Devils
"I Lost Your Love" (Devlin)
"Donna" (Devlin)

101652
1965
The Cardinals with The Devils
"Softly As I Leave You"
"20 And In"
101666
1965
Digger Revell w/ orchestra dir. by Tommy Tyhco
"As long as she needs me" (Lionel Bart)
"You'd better move on" (Alexander)

101667
1965
Marlene Atcheson
A: "He's the boy I love"
B: " Spinning Around"
101668
1965
Brian Withers
"Crazy talk" (Tills-Walker)
"Let's kiss" (Warren Williams-Franz Conde)
101669
1965
Ernie Sigley
"Think about me" (Colin Kirby)
" Mona Lisa" (Livingstone-Evans)
101672
1966
Johnny Veen with The Shindigs
"He"
"So mystifying" (Ray Davies)

101675
1966
The Devils
"Don't Do It" (Devlin)
"Way Down Yonder In New Orleans"

101677
1966
Lori (Balmer) w/ orchestra dir. by Tommy Tycho
"Banjo Boy"
"The dickey bird song"
101678
1966
Lori (Balmer) w/ orchestra dir. by Tommy Tycho
"Pink shoe laces"
"Side by side"
101681
1966
Ernie Sigley, w/ musical direction by John Crossing
"Hey! Girl" (Neilson-Crossing)
"It's almost tomorrow" (Adkinson)
101684
1966
Colin Buckley
A: "Little Egypt" (Liber-Stoller)
B: "Got My Eyes On You" (Dave Burgess)
101688
1966
The Twiliters
"Dismal Currency"
"Creamsleeves"
101690
1966
Jamie Mahar w/ orchestra cond. by Tommy Tycho
"Come home baby"
"Angela Jones"
101692
1966
Digger Revell
"Worried Man" (Guard-Glazer)
"You got what it takes" (Gordy-Davis-Gordy)

101694
1966
Colin Buckley & The In Crowd
"Thirteen Women" (Thompson)
"Blood From A Stone" (Batchelor-Stephens)
101697
1966
The Top Cats
"Please don't touch" (B.F.Wood)
"Diana" (Anka)
101700
1966
Tina Date
"A Single Girl"
"Spinning Wheel"
101701
1966
Lori (Balmer) with The Charades
"Poor little black sheep"
"If I knew you were coming (I'd have baked a cake)"
101706
1966
Wendy Sullivan w/ orch. conducted by Tommy Tycho
"So proud of you" (Maras-Calco-Nilsson)
"Some other girl" (Mills)
101708
1966
The Cardinals
"All My World Was You"
"You Know" (David Mackay)
101718
1966
Johnny Veen with The Charades
"You Know He Did" (Ransford)
"When I Fall In Love" (Heyman-Young)
101721
1967
The Top Cats
"Dream lover" (Bobby Darin)
"Lost John" (Lonnie Donegan)
101722
1967
Colin Buckley
"Itty Bitty Love"
"Take These Chains From My Heart"
101723
1966
Digger Revell w/ orchestra dir. by Tommy Tycho
Digger Revell
"My mammy" (Young-Lewis-Donaldson)
"You won't find that kind in me" (Gentry-Cordell)

101727
1965
The Feelgoods
"Till You Find Out"
"A Nightingale Sang In Berkeley Square"

101728
1965
The Feelgoods
"Good Morning Little Schoolgirl"
"What Will It Be Like?"
101729
1966
Digger Revell
"Our love is slipping away" (Carter-Lewis)
"It's so easy" (Holly-Petty)

101730
1966
Brian Withers w/ Don Whittaker & His Orchestra
For no one (Lennon-McCartney)
"Here, there and everywhere" (Lennon-McCartney)

101733
1966
The Reno Brothers
"Close to my heart"
"Come to me"
101741
1966
Phil Lanham
"When I dance with you"
"Remember me"
101743
1966
Barry Newman
"Find out what's happening" (Crutchfield)
"I'll forgive you but I won't forget" (Pomus-Shuman)
101744
1967
Lori (Lori Balmer)
"Who's been writing on the wall" (B.Gibb)
"In your world" (B.Gibb)
101746
1967
The Grape Escape
"Easy Life" (Chris Bonnett)
"Night Plane" (Chris Bonnett)
101747
1967
Ernie Sigley, w/ orchestra dir. by Tommy Tycho
"A boy without a girl" (Bricusse)
"True Love" (Frankie Davidson)
101752
1967
Phil Lanham w/ orchestra cond. by Tommy Tycho
"Lost in the stars" (Anderson-Weill)
"You're gonna hear from me" (Previn)
101754
1967
The Grape Escape
"Is Your Soul Drip Dry?"
"Happier the day"
101758
1967
Lori (Balmer) with The Marksmen
"Wear a yellow raincoat" (Clive Clayton-John Egginton)
"Silly Billy Blunder"
101760
1967
The Reno Brothers
"The Marionettes" (Christophe)
"Melodie d'amour" (john-salvador)
101761
1967
The Feelgoods
"Le Soliel"
"Antoinette"
101764
1967
Gita Rivera w/ orchestra drir. by Tommy Tycho
"The streets are not deserted now" (Toni & Royce)
"Just once more" (Al Western)
101775
1967
Kenny Dee with orchestra
ararnged and conducted by John Charter
"Someone Like You" (Dee)
"What is love" (Dee)
101779
1967
Gita Rivera w/ orchestra drir. by Tommy Tycho
"Letters"
"My heart just died"
101780
1967
John Meillon w/ orchestra dir. by Tommy Tycho
"Hot pie and tomato sauce"
"We're a weird mob"
101782
1967
Digger Revell w/ orchestra dir. by Tommy Tycho
"Sunshine on my shoulder" (Michael Morris)
"All for the love of a girl" (Johnny Horton)

101794
1967
Jon Blanchfield
A: "You've Got A Lot Of Livin' " (Ross-Cadd)
B: "Time" (Ross-Cadd)
101795
1967
The John Francis Collexion
"You Tell Me" (Francis)
"I Talk To Trees" (Francis)

101796
1967
The Syssys
"The singer not the song" (Jagger-Richards)
"Baby, don't do it" (Holland-Dozier-Holland)

101802
1967
Digger Revell w/ orchestra dir. by Tommy Tycho
"Funny how time slips away" (Nelson)
"Who cares" (John Shaw)

101803
1967
The Creatures
"Ugly Thing" (Matcham-Lawrie)
"Your one and only man"

101804
1967
The New Edition
"A look at you"
"About You Girl"
101811
1968
Jon Blanchfield
"Lavender Girl" (G.Henman)
"Look What I've Got" (Fischoff-Bayer)
101819
1968
Jon Blanchfield w/ orchestra dir. by Johnny Hawker
"Pray For Love" (Sedaka-Atkins)
"Somebody To Love" (Darby Slick)
101828
1968
Geoff Brown
"Jindivick"
"There's A Mountain To Climb"
101835
1968
The Hendry Sisters
"Bimbo" (Ros Morris)
"It's such a pretty world" (Dale Noe)
101836
1968
Norma Stoneman
"Do"
"Don't change"
101843
1969
Jon Blanchfield
"Baby, Get In The Groove" (Peter Williams)
B: "Reach For The Sun" (Ross-Cadd)
101844
1968
Robert Gennari w/ orchestra directed by Rocky Thomas
"When will the sun shine again?"
"She wears my ring"
101846
1969
Andy King
"I don't care" (King)
"I play the cheating game" (King)
unknown
1969
The Limit
"I'll see you there" (King)
"Happy life" (King)
101850
1968
The Limit
"I'll see you there"
"Happy life"
101853
1969
Kevin McCann w/ orchestra dir. by Rocky Thomas
"What a scene" (McCann)
"Sunny and me"
101854
1969
Kevin McCann w/ orchestra dir. by Rocky Thomas
"I've got you on my mind"
"The skeleton on the roundabout" (J.Lynne)
101858
1969
Jon Blanchfield
A: "She's My Baby" (Finch-Turnbull-Moffatt)
B: "I Get So Excited" (Gordon Grant)
101860
1969
John Vincent & The In-Sect
A: "Madge's Charity Badges" (Vincent)
B: "Choko Brandy" (Vincent)
101864
1969
Oakapple Day plus The Deadly Pair
"Moon Shot" (Bannerman-Stokes)
"Let's do it on the moon" (Bannerman-Stokes)
101867
1969
Travis Wellingotn Hedge
"Hey Bulldog" (Lennon-McCartney)
"I put a spell on you" (Hawkins)
101868
1969
Ernie Sigley, w/ orchestra and chorus dir. by Tommy Tycho
"Mary's boy child" (Hairston)
"Brush those tears from your eyes" (Halderman-Trace-Lee)
101870
1969
Bobby & Laurie
"The Carroll County Accident" (Bob Ferguson)
"Hole In The Ground" (Laurie Allen)
101871
1969
Phil McLean w/ orchestra dir. by Frank Smith
"Savage Shadows" (Bria Reason-Frank Smith)
"And the rain came down" (Geoffrey Fry-Frank Smith)
101872
1969
Ed Devereaux with orchestra dir. by Rocky Thomas
"Under the water - under the sea" (Rene Devereaux)
"Champagne"
101874
1969
Jon Blanchfield
"Son Of A Simple Man" (Cadd-Mudie)
"Waltzing Matilda" (Paterson-Cowan)
101875
1969
Max Merritt & The Meteors
"Hey Western Union Man"
"Home is where the heart is"
101878
1969
Ron Barry
"Keep One Foot In The Door" (Produced by Paul Anka)
?
101879
1969
A: The In People Present Tony Gaha
(prod. Paul Anka, arr. Jimmy Webb)
B: The In People's Ron Barry
"Can't Get You Out Of My Mind" (Anka)
"Keep one foot in the door" (Anka)
101885
1969
John Vincent
John Vincent's Innamincka Show Band
A: "Ow ya goin' Santa Claus" (Vincent)
B: "We're both sorry now" (Vincent)
101886
1969
Barry Ion, Peter Plus w/ The Coachmen & The Carousels Minus 1
"Little Boys"
"Giddyup (Ding Dong)"
101894
1969
Bobby & Laurie
"Through The Eyes Of Love"
"Trouble On The Turnpike"
RCA Custom
ZHLM-0371
1970
Normie Rowe
"Rockhampton Happening"
"Rockhampton Happening"
101908
Feb. 1971
Max Merritt & The Meteors
"Good Feeling"
"I Can't Wait "
101911
1971
King Harvest
"Witchita Lineman"
"Summer In The City"
101916
July 1971
Bakery
"Bloodsucker"
"Leave Scruffy Alone"
unknown
1971
Bullett
"Leaving"
?
unknown
1971
Bullett
"Leave That Girl Alone"
?
101919
1971
Bruce Woodley
"Friends"
"Rattler"
101922
1971
King Harvest
"Jumpin' Jack Flash, Part 1"
"Jumpin' Jack Flash, Part 2"
101927
May 1971
Max Merritt & The Meteors
"Hello L.A., Goodbye Birmingham"
"Live Levis" (Aulton)
101937
1971
Galarrwuy Yunupingu & Vincent Lingiari
"The Gurindji Blues" (Lingiari-Egan)
"The Tribal Land"
101939
1971
Bruce Woodley
"Flying New Mexico"
"Anything you might say"
101940
1971
Digby Richards
"A Little Piece Of Peace"
"Show Me The Way"
101941
1971
Whistler's Mother
"Steamboat Willie"
"Mr. Big"
101944
1971
Freshwater feat. Alison MacCallum
"Hello Sunshine"
"I Ain't Got The Time"
101967
1971
Digby Richards
"Just Lovin' You"
"One Voice In A Million"
101969
1971
Ernie Sigley
"City of the Angels"
?
101985
1971
Digger Revell
"Mary Jane"
"Satisfied Man"
101992
1971
Sunshine
"Luke McCoy"
"Sweet Little Mama"
unknown
1971
The Beachcombers
"Sing My Song"
?
102001
1971
Jon Blanchfield
"Lucy's Place"
"Is it true"
102019
1972
Alison MacCallum
"Superman" (Vanda-Young)
"Take Me Back"
102034
1972
Fraternity
"Welfare Boogie"
"Getting Off"
102038
1972
Fraternity
"Welfare Boogie"
"Annabelle"
102040
1972
Digby Richards
"People Call Me Country"
"The Dancer"
102058
1972
Jon Blanchfield
"Let The Good Times Roll"
"Shenandoah"
102087
1972
Digger Revell
"Take A Look"
"Road To Nowhere"
unknown
1972
Caboose
"Ballad Of Frank A. Lane"
?
102113
1972
Digby Richards
"Dirty River"
"Ashton Country Park"
102146
1972
Headband
"Land Of Supercars"
"How Much I Miss The Country"
102162
1972
Ray Columbus
"Come-Back-A-Rocker-Tracker"
"When The Sun Shines Thru"
102260
1973
Bev Harrell
"It Was Easy"
"The Right Thing To Do"
?
1973
The Graduate
"Riverboat Queen"
?
102314
1973
Glenys Hewett
"C'est La Vie"
?
102345
1973
Renee Geyer
"Space Captain"
"If Only You Believe"
102373
1973
Digby Richards
"If I Could Write A Love Song"
"Sweetwater Valley"
102380
1973
Bev Harrell
"Carole By Candlelight"
"You've Got To Save Me"
102396
1973
Digby Richards
"New York City (Send My Baby Home)"
"Dawning Of The Morning"
102408
1973
Brenda Kristen (aka Brenda Glover)
"Touch the Wind (Eres Tu)"
"Put a Little Love Away"
102416
1973
Digby Richards
"Time To Go To Bed"
"All Things Bright And Beautiful"
unknown
1973
Renee Geyer
"Oh Boy"
"No Such Thing As Love"
unknown
1974
Renee Geyer
"It's Been A Long Time"
"Take Me Where You Took Me Last Night"
102439
1974
Digby Richards
"Do The Spunky Monkey"
"Daddy Was A Dance Man"
102478
1974
Renee Geyer
"What Do I Do On A Sunday Morning?"
"Scarlet Ribbons"
102486
1974
Digby Richards
"Be My Day"
"Be My Guitar"
102505
1974
The Beachcombers
"Song For Happy"
?
102510
1974
Bev Harrell
"Mon Pere"
"I Believe In Music"
102538
1974
Renee Geyer
"It's A Man's Man's Man's World"
"Once In A Lifetime Thing"
102547
1975
Digby Richards
"Old Mr. Hard Times"
"Love Bee"
102563
1975
Johnny Ashcroft
"Darwin Lives On"
"Darwin Lives On" (Instrumental)
102575
1975
John Torv
"Too Much Funky Business" (Chuck Berry)
"Danny's Song"
102595
1975
Digby Richards
"Little Suzuki"
"Girl Like You"
102603
1975
Kush
"I'm your football"
"Out of my tree"
102622
1975
Johnny Ashcroft
"Holy Joe The Salvo"
"A Song For Danny"
102633
1975
Cloud Nine
"Hi There"
?
unknown
1975
The Beachcombers
"Cruisin' "
?
102641
1975
Digby Richards
"Raincoat In The River"
"Havin' It Straight"
102672
1975
Renee Geyer
"(I Give You) Sweet Love"
"Love's Got A Hold"
unknown
197?
John Hayton
"Fat Albert"
?
102679
1976?
Johnny Ashcroft
"Darlin' Biddy"
"Dorrigo Tiptoe"
EPs
CAT. #
DATE
ARTIST
TITLE

TRACKS

20312
Aug. 1964
The Tolmen

Namatjira

"Namatjira" / "Puttin' on the Style"
"The Endeavor" / "Eureka Stockade"
20313
1964
The Denvermen
Stomp Fever
"Stomp Fever" / "Ho Dad" /
20321
1964
The Tolmen

Pieces of Folk

?
20416
1964
Digger Revell
You Belong To Me
"You belong to me" /

20453
1965?
The Twiliters
The Twiliters
"Waltzing Mathilda" / "The Albury Ram"
"The Reedy Lagoon" / "Lazy Harry's"
20467
1965
The Flies
The Flies Featuring Ronnie Burns
"I'll be in love with you" / "Tell her that
? / ?
20499
196?
The Twiliters
Good Grief...it's The Twiliters
"Windy" / "Shades of grey"
"That's your way", "Big big city"
20507
1969
Ernie Sigley w/ musical direction by John Crossing
True Love
"A clown am I" (W. Atwell) / "A million years ago" (Tree)
"A boy without a girl" / "True Love"
6603C
1966?
The Henchmen
Music from the M.U.A.S.C.'s
1966 Architects Revue Film
?
Albums
CAT. #
DATE
ARTIST
TITLE
L-101537
1963
The Denvermen
Let's Go Surfside
L 101627
1965
Digger Revell

My Prayer

SL-101676
1965
Tina Date

A Single Girl


Produced by Ron Wills
RPL-3400
1965
Max Merritt & The Meteors
Max Merritt's Meteors
Camden CAMS-127
1966
The Twiliters
Great Day with The Twiliters
SL-101891
1969
Max Merritt & The Meteors
Max Merritt & The Meteors
Camden CAM-169
1970
Jon Blanchfield
Jon Blanchfield
SL-101897
1970
Bob Young (composer)

Adam's Woman

- original soundtrack
RCA Custom ZHLM 0371
1970
Normie Rowe

Rockhampton Happening

SL-101906
1971
Max Merritt & The Meteors
Stray Cats
Victor SL-101910
1972
Bruce Woodley

Just Good Friends

SL-102035
1972
Digby Richards

Harlequin

SL-102036
1972
Alison MacCallum

Freshwater

SL-102038
1972
Fraternity
Flaming Galah
SL-102164
Oct. 1972
Sun (featuring Renee Geyer)
Sun 1972
MSL-102305
1973
Renee Geyer
Renee Geyer
VCLI-0009
1974
Alison MacCallum
Any Way You Want Me
(re-release of Freshwater with new title and cover)
MVPLI-0017
1974
Bev Harrell
I Believe In Music
MVLPI-0024-G
1974
Renee Geyer
It's A Man's Man's World
VPLI-0071
1975
Kush
Nah Tellus What Kush Means Ya Great Sausage
VPLI-0075
1975
Cloud Nine
We're Good Friends So Rock On
VPLI-0800
1975
The Beachcombers
The Beachcombers
VPLI-0105
1975
Renee Geyer
Ready To Deal
VPLI 0119-G
1975
Bobby Bright
Bobby Bright
MVPCLI-0001
1975
Digby Richards
Digby Richards
unknown
1975
The Fugitives
The Fugitives
unknown
1975
John Hayton
Rabbitt's Run
References / Links

Thanks to Bill Casey for additional discographical information

Ross Laird


The Sixties: Australian Rock & Pop Recordings 1964-69

(Screensound) - PDF document
http://www.nfsa.afc.gov.au/docs/collectionguide_thesixties1964-1969.pdf


Wikipedia: RCA Records
http://en.wikipedia.org/wiki/RCA_Records

Earth Tube Music Chaser
http://www.earthtube.com/music/disco/disc81.html

RCA Australia/New Zealand releases
http://www.rockzirkus.de/forum/showthread.php?t=5558

Johnny Ashcroft official website
http://www.johnnyashcroft.com.au/JA_Discography.htm

Casson, Mark
Hegemony of International Business 1945-1970
Google Book Search


Further reading:

Jim Dawson and Steve Propes
45 RPM: The History, Heroes & Villains of a Pop Music Revolution (Backbeat Books, San Francisco 2003).