DECCA RECORDS
Category: British-owned record label

Date: 1929-present

Location: based in UK; no Australian division

Subsidiary labels: London, Deram

Austraklian distributor:

EMI (Australia) Limited



History
The UK-based Decca Records was one of the most important and influential recording companies of the 20th century. Like many record labels, the history of the company is rather confusing -- for many years after World War II there were two separate companies operating internationally under the same name: Decca UK, the original parent company, and Decca USA, originally a subsidiary of the British firm, which split from it during World War II. As well as its renowned classical and jazz catalogues, Decca is famous in rock music history for its association with The Rolling Stones, who recorded all of their 1960s albums and singles for the label.
Decca was a leader in the British recording industry for over half a century. The company made many major technical breakthroughs, beginning with its famous "FFRR" (Full Frequency Range Recording) system developed during WWII, which for the first time made it possible to record sounds across the full range of human hearing in a bandwidth from 80-15000 Hz, with a signal-to-noise ratio of 60dB. In 1954 Decca engineers Arthur Haddy, Roy Wallace and Kenneth Wilkinson developed the famous Decca tree, a stereo microphone recording system devised for recording large orchestras. Decca's first recordings in stereo were madeat the Victoria Hall in Geneva on 14-28 May 1954, only three months after RCA Victor in the US , making Decca the first European record company to do so. Decca UK also gained a crucial lead over its rival EMI by rapidly adopting the new LP format (invented by Columbia Records USA), which EMI initially resisted, and the adoption of the LP format, combined with the company's new FFSS (Full Frequency Stereophonic Sound) system established Decca as a leader in high fidelity recording. In the 1970s Decca created its own digital recording system and in the early 2000s the company was actively involved in the development of the SACD and DVD-A recording formats.
Decca was founded in the UK by Edward Lewis in 1929. The 'Decca' trade name was first used in 1914 for the "Decca Dulcetphone" a portable gramophone manufactured by Barnett Samuel & Sons Ltd, a company Lewis acquired in 1934. Decca gradually expanded into other countries, mainly through licencing deals with other labels. H.W. van Zoelen became the Decca distributor in The Netherlands in 1929 and formed Hollandsche Decca Distributie (HDD) in 1931 as the exclusive Decca distributor for the Netherlands and its colonies.
Decca bought out the bankrupt UK branch of Brunswick Records in 1932, bringing in stars like Bing Crosby and Al Jolson to its roster. Decca also bought out the Melotone and Edison Bell record companies. In 1934 Lewis financed the establishment of Decca's American subsidary, founded by Jack Kapp, and in 1935 Deutsche Gramophon became Decca's German licensee. By 1939, Decca and EMI were the only major record companies still trading in the UK.
Decca's American branch was sold off during WWII and operated as an independent company thereafter. Decca UK eventually grew dissatisfied with US Decca's promotion of the British Decca recordings, and terminated their mutual licencing deal, but American Decca owned the rights to the Decca name in the US and Canada, so from 1947 onwards Decca UK marketed its records in the Americas through the London Records label. The London name was also used by UK Decca in the British market to release titles licensed from American labels such as Imperial, Chess, Dot, Atlantic, Specialty and Sun, as well as the first few UK releases from Motown. In the 1960s UK Decca signed more licensing deals with Big Top, Monument, Parrot, Philles (Phil Spector) and Hi.
In Britain and Commonwealth countries, London became a major licensing outlet for recordings sourced from American labels such as Cadence, ABC-Paramount, Atlantic, Imperial and Liberty. Conversely, British Decca retained a non-reciprocal right to license and issue American Decca recordings in the UK on their Brunswick Records (US Decca recordings) and Coral Records (US Brunswick and Coral recordings) labels. This arrangement continued until 1967, when a UK branch of MCA was established utilizing the MCA Records imprint, with distribution fluctuating between British Decca and other English companies over time.
In 1952 Decca (USA) acquired a controlling interest in Universal Pictures. A decade later in 1962 MCA Inc. and Universal Pictures officially merged when MCA acquired American Decca, Universal's parent company. The Decca name was phased out by MCA in America in 1973 in favour of the MCA Records label; the final American Decca release, "Drift Away" by Dobie Gray, became a major hit, reaching #5 on the Billboard chart and earning a gold record.
In 1979 Decca UK and London Records were acquired by Polygram (which was then jointly owned by Philips and the German Siemens group) and British Decca's pop catalogue was taken over by Polydor Records. A proposed 1983 merger between Polygram and Warner Music was forbidden by both the US Federal Trade Commission and Germany's cartel office. Philips then acquired 40% of Polygram from Siemens, buying the remaining shares in 1987. Two years later, Philips sold 16% of Polygram in a deal that valued the record group at US$5 billion. In the mid-1990s, MCA Nashville Records revived Decca in the US as a country music label.
In 1998, as part of large-scale restructuring at Philips (amid speculation that the group would collapse) Polygram was sold to Seagram for US$10 billion. Seagram then combined Polygram with Motown and its other recording interests to create the Universal Music Group. Two years later Seagram was acquired by Vivendi for US$34 billion, becoming Vivendi Universal.
The Decca label is currently in owned by the Universal Music Group worldwide. In 1998 PolyGram, British Decca's parent company, was acquired by Universal Studios (which officially dropped the MCA name after the Seagram buyout), finally consolidating the Decca trademark under the ownership of one company. In the US, the Decca country music label was shut down and the old London classical label was renamed Decca. In 1999, Decca was merged with Philips Records to create the Decca Music Group (known as Universal Music Classics Group in the USA).

Jazz and popular music
Thanks to its American subsidiary and its acquisition of the Brunswick label, Decca enjoyed enormous success in the jazz and popular music fields in the 1930s and 1940s. Its stellar roster included Louis Armstrong, Count Basie, Louis Jordan (one of the biggest-selling artists of that period), Jimmie Lunceford, Bing Crosby, Jane Froman, The Boswell Sisters, Billie Holiday, The Andrews Sisters, Ted Lewis, Judy Garland, The Mills Brothers, Billy Cotton, Guy Lombardo, Chick Webb, Bob Crosby, The Dorsey Brothers (and subsequenrtly Jimmy Dorsey after the brothers split), Connee Boswell and Jack Hylton, Victor Young, Earl Hines and Claude Hopkins and Al Jolson. In 1942, Decca released the first recording of "White Christmas" by Bing Crosby. Crosby's second version of the song, recorded in 1947 for Decca, became the best-selling single ever released, a record it held until 1997.

In 1943, Decca USA made history by releasing the first 'original cast' recording of a Broadway musical, with a set of 78rpm records -- an "album" -- comprising nearly all the songs from Rodgers and Hammerstein's hit musical Oklahoma!. These were performed by the original Broadway cast, using the show's orchestra, conductor, chorus, and musical and vocal arrangements. The enormous success of this album was followed by original cast recordings of Carousel and Irving Berlin's Annie Get Your Gun, both featuring members of the original casts of the shows and utilizing those shows' vocal and choral arrangements, and Decca's lead was soon followed by other major labels including Columbia and RCA. In the 1950s Decca again broke new ground by releasing soundtack albums from major Hollywood films, and they were one of the first labels to release these records in stereo.


Country (Decca USA)
From the late 1940s Decca USA developed a significant roster of country artists, including Kitty Wells, Johnny Wright, Ernest Tubb, Webb Pierce, The Wilburn Brothers, Bobbejaan Schoepen and Red Foley. Decca quickly became the main rival of RCA Records in American country music and remained so for several decades. In the late 1950s, Patsy Cline's recordings were released on the US Decca label under licence from 4 Star Records, who owned her contract. Although she reportedly saw little money from this deal. In 1960, she signed with Decca directly and released two more albums and numerous singles while she was alive, plus several more albums and singles issued after her untimely death in a plane crash in 1963. The Wilburn Brothers were ultimately signed to a lifetime contract with Decca. Doyle Wilburn was instrumental in securing a recording contract for Loretta Lynn, who signed to Decca US in the early 1960s and remained with the label for several decades. Much of the credit for label's success is due to renowned A&R manager and producer Owen Bradley; late in his career Bradley produced Canadian singer kd lang, who had been greatly influenced by the recordings Cline made with Bradley.


Classical (Decca UK)
After WWII, Decca UK developed a highly regarded classical catalogue that included renowned European orchestras and conductors such as Ernst Ansermet and Sir Adrian Boult, solosts such as Kathleen Ferrier, Julius Katchen and Radu Lupu, and even film score suites by written and conducted by famed Hollywood composer Bernard Herrmann. In 1954 Decca recording engineers Arthur Haddy and Kenneth Wilkinson developed the famous Decca tree, a stereo microphone recording system for big orchestras. Decca was the first Euopean label to record classical music in stereo, beginning in May 1954, only three months after RCA's first stereo recordings in the USA. Much of Decca's success in the classical field can be attributed to its technical innovations -- including the FFRR process and its later "Phase 4" stereo system -- and the influence of its senior producer, John Culshaw, who revolutionised the recording of opera. Among the label's most famous and critically acclaimed recordings was its groundbreaking stereo recordings of Wagner's Ring Cycle, begun in 1958, conducted by Sir Georg Solti and produced by Culshaw. This landmark series was voted the best recording of all time by readers of British music magazine The Gramophone.


Rock'n'roll, pop and rock
In 1954, American Decca released "Rock Around the Clock" by Bill Haley & His Comets. Haley's producer, Milt Gabler, had previously worked with million-selling jazz artist Loius Jordan, whose Decca sides had laid the groundwork for early rock'n'roll and most of the classic Bill Haley recordings were made at the same studio, Decca's Pythian temple studio in New York. "Rock Around the Clock" was initially only moderately successful, but when it was used as the theme song for the 1955 film Blackboard Jungle, it became the first international rock and roll hit, and the first such recording to go to #1 on the American charts. According to the Guinness Book of Records, it went on to sell 25 million copies, returning to the US and UK charts several times between 1955 and 1974. Ironically, Decca's Australian distributor EMI passed on the record and it was snapped up by the fledgling Festival label, enabling Festival to score its first major hit. RCA severed its longstanding distribution deal with EMI in 1957, allowing British Decca to market and distribute Elvis Presley's recordings in the UK.

Decca UK enjoyed considerable success with its pop-rock roster in the 1960s, although the company's reputation suffered from a string of notorious missed opportunities. In 1960, they refused to release "Tell Laura I Love Her" by Ray Peterson and even destroyed thousands of copies of the single, allowing a rival version by Ricky Valance on EMI's Columbia label to go to #1 on the British charts. In 1962 Dick Rowe, then the A&R manager of EMI's pop division, famously declined to sign The Beatles in favour of Brian Poole & The Tremeloes, famously telling manager Brian Epstein that "We don't like their sound, and guitar music is on the way out". Other notable refusals in this period included The Yardbirds and Manfred Mann. both of whom went on to great international success.
Staff producer Hugh Mendl (1919-2008) played a significant role in Decca's success in the popular field from the 1950s to the late 1970s. His first major production credit was pianist Winifred Atwell, whom he discovered in the mid-1950s, he produced "Rock Island Line", the breakthrough skiffle hit for Lonnie Donegan, and he is credited as the first executive to spot the potential of singer-actor Tommy Steele. Mendl's other productions included the first album by humorist Ivor Cutler, Who Tore Your Trousers? (1961), Frankie Howerd at The Establishment (1963), a series of recordings with Paddy Roberts (best-known for "The Ballad of Bethnal Green"), numerous "original cast" and soundtrack albums including Oh! What a Lovely War and even an LP record of the 1966 Le Mans 24-hour race, inspired by his life-long passion for motor-racing.

Mendl was a driving force in the establishment of Decca's progressive subsidiary Deram, most notably as the executive producer of The Moody Blues' groundbreaking 1967 LP Days of Future Passed. He is credited with championing the group, battling against Decca's notorious parsimonious treatment of their artists, ensuring that the Moody Blues had the time and resources to develop beyond their beat group origins into progressive rock, and he also used profits for pop sales to cross-subsidise recordings by avant garde jazz artists like John Surman.

Mendl was sidelined by a heart attack in 1979; during his convalescence Sir Edward Lewis died and Decca was taken over by PolyGram, and when he returned to work he discovered that his office had been cleaned out and his diaries -- which would have provided a vital insight into the company's history -- had been thrown away.
Rowe did not repeat his mistake with his next major signing. He snapped up The Rolling Stones in 1964 and by 1966 they ranked second only to The Beatles in terms of popularity and sales, scoring a string of trans-Altantic hits. They were by far Decca's most successful pop act, and remained with the label until 1970, when they established their own Rolling Stones Records imprint. The Stones later voiced strong criticism of Decca's handling of their career -- non-payment of royalties were a key issue, and they also fought (and lost) a famous battle over the infamous "toilet wall" cover for their 1968 album Beggar's Banquet, which was rejected by Decca's management, forcing the group to settle on the so-called "Invitation" design. Other successful Decca pop/rock acts included Irish band Them, led by Van Morrison, and John Mayall's Bluesbreakers, whose legendary pair of mid-'60s albums successively made Eric Clapton and Peter Green into heroes of the electric blues guitar.
In 1966 Decca UK lost a key source of American records when Atlantic Records switched distribution to Polydor Records in order to gain access to British acts which were unavailable to them under Decca distribution. Decca enjoyed sporadic success with its progressive subsidiary Deram (see below) but the company was further hampered by internal problems, notably Edward Lewis' habit of playing off staff against each other, and its parsimonious attitude to its artists.
Decca UK's fortunes waned in the 1970s -- they lost The Rolling Stones, who set up their own label (distributed by EMI) and RCA terminated its distribution deal and established its own UK branch. Althugh it gained critical acclaim with is progressive releases on Deram (including Caravan and Curved Air) its only major commercial successes in this period were Dana's "All Kinds Of Everything" (on the Rex subsidiary) and the novelty recordings by The Smurfs. Decca also missed the boat during the punk/New Wave era, its only major signings in this genre being Adam & The Ants and Slaughter & The Dogs. Polygram acquired Decca UK within days of the death of company founder Sir Edward Lewis in 1980. Over the intervening years, through a series of mergers and acquisitions, Decca became part of the Universal Music group. owned by the French-based Vivendi corporation.

Deram
In the mid-1960s Decca UK established a new imprint, Deram, thanks in large measure to the efforts of staff producer Hugh Mendl, who championed The Moody Blues and also channelled prfoits from Decca's pop division to cross-subsidise avant garde jazz artists like Jon Surman. Deram was the first in a wave of "progressive" labels that grew to include Harvest, Vertigo and Virgin.
The new label's inaugural single was Cat Stevens' "I Love My Dog" (1967); it was followed by his first major hit "Matthew And Son" which reached #2 in the UK later that year. Stevens recorded two LPs for Deram and scored another UK hit with "I'm Gonna Get Me A Gun" in early 1968, but his career was temporarily derailed when he contracted tuberculosis; after his recuperation he moved to Chris Blackwell's Island Records, winning international success in the 1970s.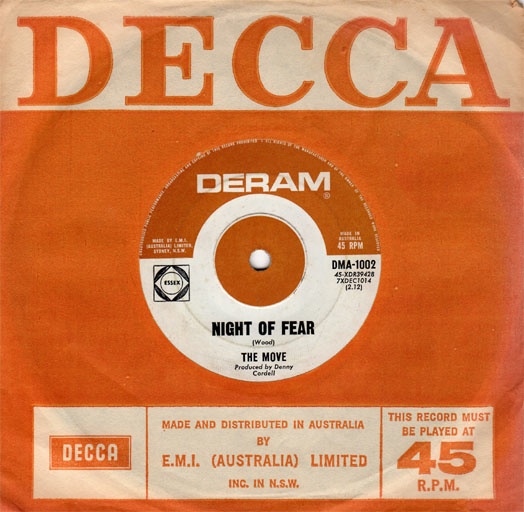 Deram's biggest international act in the late Sixties and early Seventies was The Moody Blues. They released their beat-oriented debut album on Decca in 1965 before shifting to Deram and undergoing a radical change of style. With support from Hugh Mendl, who secured them the time and resources to develop their music, The Moody Blues evolved into Britain's first fully-fledged progressive rock band, and they recorded three hugely successful psychedelic-progressive concept albums.Using Decca's state-of-the-art recording techniques, they pioneered the rock-classical crossover, using the famed London Symphony Orchestra to back their entire debut LP Days of Future Passed which included their enduring hit "Nights in White Satin". They followed with two more very successful LPs, In Search of the Lost Chord and On The Threshold Of A Dream. Subsequent albums were released on the band's own Threshold label, which was distributed by Decca.
Another big success was blues band Ten Years After, led by guitar ace Alvin Lee, who recorded six LPs for Deram between 1967 and 1972. The young David Bowie scored his few first minor UK hits for Deram, including "Love You Til Tuesday" and "The Laughing Gnome" and these and his other Deram recordings were endlessly repackaged following of his move to RCA and his international breakthrough in the 1970s. Other notable acts who were released on or through Deram include The Move, leading progressive rock groups Caravan, Curved Air and Giles Giles & Fripp, pop vocal act The Brotherhood of Man and UK electric blues band Chicken Shack (which featured a young Christine Perfect-McVie, of Fleetwood Mac fame).
Decca Guitars
A little-known sideline of Decca's pop activities was the Decca electric guitar range. These were made for the company in the mid-1960s by Teisco, the Japanese guitar company whose products were also variously badged as 'Kingston', 'Kay' and Audition'. The Junk Guitars website features an excellent photo a trio of Teisco 'Decca' guitars made in 1966.
Decca in Australia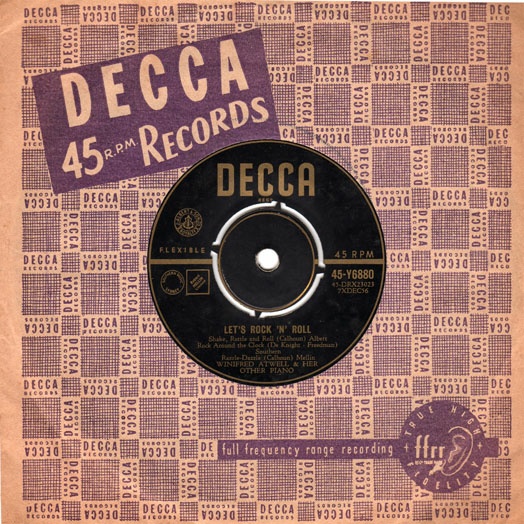 Despite its international successes and unlike most of its competitors, neither Decca UK nor Decca USA ever established an Australian subsidiary. Instead the Decca group relied on a long-standing deal with its British rival EMI to manufacture and distribute its recordings in Australasia. As a result, it was one of the few major labels that never established a roster of local artists in Australia or New Zealand. One notable and unusual exception was singer and actress Lorrae Desmond, who was signed to Decca while working in the UK in the 1950s and made several recordings for the label.
Decca's single releases in Australia in the 1950s (the '6000' series) were mainly titles by popular mainstream artists such as Winifred Atwell, Kenneth Mackellar, Max Bygraves, Vera Lynn and Tommy Steele, or big band / orchestral acts such as Edmundo Ros, Ted Heath and Mantovani. Decca also released several recordings by The Goons, including the immortal "I'm Walking Backwards for Christmas".
Decca's '7000' series, which began in the late 1950s, still featured many 'MOR' titles (e.g. Anthony Newley, Val Doonican, Eden Kane and later Englebert Humperdinck) but gradually expanded to include pop and and rock acts signed in the Sixties. Significant Australian releases in this genre include Billy Fury, ex-Shadows Jet Harris and Tony Meehan, Brian Poole & The Tremoloes, Heinz, The Mojos, Lulu & The Luvvers, P.J. Proby, Screaming Lord Sutch, The Nashville Teens, Marianne Faithfull, The Zombies, Them, Tom Jones, Unit 4 + 2, the early singles and the first LP by The Small Faces, The Alan Price Set, Hedgehoppers Anonymous, the debut album by Genesis (much repackaged in the wake fo their subsequent success on the Charisma label) and of course The Moody Blues and The Rolling Stones.
Among the more unusual Australian releases on Decca was a 1964 single featuring the original Dr Who theme by the BBC Radiophonic Workshop, and a 1965 single by Greek group Forminx, which included future electronic music star Vangelis.
Decca's London label was also marketed in Australia, and was also manufactured and distributed by EMI. It was launched in 1954 and wasused almost exclusively to release recordings licenced from the USA. This included recordings licenced from American Decca in the 1950s (e.g. Bill Haley) but was mostly used for Decca-UK's American affiliate labels, including:
Imperial (Fats Domino)
Sun (Carl Perkins, Jerry Lee Lewis, Johnny Cash)
Cadence
Dot
Liberty
Specialty
Monument (Roy Orbison)
Kapp
United Artists
Del Fi, Ace
Warwick
Cameo
Philles
Era
MGM
Stax and Atlantic/ATCO (until the 1967 when the licence was taken over by Festival).
Discography

For a comprehensive listing of Decca's Australian 45s of the 1950s and 1960s, we recommend the wonderful Globaldog Productions website:


Decca '6000' series Australian singles discography
http://www.globaldogproductions.info/d/decca-6000-series-oz.html


Decca '7000' series Australian singles discography
http://www.globaldogproductions.info/d/decca-7000-series-oz.html


Deram Australian singles discography
http://www.globaldogproductions.info/d/deram-oz.html

References / Links

Universal Music Group - History
http://new.umusic.com/history.aspx

Wikipedia - Decca Records
http://en.wikipedia.org/wiki/Decca_Records

ketupa.net
Polygram/Decca company profiles and history
http://www.ketupa.net/polygram.htm