THE GROOVE
Melbourne / UK, 1967-70

Geoff Bridgford (drums)
Jamie Byrne (bass)
Tweed Harris (keyboards)
Rod Stone (guitar)
Peter Williams (lead vocals, guitar)
History
The Groove (who formed in Melbourne in early 1967) based their whole oeuvre around a robust R&B/soul ethic that cherry-picked the best elements of music from the Stax/Volt and Atlantic labels, as purveyed by Sam Cooke, Solomon Burke, Ben E. King, Wilson Pickett, et al. Their sound proved sensational for Aussie audiences at the time.They melded these influences with a solid, swinging Australian sensibility that still sounds captivatingly funky today. If not as completely "authentic" an emulation of the soul genre as later successors who trod similar ground, like Scotland's Average White Band, The Groove can nonetheless be legitimately compared with them.
The Groove's members had had a great host of experience and were touted as Australia's first 'supergroup'. According to Rod Stone, the band was conceived and assembled by Gary Spry, also the manager of Adelaide pop gods The Twilights. Working with Gary was keyboard wiz and arranger Tweed Harris (real name Winston John Harris), who had led the prominent and perennial Adelaide outfit The Clefs (1965-66), as well as being an assistant musical director at Channel Seven in Adelaide and a house producer for EMI. Sources differ as to exactly when the band formed - according to Noel McGrath it was January 1967; according to Ian McFarlane, it was May. Rod remembers it was VERY cold, so the mid-year dating seems the more probable.
Peter Williams had a lengthy tenure as guitarist with one of the most respected bands of the era, Max Merritt & the Meteors from 1961-67, in New Zealand and when the outfit relocated to Australia in the mid-60s.Disillusioned with their lack of charts success, Peter left The Meteors after their ill-fated Pacific cruise in early 1967, at which time Max also lost drummer Bruno Lawrence and bassist Billy Kristian, and their departure led to the formation of next and best-remembered version of The Meteors with jazzers Stewie Speer (drums), Bob Birtles (sax) and Kiwi bassist John "Yuk" Harrison. Peter joined The Groove at the same time as fellow Kiwi guitarist Rod Stone, who had honed his chops with top NZ outfit The Librettos (1962-65) and then Normie Rowe's Playboys (1966-67).
Rod:"I had just returned from the UK and was approached along with Peter, who had been meaning to join the Vibrants. Tweed already had the other guys in mind; Peter and I did not know them at this stage."
Already picked out for the new band were Jamie Byrne (ex-Running, Jumping, Standing Still, Black Pearls), who provided The Groove with a driving, grooving bass backbone, and Geoff Bridgford, whose previous band, Sydney's Steve & the Board, had broken up only days before he got the call to join The Groove. His playing for The Groove both on stage and on record was a crucial ingredient in their unique sound.
Launching themselves on Melbourne's vibrant dance and club scene, the band immediately garnered a loyal following - many of the fans were staunch "mods"; keen on soul and R&B -- which was bolstered by enthusiastic support in Go-Set magazine. The usual round of TV shows, including Uptight! also provided regular appearances for the band.
Recording-wise The Groove chose a soul cover, "Simon Says" for its debut single in September 1967; the song had previously been recorded by both The Isley Brothers and The Platters. It highlighted Williams' gritty, soulful voice atop one of the tightest and most potent attempts at this musical genre yet heard from an Aussie outfit. It was an immediate smash (Sydney #6, Melbourne #17 in October 1967) and charted for 15 weeks.
It was followed by a series of increasingly polished hit records. The second single was "Soothe Me", an infectious and swinging number which went Top Ten in most major cities, -- #8 in Sydney, Melbourne #14 in March 1968. The song was was written by soul legend Sam Cooke, who also produced the original version, which was the first US hit for The Simms Twins in 1964. Cooke cut a gospel version with The Soul Stirrers as "Lead Me Jesus" about six months later. Sam & Dave (who were strongly influenced by The Simms Twins) cut their version for Stax in 1967, and they were the source for The Groove's version. While he was in the UK with Normie Rowe, Rod Stone saw Sam & Dave perform "Soothe Me" live in London and was greatly impressed. (This was during the legendary 1967 Stax-Volt European package tour that featured Sam & Dave, Arthur Conley, Booker T & the MGs and Otis Redding. If you've see the film footage of this tour, which includes electrifying performances by Sam & Dave and Otis, then you'll know why Rod was so impressed.)
Their third single was perhaps The Groove's most sublime recorded moment, a pumping, parping, brassy version of Ben E. King's What Is Soul? that also sported the funkiest of rhythm underpinnings!It was another strong seller, although it didn't chart anywhere near as strongly as the first two (reaching only #36).
The material they selected was first-class, but the fact that they played covers almost exclusively earned them criticism from some quarters, which in turn drew these supportive comments from Noel McGrath in his 1978 Encyclopedia article on The Groove:
"... their policy of selecting good material which was relatively unknown on the Australian market was obviously a sound one. In any case, they certainly couldn't be regarded as a 'cover version' band. Choosing good material rather than mediocre originals produced a higher standard of recordings."
In this respect they were also following a tradition established by other local groups like Ray Brown & the Whispers, Tony Worsley & The Blue Jays and of course Pete William's previous band, Max Merritt & The Meteors, who were tireless champions of soul and R&B music at a time when the original recordings by black American artists were almost totally ignored by Australian radio. Alongside other local soul-stirrers like Max, Jeff St John and Doug Parkinson, The Groove deserve much credit for helping to broaden and maintain public interest in soul and R&B music in Australia.
Around this time The Groove also participated in a now extremely rare various-artists promo EP for the Coca-Cola company. The uncredited liner notes were (according to Rod Stone) penned by producer David McKay; they're couched in the "hip" vernacular of the day and make for amusing reading 30-odd years on:
" 'Sock it to 'em Peter', said our producer. And Peter Williams, lead singer for 'The Groove', really did just that. This is the sound that won the boys this year's 'Battle Of The Sounds' contest ... and it's all happening here, for Coke."
1968 took The Groove to the peak of their popularity. April saw the release of their first (and only) LP, which contained a mix of originals variously penned by Peter Williams, Rod Stone, Tweed Harris and Jamie Byrne, interspersed with American soul classics. Among the tracks was Peter Williams' much-underrated song "Baby, Get In The Groove", which was covered by Jon Blanchfield. This excellent album has, sadly, never been reisssued on CD and remains one of the lost classics of AUstralian 60s pop.
Ironically, this year also marked the beginning of the end for Spry's other charges, The Twilights. After a series of setbacks, including their abortive, Monkees-style TV pilot "Once Upon A Twilight", Spry dropped The Twilights to concentrate on The Groove and his partnegsubip in AMBO (the Australian Musicians Booking Organsiation), a new super-agency put together by a group of leading managers including Spry, Darryl Sambell, Bill Joseph, Jeff Joseph and Don La Roche.
Above: The Groove in action at the final of the 1968 Hoadley's Battle Of The Sounds.

L-R Rod Stone, Peter Williams, Jamie Byrne, Tweed Harris (Geoff Bridgford not visible)

Above: Peter Williams accepts the first prize from Stan "The Man" Rofe after their Hoadley's victory.
Runners-up The Masters Apprentices are on the right, in the light-coloured suits.

Photos: Laurie Richards Collection, Performing Arts Museum, Victorian Arts Centre
In February 1968 The Groove undertook a national tour, and in July they proved that all the early "super-group" hype was justified when they won the coveted first prize (a trip to England) in the Hoadley's National Battle Of The Sounds competition in July 1968, just as the "What Is Soul?" single and their self-titled (and only) LP were released on EMI's Columbia imprint, both to great acclaim.Ironically, the third place getters in that year's Battle were none other than Peter's old band, Max Merritt & The Meteors, who had only recently returned to gigging after a disastrous June '67 car crash which had nearly killed Max, Stewie and Bob, and which had kept them off the road for more than a year.
Rod: "The uncredited EP liner notes were probably by producer David McKay. The embarrassing (even at the time) and inaccurate liner notes to the album were not written by Lily Brett, as stated on the cover, but she did OK them. The whole lot was a Spry/McKay concoction I believe."
Their Hoadley's gong was a popular choice, and they were certainly one of the most respected band of the period. Yet there was controversy about The Groove's win. In retrospect the furore probably says as much about the inherent limitations of the Battle as it does about the Groove's "street cred". Although The Groove won the Battle hands-down, the contest's chief organiser, Jeff Scott, made some stern comments, printed in Go-Set in July 1968, just after the finals. He admonished future contestants, asking:
"Where is the real creativity in Australian pop music? You have about ten months to find that secret before the 1969 Battle begins. Find it, and the Hoadley's National Battle of the Sounds will find you. And you'll go to London, not to imitate those who are already there but to give London and the rest of the world something that is 100% Australian and strictly yours."
Scott's harangue -- obviously a thinly-veiled swipe at The Groove -- was in one sense a fair comment and was based on fact. Both The Groop and The Twilights had made the trip to England with high hopes, but came back bitterly disappointed after discovering that material that went down a storm with Australian audiences was old hat to the UK audiences and critics. But in terms of the realities of Australian popular music at the time (and the demands of the Battle in particular) it was a pretty disingenuous statement. The claim that there could be a "100% Australian" popular music style was and is contentious, when every local act from Johnny O'Keefe onwards had been directly inspired by English and American acts. It was a praiseworthy ideal, to be sure, but it glibly ignored the fact that very few pop acts anywhere in the world were recording 100% original material -- indeed, The Easybeats were almost the only Aussie band doing so at that time. Scott's comments also did a disservice to The Groove's fine musicianship, their laudable attempts to give soul and R&B music a higher profile and their desire to carve out a niche for themselves with a style that was still not well-known in this country.
Still, Scott's concerns did highlight an emerging trend. The emergence of a new generation of rock magazines and rock music criticism, spearheaded by Rolling Stone, reflected and informed a broadening of styles. What had previously been labelled generically as "Pop" was now diverging into into several distinct genres -- rock, soul, R&B, psychedelia and bubblegum, and the changes left many Australian bands struggling to establish a their identity and authenticity and not be seen as mere slaves to overseas trends. This was to prove a major challenge for existing acts, and indeed most did not survive the end of the decade. Even among the newer bands, these new distinctions posed serious challenges. Zoot are a good example of a creative and competent band that suffered from being tagged as a lightweight "pop" outfit at a time when serious intent and complete originality was becoming the new shibboleth. In fact, with a few exceptions, it was not until the emergence of the next wave of Aussie groups around 1970-71, and the wategsubed of the Radio Ban, that a distinctive Australian style began to emerge.
The Groove released their last single of 1968 "You are the One I Love" / "Merry Go Round" in October and then availed themselves of their Hoadley's prize and took the boat to England in March 1969. Their departure coincided with the release of their fourth single, "Relax Me". Sadly, like previous Battle-winners who journeyed to the UK as part of their prize, The Groove went, saw, but could not conquer.It's fair to say that the soul-inflected wares they were offering were out of step with prevailing musical trends in the UK at the time. In their absence, their fifth single "You Are The One I Love". In June 1969 they released their last single as The Groove, "The Wind" b/w "Play The Song", which was also released on Parlophone in the UK, but it was not successful. Responding to the new trends, the band took stock, changed direction and renamed themselves Eureka Stockade.
Rod Stone: "In the UK we released one single under the name Eureka Stockade in Feb. 1970. It was called "Sing No Love Songs" b/w "Jump Down Turn Around" on Decca F22996. It vanished without trace. I have recently acquired what may be the only copy in existence! We also recorded an album for Easybeats' former manager Mike Vaughan but he was unable to get it released. It was, stylistically, moving away from the soul thing and towards country rock. Even more out of fashion in 1970 Britain!! I have tapes of this also."
The new incarnation was shortlived and the various members went their separate ways in early 1970.
After The Groove ...
Tweed Harris developed a distinguished post-band career as a sought-after arranger and producer.His list of clients reads as a veritable who's who of Australian popular music, including work for Sherbet (he orchestrated "Cassandra" and its parent album), Daryl Braithwaite, production for Renee Geyer, Bobby Bright, Kush, and early Bandstand regular Lionel Long, to name but a few. Tweed also joined, as second keyboardist, fellow Melbourne soul-rock merchants The Groop for its 1988-89 reformation tour and then undertook lucrative TV soundtrack commissions. In more recent times he had a successful career writing music for TV and advertising both here and in Singapore. Tweed battled throat cancer for several years and underwent surgery which was, for a time, successful in halting the progress of the disease. Sadly, it returned with a vengeance during 2004 and he passed away on 13 October 2004.
Geoff Bridgford teamed up in 1970 in England with his old Steve & the Board pals in a new unit, Tin Tin, with the assistance of another mate, Bee Gee Maurice Gibb. Geoff actually played with a 1971 formation of The Bee Gees, before returning to Australia for session work including Mark Gillespie and Janie Conway. He was also a member of popular '80s band Goanna, and joined US soul singer Venetta Fields' Gospel Jubilee in 1987. He pops up as drummer in various touring and recording bands to this day.
Rod Stone's post-Groove career has been as varied as it is notable. He toured Britain and Europe as backing guitarist for many top line acts such as Olivia Newton-John, Cliff Richard, Lou Christie, John Rowles and Frankie Vaughan, and he even worked in the backing band for one tour with comedy legends Eric Morecambe and Ernie Wise, which Rod counts one of the higholights of his career, albeit one that involved comparitively little playing. On returning to Australia worked extensively as a session musician on both pop recordings and radio/TV jingles. Also played on several film soundtracks including "The Man from Snowy River." Has played with the Channel Nine band, the Melbourne Symphony Orchestra, and many touring overseas Music Directors. He played in professional theatre with The Best Little Whorehouse in Texas, The Two Ronnies and Evita to name a few. Rod studied classical guitar with Sue Ellis and Peter Lynch in Melbourne for four years, obtaining A.M.E.B. 8th grade in 1979. Nowadays Rod teaches privately and in schools, works as freelance guitarist, performs solo, and plays with Matt Orchard as half of Stone Orchard.
Rod: "I am playing the best I ever have but, alas, far less often than the old days. I make up the shortfall by teaching guitar both in schools and privately."
Jamie Byrne gave up playing after a time. He reportedly joined the Mormon Church, and worked as a salesman for many years, moving to Brisbane around 1985. He is said to have returned to playing guitar and singing his songs around Brisbane nightspots in recent years.
Peter Williams joined The Mixtures (1971-73) in England. This was in the period when The Mixtures enjoyed their sensational run of international hits with "In The Summertime" and "The Pushbike Song". After a one-off solo single in 1979, Williams disappeared from view for a time, which is surprising given his powerful and commanding vocal abilities. He lived and performed in Perth for sometime and is now back in his old hometown of Christchurch N.Z., still singing and playing regularly in local venues.
Original article by Paul Culnane, 1999, revised 2007.
Discography
Singles
Sept. 1967
"Simon Says" / "With This Ring" (EMI Columbia DO 5021)
Feb. 1968
"Soothe Me" / "I See A New Day" (EMI Columbia DO 5059)
July 1968
"What Is Soul" / "Goin' Back" (EMI Columbia DO 8420)
Oct. 1968
"You Are The One I Love" / "Merry Go Round" (EMI Columbia DO 8532)
March 1969
"Relax Me" / "Dance To The Music" (EMI Columbia DO 8658)
June 1969
"The Wind" / "Play The Song" (EMI Columbia DO 8811)
Feb. 1970 (as Eureka Stockade)
"Sing No Love Songs" / "Jump Down Turn Around" (Decca F22996) UK

EPs
1968
Things Go Better With Coca-Cola (EMI PRS 2028) - promotional release
Part of various artists compilation of ads for Coca Cola performed by noted pop groups including The Groove and The Twilights
July 1969
Soothe Me (EMI Columbia SEGO 70166)
"Simon Says" / "What is Soul" // "Soothe Me" / "Goin' Back"
Albums
April 1968
The Groove (EMI Columbia OSX 7869)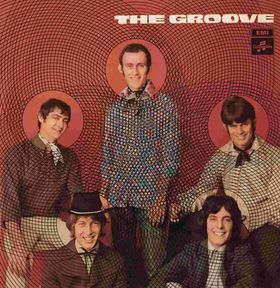 "A Circular Song" (Rod Stone)
"Baby, Get In The Groove" (Peter Williams)
"Cool Jerk" (Stordall)
"Every Ounce Of Strength" (Cropper - Hayes - Porter)
"Holy Cow" (Allen Toussaint)
"I've Got My Mojo Working" (P. Foster)
"Pianologue" (Tweed Harris)
"Simon Says" (Isley Bros)
"Soothe Me" (Sam Cooke)
"Stubborn Kind Of Fellow" (Gaye - Stevenson)
"The Boat That I Row" (Neil Diamond)
"What Is Soul?" (Gallo - King)
"When Something Is Wrong With My Baby" (Hayes - Porter)
"Wishing: You & Me" (Jamie Byrne)
Produced by David Mackay
References / Links
Special thanks to Rod Stone.
Rod Stone's Guitar Page
http://home.bigblue.net.au/rodstone/
Geoff Bridgford interview
Sweet Floral Albion #25
http://homepage.ntlworld.com/marmaladeskies/sfa25.htm
Paul Conn
Two Thousand Weeks: The First Thirty Years Of Australian Rock (Moonlight Publishing, 1996)
Keith Glass
email to "Rock'n'Roll Scars" e-group, May 2001
Ian McFarlane
Encyclopedia of Australian Rock & Pop (Allen & Unwin, 1999)
Noel McGrath
Australian Encyclopedia of Rock (Outback Press, 1978)
Chris Spencer, Zbig Nowara & Paul McHenry
Who's Who Of Australian Rock (Five Mile Press, 2002)