STEVE & THE BOARD / STEVE KIPNER
Sydney 1965-67
Geoff Bridgeford (drums) 1967
Alex Hill (guitar)
Carl Keats (Carl Groszman) (guitar, vocals)
Steve Kipner (guitar, vocals)
Denis Neville (bass)
Colin Petersen (drums) 1965-66
History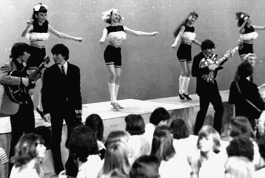 Left: Steve & the Board rock out with the go-go girls on Kommotion (Steve Kipner is second from left).
In the short time they were around, Steve & The Board supplied listeners with a menu of sublime and snotty garage-punk songs and a wild stage presence. Formed in late '65, the group was unusually one of the very few young Australian beat units to be allowed the indulgence of an album without a string of chart hits behind them. This situation may be attributable to the fact that Steve's dad just happened to be the boss of Spin Records -- producer, songwriter and entrepreneur Nat Kipner, who had previously been one of the partners in Ivan Dayman's Sunshine label.
Nat had formed a close relationship with The Bee Gees. In 1966 he saved them from being dropped from the Leedon label by Festival Records, persuading the company to transfer them to the Spin label and co-produced most of their last Australian recordings with Ozzie Byrne at his St Clair studio in Hurstville. Through his father, Steve Kipner and the band became good mates with the Gibb brothers. Colin Petersen drummed on many of the Bee Gees Spin recording in 1966, and Carl Keats is also probably the only person to have ever written a song specifically for the Bee Gees -- "Lonely Winter" (1966). Steve & The Board returned the favour by covering Barry's "Little Miss Rhythm & Blues" on their Giggle Eyed Goo LP. The album was recorded at the end of 1966 with Colin Petersen, but he quit immediately after the sessions and head to the UK soon after.
A particularly interesting piece of Steve & The Board trivia is that Brisbane-born drummer Colin Peterson was a noted child actor. Colin will be known to generations of Australians for his portrayal of the irrepressible young larrikin Smiley in the classic 1950s Australian film of that name, and he also appeared in The Scamp and A Cry in the Streets.
Nat Kipner penned the band's first single, the rude and raucous "Giggle Eyed Goo", which cheekily copped a line in the bridge from a contemporaneous toilet-paper commercial jingle -- "It's pink and blue and primrose too". This remarkable piece of ratbag punk-rock became a sizable hit in Eastern states in '66, and was followed up by a great rocking track with possibly one of the corniest garage rock titles ever: "I Call My Woman Hinges ('Cos She's Something To Adore)".
Colin Petersen's replacement was Geoff Bridgford, a solid player who went on to join Melbourne soul stylists The Groove. Geoff played on Steve and The Board's final single, "Sally Was a Good Old Girl"/ "Good for Nothing Sue" (January 1967), but the group broke up soon afterwards, in May 1967.
After Steve & The Board:
- Colin Petersen travelled to England to pursue his acting career, but in early 1967 the Bee Gees also returned to England. Hooking up with expatriate impresario Robert Stigwood, they soon found themselves scoring huge international hits and in need of a band to back them in concert, so Colin was drafted in as a Bee Gee, along with former Aztecs guitarist Vince Melouney. Colin stayed with them until late 1969, when he was unceremoniously dumped. In one of those odd twists that crop up again and again in Aussie rock, The Groove's split in the UK at the end of 1969 coincided with Colin's sacking, and in early 1970 Geoff Bridgford again found himself replacing Colin -- this time as drummer for The Bee Gees. Colin now lives back in Sydney, working as a house painter, and it currently working on his autobiography, which will tell the full story of his sacking from the Bee Gees. Colin's ex-wife Joanne was personal secretary to Brian Epstein, and she is reported to be working on a book of her own.
- Geoff Bridgford worked overseas for many years; he now lives on the Gold Coast.
- Carl Keats, who reverted to his real surname (Groszman) wrote "Down The Dustpipe" for fledgling UK rockers Status Quo.
- Steve Kipner formed a vocal harmony act called The Steve and Stevie Duo with former Kineticsfrontman Steve Groves. Steve and Stevie issued one single on Festival, "Remains to Be Seen" / "Merry Go Round" in 1968. When ex-Kinetic, John Vallins (guitar, drums, clarinet) joined, the act was renamed Rombo's World. After Kipner, Vallins and Groves relocated to the UK in 1969 they, linked up with Keats and Bridgeford in a new band called Tin Tin. Here Kipner's Gibb connections came into play again, and during the troubled period in 1969-70 while the Bee Gees endured an acrimonous split, Maurice Gibb worked extensively with Tin Tin, playing and singing on and producing their early singles and their self-titled debut album. Tin Tin enjoyed a Top Ten UK/Australian hit in 1971 with the Maurice Gibb-produced "Toast and Marmalade For Tea".
Kipner has enjoyed tremendous success since then. After Tin Tin folded, he left England and moved to the USA in the early 70s, after Mike Curb of MGM Records invited him to join a new group. This brought him together with ex-Zoot frontman Darryl Cotton in the band Friends. They issued a self-titled album on MGM plus a couple of singles including "Gonna Have a Good Time" / "Would You Laugh?" (1973). The A-side was a cover of the famous Vanda and Young song "Good Times" (later covered by IXS and Jimmy Barnes) which was rather cheekily co-credited to Vanda-Young-Cotton-Lloyd-Kipner.
"I got a phone call to come to Los Angeles. I had never been to California, and I ended up staying. I recorded an album in Los Angeles with a group called Friends . In addition, I wrote several songs for the album, and one of the songs, 'Catch Me I'm Falling' ended up being recorded by Engelbert Humperdinck. This became my first cut (with another artist)."
Steve left Friends in 1974 to join a new oufit called Skyband. They recorded one unsuccessful, self-titled album for RCA in 1975. In 1979 he cut an unsuccessful solo album, Knock the Walls Down, and a single, "Love is Its Own Reward", for Elektra. The album was produced by Jay Graydon, and featured top, L.A. sessioneers including David Foster, Larry Carlton and Toto members Jeff Porcaro and Steve Lukather. In between the Kipner sessions, Graydon was producing four songs for an Italian artist, Alan Sorrenti. He encouraged Kipner to co-write with Sorrenti, and this became the first time Kipner wrote songs specifically for another artist to record.
"Up to this point, I had never thought of writing songs for other people. Then Alan Sorrenti and I wrote four songs together, and one of the songs turned out to be a major hit for him in Italy. Shortly thereafter, I received a phone call from an Italian music publishing company, and they offered me a substantial publishing deal for Italy only. I was thrilled; it was the first time that I saw I could earn a nice living as a songwriter."
It was also during this period that his best friend from Australia, Roger Davies, became his manager. Davies, former manager of Sherbet had relocated to the USA after Sherbet's ill-fated attempt to break into America, but he went on to manage major international acts including Tina Turner, Janet Jackson and Sade. Davies helped Kipner negotiate label and publishing deals, one of which was a sub-publishing deal with CBS Songs, which followed the European success of a hit collaboration with Spanish star Miguel Bose. Soon Steve was concentrating on composing and collaborating regularly with other writers. It was a collaboration with Terry Shaddick on a song called Physical -- plus a lucky break -- that led to his biggest hit:
"Terry and I were writing a song about the physical side of love, rather than the emotional side. We finished the verse, and then the chorus just came very quickly. In the meantime, Roger Davies was working for Lee Kramer, who managed Olivia Newton-John. I played Roger the demo of 'Physical' at his office. By pure luck, Lee Kramer was in the next room, he heard Physical and then he played it for Olivia. Later on, after 'Physical' had been recorded, Olivia panicked, thinking the song was too rude to release. But by this point, all of the label promotion execs said 'Physical' would be a smash, and that it had to be the first single. Then it was Olivia's idea to release the video first, so people would think the song was about exercise rather than sex. Of course, the song was about sex, but her plan worked. 'Physical' received massive airplay, except in Utah and South Africa, where the song was banned."
"Physical" was a worldwide smash, reaching #1 in the U.S. in November 1981, and staying at the top of the Billboard "Hot 100" Singles chart for 10 weeks. Kipner signed a major publishing deal with CBS Songs (now part of EMI Publishing). He followed-up that success with two more Top 5 Singles for Olivia Newton-John -- Heart Attack (with Paul Bliss) and Twist Of Fate (with Peter Beckett), which was featured in the film & soundtrack, Two Of A Kind
Now based permanently in L.A., Steve has become one of the music industry's most prominent writer-producers, with credits including Chicago, Stevie Nicks, Sharon O'Neill (How Do You Talk To Boys?), Sheena Easton, Wilson-Phillips and more recently, top female singing star Christina Aguilera. He is recognised as one of the most successful songwriters in the business, with thirteen Billboard Top 20 hits to his credit, including "Physical" and "Hard Habit To Break". In the last few years he has co-written and co-produced three, Top 5 pop hits -- "Genie In A Bottle" for Christina Aguilera (a #1 hit); "He Loves U Not" for Dream; and "The Hardest Thing" for 98 Degrees.
Another interesting tangent is that John Vallins formed a songwriting partnegsubip with Steve's father Nat in the late 70s, and they enjoyed their own worldwide hit in 1978 when Johnny Mathis and Deniece Williams recorded a duet of their song "Too Much, Too Little, Too Late". John married Australian singer Lori Balmer, and they now live on the Gold Coast -- apparently just around the corner from Geoff Bridgford!
But that early burst of manic and wild creativity represented by Steve & The Board won't be forgotten, and we are pleased to note that local reissue label Ascension has re-released the sought-after Giggle Eyed Goo album on CD.
Original article by Paul Culnane, with special thanks to Mark Crohan for additional information. Revised 2007.
Discography
Singles
Sep. 1965
"Giggle Eyed Goo" / "Rosalyn" (Everybody's EK-1156)
reissued 10/65 as Spin EK-1156
A-side also available on the 3CD Festival compilation So You Wanna Be A Rock'n'Roll Star?
Mar. 1966
"Margot" / "I've Just Realised" (Spin EK-1271)
Jun. 1966
"I Call My Woman Hinges" / I Want" (Spin EK-1381)
Sep.1966
"Now I'm Older" / "So Why Pretend" (Spin EK-1463)
Jan. 1967
"Sally Was A Good Old Girl" / "Good For Nothing Sue" (Spin EK-1570)
EP's
1965
Steve & the Board (Spin EX-11134)
"Giggle Eyed Goo" / "Rosalyn" // "Margot" / "Rosemarie"
1966
I Call My Woman Hinges (Spin EX-11198)
"I Call My Woman Hinges" / "Farmer John" // "Little Miss Rhythm & Blues" / "Love's Made A Fool Of You"
LPs
1966
Steve & The Board ... And The Giggle Eyed Goo (Spin EL-31997)
Reissued by Ascension Records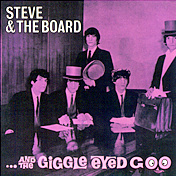 The Giggle Eyed Goo (Nat Kipner - Carl Keats)
I'm To Blame (Colin Petersen - Alex Hill)
Rosalyn (J Duncan - W Farley)
I've Just Realised (Colin Petersen - Alex Hill)
Margot (Carl Keats)
Rosemarie (Carl Keats)
I Want (Carl Keats)
I Call My Woman Hinges (Steve Kipner - Carl Keats)
Little Miss Rhythm & Blues (Barry Gibb)
Farmer John (Harris - Terry)
Love's Made A Fool Of You (B Holly - B Montgomery)
Lonely Winter (Carl Keats)
Now I'm Older (Carl Keats)
So Why Pretend (Carl Keats)
Good For Nothing Sue (Alex Hill)
Sally Was A Good Old Girl (Hank Cochran)
---
1981
Five By Four (Raven RVLP 03)
Compilation shared with The Allusions, Tony Worsley and Mike Furber, featuring the following Steve & the Board tracks:
I Want (Carl Keats)
Margot (Carl Keats)
Rosalyn (J Duncan - W Farley)
I Call My Woman Hinges (Steve Kipner - Carl Keats)
Giggle Eyed Goo (Nat Kipner - Carl Keats)
Producer: Nat Kipner
---
1990
The Giggle Eyed Goo (Raven RVLP 42)
It is not known whether this release replicated the earlier similarly titled album, or was a new compilation.
References / Links
Glenn A. Baker
sleeve notes on Five By Four LP
Ian McFarlane
Australian Encyclopedia of Rock & Pop (Allen & Unwin, 1999)

Dale Kawashima
Songwriter Universe - Steve Kipner article
http://www.songwriteruniverse.com/kipner.html
For tech-heads, the A&G Webcasting site includes a downloadable RealVideo clip of Steve Kipner talking about one of Apogee's digital studio tools. Steve is also on the technical advisory board of Apogee Electronics
Kipner, Groves and Keats feature prominently in the Bee Gees story both in Australia, with Steve & The Board, and later in the UK as Tin Tin. Their involvement is fully documented on Joseph Brennan's outstanding Gibb Songs website