HAIR: The American Tribal Love-Rock Musical
Original Australian Production, 1969-71
Book and Lyrics by Gerome Ragni and James Rado
Music by Galt MacDermot
Produced for the Broadway Stage by Michael Butler
Originally produced by the New York Shakespeare Festival

Original Australian Production:
Premiere: 4 June 1969
Venue: Metro Theatre, Kings Cross, Sydney
Producer: Harry M. Miller
Designer, director: Jim Sharman
Executive Producer: Stefan Haag, OBE
Film Sequence created by Albie Thoms
Lights by UBU

Musicians:
Tully +4 (June 1969 - ca. Jan 1970):
Michael Carlos (keyboards)
Terry Wilson (vocals, guitar, flute)
Robert Taylor (drums)
Ken Firth (bass)
with
Mick Barnes (guitar) ex Nutwood Rug Band
John Sangster (percussion)
Keith Hounslow (trumpet)
Bobby Gebert (trumpet)

Luke's Walnut (Jan. 1970 - 1971)
John Bradstock (guitar) ex- Bobby Thomas & The Beaumen, The Whispers
Lance Dixon (keyboards)
Laurie Pryor (drums) ex-Twilights, Castaways
Russell Smith (trumpet) ex-Ram Jam Big Band
Reno Tehei (bass) ex-Compulsion

Principal Cast:
(based on programme information from the Sydney production, March 1970)
Claude - Wayne Matthews or John Waters
Berger - Keith Glass or Reg Livermore
Sheila - Berys Marsh or Jennie Cullen
The Magician -Sharon Redd or Creenagh St Clare
Woof - Terry O'Brien or Graham Matters
Hud - Tomay Fields
Jeannie - Audrey Keyes or Karolynn Hill
Chrissie - Helen Livermore
Moms - Jennie Cullen, Teddy Williams, Tomay Fields
Dads - Geoff Gilmour, Tim Hughes, Helen Livermore
Three Principals - Berys Marsh, Graham Matters, Creenagh St Clare
Tourist - Wayne Cull or Stephen Williams
Supremes - Denni or Karolynn Hill Inex Amaya, Sharon Redd
General Washington - Keith Glass
The Messenger - Clive Doak or Colin Setches
General Grant - Terry O'Brien
Indians - Geoff Gilmour Clive Doak Wayne Cull
Cowboys - Berger, Hud, Woof, Lincoln
Abraham Lincoln - Denni or Karolynn Hill
Grant's Army - Jennie Cullen Paula Maxwell Creenagh St Clare, Karen Petersen Helen Livermore, Audrey Keyes
Witch Doctors - Hud Terry Williams Karolynn Hill or Denni
Parents - Jennie Cullen, Reg Livermore or Berys Marsh, Geoff Gilmour
Sergeant - Stephen Williams or Colin Setches

The Tribe:
Inez Amaya / Nadia Anderson / Wayne Cull / Jennie Cullen / Denni / Clive Doak / Tomay Fields / Geoff Gilmour / Keith Glass/ Karolynn Jean Hill / Timothy Hughes / Audrey Keyes / Chris Keystone / Helen Livermore / Reg Livermore / Graham Lowndes / Berys Marsh / Graham Matters / Wayne Matthews / Paula Maxwell / Terry O'Brien / Karen Petersen / Sharon Redd / Vicky Cobden / Colin Setches / Michael Springfield / Creenagh St Clare / Yola Tehei / John Waters / Stephen Williams / Teddy Williams / Ronnie McCain
About the work and its writers
Two out-of-work American actors, James Rado (James Radomski) and Gerome Ragni, created Hair in 1966. The pair wanted to create a stage musical that combined traditional Broadway elements with "something new, something different, something that translated to the stage the wonderful excitement we felt in the streets." (Rado) This excitement was the long-haired, peace-loving, freewheeling hippie ethos of New York's East Village in the mid-Sixties. Like the Haight-Ashbury area in San Francisco (before its commercial exploitation), the East Village was a focal point for the art and music of the emerging "counterculture".
Rado: "We intended Hair for Broadway. We knew that's where it belonged and offered it to many of the established uptown producers. It was rejected again and again."
Naturally they were delighted when producer Joseph Papp approached them and proposed that Hair become the very first production at the under-construction New York Shakespeare Festival Public Theatre; he offered them a limited run of six weeks. Papp liked the premise, and suggested that Rado and Ragni develop a score. They brought in composer Galt MacDermot, who familiarized himself with the counterculture and rock music in order to compose the score for the show.
Hair opened at the Public Theatre on October 17, 1967. However, that run soon came to an end, and although review were favourable, the show closed with no new venue to move to. It was then that jet-setting impresario Michael Butler came to the rescue. The scion of a wealthy family with interests in paper, aviation, ranching, banking, utilities, electronics and real estate, Butler's first entry into theatre came in the 1950s when he convinced his father to back the original Broadway production of West Side Story. He was also prominent in the Democratic Party in the '50s and '60s and was an intimate friend and informal adviser to John F. Kennedy.
Butler saw Hair at the Shakespeare Public Theatre, loved it, and decided to become involved. Jointly he and Papp took the bold step of moving Hair to the Cheetah discotheque on Broadway, located where the Roundabout Theatre is today on Broadway between 45th and 46th Streets. Because Cheetah was a working disco, Hair had to start performances early in the night (7 pm curtain, with no intermission) to clear the floor in time for the dance patrons. Eventually, due to financial troubles, Hair had to close, but the team was determined to keep the show alive. Butler first tried working in concert with Papp but this feel through:

"(We) discussed a first class co-production. We made a deal and then Papp changed the terms. He did not believe in its future. So I went it alone."
In the meantime, the authors revised the book and music, and went into rehearsal again with a new script, new songs and a new director. After negotiations between the authors and Butler, final changes were agreed upon, and Tom O'Horgan agreed to become the new director. Butler also insisted that Rado take over the role of Claude. O'Horgan took three months to recast and rework the show and rehearsals ewere held at the Ukranian Hall in the East Village, while Butler tried to find a venue. Finally, he struck a deal with the owner of the Biltmore Theater, located on 47th Street. Hair opened on Broadway at the Biltmore on April 29, 1968 and the rest is history. It became one of biggest successes in musical theatre and ran for over four years, and eventually on 1 July 1972 after 1,742 performances.

The runaway success of the Broadway production spawned twenty-nine other productions in seventeen countries over the next few years, and Hair became the most talked about theatrical event of the era. Wherever it was staged it broke box office records; its anti-war, anti-establishment message, and the infamous nude scene, guaranteed that it became the target of conservative ire, ensuring a constant stream of intrigued patrons who wanted to see what all the fuss was about. The show proved too hot for some conservative regimes and it was banned in several countries.

Hair was also important in launching the careers of many new stars. Among the now-famous performers who made their names in the various US and international casts include Keith Carradine, Nell Carter, Cliff DeYoung, Marcia Hines, Reg Livermore, Keith Glass, John Waters, Diane Keaton, Joe Mantegna, Chuck McKinney, Meat Loaf, Natalie Mosco (Tanya in Number 96), Ted Neeley (who played the lead role in Jesus Christ Superstar on Broadway and in the film), Ben Vereen (Judas in the original Broadway production of Superstar), Jennifer Warnes, Alex Harvey (Sensational Alex Harvey Band), Philip Michael Thomas (Miami Vice), Tim Curry, Richard O'Brien (The Rocky Horror Show), Elaine Paige (Evita, Aspects of Love) and Donna Summer.

After a delay of many years, Butler finally brought Hair to the screen in 1979. The movie version was directed by Milos Forman.
Notes on the original Australian Production
The Australian production of Hair opened in Sydney on 4 June 1969 at the Metro Theatre, Kings Cross. It was unanimously well-reviewed, and despite a minor hitch at the premiere (the auditorium had to be evacuated because of a bomb scare) the star-studded premiere was a major social event, attended by a host of local celebrities who generated almost as much publicity as the show itself -- so much so that the Daily Mirror headlined their story "Two shows for the price of one".
Hair was a resounding success with audiences, breaking local box office records, and generating enormous media interest because of its then-controversial content. It ran for nearly two years in Sydney before shifting to Melbourne, premiering on 8 June 1971 and then on a national tour. Several key members of the cast and production team of Hair went on to the Australian productions of Jesus Christ Superstar (1972) and The Rocky Horror Show (1974), and all were tremendous critical and box-office successes.
Producer Harry M. Miller mounted the show in partnership with Kenn Brodziak's company Aztec Services, one of several productions on which they collaborated at this time, including the controversial stage play The Boys In The Band. Miller had been introduced to the play by Stefan Haag of the Elizabethan Theatre Trust:
Harry M. Miller: "Stefan ... came back from New York and he said to me, 'This show, you just won't believe . . . and they're nude and it's such frontier stuff. Nobody in the world has ever seen this sort of theatre. You must get it. You must.' "
Director Jim Sharman, one of the rising new stars of Australian theatre, was only 24 when he was selected to direct the show -- the first time that an Australian had directed a local version of a Broadway production. Sharman also designed Hair n for its Sydney premiere, but the show was re-designed for the Melbourne season by Brian Thomson (who had a long and successful collaboration with Sharman). His re-design included old washing machines, TV sets, radios and lawn mowers placed around the stage, more lighting effects, including a curved rainbow of lights over the proscenium arch, as well as new and more elaborate costumes. The sound system was also improved for the Melbourne season.
The original Sydney production featured lights by renowned film and lightshow collective Ubu, the production included a short experimental film by Albie Thoms (a member of the Ubu collective) which was created for projection over the stage during the 'Vietnam War' sequence.
In the relatively conservative social atmosphere of 1969, Hair was a daring and challenging production, featuring nudity, bad language, drug references and 'free love'. As a result, the soundtrack album (released on Spin in late 1969) was banned in Queensland and in New Zealand. One of Hair's central themes was resistance to the war in Vietnam:
Jim Sharman: " ... it was absolutely visceral theatre and in that way it connects to the times. There's a famous quote about the late sixties which is, 'If you can remember it, you weren't there,' and in essence that also applies to Hair."
"(Hair) was an absolute response to the Vietnam War and inside that was a kind of curiously quite conservative and rather Christian parable of the kind of Christ-like Claude ... representing an entire generation who are being sacrificed to a war that at the very least was highly questionable."
Sharman cast his Australian 'tribe' mainly from theatrical newcomers, "because they had something of the street savvy and something of the edge that the piece itself had." All were Australians except for six African-American singer-actors imported for the production. The integrated cast was a crucial element of the show because civil rights and racial discrimination was still a key social issue in the USA, especially in the wake of the assassination of Dr Martin Luther King.
Keith Glass (Berger) came from the pop-rock scene in Melbourne and was a former member of the groups 18th Century Quartet and Cam-Pact. Marcia Hines (recruited in Boston by producer Harry M. Miller and only 126 when she came to Australia) was an accomplished singer but she had no stage experience. One of the few cast members with solid stage and TV experience was Reg Livermore. He was aware of the show because his sister Helen had won a featured role, but he was at first uninterested in it. That changed after he attended a preview, and in his memoir Chapters and Chances he recalls that was so moved by the show that he was reduced to tears:
Reg Livermore: "... by the end of it I was just ... an emotional wreck. I was in tears ... I saw something there that I'd never seen before in my life and recognised that somehow, sometime, I just had to be up there in it."
Controversy
In the conservative political atmosphere of 1960s Australia it was inevitable that a production like Hair would provoke a controversy. The buzz surrounding the show was considerable, but producer Harry M. Miller cannily exploited its controversial aspects to create advance publicity. Not surprisingly, the famous nude scene aroused the curiosity of public and press alike:
Jim Sharman: "You had . . . a very puritanical society being confronted with something that was very loud in expressing the need for sexual liberation and I think that if there was a central issue that confronted people it was that one."
Under the archaic legislation still in force at that time, the person with ultimate control over all theatrical productions staged in NSW show was NSW Chief Secretary Eric Willis. If Willis found Hair to be offensive or obscene, he had the power have it closed down and this was a real danger -- Willis had recently forced an Old Tote production of the play America Hurrah! to remove 'offensive' language from the script, and a few months later Miller encountered even more serious problems when he took his production of The Boys In The Band to Melbourne, where three of the actors were charged with obscenity. However Miller took the precaution of arranging a star-studded preview and after-party, to which Willis was specifically invited, which he stacked with hand-picked guests including Dame Zara Holt, widow of former Liberal PM Harold Holt, who gushed enthusiastically about Hair to Willis. He also ensured that any possible shock would be minimal by 'tweaking' the nude scene:
Harry M. Miller: "I think he said the nude scene couldn't run more than 40 seconds . . . so the night he was there, if you'd dropped your program on the floor you wouldn't have seen (it). I think it was a second and a half long. Normal nights about four minutes. It depends who was there."
Reg Livermore: " ... the nude scene is nothing to write home about ... it closes the first half and is blacklit, so you'd have to have the eyesight of Superman to claim with some certainty you'd seen anything."
The preparation paid off and Willis gave the show the green light:
Eric Willis: "I told them it was not my kind of show. That it denigrated all of the basic standards of life that we had been reared to believe were correct ... the nude scene in my opinion was completely unnecessary ... but it was so brief that, you know, I just thought it was harmless."
For the performers, the nude scene was initially a challenge -- nothing like it had been staged in Australia before -- but they soon learned to take it in their stride:
John Waters: " ... we came to the time to rehearse [the nude scene] and I think Jim Sharman said, 'Well, you know, we're going to get our clothes off eventually. We might as well start now.' He took off his clothes and after a while it became a bit of a laugh and nobody bothered about it so much."

Reg Livermore: "I just stood next to a big black man ... Nobody looked at me."
---
Notes on the cast and production staff
Harry M. Miller (Producer)
Miller was born in Auckland, New Zealand in 1934. In the late 1950s he established himself as a promoter and manager, with clients including the popular NZ vocal group The Howard Morrison Quartet, and a promoter and entrepreneur, handling the NZ sections of Australasian tours by leading overseas artists as well as local . His first Australian promotion was a financially disastrous tour by The Kingston Trio in 1961, but in 1963 he promoted a very successful tour by Louis Armstrong, after which he moved to Australia and established Pan Pacific Productions P/L. Throughout the 1960s Miller promoted many of the major musical and theatre tours of Australia and New Zealand including classical pianist Artur Rubinstein, Shelley Berman, Sammy Davis Jnr, the notorious Australian tour by Judy Garland, pop groups The Rolling Stones and The Beach Boys, German drama group Die Breucke, raft voyager William Willis and the Ballet Folklorico of Mexico. The real basis of Miller's public reputation came from his hugely successful stage productions in the early 1970s -- Hair, Superstar and Rocky Horror -- and he also produced a London production of David Williamson's The Removalists in 1973.

Later in the 1970s he was appointed a Director of Qantas and organiser of the Queen's Silver Jubilee celebrations in Australia. In 1978 he established the firm Computicket (a forerunner to Ticketek) which went into receivership within six months. In 1982 Miller was charged with five counts of fraudulent misappropriation in connection with Computicket. Although found guilty, many felt that Miller was singled out because of a vendetta against him by members of the NSW Wran Labor government, and he was convicted and spent ten months in Long Bay and Cessnock jails, despite the relatively minor nature of the crimes. In the fallout from the Computicket Miller (understandably) became far more defensive of his public image, and has tended to shy away from the vigorous self-promotion of his '70s heyday (his name appeared 11 times each on the Hair soundtrack LP and the Superstar program). After his release Miller slowly revived his career and by the 1990s he was established as a leading manager and agent, with clients as diverse as Jill Wran, ex-wife of former Premier Neville Wran, and Stuart Diver, the lone survivor of the Thredbo landslide disaster. In association with the IMG group, Miller promoted a hugely successful concert version of Superstar in the 90s, starring John Farnham, Kate Ceberano, Jon Stevens and John Waters. Miller collaborated with IMG on a revival of Hair, which was scheduled to open in September 2000, but the production was cancelled only weeks before its premiere.

Jim Sharman (Director)
Sharman was born March 12 1945. He is the son of the late Jimmy Sharman, the famous Australian promoter whose travelling tent show toured Australian from the 1940s to the 1960s. Sharman's show, which featured many Aboriginal boxers, became a target for the liberal ire of certain Australian bands in 80s, notably Midnight Oil ("Jimmy Sharman's Boxers") and Cold Chisel ("Yesterdays"). Jim began his career in the early 60s in the Sydney theatre scene. After the enormous success of Hair, which he also directed in Tokyo, Sharman directed the shortlived Patrick Flynn-Sandra MacKenzie-Reg Livermore musical Lasseter (1971) at the Old Tote, followed by the Australian production of Jesus Christ Superstar, which opened in 1972 to enormous acclaim. Sharman also directed his first feature film that year, Shirley Thompson Versus The Aliens. The success of the Supertar led to an invitation to direct the London production and it was here that he met cast members Richard O'Brien and Tim Curry, and this led to the creation of The Rocky Horror Show in 1973. Also in 1972, Jim met Australian-born singer Little Nell (Laura Campbell, daughter of popular Australian newspaper columnist Ross Campbell), whom he saw busking outside the theatre where Superstar was playing, and he invited her to join Rocky in the role of Columbia. After directing the successful London, Los Angeles and Sydney stage productions of Rocky, Sharman directed the film version The Rocky Horror Picture Show, which has since become the longest-running film musical in cinema history

Brian Thomson (production designer)
One of Australia's most successful and acclaimed theatrical designers. He was born in Perth, WA on June 5 1947. He studied architecture at Perth Technical College and then at the University of New South Wales (1964-67). He first attracted attention with his striking work on a series of experimental theatre and film productions in the late 60s, culminating in his acclaimed design for a 1970 stage production of The Who's TOMMY. In 1971 he began his long and fruitful collaboration with Jim Sharman, designing a revolutionary set for the Old Tote production of Shakespeare's As You Like It, which led to commissions for three subsequent Old Tote productions: National Health, The Resistible Rise Of Arturo Ui and Lasseter, a musical based on the legend of the Australian prospector Ernest Lasseter, who was rumoured to have found a fabulous seam of gold, but who went missing and died in the desert before being able to relate its exact whereabouts. Between 1969 and 1975 his credits include Hair, Lasseter, Shirley Thompson, vs The Aliens, Jesus Christ Superstar, and the The Rocky Horror Show (stage and film). Sharman designed the original Sydney production but Thomson brought in to redesign the show for its Melbourne season in 1970-71.

Keith Glass (Berger, 1969-1970)
In the 1960s Keith Glass he was a founder member of several major Australian pop groups The Rising Sons, 18th Century Quartet (with Hans Poulsen) and Cam-Pact, whose members included Chris Stockley, Trevor Courtney, Chris Lovfen, Russell Smith and Ray Arnott. After leaving Hair he founded the seminal country rock band Sundown (which included two future members of The Dingoes) and ran two famous Melbourne record stores, Archie & Jughead and later Missing Link, which was the first store in the country to import early punk and New Wave records in the late 70s. Keith also founded the Missing Link label, which released the first recordings by The Go-Betweens and The Birthday Party (whom he also managed) as well as re-releasing some classic '60s Australian rock. Today Keith is a respected country music performer and a successful songwriter, with compositions recorded by many major Australian artists including Slim Dusty

Reg Livermore (Berger, 1970-71)
Livermore's credits on stage and TV go back to the early 60s and include Whiplash, Adventure Unlimited and The Mavis Bramston Show. Reg wrote the lyrics for the Patrick Flynn-scored musical Lasseter (1971), played 'Herod' in the original Australian production of Jesus Christ Superstar in 1972-73, and collaborated again with Flynn on the rock opera Ned Kelly (1974), which was recorded as an album but never staged. He starred as Frank-N-Furter in The Rocky Horror Show in 1974-75. After Rocky, Reg embarked on a series of successful and critically lauded one-man shows: Wonder Woman, Betty Blokk Buster Follies and Sacred Cow. After retiring from full time stage work in the late 80s, Reg began performing popular cabaret shows at a theatre restaurant in Springwood, and works as a regular presenter on the 'info-tainment' show Better Homes & Gardens.

Marcia Hines
Marcia was born Boston, Mass, USA in 1953 and was barely out of school when she was brought to Australia especially for the production. After hearing that a friend's sister (Donna Summer) had won a role in the German produciton, Marcia successfully auditioned for the Australian production. Because she was still a minor in the US, producer Harry M. Miller had to be appointed as her guardian so that she could travel here. She joined the cast in April 1970, aged only 16, by which time she was already pregnant with her daughter, who was born during the run of Hair on 4 September 1970. After Hair closed she joined the hugely successful original Australian production of Jesus Christ Superstar in 1973, replacing Michelle Fawdon in the role of Mary Magdelene, and it was this that really established her in Australia. After Superstar closed in 1974, she worked with the Daly Wilson Big Band, touring overseas and recording with them, before embarking on a hugely successful solo career in 1975. As one of the few black American female performers working in Australia at the time, Marcia was soon dubbed Australia's "Queen of Soul". She recorded many best-selling singles and albums -- including five Top 10 hits -- earned several gold and platinum albums, made two musical TV series for the ABC, was voted "Queen of Pop" for three years running 1976-78, and was Australia's top-selling recording and concert artist for four consecutive years 1976-79. In the mid-80s she stopped performing full-time for several years due to ill-health but after being diagnosed with diabetes and learning to manage her condition, she returned to regular performing and recording in the mid-90s. She also teaches singing and hopes to open her own performance school. Her daughter Deni has also become a successful singer, with hits in the 90s both with The Rockmelons and as a solo performer.
John Waters (Claude)
Born in London, England in 1948 John was the middle of five children of Scottish actor Russell Waters. John was the singer and bass player with the 60's R&B band The Riots before travelling to Australia and landing the leading role of Claude in Hair. This led to a highly successful career on stage, film and television. He shot to national fame as the brooding Sgt. McKellar in the ABC's Rush in the 70s, followed by film roles in End Play, Summerfield and Breaker Morant and in the 80s mini-series All The Rivers Run, Nancy Wake and Alice To Nowhere. John won the AFI Best Actor award in 1985 for his role Boulevard Of Broken Dreams. John's stage credits include Professor Higgins in My Fair Lady and productions of The Hunting Of The Snark for Mike Batt and A Little Night Music for the Sydney Theatre Company. In the early 90s he played Pilate in Harry M. Miller's hugely successful concert version of Jesus Christ Superstar. John left Superstar to tour nationally with a one-man show he devised called Looking Through A Glass Onion. A John Lennon aficionado and Beatles fan from way back, John wrote the show to celebrate Lennon's life and work and to evoke his honesty, bitter-sweet humour and disdain for pretentiousness. Looking Through A Glass Onion played sell-out seasons around Australia in 1992-93, culminating in a season in London's West End. Due to its popularity a second national tour played to critical acclaim and a sold-out season. Waters received considerable critical praise his writing for his performance as Lennon, winning the Melbourne Green Room Award for Best Actor In a Musical. More recently, John starred with Matt Day in The Sugar Factory and on stage as Captain Von Trapp in the Australian production of The Sound Of Music. He has revived Glass Onion for a return season in Sydney in early 2001 after a successful season in New Zealand in 2000 with Darryl Lovegrove in the lead role.

Wayne Cull
- played a number of roles on Australian TV including appearing in the series Fire (1995)
Graham Matters
- went on to play Rocky in original Australian production of The Rocky Horror Show, and later featured as "The Wizard" in the Chris Lofven film Oz.

Original Australian Cast Album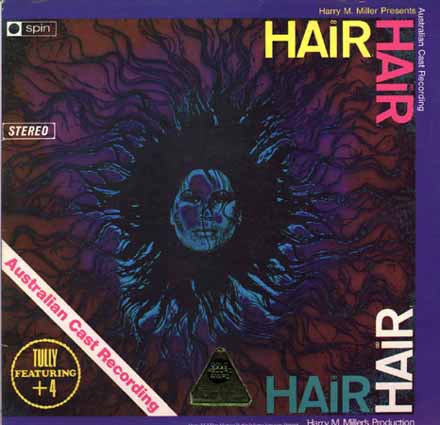 1969 (Spin/Festival SEL-933544) 2LP, stereo

Track listing:
"Aquarius"
"Hare Krishna"
"Where Do I Go?"
"Donna"
"Sodomy"
"Manchester, England"
"Going Down"
"Easy to Be Hard"
"General Grant's March"
"Sheila Franklin"
"Air"
"Initials"
"I Got Life
"Black Boys"
"White Boys"
"Frank Mills"
"Walking in Space"
"Abie Baby"
"Three-Five-Zero"
"What a Piece of Work Is Man"
"Hair"
"Farewell to Claude"
"Ain't Got No"
"Flesh Failures"
"Let the Sunshine In"

Keith Glass talks about Hair
KEITH GLASS, star of the original 1969 Australian production, talks about his memories of the show and his role as Berger:
How did you join the production, and what prompted you to go for it? Was it a difficult transition from being in a band (Cam-Pact) to doing a stage show?

I was attending RMIT and playing in band so it wasn't like I had nothing to do, but I auditioned on a whim and got a lead part. I thought it might last six months so I quit the band and deferred the course. Within three months I wanted to play in a band again but I had a 2-year contract! (and was making $$$$$)

You played Berger, and I know Reg Livermore also played that part - did he take over when you left?

Reg joined as understudy to me as Berger, did his best to undermine me (hey that's showbiz) and took over some shows as exhaustion/boredom set in, then the whole shebang when I left - but I did the soundtrack, for which I still await a gold album!

When did you join and leave the show?

Original cast member, some time 1969 [June] and quit the day my contract was up, unfortunately before show went to Melbourne and elsewhere.

Did you have to get your kit off for the Nude Scene? How scary was that the first time?

Not much - we'd rehearsed, we were stoned.

Did you have much to do with Harry M.? Any comments?

Harry never did wrong by me - gave me a pay rise after a month - he didn't need to. Did have his name 11 times on the sleeve of the album though.

What was Jim Sharman like to work with?

Jim is one sick puppy!

Tully was the house band, but were "augmented" for the show. Do you recall who else played with them?

The guitarist from Nutwood Rug Band (hippies from San Fran), Johnny Sangster on percussion, Keith Hounslow (trumpet) and some others - I even played bass a few nights!!

I've read that Tully were booted out later in the run because they kept digressing from the score - any comments on that? Do you remember when they were kicked off, and who replaced them?

Lasted about nine months, then a band was assembled -- Bobby Gebert, Reno (Tahei) from Compulsion. Tully were whacked every night but then we all were and I digressed from script all the time!

What did you think about (A) the show itself and (B) the Australian production? What do you think of it now?

The show has good songs and a message -- it was of its time and I think thrilled people, but I don't dwell on it, and I generally dislike musicals.
References / Links
ABC TV - 'Timeframe'
Episode 4: Hair
http://www.abc.net.au/time/episodes/ep4.htm
Harry M. Miller with Dennis O'Brien
My Story (Macmillan, 1983)
Hair Online Archives
Sydney Daily Telegraph, 6 June 1969 - review

Sydney Daily Telegraph, 6 June 1969 - partial article incl. report of bomb scare

Sydney Morning Herald, 6 June 1969 - review by H. G. Kippax

New York Times, 7 June 1969 - Hair opens in Sydney, Australia
Variety, 2 July 1969 - New Zealand bans Hair record
Variety, 10 June 10, 1970 - First anniversary bash for Australian Hair
Variety, 9 June 1971 - Melbourne Australia Hair opens
Photos:
Australian Hair photos:
http://www.orlok.com/hair/holding/photographs/hair/AustralianHair.html
Tokyo Hair photos:
http://www.orlok.com/hair/holding/photographs/hair/TokyoHair1.html