THE DINGOES
Melbourne - USA 1973-79
Ray Arnott (drums, vocals) 1974
John Bois (bass, guitar, keyboards, vocals) 1973-79
Andrew Jeffers-Hardin(g) (guitar) 1979
John Lee (drums, percussion, vocals) 1973-74, 1976-79
Mal Logan (keyboards) 1973
Broderick Smith (vocals, harmonica) 1973-79
Chris Stockley (guitar, vocals) 1973-79
John Strangio (bass) 1973
Kerryn Tolhurst (gtr, mandolin, vcls) 1973-78




The Dingoes, 1973 (L-R) John Bois, Kerryn Tolhurst, Brod Smith, Chris Stockley, John Lee.
History
Conventionally described as Australia's foremost 'country-rock' exponents, their avowed aim was to "marry rhythm and blues with Bush music". The Dingoes indeed fused elements of country and folk music with R&B, blues and rock, giving it a muscular and distinctively Australian edge that set it apart from many of their rather anaemic American counterparts. They were also something of a 'supergroup' comprising veteran musos drawn from several other leading bands of the early 70s. The Dingoes were the critics' darling, and great things were predicted for them. They seemed destined for overseas success, but - like so many before them - it failed to materialise The Dingoes' story is typical of many of the groups in this website - tremendous talent and promise, frustrated by bad luck and lost opportunities. There is at least some consolation in the legacy of their fine music - although it has to be said that little of their original material in currently in release.
The founder and principal songwriter of The Dingoes was singer/songwriter/guitarist Kerryn Tolhurst. He was been a member Melbourne's Adderly Smith Blues Band in the late 60s, (where he first met singer Broderick Smith). This was followed by stints in two seminal Australian country-rock bands: Sundown (1970) with Keith Glass, and then Country Radio (1972-73). It was in Country Radio that Tolhurst really found his niche; he formed a successful writing partnegsubip with Greg Quill, and they co-wrote the hit Singles "Gypsy Queen and "Wintersong, both of which were strong influences on the Dingoes' future direction. Indeed it's been said that " ...the Dingoes main aim in life was to carry on the great work done by ... Country Radio and further explore the possibilities of blending Bush music with R'n'B".
After leaving Country Radio in early 1973, just after their appearance at Sunbury, Tolhurst briefly joined Mississippi. Then he put together his new band, The Dingoes in April 1973, comprising himself, plus Chris Stockley (ex-CamPact, Axiom), John Strangio, John Lee (ex-Blackfeather), and fronting the band, the powerful voice of lead singer Broderick Smith. Brod has previously been the singer in the Adderly Smith Blues Band, and the noted blues/boogie combo Carson; he was also a member of Sundown, but left after the group's direction became "too country" for his liking. When he joined The Dingoes he was fresh from his appearance as 'The Father' in the famous Australian concert production of The Who's Tommy.
Strangio left in July and was replaced by John Bois, who had played with Tolhurst in Country Radio. They were one of the early signings to the fledgling Mushroom label. Their debut single "Way Out West was" written by Tolhurst (although the first two Albums credit it to the group as a whole). Released in October 1973, it became the band's signature tune and one of the classic Australian singles of the 70s. It has since been successfully covered by James Reyne (Australian Crawl) and country singer James Blundell. A clip of The Dingoes performing "Way Out West" on GTK has been posted on YouTube.
Just a week before the single was released Chris Stockley received a serious gunshot wound during an incident at a party in Melbourne, which resulted in a 2 month stay in hospital. For many years the incident was written up as 'accidental shooting' but according to Ian McFarlane's "Encyclopedia, the real story was that Stockley had been shot by the notorious Melbourne drug dealer Dennis Allen who had been trying to gatecrash the party. Given Allen's fearsome reputation, Chris can count himself lucky to be alive. While he recuperated he was replaced by keyboard player Mal Logan (ex Healing Force, Carson) and he stayed with the group until the end of 1974.
The single charted in January 1974 and reached No.26 in Melbourne. They appeared at the 1974 Sunbury Festival over the Australia Day long weekend, and their performance featured on Mushroom's "Highlights of Sunbury '74, released later that year. (Interestingly, Brod Smith performed at ever Sunbury concert, either with Carson or The Dingoes). The same month, they recorded their superb self-titled debut LP, produced by John French (" ... a genuine Australian rock classic.." - Ian McFarlane). Mal Logan played on the album, contributing standout keyboard work on several tracks, notably "Goin' Down and" Sydney Ladies. The album also showed the spread of writing strength amongst other band members - Stockley wrote the opening track "Come On Down, and co-wrote "Boy On The Run (their next single) with Brod Smith, who in turn co-wrote "Sydney Ladies with Tolhurst; the closing track, "Dingoes Lament, is by John Du Bois.
John Lee in May 1974 left to join Ariel (as replacement for Nigel Macara) and he was replaced by Ray Arnott, (ex-Spectrum, Mighty Kong). "The Dingoes was released in June, along with a second single "Boy On The Run/ Last Place I Wanna Be, which" did well in Melbourne but did not break nationally. The LP reached No 18 in July 1974 and was the Federation of Australian Broadcasters 'Album Of The Year' for 1974. A third single, "Smooth Sailing" / "Dingoes Lament", was released in October. During the year The Dingoes toured nationally with various artists including Bad Company, Leo Sayer, Bo Diddley and Freddy Fender, and they won 'Best Australian Group Album' at the Australian Music Awards and 'Best Group Vocal Album' at the ARIA awards.
Early in 1975 the group got a major break through former Australian roadie Billy McCartney, who saw them while on a visit home. McCartney had established himself in the US as tour manager for Elvis Presley and Rod Stewart. Returning to the US, McCartney recommended the band to Peter Rudge, who was then tour manager for both the Rolling Stones and Lynyrd Skynyrd; after lengthy negotiations Rudge agreed to manage them in the U.S.
The following months proved frustrating for the band - expecting the summons from Rudge at any time, they were unwilling to commit to long-term tours or to recording, and thus lost valuable ground when they should have been consolidating on the success of the LP and Singles. An American tour was finally arranged for mid-1976, but by the time they arrived Rudge's attention was focussed on Lynyrd Skynyrd. Just prior to leaving, Ray Arnott quit the group by "mutual agreement" so John Lee returned to the fold, meeting up with the band in Canada.
The Dingoes signed a two-album deal with A&M in the USA, on the recommendation McCartney and Rudge. In preparation, they undertook 3 months of rehearsals in Canada, then headed for the US, where they set up base in Mill Valley, in Northern California, at the start of 1977. They recorded tracks for a new A&M album in San Francisco during January and February, produced by Elliot Mazer, producer for Janis Joplin and Neil Young, with session contributions from celebrated keyboard players Nicky Hopkins and Garth Hudson (whose presence was particularly appropriate, given the tremendous impact that the music of The Band had on many Australian musicians, including The Dingoes).
The new album, Five Times The Sun, was their first overseas release, and included re-recorded versions of tracks from their first album, including "Way Out West" and "Smooth Sailing", which enjoyed chart success when released (as a double A-side) in Australia. It also featured liner notes by author Emmett Grogan. The band members were granted their prized green-cards, allowing them to base themselves in America, and in their two-year stay they toured forty states by road.
Stockley left the band in early 1978 and joined Greg Quill's new band Southern Cross in the US; when that band broke up in Australia at the end of the year he formed Stockley, See and Mason. He was replaced in The Dingoes by American session guitarist Andrew Jeffers-Hardin. By this time the group had moved east and settled near Woodstock, in upstate New York. In mid-1978 they recorded a third album, Orphans Of The Storm, at New York's famed Hit Factory, and they continued to work in the US until late 1978, but their efforts to crack the US market were ultimately to prove fruitless. The major blow came when several members of Lynyrd Skynyrd were killed in a plane crash; it destroyed the morale of their management team and effectively brought The Dingoes' US career to an end. "Orphans Of The Storm" was released in February 1979, along with a final single, "Into The Night", but by this time the band had split for good.
Smith came back to Australia and fronted his own bands including Broderick Smith's Big Combo; he has continued to perform and record, and has branched out into stage and TV acting with appearances in "Janus, "Law of the Land, The Man from Snowy River, "Blue Heelers and "State Coroner. For the last couple of years Brod has been working in a successful acoustic duo with musical partner Mick Ahearne, sponsored by Maton Guitars.
Tolhurst, Du Bois and Lee stayed on in the US. John Lee moved on to the cult band Root Boy Slim and His Sex Change Band; he eventually settled in Nashville, and lived there until his untimely death in July 1999.
Kerryn Tolhurst lived and worked in New York for many years, and has continued his career as a respected songwriter, performer and producer, both here and in the USA. He had major success with the song "All Fired Up, which became a major hit for Pat Benatar in 1988, going Top 10 in Australia and Top 20 in the US. In 1995 he worked with Paul Kelly on his Deeper Water album, co-writing the songle "Give In To My Love, and writing the album track Difficult Woman. He was a guest performer in the Spirit Returns music program, which featured the reformed Goanna, Ross Hannaford and Liam O'Maonlai (of Hothouse Flowers) at the Melbourne Festival in 1998. In 1999 Kerryn returned to live in Australia, and produced the debut album for singer Cyndi Boste. Also in '99, Kerryn was reunited with his old boss, Greg Quill from Country Radio; they began collaborating on new songs which resulted in the superb CD So Rudely Interrupted and a long-awaited duo tour which reunited them with former Country Radio bandmates Chris Blanchflower and John A Bird and old friends including Gus McNeil and writer and filmmaker David Elfick.

Discography
Singles
Nov. 1973
"Way Out West" / "Shine A Light" (Mushroom K 5331)
Jun. 1974
"Boy On The Run" / "Last Place" (Mushroom K 5540)
Oct. 1974
"Smooth Sailing" / "Dingoes Lament" (Mushroom K 5673)
Feb. 1978
"Smooth Sailing" / "Way Out West" (A&M K6893)
Feb. 1979
"Into The Night" / "Since You've Been Gone" (A & M K7406)
Albums
1974
The Dingoes (Mushroom L35110) LP; D19463 (CD) (1991)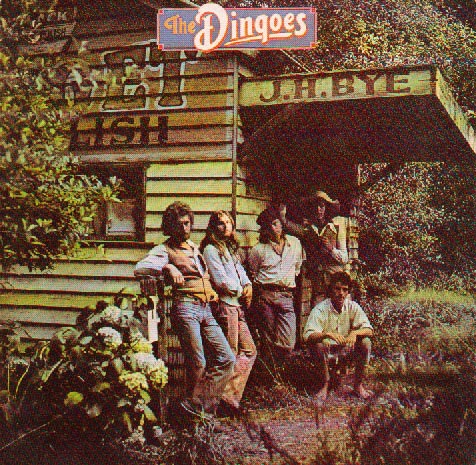 "Come On Down" (Stockley)
"Boy On The Run" (Smith/Stockley)
"The Last Place I Wanna Be" (Tolhurst)
"Way Out West" (Dingoes)
"Pay Day Again" (Tolhurst)
"Goin' Down Again" (Tolhurst)
"Aaron" (Tolhurst)
"My Sometime Lady" (Tolhurst)
"Sydney Ladies" (Smith/Tolhurst)
"Dingoes Lament" (Du Bois)

Produced by The Dingoes & John French
Recorded at TCS Studios Melbourne, January 8-11, 13-23, 1974
Assistance: Don Mudie
Mastered by Bernie Grundman at A&M Studios, Los Angeles
Photography: Phil Quirk
Design: Ian McCausland
Hand colouring by John Brash
---
1977
Five Times the Sun (A&M L36237)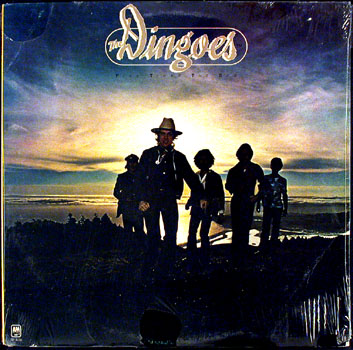 "Boy on the Run" (Stockley-Smith)
"Come on Down" (Stockley)
"Shine a Light " (Stockley)
"Singing Your Song" (Tolhurst)
"Smooth Sailing" (Tolhurst)
"Starting Today" (Tolhurst)
"Waiting for the Tide to Turn" (Tolhurst)
"Way Out West " (Dingoes)
Produced by Elliott Mazer
Engineered and mixed by Elliot Mazer and Smiggy
Recorded at His Master's Wheels, San Francisco
Mastered by Bernie Grundman at A&M Studios, Los Angeles
---
1979
Orphans of the Storm (A&M L36721)
Track listing not available -- album includes:
"Into The Night" (Du Bois)
"Since You've Been Gone (Tolhurst/Du Bois)
Produced by John Anthony
Engineered by Michael Getlin
Mixed by John Anthony & Michael Getlin
Basic tracks recorded by Kevin Herron
---
1992
Way Out West - The Best Of The Dingoes (Mushroom D24508) CD
"Way Out West" (Tolhurst)
"Boy on the Run" (Stockley-Smith)
"Sydney Ladies" (Smith/Tolhurst)
"Goin' Down Again" (Tolhurst)
"Smooth Sailing" (Tolhurst)
"Shine a Light" (Stockley)
"Singing Your Song" (Tolhurst)
"Come on Down" (Stockley)
"Waiting for the Tide to Turn" (Tolhurst)
"Into The Night" (Du Bois)
"Since You've Been Gone" (Tolhurst/Du Bois)
"Child In The Middle" (Tolhurst)
"Don't Want To Face The Day Alone" (Stockley/Du Bois) **
"High Living (Stockley) **
"So Long For So Little" (Lee) **
** Previously unreleased tracks, recorded at Atlantic Studios, NY;
Produced by The Dingoes, engineered by Jim Douglas
References/Links
Ian McFarlane
Encyclopedia of Australian Rock & Pop (Allen & Unwin, 1999)
Noel McGrath
Australian Encylclopedia of Rock (Outback Press, 1978)
Ed Nimmervol
liner notes for Way Out West CD (1992)
Broderick Smith homepage
http://www.labyrinth.net.au/%7Ebrodlou/.
Chris Spencer, Zbig Nowara & Paul McHenry
Who's Who of Australian Rock (Five Mile Press, 2002)
YouTube
The Dingoes perform "Way Out West" on GTK, 1973
http://www.youtube.com/watch?v=iUmtSpGhMEs