WARNER BROTHERS / REPRISE / WEA

Category:

Date:

Location:

Ownership:

American-owned recording company

1958 - present

Australian head office: Crow's Nest, Sydney, 1970-present

- division of Warner Brothers Studios, 1958-1967


- division of Warner-Seven Arts, 1967-69

- division of Kinney/Warner Communications, 1969-89

- division of Time Warner Inc, 1989-2003

- independent company, 2003-present
Warner Music Group: a short history
The present-day Warner Music Group (WMG) traces its origins to Warner Bros. Records, the music division of the famous Warner Brothers movie studio. For most of its existence the Warner music company was a division of a series of successively larger corporations, but since 2003 it has been an independent company, following its divestiture by the Time Warner congolmerate and its purchase by a private equity group. According to Wikipedia, it is currently the third-largest of the four major international music conglomerates, and the world's largest music publisher.
Warner Brothers Studios first entered the music business in 1930 with its US$28 million acquisition of Brunswick Records and four music publishing companies, but these operations had been sold off by the end of the decade. Warner re-entered music in 1958 with the establishment of Warner Bros Records. By this time Hollywood was reeling from the impact of TV; Warner Bros Studios sold off much of its movie library in 1948 (although, ironically, Time Warner's 1989 takeover of Turner Broadcasting brought back almost every Warner production) and in 1949 anti-trust action by the US government forced the five major studios to sell off their cinema chains.
For its first decade Warner Bros Records was a relatively minor player compared to EMI and the two biggest American labels, RCA and CBS/Columbia. However, it gradually built up a formidable roster by taking over a string of prestige independent labels in the Sixties and Seventies. The label's first majro coup came in 1960 with the signing of The Everly Brothers, which was reputed to have been the world's first million-dollar record contract. In 1963 Warner Brothers Studios closed its animation unit, but the same year it took a further step into the music business, agreeing to a 'rescue' takeover of the ailing Reprise Records (founded by Frank Sinatra in 1960). Although it was in financial trouble at the time of teh takeover, Reprise flourished in the late 1960s, thanks to Sinatra's much-touted "Ol' Blue Eyes Is Back" comeback campaign, the hits by Nancy Sinatra and Lee Hazlewood, and especially the acquisition of the American rights to the recordings by The Jimi Hendrix Experience.
In 1967 aging movie magnate Jack Warner sold his controlling share in the Warner empire to Seven Arts Productions for US$95 million, and the company was rebadged as Warner-Seven Arts. Following the Seven Arts takeover, Warner's music division expanded dramatically, beginning the same year in 1967 with the purchase of one of the most famous of all American independent labels, Atlantic Records.

In 1969 Warner-Seven Arts was taken over by Kinney National Services, a conglomerate with wide-ranging interests that included comic publishing, the Ashley Famous talent agency, parking-lots, cleaning services and funeral parlours, and Warner Brothers Records worldwide briefly adopted the 'umbrella' name Kinney Music, because U.S. anti-trust laws at the time prevented the three labels from trading as one. Kinney renamed the film and music group Warner Communications and its stewardship helped rebuild the company's image, which had been tarnished by corruption and payola scandals .
The Warner group of labels built up a commanding position in the industry during the 1970s. In 1970 it bought Elektra Records (founded by Jac Holzman in 1950) for US$10 million, bringing in rock acts inlcuding The Doors, Tim Buckley and Love, and the Nonesuch folk archive. The same year, the company established its first overseas offices in Canada and Australia. By late 1972 U.S. anti-trust laws had changed and the company was renamed WEA Records (from the first initial of each of the three main labels, Warner Bros. Elecktra and Atlantic).

Atlantic, its subsidiary Atco and its affiliate Stax led the way for Warner group's rise to industry prominence. In the mid-to-late Sixties, Atlantic/Stax released some of the greatest soul recordings ever made, but it also moved decisively into rock and pop, signing major acts like Cream, Crosby Stills & Nash / CSNY, Yes, Led Zeppelin, The Average White Band, The Faces, Dr John, King Crimson, Bette Midler and Foreigner. The Warner Bros. label also sold (and earned) millions, building up a prestigious rock/pop roster which included The Grateful Dead, James Taylor, Van Morrison, America, Van Dyke Parks, Little Feat, Alice Cooper, Bonnie Raitt, Seals & Crofts and LaBelle.
Reprise also carved out its own distinctive niche, augmenting its complement of leading popular vocalists -- Frank and Nancy Sinatra, Dean Martin, Sammy Davis Jr, Trini Lopez -- with an eclectic roster that grew to include Lee Hazlewood, the early Joni Mitchell recordings, Neil Young, The Electric Prunes, The Kinks' Pye recordings, Arlo Guthrie, Norman Greenbaum, Tom Lehrer, Tiny Tim, Ry Cooder, Captain Beefheart, Frank Zappa/The Mothers, Gram Parsons, Emmylou Harris, Nico, The Fugs, Jethro Tull, Pentangle, T.Rex, The Meters, John Cale, Gordon Lightfoot, Michael Franks, Richard Pryor, Al Jarreau and the early 70s recordings by The Beach Boys. Reprise stuck by Fleetwood Mac through the band's leanest years in the early '70s, but after handing them over to Warner Bros in 1975, they had to watch as the group scored massive international hits with the single "Rhiannon" and their blockbusting Warner Bros. albums Rumours and Tusk.
In 1972 Warner acquired another rich prize -- David Geffen's Asylum label, which brought in the cream of the emerging "West Coast' genre -- Joni Mitchell, The Eagles, Linda Ronstadt, Jackson Browne and Warren Zevon. In 1976 Warner grabbed an early lead in digital media when it bought the Atari computer company and in 1981 it bought the Franklin Mint company, but in 1984-5 it rapidly divested many of its recent acquistions, including Atari, Franklin Mint, Panavision, and its cosmetics business.
New singings in the late 1970s placed the Warner group in a strong position for the 1980s. A deal with Seymour Stein's Sire label (which Warner later took over) brought in several top New Wave acts including The Pretenders, The Ramones and Talking Heads and, above all, superstar Madonna. Elektra signed The Cars, and Warner Bros. signed Prince, giving WEA two of the biggest-selling acts of the '80s.
A proposed 1983 international merger between Polygram and Warner Music was forbidden by both the US Federal Trade Commission and Germany's cartel office, so Polygram's half-owner Philips then bought a further 40% of the company from its partner Siemens, and acquired the remaining shares in 1987. The same year, Polygram divested its film and publishing operations, closed Polygram Pictures and sold Chappell Music to Warner for US$275m. In 1988 WEA took over the prestigious German classical label Teldec and the UK Magnet label.
In 1989 the Warner group's fortunes changed dramatically when it was bought for US$14 billion by the Time-Life media empire, creating Time Warner. WEA acquired more labels -- CGD Records (Italy) and MMG Records (Japan) in 1989, and in 1990 it bought Carrere Disques (France) and French classical label Erato.
In 1994 Canadian beverage giant Seagram bought a 14.5% stake in Time Warner, and the publishing division -- now called Warner/Chappell Music -- acquired CPP/Belwin, becoming the largest world's largest owner of song copyrights and the world's largest publisher of printed music. In 1996 Time Warner made another dramatic expansion of its media holdings, taking over the Turner Broadcasting System, which by then included the Turner cable TV network, CNN and the screen production houses Castle Rock and New Line Cinema.
In 1998 Seagram boss Edgar Bronfman Jr held talks aimed at merging Seagram's Universal Music with the venerable British recording company EMI, but the discussions came to nothing; Bronfman then oversaw Universal's takeover by Vivendi. WEA meanwhile continued to expand its publishing empire, buying a 90% stake in the Italian recording and music publishing group Nuova Fonit Cetra.
In 2000 internet giant AOL joined forces with Time Warner in the largest merger in American corporate history. The new super-giant again tried (and failed) to acquire EMI, and subsequent discussions about the takeover of Bertelsmann's BMG stalled, with Bertelsmann eventually offloading BMG into a joint venture with Sony. In 2002 AOLTW took another step towards domination of the publishing industry, buying 50% of music publisher Deston Songs from edel music AG.
By the early 2000s, however, the effects of the "dotcom crash" had stemmed AOL's formerly gushing income stream and eroded its stock value, and in 2003 the Time Warner board punished its underperforming partner by dropping "AOL" from its business name. Then, amid management disputes, a sagging share price and rising alarm about the impact of digital file-sharing, Time Warner decided to unload its music operations in 2003.
Time Warner's music assets were acquired by private equity group led by Thomas H. Lee Partners, Lexa Partners (Seagram's Edgar Bronfman Jr, who put up US$150 million drawn from his family's stake in Vivendi), Bain Capital and Providence Equity Partners. The deal set the group's value at around US$2.6 billion, payable in cash and other considerations, and it included an option that would allow Time Warner to buy back in if conditions proved favorable. Bronfman, Lee, Bain and Providence had reportedly recouped their investment by May 2006 through dividends, refinancings and a share offer floated in May 2005.

The Warner music group now trades as Warner Music International and is structured in three main units: recording, licensing and publishing. It has thirty-seven affiliates and numerous licensees in over fifty countries, and operates on every continent (except Antarctica). Its major record labels include Atlantic, Bad Boy, Elektra, Erato, Lava, Maverick, Nonesuch, Reprise, Rhino, Sire, Teldec, Warner Bros and Word. Its music publishing division, Warner-Chappell Music, is currently the largest music publisher in the world, with a catalogue of over one million song copyrights. As of October 2005 WMI had 84,000 employees, US$42 billion in annual revenue and a market valuation of US$82 billion.
Once free of Time Warner, WMI began cutting costs by offloading loss-making or low-earning units. Reacting to the growth of the digital music market, WMG (like its rival EMI) made an historic change, moving out of record production by closing or selling off disk-pressing plants, particularly in high cost locations such as the USA and the Netherlands.
In 2005 the Miami-based Warner Bros. Publications, which printed and distributed a broad selection of sheet music, books, educational material, orchestrations, arrangements and tutorials, was sold to Alfred Publishing, although the sale excluded the print music business of WMG's Word Music (church hymnals, choral music and associated instrumental music).
During 2006 EMI and WMG engaged in a takeover battle, with each rejecting an unwelcome US$4.6bn bid from the other. EMI announced that it had turned down an offer to be acquired by Warner Music, its smaller rival, calling the proposal "wholly unacceptable" and increasing its offer for Warner Music, which was in turn rebuffed.


The Warner Music Group in Australasia
Warner Brothers Records did not establish an Australian subsidiary until late 1970. Prior to this, the Warner Bros, Elektra and Atlantic labels were distributed by a number of different companies -- the Australian Record Company (ARC) had held the rights to Warner Bros since 1960, and Festival held the rights to Atlantic. ARC had a large and long-established distribution network, so it handled Warner's distribution for the company's first two years in Australia.
Warner's first overseas office was established in Canada, and the second was in Australia. Founding manager Paul Turner headed the Australian branch from 1970 until his retirement in 1990. He began the Australian operation with five staff in July, and the official launch of Warner Brothers Australia was held at the Menzies Hotel, Sydney on 1 October. The company was originally based in Riley Street, Darlinghurst and had three major labels, Warner Bros, Elektra and Atlantic. The company's Australian signings between 1970 and 1973 were all to the Warner Bros label, but the Reprise label was activated and used locally from 1973; there were no known local singings to Elektra, Asylum or Atlantic in this period.
The establishment of Warner in Australia fell right in the middle of one of the most controversial music industry events of the era -- the 1970 Radio Ban. In early 1969, following the enactment of the new Copyright Act 1968, a group of local recording companies (Festival, Polygram, EMI, RCA, CBS and Warner) decided to scrap a long-standing agreement with Australian commercial radio stations over the supply of 'promotional' copies of new records, which dated back to 1958. The record companies then demanded that a hefty new levy to be paid for each record played on air, equivalent to 1% of the commercial radio sector's combined annual revenue. Radio not surprisingly balked at paying for products which (they argued) they were promoting for free, repeatedly, every day.
When talks broke down in May 1970, the record labels imposed an embargo on the supply of free promotional records to radio stations, so radio responded by boycotting all new major label releases and refusing to include their products in their weekly chart surveys. Warner's role in this dispute warrants much closer inspection, and it is particularly notable that, because of the copyright law differences between the USA and Australia, the Radio Ban did not affect American recordings. Festival and especially EMI were significantly affected, however -- many EMI records that had been hits in the UK received little or no airplay on commercial radio in Australia. An unforseen effect of the the sudden imposition of this de facto trade embargo was that it opened the commercial playlists to several independent labels who had declined to join in the Ban, and as a result labels such as Sparmac, Du Monde and especially Fable achieved significant success, although it was to be shortlived, and the window of opportunity closed rapidly after the Ban was lifted at the end of October.
Compared to its rivals EMI, CBS, RCA and Festival, Warner/WEA's importance on the local music scene was relatively minor and sporadic until the late '70s, although there were some notable acts signed, and the company enjoyed some commerical successes. Its first Australian releases were by country-rock supergroup Axiom, whose last two singles and second LP (recorded in the USA with producer Shel Talmy) came out on the Warner Bros. label. Both singles used catalogue numbers that were not part of the standard WBA-4000 series that the company used until from 1971 to 1974, and their release evidently preceded the company's official launch in October 1970.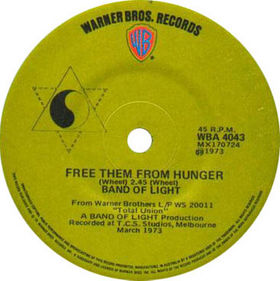 According to teh company's official history, its first-year budget was AU$1 million, which was recouped in just seven months, and total first year sales came in at just under AU$2 million. In 1972 the rebadged WEA Australia ended its alliance with ARC/CBS and established its own sales and distribution division, and a new warehouse was opened at George Place, Artarmon, NSW.

The first 45rpm release in the Warner Bros 'WBA-4000' series was by Sydney 'underground' band Tamam Shud, and the first Warner Bros Australian LP was Shud's Goolutionites and the Real People, released in October 1970 to coincide with the launch of the company. Shud also featured in Warner's first commercial success, the soundtrack to Albie Falzon's classic 1973 surf film Morning of the Earth, which became the first Australian-made soundtrack album to earn a gold record, despite the fact that it received almost no airplay on commercial radio.
Other Warner singles released during 1971-2 were by Bobby Bright (half of 60s pop duo Bobby & Laurie), G. Wayne Thomas (producer of Morning Of The Earth), the final releases by Tamam Shud, vocalist Jennifer Ryall's cover of "Everything's Alright" from Jesus Christ Superstar, and studio supergroup Duck, which featured Jon English, Bobbi Marchini and John Robinson.
Sydney band Autumn had scored a major hit in mid-1971 with their version of Mungo Jerry's "Yellow River" (released on the Chart label); after signing with Warner Bros they recorded a single, an EP, and an excellent album, Comes Autumn, but unfortunately none of these releases had any commercial or chart success.
In 1973 Warner finally scored its first local hit singles. The second Warner single by singer-songwriter John J. Francis, "Play Mumma, Sing Me A Song" was a Top 20 hit in Sydney and Francis (who became a DJ for Double/Triple Jay) was one of the label's most prolific acts in this period, recording five singles and four LPs between 1972 and 1974, although it is thought that these recordings were released under licence from producer David Gibson's Copperfield Records. Another moderate success was Band Of Light, the group founded by former La De Das singer-guitarist Phil Key. They had a Top 40 hit in mid-1973 with their debut single "Destiny Song" and their debut album Total Union (recently re-issued by Aztec Music) also briefly made the album charts.
Warner Bros had a near miss with Sydney glam-rock group Hush. Hush had released their first (unsuccessful) single on Philips and were then signed by Warner Bros, Their first Warner single -- a reggae version of "White Christmas" -- unsurprisingly failed to chart, but their next single "Get The Feeling" / Take Us Home" became a major local hit in Sydney, reaching #11 in October 1973. Hush's popularity was boosted by prestigious support slots on tours by The Jackson Five and Status Quo, and their debut LP, the live-in-the-studio Aloud'N'Live! charted nationally, reaching #20 and earning a gold record. Hush's next single "Man Eater" did not chart, and it appears that they then parted company with Warners and moved to Robie Porter's Wizard label, for whom they recorded several hit albums and singles including their national #1 "Boney Maroney".
During 1973 WEA began signing local acts to the Reprise label; its first known releases were the two solo singles by former Co. Caine frontman and lyricist Gulliver Smith. Reprise also locally released at least one single by Ronnie Charles' shortlived hard rock group Atlas. Another Reprise curiosity is the one-off single by vocalist Al Head, who had scored a minor hit with the song "Mammy Blue" in 1972. The A-side of his only Warner single was "Giles of the River", a song written by Walter Becker and Donald Fagen which pre-dated the formation of Steely Dan. It was recorded as a demo in 1972 by former Mamas & Papas vocalist Denny Doherty, and was subsequently covered by Steppenwolf's John Kay on his 1973 solo album (which is the liekly source of Al's version). Australian Reprise albums from this period which have been identified so far include Gulliver Smith's cult classic The Band's Alright But The Singer Is ...., the only album by Lindsay Bjerre's post-Tamam Shud band Albatross, who unfortunately broke up shortly before it was released and two LPs by the Daly Wilson Big Band.
Warner Brothers evidently put considerable store in Dove, a middle-of-the-road soft rock vocal group from Melbourne. They released six singles between 1973 and 1975, although only one made the Top 40, and the band subsequently moved to the Image label. There were other interesting releases during 1974 -- soul-rock big band Kush (fronted by the irrepressible Jeff Duff), renowned singer Kerrie Biddell, Ted Blackall (a vocalist whose only recordings were produced by Brian Cadd), Cloud Nine (which later evolved into Taste) and The Thomas Brothers, a duo comprising Bobbie Thomas (ex Bobbie Thomas & The Beaumen) and former Ray Brown & the Whispers guitarist Lawrie Barclay. Also of note are the two fine albums by Flying Circus, who were then based in Canada. Warner gave a local release to the excellent Gypsy Road (1973) and The Last Laugh (1974) but, with the band unavailable to promote them locally both these fine albums sank without a trace on release.
WEA began to add more Australian acts to its roster in the late 1970s, and it succeeded in signing two of the top Australian bands of the period -- Cold Chisel and INXS, who moved to WEA from the independent Deluxe label after their first two LPs. WEA became a major player on the local music scene in the 1980s during the tenure of A&R manager Philip Mortlock, who signed both Chisel and INXS and later headed the eastWest subsidiary. Warner's Australian roster expanded significantly and the company achieved great success with acts including Cold Chisel, INXS, 1927, Boom Crash Opera, Jenny Morris, Taxiride, Savage Garden and Superjesus.
Notwithstanding these local successes, most of Warner Music's profits in Australia have undoubtedly derived from publishing assets and its lucrative library of international superstar acts, which includes The Doors, The Eagles, Neil Young, Jackson Browne, Van Morrison, Joni Mitchell, Ry Cooder, Randy Newman, Alice Cooper, Fleetwood Mac, Rod Stewart, James Taylor, Eric Clapton, Led Zeppelin, Phil Collins, Prince, REM, Madonna, Jane's Addiction, Elvis Costello, Alanis Morissette, The Corrs, Jewel and Matchbox 20.
In 1992 EMI Australia and WEA jointly established the DATA (Digital Audio Technologies Australia) compact disc plant but in 2004, following Time Warner's sale of Warner Music, EMI and Warner Music both pulled out of record production and the DATA plant was sold to Summit Technology Australia. Warner Music Australia is currently headed by former music writer Ed St John. The company celebrated its 30th anniversary in 2005, and capped the year by acquiring the Festival-Mushroom recording archive for AU$10 million in October 2005, following the liquidation of the Festival Mushroom group earlier in the year.
Discography
Australian recordings 1970-75
This discography is under construction. If you can provide any missing details of the releases listed here, or information about releases not yet listed, please email us at webmaster@milesago.com.

The Warner Bros 'WBA-4000' series for Australian singles began in October 1970 and lasted until some time in 1974, when it changed to the '100000' series; Reprise singles from 1973 were catalogued withan 'RPA' prefix and given a number in the '14000' range. The few Warner EPs issued (which must have been among the last releases in this format in Australia) were catalogued in "W-EPW-200' range.

With one exception (axiom's If Only...) Warner Bros LPs were catalogued in the 'WS-20000' series and Reprise LPs wer catalogued in the 'WS-4000' range until 1974, when both labels adopted the common '600000' range numbering.
Singles
Warner Brothers label
Cat. #
Date
Artist
Title
6143
Jul. 1970
Axiom
"Father Confessor" / "Time & Time Again"
Produced by Shel Talmy
8021
Jan. 1971
Axiom
"My Baby's Gone" / "Hold The Phone"


Produced by Shel Talmy

WBA-4000
1970
Tamam Shud
"Stand In The Sunlight"
"I Love You All"
WBA-4001
1971
Autumn
"Falling"
"Miracles"
WBA-4002
1971
Bobby Bright
"Who Will Bring The Rain"
"Wedge Tailed Eagle"
WBA-4004
1971
G. Wayne Thomas
"Take It Easy"
"You're Not Alone"
WBA-4007
Jan. 1972
Tamam Shud
"Got A Feeling"
"My Father Told Me"
WBA-4009
1972
G. Wayne Thomas
"Open Up Your Heart"
"Morning Of The Earth"
WBA-4016
1 Jul. 1972
Jennifer Ryall
"Everything's Alright" (Rice-Webber)
"Sandy"
Produced by G. Wayne Thomas

WBA-4018

1972
Duck
"Sweet Inspirations"
"Southern Man"
WBA-4023
1972
Duck
"Maybe I'm Amazed"
"The Man In Me"
?
1972
John J. Francis
"Pity Me"
?
WBA-4035
1973
Band of Light
"Destiny Song"
"Over 'B'"
WBA-4037
1973
Honeybus
"For You"
Lovely Little One"
WBA-4038
1973
John J. Francis
"Play Mumma, Sing Me A Song"
"What To Do"
WBA 4039
1973
Kush
"Peter Gunn"
"Sky Is Falling"
WBA-4040
1973
Hush
"Get the Feeling"
"Take Us Home"
?
1973
John J. Francis
"Simple Ben"
"Embarrasing Situation"
?
1974
John J. Francis
"City Lights, Saturday Night, 1959"
"Liberated Roadside Lady"
?
1973
Dove
"Little Honda"
"20 Years"
WBA-4042
1973
Dove
"It Might As Well Rain Until September"
?
WBA 4043
1973
Band of Light
"Free Them From Hunger"
"The Cat"
Produced by Band of Light


Recorded at TCS Studios, Melbourne

WBA 4053
1973
Kush
"Wait"
"Can't You Hear Me Calling"
WBA-4055
1973
Band of Light
"Moonstruck"
"If"
WBA-4057
1974
Dove
"Magic To Do"
?
WBA-4059
1974
artist/s unknown
titles unknown
Music from the documentary

One Way Ticket

?
Feb. 1974
Hush
"Man Eater"
"Black Skinned, Blue-Eyed Boys"
WBA-4068
1974
Kerrie Biddell
"Together"
"May It Be Well With You"
WBA-4070
1974
Cloud Nine
"Rock And Roll Highway"
?
WBA-4071
1974
Dove
"Amazing Grace"
"Country Girl"
WBA-4072
1974
Kush
"Easy Street"
"All Right In The City"
WBA-4073
1974
John J. Francis
"Lucky Star"
"Money Honey"
WB-100004
1974
Dove
"Play Something Sweet"
?
WB-100006
1974
Band of Light
"The Archer, A Sagittarian Rhapsody"
"Silis The Sun"
WB-100017
1974
Kush
"MacArthur Park"
"Klue"
?
1974
Ted Blackall
"Valley Of Blood And Fire"
?
WB-100031
1975
Dove
"Long Live Love"
"Just One Look"
?
1975
The Thomas Brothers
"Ain't No Woman"
?
Reprise
Cat. #
Date
Artist
Title
RPA-14006
1973
Gulliver Smith
"Such A Shame"
"Platonic Love" / "Woman Pie"
RPA-14009
1973
Gulliver Smith
"Lazy Shoe"
"Almost Freedom" (Greg Quill)
R-3616 (UK)
1974
Atlas
"Rock 'n' Roll Wizards"
"Military Rag"

RPA-14017
1974
Atlas
"They Don't Know"
"The Knowing"
?
1974
Al Head
"Giles Of The River" (Becker-Fagan)
?
EPs
| | | | |
| --- | --- | --- | --- |
| WB-EPW 201 | 1970 | Axiom | The Axiom Hits |
| ? | 1971 | Autumn | A Patch of Autumn |
| WB-EPW-262 | 1973 | John J. Francis | Play Mumma Play |
| WB-EPW-261 | 1974 | Band of Light | Band of Light |
Albums
Warner Bros
Cat. #
Date
Artist
Title
WS-20001
Oct. 1970
Tamam Shud

Goolutionites and the Real People


Produced by John Bromell
WS-3009
1971
Axiom

If Only

WS-20003
1971
Autumn

Comes Autumn

WS-20004
May 1972
various artists

Morning Of The Earth

original soundtrack
Produced by G. Wayne Thomas
WS-20006
1972
Frieze

1972 B.C.


Produced by Brian Cadd
WS-20007
1972

John J. Francis

Rock 'n' Roll Refugee

WS-20008
1972
Duck

Laid

WS-20009
1973

John J. Francis

Breaks, Works And Thoughts

WS-20010
1972
Flying Circus

Gypsy Road

WS-20011
1973
Band of Light

Total Unio

n
WS-20014
1973
Hush

Aloud 'n' Live!

WS-20016
1974
Ted Blackall
Energetic Flesh
Produced by Brian Cadd
WS-20020
1974
Flying Circus

Last Laugh

WS-20019
1974

John J. Francis

Open Fist

WS-600007
1974
Kush
Snow White... And The Eight Straights
WS 600009
1974

John J. Francis

Wassa Matta

WS-600011
1974
Band of Light

The Archer
Reprise
| | | | |
| --- | --- | --- | --- |
| Cat. # | Date | Artist | Title |
| RS-4001 | 1973 | Gulliver Smith | The Band's Alright But The Singer Is .... |
| RS-4002 | 1973 | Albatross | A Breath Of Fresh Air |
| RS-4003 | 1973 | Daly Wilson Big Band | The Daly Wilson Big Band On Tour |
| 600023 | 1975 | Daly Wilson Big Band | The Daly Wilson Big Band featuring Marcia Hines |
References / Links
ketupa.net
Warner Music media profile
http://www.ketupa.net/warnermusic.htm
Warner Music Australia company history
http://www.warnermusic.com.au/history
Ross Laird
The Sixties: Australian Rock & Pop Recordings 1964-69 (Screensound) - PDF document
http://www.nfsa.afc.gov.au/docs/collectionguide_thesixties1964-1969.pdf

Wikipedia
- Warner Bros
http://en.wikipedia.org/wiki/Warner_Bros.
- Warner Music
http://en.wikipedia.org/wiki/Warner_music
Discogs.com
http://www.discogs.com/label/Reprise+Records
Ian McFarlane
Encyclopedia of Australian Rock & Pop (Allen & Unwin, 1999)
Chris Spencer, Zbig Nowara & Paul McHenry
Who's Who of Australian Rock (Five Mile Press, 2002)
Vernon Joyson
Dreams, Fantasies & Nightmares: Australia (Borderline Books, 1999)
Brian Sweet
Steely Dan: Reelin' In The Years (Omnibus Press, 2000)