AXIOM
Melbourne / UK / USA, 1969-71
Brian Cadd (keyboards, vocals)
Doug Lavery (drums) 1969
Don Lebler (drums) 1969-71
Don Mudie (bass)
Glenn Shorrock (vocals)
Chris Stockley (guitar)
History
Formed in Melbourne in 1969, Axiom were arguably Australia's first true supergroup. Yet, in spite of a wealth of talent and promise, some notable chart successes and two superb Albums of original material, they failed to achieve lasting popularity, due in part to waning public support in Australia as they vainly tried to crack the fickle English market, and the band fizzled out after less than two years. Nevertheless, Axiom deserve to be recognised as an important musical bridge between Sixties pop and Seventies rock in Australia, as one of the first serious attempts to make Australian rock with international appeal, and as one of the finest bands of their time.
Axiom was formed by Brian Cadd and Don Mudie, both former members of leading Melbourne popsters The Groop. Cadd, who began his career with Melbourne's The Jackson Kings, was already a prominent singer, songwriter and keyboard player. Besides his success with The Groop, he wrote hits for other acts, including "Elevator Driver" for the Master's Apprentices and "When I Was Only Six Years Old" for Ronnie Burns (which was also a UK hit for Paul Jones) and both he and Mudie worked as session players on a number of important recordings including the Russell Morris' classics "The Real Thing" and "Part III into Paper Walls".
After linking up in The Groop, Mudie and Cadd formed a successful songwriting partnership that carried on through Axiom and beyond. Shorrock was the former lead singer of The Twilights; Lavery was from Perth's (in)famous The Valentines; Stockley was from leading Melbourne group Cam-Pact.
The formation of Axiom was apparently somewhat controversial, and there have been suggestions (probably based on reports in Go-Set) that Cadd & Mudie had deliberately engineered the break-up of The Groop in order to be able to form Axiom. The offer was evidently an attactive one -- Lavery and Stockley quit their respective bands and Shorrock withdrew from managing Melbourne band The Avengers to join. The Groop split after Mudie and Cadd had conducted lengthy (and apparently secret) negotiations to recruit Terry Britten who, like Shorrock had been a member of the recently defunct Twilights. They were unsuccessful in snaring Britten, but this evidently enabled them to make the link that resulted in the recruitment of Shorrock.
Axiom signed to Ron Tudor's Fable Records. Their first single "Arkansas Grass" (co-written by Cadd and Mudie) was an immediate hit, reaching #7 in December 1969. Cadd, like many other Aussie musicians, had been deeply influenced by the trend towards a fusion of country and folk elements with rock, spearheaded by acts like Dylan, The Byrds, Crosby Stills & Nash and especially The Band. Songs like "Arkansas Grass" show how well and how quickly Axiom mastered the idiom, and proved that they were able to create material that could stand up against (or indeed pass for) that of any major American group.
Axiom, and Brian Cadd in his later solo work, have sometimes been criticised for the overt "American-ness" of some of their songs. There is no denying it, but there are several important factors that need to be understood when considering why Cadd and Mudie took to this style so enthusiastically. It's tempting to think that they had the US market in mind but Brian Cadd . Moreover, The Groop had been leading local proponents of soul and R&B, but Australian radio's entrenched resistance to black music -- even of the homegrown variety -- made it clear that this route would soon be a musical dead-end, at least in commercial terms (and it was not until the advent of disco in the late 1970s that this changed).
Brian Cadd was by no means the only ones smitten by the charms of innovations of The Band. George Harrison and Eric Clapton have openly admitted that lyrical honesty and the rootsy, organic musical style of The Band's first two LPs completely transformed the direction of their own music (a fact clearly in evidence on Clapton and Harrison's early solo albums) and as well a providing a rich new musical vocabulary, The Band caught the ears of many songwriters with their use of American Civil War imagery (also prominent on "Arkansas Grass"). The currency has faded now, but at the time it provided a convenient allegory that writers like Cadd and Mudie could use to refer to the controversial war then raging in Indochina, without facing the very real risk of having their anti-war messages censored by record labels or denied airplay by radio.
Doug Lavery left the band in early 1970 to join The Mixtures and was replaced by Don Lebler (ex-The Avengers). Axiom left for London in April with publishing deal from Leeds Music and reported record deal offers from both Apple and Decca. Their attempts to break into the English scene were understandable in the context of the time, but in retrospect their material clearly suggests that they would have been much more likely to succeed in America (as LRB would ultimately prove). Indeed, the latter part of their career suggest that they were heading in that direction, as so often happened, it seems that they lacked the necessary management and record company support.
They released their second single "Little Ray of Sunshine" just prior to leaving for England. Although it's long been claimed that it was written about the birth of Brian's daughter, this is not true. In his interview with Debbie Kruger for her excellent 2006 book Songwriters Speak, Brian revealed the true story behind the writing of the song:
"... there was a couple and we all knew both of them; they were part of our circle. They were a fabulous couple. Towards the end of their time together they got pregnant. By the time this kid was born their relationship was acrimonious, horrifying. Everyone divided up into her camp or his camp and it was dreadful. And in the midst of all this, this fabulous little kid was born, and nobody seemed to notice. I hated it. It was terrible. And I thought, 'You know, regardless of anthing else, you guys made this. She's come into the world, and she's gorgeous. And it's such a shame in a way that you can't be affected by this like most people when this ray of sunshine comes into their life and changes everything about them ... " (1)
"Little Ray of Sunshine" shot to #5 in April 1970 and has since become a standard. Their first two Axiom singles are rightly considered classics, and the latter, a perennial favourite, has become one of Glenn Shorrock's trademark songs, and was even celebrated with its own stamp in Australia Post's 1998 "Australian Rock" stamp series. It was followed by Axiom's brilliant debut LP Fools Gold, which was both widely praised and a significant commercial success, reaching #18 on the album chart in June.
Fool's Gold unquestionably ranks as one of the best and most original Aussie albums of the period, and (in my opinion) one of the best Australian pop-rock albums ever. It was also a significant step forward in creative control, being one of the very first Australian rock albums released on a major label that was produced by the artists themselves. Axiom was able to take advantage of the great improvement in sound provided by the new 8-track facilities at Armstrong's Studios, which showcased a selection of superb songs, brilliantly performed. Like the equally overlooked 1970 LP Prepared In Peace by Flying Circus, Fool's Gold was an important bridge between pop and country rock, and another notable feature is the closing track, "Who Am I Gonna See?", which is probably the first Australian pop-rock recording to use a didgeridoo in the arrangement.
Although there is a strong American flavour to many of the songs, Fool's Gold anticipated the approach taken by later acts like The Dingoes and Skyhoooks, and features some of the first examples of Australian pop songwriters tackling distinctly Australian themes and using local references, notably on the tracks "Mansfield Hotel" and "Once A Month Country Race Day". Ironically, Brian Cadd revealed to Debbie Kruger that the Australian reference in the song "Ford's Bridge" (named after a town in Queensland) it was in fact the result of pressure from outside the band:
" ... we wrote a song, which must have been all the stuff that I had left in my head from 'Arkansas Grass', which I called 'We Can Reach Georgia by Morning'. We had done some rough mixes and somebody played some of them to Stan Rofe and Rofe got right off his bike about it and said that it was absolutely unconscionable for us to use Georgia and why couldn't we use an Australian name? So I succumbed to the browbeating of everybody, and we found in the atlas a place in Northern Queensland called Fords Bridge, which had the right meter for the words ... I never really got over that. It really hurt me, It annoyed me ... I just got very annoyed with the parochialism. When it reached out and touched me and made me change a word in a song. I hated it." (2)
Soon after arriving in England, Axiom signed a three-year contract with Warner's Reprise label. Evidently Warners were sufficiently impressed to assign the making of band's third single to legendary American-born producer Shel Talmy (The Kinks, The Who, Creation, Manfred Mann, The Easybeats). The single "Father Confessor" was released in July, but after the spectacular success of the first two singles, this one curiously failed to chart at all in Australia, probably due to the effect of the recently imposed 1970 Radio Ban.
In September Warners flew them to Los Angeles where they recorded the remaining tracks for their second LP If Only... with Talmy. They returned to Australia for a few months in November 1970 and then headed back to England in February 1971. If Only was released in March 1971, just after the band split. Talmy was interviewed by music writer Richie Unterberger in 2000. Almost thirty years down the track, he still spoke of Axiom group and the album in glowing terms:
"Warner Brothers hired me to record them. Super-duper band. It was a super album. Two weeks before the album was to be released on Warner, they decided to break up. And they did, and Warners said, "Bye!! If you think we're promoting this album, you're out of your fucking minds!" I was real pleased with that album. It was fun to do, they were talented, the songs were great."
Coming from the man who produced such classics as "My Generation", "You Really Got Me", "Friday On My Mind" and "Waterloo Sunset", this is high praise indeed.
Axiom had their third and last Aussie hit in early 1971 with the first single lifted from the LP, "My Baby's Gone" (the verses of which bear a suspicious resemblance to the 1980s World Party hit "Ship of Fools"). The only surviving videos of the band are performances of the song from Happening '71 and the shortlived Channel 9 pop show Move, and they also filmed a promotional clip for the song, one of the first such clips made in colour in Australia. Given that Australia wasn't to get colour TV for another four years, this was clearly done with overseas markets in mind. When released in January, the single did extremely well -- it was Top 10 by February, peaking at #8, a fact that is at odds with conventional wisdom, which says that interest in the band was waning while they were away in England.
Unfortunately the difficulties of slogging it out in England and cracking the international market undoubtedly took their toll, and it seems there was growing tension within the band by the start of 1971 and Lebler and Mudie both quit, following Doug Lavery into The Mixtures in March, which precipitated the band's break-up. Sadly, as Shel Talmy relates, this came only two weeks before If Only... was released. One can only speculate on the result if they had been able to stay together to promote it. Both album and single were released later that year in America but in the absence of the band, they sank without trace.
After Axiom ...
Brian Cadd continued to write and record with Don Mudie. They returned to Australia and released a duo single in late 1971, after which Brian hooked up with Ron Tudor to form the Bootleg label. He enjoyed a hugely successful solo career in the '70s and '80s both in Australia and overseas. He moved to America in 1975 and became a prominent member of what was dubbed the "Gumleaf Mafia", the group of Aussie expats based in L.A. that included John Farrar, Billy Thorpe and Olivia Newton-John. In recent years he has also been a member of the reformed Flying Burrito Brothers. He returned to Australia in the early '80s and eventually settled back here in the early 90s. He has worked regularly on the club and casino circuit since then. During his 1999 tour Cadd and his first wife had a 'close shave', and had to be rescued by a passer-by after their car was swept off a bridge on the Gold Coast during local floods. Brian continues to perform as well as running his own record label, among other music interests.
Glenn Shorrock returned to the UK for several years, singing and recording with the multi-national group Esperanto, before accepting an invitation to team up with members of Mississippi, which soon became the mega-successful Little River Band. Glenn reunited with Brian Cadd in 1993 for the album Blazing Salads.
Chris Stockley went on to a very distinguished career in the 70s with The Dingoes and Stockley, See & Mason.
Unfortunately we have no current information about the later careers of Don Mudie, Doug Lavery and Don Lebler, so if anyone can fill us in, we'd love to hear from you!


Discography
Singles
Dec. 1969
"Arkansas Grass" / "Samantha"" (Parlophone A-8909)
Produced by Axiom
Mar. 1970
"Little Ray Of Sunshine" / "Fords Bridge" (Parlophone A-9070)
Produced by Axiom
Jul. 1970
"Father Confessor" / "Time & Time Again" (Warner Bros 6134)
Produced by Shel Talmy
Jan. 1971
"My Baby's Gone" / "Hold The Phone" (Warner Bros 8021)
Produced by Shel Talmy
Apr. 1971
"Fools Gold" / "Yesterday, Today & Tomorrow" (Parlophone A-9421)
Produced by Shel Talmy
EP's
1970
The Axiom Hits (Warner Bros WBE 201)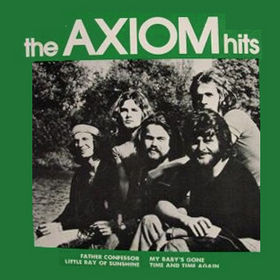 "Father Confessor" / "Little Ray of Sunshine" // "My Baby's Gone" / "Time & Time Again"
Albums
1970
Fools Gold (Parlophone PCSO 7561)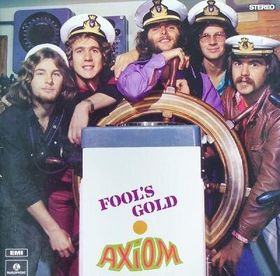 "Arkansas Grass"
"Baby Bear"
"Ford's Bridge"
"Samantha"
"Take It Or Leave It"
"A Little Ray Of Sunshine"
"Yesterday, Today And Tomorrow"
"Mansfield Hotel"
"Can't Let Go Of This Feeling"
"Country Pickin' "
"Once A Month Country Race Day"
"Fool's Gold"
"Who Am I Gonna See?"
(All songs by Mudie-Cadd)
Produced by Axiom
Recorded at Armstrong's Studios, Melbourne
---
1971
If Only (Warner Brothers WS-3009)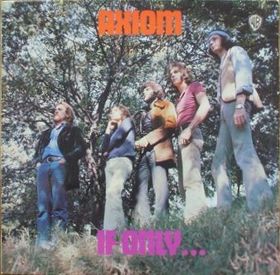 "Father Confessor"
"Georgia by Morning"
"Hold the Phone"
"Little Ray of Sunshine"
"Longest Day"
"Matter of Time"
"My Baby's Gone"
"Sailing Ships"
"Talking About It"
"Time & Time Again"
Produced by Shel Talmy
(All songs by Mudie-Cadd)
---
2004
The Axiom Archive (Raven RVCD 137)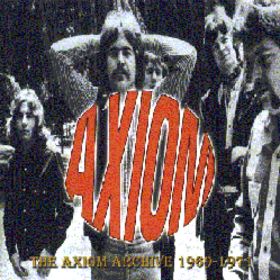 Compiles all tracks from both LPs, plus "Same Old Country Song" (recorded live on GTK)
and the 1971 Brian Cadd-Don Mudie duo single "Show Me The Way" / Rolling And Tumbling Down"
Videos
Only three known surviving videos of Axiom have surfaced to date, and all three are performances of the single "My Baby's Gone". Two are mimed b/w video clips, one from Happening 71 and the other from the shortlived Nine pop show Move. The other is a purpose-made promotional film-clip shot in colour by filmmaker Peter L. Lamb of Approximately Panther fame, which was shot for a short film called Fool's Gold. A copy of this clip survives in the archives at Channel 0 Melbourne, although it has not yet surfaced on YouTube, but VHS copies are known to have been circulating among collectors for some time.
YouTube videos
"My Baby's Gone" (from Happening '71, Channel 0, 1971)
http://www.youtube.com/watch?v=u1p8Gsgcr08
"My Baby's Gone" (from Move, Channel 9, 1971)
http://www.youtube.com/watch?v=j_WR5gPQvVQ
References/Links
Glenn A. Baker
liner notes for The Axiom Archive (Raven RVCD 137)
Paul Conn
2000 Weeks: The First Thirty Years of Australian Rock (Moonlight Publications, 1996)
Debbie Kruger
Songwriters Speak: Conversations about creating music (Limelight Press, 2006)
(1) Interview with Brian Cadd, pp. 109-110
(2) Interview with Brian Cadd, p. 109
Ian McFarlane
Encyclopedia of Australian Rock & Pop (Allen & Unwin, 1999)
Noel McGrath
Australian Encylopedia of Rock (Outback Press, 1978)
Chris Spencer, Zbig Nowara & Paul McHenry
Who's Who of Australian Rock & Roll (Five Mile Press, 2002)
Rate Your Music - Axiom
http://rateyourmusic.com/artist/axiom
Richie Unterberger
"The Shel Talmy Interview"
http://www.richieunterberger.com/talmy.html
Thanks to Michael Hunter for additional information.