THE LA DE DAS
Auckland / Sydney 1964-75
1964 (formed as The Mergers)
Phil Key (guitar, vocals)
Trevor Wilson (bass)
Kevin Borich (guitar, vocals)
Brett Neilsen (drums, vocals)

1965-67
Phil Key (guitar, vocals)
Trevor Wilson (bass)
Kevin Borich (guitar, vocals)
Brett Neilson (drums, vocals)
Bruce Howard (keyboards)

1968
Phil Key (guitar, vocals)
Trevor Wilson (bass)
Kevin Borich (guitar, vocals)
Bryan Harris (drums)
Bruce Howard (keyboards)

1968-70
Phil Key (guitar, vocals)
Trevor Wilson (bs)
Kevin Borich (guitar, vocals)
Keith Barber (drums)
Bruce Howard (organ)
1970
Phil Key (guitar, vocals)
Reno Tehei (bs)
Kevin Borich (guitar, vocals)
Keith Barber (drums)
Bruce Howard (organ)

1971-72
Phil Key (guitar, vocals)
Peter Roberts (bass)
Kevin Borich (guitar, vocals)
Keith Barber (drums)

1973-75
Phil Key (guitar, vocals)
Keith Barber (drums)
Ronnie Peel (bass, vocals)
History
Talented, sexy, sophisticated, adventurous, dynamic, innovative -- just some of the many tags that have been been attached to The La De Das' name. But one word was always associated with them more than any other - the La De Das were cool.

Their career spans the entire '64-'75 period, and we're fortunate that the story has been been documented in considerable detail, by Glenn A. Baker, who interviewed the band members for his extensive liner notes to the definitive double album retrospective Rock'n'Roll Decade in 1981, and then by New Zealand rock historian John Dix, who devoted a entire chapter to them in his seminal 1988 book Stranded In Paradise.

Formed in New Zealand at the very start of the beat boom, they were already major stars at home when they relocated across the Tasman a couple of years later. They're practically the only major group (on either shore) to emerge from the beat boom of 1964-65 who managed to ride out the massive musical changes of the Sixties and adapt to the new scene in the Seventies, emerging as one of Australia's most popular hard rock groups during the first half of the Seventies.

There are a lot of similarities to their Aussie contemporaries The Masters Apprentices. Both were touted as their country's answer to The Rolling Stones. Both survived for so long in that mercurial era because they had tons of talent, determination and the ability to adapt their sound and look to align with prevailing trends. Both groups went through major personnel changes -- by the time the Masters split, singer Jim Keays was the only remaining original member, and by the time of their final 1973-74 'power trio' incarnation, only guitarist and singer Kevin Borich remained from the original La De Das lineup.

Like the Masters, they started off as blues/R&B purists, and their original style leaned heavily on British R&B practitioners - The Rolling Stones, The Yardbirds and John Mayall's Bluesbreakers - and on the American originals like John Lee Hooker, Elmore James and Muddy Waters. They moved into their 'mod' period - with covers of Ray Charles, Motown and Northern Soul favourites, replete with tartan trousers, satin shirts and buckle shoes. Then they plunged headlong into psychedelia (the obligatory concept album, covers of songs from West Coast outfits like Blues Magoos, paisley shirts, sitars, long hair and moustaches). They almost came unstuck after the inevitable -- and ultimately futile -- attempt to "make it in England". But it's here that the stories diverge -- the Masters fell apart in England in 1972, but the Las De Das survived (just) limped back to Australia, regrouped, and bounced back with a mature and reinvigorated take on their R&B roots. Their final incarnation as a hard-rockin', no-frills, blues & boogie band carried them very successfully through to the mid-70s.
"Find Us A Way": New Zealand 1964-67
The headlong rush of the international 'beat boom' of 1962-64 triggered an explosion of new bands on both sides of the Tasman. One of these was The Mergers, started by three lads from the rural Huapi district, near Auckland on New Zealand's north island. Friends Kevin Borich, Brett Neilson and Trevor Wilson were all from Rutherford High School in Te Atatu, Auckland. Kevin had actually started much earlier in music -- at 12 he had recorded a private single with two young sisters, Judi and Sue Donaldson, who lived on a neighbouring property. (The pair later became a popular NZ singing duo called The Chicks, and Sue later went on to work overseas with artists such as Cat Stevens.)
The Mergers' formation was a typical story of the time. They formed in late 1963 as Shadows-style instrumental group and began playing local dances and school socials, but The Fab Four's visit in June 1964, and the emergence of The Rolling Stones, crystallised the need for change of style -- and a lead singer. Trevor Wilson suggested a friend from nearby Mt Albert Grammar School , and so Phil Key was invited to join as vocalist and rhythm guitarist. Like the recruitment of Jim Keays to The Masters Apprentices, Phil's entry was crucial for the 'Das, and he quickly developed into a fine lead singer, as well as becoming a top-notch guitarist. As Kiwi historian John Dix rightly points out, Phil Key "... has been generally underrated as a vocalist, and few people have appreciated as one of the best to come out of the Antipodes ". It was Phil's older sister -- an avid record collector with an interest in obscure British groups, as well as hard-core American R&B -- whose influence provided the bulk of their early repertoire.
The lads realised pretty quickly that "The Mergers" didn't really reflect the toughness of their music, so they experimented with other names. (One promoter even changed their name to The Gonks for an early 1965 gig at a summer carnival!) They decided on something a bit more hardline -- The Criminals -- but Phil's mother was less than impressed and after rehearsals one night at the Wilson house she jokingly suggested instead that they call themselves "something nice, like the la-de-das ...". Phil loved it, and the name stuck.
By early 1965 their weekend hobby had taken off and they were getting regular bookings on Auckland's booming dance circuit, and they began hanging out regularly at the city's leading clubs and discos. Funnily enough, the first major media outing for the band soon to be lauded as "New Zealand's Rolling Stones" was not exactly the stuff of rock & roll legend. In April 1965 a new British comedy film opened in New Zealand and local TV producer Robert Handlin came up with a quaint idea for promoting it on TV. Needing a group for the task, and having seen them at the Platterack, he offered the La De Das the gig. The sweetener was the offer of some free recording time so they accepted. Decked out in matching black suits with bowler hats, white shirts and bow ties, The La De Das made their first TV appearance, live across New Zealand, miming to the theme song for Those Magnificent Men in Their Flying Machines!
In exchange, Handlin gave them the time to make their first recordings in an Auckland 2-track studio. They cut two tracks written by Borich, "Ever Since That Night" and "Little Girl" (co-written with Trevor Wilson); it was released as a single on the Talent City label in April 1965, but it only sold to friends, family and fans and is consequently by far the rarest of their recorded output.
In November 1965 they got a major break when they were called up to fill in for popular local band The Dallas Four (led by Red McKelvie, later of Flying Circus), who were unable to play a full night at Auckland's No. 1 nightspot, The Platterack. The La De Das went over well and this earned them further bookings at the club. After Phil Key finished school in December, the band turned professional. The Platterrack took on The Las De Das as the resident band, replacing the Dallas Four (among whose claims to fame was the discovery of brilliant young vocalist Leo De Castro). The band got NZ£12 per week, and they were soon packing out the club on a regular basis. It was here they linked up with one of the regular patrons, Bruce Howard, a classically trained keyboard player then playing with The Feetbeats, who had been catching their gigs at every opportunity. As one of the few pop keyboard players on the scene, Howard was a valuable commodity, so he was invited to audition at their next rehearsal and immediately offered a place in the band, expanding the group's sound even further. He and Trevor Wilson immediately became the creative core of the band, writing all their original material.
From the outset, the La De Das had their sights clearly set on emulating the trans-Tasman success of fellow Kiwis like Max Merrritt & The Meteors and Ray Columbus & The Invaders. Their growing reputation soon attracted the attention of Eldred C. Stebbing, who owned his own studio and label, Zodiac, which produced recordings for some of New Zealand's top pop groups, including Ray Columbus & The Invaders, The Pleazers, Max Merritt & The Meteors and Dave Miller & The Byrds. In January 1966 Stebbing was given an import copy of The Blues Magoos album by Philips A&R man John McCready, and he immediately tagged the track "How Is The Air Up There?" as possible 'goer' for a local band. However, the organ was a key part of the song's arrangement, and there were few local bands with an organist in the lineup. Zodiac house producer/engineer John Hawkins had already heard about the La De Das, so they approached the group, gave them a copy of the album and told them to see what they could do with it. They returned the following week to check out the Da's version and were impressed enough to invite them out the Zodiac studio to cut a recording and led to Stebbing signing them to Zodiac for both management and production, with their recordings distributed through Phillips.
The La De Das' debut single catapulted them to the top of the NZ pop scene, and from that point on they were the top-selling Kiwi group until they moved to Australia in 1967. Although Stebbing was the boss -- and on a couple of occasions they were obliged to follow his orders about what to record -- the band were fortunate in having a relatively free hand in the studio. Despite the fairly primitive setup in Zodiac's basement studio (his original home-made setup consisted of four mono Telelfunken recorders hitched together), Stebbing's instinct for picking good material, the skills of house producer/engineer John Hawkins, and the La De Das' burgeoning talent proved to be a winning combination, which bore fruit in their gutsy Zodiac/Philips recordings, earning them a string of chart-topping hits through 1966-67, all of which are now regarded as classics of 60s R&B, and are highly prized by collectors.
"How Is The Air Up There" (b/w "The Pied Piper") was released in February and was an instant hit. It shot into the newly established New Zealand Hit Parade on May 13 and within weeks it was #4 in New Zealand. Equally significantly, it was picked up by Sydney radio and was soon charting over here. Although it must have been tempting to head across the Tasman at that point, the band wisely decided to stay and build their career in New Zealand.
The La De Das toured widely around the country through the first half of '66, before issuing their second single, which was also their first self-penned release: the Wilson-Howard song "Don't You Stand In My Way" backed with "I Take What I Want" (June 1966). Unfortunately it flopped and didn't even make the charts, which prompted Stebbing to insist on another cover as the next single. He chose a John Mayall song called "On Top Of The World", backed by a cover of the Small Faces' "Hey Girl". Stebbing's instincts were proved right and the new single eventually peaked at #2. Stebbing then offered them residency at his Galaxie nightclub and they were regulars on the C'mon TV show. As indicated by the choice of b-side, the band were now well and truly into their Mod phase, setting Auckland trends with their plaid trousers, satin shirts and buckle shoes.
Phil: "The hits just inspired confidence in us. We became totally involved in getting dressed up and going out to gigs, the gigs and rehearsals were everything. Nothing worried us, we were so busy consuming what was happening around us. We were super aware, on top of every trend in music and clothes and language. We tried to be honest and sincere with our music, only playing and recording what we liked. The guys in the good record bars dug what we were doing and they got in all the latest English R&B records for us. We were listening to Zoot Money, John Mayall, Manfred Mann, The Animals, all that sort of stuff and trying to create that sound. We were different from groups like The Underdogs who just played 12-bar blues all night; we tried to be a lot more imaginative about what we did ... We had no idea what we were earning on tour, we just spent what we wanted and and ploughed the rest back into the band. We had our way with girls, bought more clothes and equipment and just enjoyed being stars." (Baker, 1981)
In November '66 "How Is The Air Up There" reached the finals of the Loxene Golden Disk awards (New Zealand's equivalent of the Go-Set Pop Poll) but although the Las De Das were popular favourites, they did not win. In the meantime they had also been laying down tracks for their debut album. The 14-track self-titled LP was a collection of stage favourites; although their stage repertoire was about 50/50 originals and covers, the album was all covers. Nevertheless, it was a winning mixture of pop, soul and 12-bar blues, including The Small Faces' "Hey Girl", Sam Cooke's "Shake", "Land of 1000 Dances", the Bacaharach & David hit "Little Red Book", the ubiquitous "Bright Lights, Big City", and Mose Allison's "Parchman Farm". Released in time for Christmas 1966, it immediately sold out of its first pressing.
They made another major tour of NZ in January 1967, which included their first South Island appearances, but before it kicked off, the band cut their next single. They had been looking for suitable follow-up to their last hit, but Stebbing was wary of trying another original just yet, after the disappointing experience with Don't You Stand In My Way. As luck would have it, they found what they were looking when they met the legendary Claude Papesch, the prodigiously talented (blind) multi-instrumentalist who had made his name in Johnny Devlin's backing band, The Devils. Just back from a stint in Australia, Papesch introduced them to Bruce Channel's "Hey Baby" and predicted it would be a surefire hit for them. They cut it immediately, released it as their next single (b/w "Other Love") in February, and just as Claude had predicted, it was a smash, giving them their first #1 hit in March 1967. It gave them a double distinction -- it was the first New Zealand-made single to reach #1 on the newly-established NZ Hit Parade and it knocked The Beatles' "Penny Lane" / "Strawberry Fields Forever" off the top spot!
In April they released their classic Stupidity EP. Like their debut album, the songs were all proven stage favourites: "Stupidity", "Coming Home", the Young Rascals' "I Ain't Gonna Eat Out My Heart Anymore" and Otis Redding's "Respect" and aficionados now regard it as one of the best of 'down-under' R&B recordings of the '60s.
While preparing for their second album, Trevor Wilson came up with an idea that was well ahead of its time (unfortunately a little too far, as it turned out). Anticipating an era when rock music would be taken seriously as an art form, he came up with a project that he felt would put the group far in front of their contemporaries, and put them on the map internationally. His idea was to create what would later be called "rock opera". For the basis of the piece he chose to adapt Oscar Wilde's classic tale "The Happy Prince". Unfortunately, Bruce Howard was his only ally in the band, but together they started to piece the work together, although it would take several years to come to fruition. It was also the seed of later divisions within the band.
The second LP, Find Us A Way showed the band taking a more progressive direction, with a deliberate move away from their R&B roots and taking in new influences from acts like The Spencer Davis Group, who were themselves starting to take some major steps away from their earlier style. This time the album contained some original compositions as well as stage favourites. Although they were apparently unhappy about not being not consulted over the final track selection or the cover art, it also sold very well.
"Come & Fly With Me" -- Australia/NZ 1967-69
The release of "Find Us A Way " in May 1967 coincided with The La De Das' first exploratory trip to Australia. Although they had their sights set ultimately on the UK, the only logical way to get there was via Australia, so they followed Stebbing's advice and flew to Sydney. The trip started fairly well with a week-long engagement at Ward Austin's Jungle disco, followed by a support slot on the historic homecoming shows at the Sydney Stadium by The Easybeats, who were back in triumph from the UK, riding high on the international success of "Friday On My Mind". Unfortunately it was pretty much downhill from there on. Stebbing had arranged for Australian entrepreneur Ivan Dayman to manage the group's affairs while they were in Australia, and Dayman in turn put employee Jimmy Murta in charge of promoting them. Murta's first order was that they clean up their image, so they were duly obliged to have their near-shoulder-length hair trimmed back. Murta arranged expensive publicity photos, and press and radio interviews, pitching the band squarely at the teenage market, a ploy which didn't sit very comfortably with them.
While they toiled away unhappily in Sydney, living in a squalid Kings Cross hotel and appearing at Dayman's Op Pop disco, two Singles were culled from the Find Us A Way" album for release in NZ. Both did extremely well in spite of the band's absence -- the first, "All Purpose Low" / "My Girl", was released in June and went to #3 on the NZ charts, followed in August by "Rosalie" / "Find Us A Way" which reached #5. However, they hadn't had a single released in Australia since "Don't You Stand In My Way", so Stebbing negotiated a deal for the boys to record a new single for Ivan Dayman's Sunshine label, which was distributed by Festival. Unfortunately, their sole Festival session was a disaster -- the La De Das were used to having their own way in the studio, and they clashed with producer Steve Neale, leading to the mutual termination of the Sunshine contract, and more ill-feeling all round.
Their first foray to Melbourne, in August, was also something of a blow-out and they suffered a similar fate to the Masters on their first trip there. Woefully under-prepared, they had gigs lined up at leading Melbourne discos Berties, Catcher and Thumpin' Tum, but no accommodation, no transport and no roadies. They were forced to lug all their gear around from gig to gig for the two-week stay, slept at a squalid St Kilda hotel and were paid only a pittance for the gigs. There were some important outcomes from that trip, though -- finding themselves in Australia's pop headquarters at the height of the "Summer Of Love" forced them to realise that their old R&B repertoire was rapidly becoming old hat. Another important event was seeing The Twilights at Berties. Fresh from their recent trip to England, decked out in the latest Carnaby Street gear, The Twilights were currently wowing local audiences with their famous note-perfect live renditions of the entire Sgt Pepper's Lonely Hearts Club Band album. Seeing them gave Howard and Wilson's plan to realise the Happy Prince project added impetus, although they knew it was something they probably wouldn't be able to achieve in Australia.
After the hardships of the Australian trip, they must have been relieved to get home to Auckland in September, where they were feted as returning heroes, and found the single "Rosalie" climbing the charts. They recharged their finances with a major national tour and a residency at Radio Hauraki's 1480 Village club, and it was here that they began put together a new repertoire, soaking in all the latest sounds, including Traffic , who were to become a major influence.
On the eve of their second visit to Australia drummer Brett Neilson decided to stay in NZ, and he left the group. He was replaced by Bryan Harris, drummer with The Action. In February 1968, The La De Das' made their second trip to Australia, a sojourn that proved considerably more successful than their first. This time they were well ahead of the game -- they were the first local band to perform material by Traffic and The Band on stage -- and it was during 1968 that the La De Das really began to make their mark, gaining a reputation for uncompromising and flamboyant live shows on the Sydney circuit. Now dubbed "The Beautiful La De Das" they were in the right place at the right time with the right look and sound, and they were soon at the forefront of Australian psychedelia. As usual, they channelled most of their income back into the group, augmenting their stage setup with exotic and varied instrumentation like organ, electric piano, saxophone, sitar, flute, mandolin, cello and even bagpipes!
In June, Bryan Harris left and he was replaced by Keith Barber, from the legendary Wild Cherries, and Harry Widmer of the Cordon Bleu booking agency took over as their manager; his arrival enabled them to secure better gigs with better pay, and Widmer guided them towards a much more stable financial position. In August, they made their second trip to Melbourne, but this time they were hailed as as "Sydney's Gods of Psychedelia" and they packed out venues around the city. The direct result was their winning the vote as "Best Australian Disco Act" in the 1968 Go-Set Pop Poll in December.
After over 12 months in Australia, the La De Das were a hit on the live circuit, but they still hadn't released any records, steadfastly refusing to record anything other than their cherished Happy Prince project. The chance finally came their way in late 1968. Jimmy Stewart, expatriate English producer behind Pastoral Symphony's one-off hit "Love Machine", had recently set up a new independent label, Sweet Peach. Based in Adelaide, the label issued new music by Levi Smith's Clefs, Doug Ashdown and Lee Conway.
Stewart approached The La De Das with an offer to record and release The Happy Prince. The delighted band began intensive rehearsals in preparation for recording at Bill Armstrong's Melbourne studio. But as the year wore on, Sweet Peach repeatedly arranged sessions and then postponed them, and by November the deal had collapsed. This was a major disappointment for the band, who had worked for several months to arrange and rehearse the piece, and the failure of the deal was a massive letdown for Trevor Wilson.
It was at this point that the saviour of The Happy Prince appeared. Melbourne writer, 'cultural commentator' and hip identity Adrian Rawlins had attended many of the rehearsals and was profoundly impressed with the piece (even going so far as to compare the music to Dvorak!). On his way north to Townsville in December, he stopped off in Sydney to catch a La De Das gig at the Here disco in North Sydney; he exhorted the band not to give up on the project and his enthusiasm convinced Trevor Wilson to give it one more try. Roping in support from Widmer and Cordon Bleu, from Barry Kimberly of publishers Essex Music, and from EMI, he managed to stitch together a deal to record the album at last.
Overseen by up-and-coming young producer David Woodley-Page, The Happy Prince was recorded over four weeks in early 1969, and whatever its supposed artistic limitations, it was certainly a major technical achievement. Australia lagged behind the UK and USA in access to new recording equipment, and although 8-track was already in common use overseas, Australia's first 8-track (at Armstrong's in Melbourne) was not installed until 1970. 4-track recorders, which were the standard in Australia at that time, had definite sonic limitations, as the Beatles had found when they began creating more complex music in the mid-60s. The process of "bouncing down" -- dubbing a completed 4-track recording onto one track of another tape -- demanded skill, care and the best equipment, otherwise the buildup of noise on the master tape would become unacceptable. But by a neat technical trick, The Happy Prince effectively became Australia's first 8-track recording -- a feat cleverly achieved by recording onto on two Scully half-inch, 4-track recorders which were electronically synchronised. This de facto 8-track method provided much greater scope for multitracking and overdubbing and a considerable improvement in overall sound quality.
The band released its magnum opus in April 1969. Hailed as the first Australian concept album, the ambitious LP was a suite of songs co-written by Howard and Wilson. Lead vocals were, for the sake of dramatic consistency, entirely by Phil Key. He gives a great performance, especially on the standout tracks "Winter Song" and "Ruby For The Lady". It was lauded by the likes of David Elfick, Molly Meldrum and Brain Cadd, but rave reviews from the critics did not transfer into sales. In fact the album died a death commercially, and the band came close to splitting after its release. The production is excellent and was a breakthrough for the time, although the material has been criticised as being patchy and rather overblown in parts. It was also the album was also marred (for some critics) by the rather campy narrated links, read by Adrian Rawlins -- although considering that the original story is by Oscar Wilde, it's hard to see why this should have been a problem!
With The Happy Prince finally out of their systems, the La De Das decided that now was the time to have a go at England. As soon as the album was released, they make a quick visit home to NZ, did a whirlwind tour of Australian capital cities, and at the end of the month they boarded a boat for London. Regrettably, it proved to be a repeat of their disastrous first trip to Melbourne. They had plenty of chutzpah, but they had no real game plan, no manager, no agent, no record company support and nowhere near enough money. Their Traffic covers were unlikely to cut much ice on Traffic's home turf, so they soon retreated to the country, renting a country cottage to thrash out a new, mostly original repertoire, spiced with a few covers like "Honky Tonk Women" and "Shotgun".
When they tried to arrange some recording, they struck the same problems as so many Aussie groups before and after -- as EMI was concerned, they might as well have been from Mars.
Phil: "Over there they didn't want to know, didn't care. In the end they said we could do a single, but it would have to be a song from The Beatles' Abbey Rd album. We were really disappointed because we'd done the whole trip our own way up until that point. We tried, but our hearts weren't into it."
Despite their misgivings, The La De Das cut an excellent version of "Come Together", produced by Norman "Hurricane" Smith, former engineer for The Beatles and producer of Pink Floyd. Credited to "The La De Dah Band", it was released in the UK in September. Initially, it looked like it might be a goer, but in the long run it proved to be a disappointing re-run of The Twilights' misadventures in 1967. The Twilights had cut their famous (and superior) version of The Hollies' "What's Wrong With The Way I Live?" -- coincidentally also produced by Norman Smith -- and it was released with a promise from EMI that they would not release The Hollies' version as a single. But just as it looked like it might become a hit, EMI reneged and released the Hollies' version anyway, blowing the Twilights out of the water. In almost identical fashion, The La De Das' cover was 'gazumped' by EMI's release of The Beatles' original version, just as the La De Das' began to get regular airplay on BBC1 and Radio Luxembourg.
Live work was also a problem. They did a few well-received shows at London's Stax Club, the Corn Exchange and at clubs in Birmingham, but with no manager or agent, the gigs soon dried up. Piling into an ancient and temperamental Thames commercial van (kept alive by faithful roadie Wayne "Swampy" Jarvis) they were forced to accept a month of poorly paid gigs in France. The only highlight of that trip was a meeting with veteran rocker Gene Vincent, and in all other respects it was a grim outing:
Phil: "After hours of constant travelling to a country gig, our old Thames van dropped dead on us, and Wayne had to hitch back to England for parts. We were dead broke and nearly destitute. For six days we stayed in this rotten French hotel with no hot water, no baths, and nobody who could understand us."
Tantalisingly, a possible break came their way after the French trip. Expatriate Aussie muso Clive Coulson (the former lead singer of Sydney band Mecca) was now in the UK as a roadie for the soon-to-be-legendary Led Zeppelin. Coulson was able to interest Zeps' manager, the fearsome Peter Grant in hearing the La De Das, and he arranged an audition -- but as luck would have it, the ill-starred Thames lost a wheel on the M4 on the way to the meeting. Grant was naturally not amused at being stood up, immediately lost interest, and that was that.
Other, more pressing matters now took centre stage: they had to choose between the offer of a considerable sum for gigs back in Australia, or trying their luck in America. They had apparently received a serious offer to stage The Happy Prince as a rock musical on Broadway, but this eventually fell apart during negotiations. But the most pressing difficulty was that British Home Office had already extended their work visas twice, based on the belief that they were to tour America. When this didn't happen, all the members except Trevor (who had a British passport) received the ultimatum -- either go home or go to the US. Broke and disheartened, the choice was not hard. Interviewed later, the members looked back ruefully on the experience:
Phil: "There were bills there and money here, so we left. All but Trevor (who held a British passport) it would've beaten him to come home, he had to stay. It broke his heart, physically and spiritually, he'd always believed we could crack it. I suppose we did too."

Trevor: "We made a lot of mistakes in England, we tried to be too smart. We got a house in the country and started learning a new repertoire but we wasted time and money - we should have rocked on with the material we had, but instead we just sat around the house looking at each other."

Keith: "We blew it on the business side. The industry is tainted with hype and bullshit and if you're not prepared to play the game you may as well forget it."
Leaving Wilson in the UK, the rest of the group borrowed heavily from friends and relatives to return to Australia. Typically, it turned out that there was far less work on offer than they had been led to believe, but they took what was available and continued gigging to pay back the airfares. To fill out the lineup, Phil Key brought in New Zealander Reno Tahei (ex-Sounds Unlimited, Compulsion, Castaways, Luke's Walnut, Genesis) to replace the absent Wilson, but unfortunately his stint with the La De Das was only a matter of months. Trevor Wilson returned to Australia in October and took up the bass chair once again, and for a short time they struggled on as a six-piece, with Reno moving to rhythm guitar.
The relationships between the band members were rapidly deteriorating. Squabbles and arguments escalated, and tensions were especially high between Wilson and Barber, who reportedly couldn't stand each other. At one stage Wilson suggested that Barber should leave, Phil Key should move to drums and Reno Tahei should take over lead vocals. But before this could be implemented, the three-guitar lineup was brought to an abrupt end by Reno's arrest -- he was deported back to New Zealand and imprisoned because of his involvement in some kind of criminal activity, which has been variously reported as either a drug deal or bank robbery.
The constant infighting and turmoil almost destroyed the group, and in fact for a brief period the La De Das effectively ceased to exist -- in short order Barber decided to leave, and he was quickly followed by both Phil Key and Kevin Borich. Left high and dry, Bruce Howard took up an offer to join The Clefs, and Trevor Wilson also moved on to concentrate on songwriting; he later had brief stints in both Home and Co. Caine.
The sudden exit of Tahei, Howard and Wilson enabled the three other members to reclaim the La De Das name. They decided to continue, but to regroup as a four-piece. At the very end of 1970, they offered the vacant bass chair to Peter Roberts from Freshwater, a consummate musician with extensive classical training and tons of experience in rock bands. He had begun learning piano at the age of six, and as a teenager became proficient on guitar, bass, drums and organ, playing with local groups in country Victoria, as well as some better known names including Andy James Asylum, and even a stint in New Zealand with the Dallas Four.
Roberts was well known to the Das -- they and Freshwater were both signed to Harry Widmer's Cordon Bleu agency, and often shared the bill at Sydney's Go-Set Club, in the PACT building. But the recruitment of a new bass player did more than just revitalise the band -- Kevin later admitted that the La De Das would almost certainly have broken up at that point if Roberts had turned them down. His change of band forced Freshwater to cancel a planned Queensland tour, so the La De Das picked up their dates. At Byron Bay on New Years Eve 1970, the La De Das unveiled their new 4-piece's stripped-down hard rock style, which took them back to their R&B roots, and drew heavily from 12-bar Chicago blues and the legacy of Jimi Hendrix.
Phil : "I moved to a loud rhythm guitar and there was no looking back. We really fired."
With Phil's bluesy vocals and sublime slide guitar, and one of the tightest rhythm sections around, the quartet immediately established themselves as one of the hardest rocking outfits on the Australian scene. Alongside Key, Kevin Borich was finally coming to the fore, and taking more of the lead vocals, with a set of fine, boogie-tinged originals and a distinctive (and loud) guitar style. If for nothing else, the La De Das' image at this time is epitomised by the grimacing Borich wringing the last vestiges of emotion from his Gibson guitars, and they notched up a succession of increasingly strong-selling and critically well-received Singles.
The new lineup got a rousing reception at the Wallacia Festival in January, but in March, EMI incongruously issued "Sweet Girl", a throwback to their earlier, more pastoral style. They did their best to promote it, but it flopped. Undeterred, they forged ahead to an increasingly warm reception. Again, they had managed to be in the right place at the right time, as the local scene swung back to the rock'n'roll basics. They regularly shared bills with the leading groups of the day -- Tamam Shud, Co. Caine, Chain and the similarly revitalised Billy Thorpe & The Aztecs. In the latter half of the year they often appeared alongside new sensations Daddy Cool whose Singles and debut album had taken the country by storm, and the press made much of the supposed rivalry between the two bands. In September they teamed with Chain, Tamam Shud and Country Radio for two outdoor concerts at Wollongong and Sydney Showgrounds, before a combined crowd of about 10,000 people, and on Boxing Day 1971 they co-headlined with Daddy Cool before an estimated 50,000 people at the 3XY Rosebud Show in Victoria, cementing their position as one of the top three bands in the country, beside The Aztecs and Daddy Cool.
Towards the end of the year, the La De Das finally got back into gear with recording. They headed down to TCS Studios in Melbourne to cut their long-overdue fourth single. With producer Howard Gable, the band was joined at a booze-fuelled party session by an all-star cast of mates including Billy Thorpe, Tony Hamilton (Pirana), Laurie Pryor (Healing Force), Duncan McGuire (In Focus) and the erstwhile Bruce Howard, who was now a member of The Aztecs. Cut more or less live, the original track was over 5 minutes long, but was eventually trimmed down by Gable to 3.5 minutes for radio release. When released in November, the A-side provided clear proof of Kevin Borich's blossoming talent as a writer. "Gonna See My Baby Tonight" drew rave reviews from the likes of Molly Meldrum in Go-Set ("...a fantastic song, intelligently recorded, it has to be number one.") and it raced up the charts, reaching #6.

1971-72
In November '71 the La De Das were scheduled to go to New Zealand for a four-week return tour. Although the shows sold out well in advance, and they even had a lavish "farewell" at Jonathan's Disco in Sydney, the group dropped out at the last minute at Phil Key's insistence, supposedly because of currency problems and uncertainty over their tour schedule. Local Kiwi band Stafford Bridge took over the gigs, but the La De Das copped some flak in Go-Set, and it caused more bad feeling between Phil and the rest of the band (which was to increase over succeeding months).
In January 1972 they capped their comeback with a rousing performance at the inaugural Sunbury festival, and they proved to be one of the highlights of the weekend. Their set included rock'n'roll standards like The Rolling Stones' "Carol", B.B. King's "Rock Me Baby", Dave Mason's "Give More Than You Can Take" and a selection of their own tracks, including "I Can't Find A Reason", "Roundabout", "Gonna See My Baby Tonight" and the yet-to-be-released "Morning Good Morning". The last three tracks made it onto the EMI double album live set released in October '72.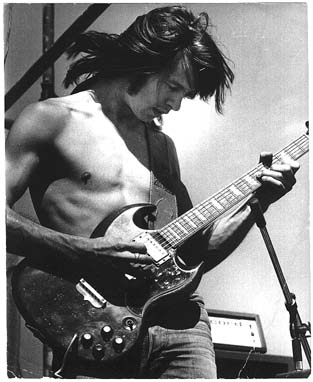 Kevin Borich in full flight with the La De Das at Sunbury '72
(image courtesy Kevin Borich Express website).

Already well on the way to becoming one the country's top live draws, the chart success of "Gonna See My Baby Tonight" hurtled the band into a welter of engagements, as Peter Roberts recalled of the events surrounding their Sunbury appearance:

We were playing 14 gigs in 8 days -- in four different states! Once we played Sunbury Festival at around 3 in the morning, the Meadows Fair Festival in Adelaide (with Mary Hopkin and Tom Paxton!!) later in the day, a Sorrento dance that night and then Sunbury again at about 3am - all that in the space of 24 hours."

By this time it was obvious that they needed a full-time agent, and they found one in Michael Chugg of Consolidated Rock (the Melbourne agency which became a cornerstone of the Mushroom empire). "Chuggie" had originally met the group in Melbourne, when their scheduled appearance at a Town Hall gig fell through because of an organisational mix-up. Chugg moved to Sydney and established a branch of the agency in Paddington, assisted by former Co. Caine roadie (and future Sherbet manager) Roger Davies. Chugg took over management and bookings for the La De Das and was soon running a tight ship, with the group soon netting regular fees of $300-400 per show. Chugg later left Con Rock and set up his own agency, Sunrise, which continued to handle The La De Das.

Although they retained their mantle as one of Australia's top groups, 1972 brought its share of ups and downs. Early in the new year, when the La De Das prepared to cut their follow-up single, they turned to a new producer (and an old friend), Freshwater bassist Rod Coe. Another Kiwi expat, Rod had recently branched out into production and scored a notable success with the Blown album for Melbourne boogie kings Carson in 1971.

Rod set about creating the same kind of casual ambience that had worked so well for the recording of the previous single, setting up a full Jands PA plus lightshow, and bringing in an invited audience of 30 friends. It worked. The result was Phil's finest moment, the superlative "Morning, Good Morning", which he co-wrote and sang. Phil's growing dexterity on slide guitar was in abundant evidence all through the song. Although it's surely one of their very best recordings, it inexplicably failed to replicate the huge national success of its predecessor, and only managed to scrape into the lower reaches of the Sydney charts. This had no effect on the La De Das live reputation, however. They continued to draw huge crowds through 1972, touring nationally supporting Manfred Mann's Chapter III, and making a record-breaking appearance with Gerry Humphries, Friends and Billy Thorpe & The Aztecs at 3XY's free concert at the Myer Music Bowl,, which drew over 200,000 people --- the largest concert audience ever in Australia.

In spite of the successes, internal tension in the band had been growing. Much of it stemmed from Phil Key's role as the band's self-appointed treasurer and booking agent, and when the disputes over money came to a head, Phil abruptly left the group, taking Peter Roberts with him. According to Glenn A. Baker, artistic differences were also a likely factor -- both Phil and Kevin were producing a lot of original material, although much of Phil's output was not finding its way into the La De Das set lists (and the chart failure of Morning Good Morning probably only added to the tension).

Key and Peter left in September '72 to form a new four piece outfit called Band Of Light. This was something of a supergroup -- Key and Roberts recruited respected drummer Tony Buettel (ex- Bay City Union , Levi Smith's Clefs , Fraternity and Band of Tabalene ) and former Gutbucket and Lotus guitarist Norm Roue, who was rapidly gaining a reputation as one of Australia's top electric slide guitarists. Although the new band was fairly shortlived, they did have considerable initial success with their first single "Destiny Song" and their debut LP Total Union. Roberts left the band after only a few weeks, and went on to work with Band Of Tabalene and Chariot with Dennis Wilson (ex Kahvas Jute).

Michael Chugg has resigned as their manager a month before the split, and in the meantime Sunrise, led by Roger Davies managed the La De Das. Kevin -- now the only remaining original member -- took up the reins and brought in another old mate, and one of the real troupers of Australasian rock) -- Ronnie Peel (aka "Rockwell T. James"). He retained Keith Barber and decided to carry on as a power trio. Their debut performance as a trio was at Sydney's Paddington Town Hall in November, at a concert promoted by Glenn A. Baker.

1973-75

In January, Kevin finally returned to New Zealand, bringing back the new La De Das lineup to headline at Robert Raymond's 54-act Great Ngaruawahia Festival, and they gave a triumphant performance. According to John Dix, the La De Das delivered "...a well-paced set (that) blew Black Sabbath and everything New Zealand had to offer clear off the stage." Their ecstatic reception encouraged them to organise a short major-city concert tour there in May, when they returned with four tons of equipment and made their live mastery evident to all who attended. For the rest of the year, it was a constant round of touring, either as headliners, or sharing the bill with Sherbet (who were now being managed by Roger Davies) or as support to visiting international acts such as Little Richard, Gary Glitter, Three Dog Night, The Guess Who and Lindisfarne. They also provided backing on two tracks for Richard Clapton's debut album Prussian Blue.

On July 8, on the way to a Lindisfarne gig, their truck was involved in a head-on collision on the Hume Highway between Holbrook and Albury. Ronnie Peel and roadie John Brewster (not John Brewster of The Angels) were both hospitalised, although their injuries were not serious. The major casualty was the band's equipment, most of which was destroyed in the crash. Three weeks later the Sunrise agency organised a benefit gig in Sydney at the Green Elephant (the Doncaster Theatre) in Kensington, featuring a top lineup, including the Las De Das, Sherbet, Buffalo, Pirana, Lotus, Home, Country Radio, I'Tambu, Original Battersea Heroes and Hush, which raised almost $2000 for the group.

By mid-year, the band were being hailed as Australia's leading live act and Borich's was widely regarded as our pre-eminent guitar hero. With the new lineup firing on all cylinders, and Chugg back on board as manager, Kevin was impatient to record a new album, but EMI were less than enthusiastic. To pressure them, Borich instructed Michael Chugg to get the band out of their contract. The ploy worked, and EMI reluctantly agreed to a new record in September. But the first sessions at EMI's studios were deemed unsatisfactory by the band and all but two tracks were scrapped. (The two tracks, "She Tell Me What To Do" and "No Law Against Having Fun" later surfaced on the compilation album Legend.)

According to Glenn A. Baker, the main stumbling block was that Kevin couldn't get a guitar sound that was anywhere near his live sound, so Rod Coe again solved the problem by installing a portable 8-track recording rig and JBL monitors in the Green Elephant and recording them there. Kevin swapped his familiar Gibson for a Fender Stratocaster and, as Glenn Baker charmingly puts it " ... the whole album went down like a sinker off a pier, in just two days." Back at EMI, they overdubbed Kevin's piano parts, added some tasty backing vocals by Renee Geyer and Bobby Marchini and horns by Don Reid.

The result was the brilliant Rock'n'Roll Sandwich, which Baker rightly lauds as "one of Australia's finest rock albums, a fiery, cohesive work dominated by the superbly talented Kevin Borich and carried off by the reliable gutsiness of Peel and Barber." Touring around the new LP, released in November 1973, the La De Das enjoyed their most successful period to date, including supports for Elton John and Suzi Quatro on their Australian tours.

The solid gigging continued through 1974 and into 1975, including a well-received appearance at the final Sunbury Festival in January '75. The La De Das' appearance was one of the few high points in this ill-fated event, which was was marred by bad weather and poor attendance. Headliners Deep Purple copped strong criticism for the arrogant and aggressive conduct of their crew, with Purple's roadies provoking a fight with AC-DC and George Young after refusing to allow AC/DC to follow them on stage. There was also a lot of anger over their whopping AU$60,000 fee -- about ten times the going rate for a top-rank Aussie act of the day -- which was magnified by the fact that almost all the local groups went unpaid. Despite these altercations, the La De Das made a positive impression on Deep Purple, and lead guitarist Ritchie Blackmore expressed an interest in jamming with them.

Kevin: 'I said, "Come down and have a blow", thinking he'd never show. Anyhow, we were playing the once-famous Hard Rock Cafe in Melbourne, and it was a night to remember, folks. We were on stage and this roadie comes up with a Stratocaster and says "Uh, Ritchie wants to have a blow" and I said "Oh!". So all the people pushed to the front of the stage to watch his lightning fingers. We had a good play and a bit of a drink and talk after. He enjoyed the blow, most polite of him to come down because I don't think he's the kind of guy who fucks around.'

However, as the year progressed, problems started to pile up. Australian radio, which had by now falled under the thrall of the Digamae programming hegemony, was studiously ignoring the band, and they were again experiencing internal hassles -- according to Jon Dix, Keith Barber was becoming increasingly erratic and difficult. But the overriding problem was eloquently summarised by Glenn A. Baker in 1981:

"The disintegration that took hold ... was an easily diagnosed malady which has afflicted every Australian rock & roll band that has ever achieved a degree of popular success. Essentially it comes down to: the bigger you become, the more meaningless your future. Overseas bands can make an album, do a tour and then hide away for a year or two to prepare the next LP with no concern for loss of position. In Australia, just three months off the road to prepare new material and a band's gig price drops to half, the media erects new superstars in their place, and the public acts as if they never were ..."

"That is what killed the La De Das: the bludgeoning effect of of realising that, after 10 hard years, nothing tangible had really been achieved and the only thing that lay ahead was more of the same."

Although they were still a top concert attraction, by early in 1975, the band's spirits were flagging and it was clear that an attempt to try their luck overseas would probably be futile. In March EMI issued Legend, a valedictory grab-bag of single A-sides, fresh recordings and leftovers put together by Michael Chugg, which also included a much-requested studio rendition of "All Along The Watchtower", Kevin's Hendrix-inspired live showpiece.

In May, Kevin Borich officially announced that after ten tempestuous years, The La De Das would disband. They will be affectionately remembered as a raunchy, uncompromising outfit with the ability to successfully adapt to many diverse musical styles, from unabashed flower-power to full-tilt boogie and rock'n'roll, and as band with integrity, vision and commitment second to none.

After The La De Das...

Kevin Borich and Trevor Wilson still live and play in Australia. Kevin's place as one of Australia's all-time guitar heroes is assured, and his later career is too long and varied to recite in detail here. He put together a short-lived touring band under the La De Das name, with Harry Brus and Barry Harvey, after which he formed the Kevin Borich Express which has continued to this day in various forms. He has contributed to many top albums, singles and other recordings (including the solo on the original 2MMM radio theme) and he remains one of the most respected musicians in the country. Kevin now lives in Queensland and still tours regularly.

After the split of Band of Light in 1975, Phil Key left the music business and spent several years living quietly, raising a family and working as a cabbie in Sydney. Sadly, he died from a congenital heart condition in 1984.

At last report, Bruce Howard was living in London and Brett Neilson was back in Auckland. Brett stayed with the Action and later played with Cruise Lane.

The remaining original La De Da's reunited in New Zealand in 1992 for a one-off Galaxie reunion gig where they played a blistering set which they dedicated to Phil Key.

Discography

Singles

Jun. 1965
"Little Girl" / "Ever Since That Night" (Talent City NZ)

May 1966
"How Is The Air Up There?" / "The Pied Piper" (Philips NZ)

Jun. 1966
"Don't You Stand In My Way" / "I Take What I Want" (Philips NZ)

Nov. 1966
"On Top Of The World" / "Hey Girl" (Philips NZ)

Mar. 1967
"Hey Baby" / "Other Love" (Philips BF 315)

Jun. 1967
"All Purpose Low" / "My Girl" (Philips BF 336)

Sep. 1967
"Rosalie" / "Find Us A Way" (Philips)

Sep. 1969
"Come Together" / "Here Is Love" (EMI Parlophone A-8932 NZ)

? 1969
"Come & Fly With Me" / "Swallow, Little Swallow" (EMI Columbia DO 8802)

Mar. 1971
"Sweet Girl" / "I Can't Find A Reason" (EMI Columbia DO 9375)

Nov. 1971
"Gonna See My Baby Tonight" / "Fare Thee Well" (EMI HMV EA 9638)

May 1972
"Morning Good Morning" / "You & Me" (EMI HMV EA 9845)

Nov. 1972
"I'll Never Stop Loving You" / "It's The Beginning" (EMI HMV EA 10070)

May 1974
"The Place / No Law (Against Having Fun) (EMI 10407)

Jun. 1974
"Too Pooped To Pop" / "She Tell Me What To Do" (EMI 10464)
Produced by Rod Coe

Aug. 1974
"Honky Tonkin' "/ "Temple Shuffle" (EMI 10579)

EPs

1967
Stupidity (Philips PE 420601)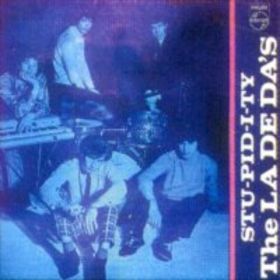 "Stupidity" / "Coming Home" // "I Ain't Gonna Eat Out My Heart Anymore" / "Respect"
Albums
Dec. 1966
The La De Das (Phillips NZ)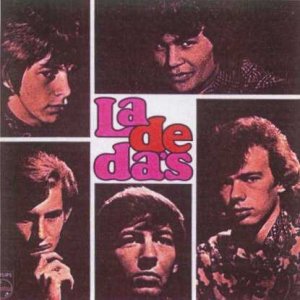 "Bright Lights Big City"
"How Is The Air Up There?"" (S Duboff - A Kornfeld)
"I Put a Spell on You" (Screamin' Jay Hawkins)
"I Take What I Want "(Hayes - Porter - Hodges)
"I've Got My Mojo Working"
"Jump Back" (Rufus Thomas)
"Land Of A Thousand Dances" (C Kenner - A Domino)
"Little Red Book" (Burt Bacharach - Hal David)
"On Top Of The World" (John Mayall)
"Parchman Farm" (Mose Allison)
"The Pied Piper "(S Duboff - A Kornfeld)
"Ride Your Pony"
"Shake "(Cook )
"What Ya Gonna Do About It? "(Lynch-Shuman)
---
May 1967
Find Us A Way (Phillips PL08792)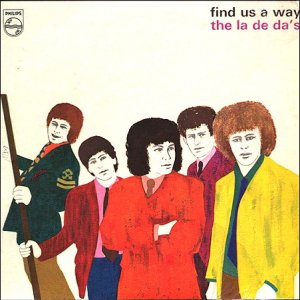 "All Purpose Low" (T Wilson - P Howard),
"Beside Me Forever" (T Wilson - P Howard)
"Cool Jerk" (Storball)
"Find Us A Way" (P Howard - T Wilson)
"Gimme Some Lovin'" (Steve Winwood)
"Goodbye Sisters"
"I Got A Woman" (Ray Charles)
"Rosalie" (T. Wilson - P Howard)
"Sonny Boy" (T Wilson - P Howard)
"Tell The Truth" (Ray Charles)
"Thank You For The Flowers" (T Wilson - P Howard)
"Too Many Fish In The Sea" (Whitfield - Holland)
---
Apr. 1969
The Happy Prince (EMI/HMV SCXO 7899)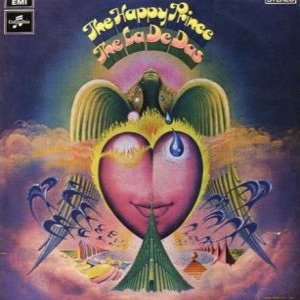 "Intro/Covered in Gold"
"Ruby For The Lady"
"Come And Fly With Me"
"Swallow, Little Swallow"
"You Can't Take It With You"
"Life Is Leaving"
"Tales Of The Nile"
"Winter Song"
"Lullabye"
"Civic Pride"
"Chant"
All songs written by Bruce Howard and Trevor Wilson, based on the story by Oscar Wilde
Songs published by Essex Music
Narrator: Adrian Rawlins
Produced by David Woodley-Page
---
Oct. 1972
Sunbury 1972 (EMISOXLP 7561/2 )
Various Artists, 2LP set includes three La De Das tracks only:
"Morning, Good Morning", "Roundabout", "Gonna See My Baby Tonight"
---
Nov. 1973
Rock'N'Roll Sandwich (EMI EMC 2504)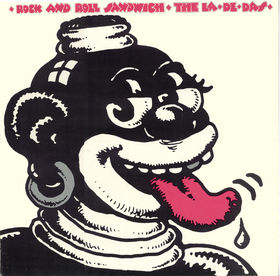 "No Law (Against Having Fun)" (Kevin Borich)""
"The Place" (Kevin Borich - Keith Barber)
"Searchin' "(Kevin Borich)
"She Tell Me What to Do "(Kevin Borich - Keith Barber)
"Temple Shuffle" (Kevin Borich)
"To Get Enough" (Kevin Borich)
"Who's The One You Love? "(Kevin Borich)
Recorded at the Doncaster Theatre and EMI Studio 301, Sydney
Producer by Rod Coe
Engineered by John Taylor
---
Mar. 1975
Legend (EMI EMA 309)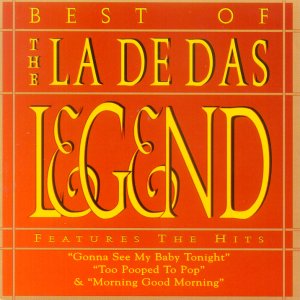 "Gonna See My Baby Tonight" (Borich)
"Morning Good Morning" (Borich-Key)
"I Guess I'll Never Stop Loving You" (Borich)
"It's The Beginning" (Borich)
"Honky Tonkin'" (Hank Williams)
"Too Pooped To Pop" (Chuck Berry)
"Feel Like A Dog" (Borich)
"Sentimental Rose" (Borich)
"I'm In Love Again" (Dave Bartholomew-Antoine Domino)
"All Along The Watchtower" (Bob Dylan)
Recorded at EMI Studio 301 Sydney and TCS Melbourne
Producers: Rod Coe, Howard Gable
Engineers: John Taylor, John French, Richard Lush
---
1981
Rock'n'Roll Decade1964-74" (EMI EMY 508/9) 2LP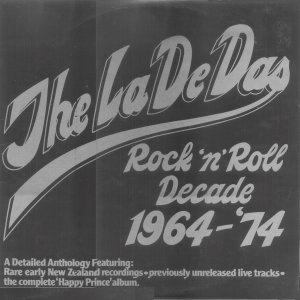 "All Along The Watchtower" (Bob Dylan)
"All Purpose Low" (Howard-Wilson)
"Chant" (Howard-Wilson)
"Civic Pride" (Howard-Wilson)
"Come & Fly With Me" (Howard-Wilson)
"Come Together" (Lennon-McCartney)
"Covered In Gold" (Howard - Wilson)
"Don't You Stand In My Way" (Howard-Wilson)
"Find Us A Way" (Howard - Wilson)
"Gone Dead Train" (Jack Nitzche-Russ Titelman)
"Gonna See My Baby Tonight" (Kevin Borich)
"Hey Baby" (Cobb-Channel)
"Honky Tonkin'" (Hank Williams)
"How Is The Air Up There?" (S Duboff-A Kornfeld)
"I Take What I Want" (Hayes-Porter-Hodges)
"I'm In Love Again" (Antoine Domino-Dave Bartholomew)
"I'm Ready" (Willie Dixon)
"Jump Back" (Rufus Thomas)
"Life Is Leaving" (Howard-Wilson)
"Little Girl" (Wilson-Borich)
"Lullabye" (Howard-Wilson)
"Morning Good Morning" (Key-Borich)
"On Top Of The World" (John Mayall)
"The Place" (Kevin Borich-Keith Barber)
"Rock Me Baby" (King-Josea)
"Ruby For The Lady" (Howard-Wilson)
"Swallow, Little Swallow" (Howard-Wilson)
"Sweet Girl" (Howard-Wilson)
"Tales Of The Nile" (Howard-Wilson)
"Too Pooped to Pop" (Chuck Berry)
"Winter Song" (Howard-Wilson)
"You Can't Take It With You" (Howard-Wilson)
Comprehensive career-spanning double album, compiled and annotated by Glenn A. Baker (and long overdue for a CD release)
---
2000
"How Is The Air Up There? 1966-1967 (Ascension ANCD018)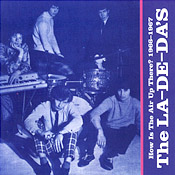 1. "On Top Of The World"
2. "How Is The Air Up There?"
3. "Little Red Book"
4. "Jump Back"
5. "Bright Lights, Big City"
6. "I Put A Spell On You"
7. "What Ya Gonna Do About It"
8. "Land Of 1000 Dances"
9. "I Take What I Want"
10. "Shake"
11. "Parchman Farm"
12. "The Pied Piper"
13. "I've Got My Mojo Working"
14. "Ride Your Pony"
15. "Find Us A Way"
16. "All Purpose Low"
17. "Too Many Fish In The Sea"
18. "Rosalie"
19. "Tell The Truth"
20. "Gimme Some Lovin' "
21. "Cool Jerk"
22. "Thank You For The Flowers"
23. "Don't You Stand In My Way"
24. "Hey Girl"
25. "Hey Baby"
26. "Coming Home"
27. "I Ain't Gonna Eat Out My Heart Anymore"
28. "Stupidity"
29. "Respect"

References / Links

Kevin Borich official website
http://www.kevinborich.com.au


Peter Roberts
"The Musical Meanderings of Pete" (.pdf document)
http://shazaamproductions.com/index2.php?option=com_content&do_pdf=1&id=5
Shazaam Productions
http://shazaamproductions.com/

John Dix
Stranded In Paradise (Paradise Publications, 1988)

Ian McFarlane
Australian Encyclopedia of Rock & Pop (Allen & Unwin, 1999)

Noel McGrath
Encyclopedia of Australian Rock (Outback Press, 1978)

Chris Spencer, Zbig Nowara & Paul McHenry
Who's Who Of Australian Rock (Five Mile Press, 1994)

Bruce Sergent
New Zealand Music of the 60s
http://www.sergent.com.au/ladedas.html

Rate Your Music: The La De Das
http://rateyourmusic.com/artist/the_la_de_das