TOO FUCKING MUCH (TF MUCH) BALLROOM / MUCH MORE BALLROOM
Melbourne, ca. 1970 - 1974
LOCATION:
Cathedral Hall, aka Central Hall
Brunswick St, Fitzroy

OPERATION:
1971-74

PROMOTERS:
John Pinder & Bani McSpedden



History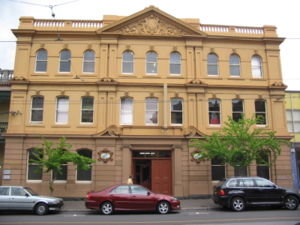 The TF Much Ballroom and its successors The Much More Ballroom and Stoned Again were promoted by John Pinder and Bani McSpedden. The Ballroom was not the actual names of the venues per se (like Catcher or the Thumpin' Tum) but rather a regular concert event held in one of the large community halls Melbourne that could be rented on a casual or regular basis for dances, meetings and similar functions -- in this case, Fitzroy's Cathedral Hall (aka Central Hall). Located at the city end of Brunswit, opposite St Vincent's Hospital, it was built as the church hall for the neighbouring St Patrick's Cathedral and was opened in 1904 by the Catholic archbishop of Melbourne. It is now owned by the Australian Catholic University, who have fully refurbished the hall in recent years; the original ballroom remains, although the top floor has been converted into offices and conference rooms.
Right: Central (Cathedral) Hall as it looks today (source: Wikipedia)
TF Much / Much More Ballroom was Melbourne's leading "head" event/venue of early '70s and alongside the La Mama Theatre it was one of the focal points for the flourishing Carlton/Fiztroy arts and music scene of the early 1970s. Ballroom events were usually held monthly and typically featured long concert-style performances, with multiple musical acts on the bill, interspersed with comedy, poetry readings, theatrical, dance and novelty performances. A crucial ingredient was the spectacular psychedelic light show by Edison Light Show, which was run by McSpedden's brother Hugh, which operated at many Melbourne venues (including the TF Much/Much More) for several years in the early 70s. There were also stalls of various descriptions.
According to a 2004 article on the venue in The Age, the first Pinder/McSpedden event at Central Hall was such a sensory overload that they decided to call it the "Too Fucking Much Ballroom", but this was later (sometime in 1972?) changed to the tamer "Much More Ballroom", apparently because the media wouldn't carry their advertising with the expletive in the name. In an article about the venue published on 10 May 1972 in Michael Gudinski's Planet magazine, David "Dr Pepper" Pepperell offered this glowing endorsement of the Much More Ballroom:
"I personally think that Much More Ballroom is, perhaps save for the very early Catcher (and that might be only nostalgia speaking), the finest rock venue Melbourne has ever had. I say this for a number of reasons. Much More is planned as a night's entertainment --it has usually a total concept behind it -- it is much more than a dance hall (more a way of life?). The entertainment is not just Rock culture -- it incorporates theatre, farce, absurdity, involvement, art. It has never been, and never will be, sufficient to hire a hall, put on a few bands until 12 and charge people admittance and call that an entertainment."
Acts known to have performed there include Country Radio, Friends, Limehouse, Sundown, Mackenzie Theory, John Graham, Gerry's Joy Band, It Flew Away, Spectrum/Murtceps, Daddy Cool, Lipp & The Double Decker Bros (featuring Jo Camilleri and Jane Clifton), Tama Shud, Tully, Captain Matchbox Whoopee Band, theatre/dance troupe Tribe and (premiering on 1 April 1973) the 100-piece National Jug Orchestra, conceived by Mic and Jim Conway and including members of Matchbox and Adelaide's Moonshine Jug & String Band (which later became The Angels).
Daddy Cool had a strong association with TF Much and Much More -- they played their first official gig at the TF Much in late 1970 and built up a strong following there through the summer of 1970-71. Several in-concert film fragments of the group that appear in the clip for "Eagle Rock" were shot at the TF Much by filmmaker Chris Lofven. Appropriately, the Much More Ballroom was also the venue for Daddy Cool's farewell concert on 13 August 1972, which was recorded and subsequently released as the double LP The Last Drive-In Movie Show.

Spectrum performed there many times during their all too short career, and most who witnessed their Ballroom shows are in agreement that the band was at its best at the TF Much. It was also the venue where the young Peter Weir (then a staff director for the Commonwealth Film Unit) captured the priceless colour footage of Spectrum, Wendy Saddington & Teardrop and The Captain Matchbox Whoopee Band for his 1972 CFU short film Three Directions In Australian Pop.

One of the many young 'punters' who frequented the TF Much/Much More events was Tim O'Leary, who kindly passed on these recollections to Milesago:
"It started off as T F Much Ballroom and then became Much More Ballroom. I think the Catholics objected when they found out TF meant "Too Fucking Much" -- but it might be a convenient hippy myth. It had market stalls, one of which a friend of mine ran and a food hall (mainly gelatis, orange juice and some souvlakis or something. From memory, it probably also provided "organic" Vegetarian stuff for feeding the "munchies"). This was all unknown at the time."

"Was great venue partly because of location and also inside set up -- looked like an old picture theatre to me -- it had seats in rows upstairs and open space below. From memory smoking was allowed inside -- there certainly was a lot of smoking of one type going on inside -- its possible I accidently breathed some in at times."

"Also had stage and curtains etc. combined theatre and cabaret values with rock. So (at least in theory) there was a stage and a flowing show without endless waits while roadies set up the next act. This was partly a reaction to an awful fashion at the time for bands to spend hours setting up, then refuse to go on for another hours for some reason -- some hippy shit values or something I never understood -- I often remember going to pubs and then going elsewhere in frustration of having waited hours to see a band and getting sick of the unprofessional attitude to what after all, we're paying customers."

"There would be juggling or fire swallowing or something in between bands, and bands would be set up behind a curtain while others were playing so it flowed. I forget how many but it seems like in my memory it could be five bands a night plus in between acts. One of the things that stands out to me were Joe Camilleri's incarnations as a different musical genres each performance - e.g. soul band one night, R & B another. My experience was also it was where Spectrum played at their peak. Daddy Cool too had some of their best performances here in my book. Hell it was so good I even enjoyed Carson there."


After the Ball is over ...
Promoter John Pinder has made a great contribution to Australian live performance, especially in comedy. He subsequently ran the Reefer Cabaret in Prahran in 1974, followed by the famous Last Laugh comedy venue (1976), which was a foundation stone of Melbourne fertile live comedy scene. He now runs the Big Laugh comedy venue in Parramatta, NSW.
In 1980, Bani McSpedden became a partner with author Peter Carey in the firm McSpedden Carey Advertising Consultants. In 1986 he published the humour book Successories - A Biased Guide to the Best of Everything Australian (Pan). More recently he has written and published a number of children's books. He now lives in Sydney and is an occasional letter writer to Sydney Morning Herald.
During the Much More Ballroom period in 1973-74 a promotional comic/leaflet called Much More Ballroom Funnies was produced as a giveaway for patrons; it is cited in John Ryan's book Panel By Panel: A History of Australian Comics and extracts were also featured in Phil Pinder's Down Underground Comix (Penguin, 1983). AuGoGo Records founder Bruce Milne (who currently runs In-Fidelity label) experienced his first major rock concert when, aged 14, he saw Spectrum at the TF Much in 1972. Bruce has very kindly provided Milesago with scans of a vintage edition of the Funnies from early March 1973, with illustrations by (we think) Ian McCausland. Other editions featured Peter Lillee's fondly-remembered surrealist comic strip After Dinner Moose.

FURTHER READING:
"Much More Ballroom: You and me and who?"
by David N. Pepperell ('Dr Pepper')
References / Links
Special thanks to Bruce Milne for the Much More Ballroom Funnies images and to Tim O'Leary for his recollections.
David N. Pepperell
"Much More Ballroom: You and me and who?"
Planet, 10 May 1972
Stephen Walker
"Invisible Innocence" (originally published in Rhythms magazine)
http://www.skullcave.org/archives/rants/invisibleinnocence.htm
Patrick Dononvan
"Halls for hire, historic cred for free"
The Age, Melbourne, 11 August 2004
http://www.theage.com.au/articles/2004/08/11/1092102506402.html
Graham "Yogi" Harrison
History of Rock Roadcrews : the 1970's!
http://www.juliusmedia.com/cxweb/article.asp?ID=92
Radar's United Music Zone Australia
Brewster Brothers / Moonshine Jug & String Band - concert review
http://www.rumza.com/04ed01_3.html
Gavin Quinn CV
http://home.austarnet.com.au/blistering/cv-gavin/cv4.htm
Ian McFarlane
Encyclopedia of Australia Rock & Pop
http://www.whammo.com.au/encyclopediaList.asp
Ed Nimmervol: Howlspace
http://www.howlspace.com.au/
Dimensions In Time (ABC-TV), 14 July 2003
"Last Laugh"
http://www.abc.net.au/dimensions/dimensions_in_time/Transcripts/s902237.htm