COLUMBIA RECORDS (AUSTRALIA)
Category: British-owned label

Date: 1920s? - 1972

Head office: Sydney, NSW

Ownership:
- subsidiary of Columbia Graphophone (UK) until 1931
- subsidiary of EMI (Australia) Limited, 1931 - present

Australian licencee for:
Cameo (US), Parkway (USA), MGM (US), Regal Zonophone (UK), Laurie (UK), Mercury (UK)
History

Columbia, the world's oldest surviving record label, is recognised by its famous "Magic Notes" logo. The trademark has a complex history, marked by a long and convoluted series of takeovers, mergers and divestitures which saw the ownership of major US and UK labels change many times. By the end of WWII most of the major labels had become subsidiaries of the so-called "Big Three" recording companies -- CBS, RCA and EMI.
From 1931 to 1972 there were in fact two Columbia labels. In England and Commonwealth countries (including Australia, New Zealand and India) Columbia was a subsidary label of the British EMI group, but in the Americas and Japan the name was owned and operated by CBS Records, the recording division of the Columbia Broadcasting System (CBS) media group. Even more confusingly, Columbia Records had been one of the original partners in CBS but cashed out soon after, leaving only the name.
Columbia originated with the Columbia Phonograph Company, a licencee of the North American Phonograph Company, which was set up in the 1880s to control and licence the phonograph patents registered by inventors Charles Sumner Tainter, Chichester A. Bell and Thomas A. Edison.
In 1891 Columbia Phonograph was the first company to offer a catalogue of its phonographs and cylinders. By 1895 it was manufacturing hundreds of cylinders daily, and by the turn of the century it had a catalogue of more than 5000 titles. However by 1901, Emile Berliner's "Gram-O-Phone" disc had established itself as the primary consumer medium, and Columbia began pressing its own discs that year. In the spring of 1903, the company began recording stars of the Metropolitan Opera in New York. In 1904 Columbia introduced the first discs to play at 78 rpm, although this did not become the industry standard until 1925. Columbia was also among the first to produce the new double-sided disc, with recordings stamped on both sides.
In 1912 Columbia ened its cylinder production and in 1913 it became the Columbia Graphophone Company. In 1916, Columbia began recording symphony orchestras, notably the Chicago and New York orchestras. In 1917 the Original Dixieland Jass Band of New Orleans went to Columbia Studios in New York, where they recorded "The Darktown Strutters Ball", the first jazz record to achieve mainstream popularity in the USA. By 1919, Americans were buying more than twenty-five million 78 rpm records every year, and the industry was reporting annual sales of $150 million.
Columbia originated as the Columbia Phonograph Co., which was established in 1889 and which operated in the Washington DC-Baltimore area, selling record players under licence from the American Graphophone Company and the North American Phonograph Company. In 1893 the president of Columbia acquired Control of the American Graphophone Company acquired the controlling interest in American Graphophone and in 1895 the two companies were effectively consolidated, with the American Graphophone handling development and manufacturing and Columbia handling distribution and sales.
In 1920 The Gramophone Company (UK) was taken over by the US Victor Talking Machine Company. In 1922 Columbia Phonograph (USA) sold its UK subsidiary Columbia Graphophone, but then in 1925 Columbia Graphophone UK bought its ailing former parent for US$2.5 million. In 1926 Columbia acquired Odeon Records and Parlophone Records and in 1927 the American company officially registered the Masterworks label for its classical recordings.
In 1926, Columbia took over famous OKeh label (owned by the Otto Heinemann Phonograph Corporation), whose catalogue included many top jazz and blues artists. In 1927, the Columbia Graphophone UK acquired a controlling interest in the German Carl Lindstrǒm Company, which owned the Parlophone label. In 1929 RCA took over Victor, thereby also gaining a controlling interest in The Gramophone Co. The takeover also gave RCA the American rights to the "Nipper" trademark, which it used for its new RCA Victor label.
The next major change came in 1931, when The Gramophone Company and its subsidiary label Parlophone merged with the Columbia Graphophone Company. The new Anglo-American group was incorporated as Electric & Music Industries Ltd. At this point RCA had a majority shareholding in the new company, giving RCA boss David Sarnoff a seat on the EMI board. However, EMI was forced to sell Columbia US due to anti-trust concerns raised by its American competitors. By this time the record industry had been hit hard by the Depression, and in 1934 a much-diminished Columbia was acquired by for just $70,500 by by ARC-BRC (American Record Company-Brunswick Record Company), which also took over the OKeh label.
RCA sold its stake in EMI in 1935 although, confusingly, RCA retained the American rights to the "Nipper" logo (which was used by EMI's HMV label in other countries) because of its ownership of Victor. In 1938 ARC-Brunswick was taken over by CBS, which then operated the Columbia trademark as its flagship label in the the Americas and and Japan. However EMI retained the rights to the Columbia name in most other territories (including the UK, Australia and New Zealand) and it continued operating the label until 1972, when it was replaced by the EMI Records imprint. In 1990, following a series of major takeovers that saw CBS Records acquired by Sony, EMI sold its remaining rights to the Columbia name and it is now operated exclusively throughout the world by CBS Sony.
The Columbia label in Australasia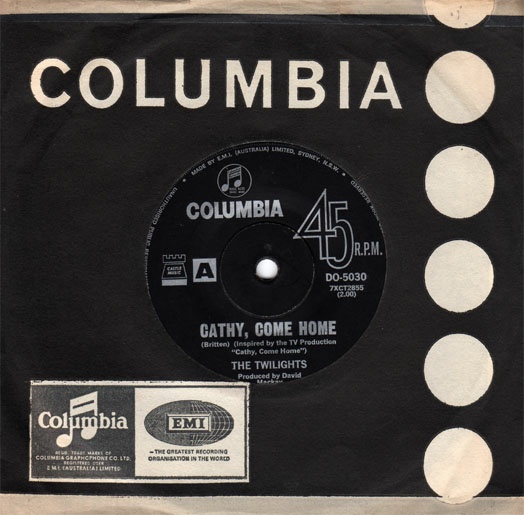 Columbia and its sister labels HMV and Parlophone were among the most successful popular music labels in Australasia, yet there is suprisingly little information about their history. It is known that Columbia Graphophone (UK) established an Australian subsidiary in the early 1920s, and discographical information published on the New Zealand 78 Records website confirms that the company was manufacturing records in Sydney as early as 1926.
Several early references to the company are contained in items held by the National Library of New Zealand. These include a Columbia Records catalogue for 1923-24, which includes listings "up to and including Supplement No. 79", indicating that the company had already been trading for some time when the catalogue was published. The NLNZ also holds promotional pamphlets dating from ca. 1930, which advertise Columbia recordings of Maori traditional music and song. These leaflets, and sound recordings held by the library indicate that Columbia was recording Maori traditional music and New Zealand popular music by the late 1920s. A leaflet advertising Maori music on the Parlophone label indicates that these particular titles were recorded after 1926, when Parlophone was taken over by Columbia Graphophone.
The history of the business relationship between Columbia Graphophone (Australia) and The Gramophone Co. / EMI (Australia) is still unclear. In 1931 Columbia Graphophone (UK), Parlophone and The Gramophone Company (UK) were merged by their new owner RCA, to create Electrical and Musical Industries (EMI), and it is probable that the Australian divisions of The Gramophone Co. and Columbia Graphophone both became wholly-owned subsidiaries of EMI at this point. However the Australian division of The Gramophone Co. contiued to trade as "The Gramophone Co. (Australia) Ltd" until 1949, when it became "EMI (Australia) Ltd". The New Zealand operation continued to trade as "His Masters Voice (NZ) Ltd" into the 1950s and possibly later.
Labels of Australian Columbia 78rpm records from the 1950s carry the credit "Manufactured for Columbia Graphophone (Australia) Pty Ltd", indicating that Columbia was still trading under that name in the late 1950s, but when Johnny Ashcroft's single Little Boy Lost" was released in 1960, the label bore the credit "Made in Australia by EMI (Australia) Ltd". It appears that Columbia Graphophone (Australia) and the Columbia label were formally incororpated into EMI (Australia) around 1958; this was at about the same time that EMI closed down the Regal Zonophone label, discontinued production of 78rpm shellac records and switched to the new vinyl microgroove format.
EMI dominated the Australasian music industry in the post-war period, and it exerted a tremendous influence over the direction and development of music in Australia. In the 1950s and early 1960s, following the closure of Regal Zonophone, Columbia took over a number of Australian artists who had recorded for RZ, notably the "hilbilly" (country) singers Slim Dusty, Reg Lindsay, Smoky Dawson, Buster Noble, Rick & Thel Carey and Chad Morgan. In the 1960s Columbia Australia also gave local release to singles by UK-based Australian performers including Rolf Harris, Frank Ifield and The Seekers.

The late Ron Wills (who died in 2002) was one of EMI's staff producers during this period and he is thought to have been the A&R manager of Columbia from the late 1950s until he moved to RCA in early 1965. Ron 'discovered' and signed the young Frank Ifield to the label, and among his other production credits for Columbia are recordings by Slim Dusty -- including his breakthrought hit "A Pub With No Beer" -- and a string of successful folk albums by singer-musician-actor Lionel Long. Other notable artists released on Columbia in this period included rising young guitar duo The De Kroo Brothers, harmonica virtuoso Horrie Dargie (who later founded the Go!! Records label), Buddy Williams, pioneering Sydney rockers Alan Dale & The Casuals, jazz legend Graeme Bell and singer-songwriter Johnny Ashcroft.

In the 1960s Columbia became one of Australia's most successful pop labels, releasing classic recordings by many top Australian acts including The Twilights, The Masters Apprentices, The Groove and Russell Morris, as well as giving a local release to UK-produced recordings by Australian performers Rolf Harris, Frank Ifield and The Seekers. Columbia's biggest local pop success in the late 1960s was Russell Morris, whose first two solo singles "The Real Thing" and its 'sequel' "Part III Into Paper Walls" were back-to-back #1 hits in 1969.
In 1968 EMI Australia ended the separate cataloguing systems used on its house labels, and on the labels it distributed, including Capitol, Decca, Deram, London, Stateside and Tamla-Motown. They combined all house and licenced labels under a single unified numbering system, which began at 8301. The '8000' series was chosen because Parlophone's cataloguing, the highest range in use at the time, was by then numbered in the low 8000s.
The Columbia label was retired in Australia in 1972 and replaced by the new EMI Records imprint.
Discography
This discography lists Australian EMI-Columbia releases from ca. 1955 to 1972. Overseas-produced recordings sourced from Columbia UK and other affiliates are highlighted.
Singles
3000 series, ca. 1955-1958 (under construction)
DO-3992
1958
Lionel Long
"Hi-Di-Derry-Down-Dey"
"I love you best of all"
DO-3993
1958
Lionel Long
"The Note On The Woodshed Wall"
"Mighty Pyramid"
DO-3994
1958
Reg Lindsay
4000 series, 1958-1967
DO-4000
1958
Athol Mc Coy
"The Hut Beside The Trail"
"The Shepherd's Lament"
DO-4001
(DB-4174 UK)
1958
Russ Conway
"Piano Pops No. 6" - Side 1
"Piano Pops No. 6" - Side 2"
DO-4002
(20th Century Fox)
1958
Harry Simeone
"Bravados"
"Hunter"
DO-4003
1958
Bob Gibson and his Orchestra
"I'm The Man" (From

Lola Montez

)
"The Flower Seller"
DO-4004
1958
Slim Dusty
"Sequel To A Pub With No Beer"
"Sunny Southern Sue"
DO-4005
1958
Slim Dusty
"Sweeney"
"Somebody's Mother"
DO-4006
1958
Smoky Dawson
"Grannie's Song At Twilight"
"The Ghost Of Ben Hall"
DO-4007
1958
Reg Lindsay
"Tom Dooley"
"Hey Sheriff"
DO-4008
1958
Reg Lindsay and The Colt Breakers
"The Walkabout Rock And Roll"
"She Lost Her Cowboy Pal"
DO-4009
(DB-4177 UK)
1958
Tony Brent
"Girl Of My Dreams"
"Don't Play That Melody"
DO-4010
-
unissued?
-
DO-4011
(DB-4188 UK)
1958
Michael Holliday
"She Was Only Seventeen"
"The Gay Vagabond"
DO-4012
1958
Nev Nicholls
"You Gotta Be My Baby"
"When The Train Comes"
DO-4013
1958
Rick and Thel Carey
"Sunshine"
"One More Ride"
DO-4014
1958
Massed Bands of the R.A.N.
Anzac Service - Part 1
Anzac Service - Part 2
DO-4015
1958
Johnny O'Connor
"Saturday Girl" (From

Lola Montez

)
"Play Some Music For Broken Hearts"
DO-4016
-
-
-
DO-4017
1958
Slim Dusty
"Along The Road Of Song"
"My Journey Home"
DO-4018
1958
The Horrie Dargie Quintet
"The Sunshine State"
"Dust In The Sun"
DO-4020
1958
Bob Rogers
James Condon
"The Teen Commandments"
"What Is A Mother"
DO-4021
1958
Smoky Dawson
"Call Me Back Pal O' Mine"
"Treasure"
DO-4022
1958
Smoky Dawson
"I'm Happy In The Land Where I Was Born"
"In The Valley Where The Bellbirds Sing"
DO-4023
1958
Nev Nicholls
"Condamine Waltz"
"Fortunes In Memories"
DO-4024
1958
Nev Nicholls
"Blue Melody"
"Oklahoma Waltz"
DO-4025
1958
Chad Morgan
"How It Started"
"When The Whips Are Cracking"
DO-4026
1958
Kevin King
"My Son Calls Another Man Daddy"
"Somebody "Ughed" On You"
DO-4027
1958
Kevin King
"The Girl On The Dance Hall Floor"
"I'm Gonna Celebrate Now"
DO-4028
1958
Rick and Thel Carey
"Let's Kiss And Try Again"
"Rusty Goes Home"
DO-4029
1958
Rick and Thel Carey
"I've Known You From Somewhere"
"You Can Say That Again"
DO-4033
1958
Slim Dusty
"The Saddle Is His Home"
"When They Muster On The Golden Plain"
DO-4034
1958
Slim Dusty
"Wedding Bell Blues"
"When The Moon Across The Bushland Beams"
DO-4035
1958
Slim Dusty
"I Love You Best Of All"
"Spending My Life In The Sun"
DO-4036
Slim Dusty
"There's A Rainbow Round My Memories"
"If Those Lips Could Only Speak"
DO-4037
Joy Mc Kean
"Long Road Home"
"I Stand Accused"
DO-4038
Reg Lindsay
"The Ghost Of Tom Dooley"
"The Auctioneer"
DO-4039
Rick and Thel Carey
Don't Leave Your Mother, Son
Night I Stole Sammy Morgan's Gun
DO-4042
Trevor Day
The Boy Soldier
How To Play The Guitar
DO-4043
Trevor Day
Money
The Letter
DO-4044
-
unissued?
-
DO-4045
(DB-4256 UK)
1959
Russ Conway
"Side Saddle"
"Pixalated Penguin"
DO-4046
Slim Dusty
The Nature Of Man
Roaring Wheels
DO-4047
Buddy Williams
The Flying Doctor
A Mother As Lovely As You
DO-4048
Chad Morgan
The Dinkum Dill
The Sheik Goes Courting
DO-4049
Slim Dusty
Pastures Of Home
Dreamin' On The Sliprail
DO-4050
Slim Dusty
Walkin' On My Way
Gumtrees By The Roadway
DO-4051
Chad Morgan
"The Psychiatrist's Joy From Kingaroy"
"Goin' Home"
DO-4052
Buddy Williams
"The Ringer"
"Answer To Missing In Action"
DO-4053
Rick and Thel Carey
"Looking Back To See"
"It's You With A Broken Heart"
DO-4054
Slim Dusty
"Harry The Breaker"
"Queensland The State So Fair"
DO-4055
Slim Dusty
"Mother"
"Our Wedding Waltz"
DO-4056
Slim Dusty
Slim Dusty and Joy Mc Kean
"I Must Have Good Terbaccy When I Smoke"
"When I First Saw The Lovelight In Your Eyes"
DO-4057
Slim Dusty, "The Dusty Trail Yodeller",
with Joy Mc Kean and The Bushlanders
"Rusty, It's Goodbye"
"Losin' My Blues Tonight"
DO-4058
Chad Morgan
"Chasing Sorts In Childers"
"It's No Fun"
DO-4059
Slim Dusty "The Dusty Trail Yodeller"
and The Bushlanders
The Sunlander
The Showman's Song
DO-4060
Chad Morgan
The Answer To The Bachelor's Warning
The Dunkinwilla Dance
DO-4061
Jimmy Little
The Heartbreak Waltz
Mysteries Of Life
DO-4062
Slim Dusty
Little Girl Dressed In Blue
Old Love Letters
DO-4063
1959
Chad Morgan, "The Sheik of
Scrubby Creek"
The Bachelor's Warning
The Shotgun Wedding
DO-4064
Dr. E. Brooke
Nicholls
Jacko (The Broadcasting Kookaburra) - Part 1
Jacko (The Broadcasting Kookaburra) - Part 2
DO-4065
Smoky Dawson
Friendship
I'm Lonesome For You, Caroline
DO-4066
Chad Morgan
Nobody Else (But Little Me)
The Night I Went Below
DO-4067
Massed Bands
Royal Australian Navy
The National Anthem 1: Short Version 2: Complete Version
The National Anthem 1: Short Version 2: Complete Version
DO-4068
Reg Lindsay
Don't Steal Daddy's Medal
The Girl In My Hometown
DO-4069
Johnny Robson
Kevin Barry
Granny's Heilan' Hame
DO-4070
-
-
-
DO-4071
Rick and Thel Carey
No One But You
You And Me
DO-4072
Jimmy Little
Silver City Comet
The Grandest Show Of All
DO-4073
Rick and Thel Carey
When Jimmy Rodgers Said Goodbye
The Life Of Hank Williams
DO-4074
1959
Chad Morgan
"I'm The Sheik Of Scrubby Creek"
"You Can Have Your Women, I'll Stick To My Booze"
DO-4075
1959
Massed Regimental Band of The Australian Military Forces conducted by Lt. A.H. Baile
"Advance Australia Fair - Song Of Australia"
"Waltzing Matilda"
DO-4076
1959
Buddy Williams, "The Yodeling Jackaroo"
"Missing In Action"
"The Death Of Hank Williams"
DO-4077
1959
Inger Jacobsen
"Lordag Hele Uken"
"Cuddle Up (Lordag Hele Uken)"
DO-4078
1959
A: Tommy Dee and Carol Kaye and The Teen-Aires
B: Carol Kaye and The Teen-Aires
"Three Stars"
"I'll Never Change"
DO-4079
1959
Tommy Cole with Billy Weston Orchestra
Ruth Carrell
"Date Night"
"Rosy Glow"
DO-4080
1959
Reg Lindsay & The Coltbreakers
"The Wog"
"The Battle Of New Orleans"
DO-4081
1959
Reg Lindsay & The Coltbreakers
"Where No One Stands Alone"
I'll Make You Sorry
DO-4082
1959
Russ Conway
"Roulette"
"Trampolina"
DO-4083
1959
Frank Ifield
"True"
"Sad Am I"
DO-4084
1959
Frank Ifield
"Chip Off The Old Block"
"Pale Moon"
DO-4085
1959
Horrie Dargie Quintet
"The Alexandra Waltz"
"Autumn Leaves"
DO-4086
1959
Alan Dale & The Casuals
"Back In The U.S.A."
"Crackin' Up"
DO-4087
1959
Alan Dale & The Casuals
"Love Me All The Time"
"Dancing The Kangaroo Hop"
DO-4088
1959
Little Kid Lex
The Melotone Brothers
"New Year Rock"
"Siya Giya"
DO-4089
1959
Johnny Devlin & The Devils with The Delltones
"Pointed Toe Shoes"
"I Was The One"
DO-4090
1959
Johnny Devlin & The Devils with The Delltones
"Nervous"
"Why Don't You Believe Me"
DO-4091
1959
John Ashe
"The Flyin' Doctor's Flyin' Again"
"Growing The Golden Fleece"
DO-4092
1959
John Ashe
"Have Another"
"Flyin' Fox Frolic"
DO-4093
1959
Frank Ifield
"Will I Ever"
"Teenage Baby"
DO-4094
1959
Frank Ifield
"Ballad Of Ned Kelly"
"Since You Went Away"
DO-4098
1959
Massed Bands of The R.A.N.
"Waltzing Matilda"
"My Blue Heaven"
DO-4099
1959
Lionel Long
"Searching"
"The Bunyip"
DO-4100
1959
Lionel Long
"The Ballad Of Cobb And Co."
"The Girl With The Auburn Hair"
DO-4101
-
-
-
DO-4102
1959
Alan Dale & The Casuals with The Four Shores
"Torment"
"You Threw A Dart"
DO-4103
-
-
-
DO-4104
Buddy Williams
"Hank, It Will Never Be The Same Without You"
"Aren't I Lucky"
DO-4105
Buddy Williams
"Rockin' Alone In An Old Rockin' Chair"
"The Rhythm Of The Round-Up"
DO-4106
Buddy Williams
"Polling Day"
"Dave Sands"
DO-4107
Reg Lindsay and The Colt Breakers and The Graduates
"The Caribbean"
"The Last Waltz With You"
DO-4108
Reg Lindsay and The Colt Breakers
"The House Down Willow Lane
"Big Midnight Special"
DO-4110
Slim Dusty
"The Pub Rock"
"Aussie Doghouse Blues"
DO-4111
Slim Dusty
"Fair Dinkum"
"No Good Baby"
DO-4112
Slim Dusty
"Waltzing Matilda
"Down At Charlie Gray's"
DO-4113
Slim Dusty
"Keep The Lovelight Shining"
"When You're Short Of A Smoke"
DO-4114
Smoky Dawson
"The Stone Outside Dan Murphy's Door"
"Song Of The Inland"
DO-4115
Smoky Dawson
"Only A Leaf"
"Be Careful"
DO-4116
1959
Alan Dale & The Casuals and The Fourshores
"Very Young"
"Chewing Gum"
DO-4117
unissued
Alan Dale and The Casuals
"Tiara"
"Two Innocent Lovers"
DO-4118
Horrie Dargie Quintet
The March Hare
Guaglione - They're A Weird Mob
DO-4119
Trevor Day
Just Waitin'
I Think Of You
DO-4120
Trevor Day
Let Me Be The One
Beyond The Sunset
DO-4123
(Del Fi 4126)
Chan Romero
I Don't Care Now
My Little Ruby
DO-4124
(Del Fi 4119)
Chan Romero
The Hippy Hippy Shake
If I Had A Way
DO-4126
1960
The De Kroo Brothers
Leo De Kroo
On The Job Too Long
Head Over Heels
DO-4127
1960
The De Kroo Brothers
Loveland
'Cause I Like It
DO-4128
1960
Johnny Ashcroft
My Love Is A River
Little Boy Lost
DO-4129
Johnny Ashcroft
Son Of Old Shep
The Prisoner's Song
DO-4131
1960
Rolf Harris
Tie Me Kangaroo Down Sport
Nick Teen And Al. K. Hall
DO-4133
Buddy Williams
Anybody's Lover
The Nightmare
DO-4134
Buddy Williams
Christmas Blues
What's The Use
DO-4135
Buddy Williams
The Snowy Mountains
Ten Years
DO-4136
DO-4138
Slim Dusty
I Don't Want No Woman Around
The Boys Who Never Returned
DO-4139
Slim Dusty
Travellin' Through
My Old Aussie Homestead
DO-4140
Slim Dusty
Old Home Week
High, Wide And Handsome
DO-4141
1960
Slim Dusty with Dick Carr and his Buckaroos and The Emitrons
My Home On The Sunburnt Plains
Whiplash
DO-4143
1960
Johnny Ashcroft
Big River
The Flying Red Horse
DO-4144
Johnny Ashcroft
Little Kangaroo
You Turn To Cry Over Me
DO-4145
Rick and Thel Carey
Standing At The End Of My World
Don't Laugh
DO-4146
Rick and Thel Carey
Somebody's Back In Town
Heaven
DO-4147
Rick and Thel Carey
You Thought I Thought
I'm Blaming You
DO-4148
Rick and Thel Carey
Talking In Your Sleep
Three Ways Of Knowing
DO-4150
Rolf Harris
Lost Little Boy
The Big Black Hat
DO-4151
DO-4152
1960
The Hawkings Brothers with The Gay-Boys
Don't Leave Me
Please, Baby, Please
DO-4154
John Ashe
The Beer, Boys, Is Here
Since Dad Got Put In Jail
DO-4157
DO-4158
1960
John Konrad's Kaydets
Balin' Wire
American Patrol
DO-4160
Buddy Williams
Under Western Skies
When The Cactus Is In Bloom
DO-4161
Buddy Williams
The Panther
The Spice Of Life
DO-4162
Buddy Williams
Roley
My Sleepy Valley Home
DO-4163
Buddy Williams
Crazy
Mother Went A-Walking
DO-4164
Chad Morgan
You Just Can't Win
Since Dear Mother Died
DO-4165
DO-4166
Rolf Harris
Six White Boomers - Part 1
Six White Boomers - Part 2
DO-4167
1962
Rolf Harris
Sun-Arise
Tie Me Kangaroos Down Cha Cha
DO-4169
1962
Reg Lindsay
South Pacific Shore"
Twinkle Chimes
DO-4170
Reg Lindsay
It Tickles
Just For Me
DO-4171
DO-4172
Heather McKean
My Shoes Keep Walkin' Back To You
The Man I Used To Know
DO-4175
1960?
The De Kroo Brothers
Cave In
Love's A Funny Thing
DO-4176
DO-4177
Slim Dusty and his Bushlanders
Mareeba's Rodeo Song
The Land Of Lots O' Time
DO-4178
Slim Dusty
If You Walk Out That Gate
Wagon Trains North
DO-4179
Slim Dusty
The Old Rusty Bell
My Pal Alcohol
DO-4180
Slim Dusty and his Bushlanders
Middleton's Rouseabout
I Want A Pardon For Daddy
DO-4182
Johnny Ashcroft
A Drop In The Bucket
Fisher's Ghost
DO-4183
DO-4184
DO-4185
Rolf Harris
Tame Eagle (Teen Angel)
The Master From The Bush
DO-4186
DO-4187
Trevor Day
Strummin' This Old Guitar
Ain't We Lucky
DO-4188
DO-4191
Reg Lindsay
I'm Happy Everyday I Live
Nobody Knows But Me
DO-4192
DO-4193
Rick and Thel Carey
Man And Women
White Crosses In The Jungle
DO-4194
DO-4195
DO-4197
DO-4198
Slim Dusty
The Whispering Bush - with his Bushlanders and The Delltones
Mother's Wedding Band - with Joy Mc Kean
DO-4199
Slim Dusty
Mad Jack's Cockatoo
Charlie Gray's Barn Dance
DO-4205
Dusty Rankin
"Come In Spinner"
"Little Blue Eyes"
DO-4206
1961
Dusty Rankin with Dick Carr and his Buckaroos
"The Drifting Stockman"
"Redwing"
DO-4207
Slim Dusty
"The Happiest Days Of All"
"Boomerang"
DO-4210
DO-4212
DO-4213
DO-4220
DO-4225
John Ashe
The Squatter's Daughter
The Kookaburra Laughs
DO-4233
?
Gambler
Buffalo
DO-4234
1961
Lionel Long
"Botany Bay""
"Ring-A-Ling"
DO-4238
Graeme Bell and his Dixieland Jazz Band
"South"
"Ugly Child"
DO-4239
Chad Morgan
The Juvenile Delinquent
Take Warning Friend
DO-4240
Chad Morgan
Here I Am
Queer Darn Cattle These Women
DO-4241
Slim Dusty
Cosy Inn
I'll Take Mine Country Style
DO-4242
1962
Slim Dusty
Showers Of Blessings
Big Moon
DO-4243
Slim Dusty
The Paper Boy
You've Got The Cleanest Mind
DO-4249
Rolf Harris
In The Wet
Didgeridoo
DO-4251
Arthur Blanch
Somebody Else Is Taking My Place
The Strange Little Girl
DO-4252
Buddy Williams
Teardrops
I Went Home To Mother
DO-4253
Buddy Williams
Journey's End
Gonna Ride Till The Sun Goes Down
DO-4254
Slim Dusty
Mother, The Queen Of My Heart
Song Of The Macleay
DO-4255
Slim Dusty
Keela Valley
Lonely Lonesome Blues
DO-4257
Reg Lindsay
The Country Sound
X's From Down In Texas
DO-4258
Reg Lindsay
The Restless One
Under Your Spell Again
DO-4259
DO-4260
Slim Dusty
Highway Blues
Moving Away
DO-4277
Arthur Blanch
China Doll
Keep It A Secret
DO-4278
Arthur Blanch
Our Best Man
If I Had A Television On My Telephone
DO-4279
Reg Lindsay
Loose Talk
A Funny Way Of Laughin'
DO-4280
Chad Morgan
Come In, Sucker
The Rooster Crowed
DO-4281
DO-4282
1962
Le Garde Twins
Bonanza
I'm Movin' On
DO-4286
Rick and Thel Carey
Why Do We Go On This Way
Let's Talk It Over
DO-4287
Rick and Thel Carey
Thanks For The Lesson
How About Me
DO-4288
Rick and Thel Carey
Rusted Love
Let's Pull Together
DO-4293
1963
Rolf Harris
My Wrinkles Have Been Pinched
The Ground-Hog Song
DO-4299
1962
Frank Ifield
I Remember You
I Listen To My Heart
DO-4303
Johnny Cole
We're Gonna Go Fishin'
I Lost Today
DO-4304
Johnny Cole
In Like A Lion
Building A Wall Around My Heart
DO-4314
1962
Buster Noblee
The Pommy Jackaroo
The Publican's Daughter
DO-4324
Reg Lindsay
We're Proud To Call Him Son
A Letter To Tom
DO-4326
1962
Johnny Ashcroft
The Girl Behind The Bar
Because My Love Is Gone
DO-4327
1961?
Bryan Davies with Orchestra
Sad Sixteen
Don't Love
DO-4329
Rolf Harris
Sun, Arise
Someone's Pinched My Winkles
DO-4334
Slim Dusty
The Rose In Her Hair
Sweet Talkin' Girl
DO-4335
1960s
Slim Dusty and his Bushlanders
Train Whistle Blues
The Old Woodshed Do
DO-4336
Slim Dusty
Grasshopper Loose In Queensland
The Return Of The Stockman
DO-4339
Slim Dusty
Leaning Post
Arajoel Waltz
DO-4344
1963
Pasty Ann Noble
Don't You Ever Change Your Mind
Sour Grapes
DO-4346
1963
Frank Ifield
The Wayward Wind
I'm Smiling Now
DO-4358
Rolf Harris
Johnny Day
In The Wet
DO-4363

Frank Ifield
Nobody's Darlin' But Mine
You Don't Have To Be A Baby To Cry
DO-4364
1963
Patsy Ann Noble
Heartbreak Avenue
I'm Nobody's Baby
DO-4370
1963
Lionel Long
Boll Weevil
The Drover's Dream
DO-4374
Buster Noble
The Shearer's Cook
Banjo Sam
DO-4376
1963
Johnny Ashcroft
Bullroarer
Keepin' Up With The Joneses
DO-4381
Buddy Williams
Please Light The Darkness For Me
I've Forgotten How To Cry
DO-4382
Buddy Williams
When Jesus Calls
The Cross Of Jesus
DO-4383
Buddy Williams
Snow On The Mountain
Back To Alice Springs
DO-4384
Buddy Williams
Rockin' Cowboy
True Friends Are So Few
DO-4385
Reg Lindsay
Boob-I-Lak
Long Time To Forget
DO-4391
1963
Frank Ifield
I'm Confessin' (That I Love You)
Waltzing Matilda
DO-4392
1963
Patsy Ann Noble
I Was Only Foolin' Myself
Ordinary Love
DO-4393
DO-4394
DO-4395
Reg Lindsay
Will Your Lawyer Talk To God
Streets Of Berlin
DO-4397
Le Garde Twins and Reg Lindsay
Reg Lindsay and Le Garde Twins
Don't Let Me Cross Over
I Shall Not Be Moved
DO-4400
-
unissued?
-
DO-4401
Le Garde Trio
"Faded Love"
"Bluebird Of Happiness"
DO-4402
Le Garde Trio
"Trouble's Back In Town"
"The Frozen Logger"
DO-4403
(Parkway
Chubby Checker
DO-4404
DO-4405
Rolf Harris
"I Know A Man"
"Living It Up"
DO-4421
1963
Frank Ifield
"Mule Train"
"One Man's Love"
DO-4425
Slim Dusty
"When You're Short Of A Quid"
"Don't Fool Around Anymore"
DO-4426
Slim Dusty
"When The Golden Sliprails Are Down"
"This Chap Who Knows A Lot"
DO-4428
Don Burrows Plus Six
Golden Wedding
Titles Theme (From The Bryan Davies Show")
DO-4431
Slim Dusty
The Ace Of Hearts
Never Mind
DO-4433
Rick and Thel Carey
Would You Mind
Somebody's Dad
DO-4434
Rick and Thel Carey
I Love You Best Of All
The First Rose
DO-4435
Rick and Thel Carey
Before I Met You
I Heard The Bluebirds Sing
DO-4436
Rick and Thel Carey
The Stairs That Namatjira Climbed
When I Went Back To Suvla Bay
DO-4438
1964
Frank Ifield
Please
Half As Much
DO-4441
1964
Frank Ifield
Say It Isn't So
Don't Blame Me
DO-4449
Le Garde Twins
Ballad Of Ned Kelly
Take Time
DO-4456
Reg Lindsay
Take These Chains From My Heart
It's A Little More Like Heaven
DO-4457
Rick and Thel Carey
How About Me
Thanks For The Lesson
DO-4458
Slim Dusty and his Bushlanders
Namatjira
Rose Of Red River Valley
DO-4459
DO-4460
Slim Dusty
Way Out There
A Faded Coat Of Blue
DO-4461
DO-4462
Buddy Williams
Way Up North
Pal Of My Heart
DO-4463
Buddy Williams
I'm Moving Out
Pretty Girl
DO-4464
Buddy Williams
I've Been Around
A Letter To Slim
DO-4465
Chad Morgan
There's No Night Out In The Jail
How Dare You Go To Bed
DO-4466
Chad Morgan
The Farmyard Yodel
You're Getting Old, Son
DO-4473
1964
Frank Ifield
Angry At The Big Oak Tree
Go Tell It On The Mountain
DO-4475
1964
Patsy Ann Noble
I Did Nothing Wrong
Better Late Than Never
DO-4477
Rex Dallas
Just For You
A Picture And Memories Of You
DO-4478
Rex Dallas
Australian Bush Call
I'm Crying In My Beer
DO-4479
1964
Bryan Davies with Orchestra
In Your Shoes
Raincoat In The River
DO-4485
Rolf Harris
The Court Of King Caractacus
Two Buffalos
DO-4486
Slim Dusty
How Will I Go With Him, Mate?
Just Going Home
DO-4495
Reg Lindsay
Lonely Road
Scared Of Losing You
DO-4499
Frank Ifield
I Should Care
Another Cup Of Coffee
DO-4501
1964
Patsy Ann Noble
Private Property
Crack In The Door
DO-4506
Johnny Ashcroft
Kimberley Way
Billabong Bill, The Winger
DO-4509
Rolf Harris
Ringo For President
Head Hunter
DO-4511
1965
Frank Ifield
Summer Is Over
True Love Ways
DO-4519
The Cherokees
Seven Daffodils
Are You Back In My World
DO-4520
1964
The Echoes
Doin' The Mod
Unforgettable Love
DO-4522
Buster Noble
Shearer's Cook
Boomerang Bender
DO-4523
Rolf Harris
Click Go The Shears
Botany Bay
DO-4525
Reg Lindsay
Trouble In My Arms
I'm Gonna Stop Loving You
DO-4528
1965
Frank Ifield
Don't Make Me Laugh (Don't Make Me Cry)
Without You (Tres Palabras)
DO-4531
1964
Bryan Davies with Orchestra
Tell The Other Guy
My Dream Of You
DO-4533
The Quests
Shanty
Gallopin'
DO-4537
Slim Dusty
Teenage Country Style
You'd Better Be Waiting
DO-4538
DO-4539
DO-4540
DO-4541
Mark Von Berto and his Friends
Little Buddy
Shade Of The Blues
DO-4542
196?
Mark Von Berto and his Friends
Sinful Cinderella
Alone With You
DO-4545
Reg Lindsay
My Travelling Night
Find 'Em, Fool 'Em And Leave 'Em Alone
DO-4546
Rolf Harris
The Five Young Apprentices
The Farmer Went Out For Some Beer
DO-4547
Reg Lindsay
Suvla Bay
Grab Your Saddle Horn And Blow
DO-4548
1965
The Black Knights
I Gotta Woman
Angel Of Love
DO-4559
Rolf Harris
The Thing
Wild Colonial Boy
DO-4560
1964
Patsy Ann Noble
Then You Can Tell Me Goodbye
If You Wanna Be More Than Friends
DO-4564
1965
Frank Ifield
I'm So Lonesome I Could Cry
Lonesome No.1
DO-4565
1964
Norm Miller and The Echoes
One Day
It Doesn't Matter Anymore
DO-4569
1965
Rolf Harris
Iko Iko
Sydney Town
DO-4577
Reg Lindsay
A Teardrop On A Rose
All The Monkeys Ain't In The Zoo
DO-4580
1964
The Clefs
March Of The Siamese Children
Last Night
DO-4581
1964
John Perry
Unchained Melody
Two Of The Same
DO-4582
June 1965
The Twilights
I'll Be Where You Are
I Don't Know Where The Wind Will Blow Me
DO-4583
1965
The Esquires
Ecnad (The Backward Dance)
Theme From "The Proud Ones"
DO-4584
Slim Dusty
Pay Day At The Pub
Wild Rugged Land I Love
DO-4587
The Quests
Be My Girl
Don't Play That Song
DO-4590
Johnny Ashcroft
Mrs. Swaggie Joe
Bushfire
DO-4591
1965
Chris Solano
The Tears That I Cry
We May Meet Again
DO-4593
Slim Dusty
Maple Sugar Sweetheart
Life Is Like A River
DO-4595
Lyn and Graham McCarthy
Seven Doves
Out After Ale
DO-4597
Reg Lindsay
The Bridge Washed Out
I Don't Care
DO-4598
Slim Dusty
When The Rain Tumbles Down In July
A Word To Texas Jack
DO-4599
The Joy Strings
All Alone
He Cares
DO-4602
1965
Frank Ifield
Paradise
Goodbye Now
DO-4603
Rick and Thel Carey
I've Had It
Goodbye Mr. Brown
DO-4607
1965
John Perry
Sleepy Lagoon
Love Has Gone
DO-4608
1965
The D-Coys
Come Running To Me
I Don't Want
DO-4610
Oct. 1965
The Twilights
"Come On Home"
Wanted To Sell
DO-4613
The Quests
Come On And Shout
Memories
DO-4616
1965
Eddie Calvert, "The Man with the Golden Trumpet"
Il Silenzio
The Beggars Of Rome
DO-4617
Michel Magne and his Orchestra
La Ronde
Maxim's Grande Epoque
DO-4618
1965
Lionel Long
True, True Loving
Love Is An Eagle
DO-4619
1965
Ken Dodd
Tears
You And I
DO-4620
Chad Morgan
The Shearer's Jamboree
The Party In The Local Hotel
DO-4622
Reg Lindsay
The Race Is On
Oklahoma Hills
DO-4624
1965
Bobby James & The Vibrants
Jezebel
Darling Look At Me
DO-4625
The Pack
Do You Believe In Magic?
Things That Bring Me Down
DO-4626
1965
The Seekers
The Carnival Is Over
We Shall Not Be Moved
DO-4630
Brian Young
Walk Away, Let's Forget, It's Too Late
Kidman, The Cattle King
DO-4631
Rick and Thel Carey
Poor Folks
Change Your Ways
DO-4632
Alex Hood
Ballad Of Billy Borker
Why Can't You Try (?)
DO-4633
Slim Dusty
A Letter From Down Under
Cunamulla Feller
DO-4634
1965
The Gingerbread Men
Let The Little Girl Dance
Gently
DO-4638
The Quests
Love Has Gone
Sound Of Music
DO-4639
1965
John Perry
Evergreen
Wait By The Water
DO-4640
Trevor Day
A Game Of Swy
The Typical Australian
DO-4641
Ken Dodd
The River
Someone Like You
DO-4645
1965
The Zodiacs
Voyage To The Bottom Of The Sea
I Need Your Love
DO-4646
1965
The D-Coys
Now Comes A Day
Leaving Here
DO-4648
1965
Frank Ifield
I Guess (From The Film "Up Jumped A Swagman")
Then Came She
DO-4652
Reg Lindsay
May The Bird Of Paradise Fly Up Your Nose
Easy Come, Easy Go
DO-4653
Brian Young
The Cattle Duffer
Please Forgive Me, Don't Forget Me
DO-4654
1966
Rolf Harris
Big Dog
Jake The Peg
DO-4658
Feb. 1966
The Twilights
"If She Finds Out"
"John Hardy"
Produced by The Twilights
DO-4659
DO-4660
1966
Slim Dusty and Anne
I Haven't Changed A Bit
The Decimal Currency Pub
DO-4661
DO-4662
1965
The Harmoniacs
Something Called Nothing
Under The Sun
DO-4663
DO-4664
DO-4665
DO-4666
1966
The Seekers
Someday, Oneday (Paul Simon-Bruce Woodley)
Nobody Knows The Trouble I've Seen
DO-4667
DO-4672
Trevor Day
The March On Anzac Day
From Here On In
DO-4674
Frank Ifield
Don't Be Afraid
There'll Be Another Spring
DO-4676
1966
Bobby James & The Vibrants
I've Learned
Almost Eighteen
DO-4678
The Tornados
Pop-Art Goes Mozart
Too Much In Love To Hear
DO-4682
1965
The Nightbeats
What's In A Name
Gwenda
DO-4683
May 1966
The Twilights
"Baby, Let Me Take You Home"
You Really Got A Hold On Me
DO-4684
Cyril Stapleton and his Orchestra
A Catchy Tune
Swing-A-Ding
DO-4685
Rick and Thel Carey
Star Of Love
Honky Tonk Girl
DO-4686
David and Jonathan
Speak Her Name
Take It While You Can
DO-4689
1966
Susan Holliday
Any Day Now
Street Of Dark Despair
DO-4690
Ken Dodd
Promises
Thank You For Being You
DO-4691
Eddie Tapp
Till The End Of The World Rolls 'Round
If You And Someone Cheated Me
DO-4692
Slim Dusty
Dinki Di Aussie
If We Only Had Old Ireland Over Here
DO-4695
Johnny Ashcroft
Who Pinched Me Kangaroo
Dry
DO-4696
1966
The Nightbeats
When I'm With You
Love At First Sight
DO-4697
1966
The Y? Four
Ability
Evergreen Tree
DO-4698
June 1966
The Twilights
Bad Boy
It's Dark
DO-4699
1966
Frank Ifield
No One Will Ever Know
I'm Saving All My Love
DO-4701
1966
John Perry
Don't Change Me
Sunset
DO-4702
Vince Hill
Merci Cherie
Can't Believe My Eyes
DO-4706
Richard Anthony
Cloudy
I Only Dream Of You
DO-4707
Slim Dusty
Trumby
The Isa Rodeo
DO-4709
1966
The Clefs
Roberta
I Can Only Give You Everything
DO-4711
1966
Johnny Ashcroft
They're A Weird Mob
Big Country
DO-4712
1966
The D-Coys
Bad Times
You're Against
DO-4714
1966
The Southern Gentlemen
A Wonderous Place
I Want You Back Again
DO-4715
Rick and Thel Carey
I'll Miss You When You Go
Slowly But Surely
DO-4716
1966
The Vibrants
I've Got To Go
Somebody Help Me
DO-4717
Aug. 1966
The Twilights
Needle In A Haystack
I Won't Be The Same Without Her
Produced by David McKay
DO-4718
1966
Chaos and Co.
Seven Golden Daffodils
It Was You
DO-4719
1966
Ken Dodd
More Than Love
I Can't Seem To Say Goodbye To You
DO-4720
Eddie Tapp
The Derelict
Lately, Little Darling
DO-4721
The Seekers
Walk With Me
We're Moving On
DO-4723
1966
The Y? Four
"Honey And Wine"
"Keep A Hold Of What You've Go"t
DO-4725
Rolf Harris
Hey Yew Gotta Loight, Boy?
Animals Pop Party
DO-4728
DO-4730
DO-4731
The Quests
The Dancer
Roller Coaster Man
DO-4732
DO-4733
DO-4734
DO-4735
DO-4742
Dec. 1966
The Twilights
You Got Soul
Yes I Will
DO-4745
Slim Dusty
You Can Never Do Wrong In A Mother's Eyes
Road Trains
DO-4746
1966
Frank Ifield
Call Her Your Sweetheart
All My Daydreaming
DO-4747
Lyn and Graham Mc Carthy
The Turkey Trial
Bitter Withy
DO-4750
1967
The Seekers
Georgy Girl (From The Film)
When The Stars Begin To Fall
DO-4752
Rex Dallas
Yodel And Smile
I'll Take You Home Again Kathleen
DO-4753
1966
The Zodiacs
East
West
DO-4754
Rick and Thel Carey
I'll Take The Dog
Why Don't You Love Me
DO-4755
Eddie Tapp
No Hiding Place
Exclusive Selection
DO-4756
DO-4760
Slim Dusty
The Old Time Drovers Lament
Night Watch Blues
DO-4761
1967
The Vibrants
Danger Zone
Something About You, Baby
DO-4762
Tex Morton
Green Grass Of Home
Tex Morton's Protest Song
DO-4763
Gordon Parsons
Men Who Are Lost
That's The Kind Of Life I Live
DO-4764
Feb. 1967
The Twilights
"What's Wrong With The Way I Live"
"9.50"
Produced by Norman Smith
DO-4766
Ken Dodd
Let Me Cry On Your Shoulder
Two Kinds Of Fool
DO-4768
1967
The Vacant Lot
Don't Let Me Sleep Too Long
Leaving Here
DO-4769
1967
Art Leonard
Our Don Bradman
Our Eleven
DO-4772
Joy and Anne Mc Kean
Joy Mc Kean
.
Just A Little Bit Longer
Let It End This Way
DO-4775
Frank Ifield
Out Of Nowhere
And I Always Will Do
DO-4779
Gordon Waller
Speak For Me
Little Nonie
DO-4784
Rick and Thel Carey
Family Man
The Deepening Snow
DO-4785
Tex Morton
The Cream In Between
21st Birthday
DO-4786
Slim Dusty
Happy Jack
A Rose Of Red
DO-4787
May 1967
The Twilights
"Young Girl"
"Time And Motion Study Man"
Produced by Norman Smith
DO-4789
1967
The Vibrants
"The Letter Song"
"How Sweet It Is" (Holland-Dozier-Holland)
DO-4790
1967
The Gingerbread Men
Rattler
Gingerbread Man
DO-4791
Rex Dallas
"Starlight Serenade
Ellenborough Falls
DO-4794
Joy Mc Kean
Davey Darlin'
Just As The Sun Went Down
DO-5001
1967
The Third Party
Now It's Time
Russian Spy And I
DO-5002
1967
Sounds of Silence
"Runnin' High"
"Blame Yourself"
DO-5003
1967
Judith Durham
"The Olive Tree"
"The Non-Performing Lion Quickstep"
DO-5004
1967
Slim Dusty
"Since Then"
"Shearing Shed Blues"
DO-5007
1967
Rolf Harris
"Borroloola"
?
DO-5008
1967
Eddie Tapp
I'd Need A Million
Test Of Time
DO-5009
1967
Rick and Thel Carey
Close Together
I'll Bet I Know Just What You're Gonna Say
DO-5011
1967
Young Idea
With A Little Help From My Friends
Colours Of Darkness
DO-5012
1967
Frank Ifield
Up-Up And Away
Roses, Moonlight And One Little Bottle Of Wine
DO-5016
1967
Rupert's People
Reflections Of Charles Brown
Hold On
DO-5018
1967
Slim Dusty and Anne
Daddy's Girl
You Took The Joy Out Of Livin'
DO-5019
1967
Peter Best
"Lyndy"
"Colonel Burke Has Pink Suspenders On"
DO-5021
Sep. 1967
The Groove
"Simon Says
"With This Ring"
DO-5022
1967
The Seekers
On The Other Side
I Wish You Could Be Here
DO-5023
1967
Graham Chapman
So Glad We Made It
Time's Run Out
DO-5024
1967
Lionel Long
Missin' You
Got A Feelin'
DO-5025
1967
I Nomadi
Dio E Morto
Per Fare Un Uomo
DO-5026
1967
Slim Dusty
"Music My Dad Played To Me"
"The Desert Lair"
DO-5028
1967
The Vibrants
"Don't Let Your Left Hand Know"
"My Prayer"
DO-5029
Johnny Ashcroft
It's The Same Old Story
Honey I Know
DO-5030
1967
The Twilights
"Cathy Come Home"
"The Way They Play"
Produced by David McKay

DO-5031
Tex Morton
The Jailhouse Window
Barnacle Bill The Sailor
DO-5032
1967
Johnny Farnham
"Sadie (The Cleaning Lady)"
"In My Room"


Produced by David McKay

DO-5033
The Seekers
"When Will The Good Apples Fall"
"Myra"
DO-5034
Rupert's People
A Prologue To A Magic World
Dream On My Mind
DO-5037
Rolf Harris
I've Never Seen Anything Like It
Willy, Willy
DO-5038
Slim Dusty
A Friend Indeed
Slow Down
DO-5039
1967
Peter Best
Want You
Carousel Of Love
DO-5043
1967
Judith Durham
Again And Again
Memories
DO-5046
-
-
-
DO-5050
-
-
-
DO-5051
1968
Rolf Harris
Pukka Chicken
Here Come The Bees
DO-5052
1968
Johnny Hawker Orchestra
"Friday On My Mind"
"I Belong With You"
DO-5053
1967
The Seekers
"Emerald City"
"Music Of The World A Turnin'"
DO-5056
-
-
-
DO-5058
1967
Bev Harrell
"Give Me Time"
"One In A Million"
DO-5059
Feb. 1968
The Groove
"Soothe Me"
"I See A New Day"
DO-5060
1968
Johnny Farnham
Underneath The Arches
Friday Kind Of Monday
DO-5061
1968
Mr. Lee Grant
Thanks To You
Opportunity
DO-5062
1968
Lionel Long
To The End Of The World
Somewhere In A Rainbow
DO-5063
1968
Solomon King
She Wears My Ring
I Get That Feeling Over You
DO-5065
1968
Bryan Davies
You Won't Be The Last
The End Of Another Day
DO-5067
1968
Rolf Harris
"Hurry Home"
"Paris With You"
DO-5068
1968
Slim Dusty
The Min Min Light
Song Of The West
DO-5070
1968
Jay Justin
Let The Rest Of The World Go By
How Can You Forget So Easy?
DO-5071
1968
Johnny Ashcroft
Another Fool Like Me
I'm Falling In Love With You
DO-5073
1968
Don Partridge
Rosie
Going Back To London
DO-5078
1968
Dee Donavan
Hello Walls
Main Road To Happiness
EMI unified series, 1968-72 (Australian recordings)
DO-8302
1968
Joy McKean
"Dancing Shoes"
"One More Letter"
DO-8303
1968
Tex Morton
"Welcome To The Club"
"I've Got You (Right Out Of My Mind)"
DO-8304
1968
Slim Dusty
"Fair Enough"
"Ghosts Of The Golden Mile"
DO-8314
1968
Graham Chapman
"Gee I'm Gonna Miss You"
"Here I Am"
DO-8348
1968
Buddy England
"Forgive And Forget"
"Loving You Has Made My Life Worthwhile"
DO-8420
July 1968
The Groove
"What Is Soul"
"Goin' Back"
DO-8421
1968
Johnny Farnham
"I Don't Want To Love You"
"Jamie"
DO-8443
1968
The Cliffmores
"Michael Alexander"
"You're Gonna Lose That Habit"
DO-8447
1968
Graham Chapman
"Now It's My Turn"
"Pardon Me Miss"
DO-8484
1968
NZ Avengers
"Love - Hate - Revenge"
"Only Last Year"
DO-8488
1968
Buddy England
"Name Of My Sorrow"
"Coral Anne"
DO-8500
1968
Johnny Farnham
"Rose Coloured Glasses"
"Scratching My Head"
DO-8532
Oct. 1968
The Groove
"You Are The One I Love"
"Merry Go Round"
DO-8604
1968
Johnny Farnham
"I Saw Mommy Kissing Santa Claus"
"The Little Boy That Santa Claus Forgot"
DO-8658
Mar. 1969
The Groove
"Relax Me"
"Dance To The Music"
DO-8674
1968
Buddy England
"What A Wonderful World"
"In Need Of A Friend"
DO-8699
1969
NZ Avengers
"Daniel The Postman"
"Days Of Pearly Spencer"
DO-8710
1969
Russell Morris
"The Real Thing"
"It's Only A Matter Of Time"
DO-8711
1969
Terry Britten
"2000 Weeks"
"Bargain Day"
DO-8787
1969
Graham Chapman
"Goodbye Goodbye"
Another Day Goes By
DO-8811
June 1969
The Groove
"The Wind"
"Play The Song"
DO-8827
1969
Johnny Farnham
One
Mr. Whippy
DO-8832
date
NZ Avengers
"Love Is A One Way Ticket"
"I Wouldn't Do That"
DO-8891
1969
Doug Parkinson In Focus
"Without You"
"Hair"
DO-8907
1969
Autumn
"Mr. Henry's Lollipop Shop"
"Today"
DO-8965
1970
Johnny Farnham
"Raindrops Keep Falling On My Head"
"Two"
DO-9062
1970
Yvonne Barrett
"Lu"
"Picture Me Gone"
DO-9081
1970
Greg Quill
"Fleetwood Plain"
"Song To David"
DO-9234
1970
Johnny Farnham
"Comic Conversations"
"Pretty Things"
DO-9328
1970
Johnny Farnham
"Christmas Happy"
"The Ringing Reindeer"
DO-9448
1971
Johnny Devlin
"Lawdy Miss Clawdy"
"Stag-O-Lee"
DO-9486
1971
Johnny Farnham
"Acapulco Sun"
"As Long As Life Goes On"
cat
date
artist
"title"
"title"
cat
date
artist
"title"
"title"
cat
date
artist
"title"
"title"
cat
date
artist
"title"
"title"
cat
date
artist
"title"
"title"
cat
date
artist
"title"
"title"
cat
date
artist
"title"
"title"
cat
date
artist
"title"
"title"
cat
date
artist
"title"
"title"
cat
date
artist
"title"
"title"
EPs
| | | | |
| --- | --- | --- | --- |
| SEGO-70083 | 1961? | Lionel Long | Lionel Long |
| SEGO 70129 | - | The Twilights | Bad Boy |
| SEGO 70139 | - | The Twilights | Twilights' Time |
| SEGO-70161 | - | The Twilights | Always |
| SEGO-70164 | 1968 | Graham Chapman | Gee I'm Gonne Miss You |
| SEGO-70166 | July 1969 | The Groove | Soothe Me |
| SEGO-71068 | 1967 | Johnny Farnham | Sadie |
| SEGO-70185 | 1970 | Johnny Farnham | One |
Albums
Cat. #
Date
Artist
Title
33OSX-7634 mono
1960?
Johnny Devlin
The Devil's Rock
33OSX-7641 mono
SCXO-7506 stereo
1961
Lionel Long

Waltzing Matilda

33OSX-7674 mono
SCXO-7674 stereo
1962
Lionel Long

The Wild Colonial Boy

33OSX-7693/4 mono


S

CXO-7693/4 stereo
1963
Lionel Long

The Bold Bushrangers

(2LP)
33OSX-7714
1964?
Lionel Long

Long Ago: Folk Songs of the British Isles

33OCX-7727
1965?
Lionel Long
Songs of the Sea
33OSX-7733
1965?
Lionel Long

Songs of a Sunburnt Country

33OSX-7755
1966?
Lionel Long

Amberwren and Other Folk Songs

33OSX-7779 mono
1966
The Twilights
The Twilights
33OSX-7787 mono
1967?
Lionel Long

Lionel Long Today

33OSX-7854 mono
1968
John Farnham
Sadie
33OSX-7869 mono
Apr. 1968
The Groove

The Groove

SXCO-7877 mono
1967
Little Pattie
The Best of Little Pattie
SECO-7870 stereo
1968
The Twilights

Once Upon A Twilight

33OSX-7891 stereo
1968?
Johnny Farnham

Everybody Oughta Sing A Song

SCXO-7905
1968
Lionel Long

Walkabout

SCXO-7907
1968
The Flying Circus
The Flying Circus
SCX0-7920
1970
John Farnham
Looking Through A Tear
SCXO-7925
1970
The Flying Circus
Prepared in Peace
SCXO-7986
1970?
Lionel Long

Close Up

OELP-9338
-
various
Hit Wave Volume 1
OEX-9498
1968
Bryan Davies
Together By Myself
OEXLP-9528
-
various

Hit Wave Volume 3

SDEX-9700
1970
John Farnham
Christmas is John Farnham
EMAA-310
1972
John Farnham
Johnny Farnham Sings The Shows
References / Links
Globaldog Productions
Australian Columbia discography
http://www.globaldogproductions.info/c/columbia-records-oz.html
EMI unfiied singles catalogue 1968-?
http://www.globaldogproductions.info/e/emi-unified-series-oz.
Gilbert & Sullivan Discography
"Competition between Columbia and HMV in the 1930s"
http://www.cris.com/~oakapple/gasdisc/narrelec-coluhmv.htm