McPHEE
Sydney 1970-72
Faye Lewis (vocals)
Tony Joyce (guitar)
Jim Deverell (keyboards)
Benny Kaika (bass)
Terry Popple (drums)
History
Sydney band McPhee, which formed in 1970, released no Singles and only one LP during its brief life, but the group has long enjoyed a cult following and rock historian Chris Spencer describes it as "one of the most collectible (and enjoyable) Australian Albums of its time".
Jim Deverell and Benny Kaika were originally from New Zealand, and Deverell and Joyce had previously worked together as session players backing artists like Digby Richards, The Delltones and Little Sammy & The In People. Faye Lewis had done session singing and had been a member of Luke's Walnut, the group that replaced Tully as house band for the musical Hair in early 1970. English-born Terry Popple had been a member of late 60's UK band Tramline, who issued a couple of Albums on the Island label. He linked up with McPhee shortly after the group formed, when he travelled to Australia in early 1970, and the band began working on the Sydney club and wine bar circuit.
McPhee was strongly influenced by the acid-rock and progressive styles coming from the UK, as indicated by their covers of songs done by acts like Spooky Tooth and Julie Driscoll, Brian Auger & The Trinity, as well as the emerging west coast American sounds like Neil Young. In this respect they operated in the same general area as contemporary groups like Melissa and Galadriel, although on record they were probably the hardest-hitting outfit of the three.
In 1971 they went into Martin Erdman's World Of Sound studio in Sydney to record an album for erdman's independent Violet's Holiday label. The sessions yielded seven tracks that were favourites from the bands live repertoire. The two originals were the lengthy jazz-rock instrumental Out to Lunch and five cover versions, including 'heavy' renditions of Spooky Tooth's "The Wrong Time", Neil Young's "Southern Man", Ritchie Haven's "Indian Rope Man" and The Beatles' "I am The Walrus".
"From the outset it is clear that McPhee is imbued with a crucial kick and gritty sense of purpose. It is brimming with acidy, wah-wah fuelled lead breaks and some of the most awesomely heavy and stunning Hammond organ playing to be heard anywhere on an Australian album. The opening cut, a groaning version of Spooky Tooth's 'The Wrong Time' (from 'The Last Puff'), sets the scene. Joyce peels off a series of clattering guitar riffs while Deverell holds the whole thing together with his growling organ bubbling away underneath. McPhee also tackle Spooky Tooths brooding arrangement of Lennon and McCartney's 'I Am The Walrus' (again from 'The Last Puff') which is pretty freaky stuff! The surging seven minute version of Richie Havens' 'Indian Rope Man' (as covered by Julie Driscoll & Brian Augers Trinity) remains the Albums piece de resistance. The album ends with a Tony Joyce original titled 'Out To Lunch'. This jazz flavoured instrumental starts out innocuously enough, but the 10 minute, open-ended arrangement allows the band to stretch out in fine style. Joyce takes the spotlight with a lengthy guitar solo which eventually concedes to more organ pyrotechnics." - Vicious Sloth website
The album's piece de resistance was the surging rendition of "Indian Rope Man" (a Richie Havens song done in the style of the cover by British soul/R&B act Julie Driscoll, Brian Auger & The Trinity) highlighted by a stunning Hammond organ solo by Jim Deverell.
Released with little promotion in early 1972, the album sank without trace. Perhaps only 500 copies were ever pressed, which places it with Albums like Company Caine's fabled Dr Chop as one of the rarest of Aussie LPs of that era.
Not long after the album came out, McPhee broke up. Popple returned to the UK where he joined he joined his former colleague Mick Moody in SNAFU. Lewis returned to session work and sang in an outfit called The Bondi Bitch Band. Kaika played with Jeff St John, John Robinson's band Tramp and Leo De Castro's New King Harvest. Deverell moved on to the USA and apparently died of cancer some years ago. Joyce relocated to Darwin, where he joined a number of Aboriginal bands like Under the Spell of Trees, Life on Mars and Dogboy, which featured American-born drummer Allen Murphy, who had worked with Warumpi Band and Yothu Yindi. For a number of years during the early 1990s, Joyce ran the Northern Territory office of the AusMusic organisation.
Fortunately for collectors and lovers of Aussie 70s prog-rock, this highly prized album was remastered and re-issued by Vicious Sloth Collectibles several years ago.
Discography
Albums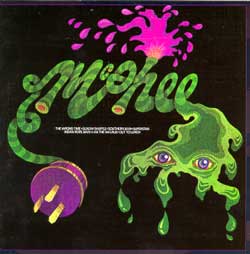 1972
McPhee (Violets Holiday/Festival)
Reissued by Vicious Sloth COllectibles (VSC-006) CD
References / Links
Ian McFarlane
Encyclopedia of Australian Rock & Pop (Allen & Unwin, 1999)
Chris Spencer, Zbig Nowara & Paul McHenry
Who's Who in Australian Rock, 5th edition (Five Mile Press, 2002)
Vicious Sloth website
http://www.vicioussloth.com.au/mcphee.htm