LIONEL LONG, OAM
Singer, guitarist, songwriter, actor, artist; 1960s-1990s (d. 1998)
The late Lionel Long was Australia's best-known and most successful folk performer of the 1960s, but his music was only one facet of a lengthy and varied creative career which also encompassed graphic art, film-making and numerous credits in film and TV, both as a presenter and as an actor -- he briefly took over as host of Sing Sing Sing during one of JOK's illnesses and then hosted his own national TV variety show in 1963-64; as an actor Lionel is remembered for his starring role as Detective Bert Costello in Crawford Productions' Homicide (1968-69).

Considering his diverse talents and his many and varied achievements and how prominent he was in his heyday, it's lamentable that there is so little information available on the Internet about Lionel's life and work. In part, this simply due to passing time and fading memory, but there are other factors at work here -- as music historian Zbig Nowara has pointed out in his article on Gary Shearston, historians, discographers and collectors of popular music have tended to ignore performers like Lionel Long, simply because their work falls outside the arbitrary boundaries of the "pop-rock" genre.

Another factor is something that we have long complained about -- the unavailability of so many Australian records of this period. Lionel Long was one of EMI's most prominent and successful solo artists for ten years, and he released more than a dozen LPs during the 1960s, earning several gold records. Yet only one compilation is currently available and none of his original EMI recordings have been officially re-released on CD.

The absence of these recordings is not merely an inconvenience to "old folkies" -- Long's albums are of interest to any serious student of Australian popular music, not least because they feature some very notable performers, including Dave Guard (the expatriate American folk musician and founder member of The Kingston Trio), legendary Australian guitarist and educator Don Andrews, and renowned jazz musicians like Don Burrows, John Sangster and Wally Wickham.
Lionel Joaquin Paul Long was the son of a talented violinist. He grew up in the Hunter Valley and worked briefly as a jackeroo before the family moved to Sydney, where Lionel attended Hawkesbury Agricultural College and then studied commercial art in Sydney. One of his oldest friends was another young bush song enthusiast, Gary Shearston, and the two spent many Saturday afternoons learning guitar chords and trading verses of songs at the Long family home at Rose Bay. Shearston of course went on to great acclaim as a folk performer and released a string of successful albums and singles on the CBS label.
Lionel was 'discovered' while a student at Hawkesbury Agricultural College and was signed to EMI's Columbia label by staff producer Ron Wills, the man who had produced Slim Dusty's "A Pub With No Beer" and signed the young Frank Ifield a few years earlier. According to music historian Eric Watson, Lionel's first musical love was country-and-western -- then often called "hillbilly" or even "hick" music -- and it was only at the insistence of Columbia that he started to record traditional folk material.
Folk music became a major force in popular music in the late 1950s ad early 1960s. The so-called "folk movement" was spearheaded by the success of leading American "folk reveival" acts such as The Kingston Trio, Pete Seeger, Bob Dylan, Joan Baez, Peter Paul & Mary, and to a lesser extent by Australia's homegrown folk-pop stars The Seekers. Spurred on by the examples of their British and American counterparts, local performers and researchers began to uncover, document and perform Australian folk songs of the late 18th and 19th centuries, like the perennial "Waltzing Matilda", "Botany Bay", "Bound For South Australia" and "Moreton Bay", songs which had grown out of Australia's Anglo-Irish musical heritage and spoke vividly of our colonial and convict past. "Waltzing Matilda" in particular became a perennial favourite and the stature that this song enjoys today is largely the result of it being regularly played and recorded by Australian folk artists like Lionel Long.
In cities around the country, the loose network of folk clubs and "coffee bars" developed into a small but thriving circuit in the period before the onslaught of The Beatles. Such venues were a training ground for many local musicians like Doug Ashdown, Patsy Biscoe, Marian Henderson, the late Tina Lawton, Eric Bogle, John Dengate, Phyl Lobl. Another significant aspect of the American folk revival was that the repertoire soon expanded to include African-American music, as folkies began to explore the rich heritage of American blues and gospel music. Folk music was a powerful vector for the dissemination of blues to the mainstream popular audience and it exerted a powerful influence on the emerging pop-rock scene -- a trend that is perfectly illustrated by the amazing success of "House Of The Rising Sun", a venerable folk-blues tune that was popularised as a folk-blues number by Bob Dylan and others and then in turn became a massive international pop hit when covered by UK 'beat' band The Animals.
Lionel's first singles were released in 1958, and by the early 1960s Lionel had became Australia's most popular exponent of traditional bush songs, releasing a string of successful albums for Columbia, averaging an album a year between 1961 and 1970 . Lionel's debut LP Waltzing Matilda (1961) and the follow-up The Wild Colonial Boy (1962) made him a household name, and his profile was boosted by frequent performances on radio and TV, including Nine's Bandstand. His "competent and unaffected performing style" was showcased in a successful series of original albums. With the exception of Waltzing Matilda (recently reissued in an expanded form) none of Lionel's albums has been re-released to date.
Lionel Long's Columbia albums are significant in many respects. His first LPs must be among the earliest Australian popular albums released in stereo. As noted above, most of his LPs featured accompaniment by a distinguished group of session musicians -- most notably expatriate American folkie Dave Guard, a founder member of The Kingston Trio, who played five-string banjo, 12-string guitar and harmony vocals, and renowned Australian guitarist and teacher Don Andrews (author of the famous series of guitar tuition books). Other collaborators included jazz legends Don Burrows and John Sangster, accordionist and entertainer Enzo Toppano and vocalist Mary Jane Boyd.
Lionel's 1963 release The Bold Bushrangers: Songs of Wild Colonial Days was a landmark in Australian recording. Much has been made of the fact that rock acts like Skyhooks used Australian names and idioms in popular song, but the fact is that they were by no means the first 'popular' act to do so. Whatever the Australian musical identity might be, there's no doubt that its development is firmly rooted in the folk music scene of the '50s and '60s, and the renewed interest in Australian bush songs and ballads that was prompted by the so-called folk revival of the late 1950s and early 1960s. In this repsect alone, The Bold Bushrangers is a milestone.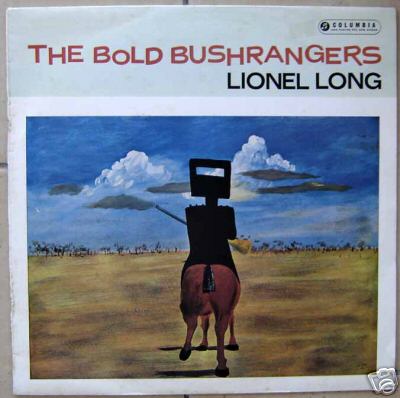 The 'Australian-ness' of the project is clearly signalled by the cover, which features full colour reproduction of a detail from one of Sidney Nolan's iconic 'Ned Kelly' paintings. The original release was almost certainly the first ever double-album by an Australian 'popular' artist, appearing years before either Doug Ashdown's Age of Mouse (1969) or Spectrum's Milesago (1971). It's also arguably the first Australian concept album, presenting an extended suite of songs about Australia's bushranger folklore, and many featured lyrics by renowned Australian author, broadcaster and naturalist Kenneth Cook (Wake In Fright).

"The Bold Bushrangers was an ambitious concept double album of songs relating to the first 100 years of European habitation of Australia. Bushrangers ... were often present on the roads between settlements in the new colony. These outlaws operated alone or in small groups and sometimes used names such as "Captain Moonlite", "Thunderbolt", "The Kelly Gang" and "Cash & Co". The author of many of the songs on the album was Kenneth Cook, who set his lyrics against traditional English, Irish and American tunes of the era after failing to find sufficient songs of local origin to illustrate a series of radio talks on bushranging for the ABC."

"Dave Guard, in his first Australian-produced record appearance, is one of two support musicians on the albums and is heard prominently on four of the 24 tracks, where the sound of the long-necked banjo is reminiscent of his Kingston Trio days. The other support musician, Don Andrews, is the well-known Australian jazz and classical guitarist. The lyricist's wife, Patricia Cook, is the sole vocalist on four of the tracks in the series. From an original 12 songs, The Bold Bushrangers was expanded to include a total of 24. Interestingly, the melodies for two of Dave's featured tracks, "Macquarie Harbour Lament" and "Ned Kelly" (on Volume 2), are similar to the more familiar "Haul Away" and "Tomorrow"".
- Ken Bradshaw2

Several Australian folk performers including Lionel Long and Gary Shearston achieved considerable local popularity, but it sometimes came at a price. Long's popular success drew strong criticism from the folk purists, who generally derided any commercial success as "selling out". In his overview of the Sydney coffee-lounge scene of the 1960s, folk music historian Malcolm J. Turnbull offered this view of Lionel's recordings:

"While somewhat slick and marred by orchestration or arrangement (the relentlessly buoyant presence of The Delltones, for instance), in hindsight Lionel Long's recordings now seem harmless enough, and imbued with rather more honesty and love of the material than the critics have conceded. His output was also more varied than has generally been recognised."

Lionel and Graham Jenkin compiled the book Australian Bush Songs (Rigby, 1964) but, according to Malcolm Turnbull, the book's failure to adequately acknowledge the original sources of material made Long persona non gratis with folksong collectors and scholars. Long countered accusations of commerciality as "all self-conscious stuff and garbage", claiming that he had more first-hand knowledge than most of his critics, having "drunk heartily of outback life, shearing sheds and the open land". In his view, there was:

"no excuse ... for the lack of interpretation or imaginative presentation or phrasing to any song, particularly a folk song. Immediately one of these 'purists' earns something from folksongs, he himself becomes 'commercial', so frankly I can see no argument. Call me a folksinger or a balladeer if you like, but privately I regard myself as an individualist."1

Criticisms about his style and commercial success clearly had an effect. On his 1965 album Long Ago, which featured new versions of traditional British folks songs, there was a direct reference to these critiques in the back-cover notes, where Long was quoted as saying:

"I sing my songs in the way that I feel them for everyone's enjoyment, which may not necessarily conform with the maner that some of the purists would prefer."

Long made numerous TV appearances in the early 1960s on Bandstand and other music-variety programs; his first big break as a presenter came in late 1962. The previous year, rock legend Johnny O'Keefe had moved from the ABC to Channel 7 to host The Johnny O'Keefe Show but in August 1962, after repeated clashes with his unstable star, series director Ron Way walked off the show and took most of the staff with him. Weeks later O'Keefe suffered a major mental breakdown and was hospitalised for two months, so Long was quickly recruited to taek over as host, which was relaunched as Sing Sing Sing. By early 1963 O'Keefe had recovered enough to patch up his differences with Way, and he returned to Sing Sing Sing in February 1963. Soon after, Long was given his own musical variety series, Music Time, which ran until 1964.

Lionel was married to Carole Newgrosh around this time (1963?); a photo of the couple on their wedding day is preserved in the collection of the State Library of Victoria. His 1964 LP Songs of the Sea was his first album not devoted exclusively to Australian songs, and only one related to the colonial past. It was a project close to his heart -- like his friend Gary Shearston, Lionel was a keen sailor and owned several boats. The liner notes recount Lionel Long's memories of deep sea fishing with an old man in the snapper grounds off Port Macquarie, New South Wales, his own attempt as a ten year old to sail in a rubber dinghy 80 miles from Sydney to Newcastle, the boats which he owned up to a 27 foot Thunderbird class yacht and those members of his family who had some connection with the sea, including one who was the first Australian naval man to set foot in Alaska. Many of Lionel's contemporaries have fond memories of days spent sailing with him.

On 1 August 1964 Lionel was one of the stars of the TV variety spectacular

This Is It

, which celebrated the first night of broadcasting of Melbourne's third commericial TV station Channel 0. The special also featured Diana Trask, Ray Taylor and Vikki Hammond and was hosted by the station's original newsreader, Barry McQueen. During the year he also narrated a film about the 1964 Ampol Car Trial, directed by Keith Gow.

His next LP

Songs Of A Sunburnt Country

returned to Australian themes; it included two spoken-word tracks, Dorothea Mackellar's "My Country" and Banjo Patterson's famed "The Man From Snowy River"; other notable tracks were "The note on the woolshed wall" (originally recorded as the B-side of his second single back in 1958) and teh 'Queensland version' of the perennial favourite "Waltzing Matilda".

By the mid-1960s Lionel was broadening his musical repertoire to include popular Australian and international songs of the era, although these releases were apparently not as successful as his earlier 'Australiana' recordings. His commercial fortuntes were undoubtedly also being affected by the impact of "beat" music and the guitar-group phenomenon, which had decimated the popularity of folk and jazz.

Lionel was particularly drawn to the work of American guitarist and songwriter Mason Williams, who is best known for the 1968 novelty hit "Cinderella Rockefella" (locally covered by Anne & Johnny Hawker) and for his enduring 1970 instrumental hit "Classical Gas". Lionel again broke new ground with his 1966 LP Amberwren and Other Folk Songs, devoting the entire first side of the album to the Williams-penned title track, and he recorded three more of Williams' songs, "Them Poems", "The Dancing Distance" and "Life Song", on his 1967 LP Lionel Long Today. Another notable inclusion was the Barry Gibb song "Follow The Wind", one of many Bee Gees songs that the trio never recorded themselves.
Concurrent with his musical career, Lionel also branched out into acting. Early dramatic roles were in the Aussie TV adventure series Whiplash (1961) and Riptide (1965). He travelled to the UK ca. 1964, where he made his first big-screen appearance, winning a cameo role in the comedy The Amorous Adventures of Moll Flanders, starring Kim Novak in the title role and directed by Terence Young (of James Bond fame).

While in Europe he also acquired a custom-built lute, made with a standard six-string guitar tuning instead of the tradional four double-strings. He used this on his 1965 LP Long Ago: Folk Songs of the British Isles (later reissued as Troubador on Paul Hamlyn's Music For Pleasure label), and photos showing Lionel playing the lute were used on three album covers -- Songs of a Sunburnt Country, Long Ago and Amberwren.

Left: a publicity photo of Lionel Long as Det. Bert Costello in Homicide

Long's best-known TV role came in the late Sixties, when he was chosen for the role of Detective Bert Costello in Homicide. His character, an Italian-Australian, was only intended to appear for a few weeks but he quickly became so popular that Long remained with the series for a year, appearing in sixty episodes during 1968-69. He was eventually was written out when his character was killed in a mineshaft cave-in, and replaced by Norman Yemm.

Lionel made many appearances in Crawford and other dramas -- his later Australian TV credits included

The Rovers

(1970), Nine's shortlived police drama

The Link Men

(1970),

Division 4

(1972),

Spyforce

(1972),

Matlock Police

(1971 and 1974),

Solo One

(1976),

Chopper Squad

(1978) and

A Country Practice

(1986); he also had roles in the films

Inn of the Damned

(1975) and

Barney

(1976).

Long's last Columbia LP

Close Up

(which features a rather bizarre cover shot of a group of young steers) was issed in 1970, and this evidently marked the end of his EMI contract. He then signed with RCA and returned to his earlier more successful folk-song style; he recorded three LPs in the early 1970s -- The Man From Snowy River, Australia! Australia! and Brandied Plums, and RCA issued several singles.

Lionel returned to EMI for his last album,

High Wild & Handsome

(1980). Recorded with assistance from renowned guitarists Kirk L'Orange and Tommy Emmanuel, it featured a broad range of material including "Sometimes when we touch", The Beatles "Let It Be" and "The Rainbow Connection". As he recalled to Peter Thomspon in a recent episode of the ABC's

Talking Heads

, Tommy Emmanuel launched his solo career in Sydney working as Long's accompanist and Musical Director:

"Yeah. Well, I moved away from Parkes and I got the job [a messenger boy for Angus & Coote] like that, and that afternoon I went to meet with Lionel Long ... and I auditioned for him and I got that job as well. So, I'd work with Lionel on the weekends as his guitar player and musical director"

Lionel Long's work as a graphic artist is not well documented but he undoubtedly produced many works, and we hope to identify more of these in the future. One project in which he is known to have been invovled was for the publishing company Rigby. Over a number of years (1966 to 1981) Rigby issued a series of small souvenir books devoted to Australasian towns cities,regions and areas of architectural interest, including the three major cities in New Zealand, and also Fiji. About 175 titles were issued; the general format was 64 pages with about 28 full-page drawings, each with a facing page of descriptive text. Artists and authors ranged from obscure to famous;. Lionel contributed drawings to two volumes in this series, Liverpool (NSW) and Newcastle, both published in 1980, with text by Brian Davies.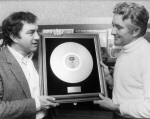 In July 1981 Lionel donated one of his gold albums to the National Library of Australia. The photo (left) by Martin Jones, sourced from the ACT Heritage Library website, shows Lionel presenting the Gold Disc to NLA archivist Peter Burgis on 15 July 1981.

Lionel continued performing into the late 1980s. According to Ken Bradshaw one of his last major engagements was a show at the Sydney Opera House in 1987. In 1992, he went at Nashville for several months to work on publishing deals. In the Australia Day honours in January 1993 Lionel and veteran producer Ron Wills were both awarded the OAM (Order of Australia Medal) in recognition of their contributions to Australian music.

Lionel Long died in the Sacred Heart Hospital at Darlinghurst, Sydney, on 1 January 1998. He was cremated in a small service at the Eastern Memorial Park at Matraville, Sydney.

Discography

Singles

1958 (EMI Columbia DO-3992)
"Hi-Di-Derry-Down-Dey" / "I love you best of all"

1958 (EMI Columbia DO-3993)
"Mighty Pyramid" / "The note on the woolshed wall"

1959 (EMI Columbia DO-4099)
"Searching" / "The Bunyip"

1959 (EMI Columbia DO-4100)
"The Ballad of Cobb & Co." / "The girl with the auburn hair"

1961 (EMI Columbia DO-4234)
"Botany Bay" / "Ring-A-Ling"

1965

(EMI Columbia DO-4618)
"True, True Loving" / "Love Is An Eagle"



1967

(EMI Columbia DO-5024)
"Missin' You" / "Got A Feelin'"



1968

(EMI Columbia DO-5062)
"To The End Of The World" / "Somewhere In A Rainbow"



1974

(RCA Victor 102536)
"The Old Colonial Chair" / The Gunner and the Baron"



1975?

(RCA 102626)
"Cash & Co." / "10,000 Miles"



1980

(Arrival AR-107)
"Blanca Rosa" / "Six-pack of memories"

EPs

1960? (Viking VSP-15)
Australia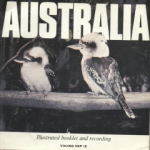 Side 1
"Waltzing Matilda" (Lionel Long)/ "Wongga" (Aboriginal corroboree) / "Wallaby Stew" (Lionel Long) / Kookaburra Chorus (bird call)
Side 2
"Click Go The Shears" (Lionel Long) / Walaka (Aboriginal dance) / "Botany Bay" (Lionel Long)

Record and booklet featuring Australian folk songs, Aboriginal songs and dances and bush sounds (possibly a tourist promotion)

---
1961?
Lionel Long (EMI Columbia SEGO-70083) with the Noel Gilmour Sextet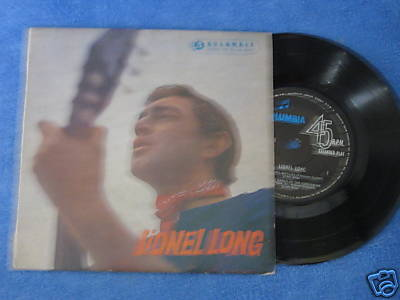 Side 1
1. "Waltzing Matilda" 2. "On the banks of the Condomine"
Side 2
1. "Wallaby stew" - 2. "The Wild Colonial Boy"


Albums




1961 (EMI Columbia 33OSX-7641 mono, SCXO-7506 stereo)
Waltzing Matilda
Also released on World Record Club (SLZ-8609)
Reissued on CD by Gum Tree Music, 2005

1. "Waltzing Matilda"
2. "Wallaby Stew"
3. "Reedy Lagoon"
4. "The Old Bullock Dray"
5. "Moreton Bay"
6. "The Drover's Dream"
7. "Click go the Shears"
8. "The Wild Rover"
9. "Botany Bay"
10. "Rush Away"
11. "Ring-A-Ling"
12. "The Ballard of Cobb and Co."


Additional tracks on CD reissue:
"The Wild Colonial Boy"
"The Stockman's Last Bed"
"Ned Kelly"
"Namatjira"
"The Black Velvet Band"
"Click Goes The Shears"
"Wild Rover No More"

Lionel Long (guitar, vocals)




with

The Noel Gilmour Sextet and The Delltones


---
1962 (EMI Columbia 33OSX-7674 mono, SCXO-7674 stereo)
The Wild Colonial Boy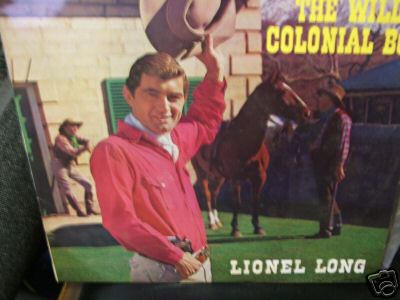 Side 1
1. "The Overlander"
2. "The Crocodile"
3. "The Stockman's last bed"
4. "The Dalby Ram"
5. "Jabbin Jabbin"
6. "Ten Thousand Miles"
7. "The Wild Colonial Boy"
Side 2
1. "On the Banks of the Condamine"
2. "The Old Bark Hut"
3. "The Brisbane Ladies"
4. "Dust in the Sun"
5. "The Black Velvet Band"
5. "A Nautical Yarn"
6. "Fool's Gold"
Produced by Ron Wills
---
1963
The Bold Bushrangers
(Columbia SCXO 7693/4 stereo; 33OSX 7693/4 mono) 2LP
Later issued in two volumes with identical front cover art by Sidney Nolan
(Columbia SCXO 7721, stereo; 33OSX 7721, mono)
Re-released in separate LP format ca 1968 (Columbia SOEX 9512 and 9513, stereo)

Side 1
"Michael Howe"
"Macquarie Harbour Lament*
"Cash and Co."
"Matt Brady"
"The Cyprus"
"Jamie Greene"
Side 2
"The Bathurst Rebellion"*
"300 Lashes"
"O'Meally's Shanty"
"Drifting Smoke of the Mountain"
"Weddin Mountaineer"
"Moreton Bay"
Side 3
"Captain Moonlite"
"The Wild Colonial Boy"
"Go Tell Your Father"*
"Weddin Mountains Lament"
"Sir Frederick Pottinger"
"Ben Hall"
Side 4
"Jackie and Darkie"
"Jimmy Grant's Lament"
"Thunderbolt"
"Ballad of the Peacock"
"Glenrowan Farewell"
"Ned Kelly"*


Lionel Long (guitar, vocals)
Patricia Cook (vocals)
Dave Guard (five-string banjo)*
Don Andrews (guitar)

Produced by Ron Wills
---
1964
Songs of the Sea (EMI Columbia 33OSX-7727)

Side 1
1. "High Barbaree"
2. "Good-bye my lover goodbye"
3. "The golden vanity"
4. "The Eddystone light"
5. "Captain Kidd"
6. "The Greenland whale fishery"
Side 2
7. "The Chivalrous shark"
8. "The Sloop 'John B' "
9. "Johnny Todd"
10. "Botany Bay"
11. "The Drunken sailor"
12. "Sally Bolt"
13. "Oh! You New York girls"

Lionel Long (guitar, vocal)
with
Don Andrews (guitar)
Dave Guard (guitar, banjo)
Herbie Marks, Enzo Toppano (accordion)
Wally Wickham (bass)
---
1964 (EMI Columbia 33OSX 7733)
Songs of a Sunburnt Country


1. "The Shearer's dream"
2. "Oh, the springtime it brings on the shearing"
3. "The Dying stockman"
4. "The Lime juice tub"
5. "Anzac Cove"
6. "My country"*
7. "The note on the woolshed wall"
8. "Van Dieman's Land"
9. "Out west"
10. "Bold Jack Donahue"
11. "The Man from Snowy River"*
12. "Waltzing Matilda" (Queensland Version)

(*spoken word performance)

Lionel Long (guitar, vocal)
with
Don Andrews (guitar)
Dave Guard (guitar, banjo)
Wally Wickham (bass)
---
1965 (EMI Columbia 33OSX-7714)
Long Ago: Folk Songs of the British Isles
Reissued as Troubadour (Music For Pleasure MFP-A-8045)

Side 1
1. "The Fox"
2. "Barbara Allen"
3. "Queen Jane"
4. "Early One Morning"
5. "Greensleeves"
6. "The Four Marys"
Side 2
1. "The Ash Grove"
2. "The Troubadour Song"
3. "Knick Knacks"
4. "The Four Ravens"
5. "Green Broom"
6. "John Riley"

Lionel Long (guitar, lute, vocals)
with Don Andrews (guitar)
Mal Cunnigham (recorder)
---
1966?
"Amberwren" and Other Folk Songs (EMI Columbia 33OSX-7755)

Side One
1. "Amberwren" (Mason Williams)
Side Two
1. "I Dreamed of Two Ships"
2. "Two Doves"
3. "Farewell"
4. "Namatjira"
5. "Turn, turn, turn"
6. "Boll Weevil"

Produced by Ron Wills
---
1967?
Lionel Long Today (EMI Columbia 33OSX-7787)
[no image available]
Side 1
1. "Piney Wood Hills"
2. "The Dancing Distance" (Mason Williams)
3. "Love Minus Zero (No Limit)" (Bob Dylan)
4. "Flowers of Peace"
5. "Follow the Wind" (Barry Gibb)
6. "Many a Mile"
7. "Them Poems" (Mason Williams)
8. "Life Song" (Mason Williams)
Side 2
1. "Alberta"
2. "Blind Men Wander"
3. "The Marvellous Clouds"
4. "Less of Me"
5. "Come the Time"
6. "A Repco Brabham Car"
7. "The Green Years"
Lionel Long (vocal, guitar)
with
Don Andrews (guitar)
John Sangster (vibes)
Don Burrows (flute)
---
1968


Walkabout

(EMI Columbia SCXO-7905)

Side 1
1. "Bindi-i-i"
2. "Curraweena Station"
3. "Lucky Opals"
4. "Thursday Island Girl"
5. "Legend of Pirili"
Side 2
1. "600 Miles"
2. "Westward"
3. "Jet Plane"
4. "Thar She Blows"
5. "A Town Like Alice"
6. "Nick The Greek"
---
1970

(EMI Columbia SCXO-7986)


Close Up

1. "Ribbon of darkness"
2. "Sing me back home"
3. "Sugar cane country blues"
4. "Mama tried"
5. "Wildwood flower"
6. "Believe me Lord"
7. "Ned Kelly" (Shel Silverstein)
8. "I take a lot of pride in what I am"
9. "The Great white horse"
10. "Muleskinner's son"
11. "Shade tree Fix-it-man"
12. "I am off to Kambalda"

Lionel Long (vocal, guitar)
with
Mary Jane Boyd (vocal)
---
1973
The man from snowy river (RCA MSL-102300)
[no image available]

1. "The Man From Snowy River"
2. "The Man From Iron Bark"
3. "The Women Of the West"
4. "The Old Bush School"
5. "The Ballad Of The Drover"
6. "The Lights of Cobb & Co".
7. "Ned Kelly"
8. "Said Hanrahan"
9. "Across Bass Strait"
10. "The Loaded Dog"


---
1974

(RCA Victor SP-150)


Brandied Plums

Side 1
1. "Sailin' for Australia"
2. "Invisible Dan"
3. "Old Colonial Chair"
4. "Sugarcane Flo and Paddymelon Joe"
5. "Moreton Bay Gaol"
6. "The Indian-Pacific"
Side Two
1. "Wollombi River Road"
2. "Drifting Smoke of the Mountain"
3. "The Gunner and the Baron"
4. "Clancy of the Overflow"
5. "Turn Again"
6. "Destiny's Ballard"
---
1975

(RCA Victor VCL1-0229)


Australia! Australia!

1. "Cash and Co."
2. "Click go the shears"
3. "10,000 miles"
4. "The wild colonial boy"
5. "The banks of the Condamine"
6. The Brisbane ladies
7. "Waltzing Matilda"
8. "Razorback (moonlight rider)"
9. "On the banks of the reedy lagoon"
10. "Botany Bay"
11. "The wild rover"
12. "Wallaby stew"

Produced by Tweed Harris
---
1980
High, Wild and Handsome (EMI)

[no image available]

1. "Blanca Rosa"
2. "Sometimes when we touch"
3. "I can't even mend a broken heart"
4. "Song for J.O'K"
5. "Taking the easy way out"
6. "High, wild and handsome"
7. "Let it be"
8. "Six-pack of memories"
9. "If I could only dance"
10. "The Rainbow connection"
11. "Movie in my mind"
12. "Mr. Nice Guy"

Lionel Long (guitar, vocal)
with
Kirk L'Orange (guitar)
Tommy Emmanuel (guitar)
Recorded at EMI Studios 301, Sydney

References / Links

1. Malcolm J. Turnbull
The History of the Australian Folk Revival
http://warrenfahey.com/revival.htm

2. Ken Bradshaw
"Dave's Place"
http://www.lazyka.com/linernotes/DavesPlace/DFDU--pt3.htm

3. Classic Bands
Frank Ifield Interview
http://www.classicbands.com/FrankIfieldInterview.html

4. John Byrell
Bandstand and all that (Kangaroo Press, 1995), pp. 57, 103

5. National Film & Sound Archive of Australia
http://www.nfsa.gov.au

Australian Television Memorabilia
http://www.tvmem.com/OZST/ffilms/N-FFILM/NEDKELL1.htm

ABC-TV
Talking Heads: Tommy Emmanuel
http://www.abc.net.au/talkingheads/txt/s1587113.htm

Photo links

ACT Heritage Library
1981 photo of Lionel Long with NLA archivist Peter Burgis, presenting one of two gold records he donated to the National Library
http://www.basis.act.gov.au/DUSLibrary/ImagesACT.nsf/3506a89b45287c52ca256abc000c49a8/5fa34801f6046d494a256cc800823be6!OpenDocument

State Library of Victoria