ANDY JAMES ASYLUM
Melbourne, 1967-68
Jamie Barnes (bass)
Dennis Garcia (guitar, keyboards) 1968
Doug Lavery (drums)
Andy James (vocals, percussion)
Alan Jones (guitar)
History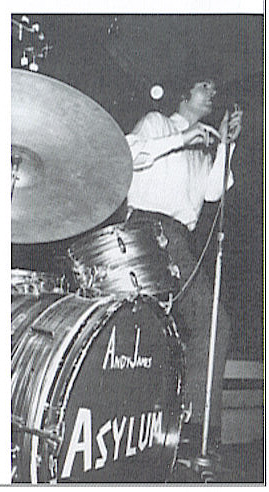 RIGHT: A rare shot of Andy onstage with the Asylum, probably late 1967. (Photo courtesy of Andrew Ainsworth).
Aside from the names of the personnel, very little is known about this band other than its description as a "commercial R&B outfit". New Zealand-born singer and percussionist Andy James (Andy Anderson) was one of the wildest figures on the Australian pop scene and he is best known as the lead singer in the second lineup of The Missing Links with guitarist Doug Ford. After the Links split up, Andy and Doug relocated to Melbourne where they formed Running Jumping Standing Still in late 1966.
Andy's wild lifestyle brought RJSS to an abrupt end in January 1967 when he suffered an agonising brain haemmmorage on stage at the Thumpin' Tum disco. He was hospitalised for several weeks and was advised to give up performing permanently, but he ignored the doctors and returned to the stage late in 1967, forming Asylum with two former RJSS members, Jamie Barnes and Doug Lavery. Doug Ford, meanwhile, had moved on to The Masters Apprentices.
The band gigged regularly around Melbourne during late 1967 and early 1968. Guitarist and keyboard player Dennis Garcia (ex-The Mixtures) joined at the end of 1967, but whether he replaced Jones or came in as a fifth member is not known. Asylum evidently broke up around mid-1968 but -- like much of Andy's career -- exact dating is difficult.
After Asylum, Doug Lavery replaced original drummer Warwick Findlay in The Valentines and he played with them until May 1969, when he joined the new country-rock 'supergroup' Axiom.
Andy subsequently formed Mother Superior, described as "an experimental outfit mixing R&B players with brass players". This was followed by a short stint in the original Australian production of the rock musical Hair. After leaving the cast of Hair Andy joined forces with former members of the Richard Wright Group to create Sydney club band Southern Comfort. They played a year-long residency at Sammy Lee's Cheetah Room (formerly known as The Latin Quarter) during 1969-70. On the day the day the band won the residency, a chance meeting between keyboard player John A. Bird and an old friend from Tasmania brought Andy's co-vocalist Bobbi Marchini into the group.
Andy's hellraising ways continued until 1972 when (according to Andrew Schmidt) he was told to get out of town by King Cross 'heavies'. He returned to New Zealand for a spell, during which time overcame what had by then become a serious drinking problem, and when he returned to Australia he moved into acting, becoming a successful and popular TV actor with credits including a featured stint in The Sullivans, the popular sitcom The Bob Morrison Show, the firefighter drama Fire and an lead role in the ABC's acclaimed police drama Phoenix.
Discography
Andy James Asylum made no known commercial recordings.
References / Links
Ian McFarlane
Australian Encyclopedia of Rock & Pop (Allen & Unwin, 1999)
Andrew Schmidt
"Andy James - The Missing Link", Ugly Things #17
http://www.ugly-things.com/missing.html
Chris Spencer, Zbig Nowara & Paul McHenry
Who's Who of Australian Rock (Five Mile Press, 2002)
Many thanks to Andrew Ainsworth for the photo.