AC/DC
Sydney / UK 1973-present
November '73 - February '74
Colin Burgess (drums)
Dave Evans (vocals)
Larry Van Kriedt (bass, sax)
Angus Young (guitar)
George Young (bass) (recording only)
Malcolm Young (guitar, bass)

February - April '74
Dave Evans (vocals)
Neil Smith (bass)
Noel Taylor (drums)
Angus Young (guitar)
Malcolm Young (guitar)

April - September '74
Rob Bailey (bass)
Peter Clack (drums)
Dave Evans (vocals)
Dennis Laughlin (vocals) (occasional)
Angus Young (guitar))
Malcolm Young (guitar)

September '74 - January '75
Rob Bailey (bass)
Peter Clack (drums)
Tony Currenti (drums) (recording only)
Bon Scott (vocals)
Angus Young (guitar)
George Young (bass) (recording only)
Malcolm Young (guitar)

January '75
Phil Rudd (drums)
Bon Scott (vocals)
Larry Van Kriedt (bass)
Angus Young (guitar)
Malcolm Young (guitar)

January - March '75
Phil Rudd (drums)
Bon Scott (vocals)
Angus Young (guitar)
George Young (bass, vocals) (occasional)
Malcolm Young (bass, guitar)

March '75 - May '77
Mark Evans (bass)
Phil Rudd (drums)
Bon Scott (vocals)
Angus Young (guitar)
Malcolm Young (guitar)

June '77 - February '80
Phil Rudd (drums)
Bon Scott (vocals)
Cliff Williams (bass)
Angus Young (guitar)
Malcolm Young (guitar)


History
AC/DC -- or "Acca Dacca", as most fans fondly refer to them -- are prime contenders for the title of Australia's greatest rock group. Internationally, they are without doubt the best-known and best-selling Australian rock act of all time, and they're also one of the longest lasting of all Australian groups, still going strong after more than 25 years, surviving numerous lineup changes and innumerable ups and downs, including the tragic death of lead singer Bon Scott in 1980.

From modest beginnings in Sydney, AC/DC became hugely popular around the world. They have been cited as a seminal influence by some of the most famous hard rock and heavy metal bands of the last twenty years, and they are the only Australian band ever to be given a cover story by respected UK music magazine MOJO.

Their commercial success is simply stupendous -- AC/DC's album sales alone currently is now over 100 million copies worldwide. The Recording Industry Association of America recently updated their U.S. sales figures, lifting their cumulative U.S. sales from 46.5 million to 63 million, and they now rank #5 in the list of the all-time best-selling bands in U.S. music History, behind the Beatles, Led Zeppelin, Pink Floyd and the Eagles.
Family connections were crucial to the formation and development of AC/DC. Considering their background, it was probably inevitable that the core members of AC/DC, brothersMalcolm and Angus Young , would go into a career in music. Their eldest brother Alex (who remained in the UK when the family migrated to Australia) was an accomplished saxophonist and went on to become a member of the noted British band Grapefruit; their immediate older brother George was of course the rhythm guitarist and main songwriter of Australia's '60s pop legends The Easybeats.
As youngsters, Malcolm and Angus were given a first-hand introduction to the madness of "Easyfever" -- in 1965, after a fan magazine inadverently published their address, young Angus was trampled when the Young's Burwood house was trashed by a rampaging horde of female fans.
Like those other famous rock siblings, Ray and Dave Davies of The Kinks, the relationship between Malcolm and Angus has sometimes been stormy -- Malcolm in fact left the band at one stage in the mid-80s -- and they've reporedly come to blows on more than one occasion. But they are the glue that has bound the group together through good times and bad.
Older brother George and his longtime musical partner Harry Vanda played a crucial mentoring role in AC/DC's early career, and Harry and George produced their first six Albums, all of which are now regarded as rock classics.
Perhaps the most important early family influence on all the Young brothers was their sister Margaret -- her passionate interest in music and her collection of original rock & roll and R&B records was pivotal in shaping the tastes of her younger brothers, it was she who came up with both the band name, and the image which became Angus' trademark -- his schoolboy stage outfit.
Vanda and Young's influence on AC/DC can't be underestimated, and if only because of their involvement, comparisons to the Easybeats are not at all unreasonable. Like the Easys, AC/DC was founded on two essentials -- great songs and great performances. Like the Easys, the band was built around a rock-solid rhythm section, fronted by one of the most dynamic vocalists of the day and counterpointed by a red-hot lead guitarist. Vanda & Young's presence also ensured that AC/DC stayed tightly focussed on their rock'n'roll roots and maintained a consistent stylistic direction -- a lesson the Easybeats had learned to their costs in the late 1960s.
After the Easybeats hit England in late 1966, they lost the guidance of their original producer and mentor, Ted Albert, and this significantly hindered their chances of lasting overseas success. After a brief moment in the sun in late 1966 with "Friday On My Mind", the band was left without any clear guidance, which led them to experiment with a new style or fad on each successive release, in hopes of finding the right formula. By the time Vanda & Young had found their feet and returned to the no-frills, rock'n'roll that was closest to their hearts, the band was effectively finished, although their farewell single "St Louis" (1969) is an unmistakeable signpost of the direction AC/DC would take a few years later.
The Easybeats split at the end of 1969 after a desultory Australian farewell tour, and Harry and George returned to England, spending most of the next three years working as freelance producer/songwriters to pay off the debts they had incurred in the final years of the Easybeats. They released a string of Singles sometimes under their own name, and also under a variety of pseudonyms includingPaintbox, Haffy's Whisky Sour, and The Marcus Hook Roll Band.
Harry and George came back to Australia in late 1973 and set up shop as the house producers at Albert's new studio complex in central Sydney -- a move made possible because, in the early days of The Easybeats, they had wisely taken a share in Albert Productions in lieu of cash payments.
One of their first efforts was the album Tales of Old Grand-Daddy, issued under the Marcus Hook Roll Band moniker. The album also featured contributions by Angus and Malcolm, marking the studio debut for the two young guitarists. This album, which is now something of a rarity, set the stage for Vanda and Young's close involvement with AC/DC over the next six years.
Although Angus is very much the "face" of the group, AC/DC actually began as Malcolm's band. Before AC/DC, Malcolm Young had spent about two years as a member of Newcastle's Velvet Underground, which also included future Ted Mulry Gang drummer Herman Kovacs.
Malcolm put the first lineup of AC/DC together in November 1973, shortly after breaking up his previous group Kentuckee, and just prior to the release of Tales of Old Grand-Daddy. First to join were bassist Larry Van Kriedt and former Masters Apprentices drummer Colin "Doggie" Burgess. Original lead singer Dave Evans (also ex-Velvet Underground) answered Malcolm's ad for a singer in the Sydney Morning Herald. Completing the original group was Malcolm's brother Angus, whose previous group had just broken up. Their first manager was Dennis Laughlin, who had been the original lead singer in Sherbet.
At Margaret Young's suggestion, they named the new group AC/DC, a title she reputedly took from the electrical warning plate on her sewing machine (although some sources say it was her vacuum cleaner). Another famous piece of AC/DC apocrypha states that the band was supposedly unaware of the bisexual connotation of the term "AC/DC" until after the name had been chosen.
They rehearsed during December in an upstairs warehouse space in the inner Sydney suburb of Newtown. Their first official gig as AC/DC was at the famous Chequers nightclub in Sydney on 31 December 1973. The early repertoire was mostly covers -- Beatles, Stones, Chuck Berry and blues standards -- but they gradually introduced original material over the next few months, including a few early songs which have never been recorded.
1974
The new band gigged around Sydney during January, and at this stage Larry also played sax on some songs, with Malcolm swapping to bass for those numbers. But this first version of AC/DC lasted less than four months, and there were many more personnel changes before the band finally settled into its first stable lineup.
In February '74 they made their first recordings, "Can I Sit Next To You Girl" and "Rockin' In The Parlour" along with an early version of "Rock 'N' Roll Singer" at EMI Studio 301 in Sydney. Vanda and Young produced. Interestingly, George Young played bass on these tracks, rather than Larry Van Kriedt, who was sacked soon after.
These three tracks were the only recordings by the original lineup. At a gig at Chequers a week after the sessions, drummer Colin Burgess passed out on stage -- reportedly because his drink had been spiked -- and he was fired on the spot. George Young happened to be at the club, so he filled in on drums for the second set. Not long after, Larry Van Kriedt was also asked to leave.
In search of replacements, Malcolm sat in with a Sydney band called Jasper and as a result he invited their bass player Neil Smith (ex-Rockery) and drummer Noel Taylor to join AC/DC. This new lineup was even shorter-lived -- Smith and Taylor were sacked in April, after only six weeks in the band, and Malcolm then recruited Rob Bailey on bass and Peter Clack on drums (both ex-Flake). This lineup never recorded, but it did survive long enough to appear in the film-clip made to promote "Can I Sit Next To You Girl". Bailey and Clack also played at an outdoor concert in Sydney's Victoria Park in April, the historic occasion on which Angus wore his schoolboy uniform on stage for the first time.
The original version of Angus' outfit was apparently one of his actual uniforms from his secondary school, Ashfield Boys' High. By this time, the band had shed the 'regulation' jeans-and t-shirt and adopted a "glam" image, but as photos from the period will attest, it was not a good look. Fortunately they soon ditched the glam trimmings and got back to sartorial basics.
On 26 May 1974 AC/DC were the support act at an historic outdoor concert on the steps of the Sydney Opera House, headlined by Stevie Wright, who was riding high on the success of his comeback album Hard Road and his epic three-part hit "Evie", both of which had been produced by Vanda & Young. It was one of the biggest outdoor concerts ever staged in Sydney up to that time, with 25,000 people attending and another 10,000 reportedly turned away. Adding to the historic nature of the occasion, Stevie's band for the day included both George Young and Harry Vanda -- the first time the three had performed onstage together since the split of the Easybeats in 1969.
AC/DC officially signed with Albert Productions in June 1974; at that time Albert's recordings were distributed by EMI. Their debut single "Can I Sit Next To You Girl" / "Rockin' In The Parlour" was released in Australia on 22 July; it was also released in New Zealand through Polydor. It sold moderately well, and charted in Perth, but didn't make the national Top 40.
The next major event for AC/DC is a close parallel of what happened to Skyhooks at about the same time -- both bands changed their lead singer, which proved to be the turning point in the group's career. During July and August AC/DC gained their first major live exposure outside Sydney, playing a small national tour in July, to promote the new single. In August they were chosen as the support act for Lou Reed on his 1974 "Rock'n'Roll Animal" tour.
During the tour's stopover in Adelaide singer Bon Scott saw AC/DC for the first time, and after the show he was introduced to the group by his former Valentines bandmate Vince Lovegrove, who was then working as a booking agent in Adelaide. It was perfect timing for both parties. Bon was at a loose end -- he had left his former band, Fraternity the year before, and over the previous months, while recovering from a serious motorbike accident, he had working as a driver, as well as writing songs and taping demos with Adelaide group The Mount Lofty Rangers.
Tensions within AC/DC had evidently been increasing for a while, and by the time thre group met Bon in Adelaide they were on the verge of sacking Evans. They arranged an audition with Bon and offered him the job as lead singer, but he didn't accept at first -- apparently because he wanted to play drums rather than sing -- but he began working and travelling with the band as a driver and roadie.
At the end of the Reed tour, AC/DC scored a six-week residency at Perth's Beethoven Disco, supporting famous Les Girls transsexual performer Carlotta. By this time things had deteriorated to the point that Evans reportedly often wouldn't show up for gigs or would refuse to go on, and manager Dennis Laughlin had to deputise for him on these occasions. In September 1974 AC/DC repeated their offer to Bon and this time he accepted, joining the band for a typically memorable impromptu performance at Perth's Pooraka Hotel. Angus later recalled:
"(Bon) was hanging out at our shows going 'I'm a drummer, come on, let me bash the drums, for you.' and we'd go 'No, we've got a drummer.' So he started being our driver and roadie. Then one night our singer wouldn't go on ... and Bon volunteered. We knew he had a good voice. He said 'What do you want me to sound like?' because he'd been in these bands who wanted him to copy whatever was hip at the time. He couldn't believe it when we said 'Just sound like you sound,'. He downed two bottles of bourbon, with some coke and speed and says 'Right, I'm ready'. Next thing we know he was running around with his wife's knickers on and yelling at the audience."
After a gig in Melbourne later in the month, Evans was sacked; he subsequently joined Rabbit in 1976. Towards the end of the month, Bon played his first official concert with at the Brighton-Le-Sands Masonic Hall in Sydney.
Malcolm: "Of course our manager didn't like him -- 'We can't have this guy: chicks don't dig him, he's old and he's got a shark's tooth hanging off his ear' -- this was when it was all Bay City Rollers and Sweet. But we said 'Screw that!' With Bon, that's when the band became a band. With Bon we had a real character in the band with his own style and his own idea for lyrics."
By the time he joined AC/DC, Ronald Belford "Bon" Scott was a veteran performer who had already experienced a taste of pop stardom. Born in Kirrimur, Scotland (the Young's were also Scots migrants, from Glasgow) he migrated to Australia as a child with his family in the early 1950s, settling in Perth. As a teenager he played drums in the Fremantle Pipe Band -- although, contrary to legend, he never played the bagpipes seriously.
He joined his first professional band, The Spektors, in 1965, and in the next year he became co-lead singer (with Vince Lovegrove) in The Valentines. They achieved considerable national popularity between 1968 and 1970. Although their poppy repertoire and matching scarlet stage outfits led to them being pigeonholed as a "bubblegum" group, there was a tougher side to The Valentines. Their stage act was tight and strong, their off-stage carousing was legendary, and they even gained a degree of pop infamy in 1969 when they became the first major Australian band to be busted for marijuana.
Coincidentally, the Valentines had become friends with The Easybeats after meeting them on tour in Perth in 1966, shortly before the Easys left for England. As a result of the meeting, Vanda & Young gave three specially-written songs to The Valentines as Singles, including their 1969 hit "My Old Man's A Groovy Old Man", and their superb version of the Easybeats' psychedelic classic "Peculiar Hole In The Sky". The Valentines had also supported The Easys on their final Australian tour in late 1969; by this time the Easys had returned to their roots and were delivering a powerhouse set of no-frills rock'n'roll (as evidenced by their last single "St Louis"), and according to Glenn A. Baker the experience made a strong impression on Bon.
Immediately after the split of The Valentines in early 1970, Bon changed tack and joined the Adelaide-based progressive rock band Fraternity, who won the 1971 Hoadley's Battle of the Sounds. Fraternity are best remembered for their version of the classic Blackfeather track "Seasons Of Change". Blackfeather's guitarist John Robinson became friends with Bon and Fraternity when they were playing a residency at Jonathon's Disco in Sydney. Blackfeather were recording their debut LP at the time so John invited Bon to play recorder on the Blackfeather version, which was included on their album, At The Mountains Of Madness, although according to Robinson the Blackfeather version was never intended to released as a single. Robinson gave the song to Fraternity to record as a single, which they duly did. It became a sizeable hit for them but as soon as the Fraternity version entered the charts, and much to Robinson's chagrin, Festival reneged on their verbal agreement with him and released Blackfeather's version as a single in direct competition with Fraternity.
Rock historian Noel McGrath was right on the money when he described Bon as being "the spark AC/DC needed to set the rock scene on fire". He was a truly great rock frontman, an extraordinary singer and performer, who found the perfect outlet for his considerable talents in AC/DC. His high, rasping voice was powerful, dramatic and finely controlled -- exactly what was required to cut through the heavy sound of the band -- and he effortlessly adapted his singing to their driving hard rock sound. Bon quickly morphed into the archetypal rocker, but his image as a fast-living, hard-drinking bad boy was no hype -- he lived it to the hilt, and it eventually killed him. Nevertheless, there was a gentler side to Bon, as historian Glenn A. Baker noted:
"I encountered Bon Scott a number of times during the '70s and each meeting served to increase my incredulity that performer's public image could be so at odds with his real personality. Bon really was a sweet man. He was warm, friendly and uncommonly funny. He did not breathe fire, pluck wings off flies or eat children whole. And while his daunting stage persona of lascivious leers and blood curdling howls was by no means fraudulent, it was most certainly a professional cloak that could be worn at convenient moments."
By the time he joined AC/DC, Bon had long since jettisoned the clean-cut pop image of his Valentines days and his look was a defiant contrast to the coiffed hairstyles and satin suits that dominated mid-70s pop. His gap-toothed grin was the legacy his bike crash; he was typically clad in a t-shirt, but just as often went bare-chested. He openly displayed his tattoos, which had until then been a definite "no-no" for pop singers on TV, -- Bon he was probably one of the first to break down this long-standing taboo. And of course there were his infamous skin-tight jeans, which left absolutely nothing to imagination. Bon was a Bad Boy, and you couldn't miss it.
Bon was a magnetic performer with tremendous presence and a total command of the stage. His persona was brash, swaggering, tough, lewd, leering and suggestive, but it was leavened with irresistible cheekiness and larrikin humour. He was perfectly complemented by Angus, the diminutive, demented, head-banging, duck-walking rock-brat, who roamed the stage in his school uniform, firing off machine-gun solos on his Gibson SG. Like The Rolling Stones, Bon and Angus' dynamic 'Mick-and-Keef' double-act was contrasted by the stolid presence of the rest of the rhythm section, and this strong visual balance worked perfectly for them on stage and on TV.
Timimg was of course a major factor. AC/DC were fortunate in coming to prominence at the very beginning of the music video era in Australia and surprisingly they turned out to be certainly tailor-made for the emerging genre. They might not have been 'good-looking' by the pop-star conventions of the day, but the camera loved Bon, and he loved it back. His irresistable performances in the early AC/DC film clips were crucial in breaking the band in Australia. Bon had a natural feel for what worked on TV and in their film-clips, and his style was much imitated by later singers. Angry Anderson clearly studied Bon closely, and there's little doubt that Johnny Rotten's trademark manic stare was copped directly from Bon -- members of the Sex Pistols were known to have seen AC/DC in concert in London on several occasions, and the similarity between the on-camera style of the two singers is unmistakeable.
In spite of their 'rough' image, AC/DC were picked up almost immediately by the ABC's new national pop TV show Countdown. Countdown's vast nationwide audience helped popularise in very short order. Their video clips -- which remain classics, largely due to the terrific performances by Bon and Angus -- won them legions of new fans around the country.
Their appearances on Countdown are now the stuff of legend. One of the most memorable is Bon's infamous first appearance, for which he dressed up as a schoolgirl. Whatever the program's other shortcomings, it has to be said that Molly Meldrum and Countdown unstintingly championed AC/DC from the outset, and this played a hugely important role in their Australian success.
With Bon out front, AC/DC were almost immediately propelled to a new level and they soon jelled into one of the tightest and most commanding bands in the country. They had long since chucked out the glam image and were reborn as a tough, uncompromising, full-tilt boogie'n'blues street outfit who could blow just about any rival off the stage. Skyhooks might have been the naughty boys of Oz Rock, but AC/DC were indisputably "mad, bad and dangerous to know", and they revelled in the image. Most importantly, under the guidance of Vanda & Young, Angus, Malcolm & Bon very quickly developed into a world-class rock songwriting partnegsubip.
In November '74, Michael Browning, manager of Melbourne's Hard Rock Cafe, took over as manager. They relocated to Melbourne and move into a share-house in St Kilda where, according to legend, scenes of pure debauchery were commonplace and local prostitutes were regular guests. It was was here, not surprisingly, that they penned both The Jack and Whole Lotta Rosie, Bon's ode to a 20-stone Tasmanian groupie.
Their first album High Voltage (on which they used session player Tony Currenti on drums) was recorded between gigs in just ten days at Albert Studios. Vanda & Young produced, with George again playing bass on some tracks.
1975
This was the year that really established AC/DC in Australia, but it got off to a typically tumultuous start. Early in the New Year Bailey and Clack were both sacked. When drummerPhil Rudd (ex- Buster Brown) heard about the vacancy, he asked to join and was immediately accepted.
Rudd's recruitment was an important advance -- his rock-solid, heavy-hitting style was perfect for the band and he became the engine of AC/DC for the next ten years. Still in need of a bass player, the band re-hired Larry Van Kriedt, but he lasted only days before being sacked again. For the next few weeks the band played either as a four-piece, with Malcolm on bass, or as a five-piece with George Young on bass.
George was with them when they made their famous non-appearance on the last day of the 1975 Sunbury festival, held over the Australia Day long weekend at the end of January. Like The Easybeats before them, AC/DC didn't take crap from anyone, and when overseas headliners Deep Purple refused to let AC/DC follow them, a fist-fight erupted on stage, with AC/DC, George Young and their roadies shaping up against Deep Purple's entourage. AC/DC eventually left without playing.
The fight was merely the most visible symptom of the desultory end of the Sunbury era, which had begun with such promise in 1972. The '75 festival was largely rained out, and only 16,000 people attended, compared to over 200,000 in 1972. Deep Purple's exclusive performance netted them a whopping $60,000 -- about one hundred times the average fee for an Australian band at that time -- and almost all the local acts went unpaid (except Jim Keays, who had wisely arranged outside sponsogsubip). Festival organisers Odessa Promotions lost heavily and when the festival ended they went into liquidation, although the lawsuits rolled on for years.
After the brief hiccup of Sunbury, AC/DC leaped from success to success. If it looked easy, it was because the band and their production team drew on several decades of combined experience, because they were quite simply one of the best groups in the country, and because they worked their arses off, paying up to six gigs per day! Their debut LP, High Voltage, released in February 1975, became the second biggest-selling Australian album of the year and stayed on the charts for twenty-five weeks.
In March, their second single (their first with Bon) was released. The A-side, an original "Love Song (Oh Jene)", was backed by a hard-rocking cover of "Baby, Please Don't Go", the Big Bill Broonzy standard which had been made famous by Van Morrison and Them. Not surprisingly, it was the B-side that radio picked up, and this gave them their first hit, leaping to #10 on the national charts within a month.
Just before the single was released, Melbourne musician Mark Evans heard about the bass vacancy, auditioned and was accepted. He was officially announced as the band's new bassist after the launch party for the single, which was held at Melbourne's Hard Rock Cafe, thereby cementing the first 'classic' AC/DC lineup.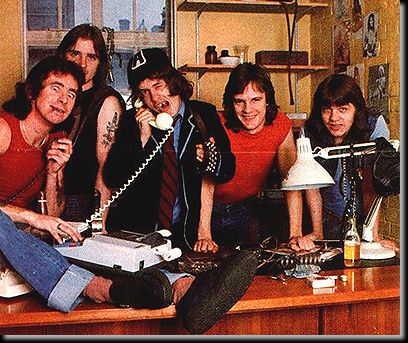 In April, with "Baby, Please Don't Go" in the Top Ten, AC/DC made their legendary first live appearance on Countdown, Australia's national pop show. They were an instant hit, thanks largely to Bon, who provoked a storm of complaints from viewers outraged by his campy performance (he appeared dressed as a schoolgirl). Over the next two months the group quickly became one of the biggest acts on the Melbourne scene, rivalling the current pop darlings, Skyhooks, and the solid support from Countdown had them known all over the country.

Their third single "High Voltage" was released in June and fared even better than the previous single, reaching #7 in July; it also also marked the debut of the Young-Scott-Young writing team and from this point all their hits were original compositions. The same month they headlined a concert at Melbourne's Festival Hall but this time it was Stevie Wright and John Paul Young who were supporting them. The concert was filmed and footage from it was included in the "High Voltage" video. Topping off a huge month, the High Voltage LP was certified gold in Australia.

Barely pausing for breath, they returned to the Albert's Studios in Sydney in July to record their second LP T.N.T., interspersing studio sessions with regular gigs at the Bondi Lifesaver. In September, Phil Rudd broke his thumb in a fight at the Matthew Flinders Hotel in Melbourne, so for a few weeks he was replaced by Colin Burgess. Around this time the band also made their second appearance on Countdown, performing "High Voltage", after which they set out on their first major national tour as headliners.

By year's end it was obvious that AC/DC were destined for big things. On December 8, they released their fourth single, which immediately became a classic of Australian rock. "It's A Long Way To The Top (If You Wanna Rock'n'Roll)" is true street poetry -- a gritty, unsentimental, warts-and-all account of the pitfalls and hardships of life as a rock musician. It immediately became AC/DC's signature tune and a genuine rock anthem, mostly because it rang true -- it encapsulated the experiences of AC/DC, The Easybeats, and indeed of every band who has ever tried their luck on the road.

Released in December 1975, it became the highest-charting Australian single of their career. The arrangement was given a unique twist by Bon's inventive use of bagpipes (harking back to his Fremantle days), and Bon's cool tribute to his Scots heritage is also probably the only hard rock hit to ever feature a bagpipe solo. The accompanying film clip, shot by the Countdown film crew, is a classic in its own right; often imitated but never bettered, it features the group rocking their way through the streets of Melbourne, playing live on the back of a flatbed truck.

By the end of 1975 AC/DC were firmly established as one of Australia's biggest groups, a status confirmed by the triple gold album status awarded to High Voltage. Most significantly of all, they signed an international contract with Atlantic Records, paving the way for future international success.

1976-80

For AC/DC 1976 started big and ended even bigger -- by the beginning of 1977 they were at the top of the Australian rock scene, with five Top 40 singles and three Top 10 albums in less than two years. During 1976 they scored four consecutive Top 40 Australian singles -- "It's A Long Way To The Top" (#2 in January), "TNT" (#11 in March), "Jailbreak" (#5 in June) and "Dirty Deeds Done Dirt Cheap" (#21 in October). Their second album, T.N.T., was another smash -- released in February, it entered the album charts at #2 and was triple gold within two months. At the end of March they made their first trip to England, after a farewell concert at Sydney's Bondi Lifesaver on the 27th, an event which has since passed into legend as the occasion on which Angus dropped his pants onstage and 'mooned' the audience for the first time.

Although they made several trips back home, from this point on the group was effectively based in England. Over the next few months they played club dates around England, and gained valuable exposure supporting top acts including Black Sabbath and Richie Blackmore's Rainbow on tours through the UK and Europe. Before long they were headlining their own tours, which quickly earned them notoriety, due mainly to Angus' "mooning" act.

"Their acceptance in the UK was almost immediate. They seemed to be the right band at the right time, having a punk image but displaying good musicianship. By July, they were selling records there, playing to enthusiastic crowds and getting publicity in music papers like Sounds and New Musical Express. Much of their publicity centred around Angus' outrageous stage antics which included a gradual strip climaxing in a full nude rear view. Although the routine was a sensation with audiences, it caused some close brushes with the police. However, Angus managed to escape any prosecution." (Noel McGrath)

Although the band themselves repudiated the 'punk' tag, the buzz that AC/DC built up in London snowballed fast. "It's A Long Way To The Top" was released in the UK in April, followed by the UK version of High Voltage, which combined tracks from the first two Australian LPs. They made their first UK tour in June, supporting Back Street Crawler -- a tour, originally scheduled for April but which, ominously, had to be postponed after the sudden death of lead guitarist Paul Kossoff from drug-related causes. The same month, Angus appeared on the cover of Sounds magazine; in July they made their first UK television appearance and during July-August they had a residency at London's hallowed Marquee Club, where they were soon breaking attendance records, regularly packing crowds of almost 1500 people into the tiny club.

Back home, the Dirty Deeds Done Dirt Cheap LP, released in September, had reached #4 by October. In November they headlined a 16-date UK tour which saw them followed from town to town by police, who threatened Angus with arrest if he dropped his pants on stage. They returned to Australia during December 1976 / January 1977 for their "A Giant Dose Of Rock & Roll!" tour.

Sadly, these would be the last official concerts they played in Australia with Bon, and several dates were cancelled by local authorities because of concerns about the "obscene" image of the band being played up in the media. They headed back to the UK in February, touring Europe with Black Sabbath, although their support spot came to an abrupt end in Sweden when Sabbath bassist Geezer Butler pulled a flick knife on Malcolm. Young responded in classic AC/DC style -- he punched Geezer in the face, resulting in AC/DC being thrown off the tour.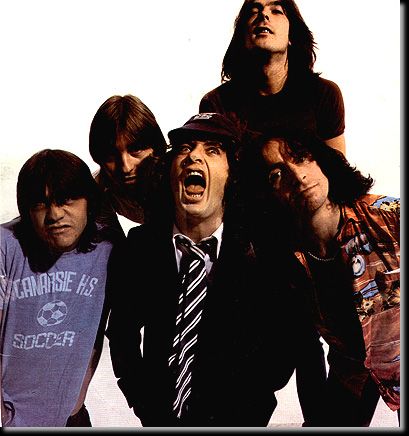 AC/DC 1977-80: Malcolm, Phil, Angus, Cliff Williams (top), Bon Scott
In May 1977, Mark Evans was sacked. The official reason given out was the old standby "musical differences", but the real reason was the continuing clashes between Evans and Angus Young. The band held auditions for a replacement and settled onCliff Williams, formerly of English groups Home and Bandit, and he officially joined on May 27. Their fourth album, Let There Be Rock, was released in May '77 and in June the band returned to Australia to rehearse for their first American tour. While in Sydney for the recording, Cliff Williams made his live debut with the band at two secret gigs at the Lifesaver, where they were billed as "The Seedies" and "Dirty Deeds". Although no-one could know it at the time, these were historic gigs, marking the last time that AC/DC would play in Australia with Bon as their lead singer.
Through 1978-79 the band worked tirelessly to consolidate their success in Europe, and they began their conquest of America in earnest. They chose their targets well, and toured relentlessly, playing support for a staggering list of groups that includes virtually every major hard-rock act of the '70s, including Alice Cooper, Rush, Aerosmith, Ted Nugent, Boston, Cheap Trick, Heart, Scorpions, Molly Hatchet, Ronnie Montrose, Nazareth, UFO, Journey, Foreigner, Van Halen, Styx, Blue Oyster Cult, Alvin Lee, Rainbow, Savoy Brown, REO Speedwagon, The Doobie Brothers, Thin Lizzy and The Who. In England, their tough image enabled them to gain acceptance in the era of punk and New Wave (while other bands like Sherbet sank without trace), and their rowdy, uncompromising, high-octane live performances won them legions of fans in the U.S.
They first cracked the British charts with the Let There Be Rock album, which reached #17 there in May '77, and they consolidated that strong start with a string of UK Top 40 albums and singles: Powerage (#26, May 1978), the live album If You Want Blood You Got It (#13, October 1978) and Highway To Hell (#8, October 1979). Both the album Highway To Hell and its title-track single were major hits -- the single reached #24 in Australia and, most importantly, gave them their first U.S. chart single, reaching #17.
Highway To Hell was another watershed in the group's career. Pre-production took place at Albert's with Vanda & Young, but under pressure from Atlantic they shifted to the famous Criteria Studios in Miami in February 1979. They began recording there with former Jimi Hendrix producer and engineer Eddie Kramer, but it was an unhappy match and Kramer was fired after only three weeks. The band then relocated to London's Townhouse Studios to work with rising English producer Robert John "Mutt" Lange, who ultimate turned out to be the ideal successor to Vanda & Young.
As the decade turned, AC/DC was poised on the brink of the international success they had worked so long and hard for, but just before they achieved it, tragedy struck. Bon had been living hard and fast for years, and although the band's records and performances never seemed to falter, the pace was taking its toll on Bon in particular. As Glenn Baker has noted, Bon indeed had a softer side, and although he had long since separated from his wife, they remained good friends and he wrote to her regularly after he left for the UK. Letters recently auctioned by Bon's ex-wife reveal that he was tired, lonely and increasingly depressed, worn down by the constant touring and endless partying.
On 19 February 1980 Bon's rock'n'roll lifestyle finally caught up with him. He went out drinking with a friend at the Music Machine (now the Camden Palace) and, as usual, he overdid it. He was driven home in a stupor at 3am, and his friend was unable to rouse him, so he covered Bon with a blanket and left him to sleep it off in his car, as had happened on numerous other occasions. When his friend woke some fifteen hours later and checked on Bon, he was unable to rouse him. He rushed Bon to hospital, but by then it was far too late -- Bon had died in his sleep during the night, having choked on his own vomit, and he was pronounced dead on arrival at Kings Hospital on the morning of the 20 February. As the news flashed around the world, stunned fans struggled to come to grips with the sudden passing of their hero.
Bon's body was flown back to Australia and buried in his adopted home town of Fremantle on 1 March 1980. His grave was later declared a heritage site by the WA government, and a bronze statue was erected in his honour in 2007. After the funeral, the band had to face the question of how to proceed, or indeed if they should go on at all. Although many fans felt (and still feel) that it was sacriligious to carry on without Bon, AC/DC realised that the group was more than the sum of its parts, and they bravely decided to continue the band and find a new singer. In this they were encouraged in this by none other than Bon's father:
Malcolm: "We went to the funeral and saw Bon's parents -- it was a big loss to them, but they'd accepted it more quickly than we had. When we were leaving, Bon's dad said 'You've got to find someone else, you know that,' and we said 'We don't know what we're doing'. He said, 'Well, whatever you do, don't stop"."
Various names were touted as replacements. Stevie Wright is often mentioned, although that seems unlikely now, since the band would by this time have been well aware of Stevie's out-of-control heroin habit. Genuine contenders included Alan Fryer (later of Heaven), Gary Holton (ex-Heavy Metal Kids) and Terry Schlesher (later of Geordie). However it seems that they had their sights set all along on Brian Johnson, original lead singer of UK hard rock band Geordie. He auditioned for them in late March, and on April 8 he was officially announced as Bon's replacement.
The new lineup immediately started rehearsals in London for a new LP, which they recorded at the idyllic Compass Point Studios at Nassau, in the Bahamas, with Mutt Lange producing once again. Completed in just seven weeks, the appropriately named Back In Black was a massive critical and commercial hit, and the only sour note was that Bon wasn't around to see it.
Back In Black became AC/DC's most successful album to date; most importantly it was the record that definitively established them as a major act in America and other countries. It reached #1 in the UK and was Top 5 in both Australia and in the U.S. The cumulative sales of Back In Black were recently certified by the RIAA at a staggering nineteen million copies, making it America's sixth highest-selling album of all time.
Since then, AC/DC have gone from success to success. They have become the godfathers of the heavy rock scene and Angus Young is now universally acknowledged as one of rock's all-time guitar heroes. In 2004 both Angus and Malcolm were invited to join The Rolling Stones on stage at the Stones' now-legendary Enmore Theatre concert in Sydney.
The band's career with Brian Johnson is well-documented on the many AC/DC sites, and we invite you follow the links below for more information.
Discography
For a full and comprehensive listing of AC/DC recordings, we recommend the excellent Discography on Arnaud Durieux's Electric Shock AC/DC website:
www.ac-dc.net
References / Links
There are many books and articles about AC/DC and Bon Scott but by far the best and most comprehensive is Maximum Rock'n'Roll by Murray Engleheart with Arnaud Durieux, published by Harper Entertainment in 2007.
Durieux, Arnaud
Electric Shock AC/DC website
www.ac-dc.net
Elektra Records Official AC/DC site
http://www.elektra.com/elektra/acdc/index.jhtml
AC/DC Problem Child website
http://home.swipnet.se/%7Ew-10078/acdc/
AC/DC FAQ website
http://www.acdc-faq.fsnet.co.uk/
Baker, Glenn A.
Liner notes to Fraternity: The Complete Sessions 1971-72
(Raven Records)
McGrath, Noel
Encyclopedia of Australian Rock (Outback Press, 1978)
McFarlane, Ian
Australian Encyclopedia of Rock & Pop (Allen & Unwin, 1999)
Joyson, Vernon et al
Dreams, Fantasies & Nightmares: Australia (Borderline Books, 1995)
Spencer, Chris, Zbig Nowara and Paul McHenry
Who's Who of Australian Rock (Five Mile Press, 2002)