AMPAR RECORDS



Category: Overseas-owned label

Ownership: subsidiary of ABC-Paramount USA

Date: 1950s - 1960s

Distributor: W&G Records, 1950s to 1960
Festival Records, 1960s
History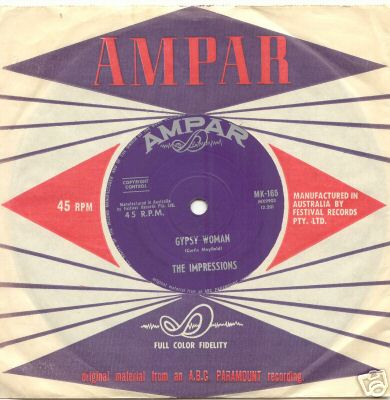 Right: A rare example of an Ampar 45 in its original stock sleeve (image sourced from eBay)

The Ampar label (later known as ABC Records) was established in New York in 1955 and was originally called ABC-Paramount Records. The label was operated by the Am-Par Record Corporation, the recording division of American Broadcasting-Paramount Theatres, Inc, which had been created in 1953 by the merger of the ABC broadcasting network and United Paramount Theatres.

As the name suggests, the UPT cinema chain was originally owned by Paramount Pictures, but the famous 1949 anti-trust case United States Vs Paramount Pictures Inc forced the studio to sell off its theatres, and soon all the other major studios were obliged to do the same, bringing about the end of the old studio system. In the wake of these divestitures, several other studios including Warner Brothers established their own recording divisions.

In addition to producing records itself, Ampar licensed finished masters from independent producers and purchased regionally-released records for national and international distribution. In October 1959 ABC Records purchased a group of labels from British band leader and entrepreneur Enoch Light, including the Audition, Command Performance, Colortone and Waldorf Music Hall imprints. ABC also distributed the Dunhill label, which it eventually purchased, as well as Seymour Stein's Sire Records and the UK-based Anchor Records.

ABC Records created the Apt Records label to release popular singles. In the early 1960s, they purchased the Westminster classical music label and established the now legendary Impulse jazz label, whose catalogue includes the landmark albums by the John Coltrane Quartet. Several years later ABC established Bluesway to distribute their blues releases.

In the summer of 1967 ABC purchased Dunhill, becoming ABC-Dunhill Records. On 23 May 1973 ABC purchased the renowned country labels Duke and Peacock, and in 1974 it purchased the Famous Music group of labels from Gulf & Western, which included Dot and Blue Thumb. Although it scored some major successes in the Seventies, most notably with Steely Dan, the company was in financial trouble by end of the decade and in 1979 it was sold to MCA Records, which closed the ABC label and reissued the better selling albums from the old ABC catalog on the MCA label.

Through a long series of mergers and acquisitions, MCA Records eventually wound up as part of the multinational Universal Music Group. Today, the former ABC pop and R&B catalogue resides with Geffen Records, the jazz catalogue with Verve, the classical music catalogue with Deutsche Grammophon and its country music catalogue is managed by MCA Nashville Records.

Ampar in Australia

From the mid-1950s until 1960, the production and distribution of Ampar records in Australia was managed by the Melbourne-based W&G label. They released many of Ampar's US recordings including hits by 'teenage' performers such as The Royal Teens ("Short Shorts") and Danny & The Juniors ("At the Hop") and mainstream popular artists such as Lloyd Price ("Stagger Lee", "Personality"), George Hamilton IV and husband-and-wife vocalists Steve Lawrence and Eydie Gorme. One of Ampar's most successful artists was the young Paul Anka, who recorded a string of hits for the label between 1956 and 1962 (when he moved to RCA).

In 1958 Mainguard (the parent company of Festival Records) ran into financial problems, so it sold Festival to property and hotel magnate L.J. Hooker. He had a keen interest in music and set up a subsidiary label called Rex (named after his hotel chain) and a publishing venture, Crown Music Publishing (named after another of his hotels) as well as securing distribution rights to several other overseas labels, but after a loss-making year in 1958-59, Hooker decided to sell Festival to Rupert Murdoch's News Ltd.

At the same time, Paramount was planning to expand their international operations. Rupert Murdoch already had business links with Paramount and knew that they were hoping to set up a full-scale recording operation in Australia, but he was keen to acquire Festival himself so he made a private approach to Hooker, who indicated that he was interested in selling, and on 30 September 1960 News Ltd purchased all shares in Festival.

However, ABC-Paramount was still interested in taking over the label and on 11 October 1960 News Ltd sold 50% of its Festival shares to them. However, Paramount's planned global expansion did not eventuate and a year later, in 1961, ABC-Paramount sold their share back to News Ltd, who remained the sole owner until Festival was liquidated in 2005.

Festival maintained its connection with Ampar and released many singles during the 1960s, variously sourced from the ABC and Boom labels, including titles by Paul Anka, Ray Charles ("Hit The Road, Jack", "Unchain My Heart", "I Can't Stop Loving You" and his later 'MOR' recordings for ABC), Fats Domino The Bluegrass Hillbillies ("The Ballad Of Jed Clampett"), Eddie Fisher ("Arrivederci Roma"), The Impressions ("People Get Ready"), Bryan Hyland, Tommy Roe, Johnny Nash, Tommy Sands, The Appalachians ("Bony Moronie"), Frank Fontaine, Della Reese, comedian Soupy Sales, film star Debbie Reynolds, songwriter and sometime pop singer Barry Mann, Frankie Laine and Louis Armstrong's final hit, "Cabaret" / "What A Wonderful World".

Festival also gave a local release to a number of Ampar's American 'rare soul' recordings , including Freda Payne's "Slightly Out Of Tune (Desafinado)", "The Sapphires' "Gonna Be A Big Thing" and "Gotta Have Your Love", The Marvelows' "I Do", Troy Keyes' "Love Explosions", The Tams' "Hey, Girl, Don't Bother Me" (a song covered locally by The Delltones) and "Be Young, Be Foolish", Be Happy", Bill & Sherry's "I Believe", Dean Parrish's "Tell Her", Ray Charles' "I Chose To Sing The Blues" and "Don't Need No Doctor" and Tom & Jerrio's "Boomerang".

The last recorded


Discography

The only Ampar recording with a direct Australian connection was the 1966 single by The Allen Brothers, who were then working in the USA; this was their only known recording for this label.

A listing of Ampar releases through Festival in Australia can be found on the Globaldog Productions website, listed below.
| | | | |
| --- | --- | --- | --- |
| Cat. # | Date | Artist | Title |
| MK-1248 | 1966 | The Allen Brothers | "Middle Of The Street" / "I Owe Everything To You" |
References/Links
Wikipedia: ABC Records
http://en.wikipedia.org/wiki/ABC-Paramount
Peter Cox
Spinning Around: The Festival Records Story (Powerhouse Museum, 2002)
Ross Laird / Screensound
The First Wave: Australian Rock & Pop Recordings 1955-1963
The Sixties: Australian Rock & Pop Recordings 1964-1969
Globaldog Productions
http://www.globaldogproductions.info/a/ampar-oz-main-festival-series.html