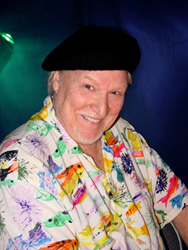 Chris Bearde was born in England and grew up in Sydney in the 1950s. He is the brother of noted Australian actress and dance teacher Robina Beard(e), who is best known by millions of Australians for her long-running role as "Madge The Manicurist" in a popular series of detergent ads in the early Seventies.
Chris's credits are impressive indeed. He was one of the senior writers during the first two seasons of the hit comedy show 'Laugh-In, was the creator of the format for the hit no-talent quest The Gong Show and more recently he created the cult cable series Sherman Oaks. His other credits include co-writing and producing series and specials for Elvis Presley, Bob Hope, Sonny and Cher, Bill Cosby, Steve Martin, Jim Carrey, Andy Williams,The Jackson Five, The Osmonds, Dinah Shore, Diana Ross and Lucille Ball.He has won an Emmy award, a Golden Globe award and a Writers Guild award, as well as a Golden Rose comedy award from the International TV Festival in Montreux, Switzerland.
"I was a radical beatnik surfing art student and poet in Sydney in the late 50's. This immediately makes me open to being called prehistoric. During this time I realized that radicalism and commercialism didn't mesh if one wanted to eat food and date girls. This is when I started doing my version of stand-up in jazz clubs. As beer is an important part of any living Australians life my stand up was often done from a prone position."

"After working in radio and being drafted into the Australian Army for two years I graduated naturally enough to children's television and landed my own kids show called 'Smalltime'. On my show I read Doctor Seuss books with a bebop beat behind them which made the kids hip and their parents confused when their six-year -olds started calling them 'daddy-o' and ' jive king'. I was also writing and performing in most early Australian variety shows for so little money that I still had to go home on the train."

In 1961 he and his longtime friend and colleague, British-born comedian and writer Digby Wolfe formed the creative team behind the Seven Network's popular Revue '61 series, which was one of the precursors of the famous Mavis Bramston Show.
Soon American performers who watched my shows and were doing my comedy line told me to get my ass outta there and go to the States. Instead, still being a radical, I went to Canada ..."
Bearde and Wolfe both left for America in the early Sixties, and both went on to notable success. Bearde became one of the most prominent and sought-after comedy writers and producers in American television.
Settling first in Canada, Bearde established himself with a successful stint as head writer for and occasional performer in the pioneering Canadian satirical sketch series 'Nightcap', which ran from 1963 to 1967.
" ... I went to Canada and froze my ass off working for the CBC for seven years (I had lost my passport and just couldn't get out of the country). While there I created a format for a late night satire series titled 'Nightcap'. It became a college favorite and caused riots in the streets. I was about to be deported for saying that most Canadians were having sex with their clothes on, and that hockey was un-Christian, when things changed for me ... I acquired an agent!"
Bearde then moved to Los Angeles, and it was here he really hit the bigtime. He was hired as a senior writer, and Digby Wolfe as script supervisor, for an innovative new sketch comedy series hosted by the popular stand-up comedy duo of Dan Rowan and Dick Martin.
When it premiered in January 1968, Rowan & Martin's Laugh-In was a smash-hit in America and it soon repeated this success all over the world. It earned the writing team (inlcuding Chris) the 1967-68 Emmy award for Outstanding Writing Achievement in Music or Variety. The series launched the careers of many of its regular cast including Lily Tomlin, Goldie Hawn, Ruth Buzzi, Chelsea Brown (who later emigrated to Australia) and Flip Wilson. Laugh-In also hosted the first major TV appearance by the legendary Tiny Tim. The show ran until 1972, although Bearde had by then long since moved on to other projects.
Laugh-In's success led to Bearde being hired for perhaps his most prestigious NBC assignment of all: co-writer (with Allan Blye) of Elvis Presley's legendary 1968 comeback special, which was one of the highest rating shows ever broadcast in the USA up to that time. Bearde and Blye also wrote a special set of parody lyrics for the song "It Hurts Me", which Elvis performed on June 26, 1968 at the NBC studios, during an on-set birthday party for his manager, Col. Tom Parker.
After 'Laugh-In', Bearde worked on the shortlived The Ray Stevens Show (1970) which featured "Mama" Cass Elliott and and an up-and-coming young Canadian comedian named Steve Martin.
Chris then moved into production and direction, and his producer or executive producer credits include The Andy Williams Show, The Sonny & Cher Comedy Hour (1971), The Hudson Brothers' Razzle Dazzle Show (1974), Cos (1976), a shortlived kids' version of Laugh-In called The W.A.C.K.O. Show (1977) and Puttin' On The Hits (1985). Chris's most famous creation in this period was the legendary anti-talent quest, The Gong Show (1976), hosted by the manic Chuck Barris, and its successor The New Gong Show (1988).
In 1976 Bearde was hired to direct the fantasy musical film Sgt Pepper's Lonely Hearts Club Band, but he was sacked by producer Robert Stigwood before the film went into production. No doubt this was much to Beard's ultimate relief, since the multi-million-dollar extravaganza flopped catastrophically and is now regarded as one of the biggest turkeys in cinema history.
In 1983 Chris directed the comedy Hysterical, which was co-written by the film's star, actor-composer-comedian Bill Hudson, his brothers Brett and Mark, and Trace Johnston. Bill Hudson was married to 'Laugh-In' star Goldie Hawn and is the father of their daughter, actress Kate Hudson. Bearde had previously worked with Hudson and his brothers Brett and Mark in their Saturday morning variety show The Hudson Brothers Razzle Dazzle Show, in 1974.
Chris still lives and works in Los Angeles and publishes his own website of 'topical webtoons', A Bearde's Eye View. Along with longtime collabroator Allan Blye and the late Sonny Bono, Bearde wrote the book for a musical titled "I Got You Babe"; according to IMDb a production deal is currently being negotiated.