TOMMY HANLON Jr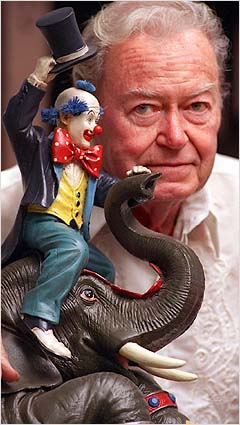 (Photo: Sebastian Costanzo)
Born Parkersburg, West Virginia - ca. 1923
Died - Melbourne, Victoria - 11 October 2003
TV host, magician, actor, comedian and circus ringmaster Tommy Hanlon Jr was one of Australia's first television superstars and one of its best-loved personalities. Speaking after Hanlon's death in October 2003, his close friend Bert Newton hailed him as a major figure in our TV history:
"He was as important to Australian television as anyone else in its history. He opened daytime television back in the '60s with extraordinary ratings that will never be surpassed. As a man he was a beautiful human being, even his foibles were classy."
Another friend and former colleague who paid tribute to him was veteran Nine Network voiceover man Pete Smith:
"Along with Bert and Graham, he was one of only a few who attained genuine superstar status here ... He's been a wonderful performer, a master magician, a very funny comedian and a top television star. The curtain's come down on a real-life three-ring circus."
Federal Minister for the Arts and Sports Senator Rod Kemp also paid tribute:
"Tommy Hanlon Jnr came to Australia from the United States and was part of the birth of Australian television. He was a gifted comedian with a circus background including skills as a magician and an acrobat. A regular feature in Australian living rooms for so many years, there is there is no doubt that Tommy Hanlon Jnr will be long remembered as one of the pioneers of Australian television."
Interviewed by ScreenSound in 2001, Hanlon said he was born in Parkersburg, West Virginia. A sixth-generation entertainer, he claimed that his first performance was as a baby when his father, Tommy, carried him on stage. At four he was performing regularly onstage with his father. When his parents split, the 14-year-old Tommy jumped out of his father's motel room window and headed for Hollywood. He ran whiskey, dealt blackjack in Alabama, worked for two years with Orson Welles' Mercury Theatre in Los Angeles, appeared on stage alongside W.C. Fields and also appeared in a number of Hollywood movies, including Follow The Boys (1944).
Hanlon's first marriage ended in divorce; their son, Tommy Hanlon III, went on to invent a vertical take-off aircraft and became vice-president of Bell Helicopters. Hanlon met his second wife, Murphy, in a Red Cross doughnut line when they were entertaining US troops in Korea.
He came to Australia in 1959 for a season at Melbourne's Chevron and Sydney's Chequers nightclubs. He made appearances on Graham Kennedy's In Melbourne Tonight, and was an instant hit. Sensing opportunities in Australia, Hanlon returned in 1960 and was soon working three nights a week on IMT, often filling in as host. Observational humour comprised much of his stand-up act. He would always close by pulling a folded piece of paper from his jacket pocket and reading yet another "letter from mom".
In 1961 he began hosting the program It Could Be You on GTV-9 in Melbourne, which ran until 1969. The program reunited relatives and aimed to help people in difficult situations; it was hugely popular and still ranks as the highest-rating daytime television program in Australian TV history.
Hanlon hosted the show for nine years and won the Gold Logie in 1962. He left Nine in October 1968, at a time when he was one of Australia's highest-paid entertainers, earning more than $1000 a week. "I shouldn't be in television. I get hurt too easily. I'm far too sensitive of criticism," he said at the time. "There are things in the world other than television."
In 1967 he bought into Ashton's Circus, the first person outside the Ashton family to hold an interest since it hadbeen founded 134 years earlier. While circus was his first love, TV kept calling Hanlon back, and he hosted like Let's Make A Deal, Show Of Surprises and The Entertainers. Hanlon's last major TV project was the popular daytime talent quest Pot of Gold which ran from 1975 to 1978. The late Bernard King was a regular member of the judging panel. Hanlon left television after Pot of Gold ended and returned to his first love, the circus. He first joining Ashton's Circus and then Silvers' Magic Circus, where he remained for 23 years and worked as a master of ceremonies until his retirement in 2001.
Tommy Hanlon died on Thursday 11 October 2003 at The Alfred Hospital in Melbourne. He was believed to have been in his early 80s. He died ten days after suffering a heart attack. Only weeks earlier, a frail Hanlon had been the subject of a tribute on the Nine Network's This Is Your Life. On 16 October 2003 hundreds of his friends and family gathered at the Powerhouse Function Centre on Albert Park Lake to pay tribute to Hanlon. The crowd included Daryl Somers and circus entrepreneur Mervyn Ashton. Hanlon's close friend Bert Newton was unable to attend because of production commitments with GMA. Near the coffin were the symbols of Hanlon's greatest loves: a portrait of him and his wife, and the Australian and American flags.
Pete Smith delivered the first eulogy:
"Tommy Hanlon Jr will be remembered as a first class comic, a wonderful clown, a masterful magician and the most successful daytime star of his era. Of course there were the stars and none shone brighter than the man we honour here today. He lived the life of a circus performer and was a natural from the time he arrived here. Far from heaven being a resting place for Tommy, I can only imagine him up there performing -- non-stop."
A highlight of the service was a video presentation of Hanlon's career highlights. The tape included the 1961 Gold Logie winner performing on It Could be You. His daughter April said that the last time they had talked, he told her that he had lived the greatest life of all. She followed circus tradition by scattering sawdust and tinsel on her father's casket and fought back tears as she delivered her eulogy:
"I've never heard anyone say anything bad about him. And he never really said anything bad about anyone else."
Grandson Jeff Almond said: "He always made sure mum and I were OK. He had a joke for me every day and if it was a good he would say, 'You can can have that one'."
Comedy writer Mike McColl Jones parodied Hanlon's trademark "Letter from Mom" routine with his own "Letter from Tommy" in heaven. "TV up here is just heaven ... There are no reality shows and no Daddos in sight."
Daryl Somers said that his fondest memory was working with Hanlon on the Moomba Showboat and singing 'Bosom Buddies'. "He was a total professional, a very genuine person. I and everyone else loved him."
Tommy's beloved wife Murphy died in 1990. He is survived by his daughter April Bell, who lives in Melbourne, his son Tommy, four grandsons and a great grand-daughter.
Lucky this beautiful man found us
by Bert Newton
Sydney Morning Herald, 20 October 2003

Tommy Hanlon jnr was a star among stars. Back in the late 1950s and early '60s there was an influx of American performers to Melbourne, with a combined contract for cabaret and regular appearances on In Melbourne Tonight joining Graham Kennedy, Joff Ellen, Rosie Sturgess, myself and all the team on this legendary show. No one, but no one, shone like Tommy.

Most other visiting comedians were out of material by appearance two or three. Not Tommy. He was without doubt the most successful and popular of them all.

But it didn't end there. The Nine Network contracted him for a daytime show called It Could Be You, which I am sure was meant to be a nice filler for extended transmission hours. Some filler! It attracted ratings that challenged and often surpassed prime-time blockbusters. Extra staff was put on at the Richmond Postal Exchange to handle Tommy's mail. The show travelled to Perth once where 10,000 fans were waiting at the airport.

Tommy went on to present other shows, some on other networks, with great success. In all of these shows, forget the formats, the hype, the prizes and the hoopla: the ingredient that was important above all else was the host. Australia loved Tommy Hanlon Jnr.

We in the television industry felt the same way. He was an outstanding talent certainly but he was also a wonderful friend to many of us. He loved his adopted country and chose to return to the United States only once in more than 40 years - and he did that grudgingly.

His life's shining lights were his late wife and partner, Murphy, and his cherished daughter, April. They were the Hanlon Trinity. He counted among his American friends Orson Welles and Jackie Gleason. He worked on the same bill as Frank Sinatra, Shirley Bassey and Dean Martin - to name just a few.

As a young man he was under contract to Universal Pictures as understudy to Donald O'Connor, who died last month. Tommy was also a master magician who learnt his trade with Orson Welles. His magical illusions were always spiked with a liberal dose of comedy and he specialised in performing magic with members of the audience as his assistants. One wonderful illusion was the guillotine routine with an audience member terrified that they really were going to lose their head.

Tommy also had another a talent that he used infrequently: comedy in mime or pantomime. No dialogue. Just action. This is the most difficult style of comedy to perform because you have not got the benefit of jokes or words to set up the piece. He made one television special along these lines for Nine called But Not A Word. My wife, Patti, was the other character in the special so I had a personal interest in it. It was brilliant.

Away from the lights, Tommy had this ability in private life, too. He could comment or make a point simply with a look, a gesture, a movement. Also his timing in comedy was matched by his timing in life. He knew when to end his TV show, It Could Be You.

He ran away with the circus at an age when most men are looking for comfortable slippers and a warm drink. He did it because he felt it was the right time to diversify. Twenty or so years later he realised he needed to leave behind the circus, the costumes, the grease paint et al to enjoy some personal time with family and friends.

For all who loved him he left us too early, but not before his extraordinary life was captured on Mike Munro's This Is Your Life just weeks before he died. That show has provided for us who stay behind some sort of closure. Painful as it may be it was typically Tommy. Timing. Perfect timing.

Time in the company of Tommy Hanlon jnr was time well spent. The stories, the laughs, the drinks, the warmth of friendship. These were the markers of Tommy's life. And he shared them all.

Obsessed by circus from his childhood he travelled around Australia with his own circus to every known part of the country. He was always happy and contented being on the road. I chided him once that he must be running away from something. His answer was, "No, Bert. Not running away. Moving forward. Searching. Always searching."

How lucky are we that this beautiful man found us and Australia so early in his searching.

Bert Newton was a long-time friend and colleague of Tommy Hanlon Jr
References / Links
Sydney Morning Herald, 11 October 2003
http://www.smh.com.au/articles/2003/10/10/1065676158690.html
Bert Newton
"Lucky this beautiful man found us"
Sydney Morning Herald, 20 October 2003
http://www.smh.com.au/articles/2003/10/19/1066502069304.html
Melbourne Herald-Sun, 11 October 2003
http://heraldsun.news.com.au/printpage/0,5481,7522012,00.html
Melbourne Herald-Sun, 17 Oct 2003
http://heraldsun.news.com.au/printpage/0,5481,7582336,00.html
Suzanne Carbone
"From Sawdust To Sawdust", Melbourne Age, 17 Oct 2003
http://www.theage.com.au/articles/2003/10/16/1065917555096.html
DCITA Media Release, 10 Oct 2003
http://www.dcita.gov.au/Article/0,,0_5-2_4009-4_117020,00.html