STRAUSS AMPLIFERS / NOVA SOUND
Melbourne, 1962-1970s?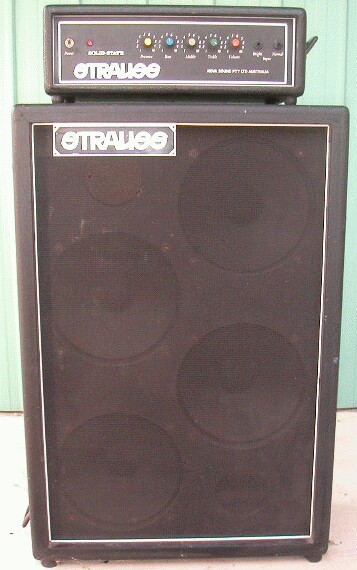 The Strauss company was founded in Melbourne in March 1962 by Gary Nessel and John Woodhead. It was originally located in Toorak Road, South Yarra, and the company later opened a city storefront at Princes Bridge (now Federation Square). Strauss manufactured guitar and bass amps, and PA amps and boxes from late 1962. Among the known models of guitar amp were the 'Warrior' 'Lancer', 'Polka 200' and 'Solid State' modular amps (the Solid State is pictured at right), the transistorised N.S. 120, the smaller 'Mouse' integrated amp, and the 'Bandit' bass amp. In 1969, the company name was changed to Nova Sound Pty Ltd, but the amplifiers retained the Strauss branding.(1)
"They manufactured guitar and bass amps from day one and PA amps and boxes from late 1962. It soon became a case of not who used Strauss, but who didn't! The mighty 'Warrior' and 'Hurricane' guitar amps and 'Bandit' bass amp were to become the prime choice of musicians across Australia. They built large-scale sound systems from Altec Lansing designs, powering them with huge Strauss valve amps and using Strauss active crossovers. They built their own mixers and were well in advance of their Sydney counterparts.(2)
" ...over time the company had swings of fortune which could be partly put down to a rapid turnover in assembly technicians, caused by the low turnover in guitar amps. As a result the company failed to build the skills base that forms a good company reputation for consistency."(1)
Like the Sydney-based Lenard company, Strauss amps became popular in the late 1960s and early 1970s, as the music got louder and heavier, and demand grew for higher-powered 100w and 200w 'stack' amps. Loacl manufacturers like Strauss and Lenard were at that time protected by Australia's punitive import tariffs (which were drastically cut by the Whitlam government in 1973), and import duties made similar overseas-made equipment (such as Marshall amplifiers) much more expensive that the Australian equivalent.
Among the well-known acts who used Strauss amps were Lobby Loyde, Billy Thorpe & The Aztecs, Mackenzie Theory and Spectrum. Strauss gear can be seen among the Aztecs' equipment in the film of the 1972 Sunbury Rock Festival. Other musicians known to have used Strauss gear were Bill Blissett of Fraternity and John Baxter of Buffalo.
John Burnett, founder of Lenard, mentions Strauss in the history section of his website:
"The development to set up large horn-loaded active PAs for concerts was well under way but the economics of supplying sound was not viable. Often done for no cost, the best that could be achieved was to cover transport and insurance; Lenard staff donated their time for the festivals. ... these days it's hard to imagine how resistant entrepreneurs and venues were to spending money on sound. Typically there were large budgets for lighting and if something was left over it was grudgingly spent on sound, and then with a concerted effort to avoid paying."

"Strauss amplifiers in Melbourne by Gary Nessel and John Woodhead were on a smaller scale and experiencing the same difficulties. By hindsight it was evident that the two companies which were complimenting each other should have combined. This single oversight was to change the course of their history."(3)
An email on the OzValveAmps site from guitarist Tony Naylor (Ida May Mack Band of Tabalene, Bootleg Family Band, Avalanche) confirms that a number of leading Melbourne-based musicians used Strauss amps in the early '70s. Tony bought a Strauss Warrior valve model that had originally belonged to Lobby Loyde and was then bought by Phil Manning. According to Tony, Lobby pursued him relentlessly to get the amp back and he sold it back to Lobby in 1973; at last report it was still in the possession of Lobby's son in Brisbane. Tony's email reported that Strauss gear was also used by Rob Mackenzie (Mackenzie Theory). In 1975 Tony bought a solid-state Warrior that had been made for Mike Rudd (Spectrum, Ariel) and he used this for several years in the Bootleg Family Band and Avalanche before selling it in 1979.
In the 1970s Nova expanded its operations into the manufacture and hire of public address systems, developing the renowned Nova NC4 system, one of the world's first composite speaker systems. Through the 80's Nova equipment (speaker systems, drive, amplification, consoles, etc) was used on tours by many leading touring artists. Nova Sound changed its name to Nova Hire and the company still operates today from premises in Mooroabbin, Victoria.
References / Links
1. OzValveAmps website
http://ozvalveamps.elands.com/strauss.htm
2. juliusmedia: "30 Years of Sound and Lighting. The early years ..."
Grahame Harrison, Colin Baldwin and Julius Grafton
http://www.juliusmedia.com/cxweb/article.asp?ID=91
3. Lenard Audio - History
http://www.lenardaudio.com/education/18_history.html
4. Nova Hire website
http://www.novahire.com.au/