Australia's leading lighting and sound company for over 30 years, Jands was a pioneer in the industry and one of the few local companies that have survived and thrived from those early days. Jands' has also had international influence, not only through its own business activities, but also via the later careers of two of its former staff, Bruce Jackson and Howard Page, who are among a number of Aussie road warriors (including Billy McCartney, the late Wane 'Swampy' Jarvis, and Clive Coulson) who cut their teeth on the thriving local live circuit of the Sixties and early Seventies and who went on to very distinguished careers overseas.
Jands was originally called "J & S Research Electronics". The initials were those of the two founders, who met at Sydney's Vaucluse Boys High School, where they began . The "J" was Bruce Jackson, who is now one of the world's most experienced and respected live sound engineers. The "S" was Philip Storey, who remained with the company for many years and went on to design many Jands products. In June 1967, Jackson and Storey began lighting parties in backyards with the help of university friends and this led them to form their own company.
Bruce Jackson: As a kid, I had an electronics lab under my house in Australia. A small group of kids from school enjoyed electronics -- we would go to the Army/Navy disposal stores to scrounge for components. Our group built an AM radio transmitter with a ridiculously long antenna stretching from one end of our school to the other that we operated after school, right along side our favourite pop station. We didn't realize that we had made a super-efficient combination of antenna, funky old tubes (valves to us), resistors, capacitors and inductors. Instead of broadcasting our student radio show to the neighbourhood, we were broadcasting over most of Sydney. Then the Aussie "Feds" [the PMG] busted us!
I was studying electrical engineering [at university] and only made it to first year. What I learnt did help me a lot, although in hindsight I wish I had some of the tools school would have given me. As it was, I read lots of books and magazines, and because of an intense interest in the different areas of science, I was able to teach myself everything I needed to know to achieve whatever the task at hand was.

The beginnings of JANDS doing shows at the local university [UNSW] ... Two of us from that same high school group went on to start our own sound and lighting company at age 18. Phil Storey and I dropped out of university, and with $50 each, registered the company at my home address. We operated out of my bedroom (in a boat shed) before we could afford to move to real premises above a nearby shop.
The company was initially called J & S Research Electronics, until someone suggested the name JANDS. We designed and manufactured all sorts of lighting, guitar amps and PA gear, in addition to starting a light and sound rental division.
We were building custom psychedelic lighting gear for a guy named Ellis D. Fogg. We then went out on our own and started making guitar amps, strobe lights and color organs. We literally started with $50 each, made the printed circuit boards ourselves, all the way to stuffing the printed circuit boards with components and screen printing the front panels. At the time there was no one else doing it.
Our PA system consisted of full-range loudspeaker columns and amplifiers with simple tone controls. No crossovers necessary, and what passed for equalization (we didn't even call it EQ back then) was just bass and treble knobs. If you couldn't do it with bass and treble then you were out of luck mate!
It was lots of hard work... and a really interesting world at the time. It was around the time of the Vietnam War and there was lots of R&R going on in Australia. We were doing shows in all the little sleazy clubs up and down Kings Cross. It was a great time for bands in Australia, because they could get lots of work. So the live music scene was jumping, and we were busy doing lights, sound and designing lighting and sound equipment for sale.
In late 1969 Bruce sold his share of Jands to Paul Mulholland and Eric Robinson. Not long after, he met famed American audio engineer Roy Clair (founder of the Clair Brothers company) when Roy toured Australia with Blood Sweat & Tears in 1970, and this meeting led Bruce to the USA to work for Clair Bros.
"I started working with overseas acts, such as Bill Cosby, Odetta, along with interesting local projects, such as the local Daly Wilson Big Band. When Roy Clair turned up in Australia, it was my first introduction to big PA systems, although in hindsight, it was actually pretty small. He brought the sound system with him because there was nothing in Australia. The PA was the first we had seen of a horn system in Australia. Before his arrival, he had the "W" bass boxes built to save shipping weight, and its affiliated costs.
Everything before that was the stuff that we used to make, which was columns. Dynacord and all these other companies were just basically producing speaker columns. I knew a way through the back fence [those were the days! - Ed.] and so I took a friend of mine, Russell Dallas. We climbed over, checked it out, and were just amazed. So I went up and started talking to Roy Clair.
They were a very small company, but Clair Brothers was now by far the most dominant sound company, and he said that he would like to leave the PA here and do a Johnny Cash tour coming up. It was going to be about six months later, and he asked if I would I mind looking after it and helping him out. I was glad to do that and learn about the new technology.
I ended up doing that tour with him, and he said, 'When you come across to London, stop off in the States if you like, and visit.' And so I did, and ended up staying. I was very young, but helped out with electronic ideas and designs, and also went out on the road as an engineer. It was at the same time when Elvis Presley had just started touring again, and was using different sound companies at different areas, like a regional situation. And fortunately, everything went well when I did the shows.
Roy put four 15-inch woofers in the two W boxes, added his multi-cell mid-range horns and "bullet" superhigh tweeters to make a three-way system. The show was outdoors, and I was very impressed; although in retrospect, the Altec (Lansing) 1567 tube mixers, Altec cut-only EQ and domestic crossover by Pioneer were pretty basic by today's standards. I kept the sound system in Australia and did a tour with Johnny Cash, Mother Maybell, and the Carter Family, along with the Statler Brothers and Carl Perkins."
After going to work for Clair Brothers, during the early '70s Bruce was the front-of house (FOH) engineer for Elvis Presley for six years, and later worked for Diana Ross and Fleetwood Mac. He was Barbra Streisand's sound designer/engineer for a decade (she has described him as "the best sound engineer in the world") and FOH engineer for Bruce Springsteen from 1978-1988. He returned to Australia in the mid-70s to set up a rival to Jands, Clair Brothers Australia, but went back to the USA a couple of years later. He later set up Apogee Electronics. In 2000 Bruce came back to Australia as FOH engineer for Barbra Streisand's farewell tour and the same year he was invited by Ric Birch to work as the audio director for the Sydney 2000 Olympics opening and closing ceremonies. Currently based in Los Angeles, Bruce is senior vice president of research at Lake Technology.
---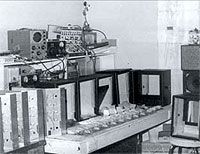 Right: the fledgling Jands production line.
Meanwhile, back at Jands (then operating from above a shop in Rose Bay) the new team of Paul and David Mulholland, Eric and Eddie Robinson and Phil Storey continued with the company's core operations, lightshows and audio hire, but they began to expand the sound reinforcement business and the manufacture of their own products.
At the time, few local companies were offering such services and the field was led by John Burnett's company Lenard, founded in Sydney in 1966. Lenard amps and PA systems were the best locally-made equipment available at that time and they were widely used by major groups including Doug Parkinson In Focus, Tamam Shud and Billy Thorpe & The Aztecs. Lenard also supplied the PA systems for two of the most important outdoor concert events of the including the Ourimbah "Pilgrimage For Pop" Festival in January 1970 and the Deep Purple-Free-Mannfred Mann tour in 1971. It is probable that Lenard would have maintained its leading position and improved its technology, but sadly the company was forced out of business due to internal problems in 1972.
Before the early '70s concert PAs were mostly designed as large columns or boxes, fitted with banks of identical wide-range loudspeakers. It was some time before local companies were able to provide systems featuring the horn and "W bin" bass speaker combinations that later became the standard set up. As Bruce Jackson noted above, the tour that opened the eyes and ears of local techs was Blood Sweat & Tears, who toured with state-of-the-art JBL sound system (designed by Roy Clair), exposing Aussie audiences to a new level of sophistication and fidelity in concert sound. For cost reasons, the larger components of that system had been built locally before the tour and it remained here when the tour ended, providing the template on which local firms could model their new PA systems. The Clair Bros gear (together with lighting rigs built by Billy McCartney in Melbourne) became aprt of the system that serviced tours promoted by Paul Dainty in the early 70s.
By the time Elton John made his first Australian tour in October 1971 Jands was in full swing and was able to provide a high-quality 600-watt horn PA system, superior than anything available before. It was at the time the largest outdoor PA system ever assembled in Australia.
Their success with these overseas artist tours gave them the experience and equipment to provide the PA system for the famous Sunbury rock festivals, which rtan from in 1972 to 1975, with Howard Page providing the FOH mix.
However Jands faced difficulties in obtaining supplies of the prized JBL speakers, mainly due to the sluggish attitude of the import agent. That company finally lost the agency in 1973 and it was picked up by the Jervis company (later Harman). Jands itself eventually took over the JBL agency in 1984. Before long before local groups such as The La De Das were purchasing Jands' $6000, 600-watt JBL PA systems.
In its early years, Jands core team was:
Philip Storey, the firm's co-founder, who created many designs for the company and later became technical planner for the Nine television network
Paul Mulholland, an engineering graduate from Sydney
Eric Robinson, a former employee of the 3M company
Eric's brother Eddie Robinson
chief sound engineer Howard Page. Page pioneered the company's sound direction and who for many years personally mixed all the major shows for which Jands supplied PA systems. A leading designer as well as one of the world's top live sound engineers, Howard has been FOH engineer for many major acts including Sky and Sade and for ten years (1988-98) he was vice president of audio productions for Clair Brothers' ShowCo subsidiary
sound mixers David Mulholland (Paul's brother) and John Bee
Peter Rooney, the firm's main roadie, who went on to become the lighting director for LRB for many years, before relocating to S.E. Asia
Robert Young, carpenter, who later became the firm's accountant and eventually its general manager.
The sound hire proved very successful and profitable and Jands was able to make significant savings when setting up its stock of hire gear by creating by building its own electronics and speaker enclosures.
Eric Mulholland: "We used to build for our own use, because the duties were so high. We were paying up to a 50% import duty, so it made sense to build our own, and --because I think we built reasonably good stuff -- other people would buy it."
Even so, the company's sales section ran at a loss for the first five years. Eric Mulholland later suggested that some of this was due to the poor reputation of locally-made equipment, although he did concede that their products may not have been quite up to the high standards of the best overseas gear. In 1973 the manufacturing and sales part of the operation formally split from the rental division, now called Jands Production Services, but the co-owned companies maintained a close relationship.
Interestingly, when Jands first started making its own gear, its products were roughly the same price as imported equipment, but by 1980 Jands prices had fallen to about two-thirds of its imported rivals, making them far more competitive. This is a particularly interesting figure, considering that virtually all locally-made domestic electronic goods, and the companies that made them, were killed off in the late Seventies by major reductions in tariff protection and increased competition from overseas.
In the early 70s Jands relocated to the Princes Highway at St Peters, Sydney, and it remained based in the area until the late 1990s. More recently, the company moved to new premises in Mascot, and its activities have also expanded into theatre, TV, corporate and sporting event production. Jands' high-quality service in sound and lighting for both international and local touring acts, combined with its innovative range of Australian-designed and built products, have given Jands an enviable international reputation and made it one of the outstanding success stories of the Australian music industry.