Above left:

A young man going places. Kenn at his desk in the Aztec Services office in Flinders Lane, Melbourne, 1953. This was one of his favourite photos.


Above right: Kenn in his office in 1998 with programs from some of the many shows he promoted. (Images kindly provided by Judi Parr)
History
Kenn Brodziak OBE (1913-1999) was a leading figure in Australian entertainment for almost fifty years and he played a major role in the industry as a concert and theatrical promoter. He will always be known to most Australians as the man behind the The Beatles tour of 1964, but over the course of his long career Kenn was involved in almost every aspect of the Australian entertainment industry. He was the founder and managing director of the promotions company Aztec Services (1946-79) and later of the venerable J.C. Williamson Productions Ltd (1976-80). He was involved in many famous Australian stage shows and promoted concert tours by many famous local and international artists. Kenn was also a keen collector of Australian numismatics and he also assembled a significant collection of show business memorabilia.
Kenn started out in show business in 1945 as an assistant producer on the local vaudeville circuit. He established Aztec Services a year later to promote tours by overseas acts. He mounted scores of successful tours by both overseas and local acts, including Winifred Atwell, Gene Pitney, Marlene Dietrich (his favourite performer), Normie Rowe, The Seekers, Freddy & The Dreamers, The Easybeats, Pat Boone, Fabian, Cilla Black, The Dave Clark Five, Duane Eddy, Robert Morley, Bob Dylan, Lonnie Donegan, Cliff Richard, Dave Brubeck, Marcel Marceau, Eartha Kitt and Jack Benny -- a tour which reportedly netted Kenn a profit of 10 shillings!
Kenn's biggest coup as a concert promoter was The Beatles, whom he signed during a talent-scouting tour of England in July 1963. The group were still largely unknown outside the UK at that time, and Kenn initially signed them for a tour as part of package deal -- he made an agreement for the artists he wanted on condition he also took on the up-and-coming Liverpool group. Four days before Brian Epstein gave his verbal agreement for The Beatles to come to Australia, the group recorded "She Loves You", the song which sparked off the global explosion of Beatlemania. Eleven months later, when The Fab Four landed in Australia, they had already scored twelve hits in this country, and during one week in early 1964 they held all of the top six places in the Top 10.
The original contract price for the 16-day tour was £1,500 but by the time the formal contract was signed on 2 December 1963, Epstein had raised the price to £2,500. Although he was often criticised for his business dealings after his death, it's notable that Epstein honoured his original verbal agreement with Kenn -- by that time he was being offered up to fifty times as much to sign The Beatles for another US tour.
"I had heard Brian Epstein was an honorable businessman," Kenn recalled in the 1980s. "One of the first things that George (Harrison) said when the band arrived in Sydney was, 'You got us at the old price, didn't you?' I said 'Yes', but he didn't seem to mind."
Years later Brodziak acknowledged that, in spite of his many other achievements, bringing the Fab Four to Australia would be his epitaph:
"It used to annoy me that people only knew me for bringing The Beatles here," he said in 1998. "Now I realise what a landmark moment that was. There will never be another group like them."
In the early Sixties, as the new wave of rock music swept the world, local promoters were soon competing fiercely with each other to snag the top pop acts. One of Brodziak's main rivals in this period was New Zealand-born entrepreneur Harry M. Miller. According to Miller, there was a lot of "low voltage friction" between them as concert promoters, although they eventually became good friends and business partners.
After arriving in Sydney from New Zealand in the early Sixties, Miller formed Pan-Pacific Promotions with Keith and Dennis Wong (owners of the famed Chequers nightclub) and they had some early success promoting concert tours using Chequers as their base. Miller managed to get the jump on Brodziak's Beatles triumph by signing a batch of leading pop acts for the "Liverpool Sound" package tour which toured in early 1964, and which featured Gerry & The Pacemakers, Brian Poole & The Tremoloes, Dusty Springfield and Gene Pitney. According to Miller's 1983 memoir, Brodziak was incensed by the timing of the tour and responded by putting Beatles tickets on sale at the same time as the Miller show, and he even accused Miller of stooping to "low tactics" when a group of students staged an impromptu demonstration aross the road from The Beatles' Sydney hotel in support of another of Miller's touring acts, classical pianist Artur Rubenstein.
In 1965 Miller and Pan-Pacific were 'one-upped' in 1965 when Brodziak signed an exclusive partnership deal with Stadiums Ltd, which owned most of the large capital city venues including the Brisbane and Melbourne Festival Halls and the Sydney Stadium. The Aztec-Stadiums deal effectively locked Pan-Pacific out of these major venues at key times, including the Xmas and Easter periods, so Miller countered by signing The Rolling Stones for their first Australian tour, against stiff competition from Brodziak. He was also able -- albeit at considerable expense -- to sidestep the Aztec-Stadiums deal by leasing and renovating the Manufacturers' Pavilion at the Sydney Showground.
Brodziak repsonded by announcing another major package tour starring The Kinks, Manfred Mann, The Honeycombs and Tony Sheveton, which he scheduled to coincide almost exactly with the Stones tour -- in fact the two shows played on the same night in Brisbane -- and he put the tickets on sale on the same day day as those for the The Stones tour. More successful tours followed for both companies, and Kenn scored another major coup in late 1965 when he signed superstar Bob Dylan for an Australian tour. This was the first leg of Dylan's now legendary 1966 World Tour, the watershed period of his early career, when he toured his controversial new electric material with the backing of The Hawks (who later became The Band).
By 1967 the pop boom was fading and tour costs were rising. After Pan-Pacific was wound up and Miller started his own company, Harry M. Miller Promotions Ltd, he made peace with his former rival and joined in a three-way partnership with Aztec Sevices and Stadiums Ltd to promote pop tours:
"Commercial expediency ended the feud between me and Stadiums-Aztec. The business was in a slump and there was enough to divide between two major promotional organisations and a number of smaller ones. Kenn Brodziak and I shook hands on a deal which created a temporary triumvirate, Miller-Stadium-Aztec, although we still squabbled about the billing. It was the beginning of a long friendship and business relationship between Brodziak and me, although not an altogether smooth one. I soon found that Kenn was a fantastic loser, but a nightmare when our shows were making money. He was capable of writing a ten-page letter over a tiny discrepancy in the accounting of a hit show, but if we made a heavy loss he simply sent a cheque to cover his share and said something like 'We must find something else for next season'."
According to Miller the partnership "made a bundle" on their first venture, a tour by Eric Burdon & The Animals, but they lost heavily on two major 1968 tours which should have been major sucesses -- The Monkees tour and the controversial Big Show tour featuring The Who, The Small Faces and Paul Jones.
During 1968 Brodziak, Phillip Productions and Harry M. Miller jointly aquired the Australian rights to The Boys In The Band, a breakthrough comedy-drama by American playwright Mart Crowley, which dealt frankly with homosexuality and featured a number of 'expletives' in the script. It was the first mainstream play produced in Australia to deal with the topic and to present openly gay characters in a naturalistic, sympathetic and non-stereotyped way. These days it's doubtful that the either the subject matter or the language would raise any eyebrows, but in the conservative social climate of the late 1960s it was almost guaranteed to cause a stir. Miller was particularly concerned because he knew that a recent Old Tote production of the three-part play America Hurrah! had been been forced to censor the script after it was threatened with closure over the use of "obscene" language by the then Chief Secretary of NSW, Eric Willis.
Despite Miller's concerns, The Boys In The Band ran very successfully for seven months in Sydney and won major critical awards. In early 1969 the production transferred to the new Playbox Theatre in Melbourne (which was, remarkably, Australia's first licenced theatre) but it was here that the play ran into trouble. In the middle of the third week of the Melbourne run, two Vice Squad detectives attended a performance, and were seen to take copious notes throughout. After the show three of the cast -- actors John Krummel, Charles Little and John Norman -- were charged with using obscene language in a public place. When the case came to court, the magistrate Mr R.J. Kelly found the charges proved but said the offences were of "so trifling a nature that it is inexpedient to inflict any punishment and without proceeding to conviction, the information is dismissed."
The Victorian Crown Law Department appealed to the Victorian Supreme Court, where Kelly's decision was overruled by Mr Justice Little, who referred the case back to Kelly for the imposition of penalties. Kelly was obliged to fine Krummel and Little a total of $25 and Norman $10. Miller appealed the Supreme Court ruling, but this was eventually dismissed. By this time the play had finished a successful thirty-five week run in Melbourne and was playing a return season in Sydney -- its popularity no doubt greatly boosted by the controversy.
In 1969 Kenn made one of his biggest theatrical coups whenhe became a major partner in the syndicate that backed Harry M. Miller's now-legendary Australian production of Hair. According to Miller's memoirs, the investors made their risk capital back within ten weeks, and over the run of the show they made a profit of over 600%!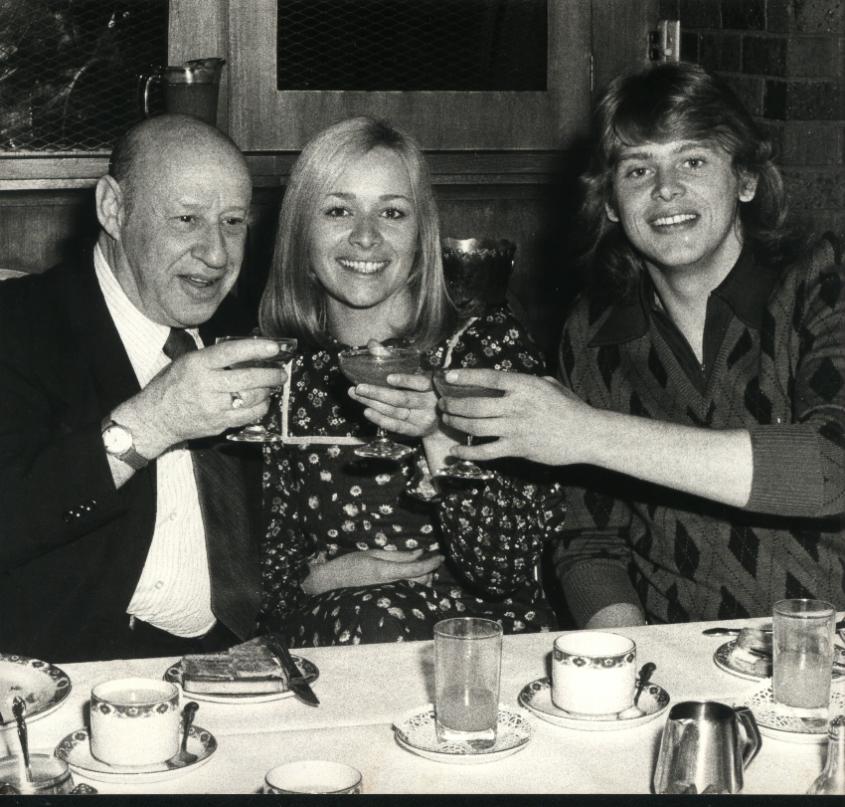 In the early 1970s Kenn produced many important stage shows including Godspell and Canterbury Tales. He took a punt on the show Charlie Girl by casting teen idol John Farnham in a major role and susequently starred Farnham again in the musical Pippin. He also gave pop star Samantha Sang (formerly Cheryl Gray) her break into musical theatre when he cast her in a leading role in the The Magic Show.
During this period Brodziak was also a mentor to a rising young English promoter called Paul Dainty, who was then establishing hismelf as an independent promoter and who rented his first office from Brodziak. Interviewed for Stuart Coupe's book The Promoters, Dainty remembered Kenn as "a canny, smart impresario ... he was the classic: cigar smoking, very wise and a very nice guy."

Left: Kenn, Colleen Hewett and John Farnham toast the success of the musical Pippin in 1974.
In 1974 Kenn teamed up once more with Harry M. Miller to promote an Australian tour by teen idol and TV star David Cassidy but according to Miller he and Kenn both lost money on the tour, and these were to be Miller's last pop concert promotions.
In 1976 Kenn headed the consortium consisting of Aztec Services, Stadiums Ltd and Edgley International, which purchased a controlling share in the famous theatrical firm J.C. Williamson Productions Ltd. The directors of the new organisation included Lady Viola Tait, widow of Williamson's long-serving director, Sir Frank Tait. The new company presented plays and musicals including A Chorus Line, before moving into concert promotions. In 1984, Willamson's was acquired by the Danbury Group.
From 1976 to 1978 Kenn was the personal manager for John Farnham, after John split from his original manager Darryl Sambell.
In 1998, Kenn and fellow promoter Edna Edgley received the inaugural James Cassius™ Award from the Australian Entertainment Industry Association for their outstanding lifetime contributions to Australian live entertainment.
Kenn Brodziak died at his West St Kilda home on 3 June 1999, aged 86. Paying tribute to him, Jill Perryman lauded Kenn's role in Australian theatre:
"Kenn will be irreplaceable. He will always be very special to me."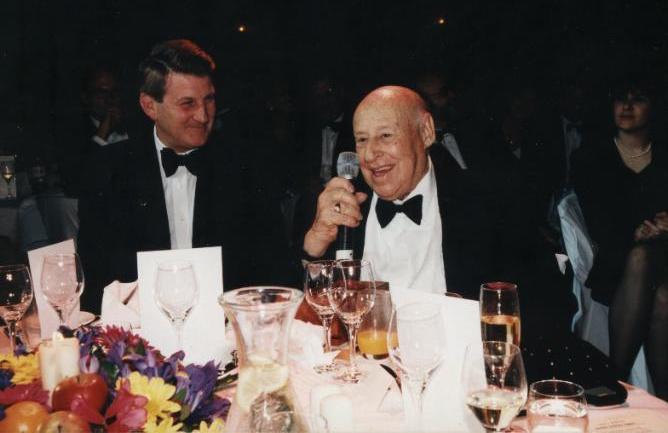 References / Links
Our sincere thanks to Kenn's niece Judi Parr, who kindly provided the images for this article. More information about Kenn's life and work can be found in the book On With The Show, written by former Victorian Premier John Cain.
Harry M. Miller with Denis O'Brien
My Story (Macmillan, 1983)
John Cain
On With The Show: A glimpse behind the scenes of entertainment in Australia (Prowling Tiger Press, Melbourne 1998)
EBid Newsletter
http://www.ebid.com.au/custom/newsletters/April%202002.htm#Brodziak
"Beatle Hero Dies At 86"
http://www.geocities.com/penneylayne/news/1999/lennonguitar.html
"Rock Snaps"
http://www.abc.net.au/arts/rocksnaps/essay/overseas.htm
immedia
http://www.themusic.com.au/im_m/archive/1999/990608-163/eliezer.html
Stuart Coupe
The Promoters (Hodder Australia, 2003)