KING FOX
Sydney, 1967-70
Dave King (vocals, guitar, harmonica)
Paul Radcliffe (flute, vocals, guitar, Mellotron)
Billy Field (bass, vocals, guitar)
Andy Evans (drums)
Peter Muller (vocals, organ, piano)



History

King Fox is one of the archetypal Australian "could have been" bands. This young group, bursting with talent, emerged at the very end of the Sixties as psychedelia was evolving into progressive rock. They enjoyed a brief burst of fame and success in 1969 after they won a local band competition, which led to their superb debut single "Unforgotten Dreams" becoming a major hit in their hometown of Sydney.

King Fox would almost certainly have gone on to greater things if the band had endured, but unfortunately it came to an abrupt end early in 1970, only days after completing the recording of the tracks for their planned first LP. Despite the band's premature demise, "Unforgotten Dreams" remains a much-admired and groundbreaking Aussie record, long acknowledged as one of the classics of Australian 'psych/prog' genre -- Ian McFarlane rates it alongside Russell Morris' "The Real Thing" and The Dave Miller Set's "Mr Guy Fawkes" -- it's been featured on several major compilations of Australian '60s pop-rock including Festival's So You Want To Be A Rock'n'Roll Star, Raven's Sixties Downunder (Vol.2) and Ace's Peculiar Hole In The Sky.

The nucleus of King Fox was multi-instrumentalist Paul Radcliffe and guitarist Dave King (then aged 14). Ca. 1967 they formed a casual band with schoolmates Chris Pokorny (bass) and Andrew Johnston (drums). This lineup gigged for about six months, honing their chops on the obligatory blues and R&B repertoire, and it was during this period that Johnston came up with the name King Fox. When Chris and Andrew left, Paul and Dave began looking around for replacements and Dave's mum mentioned that a friend of hers had a son, Billy, who was "making a lot of noise with guitars". Mrs King organised a meeting with Billy Field, who was a student at Sydney's Cranbrook school (also the alma mater of renowned pop artist Martin Sharp).

The three hit it off immediately -- Billy proved to be a good musician and, almost as importantly, he owned his own amplifier -- and he became the band's bassist. Not long after, Dave and Paul wrote their first song together, "Timepiece", and they recorded a rough demo at Billy's house. The boys immediately felt they had created something special, although not everyone was so impressed -- Dave King recalls that their music teacher hated it -- but another teacher, Miss Morris, declared it "absolutely amazing" and gave the trio lots of encouragement.

A few months later the boys spotted drummer Andy Evans playing at a neighbour's house. He impressed them with his ability -- notably the fact that he could play The Ventures' "Wipeout" -- and they immediately "begged him" to join. Andy's friend Peter Muller was a guitarist, but since King Fox already had three guitarists, Peter was persuaded to buy an organ and became the group's fifth member. Muller's arrival proved to be the turning point for the young group -- a few months later, he entered the band in "New Sounds of 69", a talent competition being run by Sydney commercial radio station 2UW.

The 'New Sounds' competition was the brainchild of enterprising independent producer Martin Erdman, owner of the World of Sound record store and studio at Ramsgate, in Sydney's southern suburbs. Martin was a self-taught electronics and audio wiz who had recently launched his own label, Du Monde and in early 1969 he came up with an ingenious way of promoting the new label. He approached 2UW (then Sydney's top pop station) with the idea of a band competition, in which new groups would tape studio recordings at Martin's studio. The best tracks would then be played on 2UW every Friday afternoon on Ward 'Pally' Austin's shift on , and the original idea was that the ten acts who generated the biggest response would have their songs released as singles by Du Monde. The reality turned out to be a mammoth undertaking, and as Andy Evans notes, Martin's organisation of the task was "a minor miracle". Over the weeks of the competition, almost two hundred local bands descended on the Ramsgate studio, with the restriction that they had just one hour to set up, record two songs and lug out to make way for the next band.

King Fox came to Martin's studio to record another Radcliffe-King original, "Unforgotten Dreams", and the group had the song down on tape within an hour. Although the influences are not too hard to detect (notably Traffic and The Zombies) it was a strikingly accomplished effort for such young musicians, and frankly incredible for a first effort in the studio. The atmospheric arrangement was highlighted by Paul's haunting flute, which was counterpointed by Dave's stinging guitar lines. As producer and engineer, Martin Erdman achieved amazing results, especially considering the relatively basic equipment he was using at the time -- the master was recorded on Martin's valve-driven Revox 2-track (which he still owns) and then mixed down to his mono Ferrograph, using the tone controls of a Quad valve amp as the equaliser, and a Grampian spring reverb

Band and producer felt that they were on a winner with the track, and the public backed them up -- "Unforgotten Dreams" generated a tremendous response when it was played on air on 2UW and DJ Ward "Pally" Austin was so impressed that he played it twice in a row. It was released as a single in April 1969 and shot into the Sydney Top 40, peaking at #5 (or #7, depending on which source you read) and stayed in the charts for more than four months. This was an extraordinary achievement in many respects: King Fox was a virtually unknown amateur band with an average age of 16. Even more significantly, "Unforgotten Dreams" was an original Australian composition (co-written by Paul and Dave) that achieved great success in a period when local bands were expected to record covers of proven songs by overseas acts.

Another especially notable feature was that "Unforgotten Dreams" clocked in at a whopping 4'56" -- almost two minutes longer than the average pop single at that time. Its success is a tribute to the talents of Martin and the band, and also to 2UW and its DJs, who supported the New Sounds competition and were willing and able to play this rule-breaking single at a time when the 'standard' 3-minute duration was an unspoken industry law that only a handful of major groups (like The Beatles) had been able to flout with impunity. The success of "Unforgotten Dreams" swept King Fox up into a whirlwind of public attention, with concert performances in front of thousands of people, press interviews, radio spots and TV appearances on shows like

Bandstand

-- happily, a clip of this appearance survives in the Channel 9 archive. Dave King recalls that they were soon being recognised in the street and were even asked for autographs by their teachers!

Just before King Fox began recording tracks for a planned album, Martin installed a new studio setup -- a second-hand 4-track recorder (purchased from a city studio that was upgrading) and a bank of superseded valve amplifiers and equalisers that Martin purchased as a job lot from radio station 2GB. Over the Xmas holidays in January 1970, they cut a series of ambitious tracks, the first to be made on the new 4-track gear. Unfortunately, it was at this point that reality intruded into the pop dreams of the five young musicians. It's long been reported that the band broke up because the members were devoting too much time to music, and that their instruments were confiscated after their parents discovered that the boys had failed their end-of-year exams. The real story was rather different.

As Paul and Dave recently recalled for the ABC's Stateline, the boys' parents had been happy for them to pursue their music as long as it didn't intrude on their families' privacy or involve their schools. Unfortunately "the shit hit the fan" (as Paul Radcliffe put it) after Sydney tabloid The Sunday Mirror published an intrusive article (sneeringly headlined "Richest band is in the red") that named the boys' schools and mocked their supposedly affluent backgrounds. This proved too much for their parents, and just days after they taped the last track at Martin's studio, King Fox broke up. The multitracks -- which had not even been mixed -- were put into storage, but when Martin moved his studio some years later, the tape went missing. Over the ensuing years, the King Fox album became one of the great lost artefacts of Australian pop.

After concluding their secondary schooling, Dave and Paul briefly revived the band in 1972, and they cut a final single, "I Think You're Fine" b/w "We're Gonna Think Of A Name" co-produced by Martin and Paul Radcliffe, which was released on Festival. It was a another superb effort, featuring lovely flute work by Paul, slashing guitar by Dave and crisp drumming by Andy. While distinctly poppier in tone than "Unforgotten Dreams", it showed the band's great potential was undiminished, both in writing and performing, and it suggests that King Fox might well have emerged as Australia's answer to Focus if history had taken them in a different direction. Unfortunately, the single failed to make any impression on the charts, the band dissolved, and that was effectively the end of the King Fox story for nearly 40 years.

The members of King Fox went in different directions, although most remained involved in music to varying degrees. The best-known name to the general public is of course Billy Field, who has enjoyed considerable success in music -- in 1979 he established the famous Paradise Studios in Sydney, which was one of Australia's top recording venues for more than twenty years; as a recording artist in the early 1980s, Billy became a national star and scored major hits with the singles "Bad Habits" and "You Weren't In Love With Me" (a national #1), and the Bad Habits album, which became one of the highest-selling Australian LPs of the period; he now runs his own studio on the NSW Central Coast. Paul Radcliffe continued as a musician, with credits including the bands Currents and Tank, and he later became a successful producer. Andy Evans is one of Australia's top drummers, who has played with John Robinson's Electric Guitar Orchestra, and his session credits include Leong Lau's cult LP Dragon Man and Marc Hunter's solo debut Fiji Bitter. Dave King moved into business and founded the leading Sydney furniture company King Furniture; Peter Muller became a health care professional, but still plays music in his spare time.

In the early 2000s, after recovering from heart problems and major surgery, Martin Erdman decided to re-launch his career as an independent producer and label owner. He revived the Du Monde label, and established a new company and website called Ozzie Songs & Music, which continues his dedicated interest in promoting and recording original Australian music and Australian performers. One of his first major releases was the definitive 4-CD collection of recordings from the Du Monde years, which included a self-authored CD-ROM bonus disc.

Around this time, while trawling through a storage cupboard, Martin's partner Sandra pulled out a box from the bottom of a pile of tapes. Noting the label, she took it to Martin and asked "Is this the King Fox tape you've been looking for?". Martin realised to his delight that this was indeed the 4-track master of the "lost" King Fox album. Not long after relocating the tapes Martin was able to contact Paul Radcliffe -- whom he hadn't seen in over 30 years and who had spent several years overseas. Martin emailed Paul and within days plans were being laid to mix and remaster the tracks. Fortunately, Martin was able to take the original multitrack master to Festival Records and transfer it to a modern 8-track tape, using Festival's venerable Ampex 4-track machine (which was donated to the Powerhouse Museum soon after). Over the next few years, as time permitted, Martin and Paul worked on mixing and remastering the unreleased tracks and compiling them into an album.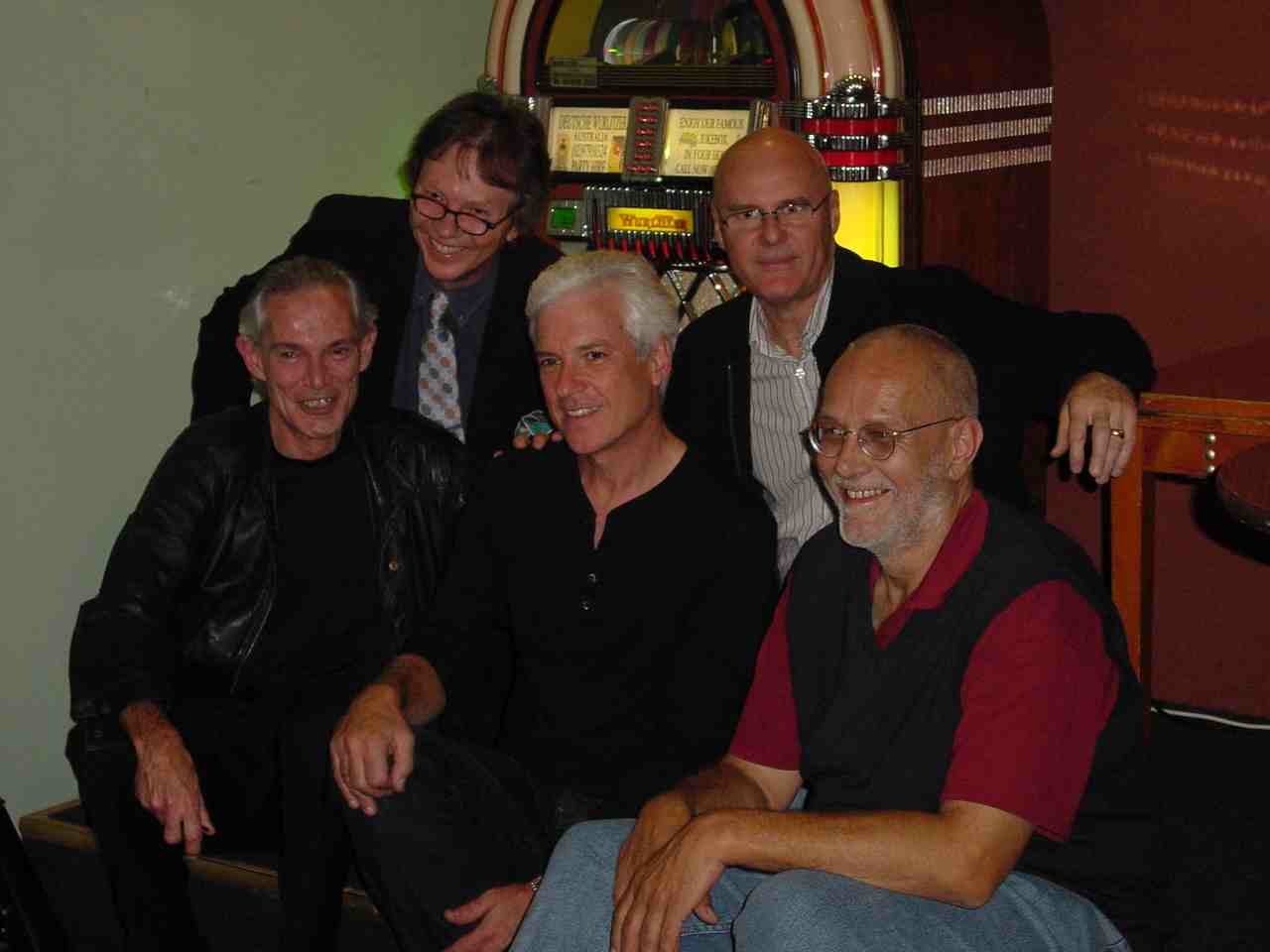 The project was finally completed in late 2007, and the finished CD brought together the "lost" album tracks with the other extant King Fox recordings to create 70207: The Unforgotten Album, which derives its title from the fact that the original album was begun in (19)70 and finished in (20)07. Thirty-eight years after the recordings were made, the album was launched at a special event in Lane Cove, Sydney on 21 May 2008. All five members of King Fox reunited for the first time for the first time in almost forty years, joining Martin and his family, and the night was hosted by Martin's old mate Donnie Sutherland. As an added bonus, the ABC's Stateline program was there to record the historic event, and a feature story on the launch was broadcast the following Friday (it's now available as a transcript on the Stateline webpage and the video of the story has been posted on YouTube).

Right: the members of King Fox reunited after 38 years for the launch of the 70207 CD.
(L-R) Paul Radcliffe, Billy Field, Dave King, Andy Evans, Peter Muller.

The new CD proves that the ambitious album was a truly impressive and groundbreaking effort, and as Billy Field remarked on the night of the launch, King Fox would surely have gone on to greater things if they'd been able to stay together -- on the basis of the 'lost' album tracks alone, it's obvious that King Fox was a band with enormous potential, and they could have easily achieved the same stature as bands like Spectrum, Bakery or Blackfeather, if circumstances had permitted it.

Listening to the rediscovered tracks in 2008, one can't help but be impressed by how adventurous and accomplished the music is. The songs and performances are certainly on a par with recordings of the period by similar local bands like Tymepiece, Tully, Flake or Galadriel (all of which are now highly sought after by collectors) and they compare more than favourably with any of the psych/prog music that was coming out from Europe or America at the time. The sophistication of the music is remarkable, considering that the five lads were all still under 18 at the time. The quality of the restored recordings is a glowing tribute to Martin Erdman, who is one of the true unsung heroes of Australian music. The members of King Fox have praised Martin for the time, effort and enthusiasm he invested in their recordings, and the new CD clearly demonstrates his genius as a producer-engineer. His creativity and his relaxed and easy-going manner in the studio helped the boys achieve extraordinary results with very limited resources.

Listening to the tracks in 2008, you can't help but be amazed by the soundscapes Martin was able to coax from his equipment. The original album was conceived as "a psychedelic rock symphony", a kaleidoscopic six-part suite that includes the full-length (7:34) version of "Timepiece" -- the very first song that Paul and Dave wrote together -- and another superb extended track, the epic 9-minute concept piece "Listen Girl" (orginally dubbed "Dave's Concerto"). All the tracks feature the de rigeur production tricks of the time -- phasing, reverse tape, echo and sound effects. In his notes for the new CD, Ian McFarlane wryly comments that, if it had been released at the time, the King Fox album would probably have suffered the same fate as many other Australian progressive albums of this period:

"... my guess is that it would have sold out a modest pressing of 500 copies, been duly forgotten about until rediscovered by pop-psych aficonados and collectors in the 1980s and would now be changing hands for three-to four figure sums on eBay."

It is to be hoped that the CD does well, but whatever its sales figures, the most important aspect of the story is that the completion and release of the album have been a deeply rewarding experience for the members of King Fox and Martin Erdman. It has not only given them a sense of closure, but has resulted in something they can be truly proud of. On that note, it's appropriate to conclude with the remarks Billy Field made at the album launch:

"I think it's really fantastic. And it makes you realise that if we'd have all stayed together as a band we would have done some wonderful things, but it's wonderful in itself and that's it, you know, it's the end of the episode."


Discography

Singles

April 1969 (Du Monde SDM-307)
"Unforgotten Dreams" / "Alone So Alone"

1970

(Du Monde SDM-317)
"Timepiece" / "Will You Love Me Tomorrow"

1972 (Festival FK-4708)
"I Think You're Fine" / "We're Gonna Think Of A Name"

EPs

1970 (Du Monde DMX-11789)
Unforgotten Dreams
"Unforgotten Dreams" / "Alone So Alone" // "Timepiece" / "Will You Love Me Tomorrow"

Albums

21 May 2008 (Du Monde KF-70207)
70207: The Unforgotten Album
Part A: "A Psychedelic Rock Symphony in six parts" (mixed by Paul Radcliffe in 2007)
1. "Timepiece" (long version)
2. "Listen Girl"
3. "Copernicus"
4. "All Is Gone"
5. "You Gave Her Everything"
6. "Refelections Of Love"
7. "Interlude (We're Gonna Think Of A Name)"

Part B: singles and bonus tracks
8. "Unforgotten Dreams"
9. "I Think You're Fine (Jenny Gray)" (1983 stereo remix)
10. "Hourglass"
11. "Never Felt Like This Before"
12. "Alone So Alone"
13. "Will You Love Me Tomorrow"
14. "The Spell" + "Timepiece" (reprise)

Original recordings produced and engineered by Martin Erdman at World Of Sound Studios, Sydney.
Reissue produced by Martin Erdman and Paul Radcliffe.

References / Links

Sincere thanks to Martin and Sandra Erdman and family, all the members of King Fox and their families, and Narrell Brown.

Acknowledgments and thanks for additional information sourced from the liner notes to 70207, which includes articles by Martin Erdman, Ian McFarlane, Glenn A. Baker and the members of King Fox.

Martin Erdman's CD Ozzie website
http://www.cdozzie.com/kingfox/

ABC TV - Stateline
Text transcript of King Fox feature story
http://www.abc.net.au/stateline/nsw/content/2006/s2254466.htm

YouTube
ABC Stateline King Fox feature story (video)
http://www.youtube.com/watch?v=59JUT0PaMcg

Ross Laird / Screensound
The Sixties: Australian Rock & Pop Recordings 1964-1969

Ian McFarlane
Encyclopedia of Australian Rock & Pop (Allen & Unwin, 1999)

Chris Spencer, Zbig Nowara & Paul McHenry
Who's Who of Australian Rock (Five Mile Press, 2002)

Vernon Joyson


Dreams, Fantasies & Nightmares: Australia (Borderline Books, 1999)