HEART'N'SOUL
Sydney, 1967-71

Original lineup, 1967:
Leith Corbett (bass)
Graham Lewis (drums)
Percy Ohrling (sax)
Philip Prideaux (horns)
Rory Thomas (organ)
Graeme Willington (vocals)
Ian Willington (guitar)

Lineup on Hot Boogie Band LP (1970):
Bernie McGann (alto sax)
Allan Blakers (alto sax)
Keith Barr (tenor, sporano, oboe, piano) - ex Nutwood Rug Band, Quill
Lindsay Farr (baritone, tenor, flute)
Greg Foster (trombone, harmonica)
Philip Prideaux (trumpet, French horn)
Geoffrey Hapgod (trumpet)
Ian Willington (electric & acoustic guitar)
Arthur Eisenberg (bass) Dr Kandy's Third Eye, Company Caine
Charlie ? (bass on "Yeah Go)
Les Gough (bass on "Pigs")
Richard Price (violin, tenor recorder)
John Pochee (drums of "Yeah Go")
Bruce Dwyer (drums)
Eric Cairns (drums) ex Somebody's Image, Company Caine
Larry Taylor aka Larry Duryea (congas, log)
Graeme Willington (congas, bongos, vocals, leader)

Other known members, 1969-70:
Dale Cleary (organ)
Bobby Gebert (piano)
Geoff Houghton aka Naughton
Craig Manuell (organ)
Tony Nelson (drums)
Geoff Oakes (sax)
Percy Ohrling (sax)

Jamie Rigg (organ)
Phil Rigg (bass)
Peter Sheehan (piano, organ) 1970
Rory Thomas (organ)

History
Heart'n'Soul started out as a dinner-suited club/cabaret band in Sydney in 1967 but it soon evolved into Australia's first -jazz-rock 'big band' and the first local group to perform what has become known as jazz-rock fusion. Like several other larger outfits of the period, they were strongly influenced by 60s soul acts on Motown, Stax and Atlantic, and probably also by the soul-jazz-rock excursions of American band Blood Sweat & Tears, as well as more experimental outfits like the UK bands The Graham Bond Organisation and Colosseum.
HnS were early local experimenters with the trend for large-scale, jazz-oriented brass-augmented pieces, a style that was continued by later groups Nova Express, SCRA and Kush and the Daly-Wilson Big Band. But for most people Heart'n'Soul will be best remembered for their single Lazy Life, which was a Top 20 hit for them in Sydney in 1969.
They were a fixture on the vibrant inner-city club and disco circuit ca. 1969, and according to Ian McFarlane, they also "enthralled festival audiences with rock versions of the 1812 Overture, Bach's Brandenburg Concerto, Also Sprach Zarathrustra and MacArthur Park." Glenn A. Baker notes that they were also renowned for the concert piece The Music Will Screw, a free-form conga/flute sexual sound-effects suite, and they also began employing costumes and props -- this proved so startling for some that they were in fact thrown out of a dance at Hornsby by the police after making a dramatic entrance complete with chains and a coffin!
H'n'S were also very similar to some other groups of the period (e.g. Levi Smiths Clefs) in that the group was a training ground for many musicians who went on to bigger and better things. Around thirty musos passed through the ranks during the band's brief life; it started as a seven-piece by by the time they recorded their only LP it had expanded to twelve; eventually the financial strain of keeping such a large unit on the road was to become untenable.
The original line-up consisted of the Willington brothers, Phil Prideaux, Percy Ohrling, Rory Thomas, Graham Lewis and Leith Corbett. Among the noted musicians who passed through the ranks were Keith Barr ( ex-Nutwood Rug Band), session stalwart Bobby Gebert (paino), Eric Cairns and Les Gough (ex Somebody's Image), jazz legends John Pochee and Bernie McGann, the late Larry Taylor (aka Larry Duryea) who later joined Tamam Shud and Arthur Eisenberg, ex-Dr Kandy's Third Eye and later of Company Caine. Keyboard player Peter Sheehan, who joined during 1970, had come from NZ band Freshwater, for whom he had co-written the A-side of their controversial single "Satan" / "Satan's Woman", which was about the Charles Manson murders.
Heart 'n' Soul issued three jazzy pop Singles on Festival; their second, " Lazy Life", initially broke i Brisbane and became a Top 20 hit in Sydney in May 1969. A rare clip of the band performing the song on TV has recently been posted on YouTube. The first two singles were combined on the rare Lazy Life EP and their third single "Let Me Sing in Your Band" / Lights of Cincinatti" came out during 1970.
Heart'n'Soul -- by then renamed "The Heart'n'Soul Hot Boogie Band" -- was one of the first acts signed to Festival's new progressive label Infinity, which was launched in January 1971. When they recorded their ambitious Hot Boogie Band album in late 1970, the group had expanded to twelve members, but sadly it had split by the time the album and its accompanying single "Hot Boogie Band" / "Earthrise" were released as part of Infinity's inaugural issue in January 1971. According to McFarlane, the album combined up-tempo R&B ("Hot Boogie Band"), classical elements ("Earthrise"), percussion-driven rock ("Yeah Go-1-2 Are You Ready?") and pure jazz-rock fusion ("Dance of the Pigs")".
After Heart'n'Soul ...
Leith Corbett joined the Dave Miller Set in early 1969, not long before "Lazy Life" was released. At this point he notched up what is probably a unique record, since he featured on three singles by three separate acts that were all in the Sydney charts at the same time -- Lazy Life, the big DMS hit "Mr Guy Fawkes" and Frank After the DMS spit in 1970, Dave and Leith collaborated on the cult classic Reflections of a Pioneer album and the single, "Reflections of a Pioneer" / "353527 Charles" (Nov. 1970), which were issued on the Spin label.
Keyboard player Jamie Rigg started out in Perth band Mark IV, who won the WA heat of the Hoadley's Battle Of The Sounds in 1968. Jamie has since become a respected veteran of the Australian music scene; among his innumerable other credits, Jamie has in recent years been the musical director on Roy and HG's Club Buggery, played in the house band for the 'Long Way To The Top' concert tour, was MD for Popstars Live' and in 2004 he was MD for Stevie Wright's 'Hard Road' farewell tour. During his thirty-year career, he has worked extensively in television, was MD for the late Ricky May; and as a composer, arranger and performer he has worked with top stars including Jimmy Barnes, Chuck Berry, Bo Diddley, Jerry Lee Lewis, The Everly Brothers, Human Nature, Craig McLachlan, John Farnham, Renee Geyer, Jon Stevens, Vince Jones, Lesley Gore, Bryan Ferry, Leo Sayer, Jimmy Webb, Marcia Hines, Kate Ceberano and Doug Parkinson.
Alan Blakers is believed to have passed away sometime during 1995; Les Gough was a member of Spot The Aussie and has recently been the 'house band' bassist for Johnny Young's 'Go!! Show On Tour'.
Discography
Notes:
The Heart'n'Soul LP is now quite rare and even copies in less than pristine condition are currently (2004) valued at around AU$100. The track "Lazy Life" was included on on the Festival compilation So You Want To Be A Rock 'n' Roll Star?(3-CD). As far as we are aware, no other HnS singles or albums tracks have appeared on any other anthology to date.
Singles
1968
"Who Could Be Loving You" / "She's Got The Time" (Festival FK 2127)
May 1969
"Lazy Life" / "Good Things Come To Those That Wait" (Festival FK 2949)
1970
"Let Me Sing In Your Band" / "Lights Of Cincinnatti" (Festival FK 3049)
Jan. 1971
"Hot Boogie Band" / "Earthrise" (Infinity INK-4086)
EPs
1969
Lazy Life (Festival FX 11620)
"Lazy Life" / "Good Things Come To Those That Wait" // "Who Could Be Loving You" / "She's Got The Time"
Albums
1971
Hot Boogie Band (Infinity SINL 934098)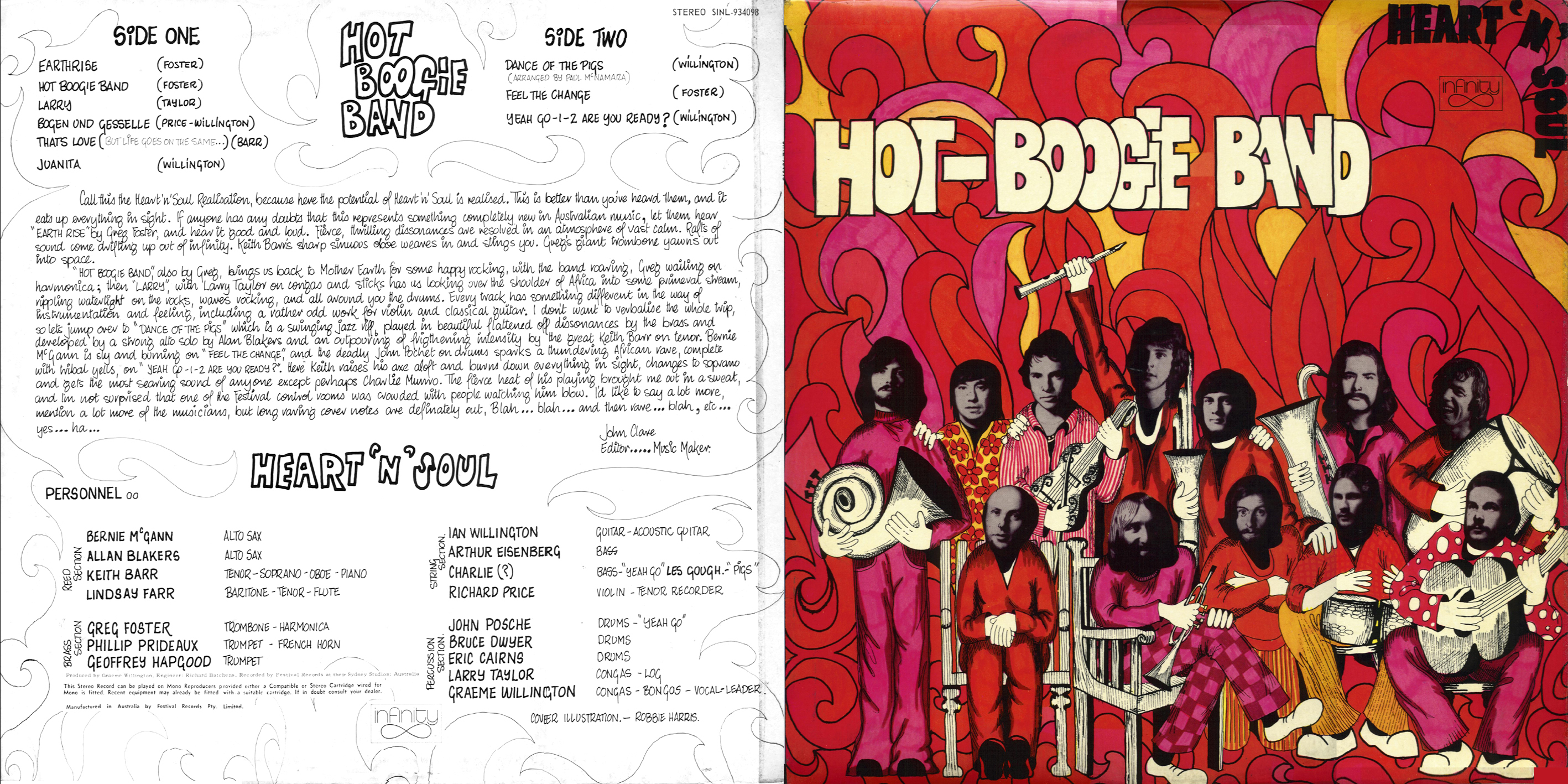 Side 1:
1. "Earthrise" (Foster)
2. "Hot Boogie Band" (Foster)
3. "Larry" (Taylor)
4. "Bogen und Gesselle" (Price-Willington)
5. "That's Love (but life goes on the same)" (Barr)
6. "Juanita" (Willington)
Side 2:
1. "Dance of the Pigs (Willington. arr. Paul McNamara)
2. "Feel The Change" (Foster)
3. "Yeah Go-1-2 Are You Ready?" (Willington)

Produced by Graeme Willington
Engineer: Richard Batchens
Recorded at Festival Studios, Sydney
Liner notes: John Clare
Cover illustration: Robbie Harris
References / Links
Ian McFarlane
Encyclopedia of Australian Rock & Pop (Allen & Unwin, 1999)
Chris Spencer, Zbig Nowara & Paul McHenry
Who's Who in Australian Rock (Five Mile Press, 2002)
Vernon Joyson
Dreams, Fantasies & Nightmares: Australia (Borderline Books, 1999)
Ashwood's Music & Books
http://www.ashwoods.com/aus.htm#H
Popstars Live
Jamie Rigg biography
http://www.popstarslive.com.au/popstarsteam_jamierigg.aspx