HOT CITY BUMP BAND
Melbourne/Sydney 1973-76
John Adolphus (guitar) 1973-75
Noel Davies (guitar) 1975-76
Robert Ellis (congas)
David Green (bass)
Mick Holden (drums)
Chuck McKinney (vocals)
Margaret (Maggie) McKinney (vocals)
David McMaster (organ)

Manager: Graeme McKee
History
The Hot City Bump Band was formed around the vocal duo of Chicago-born Chuck McKinney and his wife Margaret (Maggie). Chuck originally came to Australia to work in the original Australian production of the stage musical Hair ca. 1970 and he met Sydney-born Maggie during the run of the show. When the production finally closed at the end of 1973, the McKinneys formed the Hot City Bump Band with four local musicians, including drummer Mick Holden (ex-The Mixtures) plus West Indian percussionist Robert Ellis.
Hot City Bump Band was one of Australia's first soul-funk bands, and they were one of only a handful of groups (Skylight, Stylus, Johnny Rocco Band) who performed in this style. As Ian McFarlane notes, local audiences who had been brought up "on a steady diet of rock, boogie and pop" took some time to get used to it. Although a number of local acts (Max Merritt, The Groove, The Groop) had championed soul and R&B music during the '60s, new black American music trends such as "The Philly Sound" -- spearheaded by producers Kenny Gamble & Leon Huff and typified by groups such as The O'Jays -- came and went without gaining any significant Australian radio exposure. This was a direct result of the restrictive (and frankly racist) programming regimes on commercial radio, typified by Rod Muir's Digamae consultancy, which gained a stranglehold over Australian pop radio in the early Seventies. So, these new developments in black dance music and groundbreaking acts like Parliement-Funkadelic remained largely unheard in Australia until the arrival of Double Jay in Jan. 1975 and the eventual breakthrough of disco in 1976-77.
Guitarist-turned-producer Robie Porter was one of the few local label owners who was willing to take a punt on new soul-funk style. He had recently signed another former Hair cast member, Marcia Hines -- and he signed Hot City Bump Band signed to his Wizard label. They released two Singles during 1974 -- the first was a cover of The Beatles' Come Together, followed by Time Is On Your Side.
In mid-1975 the band issued its highly-regarded debut album, Come Together, which was produced by the great Ernie Rose. It included an impressive cover of the Jimmy Castor Bunch's It's Just Begun. The album was accompanied by their third single, Do What You Wanna Do, which sold strongly and peaked at #13 in Melbourne during August 1975. It charted for sixteen weeks and was subsequently included on the 1975 K-Tel hits compilation Outa Sight. They also made an appearance on Countdown on 31 August 1975, performing their hit. By then, Noel Davies had replaced original guitarist John Adolphus. It was sometime during this period that they relocated to Sydney.
They were by now recognised as one of the best live acts in the country and this led to several prestigious support gigs during 1975, including Osibisa, Gladys Knight & The Pips and The Temptations. Sadly, the group didn't continue long after that, announcing their break-up and issuing a final single, Ain't No Use in January 1976.
Since their demise, the Hot City Bump Band have been recognised as a world-class funk band and they are well-known internationally among aficionados of funk and 'rare soul'. While researching this article I located a reference to the group on the French website worldsoul.com. The Hot City Bump Band LP has evidently become a serious collector's item -- it was on sale on this site for €130, which converted (in early 2004) to over AU$200! It's Just Begun seems to be a particular favourite with DJs and soul fans, and you can find an audio sample of this dynamite track on the Soul Strut website: http://www.soulstrut.com/features/ish/1203/sheep.php
It's Just Begun and another album track, The World, were part of the November 2003 playlist for Triple J's roots music show Roots'n'All.
The Hot City Bump Band is also listed in Dave Thompson's definitive genre survey Funk, published in 2001.
After Hot City Bump Band ...
Chuck, Margaret and David Green formed a new group called City Strutt. After its demise, Chuck issued a solo single, "If You Don't Know Me By Now" / "Mighty Mighty", on Porter's new Miracle label in December 1976. Chuck then formed the Chuck McKinney Band with Frank Esler-Smith (keyboards), David McMaster (keyboards), Phil Eizenberg (guitar, ex-Southern Comfort), Steve Hogg (bass; ex-Bakery) and master percussionist Sunil de Silva (drums, ex-Skylight). In 1981 Maggie and David McMaster co-wrote and released a duet single called "Back to Where We Started" b/w "True Kind of Loving".
Through the late Seventies and Eighties, Chuck and Margaret were in regular demand as session singers and Maggie's voice has been heard in innnumerable adveristments. They also frequently worked live, providing their distinctive backing vocals for many local artists including Marcia Hines and Renee Geyer.
David Green joined Air Supply in 1980, replacing Christan Barker. He was in the band when Lost In Love became a major hit in the USA and played with them during their most successful period in the early '80s. David McMaster was also offered a place in Air Supply but (to his enduring regret) he turned it down.
Maggie formed her own group, The Maggie McKinney Band, and also performed in the Stevie Wright Band and the Jimmy Barnes Band (1985). Chuck appeared on John Farnham's 1990 album Chain Reaction and also toured as a back-up singer in the John Farnham Band. During 1993 Margaret was tour manager for the pop band Girlfriend.
Sadly, Chuck McKinney died in September 1994 and Maggie too has been sidelined by serious illness. A benefit concert called 'Makin' It For Maggie' was held at The Basement in Sydney on 13 May 2003 to raise money to support her recovery. The show featured Jimmy Barnes, Jon Stevens, Doug Parkinson, Swannee, Shauna Jensen, Doug Williams and Mike Mathieson.
Discography
Singles:
1974
"Come Together"/ "Ain't Nobody" (Wizard ZS 114)
1974
"Time Is On Your Side" / "Trying Times" (Wizard ZS 119)
Aug. 1975
"Do What You Wanna Do" / "Let's Fly" (Wizard ZS 125)
#13, Melb. 16 weeks
Jan. 1976
"Ain't No Use" / "I Really Love You" (Wizard ZS 161)
Album:
1974
Come Together (Wizard ZL 207)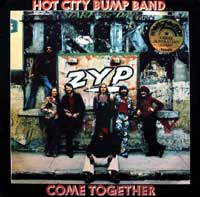 1. "Hot City"
2. "Come together"
3. "Sinner Man"
4. "Time Is On Your Side"
5. "Trying Times"
6. "Have You Ever Tried It"
7. "Kufanya Mapenzi (Making Love)"
8. "The World"
9. "It's Just Begun"
10." Let's Fly"
11. "Cloud Nine"
12. "Ain't Nobody"
13. "Mighty Mighty"
Produced by Ernie Rose
References / Links
Many thanks to Maggie McKinney and David McMaster for feedback and additional information.
Magnus Holmgren
Australian Rock Database
http://hem.passagen.se/honga/database/b/barnesjimmy.html
Ian McFarlane
Encyclopedia of Australia Rock & Pop (Allen & Unwin, 1999)
Vernon Joyson
Dreams, Fantasties & Nightmares: Australia (Borderline Books, 1999)
Westside Talent
http://www.westsidetalent.com.au/
ABC Online - RAGE
http://www.abc.net.au/rage/guest/2002/retro1.htm
worldsoul.com
http://www.worldsoul.com/THE_HOT_CITY_BUMP_BAND__2975.html
Noiseworks Unlimited
http://www.seventh-seal.com/noiseworks/news.html
Air Supply Fan Pages - David Green
http://www.geocities.com/SunsetStrip/Amphitheatre/4705/bandphotosDavidGreen.html