ARIEL
Melbourne 1973-1977
Above: a rare promotional shot of Ariel Mark III, the five-piece lineup of 1975-76. (L-R) Harvey James, Nigel Macara, Bill Putt, Mike Rudd, Glyn Mason. (Photo courtesy of Mike Rudd)

Ariel Mk I (1973-74)
Mike Rudd (guitar, harmonica, vocals)
Bill Putt (bass)
Tim Gaze (guitar/vocals)
John Mills (keyboards)
Nigel Macara (drums)

Ariel Mk II (1974-75)
Mike Rudd
Bill Putt
Harvey James (guitar)
John Lee (drums)

Ariel Mk III (1975)
Mike Rudd
Bill Putt
Harvey James
John Lee
Glyn Mason (guitar, vocals)


Ariel MK IV (April-October 1976)
Mike Rudd
Bill Putt
Glyn Mason
Nigel Macara
Tony Slavich (keyboards, vocals)

Ariel Mk V (1976-77)
Mike Rudd
Bill Putt
Glyn Mason
Iain McLennan (drums) Oct. 76 - Aug. '77
Tony Slavich

Manager: Phil Jacobsen
History
The original lineup of Ariel was a genuine 'supergroup', combining key members from two of Australia's leading progressive bands of the period: Rudd, Putt and Mills hailed from Melbourne's legendary Spectrum, Gaze and Macara from Spectrum's esteemed Sydney peers Tamam Shud. Lead guitarist Tim Gaze, regarded as one of the hottest players on the scene, had also joined Shud at just 16 and by the time he joined Ariel he had also been a member of Kahvas Jute, and played on their only album, the brilliant Wide Open.
Like its predecessor, Ariel was primarily a vehicle for the talents and vision of singer, songwriter and guitarist Mike Rudd, and his longtime bass-player and musical partner, Bill Putt. Like Spectrum, the band began strongly, but lineup changes, record company problems and the changing nature of music in the mid-70s meant that they never achieved the level of success they deserved, and Ariel proved to be Mike Rudd's last really high-profile outfit, although he remains one of the most respected figures in the music scene.
Ariel formed in mid-1973, after the breakup of Spectrum. When Spectrum drummer Ray Arnott announced he was leaving to join Ross Wilson's new band Mighty Kong, Putt and Rudd commendably decided to end the band rather than try to recruit a new member, feeling that it wouldn't be possible to recreate the special spirit of that group. Within a few months of Spectrums's farewell performance their new band (whose name was taken from the character in Shakespeare's "The Tempest") was up and running. Ironically, the two new members, Tim and Nigel, had originally come to Melbourne to work with Ross Wilson and Ross Hannaford on their new project (which became Mighty Kong) and it was after they departed that Wilson asked Ray Arnott to join, thus precipitating the split of Spectrum!
Strong record company interest in Ariel quickly led to a contract with EMI's progressive Harvest imprint. Their superb debut single "Jamaican Farewell" looked set to repeat the early success of Spectrum but it only managed to reach No.34, its success hampered by lack of airplay, especially in Sydney, although it impressed the industry enough to win the FACB 'Single Of The Year'. They toured as support to Gary Glitter November 1973 and released their excellent first LP A Strange Fantastic Dream in December, with writing credits split fairly evenly between Gaze and Rudd. According to Noel McGrath, the album was also the first use of Moog synthesizer on an Australian rock record (though it's possible Tully may have been the first Australian band to recod with one) and producer Peter Dawkins still names it as one of his favourite productions.
It fared well commercially and critically, reaching #12 in the LP charts in February 1974, although there was a minor controversy about Stephen Nelson's brilliant, hallucinatory cover painting, which included (shock! horror!) a hypodermic syringe. Airplay for the LP was further hindered by the banning of three songs ("Confessions Of A Psychotic Cowpoke", "Medicine Man" and "Chicken Shit") by the commercial radio industry's self-regulatory body, the FACB.
One particularly important outcome for the group was that EMI International's President, Allan Davies, fell in love with the album: "You know, Peter," he enthused to Dawkins, "I can't recall ever hearing a song about necrophilia!" Renowned British DJ John Peel also picked up both album and single and "said some really nice things about both of them". These and other factors led to Ariel being invited to tour the UK and record their next album at Abbey Rd.
Ariel's second album was to have been a John Whyndham-ish science fiction concept piece, The Jellabad Mutant; you can read more about this long-lost project in Paul Culnane's feature article. But before the project had even been conceived, there was a major disruption, with the band abruptly splitting in two. Mills, Macara and Gaze quit amidst some rancour in April 1974, after a trip to Perth and Mike retreated to the Mornington Peninsula with his family. He began writing fragments of new songs on his "trusty Canora guitar and a crappy tape recorder" which began to form themselves into "some sort of order ... the beginnings of a Grand Idea that might eventually become what every songwriter had dreamt of since Townshend dropped Tommy on an unsuspecting public -- a Rock Opera".
Returning to Melbourne, Rudd "did what I always did -- I called Bill". They worked on the new material over a period of weeks, and by May they the piece sufficintly ready that they approached drummer John Lee to rehearse with them. John, a fine drummer who had previously played in Sayla, Blackfeather and Gulliver Smith & The Dead End Kids, had just left The Dingoes, after recording their first album and their debut single "Way Out West". The three began rehearsing together, and in June or July, as the material took shape, John suggested bringing in his former bandmate from Sayla, lead guitarist Harvey James. Mike later discovered that John and Harvey had also known each other in school, a connection which, he later realised, would sow the seeds of "another 'them and us' scenario" in the band's internal politics.
Harvey, who was already gaining a reputation as a player to watch, had recently left Mississippi and returned home after that band's disastrous trip to England. Rehearsals continued and before long it became apparent that this arrangement had taked on a life of its own. More by accident than by design, the quartet became the new lineup of Ariel. The new lineup cut a terrific single, "Yeah Tonight" which was released in August -- presumably to keep EMI at bay while they beavered away on the new album.
Thus far things had fallen into place rather nicely, but it all began to turn pear-shaped over the next couple of months. With writing more or less complete, Ariel demoed their new album at EMI Studios in Sydney, wit the sessions produced by Peter Dawkns and engineered (probably) by Martin Benge. However, to the band's dismay, EMI rejected it outright. Mike sardonically comments that they were told that it had been rejected because EMI England had "a basement crammed full of rejected rock operas". It would be nearly thirty years before The Jellabad Mutant saw the light of day on record, when it was reissued by Mike and Bill's RareVision label. In the liner notes, Mike ponders wistfully about what could have been:
"It's interesting to speculate what might have happened had we been allowed to proceed with the Mutant with an intact budget (EMI slashed the budget for Rock'n'Roll Scars adding to the pressure) and with the time to to reflect and be creative with the raw material you hear in the demos. I regret not going in to bat for it at the time. We had a fabulous opportunity with the best technical assistance any band could have wanted. But I didn't sell the dream, even to myself."
The rejection of The Jellabad Mutant obviously placed them in a very difficult position. EMI England had offered them the chance to record their next LP in London, but the band suddenly found themselves unable to record the material they had spent the last year working on. To complicate matters even further, they soon realised that EMI England had made the offer on the basis of the first album and were expecting the original Ariel lineup. The news that they were getting an entirely new Ariel apparently went over like a lead balloon with 'the suits' at EMI House in London.
Ariel left for the UK on 12 October 1974 for the recording and some gigging, hoping to capitalise on the momentum, including favourable UK reviews of "Jamaican Farewell". After the 30-hour flight to London they were greeted by manager Phil Jacobsen, who announced "There's been a change of schedule. We start today." They immediately began eleven days of recording at the world-famous Abbey Road Studios with engineer Tony Clark, who was impressed with "the speed and efficiency" with which the Aussies worked. It was mixed by the great Geoff Emerick, engineer on most of the later Beatles Albums and Singles. The tracks they recorded there became their next LP Rock'n'Roll Scars.
Although Mike somehow found time to dash off three new (excellent) songs, the rejection of the Mutant project forced him to fall back on earlier material from his days in Spectrum/Murtceps. These songs, rearranged for the two guitars, formed the bulk of the album. They included new versions of "I'll Be Gone", "Launching Place", "We are Indelible", "What the World Needs (Is A New Pair Of Socks)", and a superb reworking of the Murtceps' "Some Good Advice", which showed the skills of Harvey James to the full. The album also included a new version of "Red Hot Momma", which had been cut by Ariel Mk I but was only released as the B-side of Jamaican Farewell. The cover photo features a subtitle, "Before The Mutant" -- evidently an ironic reference to this album's abortive predecessor. One of the three new tracks from the album, "Keep on Dancing (With Me)" was issued as a single in March '75, but it didn't make the charts.
Despite its troubled birth, Rock'n'Roll Scars is still much loved by Ariel fans. It remains an excellent record and a tribute to the skills of the four musicians -- even though Mike, fairly, considered it a retrograde step. He has often been asked about recording at the legendary Abbey Road Studios, but it must be remembered that he was under great pressure to come up with enough suitable material for a whole album in a very limited time. Consequently he had no chance to savour what should have been a special experience, and doesn't have particularly fond memories of the sessions.
Ariel returned to Australia in January 1975 and the same month they added New Zealand-born Glyn Mason on guitar and vocals as fifth member. Glyn's previous credits included Chain, Copperwine and even a stint with Thunderclap Newman. His powerful, soulful voice was a great addition to the band, and the three guitar lineup packed a real punch, but unfortunately this terrific lineup was woefully under-recorded. Happily though, a high-quality live recording of this lineup has recently come to light, and it's a priceless historical document for several reasons. Made at the Station Hotel, Prahran on 11 November, 1975 -- the night of the dismissal of the Whitlam government -- the tape includes a live rendition of a suite of songs from The Jellabad Mutant, and it showcases what a polished and dynamic live outfit Ariel Mk III really was. Hopefully, Ariel fans will get a chance to hear this great gig in the future on CD. An alternate version of the Mutant Suite, taken from a live Double Jay broadcast, has been included on the new Jellabad Mutant CD (see Discography).
It was during this period of Ariel's History that Mike Rudd played a small but crucial role in the story of another up-and-coming New Zealand band, Dragon. Dragon had arrived in mid-1975 and had been slogging it out for several months in wine-bars and clubs in Sydney. Mike had seen them playing around the traps and was impressed enough that late in the year he took Peter Dawkins (an old friend from NZ and then CBS house producer and A&R manager) to see the group. Dawkins too was impressed -- he returned with a group of CBS executives visiting from the USA, who were impressed enough to signed Dragon to the label; putting together a strong new repertoire of pop-oriented material, much of it penned by their recently recruited keyboard player Paul Hewson, Dragon quickly shot to to the top of the Australian charts and dominated the late-70s pop scene on both sides of the Tasman.
Meanwhile, the five-piece version of Ariel cut just one excellent single "I'll Take You High", released in Dec. 1975, and it reached No 36. They made another trip to the UK in April 1976 but while they were there John Lee left the band. He briefly joined English group Dirty Tricks and then finally returned to The Dingoes when they relocated to America. He was temporarily replaced by the erstwhile Nigel Macara. Ariel continued gigging into 1976, but their progress was again disrupted in March by the departure of Harvey James, who was subsequently chosen to replace guitarist Clive Shakespeare in Sherbet.
Opting for keyboards instead of guitar this time, they replaced Harvey with Tony Slavich (ex-Richard Clapton Band) on keyboards and vocals. No doubt facilitated by Mike's friendship with Dawkins Ariel changed labels to CBS and their third LP Goodnight Fiona, again produced by Dawkins, was released in August. The wistful single "I Can Do Anything" was lifted from LP (although, as was almost always the case with both Spectrum and Ariel, the single version was a different recording from the album version.
Lineup hassles continued when Macara left again in October '76 due to "general incompatibility", and he was replaced by another former Richard Clapton Band alumnus, Iain McLennan. The single "Disco Dilemma" was released in April '77, just before expiration of their CBS contract, after which they signed to Image Records.
By early 1977 the band realised they had taken Ariel as far as it could go. The breakup was announced in July 1977. Their final gig was a lavish affair with an 'island fantasy' theme, held at Melbourne's Dallas Brooks Hall on 31 August 1977; it was recorded live and later released over two LPs: Aloha Ariel and Live - More From Before. A farewell single, "It's Only Love", was released to coincide with the concert. The live LPs were later combined and reissued as the 2LP set Ariel Live In Concert.
After Ariel ....
Mike Rudd moved into in promotion and production for a time. He produced the debut album for Newcastle bands Daniel and Jab and demos for Janie Conway (ex-Melbourne band Stiletto). Slavich and McLennan joined a theatre backing-band for a musical play
Bill went overseas to study at the New York Conservatorium of Music, and after he returned, he and Mike formed a succession of groups: Mike Rudd's Instant Replay, Mike Rudd & The Heaters (both also with Tony Slavich) and the more electronically oriented W.H.Y.. Unfortunately he was never able to regain the commercial momentum of his early 70s successes -- a lamentable fact which says much more about the parlous state of the Aussie music industry than it does about the talents of Mike & Bill.
Iain McLennan went on to spells in Mondo Rock and Sports. Glyn Mason worked solo for some time, then in 1978 he formed Loose String Band followed by Stockley, See & Mason, with veteran players Chris Stockley (ex-Dingoes) and Sam See (ex-Sherbet, Flying Circus, Greg Quill's Southern Cross), and they recorded one fine album for Mushroom.
Mike and Bill have sustained their enduring partnegsubip over the years, with reunions of Spectrum during the '80s, and a very fine duo album in 1996, Living On A Volcano. The new 3-piece incarnation of Spectrum, with drummer Peter "Robbo" Robertson, debuted with the CD Spectrum Plays The Blues album, which took them back to their roots. Ariel has reformed for occasional gigs with varying lineups, including one final reunion of the Mk II lineup with Harvey James and John Lee, which took place not long before Lee's untimely death in July 1998. Mike was also forced to withdraw from performing for some time due to the illness and subsequent death of his wife Helen.
Rather like Steely Dan's Walter Becker and Donald Fagen, Mike & Bill have been the hub around which Spectrum, Ariel and subsequent groups have revolved, and over the years they've built on the idea they pioneered with Spectrum/Murtceps, in which the various band identities effectively functioned as modules of a larger project. Mike and Bill are among the most consistently stimulating and satisfying performers Australasia has ever produced, and their legacy with Ariel deserves far greater recognition. Hopefully, the recent CD releases will go some way to achieving that.
Discography
Notes: Ariel's catalogue was grievously neglected by their former record companies. LPs are still obtainable second-hand at reasonable prices, but happily Mike and Bill have now re-released the first three Ariel albums on their own Rare Vision label. Both A Strange Fantastic Dream and Rock'n'Roll Scars are now available on CD, with bonus tracks, as is the long-lost TheJellabad Mutant.

Regrettably, during the search for their old material, Mike and Bill found that the multitracks and master tapes of many Ariel recordings had 'disappeared', and even more worryingly, they found that both the multi-tracks AND the master tape of the Rock'n'Roll Scars album had also been "lost" -- a deplorable state of affairs and a salutary lesson in the careless attitudes of record companies. Happily, they eventually discovered that Peter Dawkins had his own copy of the RNRS master tape (phew!).
Discography
Singles
Oct. 1973
"Jamaican Farewell" / "Red Hot Momma" (EMI 10287)
#34, 2 weeks
Aug. 1974
"Yeah Tonight" / "( I Am The) Laughing Man" (EMI 10612)
Mar. 1975
"Keep On Dancing/ I'll Be Gone (EMI Harvest HAR10706)
Jan. 1976
"I'll Take You High" / "I Can't Say What I Mean" (EMI/Harvest HAR10974)
#36, 2 weeks
Aug. 1976
"I Can Do Anything" / "Cypherland Blues" (CBS BA222218)
Apr. 1977
"Disco Dilemma" / "How Do You Do It?" (CBS BA222287)
Aug. 1977
"It's Only Love" / "It's Time we Said Our Goodbyes" (Image IS 209)
Albums
Feb. 1974
A Strange Fantastic Dream (EMI EMC 2508)
CD re-release, 2002 (Rare Vision RSVN 002)
#16, 8 weeks (1974)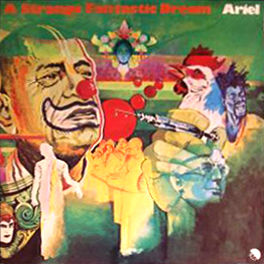 "Jamaican Farewell" (Gaze, Rudd)
"No Encores" (Rudd)
"Confessions of a Psychopathic Cowpoke" (Gaze-Rudd)
"And I'm Blue" (Rudd)
"Garden of the Frenzied Cortinas" (Rudd)
"Miracle Man" (Gaze)
"Chicken Shit" (Rudd)
"Worm Turning Blues" (Rudd)
"Wheezer Grunter Module Threadaboy" (Ariel)
"Harry V. Dirchy (God The Man)" (Gaze)
"Hard Way To Go" (Rudd)
"And If It Wasn't For You" (Rudd)
"Red Hot Momma*" (Rudd) - single version, only on CD

Produced by Peter Dawkins
Engineered by John Taylor
Recorded at EMI A & B Studios, Sydney, October 1973.
Cover art by Stephen Nelson
---
1975
Rock'n'Roll Scars (EMI/Harvest SHVL614)
CD re-release 2002 (RareVision RVSN 003)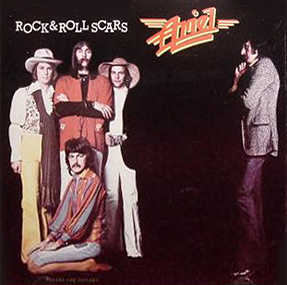 "Keep on Dancing (With Me)" (Rudd)
"I'll be Going" / "I'll be Gone" (Rudd)
"Rock & Roll Scars" (Rudd)
"Real Meanie" (Rudd)
"Men in Grey Raincoats" (Rudd)
"Launching Place Part II" (Rudd)
"We are Indelible" (Rudd)
"What the World Needs (Is A New Pair Of Socks)" (Rudd)
"Red Hot Mamma" (Rudd)
"Some Good Advice" (Rudd)
"I Am The Laughing Man" (Rudd)
"Yeah Tonight" (Rudd) *
"I Am The Laughing Man" (Rudd) *
Produced by Peter Dawkins
Recorded at Abbey Road Studios, London.
Engineered by Tony Clark
Mixed at Air Studios, London by Geoff Emerick
---
Aug. 1976
Goodnight Fiona (CBS SBP234867)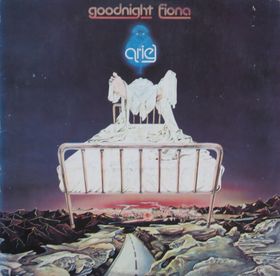 "Caught in the Middle Again" (Mason-Rudd)
"Cypherland Blues" (Rudd)
"Goodnight Fiona" (Rudd)
"Hot Sweet Love" (Mason-Rudd)
"I Can Do Anything" (Rudd)
"I'll Not Fade Away" (Mason)
"Redwing" (Mason)
"Rock 'n' Roll Lady" (Mason)
"Rock Critic" (Mason-Rudd)
"Take Me for a Ride" (Rudd)
Produced by Peter Dawkins
---
1977
Aloha Ariel (Image ILP 775)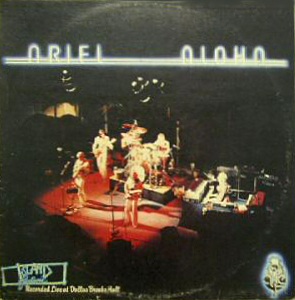 "All I Need is a Change" (Slavich)
"Amazon" (Mason)
"Disco Dilemma" (Rudd)
"Hollywood" (Rudd)
"I'll Be Gone" (Rudd)
"Illicit Love" (Rudd)
"It's Gonna Get Worse" (Rudd)
"It's Only Love" (Mason)
"King's Cross Crusader" (Slavich)
"Party's Just Begun" (Slavich)
"Where Do You Go" (McLennan)
"You Keep Me Moving" (McLennan)
---
Aug. 1978
Live! More from Before (Image ILP795)
"Coral Queen" (McLennan)
"Dark Side of Yeppoon" (Rudd)
"I'll Take You High"(Rudd)
"It's Time we Said Our Goodbyes" (Rudd)
"Jamaican Farewell" (Rudd)
"Red Hot Mamma (Rudd)
"Rock & Roll Scars" (Rudd)
"Some Good Advice" (Rudd)
"We Are Indelible" (Rudd)
---
1980
Live in Concert (Image L45883/4) 2LP
2LP set combining tracks from both previous live albums
---
2002
The Jellabad Mutant (RareVision RVSN 004)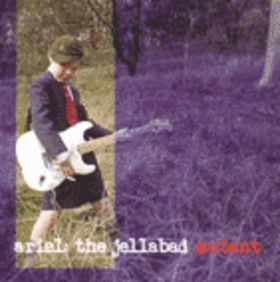 1. "Introduction and Overture"
2. "The Capsule" / "The Farm"
3. "The Train" / "The Hospital"
4. "The Funeral"
5. "Cinematic Sandwiches"
6. "Neo-Existentialist Greens" / "Medicine Man" / "The Letter"
7. "I'll Take You High"
8. "I Can't Say What I Mean"
9. "Mutant Medley"

Mike Rudd (guitar vocals)
Bill Putt (bass)
Glyn Mason (guitar, vocals)
John Lee (drums)
Harvey James (guitar)
Produced By Peter Dawkins
Engineered (probably) by Martin Benge
Tracks 7 & 8 recorded at EMI Studios in 1975 and produced by Rod Coe. Track 9 produced at Studio 221 by Keith Walker for a Double Jay live-to-air broadcast.
All tracks by Mike Rudd except 8 by Mike Rudd & Glyn Mason
Compilation albums
1976
A-Reefer-Derci (Mushroom L-45656/8) 2LP
'Various Artists' live double-album featuring Split Enz, Ariel, Captain Matchbox, Skyhooks and Ayers Rock
Includes two live Ariel tracks: "I Can't Say What I Mean" and "Rock'n'Roll Scars"
1977
Long Live The Evolution: The Best of Double Jay (ABC Music AA9042)
'Various Artists' live album; includes one live Ariel tracks: "Keep on Dancing"
References / Links
mikeruddbillputt.com - Mike & Bill's History
http://www.mikeruddbillputt.com/History/History_page.htm
Ian McFarlane
Encyclopedia of Australian Rock & Pop (Allen & Unwin, 1999)

Noel McGrath
Encyclopedia of Australian Rock (Outback Press, 1978)
Paul Conn
2000 Weeks: The First Thirty Years of Australian Rock (Moonlight Publishing, 1996)
Chris Spencer, Zbig Nowara and Paul McHenry
Who's Who of Australian Rock (Five Mile Press, 2002)
...and of course our sincere thanks to Mike and Bill!