BILLINGSGATE RECORDS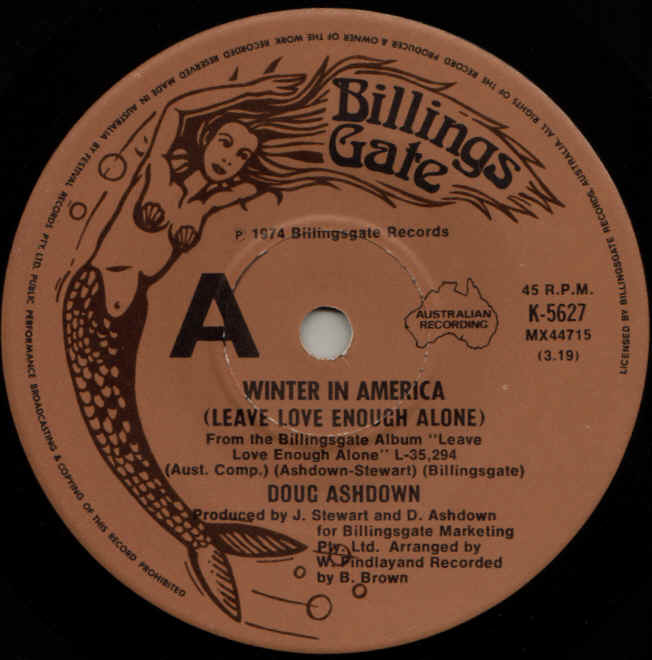 LABEL DETAILS
CATEGORY:
Australian-owned independent label
ACTIVE:
1974-76
LOCATION:
unknown
OWNER/S:
Billingsgate Marketing Pty Ltd (Jimmy Stewart, Doug Ashdown)
DISTRIBUTOR:
Festival
NOTES
Billigsate was co-owned and run by producer Jimmy Stewart with singer-songwriter Doug Ashdown. It was the successor to Stewart's previous label, Sweet Peach.
Billingsgate was established in late 1973 or early 1974, after Stewart and Ashdown had returned to Australia from a long sojourn in the United States. The debut Billingsgate single was Those Sweet Yesterdays by the band South; this was followed by Doug's fifth LP, Leave Love Enough Alone, and the two singles lifted from it, They Always Seem To Look Like Marianne, and the album's evocative title track, co-written by Doug and Jimmy during a bitter winter they spent in Nashville. Leave Love Enough Alone was released in September 1974 and received moderate airplay, but neither it nor its predecessor made it into the charts at the time. It became a major hit when reissued more than a year later under its alternate title Winter In America. The song was picked up by stations around the country and was a Top 40 hit during late 1976 and early 1977, reaching #14 in Melbourne and #30 in Sydney. It remains one of the most enduringly popular Australian songs of the '70s; it has been featured on many anthologies, and it has been covered by artists around the world including our own Margret RoadKnight. In 1988, Dutch singing star Rene Froger's version was a Top 5 hit in Holland, and Froger's live version topped the charts there again a few years ago.
Six of the eleven Billingsgate releases were from Ashdown; the other five were by South, Labas, Tole Puddle and The Palm Court Orchestra whose single Nights Of Gladness, released in April 1976, was one of the last releases on this label.
DISCOGRAPHY
SINGLES
1974
South
Those Sweet Yesterdays / Throw A Little Sun At The Rain
[Billingsgate K5380]
Feb. 1974
Doug Ashdown
They Always Seem To Look Like Marian / Tomorrow Is The Last Time
[Billingsgate K 5428]
Sep. 1974
Doug Ashdown
Leave Love Enough Alone (Winter In America) / Skid Row
[Billingsgate K 5627]
1975
Doug Ashdown
You're The Song / Love Ain't Worth ...
[Billingsgate K 5823]
1975
Tole Puddle
The Minstrel / Diggy Liggy-Lo
[Billingsgate K 5951]
Also released in the UK on the Interfusion label.
Apr. 1976
The Palm Court Orchestra
Nights Of Gladness /
[Billingsgate]
LPs
1974
Leave Love Enough Alone
[Billingsgate L 35294]
1976
Tole Puddle
A Breath Of Fresh Air
Between the Lines
Biggles Flies Undone
Diggy Liggy Lo
Disco Indians
Funky Country
Gerry's Jig
In Search of a Breath of Fresh Air
Leroys Blues
Love is the Way
The Minstrel
Palm Court Boogie
Too Late to Cry
Trilogy
FEEDBACK
More information about Billingsgate Records?
EMAIL us and we'll add your contribution to this page.
REFERENCES / LINKS
Hank B. Facer
Museum of Indigenous Recording Labels
http://mirl.hypermart.net/mirl_page_2.htm
Ian McFarlane
Encyclopedia of Australia Rock & Pop
(Allen & Unwin, 1999)
Vernon Joyson et al
Dreams, Fantasies & Nightmares - Australia
http://www.borderlinebooks.com/australia/a4.html
http://www.borderlinebooks.com/nz/t2.html#Tole_Puddle