Born 1934, Maleny, Queensland
Died 20 December 2002, Gold Coast, Queensland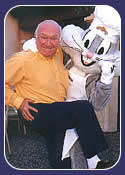 Bernard King, pictured at Warner Bros Movie World on the Gold Coast
(Source: www.movieworld.com.au)
His tongue could be as sharp on talent quest aspirants as the knives he used on his cooking programs but celebrity chef and TV personality Bernard King was always adamant he was being kind and truthful.
He was born into a farming family at Maleny in Queensland, claimed to have been fully mobile at eight months of age and fully vocal a month later. His greatest passion, gardening, was evident even as a toddler when he loved transplanting orchids.
King showed early signs of the theatricality and political incorrectness for which he was to become famous by reciting, at the age of five, the poem "Little Jika Jika, all the darkies like her ..." at a school concert. No one was shocked; the poem was widely taught in schools in the '30s.
Later the notorious judge on the television talent quest Pot of Gold King appeared in his first talent quest at the age of eight. Smokes for Six Soldiers was a fundraiser to send cigarettes to the troops during World War II.
Educated at Maleny's primary school and then, with a scholarship, at the Christian Brothers College at Nudgee, King was a keen student and powerful debater. He graduated from university and taught primary school for some years but was soon performing in amateur theatre and reviews. Growing success there as well as some acting work with ABC Radio allowed him to drop teaching and devote himself to performing.
A performance by a 17-year-old Judy O'Connell (Judi Connelli) at the Milton Tennis Club so impressed King that he was determined to cast her in one of his shows at the earliest opportunity. And so began a long professional relationship between the two.
King's savaging of contestants on New Faces and Pot Of Gold in the '70s was legendary but he took great pride in steering the talentless away from show business. "I'm kinder than their relatives because I tell them the truth. No one has the courage to tell [them they're] awful. I'm the only person who is sincere," he said in a 1976 interview with TV Times.
King's first break as a TV chef came following a dinner he hosted for the actress Vivien Leigh and the Stratford on Avon Theatre Company. The presenter of the ABC's A Woman's World, Maureen Kissell, was among those guests and was so struck with the buffet for fifty in King's small Brisbane flat, she invited him onto the program to do his first ever cooking demonstration.
Once in Sydney, a lavish cocktail party at his Balmain home led Good Morning Australia hostess Del Cartwright to invite him onto the program to demonstrate. That became a daily spot and led to the stand-alone half-hour program King's Kitchen.
King pioneered television advertorials in Australia, doing whatever it took to promote sponsor-supplied products, even if it meant cooking a whole fish in saccharine-sweetened grapefruit-flavoured soft drink.
Meanwhile, King's cabaret show at the Roxy in Sydney's Brighton-le-Sands enjoyed a hugely successful seven year run, which only ended with the sale of the property for conversion into offices.
Hard times hit King when he mortgaged his Blue Mountains house to fund a second season at the troubled Parramatta Riverside Theatres. The season was a flop and the house was lost. He blamed his extraordinary vanity for believing he could make a go of the struggling venue.
King never tried to hide his homosexuality and always felt accepted by his family. "My father never stated to me whatever disappointment he must have felt when I turned out to be a faggot. Never. Maybe because I was a successful queen," he once said. "I became somebody and the whole nation accepted me for what I was. Fashion conscious. Stylish. Demanding. The whole nation coped!"
In 2000 King sued the cookware company Dine-Rite for unlawfully terminating his contract with it. The company felt his jokes, which saw him banned from two Queensland shows, were offensive. King won the case and was awarded $100,000.
Through his work he supported many charities including the Spastic Centre and the Wesley Mission.
In September he moved to the Gold Coast hinterland where he rose early each day to tend the massive garden.
A month before his death he was quoted as saying:
"To be 68 is a hell of a shock because the next minute you're 70 and perilously close to the drop-off age of the average Australian male. I'd like to keep running and then just suddenly be announced dead at a crowded cocktail party."
Bermard King died on Friday December 20, aged 68, at his home on the Gold Coast. He is believed to have suffered a heart attack before falling from his terraced garden to the driveway below, sustaining head injuries. He is survived by three sisters, Patricia, Barbara and Frances Betty.