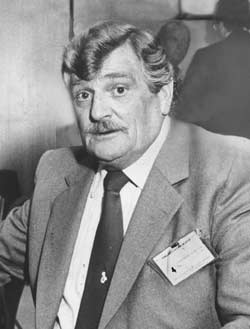 Once described as "a cunning, callous and vindictive liar, the Iago of Kings Cross," James McCartney "Big Jim" Anderson was a prominent figure in the Sydney underworld in the 1960s and 1970s. Some regarded him as a 'good bloke' and he was reputed to have helped many down-and-outs on the streets of the Cross. According to Neil Mercer, he usually maintained a cheery disposition -- his typical farewell was: "Remember, mate, every day's a bonus, tahdetah!" But Anderson enjoyed a decidedly mixed reputation -- he was known for his fearsome temper and was reviled by former associates after he turned police informer in the 1980s.
Born in Glasgow in 1930, one of four children, he was the only son of William James Anderson, who worked on ships and the railways. Anderson left school early and at 16 joined the Royal Marines before taking up a variety of jobs including coach driver. He went to New Zealand, where he became a traffic policeman.
He came to Australia in the late 1950s as the manager of a Maori show band called the Hi Fives, which played at Andre's nightclub in the city before heading to the Gold Coast. It was during this time that he met Abraham Gilbert (Abe) Saffron, a reputed "Mr Big" of Sydney's underworld and later named in the South Australian Parliament and in various inquiries as being involved in vice and organised crime. According to Anderson, during the 1960s the band toured successfully through Hong Kong, Europe and America, including Las Vegas.
Returning to Australia, he briefly managed the Latin Quarter nightclub for Sammy Lee. Anderson told the Herald: "And that's where I came into contact with the likes of Lennie McPherson and Donny 'The Glove' Smith," (a notorious Sydney 'standover' man). "He used to wear a leather glove with lead lined all through it," Anderson recalled. "And when he hit you with that, you stayed hit."
One night in 1970, at the Venus Room in Kings Cross, Smith hit Anderson, knocking him off his feet and breaking his jaw. He apparently didn't know his opponent was armed. Anderson recounted what happened next: "Enough's enough ... and I just went 'bang'. Shot him straight through the heart. I knew what I was aiming at ... but then he got up again."
Anderson shot Smith three times - once in the chest, twice in the back. He pleaded self-defence, claiming that Smith was running for a gun. He was first charged with murder, and was eventually committed for trial on manslaughter but remarkably the Askin government 'no-billed' the matter and the charges were dropped. Many regard the no-billing of the Smith case as a classic example of the influence of organised crime over the police, the judiciary and the government during the reign of NSW premier Robert Askin.
By the late 1960s Anderson had formed a business association with Abe Saffron and during the 1970s he managed several of Saffron's bars, nightclubs and strip joints, including Les Girls, the Carousel and the Venus Room. Asked once if women renting apartments above the Venus Room were engaged in prostitution, he famously replied: "I don't think they were playing Scrabble." In 1973 he suffered burns to much of his body when a petrol bomb exploded in a nightclub. In the 1980s, he was shot at but survived. For much of his time in the Cross he carried a .32 Browning pistol.
In 1975, when Anderson came to wide public notice, he was managing the Carousel nightclub -- the place where where anti-development campaigner Juanita Nielsen was last seen before she disappeared without trace on the morning of 4 July that year. Nielsen, through her local paper Now, had been the most visible opponent of a multi-million dollar high-rise project that property developer Frank Theeman wanted to build in Victoria Street, Kings Cross, and the delays caused by local opposition to the project cost Theeman millions.
Many, including police, believe Anderson was instrumental in Nielsen's disappearance and presumed death. His alibi -- that he was in Surfer's Paradise at the time she disappeared -- was never properly investigated by police. There was much other circumstantial evidence pointing to him -- he was the manager of the club where Juanita was last seen, he was a known associate of the three men charged and convicted of conspiring to kidnap her, and he was a close friend of both Frank Theeman and Theeman's "drug troubled" son Tim. Although the links between them were also never properly investigated, there have been persistent rumours over the years that Theeman "loaned" Anderson hundreds of thousands of dollars and allegations that Anderson was blackmailing Theeman over Nielsen's disappearance.
At the inquest into Nielsen's disappearance in 1983 -- and ever since -- Anderson strenuously denied any involvement. He named notoriously corrupt Sydney policeman Det. Sgt Fred Krahe as Juanita's killer. This claim was echoed by freelance journalists Tony Reeves and Barry Ward but no evidence was ever offered to support it. Krahe -- reputed to have been one of the most dangerous policemen in NSW -- had died in 1981, so it was a safe bet for Anderson to finger him -- given Krahe's fearsome reputation it's doubtful that even a 'hard man' like Jim Anderson would have done so if Krahe had still been alive. Krahe had connections to the Nielsen case -- he was the alleged organiser (on behalf of Frank Theeman) of the standover gangs who terrorised Victoria St residents and protestors during the anti-development battle, and by the early 80s it was also widely rumoured that Krahe had close connections to the infamous Nugan-Hand bank and the Griffith Mafia and that it was he who had murdered Griffith anti-drugs campaigner Donald McKay in 1977.
When reporter Neil Mercer visited Jim Anderson shortly before his death, he still strenuously denied that he was involved in Nielsen's disappearance: "I don't want these lies being written about me when I'm gone. I wasn't even in the state when she disappeared."
Anderson fell out with Saffron in the early 1980s and become an informer for the National Crime Authority, to whom he revealed details of what he called "the black cash/white cash" book-keeping at Saffron's clubs -- the dual sets of accounting books which enabled Saffron to siphon off money from his operations without the knowledge of the Tax Office. Anderson's testimony was instrumental in having Saffron convicted of tax offences and jailed in the late '80s.
Anderson also named a number of police, including an assistant commissioner, who he said had been taking bribes for years. Nothing came of it, but he got considerable satisfaction in the mid-1990s when the Wood royal commission into the police exposed exactly the sort of bribery he'd described more than a decade earlier.
In 1995, he had a heart attack and moved to the Blue Mountains where he lived quietly, travelling now and then to Las Vegas and to the Philippines. During a visit there in 1988 he had saved six Filipino sailors during a typhoon, and later received a bravery award from President Corazon Aquino.
Over the years, he was charged with a number of offences, including goods in custody and counterfeiting, but never convicted. He was also close to a number of federal police, who found him a useful source of information, "mostly when it suited him" according to Neil Mercer.
A few weeks before his death Anderson caught avian pneumonia after feeding rosellas and was admitted to hospital, where cancer was diagnosed. He is survived by his former wife, Neathia, two sons and two grandchildren upon whom he doted. He was buried at Leura on Tuesday 15 July 2003.