PRUE ACTON, OBE
Artist and fashion designer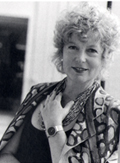 She's known as Australia's 'golden girl of fashion', but Prue Acton describes herself as "an artist who chooses to work in the field of fashion". She originally intended to become a professional artist, but after her move into fashion in the early Sixties she rapidly became known as one of Australia's top designers and her subsequent international success meant that her art career was put on hold for almost thirty years.
Prue was born in 1943 at Benalla, Victoria and educated the Firbank Anglican girls' grammar school in Melbourne. Between 1958 and 1962 she completed a Diploma of Art majoring in textiles at RMIT, graduating in 1963. Later that year, with the help from her parents, Prue established her own fashion design business in Flinders Lane, Melbourne. Fortunately, she was fully supported by and in good company with her parents, who were both successful business people:
After the war, my mum set him up in a grocery shop and then that became the first self-service in Melbourne, and then the first supermarket. And that was my mother's entrepreneurial sort of feel.

My ambition was to be a painter. It was the only thing that really I loved passionately. But there was that message from my parents coming through –- "Artists starve in garrets. "And we will support you in anything you want to do..." My parents gave me every ounce of backing they possibly could, financially, emotionally. And all of their friends said, "Backing a 19-year-old girl in business? Are you crazy?"
As her fashion business took off, Prue also began to develop her own range of cosmetics to complement the range.
I loved cosmetics. Most colours up to then had come out of New York. And for... just for the first time in history, here were colours coming out from a fashion designer so they totally integrated with the colours that we were doing in fashion. It just seemed to me and to my team that anything we wanted to do we could do.
The Prue Acton brand began to attract attention around the country. Her designs sold well, and she also developed her own cosmetics to complement the fashion range. During 1967 she also found time to write a fashion column for the new weekly music journal Go-Set. But the real breakthrough came in October 1967. Prue and her mother went to America, and there she became the first Australia female designer to mount a show of her own range of garments in New York.
" ...my mum .. thought of going to New York ... Unbelievable! That she's got a 22-year-old daughter, that you'd go to New York with garments, ring up the top fashion woman in New York, get an interview in the back of her limo – that was the only time she could spare – and then next thing, I've got a licence ... I'm under licence ... "

I didn't understand the impact that I had had until years later, they said that our label was the number one junior label in the States for three years. I had no idea we were so successful."
Like her British contemporary Mary Quant, her designs captured the mood of the Swinging Sixties and earned her an international reputation. Her trend-setting clothes featured bold colours and made extensive use of the new synthetic fabrics then becoming available. Prue also proved to be an extremely astute businessperson and by 1982 the estimated world wide sales of her designs were $11 million with garments sold in Australia, Japan, USA, Canada and New Zealand and her designs made under licence in America, Japan and Germany.
Interviewed by George Negus in 2004, Prue reflected on the changes in her career and in the fashion scene, and on the role of fashion and design in people's lives:
"So many ideas came out of the '60s and '70s. It was quite extraordinary. When I first started early in the '60s, I think I was using a lot of English feels, like Victoriana and military and even country. And fashion is about being modern. It's about using the latest in technology and it's about shaving off all the extraneous."

"In some ways, I was able to predict my times because I was very much living the life of the times, of young women starting to become business people, starting to have jobs and families and wanting it all. There was an enormous change between the '70s and the '80s. All of us ex-hippie thinkers and dressers started living the corporate life. What was really important for me was showing off the female form, and also we added the shoulders. Fashion was beginning to, um ... almost say it first, that women could have muscle, that we were allowed to be healthy and fit. By the late '80s, I've got a lovely, easy business, uh, lots of gorgeous people working with me. I'm single and my kids are growing up. And I'm having a ball ... And I did it my own way, um... with my own team and by bringing out the best in the team. And I think I did it in a probably very holistic, very feminine way, or very female way.

I think the way that people can express themselves, most people only have the opportunity through how they dress themselves ... how their house is ... It's very basic. And from... if we're now looking back, say, from the the birth of human consciousness, say, 50,000 years ago, and what are the things that are now there? There's art and there's religion and there's science. Those three things, they're always together. And if we forget art, if we forget the pursuit of beauty and harmony through art, the whole, and only concentrate on technology, then we are nothing, we're no longer fully conscious as human beings.

During her career Acton has been variously described: as "Australia's young darling of dress design" (Hancock, 1970) with "...the soft pretty looks of a teenager and the tenacity of a hard-headed businessman" (Rayner, 1971) and someone who 'effortlessly created fashion in the Australian vernacular" (Humphries, 1996).
She has won many fashion awards including the Australian Wool Board Wool Fashion Awards in 1965, 1966, 1969, 1970, and 1971, the David Jones Awards for Fashion Excellence in 1971, 1972 and 1978, the Fashion Industry of Australia (FIA) Lyrebird Award in 1971, 1973 (Hall of Fame), 1978 and 1980. She was awarded an OBE in 1982 for her outstanding services to the arts and won the Australian Fashion Awards in 1985 and 1987. Prue also designed Australian Olympic uniforms for the Winter Olympics in 1978 (Lake Placid, USA), and for the 1984 Los Angeles and 1988 Seoul Olympic Games.
Prue's repertoire of styles and design elements have included 'gangster' pants suit, the 'baby vamp', the mini skirt; pintucked baby doll, the catsuit, the romantic look, capes, leatherwear, hardware (chains, brass buttons, studs), the pantsdress, culottes, battle jackets, peasant style, cut-outs, the wet look, the maxi, the tunic top, the coat dress, fake fur, the midi, delta style, the poncho, the layered look, bib and braces, gaucho, animal prints, knitted tops, cropped jackets, Beardsley-influenced prints, the tartar look, the tapestry look, mix and match, pinafore pants, hotpants, 'brickie knickers' and patchwork suedes.
During the 1980s she returned to her first love, painting. She began studying and painting with famous Australian artist, Clifton Pugh. She also attended life drawing classes at Swinburne College as well as studying with Mervyn Moriarity, founder of the Brisbane Institute of Art, and the two eventually formed a relationship. From 1989 onwards she held group and solo exhibitions with Clifton Pugh and the Dunmoochin Artists as well as various galleries throughout Australia. She still occasionally designs for special orders and conducts fashion design workshops.
Her art is represented at RMIT as well as in private and corporate collections throughout Australia. Prue generously donated her business and design records to RMIT's Frances Burke Textile Resource Centre and donated a collection of more than 500 costumes and associated material such as the make–up range, point–of–sale material, logos, signs and awards, photographs and oral history interviews to the Museum of Victoria's Prue Acton Collection.
Prue was formerly married to fashion designer Mike Treloar. She now lives in rural Victoria with Mervyn Moriarty.
REFERENCES / LINKS
Cyberfibres biography - Prue Acton
http://www.cyberfibres.rmit.edu.au/biogs/TRC0048b.htm
Museum of Victoria - Collections - Domestic and Social Life
http://www.museum.vic.gov.au/collections/austsociety/austcomm.asp"
Sixties Central - Prue Acton
http://www.geocities.com/FashionAvenue/Catwalk/1038/acton.html
George Negus Tonight - Profiles: Prue Acton (transcript)
http://www.abc.net.au/gnt/profiles/Transcripts/s1097874.htm
Originally broadcast 29 April 2004
Please email webmaster@milesago.com if you have any extra information or corrections, or to report any broken links.