Died - Los Angeles, California, 9 December 2003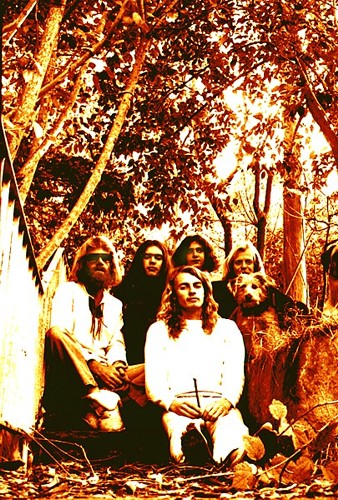 Larry Taylor, far left, with Tamam Shud in 1972.
(Photo: Albie Falzon)
Percussionist Larry Taylor, also known as Larry Duryea, passed away on 9 December 2003 in Los Angeles, California, after a long struggle with cancer. Larry will be remembered by many Australian music fans as a former member of Australian groups Heart& Soul, Tamam Shud, The Stevie Wright Band and Duck.
The following is an extract of an email from his companion, Stephanie Stephens:
"He had a skin cancer on his face that didn't respond to surgery, radiation or chemotherapy. It grew into his ear and jaw and eventually into his brain, it seemed. He suffered for a long time and was ready to let go. How sad that a man who healed others so beautifully should have been unable (or unwilling?) to heal himself. He did talk about his days as a percussionist and conga player. Also about his photography, and of course he used his Acupuncture skills on family and friends."
I knew Larry when I lived in Australia and he was partnered with my sister, Debra Richardson (they married in 1982 in L.A.) Though they had split in the mid-80's, they never divorced, and we always tried to keep in touch with him, up until his final days."
with thanks to Evan Richardson.