June Salter 1932-2001
Acting loses a blue blood

by James Cunningham
Sydney Morning Herald, 17 Sep. 2001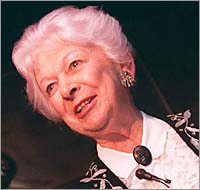 June Salter, an actress (her word) whose long career was "part of Australia's theatrical history", died on 15 September 2001 at the age of 69. She underwent an operation for cancer of the oesophagus this year but the cancer reappeared recently, and she was admitted to Mosman Hospital two weeks ago and she died there on Saturday.
June featured in most of Australia's major television series, including Murder Call, A Country Practice, Neighbours, The Restless Years, The Sullivans and All Saints. Friends and colleagues said they would remember her as a talented, generous and charming diva. Fellow entertainer Stuart Wagstaff said he would remember her as a wonderful actress and dear friend.
Although she began on the stage -- playing Queen Elizabeth I in the Kogarah Domestic Home Science School's production of The Tudor Wench -- Salter's early professional career owed much to radio. Yet it was once more in the theatre, many years later, and once again playing a Queen, that she gave what many critics acknowledged as her greatest performance. The year was 1985. She played Queen Mary in Crown Matrimonial, a drama chronicling the personal grief and political turmoil that attended the abdication of King Edward VIII so that he could marry the American divorcee Wallis Simpson.
Salter had indeed coveted the role. She cherished an intense natural sympathy for the feelings of Queen Mary, the King's mother. Also, as a devoted monarchist, she was unequivocally on the side of those who sought to preserve the prestige of the throne.
"What else could Queen Mary do but oppose Edward's marriage?" she demanded of an interviewer during Crown's run at the Sydney Opera House. "There was no other way."
What June Salter did, of course, in a play that was worthy without being outstanding, was to give an interpretation of the old Queen that was hailed as "magical".
Another notable success came when she teamed with an old friend, Ruth Cracknell, to play a couple of eccentric spinsters in Lettice and Lovage, a play that had scored an Olivier Award for British comedy. Later Salter enjoyed herself -- and delighted audiences -- with her portrayal of the daffy clairvoyant Madame Arcari in Noel Coward's Blithe Spirit. But she was to demonstrate conclusively her theatrical range with an acclaimed performance as the malevolent housekeeper Mrs Danvers in the stage version of the 1940 Hitchcock film Rebecca.
Unlike her husband John Meillon (they were divorced in 1971) Salter had little involvement in films, but elsewhere she was an artist of infinite versatility. Legends, her one-woman show at Sydney's Tilbury Hotel, was a nostalgic entertainment combining cabaret and revue. The songs, delivered in what was once described as Salter's "low-cut voice", brought people flocking from up-market suburbs to the Woolloomooloo pub. In fact the songs delineated Sydney-born Salter's career from 1952 when she abandoned a secretarial job for show biz.
Among radio serials in which she enhanced her skills were Martin's Corner (2UW), Undercover Carson and Shadows of Doubt (2GB), as well as the celebrated Blue Hills in which she played Rod Taylor's sweetheart. Salter was one of a talented group who contributed to the popular revues at Sydney's Phillip Street Theatre. In 1956 she appeared in Channel 7's first broadcast, when it filmed one of the revues, and she also appeared in some early Australian television drama. But after a somewhat unproductive period in London came what was, perhaps, her greatest triumph on the small screen. This was the spectacularly successful 1960s Mavis Bramston Show, Australia's first satirical TV series.
She will also be remembered for adding lustre to other well-loved soaps and somewhat superior series such as The Restless Years and the ABC's Certain Women, in which she chalked up a total of 600 episodes. It was a career marked by significant peaks, including, in 1982, being made a Member of the Order of Australia. Yet there were also sometimes extended lean periods between engagements when the living was far from easy.
Once, after nearly forty years in the business, June Salter was asked if she thought it had been worthwhile.
"There is nothing else I can do and there is nothing else I want to do," she said. "I just adore it."
She is survived by her son, John Meillon jnr.