BARBARA JEFFERIS, AM
Writer, author's rights advocate
Born - 25 March 1917, Adelaide, SA
Died - 3 Jan 2004, Sydney, NSW
The long haul of a devotion to writers and their rights
by Nadia Wheatley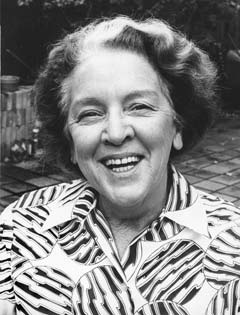 A phrase of Barbara's came into my head the other day: "I'm in this for the long haul." At the time, I was scrolling through her listed publications in the Austlit database, crazily attempting to research in a single day a life which had run for 86 packed years. Here was a whole literary world, whizzing past my eyes. Barbara Jefferis's reviews - written for The Sydney Morning Herald, The Weekend Australian, Meanjin, Southerly and so on - stretched from 1959 to 1996. Switching to another file, I found the publication dates of reviews of some of Barbara's own books, including Time of the Unicorn (1974), One Black Summer (1967), and Half-Angel (1959). The Times Literary Supplement had run a review of Beloved Lady in 1956. It was around this point that I seemed to hear Barbe saying in my ear: "I'm in this for the long haul."
The first time she said this to me was shortly after I became a colleague of hers, on the committee of management of the Australian Society of Authors (ASA). That was in 1990, and we were talking about kicking off a campaign for educational lending right. Barbara had been part of the campaign for public lending right, which the ASA had run from 1966 until its successful conclusion in 1974. (The PLR scheme, funded by the Federal Government, compensates authors for the royalty income they lose through the availability of their books in the public library system.) Indeed, Barbara had been on the ASA management committee since the society's founding year of 1963, and she had been its first woman president (1973 to 1975). She had been part of the struggle to establish the Copyright Agency Ltd, and she had written what I always think of as the bible on Australian book contracts. And now here she was, preparing for what she knew would be a long and tedious campaign of lobbying to persuade the Government to extend the principle of lending right to include books in educational libraries.
Although I met Barbara through the ASA, my friendship with her really came about when she interviewed me for a book she was researching on the topic of women writers whose mothers had died when they were children. That may seem an odd sort of a category. Yet to Barbara and me, it held a deep fascination, because we were both in it.
Barbara came from a clever and interesting Adelaide family. Dr James Jefferis, her paternal grandfather, was a Congregational minister as well as a philosopher and natural scientist. Her father, Tarlton Jefferis, was one of Australia's leading analytical chemists. He was in England, working as an adviser to the munitions industry, when his wife Lucy (nee Smythe) gave birth to their second child, Barbara, in March 1917.
One of the most significant things in Barbara's life happened six months later, although she was too young to know about it. The death of her mother, and the empty space which it left, had a profound effect. Her father, devastated by the loss, remained in England, and through her early years Barbara lived with her maternal grandfather, who was a widower. When she was three, he died, and she went to live with her father's mother. This grandmother "always had two or three or so of her 40-odd grandchildren staying with her". While this meant the little girl still didn't have anyone to give her undivided love, it was probably through having lots of cousins that Barbara acquired her huge sociability. ("All my books," she said in an interview for the National Library, "have been about communication between people.")
It was also at this time that the writing began. "Even as a child," she once noted, "I was determined to be a writer, although I hadn't a very clear idea what that meant. When I was very small I had a slightly younger cousin who always wanted to hear stories, and for some reason I used to write them ... I rather think it was because a story wasn't a story until it was written down."
I think something else was operating here, beyond the fact of a story-telling talent exhibiting itself early. After all, making up a story is a way of creating a little world over which one has control. This can be very emotionally satisfying for someone in the sort of pillar-to-post childhood which Barbara was having. Just as important, by writing the story down, you can stop it from changing unexpectedly.
Barbara's story began to change again when she was about eight. Her father, finally back from England, was employed at Roseworthy Agricultural College, and Barbe first experienced country life when she went to live with him. She acquired her own horse, Poppet, which she adored. (In later life, she would always have animals - especially Siamese cats, which she bred professionally.) Barbara also initially loved having as a stepmother the beautiful music teacher whom Tarlton Jefferis married. Soon, however, the relationship stopped working, and Barbe was sent to boarding school, which she loathed.
At this point, her amazing resilience began to reveal itself. Barbara threw herself into sport - playing tennis, in particular (she played a weekly game until a few years ago). Fortunately, the school had a good library, which Barbara "read right through about six or seven times". She made friends, and in her final year became head prefect. As she grew older, the problems at home began to resolve themselves, and Barbara's interest in life on the land came from holidays spent on her father's farm at Willunga. Throughout this whole time, however, her main commitment was to being a writer.
On leaving school, she went to Adelaide University, where in her second year she had the satisfaction of winning the Jefferis Memorial Medal for Philosophy - named in honour of the grandfather whom she had never met. Yet she was becoming impatient. At 22, it seemed to her that "my life was going by and I wasn't doing any writing". So in 1939 she left university, moved to Sydney, and obtained work as a journalist on The Daily News.
John Hinde, whom Barbara had known from childhood, was working on the same newspaper. That same year, they were married. The newlyweds were advised by the paper's editor to keep the new status of their relationship a secret, because married women were often "put off" the job. Over the next few years, Barbara moved on to the Telegraph and Women's Weekly, landing up at Pix. By the time the couple's daughter, Rosalind, was born in 1944, Hinde was overseas, as an ABC war correspondent.
Barbara took on the role of mothering with passion, wit, and the kind of focused energy which she applied to everything. Even writing was put aside until Roz went to kindergarten. Then Barbara began to research and write radio plays and dramatised documentaries on scientific as well as historical subjects. In this postwar period, the ABC's drama and features department was producing high-quality material written by talented authors which included Ruth Park, D'Arcy Niland, Diana and Mungo MacCallum, Charmian Clift, George Johnston, Colin Simpson and Hinde. These writers saw each other socially as well as professionally.
In 1953, Barbara decided to enter the lucrative Sydney Morning Herald prize, given annually for an unpublished novel. In three weeks, she produced Contango Day, which was co-winner of that year's award. In this novel we see the first of Barbara's empowered female heroes (they could not be called heroines). After being declined by Angus & Robertson, Contango Day came out in Britain and America in 1954. This set the pattern of her novels being far better known overseas than in Australia. As well as being published in Britain and the US, her books were translated into a number of Asian and European languages.
After six more novels came The Tall One, published in Australia, Britain and America in 1977. The hero of this medieval story is unusually tall (as the title suggests) and her height is the objective correlative of her strength. By the last page this 18-year-old single mother is a free woman (rather than a bonded serf) and she has money, a cottage and land. She is off to market to buy "a good five-shilling pig, all my own". In that final phrase, we surely hear an echo of Virginia Woolf's famous injunction that a woman writer needs a room of her own.
While this was Barbara's last novel, it was by no means her last published piece of writing. In 1980, there was somewhat of a flurry in the literary world when The Bulletin published Barbara's version of The Drover's Wife. Commenting satirically on the portraits drawn previously by Henry Lawson, Russell Drysdale, Murray Bail and Frank Moorhouse, this particular "wife" was the first to tell the story in her own voice, and from the point of view of the woman at the centre of the tale.
Barbara again put her hand to Australian women's history in the biography of three generations of talented and resolute women, Three of a Kind (published in 1982). In 1986, Barbara was made a member of the Order of Australia for services to literature. In 1995, she was recognised with an Emeritus Award of the Australia Council. Yet this was by no means the end of the long haul. In 2001, when Barbara suffered a stroke, she was still on the committee of management of the ASA, and she was rewriting the society's guide to book contracts.
Barbara lived a literary life so all-encompassing that it is difficult to imagine there being room for anything else. Yet Barbe gave time and attention to friendship. When I moved house a few years ago, she trekked across Sydney to bring me a bottle of wine and a pot plant. If she was good at friendship, she was clearly great at day-to-day companionship. Barbara Jefferis and John Hinde had - unusually among literary couples - a happy marriage. At her death it had lasted 64 years.
Meanwhile, as Barbara Hinde, she had an entire other existence as the "grande dame of the cat fancy" (as one of her fellow fanciers described it). For over four decades, she held positions such as president of the Siamese Cat Society and chairwoman of the Royal Agricultural Society's Cat Control Consultative Committee.
Her work for authors has been extremely important, not just to her colleagues, but to our whole society. Copyright . . . public lending right . . . educational lending right . . . somehow the words tend to sound worthy but dull. They do not have the emotional ring of, for example, human rights, civil rights or women's rights. Yet if a society is to have those more universal rights, a precondition is the right of authors, not just to write and publish their opinions freely, but to gain a decent living from their writing.
This is particularly important in a country with a small book-buying population and a language which is shared with two other huge countries. After all, if Australian authors cannot live by their real work, they have to do other jobs, and so they are not able to do the writing which is necessary to enable Australians to read about themselves, both in fiction and non-fiction. Without this chance of reading our own stories, our society cannot properly reflect and grow.
Barbara herself, of course, often put her own real work aside so that of fellow authors could write with greater security, both economic and legal. Tom Keneally recently said to me that Barbara's "generosity was enormous". That is no exaggeration. Yet Barbara's enormous and generous legacy is not just to her fellow writers. The effect of a large body of empowered authors spreads invisibly outwards, like a kind of beneficial virus, into the whole social and political fabric.
Whether or not Australians have read her books or even heard of Barbara Jefferis, we are all the richer for her resilience, her indefatigable energy, and the particular long haul which she put in.
Nadia Wheatley is the author of The Life and Myth of Charmian Clift.
References / Links
Sydney Morning Herald, 24 Jan. 2004
http://www.smh.com.au/articles/2004/01/23/1074732602894.html
AustLit
http://www.austlit.edu.au/run?ex=ShowAgent&agentId=A%2BM-