MARC HUNTER (1953-1998)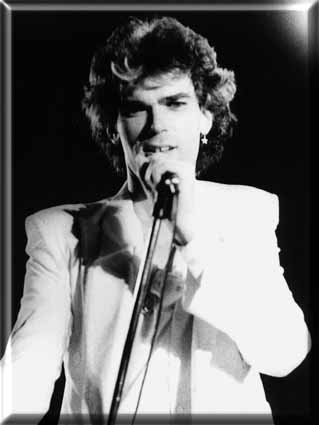 Marc Hunter and his brother Todd grew up in a musical family in Taumarunui, New Zealand. Both pursued separate musical careers until Todd invited Marc to join his band in 1973. Dragon originally worked in a progressive vein, and recorded two albums for Vertigo in New Zealand, Universal Radio (1974) and Scented Gardens For The Blind (1975).
They relocated to Sydney in mid '75, with a four-piece lineup: Marc (vocals), Todd (bass), Robert Taylor (guitar), and Neil Storey (drums). Determined to make a go of it, they brought keyboard player and songwriter Paul Hewson over from NZ to complete the lineup soon after
Dragon did it tough for a while -– they were dropped by Vertigo after their first Aussie single flopped, and they lost most of their equipment when then their house in Paddington was burgled. They were slogging it out on the Sydney wine-bar circuit when they were spotted by another NZ expat, Peter Dawkins, then the house producer and A&R manager at CBS. He had been alerted to them by Ariel's Mike Rudd (also NZ-born) and Peter immediately signed Dragon to CBS's Portrait label and produced their next single, "This Time", which became a major hit. Aided by regular appearances on Countdown, Sounds and other pop shows, they rapidly became one of the most popular and successful Australian acts of the late '70s.
Under the aegis of Dawkins, Dragon racked up a string of hit singles and albums between 1976 and 1979. All members contributed, but most of the hits were written or co-written by Paul Hewson. These included "Get That Jive", "Sunshine", "Are You Old Enough?" (their only national #1), "I'm Still In Love With You" and the perennial "April Sun in Cuba", a national #2 in early 1978 that was only kept from the top spot by McCartney's maudlin Xmas hit "Mull of Kintyre". They also enjoyed huge success with their first three albums Sunshine, Running Free (a platinum seller that went gold on pre-orders alone), and O! Zambezi. Ironically, the band often clashed with Dawkins over his production and the 'pop' nature of the singles, which they felt were at odds with their preferred directions, and at one stage Hewson even threatened to quit if "Are You Old Enough" was released as a single!
On stage, they were often brilliant, sometimes out of control, and away from the sanitising influence of Countdown, the darker side of the band was much more in evidence. Marc was the focal point, and he possessed a striking stage presence –- his androgynous good looks and imposing height (both he and Todd were well over 6 feet tall) were matched by an utter fearlessness in front of hostile audiences – the trait that originally convinced Todd to recruit him. Even before their success, Dragon's rock'n'roll exploits were notorious, and drugs were always a significant factor -- just before coming to Australia, their original manager Graeme Nesbitt was jailed for drug trafficking, and only two weeks after "This Time" was released drummer Neil Storey died of a heroin overdose, a tragedy that almost ended the band. However they decided to go on, and Storey was replaced by Kerry Jacobsen. At the peak of the band's career Marc and Paul Hewson reputedly maintained $200-a-day heroin habits and Dragon was mentioned in evidence during a royal commission into drugs because of their links to the infamous "Mr Asia" drug syndicate.
By 1978 Dragon were one of the top five acts in the country. America was the obvious next step, CBS were behind them, and success seemed certain. But the group blew it with a disastrous US tour in late 1978 supporting the Johnny Winter Band. Facing hostile crowds, Marc's unpredictable side took over, culminating in an infamous gig in Austin, Texas where they were pelted off the stage after Marc taunted the crowd and declared that "all Texans are faggots", while Winter and his band took bets from the side of the stage over who would shoot Marc first.
Despite the American debacle, they were still huge in Australia and they scored another Top Ten hit in early '79, but five years of wild living had taken its toll, especially on Marc, whose voice was failing. With Marc's drink and drug use spiralling out of control and Todd virtually the only functional member of the band, he was forced to sack Marc in 1979 in order to save him from himself. They replaced him with a sax player and an electric violinist, and Dragon limped on for about nine months, releasing one more album, Powerplay, before splitting up.
A chastened Marc cut back on the excess and embarked on a moderately successful solo career in the early '80s. He scored moderate hits with the singles "Island Nights" (1979) and "Big City Talk" (1981), released two solo albums Fiji Bitter (1979) and Communication (1986), and guested with The Party Boys. Todd meanwhile teamed up with former XL Capris singer-songwriter Joanna Pigott to form Scribble. Todd and Joanna subsequently married, and became a successful songwriting team, with credits including John Farnham's "Age Of Reason".
Dragon were forced to do a reunion tour in the early '80s to pay off outstanding debts, but they decided to stay together and give it one more shot. Marc had been working with producer and multi-instrumentalist Alan Mansfield (ex-Bette Midler, Robert Palmer) on tracks for his second solo album, so he brought Mansfield in to produce a new single for them called "Rain" (co-written by Marc, Todd and Joanna). It was a Top 10 Australian hit within days of release in 1984, earned them their first American chart placing (#88) and became a favourite on US college radio. At this point they realised they had a second chance, so they finally cleaned house and farewelled the bad habits of the past. This led to the departure of both Robert Taylor (replaced by Mansfield) and Kerry Jacobsen (replaced by former XTC drummer Terry Chambers). The success of Rain secured them an album deal with Polygram's Mercury label, and the venture proved to be a huge success, with four other charting singles lifted from the comeback album Body & The Beat, produced by Mansfield.
Although all the members had contributed to songs before, Marc and especially Todd were now really hitting their stride as writers. Hewson found himself out of phase with their new direction and managed only one co-writing credit on the new album. His health was also deteriorating (he suffered from scoliosis) and he was still using drugs heavily; he left the band just after the Body and the Beat tour in 1985. He returned to New Zealand and joined NZ group Pink Flamingos, but sadly he died only weeks later from a heroin overdose.
Terry Chambers was subsequently replaced by Doane Perry (ex-Jethro Tull), Mansfield doubled on keys and guitar, and they recruited rising star Tommy Emmanuel (ex-Goldrush, Southern Star Band) as lead guitarist. This lineup recorded another very successful album Dreams of Ordinary Men, produced by Todd Rundgren, and they toured Europe (billed as Hunter) with Tina Turner, to a great reception. Although they were probably at their peak as performing unit, and they put in 100%, their sucess this time was stalled by lack of product support from their label.
With varying lineups, Dragon continued to record and tour occasionally into the 1990s, cutting two more albums, Bondi Road (BMG 1989), which included the bittersweet single "Young Years" and Incarnations (Roadshow 1995) which featured new versions of their classic hits. Todd eventually left to concentrate on songwriting and soundtrack work, while Marc released two more albums of 'adult contemporary' material, Night and Day and Talk To Strangers.
In November 1997, on the eve of a 40-date Australasian tour with Dragon, Marc was diagnosed with malignant throat cancer. Friends immediately rallied round him and Renee Geyer organised a benefit concert to raise money for his treatment and provide for his children. The concert, "Night Of The Hunter," was held in February 1998 at the Palais Theatre in St. Kilda. It featured leading artists performing classic Dragon songs: "Are You Old Enough" by Tex Perkins and friends, Chris Wilson singing "O Zambezi", Paul Kelly and Renee Geyer singing a duet of "I'm Still In Love With You", Snout performing "Rain" and Men At Work's Colin Hay performing a new song he wrote in Marc's honor. The finale, "April Sun In Cuba" was performed by John Farnham and his band, with Todd on bass. The house erupted when Renee Geyer led Marc onstage and he joined in his signature tune for what proved to be his very last stage appearance.
Another benefit was staged soon after in Sydney, and the 'Good Vibrations' concert proved to be an even more memorable event. The performers included Glenn Shorrock, James Reyne, Ross Wilson, Todd Hunter, Alan Mansfield, Robert Taylor and Tommy Emmanuel, and a host of other Oz music legends -- Men At Work regrouped for the first time in a decade to perform, and the remaining members of INXS performed live for the first time since the tragic death of their lead singer Michael Hutchence; Peter Garrett and Jimmy Barnes duetted on "Dreams of Ordinary Men" and "Speak No Evil". Sadly, Marc could not attend -- he was in Korea undergoing alternative therapy to prepare for a major throat operation, but he sent a letter that was read to the crowd. The concert was taped and a 2CD set was rush-released.
Marc spent the last months of his life with his family and friends. He died in his sleep in hospital at Berry in the NSW southern highlands on July 17 1998, aged just 44. He is survived by his wife Wendy Heather, their two children Isabella and Jackson, and a son Titus, from a previous relationship. His memorial service, held on July 29 at Sydney's St Andrew's Cathedral, was attended by 700 mourners, including many stars from the music world, and musical tributes were sung by Glenn Shorrock, Mark Williams and Wendy Matthews.
References / Links
Dragon: 20 Years With A Legendary Australian Band
By Chuck Miller
Marc Hunter Tribute
(on the We'll Always Remember site)
New Zealand Music - Marc Hunter
http://www.sergent.com.au/marchunter.html
Dragon Online
http://www.dragononline.com.au/history-of-dragon-music.html