CLAUDE PAPESCH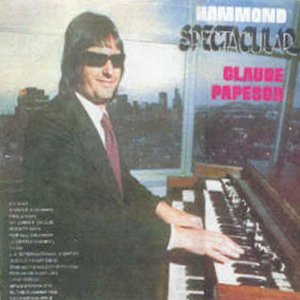 Claude in the early 70's, pictured on the cover of his Hammond Spectacular LP
Claude Papesch is one of the true unsung heroes of the Australasian scene. Like his contemporaries such as Stewie Speer, John Sangster and Bob Birtles, he was a consummate musician who was equally at home in jazz, pop, progressive rock or "middle of the road" music. He was a founding father of New Zealand rock'n'roll, and throughout his career he was one of the most respected musicians in the region.
Originally from New Plymouth in New Zealand, Claude was a prodigiously talented multi-instrumentalist who was already a professional player of high repute by his mid-teens -- an achievement made even more remarkable by the fact that he was blind. As a youngster he moved to Auckland and he was working in local jazz clubs at just 16. He became a regular at the Point Chevalier Youth Club, the same venue where rising Kiwi rock'n'roll star Johnny Devlin often played.
Fate brought them together in late 1958 when Devlin was planning his first national tour to capitalise on the huge success of his breakthrough single Lawdy Miss Clawdy, which had stormed up the NZ charts after its released in June. Johnny's then backing band the Bob Paris Combo weren't keen to go out on the road, so Graham Dent, Devlin's manager, who also managed the club and knew Claude well, approached him and asked if he could put a band together to back Johnny for the tour. Papesch recruited guitarist Peter Bazley, bassist Keith Graham and drummer Tony Hopkins. Together they became The Devils, one of New Zealand's first true rock'n'roll bands.
In May 1959 the Johnny Devlin & The Devils made the inevitable move to Australia and stayed for a short time, but Johnny was unable to establish himself permanently and subsequently returned to New Zealand. After the Devils disbanded, Claude carved out a distinguished career on both sides of the Tasman, alternating between periods as a solo artist and as a member of some of the more notable bands of the '60s and '70s. Peter Bazley moved on to Lonnie Lee's backing band, The Leemen, and in later years became a well-respected country player and teacher. He died in December 1999 after a long illness.
In the early '60s Claude worked primarily as a solo act. Among his known recordings are a solo single in 1960 for Zodiac called "In Apple Blossom Time" / "Danny Boy", followed in 1964 by two more singles for Philips -- "In The Chapel In The Moonlight" / "Sweetie Baby" and "Yoshiko" / "Chapter Four". These were followed by one single for HMV in 1965 called "The Way You Look At Him" / "Something You Got".
In 1966 Claude headed back to Australia as part of a jazz combo that had the residency at the famous Latin Quarter in King's Cross, supporting Ricky May. Also in that combo was drummer, actor and legendary loon Bruno Lawrence. In January 1967 Claude played a brief but crucial role in the career of The La De Das. They were by this time the kings of the local beat scene in Auckland and had made a strong start with their classic 1966 debut single, How Is The Air Up There. But in early '67, on the eve of a national tour, they were smarting from the failure of their second single and were badly in need of another hit. Just back from his stint in Sydney, Claude introduced them to Bruce Channel's song Hey Baby, predicting that it would be a surefire hit for them. They cut it immediately, releasing it as their next single (b/w "Other Love") in February. Just as Claude had promised, it was a smash, giving them their first national #1 hit in March 1967. In fact gave the La De Das a double distinction -- it was the first locally recorded single to reach #1 on the newly-established NZ Hit Parade and in the process it knocked The Beatles' masterpiece "Penny Lane" / "Strawberry Fields Forever" off the top spot.
Claude played at the First NZ Love-In on Sunday, February 25, 1968 at the up-market Monaco club in Auckland with Doug Jerebine, House of Nimrod, the Fair Set Plus One, the Ministry of Fog and a children's singing group, Shades of Youth. During this period he also worked as part of a jazz trio with bassist Dave Russell from the Invaders (later of the Meteors and future producer for Split Enz) and the erstwhile Bruno Lawrence.
Later in the year, after moving back to Sydney, Claude formed a band called Electric Heap, bringing Bruno back over to Sydney to join him. The line-up included Tim Piper from Chants R&B and the Breakaways. Piper replaced Russell, who remained in NZ working as a session guitarist for saxophonist and producer Jimmy Slogett. Bruno didn't stay long in this group and was replaced by Raice McLeod from Quincy Conserve.
By August 1969 Electric Heap had split and Tim and Claude joined Chain, then newly relocated to Sydney. This line-up stayed together only long enough to record Chain's first single for Festival with house producer Pat Aulton -- Show Me Home b/w Warren Morgan's Mr Time, which was released in September. The single is regarded by many as the earliest example of the "progressive" style developing rapidly on the OzRock scene around this period. Drummer Ace Follington, Tim and Claude all left Chain in October '69, to form Savage Rose.
Claude worked solo in the '70s and recorded two albums of standards performed on the Hammond organ, an instrument of which he was an acknowledged master. The first released 1973 was called Hammond Spectacular (EMI SOEX 10021) and was followed by another in 1974, Hammond Electrique (EMI/Drum 8186), which also featured an early use of the Moog synthesiser. His last known commercial recording was a solo single in 1975 called "Petra" / "Not The Way To Move Me" for EMI. The recent resurgence of popularity of the so-called "lounge" genre has seen renewed interest in these recordings.
Claude travelled widely throughout Australasia, but he eventually settled in the Blue Mountains of NSW, and in the final years of his life he worked primarily as a jazz performer. He served with distinction on the Blue Mountains City Council, including a one year term as Deputy Mayor of the council in 1984. He also represented the Blue Mountains, Lithgow and Rylstone on Prospect County Council. Sadly, he was stricken with cancer during this time and his declining health eventually forced him to resign from council in Septemeber 1985. He died on 2 February 1987, aged only 45. Following his death, a public commemorative tree planting was held at the Wentworth Falls School of Arts. He was survived by his partner Patti, son Justin and daughter Mahalia. Claude was an active member of the Australian Labor Party, and the headline of a tribute carried in one of the local Blue Mountains newspapers read "City Mourns Man Who Helped the Little Guy".
References / Links
Thanks to John Low for corrections and additional information.
John Dix
Stranded In Paradise (Paradise Publications, 1988)
Dave Russell
whitebox
http://www.alphalink.com.au/~whitebox/story.htm
Bruce Sergent
New Zealand Music of the 60s and 70s
http://www.sergent.com.au/claudepapesch.html
Psychedelic Pop
homepages.ihug.co.nz/~crawl/hahaha/psych.htm