LAURIE ALLEN
Singer, songwriter, musician.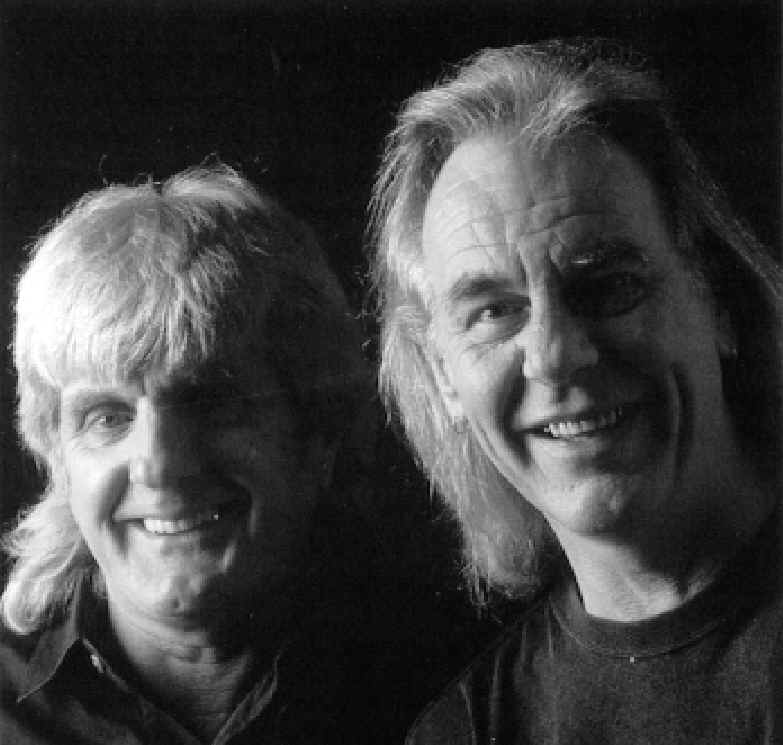 Bobby & Laurie, pictured in 1999; Laurie is on the left.

Lawrence Frank "Laurie" Allen was one of the pioneers of rock'n'roll and "Beat" music in Australia. He will always be remembred as one half of the pioneering '60s beat duo Bobby & Laurie, one of teh first local "beat groups to gain chart success, scoring a string of Australian hits between 1964 and 1967.
Quoted in Melbourne's Herald Sun, 'Dr Rock' from Melbourne station 3AK said the pair were the consummate performers. "Right through the '60s they were always there. They were just absolute legends," he said. immedia columninst Christie Eliezer wrote that friends remembered Laurie as the archetypal gentle soul who lived on a diet of bourbon'n'Coke and chips.
Laurie's musical career began in 1959 as guitarist with one of Melbourne's first rock bands, Malcolm Arthur & The Knights. He then joined The Blue Jays as organist and released a solo single, "Wolfman" (Crest, 1962), before teaming up with singer Bobby Bright in 1964. Their hits in the '60s on the Go!! label included Laurie's self-penned "I Belong With You" and "Judy Green"; after switching to Albert Productions/Parlophone they scored another national chart topper with Roger Miller's "Hitch-Hiker" and in 1966, they hosted their own ABC-TV show It's A Gas, later retitled Dig We Must. The duo's second backing band, The Rondells, included of some of Melbourne's top players and included the future Daddy Cool rhythm section of Wayne Duncan and Gary Young.
When the duo split up in early 1967, Laurie formed up the Laurie Allen Revue, a group based on his Stax/Volt idols which featured the young Hewett sisters, Colleen and Glenys, on backing vocals and the Revue issued three singles for Festival. In 1969, Bobbie and Laurie reformed for three singles, including the hit version of Porter Wagoner's "Carroll County Accident" before splitting again in 1971.
Laurie Allen signed with Col Joye's ATA label and he was important to the company both as a recording artist and a songwriter. He released solo singles on ATA -- including a remake of "I Belong With You" -- and Col Joye recorded a number of Laurie's songs over the years. One of ATA's country discoveries was "Cowboy" Bob Purtell, who released several singles on the label; Bob also collaborated with Col, Laurie and Jim Cooper on the LP Truck Stop (1976) and he won the CMAA 'New Talent of the Year' award in 1976 for his 1975 ATA single "Motivatin' Day", which was written by Laurie and which earned him a 'Golden Guitar' at the Tamworth Country Music Festival.
Bobby & Laurie worked together occasionally in the 1980s and reunited in the late 1990s, performing regularly on the club and rock'n'roll revival circuit. In his last years Laurie suffered chronic health problems but he largely kept this to himself. Bobby & Laurie were slated to take part in the Long Way To The Top concert tour, but these plans were dashed by Laurie's sudden death from a heart attack on 13 June 13 2002.
For the complete Laurie Allen story we recommend Bobbie's terrific Laurie Allen Tribute Site, which is listed below.
References / Links
Bobbie's Laurie Allen tribute site
http://www.laurieallen.net/
Keith Glass' tribute to Laurie on the Cowboys in Cyberspace site
Russell Gould
'60s rocker Laurie dies
Melbourne Herald Sun, 14 June 2002