On October 30 1965 British model Jean Shrimpton unwittingly triggered off an international controversy when she attended Derby Day at Melbourne's Flemington race course. Her appearance was a flashpoint of the Generation Gap in Australia, and it highlighted the rapid changes taking place in '60s fashion and exposed the deeply conservative nature of Australian society at the time, especially in matters pertaining to the image of women.
Shrimpton, then aged just 22, was known as "The Shrimp" (a nickname she greatly disliked). In 1965 she was the world's highest paid model, arguably the world's first "supermodel" and certainly the first to become internationally known by name. She was one of the 'faces' of Swinging London, one-third of the world famous trio of Sixties supermodels with Twiggy and Veruschka (though she was famous before the other two) and her famous fashion photos are quintessential images of the era. Elle dubbed her "The Most Beautiful Girl in the World," and Glamour named her Model of the Year in 1963. She gained international attention as the original "face" of Yardley cosmetics, with whom she had a three-year contract in the mid-'60s and for whom she did several major publicity tours. She appeared on countless fashion magazine covers, made the cover of Newsweek on May 10, 1965, was written up in Esquire, Ladies Home Journal, McCalls, and Good Housekeeping.
Throughout the Sixties her career and life was constantly reported in the media, particularly her engagement to famous fashion photographer David Bailey the top London photographer who did much to launch her career, and who was inspiration for David Hemmings' character in Antonioni's 1967 film BLOW UP; so too her subsequent relationship with Bailey's friend, actor Terence Stamp. Her sister Chrissie Shrimpton was also a leading model, and for a time she was almost as famous as her sister, thanks to her well publicised relationship with singer Mick Jagger, prior to Jagger's meeting with longtime girlfriend Marianne Faithfull.
Jean's two-week promotional visit to Australia, on which she was accompanied by Stamp, was sponsored by the Victorian Racing Club and a local synthetic fibre company who brought her out to promote a range of new dresses made of Orlon. A mark of her stature was her fee -- £2000. This an enormous sum for the time, equivalent to at least a year's wages for the average Australian man at the time. Just how well-paid she was can be gauged by a comparison with The Beatles, who had been paid £1500 for their tour of Australia in June 1964.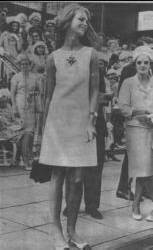 Jean was scheduled to appear at Derby Day, where she was to present prizes for the annual "Fashion On The Field" contest, and at the Melbourne Cup. These were the two major fixtures of Melbourne's famous Spring Racing Carnival, and her visit was regarded as bringing international glamour and prestige to the event, so she was quite unprepared for the stir she was about to cause. For the visit, she had been sent some Orlon mini dresses and while they were rather shorter than normal she didn't worry, because hemlines in the U.K. were already starting to come up. But while London was the acknowldeged fshion capital of the Sixties, the new style had yet to be accepted elsewhere and certainly Australia had never seen anything quite as short as the Derby Day mini. In her memoirs, Jean recalled:
"The day of the races was a hot one, so I didn't bother to wear any stockings. My legs were still brown from the summer, and as the dress was short it was hardly formal. I had no hat or gloves with me, for the very good reason that I owned neither. I went downstairs cheerfully from my hotel room, all regardless of what was to come."
When Jean arrived at Flemington on Saturday October 30, her outfit was the acme of mid-60s elegance, modernity and simplicity -- not to mention its eminent practicality, considering that it was a blistering 94 degrees Fahrenheit that afternoon. She was dressed in a sleeveless white minidress, which according to the Sun News-Pictorial she had designed herself, with a hemline some four inches above the knee, with two-toned low-heeled slingback shoes and an ankle chain. Most significantly she was not wearing the de riguer Flemington fashion accessories -- hat, gloves and stockings. The classic photo taken of her that day showed a dramatic contrast -- in the foreground, the young, carefree, independent Jean her in her famous minidress, and behind her, a crowd of scowling middle-aged Melbourne matrons dressed in regulation twin-set, pearls and hats. It justifiably became one of the iconic images of Sixties Australia.
Jean's outfit scandalised the ultra-conservative Melbourne establishment, for whom the Spring Racing Carnival was the social and fashion event of the year, and she was the target of catcalls from men and jeers from women, although she seems to have ignored it at the time.
The incident immediately spilled over into the media, and leading the attack was former Lady Mayoress Lady Nathan, who described Shrimpton as "a child" and accused her of having bad manners. Claiming that Australian women dressed as well as any in the world, she said that "if Miss Shrimpton wants to wear skirts four inches above the knee in London, that's her business, but it's not done here. I feel we do know so much better than Miss Shrimpton ... we all dress correctly here."
Remarkably, even model and columnist Maggie Tabberer came out against her, conceding that the mini skirt was the latest fashion, but admitting: "I loathe this look." Maggie went on to observe that every miniskirt wearer had to sit down sometime and that "stockings have tops, and exposure of those tops certainly takes away all elegance." Evidently, Maggie didn't consider that Jean might have worn pantihose, and indeed Jean had put some on that morning, but according to Aussie model and friend Georgia Gold, she ditched them at the last minute because it was such a hot day.
Over the next two days there was a storm of comment for and against, and avid speculation about her next forthcoming appearance at the Cup the following Tuesday; by then the Derby Day controversy was making headlines around the world. The British press reacted angrily to the Australian criticism of Jean, as shown by the London Evening News, which said that "... surrounded by sober draped silks and floral nylons, ghastly tulle hats and fur stoles, she was like a petunia in an onion patch." Shrimpton and Stamp were treated with considerable hostility and given the cold shoulder by Melbourne society. To this day, Stamp still recalls the events with bitterness.
On Melbourne Cup Day, Tuesday 2 November, all eyes were on Shrimpton, but there was to be no repeat of her Derby Day "fashion gaffe". Under pressure from her sponsors, she wore a far more conservative outfit -- a three-piece grey suit with an ice-blue straw Breton hat, beige gloves and stockings, and a chocolate-brown handbag. Speaking to reporters, a visibly upset Jean said: "I think you should dress to please yourself,". Admitting that she had been disciplined by her sponsors, she ruefully observed: "I feel Melbourne isn't ready for me yet. It seems years behind London."
Recalling the incident in 1986 Jean said: "...it's one of those things that followed me around for ages. I couldn't believe the fuss they made."
The immediate legacy of "The Miniskirt Affair" was to make skirt lengths a media barometer of The Permissive Society and they came to be a key imageof the decade, alongside the Pill and long hair for men. Jean's also reckons that her Melbourne misadventure directly inspired leading British designer Mary Quant, who began creating even shorter miniskirts. In Australia too it became a cause celebre and inspired young women here to take up the new fashion, accompanied by predictable media consternation.