THE LEYLAND P76
The controversial and groundbreaking Leyland P76 was launched in 1973, but manufacturer BMC-Leyland caeased production in 1975 after less than two years on the market. Thirty years on, the P-76 still enjoys a distinctly mixed reputation in motoring circles. For some it represents one of the great lost chances of Australian automotive history; for others it's an object of derision, Australia's equivalent of the Ford Edsel, the infamous 1950s model that proved to be such a marketing disaster that the very name became a synonym for 'lemon'.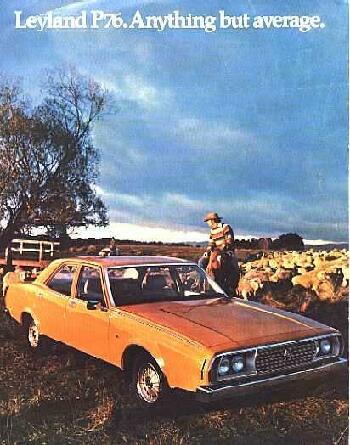 The P76 was BMC-Leyland's first and only attempt to break into the lucrative Australian "big car" market. The company had enjoyed substantial success for several decades with its smaller cars, including the Austin and Morris small sedans and most notably with its legendary Mini Minor and Mini Cooper. But these models had all been designed with the British and European markets in mind, and the P76 was the first Leyland car designed specifically for Australian consumers and Australian conditions.
Since the late 1940s the Australian family car market was dominated by large sedans manufactured by the so-called "Big Three" Australian car makers of the time -- Ford's Falcon, General Motors Holden's Kingswood and Chrysler's Valiant. All were traditional large sedan designs, featuring rear-wheel-drive, front-mounted cast-iron six cylinder 'in-line' or V8 engines, and the choice of three or four-speed manual or three-speed automatic transmissions. The most popular sedan models could all seat five or six people comfortably, (depending on whether the front seat was bench or buckets). All manufacturers offered sedan (saloon), station wagon and coupé models, as well as a range of work vehicles, including utility ("ute") and panel vans.
When it was launched in 1973, Leyland offered three models of the P76, all sedans -- the Deluxe, the Super and the Executive. It was manufactured at their Zetland plant in Sydney in 1973-74; Leyland also exported the components to New Zealand where they were assembled there until 1975. The body was designed in Australia by renowned Italian-born automotive designer Giovanni Michelotti (1921-1980) who also designed well-known models for BMW, Maserati and Triumph. The distinctive wedge-shaped body set it apart from the blocky lines of its competitors and clearly anticipated the styling of later Ford and Holden models, particularly the early Holden Commodores. Towards the end of production, Leyland built about 300 of a special limited-edition, model, the Targa Florio, which were all automatic with power steering and limited slip differentials, and most were painted an eye-catching metallic navy blue with silver stripe detailing.
The P76 offered a choice of two engine types, with optional manual or automatic transmission. The smaller engine was a 2623cc OHC six-cylinder unit, developed from that used in Leyland's earlier small sedans, the Austin Tasman/Kimberly, where it was mounted E-W with front wheel drive. In the P76 this engine was mounted in a north-south, rear wheel drive configuration. The second and larger engine was a gutsy 4416cc all-alloy V8, an enlarged and refined version of the well known 3500 Rover V8 engine, although it weighed about the same as the six-cylinder engine. It was, remarkably, the first all-alloy engine ever offered in an Australian-made car.
In this and many other respects, the P76 was well ahead of its competitors, and initial reactions from the motoring press were very enthusiastic and it won Wheels magazine's prestigious "Car of the Year" award in 1973. The suspension system was superior, the weight was relatively low for a car of its size – only 1250kg for the Executive model – and it offered many other safety and design features not found on other Australian cars. Standard fittings included full-length side intrusion reinforcement on all doors, power-assisted front disc brakes (only offered as an option on the 'Big Three' sedans), concealed windscreen wipers, recessed exterior door handles and a front hinged bonnet. Its most famous selling-feature was the enormous boot, of which Leyland's advertising famously boasted that it was big enough to hold a 44-gallon drum. Another particularly amusing 'period' feature of the P76 was the colour range offered -- based on standard Dulux colour codes, they were typical of the bold shades in vogue in the early 1970s, but someone at Leyland decided to get creative and gave them idiosyncratic new names such as "Home On Th'Orange", "Am Eye Blue", "Bold As Brass", "Peel Me A Grape" (a metallic purple), "Hairy Lime" and "Plum Loco".
Demand for the P76 at first exceeded supply, but before long quality control problems emerged (including one which reportedly caused the wheels to fall off!). These were compounded by simple bad timing: the P76 appeared at a time of unprecedented industrial unrest in Australia and Leyland was further hampered by strikes at component suppliers. All this significantly slowed down production and supply and created a bad impression with the media and the public. What influence Leyland's rivals Ford, Holden and Chrysler may have exerted is unknown, but given that the P76 was in many respects superior to the competition it is not unreasonable to assume that, at the very least, a certain amount of media 'spin-doctoring' may have occurred.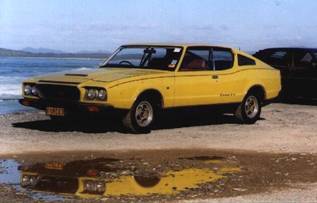 Despite these setbacks, in 1975 Leyland announced ambitious plans for a new range of luxury hatch-back sports coupés, the Force 7 range. It was yet another innovation, one of the first hatchbacks ever released in Australia. There were to be three models of increasing price and luxury. The Force 7, the base model, was essentially an "optioned up" hatchback version of the P76 Sedan, equipped with a six cylinder engine and a 3-speed column shift gearbox, although Leyland planned to offer a large range of optional extras even for this basic model. The striking Force 7V, the 'sporty' model (see photo, below right) was equipped with the powerful 4.4 litre V8 engine and 'four on the floor' gearing, with mag-alloy wheels and other options; it was probably intended to compete with Chrysler's Valiant Charger E48. The top-of the-range model, the rather pretentiously named Tour de Force, was to be a V8 cruiser with automatic transmission and an "ultra-luxurious" interior, intended to compete directly with the Valiant Charger 770.
But despite promising reviews, the Force 7 range was ultimately doomed by an unfortunate production design oversight. Because it was a completely new styling built on the P76 chassis, the Force 7 range had few production elements in common with the P76 sedan, a fact which greatly increased its manufacturing costs. This was a pitfall that Leyland's competitor Chrysler had avoided by sharing many sheet metal and component parts between the Chargers and the Valiant sedans. Leyland produced only a few of the Force 7V -- around sixty, according to Wheels magazine -- and most of these were subsequently scrapped.
Only ten Force 7V models survived. One was sent to Leyland in the UK for testing and was subsequently purchased by a British private collector; another is in the Birdwood Mill Museum in South Australia. The remaining eight were auctioned to the public when the line was discontinued in 1975 and they remain in private hands. There were also plans for a P76 station wagon, but only one demonstration model was produced before escalating financial problems forced Leyland to pull the plug on the entire P76 project.
In an industry where image is everything, the P76 was -- perhaps crucially -- never given a model name like the familiar 'Kingswood' or 'Falcon'. Its production life was very short (it ceased at the end of 1974) and its failure was due to a complex combination factors, including poor production planning, poor assembly quality, and problems with reliability and parts supply. These in turn led to bad press and consequent poor sales. All of this regrettably, failed to reflect the car's many innovative qualities, but in the long run the public was convinced that the P76 was a 'lemon' and they simply stopped buying it.
Leyland staff gathered around the last P76 to roll off the production line in late 1974
In all, approximately 17,000 to 18,000 P76 sedans were made. The saddest outcome was that the P76's failure effectively bankrupted Leyland's operations in Australia. The Zetland plant closed down soon after the P76 and Force 7 projects were cancelled and Leyland withdrew from car production in Australasia for good. Today the P76 has a small but loyal and enthusiastic club following.
References / Links
P76
http://www.tripnet.se/rcos/p76e.html
BMC in Australia
http://members.tripod.com/~jlrover/
Queensland Leyland P76 Owners Club
http://www.leylandp76.com/clubs/qld/index.html
Leyland Car Clubs, Australia & New Zealand
http://www.leylandp76.com/
Leyland P76 – Australia's Own Car
http://www.webtrade.com.au/p76/contents.htm
Geoffrey Bewley
"The P76 Story"
Wheels magazine, November 8, 2001
http://www.webtrade.com.au/p76/magazines/wheels/wheelsnov82001.htm
Leyland P76 Owners Club Of Australia (West Australian Division) Inc.
http://www.users.bigpond.com/ancyn/page13.html