"WE'RE HERE BECAUSE WE'RE HERE OF COURSE" - The Jellabad Mutant
Article by Paul Culnane
originally published in Foffle
An affectionate look at ARIEL's aborted 'rock opera', The Jellabad Mutant, recently released on CD after almost 30-years' gestation. (Well, mutants from space have different gestation periods to we mere mortals, don't they?)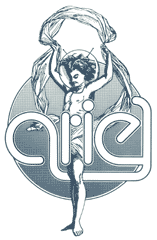 The Ariel logo, representing the sprite Ariel as a spaceman -– an intimation of the Jellabad Mutant?
The Jellabad Mutant, as you'll soon read from the, er, mutant's mouth, Mike Rudd himself, was an ill-fated opus from his own pen, to follow up the traumatic break-up of the first incarnation of his and Bill Putt's post-Spectrum outfit, Ariel. This first line-up comprising; along with long-time (and still) cohorts Mike (vox, gtr) and Bill (bass); John Mills (keys), Nigel Macara (drums) and the magnificent lead guitar of the young Tim Gaze, had already garnered acclaim with their fantastic debut LP, A Strange Fantastic Dream, in 1973, and things augured well for the band's future. But in a series of Spinal Tap-ish events, which the band eventually transcended with considerable aplomb, their next moves, and particularly Rudd's, were clouded by controversy and frustration.
It's to their credit and considerable tenacity that a newly-configured Ariel managed to continue with a series of compelling albums, beginning with 1974's Rock & Roll Scars, recorded at the famous EMI Abbey Road studios under the production expertise of Peter Dawkins, and engineered by none other than lauded Beatles engineer, Geoff Emerick. We can discuss that much-loved album another time (recently issued on remastered CD, with bonus tracks, and sounding fantastic, on Rare Vision RVSN-003), but right now, I'd like to take you on a mutant journey, and – most importantly – let Mike & Bill give their own reminisces about the album that never was (until now)...
The obscure, small-typeface legend on the front cover of R&RS ("Before The Mutant") promised something, but who, apart from the band itself, knew then what it really meant? We enthusiasts were not to know quite what until almost 30 years later, when Mike finally released the whole shebang on a newly-remastered CD (Rare Vision RVSN-004).
On 30 October 2002, my good mate Steve (yes, his nick-name is Sticks) Kernohan, invited Messrs Rudd and Putt onto his brilliant Melbourne radio program, "For What It's Worth", and they covered pretty much the whole monumental histories of this formidable pair. He urged me to phone in and participate from here in the 'Berra, which I did with glee, and much fun was had by all. It just so happened that I had sent Steve a CDR of an Ariel gig I'd recorded at the Station Hotel in Prahran, on 11/11/75. A significant date, fact-spotters, for more reasons than one! This recording features a startlingly-good performance by the sadly under-recorded and seminal 5-piece version of Ariel that featured the below-shown line-up, and sported some storming (or as Mike describes it, "snappy") renditions of some Jellabad numbers. It's this recording that provides the catalyst for the spirited discussion that follows ...
---
Left: the shortlived five-piece 1975 lineup of Ariel. (L-R) Harvey James, Nigel Macara, Bill Putt, Mike Rudd, Glyn Mason.

Steve Kernohan [SK]:

Hey, the other thing about this Station Hotel recording that makes it more interesting again is that there are several songs on it from The Jellabad Mutant sessions which Mike and Bill might tell us a bit about?

Paul Culnane [PC]: Oh, I can't wait to hear what they've got to say about it. Now, you wrote all the stuff for this project Mike?

Mike Rudd [MR]: Yes I did, yes

PC: Oh okay – with this one [that we're about to play], is it called "Medicine Man" or has it another title?

MR: No, "Medicine Man" – they were all perfunctory titles because it was supposed to be a rock opera, so it was just various phases of the opera, so the songs had no particular name and this is the most frequently-used phrase as I recall. So "Medicine Man" it was

PC: Well this thing rocks like…

Bill Putt [BP]: Mmm, well there's a line in it, "medicine man"… it's really cool: the medicine man

MR: There is, yes. That's what I meant by oft-repeated, yeah

PC: Cheers Bill!

BP [to MR]: I wasn't listening to you – I just tune out

[General mirth]

SK: Well let's play this track, but before we do, Mike let's have a little piece from you on why this project was aborted

MR: Oh, okay, well…

BP: I can tell you in one sentence: nobody understood it!!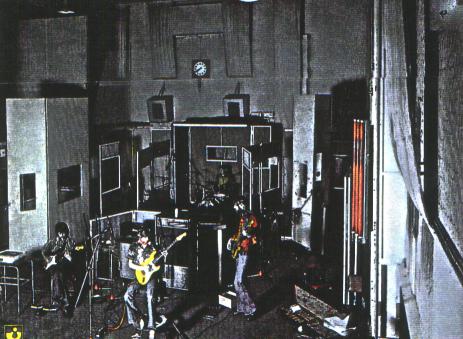 MR: Heh-heh, no, well… ahem… when Ariel "mark one" – that's the Tim Gaze/John Mills/Nigel Macara/Bill & I Ariel – aborted, I went away and sulked for a while. But while I was sulking I wrote this piece because rock operas were the go. [The Who's] Tommy had happened, and so everybody was just writing rock operas like you wouldn't believe. So this was one, and then I got together with Bill and said "let's rehearse this" and we worked out all our parts and then we thought "oh we better get a drummer". And I'd seen this drummer with The Dingoes, John Lee, and I thought "let's get him!" And we did, we rehearsed for a while and then John suggested "why don't we get Harvey James?" – a friend of his – to play guitar. And so we rehearsed with him as well, and before you know it we had an entity. But it was all based around this material. We virtually did nothing else but this "Mutant" thing. And I had great hopes for it, and we demo'd some stuff with EMI in Sydney, and then a trip to England was mooted, to do some more recording. But it was actually based – this mooting – was based on the first band. And in fact EMI – or Harvest as it was – in England, were expecting the first band to lob, and it [EMI] was quite surprised, if not a bit chagrined, to find us [new band] lobbing, and by that stage it was common knowledge to us that the project had been shelved! They weren't interested in having their studios cluttered up with rock operas. They'd had quite enough of that, thank you… And so we were booked to go into the studio, and we had nothing to play! So we had to do a quick sorta revision of some of the old material, and hence Rock & Roll Scars with only, I guess, two or three new numbers on it
SK: Which is a great album, I think
MR: Well, it's a pushy, funky album. I liked the A-to-Z review of it, which said that we were being terribly earnest. And I thought that's what it sounded like.
SK: Okay, well let's play some of this track that Paul has selected. He's written on the back here: "Medicine Man / Use Your Imagination". That's about right for the title?
MR: Er, well yes, it's "Medicine Man" segued into another song which you could call "Use Your Imagination" but I actually call it "The Letter Song" [track plays]
SK: Hey, what a blast!
MR: Yeah, that's a 3-guitar attack!
SK: It sure is. Well, that wasn't Spectrum or Murtceps, it was Ariel, one of the incarnations of the fabulous band Ariel. And a 3-guitar attack at the Station Hotel right here in Melbourne's Prahran – one of the better gigs from an audience's point of view because people like me could get very close to band and just watch the fingers on the fret-board and so forth
MR: Band couldn't get away from the people, that's for sure! [chuckles]…
---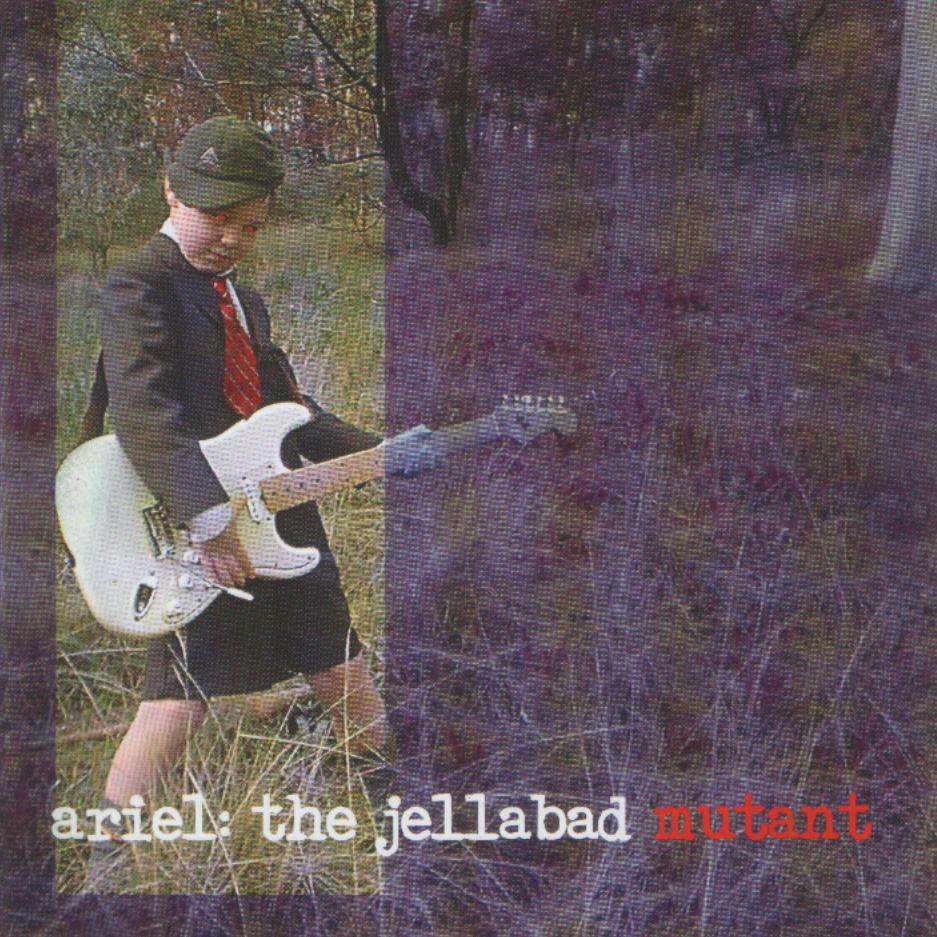 As part of an on-going series of compact disc issues of seminal Rudd/Putt-related albums, comes The Jellabad Mutant, which was given its first official release in 2002. Lovingly remastered from the 1974 Peter Dawkins-produced demos, recorded at EMI Sydney; the integrity and sound quality of these rudimentary tapes has been brilliantly captured for the digital medium by Martin Pullan of Edensound in Melbourne. Martin also worked sonic wonders for the previous two Ariel CD reissues, A Strange Fantastic Dream and Rock & Roll Scars.
There are also a couple of bonus tracks – a "Mutant Medley" taken from a live-to-air Double Jay broadcast from May 1976 as well as both sides of a 1975 single produced by respected musician-producer Rod Coe and originally released on EMI's 'progressive' imprint, Harvest. These two latter tracks -- "I'll Take You High" and "I Can't Say What I Mean" -- while not being part of the Jellabad story proper, represent the only officially-released recordings of the classic, super-hot five-piece Ariel, and display the "3-guitar attack" that Mike and Bill enthuse about in our interview. It's a measure of EMI's cavalier treatment of this band that master tapes of these two songs could not be located for the reissue! At Mike's request, your humble writer was able to supply his vinyl copy of the single. But after Pullan waved his magic wand over them, the listener would never know that these tracks were sourced from a crackly 45!
The Jellabad suite itself -- vaguely inspired by the Christmas '73 coming of Kahoutek's comet, with a tincture of The Day Of The Triffids for good measure -- concerns the arrival in a refrigerated capsule at the fictitious Victorian town of Jellabad, of an abstractly-drawn mutant figure who seeks to become part of the human race. Shades of Superman and similar pop-sci-fi tales, but in Rudd's deft compositional hands, this story's different. The mutant gets adopted by an elderly, childless couple, assumes humanoid form and sets about implementing its sinister plans. Without giving too much of the labyrinthine plot away, the mutant eventually does away with his adoptive parents, but not before entering the brain-space of a hapless down-at-heel musician (by plying him with a "pot of tea")
The opera's theme is compellingly drawn by Rudd's typically perverse lyrics -- by turns oblique, poignant, sad, outright hilarious and sometimes endearingly puerile (witness "The Hospital"). Supported by some fine ensemble playing that alternately rocks ("The Train", "Neo-existentialist Greens/Medicine Man/The Letter"), waxes gentle ("Cinematic Sandwiches") and just plain swings like a mutha (my favourite, "The Funeral"); it seems ludicrously criminal in retrospect that this body of work was rejected by the then-powers-that-be.
Mike Rudd laments in the liner notes to the Mutant CD:
"It's interesting to speculate what might have happened had we been allowed to proceed with the Mutant with an intact budget (EMI slashed the budget for Rock & Roll Scars adding to the pressure) and with time to reflect and be creative with the raw material you hear in the demos. I regret I didn't go into bat for it at the time. We had a fabulous opportunity with the best technical assistance any band could have wanted. But I didn't sell the dream, even to myself."
Lament ye no longer, punters, for now we have the opportunity to hear what might have been, and it's as worthy as anything in the Ariel canon. Seek it out and "use your imagination"!
Paul Culnane

Credits and acknowledgements
Paul Culnane thanks:
Steve Kernohan for the fantastic interview material. Check his Monday night show For What It's Worth (available Melbourne metropolitan on: Stereo 974 FM)
Mike Rudd and Bill Putt for contacts & networking, photos and sound, quotes, friendship and kindness, not to mention providing the soundtrack to my youth which still remains (the music that is, not so sure about the youth)
Duncan Kimball for the bandwidth and patience
Ian McFarlane, for invaluable advice, particularly that regarding the fraught process of remastering of aging tapes
Ian D Marks falettinmebe mice elf agin
For more information about Mike and Bill's activities past and present (plus loads of groovy pics) we exhort you to visit mikeruddbillputt.com -- you can order the CD from there too!
You can also read more about the continuing adventures of Mike and Bill in the MILESAGO pages for Spectrum and Ariel.